Mara Girone Simple Sophistication is fashion with a meaning.
T-shirts, hoodies and scarves are carefully embellished with traditional hand embroidery, edgy design and powerful words to support, inspire and uplift women in their journey through life.
I am originally from Italy. I am a passionate traveller and a dreamer, advocate for feminism, an artist, specialising in hand-embroidery. I am the host of the video show and podcast 'Empowering Voices'. I have lived and worked across the globe from Italy to Mexico, Portugal to Greece and London and my inspiration comes from my experiences around the world and by the people I have met and their stories.
Established in 2018, Mara Girone Simple Sophistication is an "adventure of empowering hand-embroidery" – a collection of bespoke and ready to wear scarves, hoodies and t-shirts embellished with hand-embroidery and motivational words, designed to empower women and help them to face the world with strength, confidence and authenticity.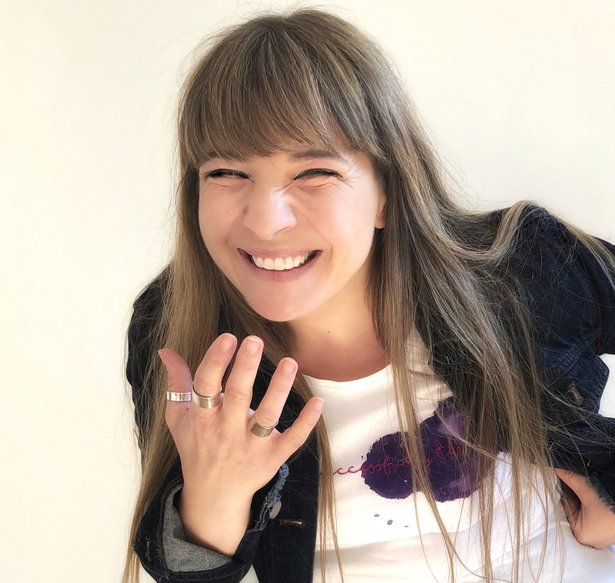 I strongly believe in the power of words beyond their value as a group of letters and sounds. Words have intention, intensity and cultural significance. These values can give us power when we carry them on our clothes as a reminder of our worthiness, strength and energy.
The unique, wearable art includes inspirational messages such as "Mindset Matters", "Resilience" and "Unapologetically Me".
The combination of hand embroidery and powerful and motivational words is unique to me. There are cases where the hand embroidery has been used in a similar way but the cost becomes very high, while for me it is important to offer luxury at an affordable price.
There is also a big difference with machine embroidery as the result is stiffer than with hand embroidery, it is quicker, that is true, but there are stitches that cannot be repeated by a machine.
The uniqueness of the final result makes a statement for itself.
There has been a resurgence in the popularity of hand-embroidery, which is great to see, however it is still commonly used for floral or graphic designs on hoopes, rather than the inspirational words I use.
The nature of hand-embroidery alone means that it is a more sustainable item, as wearers recognise that they are more precious because of the time and care that has gone into each garment. Add to that the fact that the raw materials are ethically sourced and where possible are recycled and 100% natural (the t-shirts are recycled fabric, the hoodies are organic cotton, and the scarves are 100% silk from my home country of Italy), and these products have very strong eco-friendly credentials. They are not disposable fashion, and so buyers are more likely to buy one of these pieces which will last years, rather than a 3-4 machine made pieces that will not last a season.
In fact, still today you can admire beautiful hand embroidery many centuries old in museums as it is a very durable and resistant form of art.
Finally, my items are designed to create inspiration for the wearer. We know the impact that words can have, both good and bad. We build words into our daily mindset routine – we say affirmations, gratitudes, and set intentions. By wearing one of these garments with messages such as 'Be Brave. Be Kind. Be You.'; 'Unapologetically Me'; or 'Successfully Thriving', the wearer is able to not only remind themselves of these inspirational words, but anyone who sees them.
I see enormous potential growth. So many consumers are waking up to the importance of slow fashion as we begin to fight this climate crisis, and recognising that clothes are a really visual, easy way to contribute positively. The more the consumers are looking for recycled fabrics, or clothing created using renewable energy, or items with low fashion miles, then the more businesses like mine will grow.
From a Mara Girone Simple Sophistication point of view, there is lots of evolution coming. We are looking at expanding over the borders of UK and Europe to explore further destinations; there is a collaboration coming that I am very excited about as it will create ties with my home town of Napoli, and my podcast 'Empowering Voices' is going through a restructure so that it can be an even more supportive tool for women.
You can check our products and discover more about the company, here:
Website: https://www.maragirone.com
Facebook: https://www.facebook.com/MaraGironeSS
Instagram: https://www.instagram.com/maragirone