Scrumptious by lucy… Festive brownies delivered to your door! scrumptiousbylucy.com
Festive brownies box
Sheffield based brownies company https://scrumptiousbylucy.com
Festive Box
Christmas is my favourite time of the year! When Halloween is over and the shelves in the supermarkets are getting filled up with sparkly Christmas decorations I get very excited and can't wait to start my festive baking.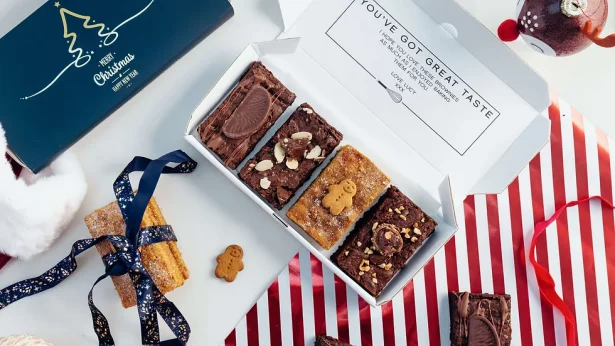 The clocks have just gone back, the nights are getting darker earlier, the Christmas adverts have started and the weather is getting chilly (I hate being cold but I love throwing on loads of layers and being out and about during the Christmas period, its just such a good time of the year and hopefully this year it doesn't have its restraints
Maybe its just me but brownies always seem to taste better this time of year, maybe it's the cold, but I love a chocolate overdose. To be honest I have already made my first batch of Mince Pies (and eaten them) and I have of course perfected this year's festive brownies!
See more and buy @ :- https://www.scrumptiousbylucy.com/product-page/festive-box
All brownies can be gift wrapped and delivered by post anywhere in the UK, they bake a complete range of home made brownies and blondies, including Vegan and Gluten Free flavours.
Scrumptious by Lucy
https://www.scrumptiousbylucy.com
Lucy bakes beautiful gooey, fudgy brownies and blondies, which are perfect gifts for loved ones and most importantly, yourself. Delivery to mainland UK, using DPD within 2 working days.