"2021 BEST AUDIOBOOKS -Nonfiction" – The Ben Franklin Award
"BEST AUDIOS AWARD"-Publishers Weekly (1st Edition)
"HIGHLY RECOMMENDED" -Library Journal (1st Edition)
"BEST ORIGINAL WORK FINALIST" -Audie Awards (1st Edition)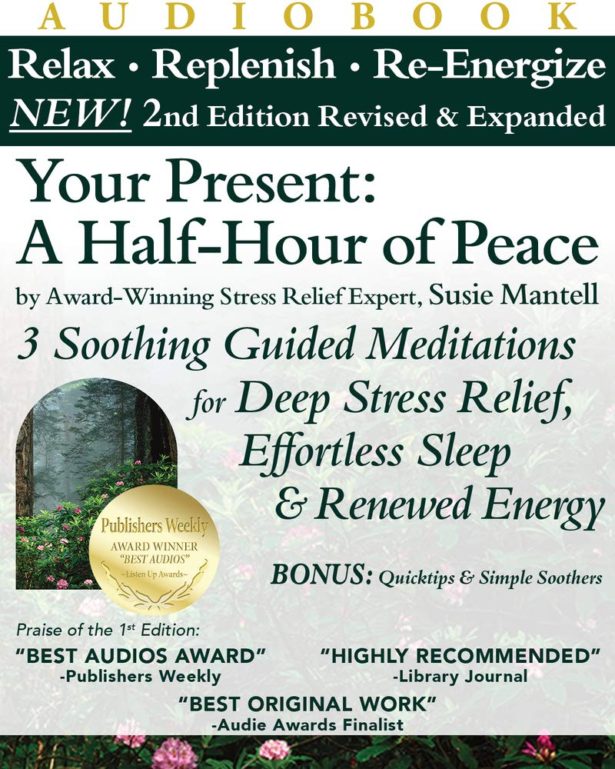 With a voice described as "liquid," award-winning author and stress relief expert Susie Mantell has now created 3 uniquely soothing guided meditations. In this Revised and Expanded 2nd Edition, adding to her award-winning "Your Present: A Half-Hour of Peace" meditation, Mantell's new, exquisitely narrated "Sleep Easy Now" carries listeners into soft, effortless sleep. Pressed for time? Like an easy chair, her "10-Minute Brain Vacation," helps listeners relax, replenish and re-energize — in 10 minutes flat! As a bonus, Mantell also shares "30+ Quicktips & Simple Soothers to Reduce Your Day-to-Day Stress."
"What's New…?"
Your Present: A Half-Hour of Peace, 2nd Edition Revised & Expanded
NEW! "10-Minute Brain Vacation" — Pressed for Time? An oasis from a busy day, Relax, Replenish Re-Energize – In 10 Minutes Flat!
NEW! "Sleep Easy Now" — With a voice described as "liquid," the exquisite narration carries you into deep, effortless sleep.
NEW! "30+ Quicktips & Simple Soothers" — Gently empowering stress relief techniques and strategies to help reduce day-to-day stress.
PLUS: "Your Present: A Half-Hour of Peace"(Revised)– Susie Mantell's award-winning guided imagery meditation soothes awaylayer-after-layer of worry, stress, exhaustion. Slow down, and just letgo…
Thousands of men and women experiencing stress or insomnia, anxiety, depression or pain find soothing relaxation in Mantell's gently empowering audiobook for mindfulness, mind-body stress relief and sleep. Many fans who re-order for gift-giving, have asked if Mantell will be creating more soothing guided meditations. Now she has!