The Snake That Bites Its Tail by Bob Farrand
The Snake that Bites its Tail _draws on personal experiences including the lifelong effect of negative parental influences and the impact of paranoid schizophrenia on spouses and children. All proceeds from the novel are being donated to the Junior Diabetes Research Foundation, a cause close Bob's heart as three generations of his family have been blighted by Type 1 Diabetes. His brother and sister were sufferers for most of their lives and his daughter and her seven-year-old son, his youngest grandson, have also been diagnosed.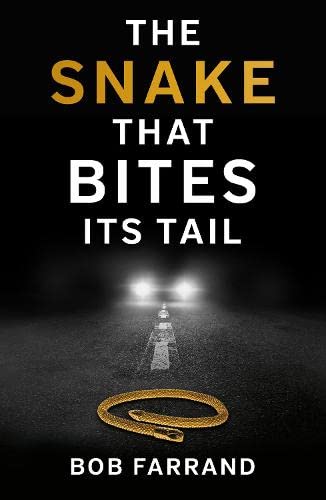 During half a century in magazine publishing Bob launched several magazines including Good Cheese and Fine Food Digest; created the World Cheese Awards and trained over 20,000 UK staff working behind cheese counters in supermarkets and other food retailers. This experience is cleverly woven into the novel and the main protagonist is a retired magazine publisher (Bob assures me that he has never committed murder so that is definitely where the 'faction' ends!).
In 1965, nineteen-year-old Robin Farnham believes he ran over an old man but on stopping his car, finds no body, merely a gold bracelet of a snake biting its tail.
In 1981, sixteen-year-old Jane Foster is sexually abused by her adoptive father and attacks him before fleeing to London where she consults Dr Peter Lakmaker, a psychiatrist.
In 2021, now retired, Farnham is diagnosed with Alzheimer's and prescribed a drug on clinical trial. He attempts suicide but awakes in hospital to be told he is suspected of murder. Protected from the police by Dr Lakmaker, Robin is encouraged to write about his life to monitor the new drug's effectiveness.
Over a period of half a century, Robin and Jane's lives are interrelated although it is not until the year 2000, they finally meet. Robin's quest for the truth behind his involvement in not one, but three murders and Jane's tormented search for her birth parents and the close family relationship denied her as a child are muddied by the strangely prophetic Oroborousbracelet Robin wears and the appearance of the vengeance seeking Krait.
Separating fact from fiction has rarely presented more of a challenge, for the characters in the story or the reader.
See more and buy @ :- https://www.amazon.co.uk/Snake-That-Bites-Its-Tail