Special Father's Day gift idea from an independent family business, SevenYays. https://sevenyays.com/
SevenYays make 7-day countdown calendars for birthdays and other special occasions. You choose a selection of gorgeous luxe gifts for a friend or family member to open over six days leading up to any 'big day' where they get a bigger gift – the Seventh Yay.
There are ready-made boxes or, customers can choose the gifts themselves, with over 400 gift options including craft spirits, wellbeing and spa products, socks, chocolates, and tons of other fantastic items for everyone.
All of the gifts are sustainably sourced and ethically produced from responsible partners. They support independent British businesses and only source products that are cruelty-free, vegan, and packed with all-natural ingredients.
The Seven Days of Dadliness gives dads a whole Father's Day week.
Seven Days of Dadliness, £40
For the one who's always there for you.
When you ask dad what gift he'd like and he replies with the dadliest of shrugs, treat him to Seven Days of Dadliness. Every dad loves a pair of socks – especially when they're comfy, breathable bamboo, and after organising his favourite gadgets with his new tech kit, he can indulge in some decadent dark chocolate, spicy nuts, and spice-up-his-tastebuds edge-of-his-armchair Bean Boozle jelly beans.
Then he can live every dad's dream – taking to the disco ball-lit stage to reel off some absolute groaners from his little book of dad jokes.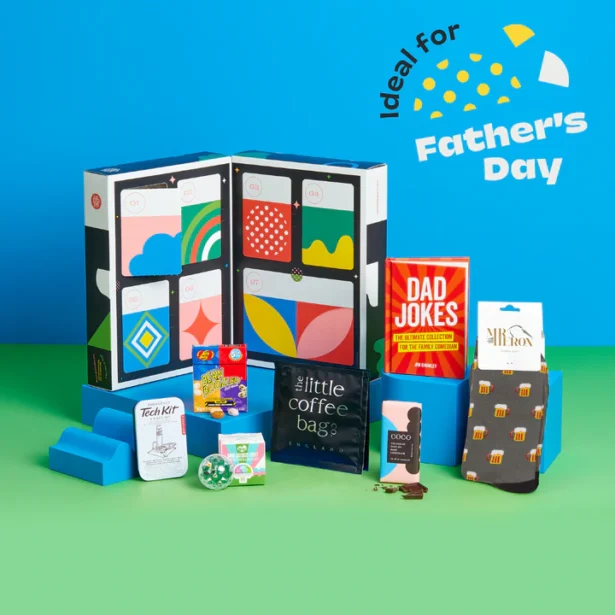 We also recommend the Sevan Days of Blokey Bliss for a special Fathers Day gift.
Seven Days of Blokey Bliss, £42
For the one who knows we all deserve a bit of pampering
Every bloke should have a little 'me-time' every now and then, and this SevenYays is a gentleman's spa day in one delightful package.
Backed by the calming scent of a Seaspray & Driftwood candle, they'll soak and soothe with a Mr T Bath Bag, scrub away their cares with a charcoal and tea tree soap bar, and rejuvenate themselves with diamond eye pads, exfoliating gel and a charcoal sheet face mask. All while nibbling on bittersweet dark chocolate and sipping on a rich, full bodied coffee. _Ahh._ Blokey bliss.
Vegan Friendly