Singani63 via a 51-year privately funded projest known as The Steven Soderbergh Adventure… singani63.com
Singani 63 is the culmination of a 51-year, privately funded project known as The Steven Soderbergh Adventure, the purpose of which is to identify the exceptional in all areas of human endeavor. While previously identifying the absolute best in hand-printed literature, animal fashion, elevator music, insect architecture, youth hostels, agitprop cinema, intramural sports, obsolete technology, fast food, repressed sexuality, pre-Etruscan political theory, conservative comedy, body painting, organic hallucinogens, online education, children's television, and non-invasive, elective surgeries, Mr. Soderbergh was conspicuously silent on the issue of spirits (remarkable, given his intake), until his travels took him to Bolivia, land of Singani 63. In terrain so high (6000 ft) most gringos would either pass out or feel as though they had barbed wire wrapped around their heads, Singani 63 is distilled from the white Muscat of Alexandria grape into a clear, mixable spirit. It's been this way since 1530–which, by the way, is nearly always the number you get if you add 611 to 919–when Spanish missionaries brought grapevines to the Bolivian Andes so they could party while on the road.
Singani 63 is also known as the National Drink of Bolivia, a moniker that was bestowed with absolutely no interruption in government services.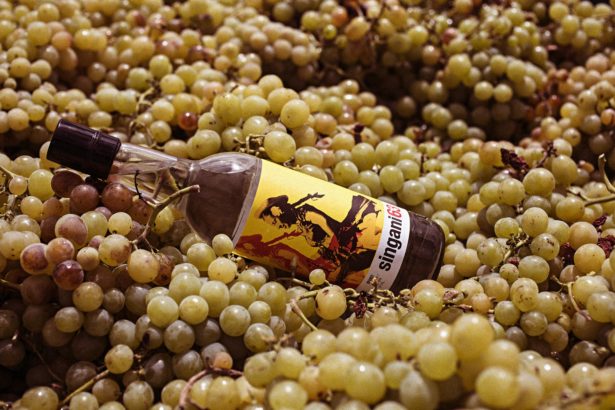 "I've built my entire career on being able to distinguish the exceptional from the ordinary, and I know Singani 63 is an exceptional product the same way I know they faked the moon landing and Marilyn Monroe was actually a man." Steven Soderbergh
So when history (aka Steven Soderbergh) writes the chapter of Singani 63 coming to these United States of America, how will your role be described? Visionary or scaredy-cat? Trendsetter or bench-sitter? Empire-builder or dream-killer? Totally up to you. But know this: when people go up against Steven Soderbergh, they tend to be relegated to obscurity forever. Just look at James Cameron.
New studies will show Singani 63 drinkers aren't defined by age, gender, class, profession, or race. They could be 21 or 61; male, female, or that third thing that's kind of in-between; upscale or downscale; dictator, serf, teacher, athlete, or artist; brown, yellow, black, white, red, or striped. What they all share is an appetite for discovery, an appreciation for authenticity, and an insistence on quality. They are the canaries in the coal mine, except in this case nothing bad happens to them.