UK Mask Clip Set to Become a Top Choice Christmas Gadget for Glasses wearers
• MistyClip Reports 100% sales increase as people prepare for Winter mask-wearing
• Around 30% of the population wear glasses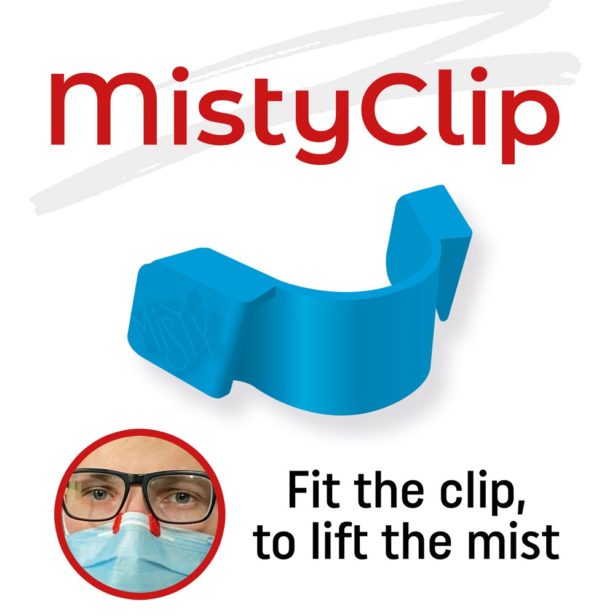 29th November 2021 – Following the UK Government's announcement to re-introduce mandatory mask-wearing in schools, on public transport and in shops to combat rising covid cases and variants, MistyClip, the eco-friendly mask clip gadget start-up, has experienced new spikes in demand and a doubling in daily sales.
"It looks like Misty Clip is set to be a top of mind gadget for glasses wearers this Christmas. We've been upscaling our business in preparation for a rocky Winter. Of course we hoped that it wouldn't be the case but it looks inevitable now," said Alex Wickens, Founder of Mistyclip.
MistyClip was founded during the pandemic to help glasses wearers by providing a snug fitting clip that attaches to the top of most face masks and prevents glasses from steaming up. The start-up is expected to reach a quarter of a million orders by the end of this year and plans have been put in place so that the firm can easily upscale production of the biodegradable gadgets made from food waste such as corn starch over the Winter months. Around 30 percent of the UK's adult population wears glasses and MistyClip hopes to make all their lives easier in the event of mandatory mask-wearing. A percentage of sales is donated to charities that help homeless and vulnerable people.
Wickens added, "Statistics show that wearing masks reduces the chances of spreading Covid and flu so it's not surprising that here and in other countries around the world people want to protect themselves and others by wearing masks."
The Sussex start-up has joined forces with Wonderpack Eco fulfillment house to deliver on surges in demand of the 3D printed gadgets for masks.
Mistyclips are available to order online today from www.mistyclip.co.uk