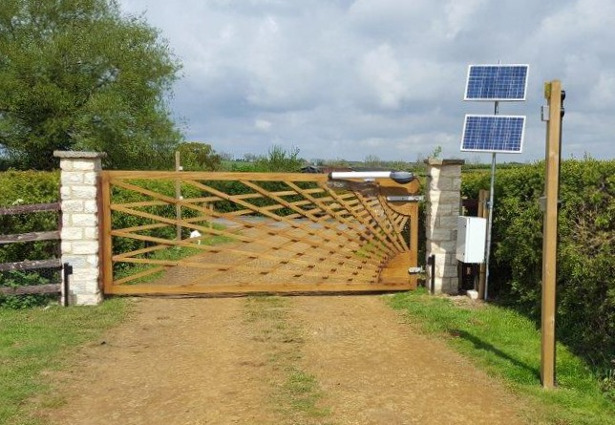 Fully automatic security gate systems can now be installed anywhere, thanks to natural solar power.
Harnessing the power of the sun – Solar Gate Systems' award-winning, market-leading automatic solar powered gate products are manufactured specifically for use in the UK.
In many rural situations, keeping a gate closed is not practically possible; either due to a lack of an electricity supply or the sheer daily complications of manually opening and closing a busy entrance or exit gate with the comings and goings of a busy farm, estate, yard or even private house.
The solar-powered system from Solar Gate Systems is suitable for remote installation where mains electricity isn't available or would be too costly to install or to save on having to lay cables under existing driveways.
With a host of unique features to ensure guaranteed year round operation the solar powered gate opening systems are proven to work continuously in the UK climate providing constant high security — in any location — but with the ease of operation at a touch of a button using secure hand held remotes, keypads, and now even by mobile phones which can be used by up to 200 users on your assigned 'guest list'.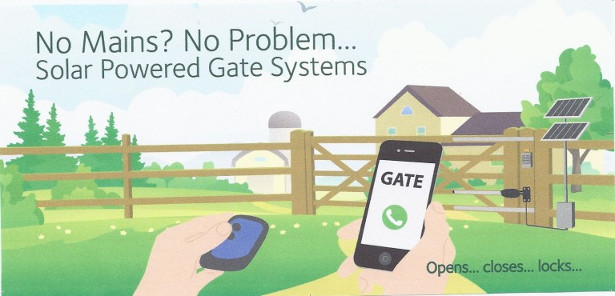 Solar Gate Systems are able to fully automate most existing agricultural gates wherever their location, however remote, using the latest generation of highly efficient 'moonlight' solar panels together with their high tech range of brushless, digitally controlled motors. There's no need to worry over whether the last person leaving as bothered to close your gate as solar power ensures that your gate is always kept closed.
Solar panels…
Efficient solar panels use crystalline photovoltaic cells which simply require day light to produce electricity, so even on a cloudy winter's day, the solar panels still provide charge.
Solar Gate Systems have designed a solar panel mounting brackets set at 23 degrees to the vertical to maximise the winter harvest (most systems are mounted at 45 degrees).
The solar panels are set to face solar south, which can be very different to magnetic south and the 24volt DC system is proven to be up to 50% more efficient than a 12volt DC system.
An optional App for mobile phones is also available to see exactly how much solar energy has been harvested on any particular day, the usage on any day and the battery charge remaining.
The solar panels and battery size are tailored to each location to suit the usage – over 100 cycles per day are not uncommon. Most importantly, Solar Gate Systems tailor the size of batteries and solar panels to suit the usage of each gate.
Once the system and panels are installed there are no extra running costs or electricity bills!
24-hour security…
The batteries are kept fully charged during daylight hours to carry on working through the night. The standard specification batteries have enough stored power to give over 1000 gate cycles with no further charging.
Find out more at www.solargatesystems.co.uk