Introducing >> Vegky Mushroom Jerky… 100% plant based! www.vegky.com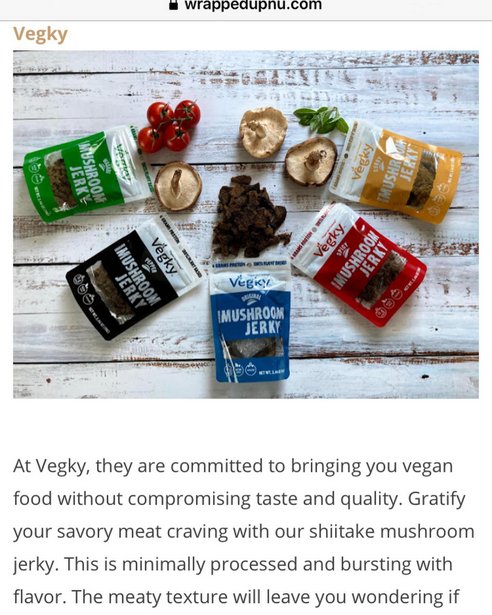 Vegky have a jerky snack that is at the forefront of the plant based food revolution! Plant based is the new trend and the new "cool".
It's made from the stem of shiitake mushrooms, so it has that fibrous texture that makes it TASTES LIKE MEAT but it's high in fiber!
Their Vegky Mushroom Jerky is 100% plant based and unlike others our jerky is minimally processed.
This is vegan and made from sustainably grown non-GMO mushrooms and does not contain any saturated fats. The meaty texture will leave you wondering if this is really a mushroom.
It comes in resealable bag so you can snack on a few pieces in between meals to curb your hunger and save the rest for another few days.
Here are some of the health benefits of shiitake mushrooms: blog.freshcapmushrooms.com/learn/health-benefits-of-shiitake/
This gift basket includes 5 packages, one of each flavor: original, spicy, pepper, curry and wasabi. We sell one packs on our website and on Amazon prime for $6.99 with free shipping.
5 Packs retail on Amazon, Ebay, ETSY, Walmart, www.Vegky.com and some other vegan websites for $29.99 with free shipping.
www.amazon.com/dp/B08CCH8FV6?ref=myi_title_dp
www.facebook.com/vegkyfoods
www.instagram.com/vegky
www.youtube.com/c/vegky
www.pinterest.com/vegky
www.linkedin.com/company/vegky
www.twitter.com/vegky1