Albert Upside Down
Written by Ian Brown
Illustrated by Eoin Clarke
Graffeg | 27 April 2021 | 3+
Paperback | £7.99 | 9781913634162
Interactive ebook also available
#AlbertTheTortoise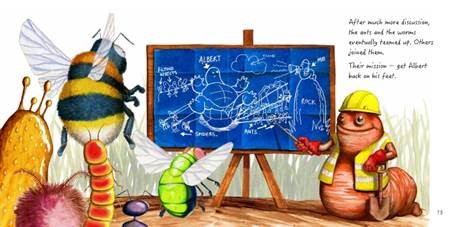 The first in a heart-warming new series from the award-winning duo TV writer Ian Brown & animation director Eoin Clarke, packed with charming illustrations and perfect for inquisitive, playful little minds.
"Beautiful, heart-warming and wonderfully illustrated. I am in love with Albert!"
Julian Clary, Comedian, Writer & Author of The Bolds children's series
"Funny, inventive and stunningly illustrated, this topsy-turvy tale is a delight. I was rooting for Albert from page one." Philip Ardagh, Author of the Eddie Dickens children's series & Roald Dahl Funny Prize winner
"What a treat for our youngest book-lovers – and for grown-ups who will guide them through it. Stunning illustrations and well-chosen words tell the story of Albert the tortoise getting back on his feet after a fall, helped by a somewhat disorganised band of garden creatures." John Craven OBE, Countryfile, Newsround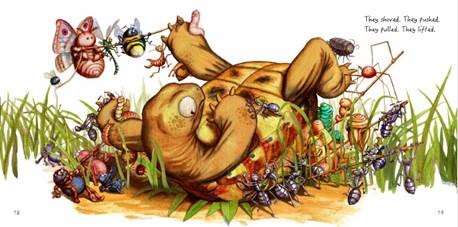 "A great little story of coming together to help those in need & fantastically illustrated."
Joe Sugg, Star of YouTube, Strictly Come Dancing & creator of the Username graphic novel YA series
"Sensationally illustrated, with a dilemma only teamwork can resolve, and containing acrobatic ants! What more could you want?" Clive Mantle, Actor & Author of the Freddie Malone children's series
"Ian Brown tells us Albert's heart-warming story, and makes us laugh along the way. Eoin Clarke's illustrations are stunning. What a lovely book. What will Albert get up to next? I can't wait." Michael Aspel, TV Presenter
Albert the pet tortoise has a problem: trying to reach a tasty treat, he has ended up on his shell, upside down and stuck! Can the other garden creatures overcome their rivalry, team up and help him get back on his feet?
Over an illustrious thirty-year career in television Ian Brown has written for the best in the business: from Homer Simpson to Bruce Forsyth, Simon Cowell to Harrison Ford, from This is Your Life to Comic Relief, Strictly Come Dancing and BBC Maestro. And now, introducing the biggest star yet… Albert the Tortoise!
Inspired by the adventures of real-life Greek tortoise Albert, who was rescued more than 50 years ago and has lived happily with Ian's family ever since, this is a timeless tale that uses humour to show children the power of working together and thinking creatively, and how even the smallest amount of help can make a very big difference. Vibrantly illustrated by animation director Eoin Clarke, part of the animation team behind CBBC's Operation Ouch and ITV's You've Been Framed, Albert and his garden friends are set to capture the hearts of children everywhere.
Albert Upside Down also includes fascinating facts about these modern-day mini-dinosaurs living life on the veg. Did you know that tortoises… are among the most ancient creatures on Earth? The largest can weigh 250kgs? They live on every continent except Antarctica? Or that these ancient creatures were among the first living things to visit the Moon…?!
Get to know real Albert better on Twitter @AlbertTortoise and Facebook @AlbertTheTortoise.
The second adventure featuring Albert and his garden friends – Albert and the Wind – will be published in October 2021.
Ian Brown is a London-based writer and producer for television and former Fleet Street journalist. His TV credits include Top Gear, The South Bank Show, This Is Your Life, Take Your Pick, Petrolheads, and the feature documentary Born to Royalty. He has written or produced for the likes of Pierce Brosnan, Harrison Ford, Simon Cowell, Tom Jones, George Lucas, Liam Neeson, Jason Statham, Martin Scorsese, and Bruce Forsyth, among many others. Ian is also the creator and writer of grownup cartoon series The Bruvs. The Albert series are his first book titles for children.
Eoin Clarke has worked for thirty years in the animation industry as a director, animator and storyboard artist – his directorial work across films, commercials and documentaries has garnered thirty awards. Clients include the BBC, Channel 4, BFI, and Ray Harryhausen, as a storyboard artist, as well as animation for CBBC: Operation Ouch and the opening titles of popular TV series Harry Hill: You've Been Framed and Gone Fishing with Bob Mortimer and Paul Whitehouse. The Albert series are his first illustrated books.