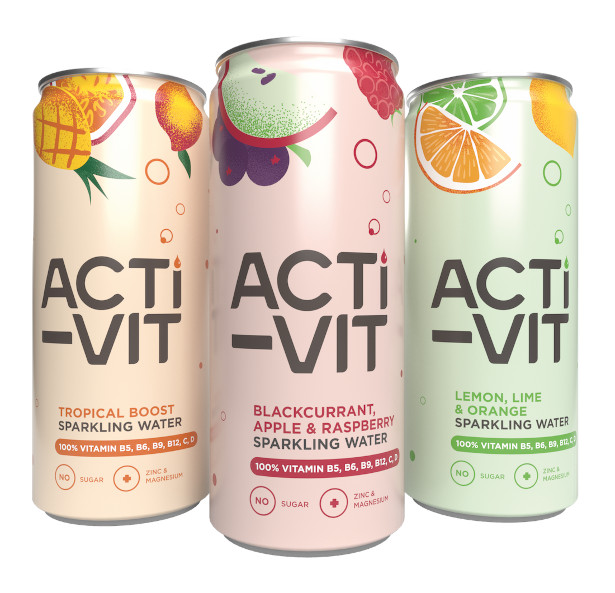 Ditch the boring multivitamins and get your daily dose of goodness in a delicious, fruity drink that provides you with 8 key vitamins and minerals. Say hello to Acti-Vit – the sparkling vitamin drink giving you a new and fresh way to feel naturally energised and alive!
This brand new launch, just in time for summer and lockdown 'freedom', is for everyone who wants more energy to play and enjoy the lighter things in life – because all work and no play makes for a very boring day. Boosted with essential vitamins and minerals that support energy release, aid mental performance and reduce tiredness, Acti-Vit is the fun and fruity way to give yourself a lift.
Available in three delicious flavours – Tropical Boost, Blackcurrant, Apple & Raspberry and Lemon, Lime & Orange – Acti-Vit combines fresh, fruity tastes with energising and immunity-supporting vitamins & minerals. Each can provides 100% RDA of Vitamins B5, B6, B9, B12, C, D and Zinc, along with 15% of your RDA of magnesium – one of the highest vitamin concentrations on the market.
All three flavours have the same nutritional profile, so you don't have to compromise on a taste that doesn't fit your mood. Feeling zesty? Grab a burst of citrus with Lemon, Lime & Orange and swap for your morning coffee. For some old school squash nostalgia, try sipping on Blackcurrant, Apple & Raspberry in the afternoon instead of the sugary versions. Or, for some summer-loving Club Tropicana vibes, Tropical Boost (with mango, passionfruit & pineapple) is the one for you, and a perfect non-alcoholic alternative to cocktails!
With zero sugar, zero caffeine and only 3 calories per can, Acti-Vit is the most refreshing and healthy way to get a sustained energy boost, without the nasty crash. Say goodbye to coffee jitters and hello to a new way to play!
Why Acti-Vit will be your new favourite way to stay naturally energised, at a glance:
• Refreshing sparkling water boosted with key vitamins and minerals that reduces tiredness & fatigue, aids mental performance, supports energy-yielding metabolism and support the immune system
• 100% RDA of Vitamins B5, B6, B9, B12, C, D and Zinc
• 15% of your RDA of magnesium
• Three mouth-watering flavours – Tropical Boost, Blackcurrant, Apple & Raspberry and Lemon, Lime & Orange
• Zero sugar, zero caffeine
• Only three calories per can
• Healthy alternative to sugary energy drinks
• In a fully recyclable can (and a tree planted for every case sold in the Acti-Vit online store)
Nutritionist (BSc) and a Specialist in Health Psychology (PhD), Dr. Naomi Newman-Beinart, comments on the benefits of replenishing your body with essential vitamins and minerals: "Tiredness, poor concentration and lacking energy can all be linked to a lack of essential nutrients in the diet. A varied and balanced diet should provide much of your vitamin and mineral intake. However, many people struggle to get the recommended daily allowance (RDA) of certain vitamins and minerals due to not having enough time or not eating the right foods. By ensuring you replenish your body with these essential vitamins and minerals, you can make a big difference to how you feel, your energy levels and your overall well-being.
The great news is that not only your mood, concentration and energy are influenced by getting enough of these essential nutrients. Ensuring you are meeting the RDA of vitamins B5, B6, B9, B12, C and D, as well as the minerals zinc and magnesium, means that you will have what you need to support your immune system, your nervous system and to support bone health, your muscles, hair, skin and nails. So, at the end of a working day, you will have everything you need to help you pursue a healthy, fun and active lifestyle. For those who don't like to take lots of pills or multivitamins, Acti-Vit offers a refreshing alternative to get those important vitamins and minerals."
The Acti-Vit range will be available from Ocado, Amazon and direct from Actiph.shop from June. RRP: £1.29 per can, £4.49 for pack of four, £13.59 for pack of 12 (with 25% online discount using the code FRUITY25).
For more information and to browse the Acti-Vit range please visit: acti-vit.co.uk