Find the Golden Cat for your chance to win £1000
Curious Cat App is offering users the chance to put even more cash #inthekitty this September
Money saving favorite Curious Cat App has launched its exclusive Golden Cat hunt to offer lucky users the chance to win £1000 from 1st September simply through completing easy to do surveys within the app.
Curious Cat App is a forward-thinking mobile app that allows users to easily earn cash through completing surveys, helping you put a little extra #InTheKitty to use towards your monthly outgoings. The app's fun and friendly interface means that users benefit from easy to do surveys and the opportunity to cash out at just £1.00, lower than many survey sites. This Autumn Curious Cat App are upping the stakes to help out after a tough year, offering the chance for one lucky user to win a £1000 cash prize each month from September to November, to help out with holidays, house renovations or saving for Christmas.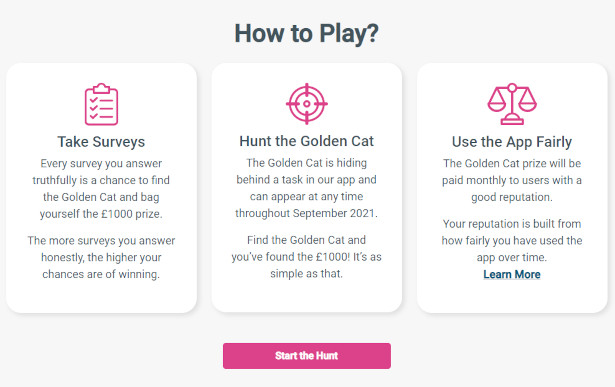 The great thing is that anyone can win, whether a new or old user, by completing surveys truthfully and honestly through the app. It's simple, the better a user's reputation, the higher the chances of hunting down the Golden Cat which can randomly appear on screen following a successful survey completion. Users can keep a good reputation on the app by completing surveys regularly and fairly, without overdoing it.
The app is free to download and rewards users with points per survey, which can quickly add up to a payout. You don't need to wait long to get the money, once you reach the £1 threshold, you can take cash out, meaning anyone can make some extra money from anywhere, anytime, even the comfort of the sofa, just by being on your mobile.
Currently serving over 17 countries, Curious Cat App is the perfect side hustle and is here to lend a helping hand through hard times, when life's little luxuries may feel like a stretch for the bank account. Curious Cat App doesn't claim to make you a millionaire, but it is honest in helping you make a few quid for your thoughts and views, and in the run up to Christmas wants to put even more #inthekitty.
Along with the extra cash benefit, Curious Cat App also gives consumers a voice, allowing them to share their opinion on time-relevant topics, and thoughts on future products. With 77% of UK residents being stressed about money even before the pandemic hit, there's no better time to make use of this innovative platform.
Curious? Head to https://curiouscatapp.com/golden-cat to find out more or download the app straight from the app store.