CONSOLE VAULT®, ANNOUNCES NEW IN-VEHICLE SAFE FOR 2021 LEXUS GX 460… 10% Off with code RUGBY at >>> www.consolevault.com
At Console Vault®, we like to think we are in the peace of mind business. We believe that everyone should have the confidence that when they leave their home, wherever they go or how short or long the journey, that their most important valuables will be safe and secure from theft.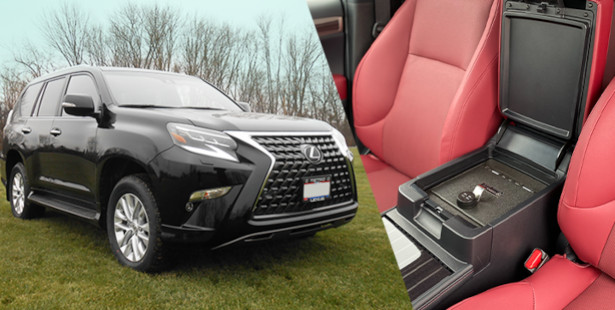 FACEBOOK | TWITTER | INSTAGRAM
Columbus, OH—January 18, 2020—Console Vault®, The Original In-Vehicle Safe™, has announced the launch of a new in-vehicle safe specifically designed for the new Lexus GX 460. This latest addition to the already extensive range of safes provides owners with security, protection and peace of mind when storing their valuables and firearms for the 2019 – 2021 Lexus GX 460.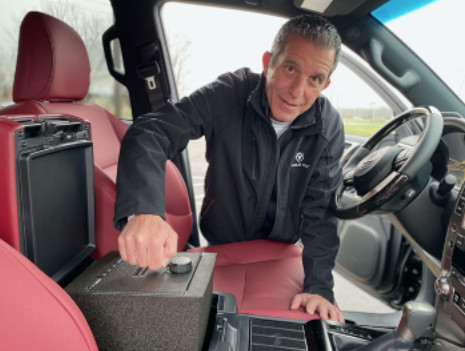 "Our clients have been asking us to expand our product offering for SUVs that the public would be gravitating to and the Lexus GX 460 was very high on their lists," said Scott Bonvissuto, senior vice president of sales and marketing for Console Vault.
According to Automoblog.net: "The 2021 Lexus GX 460 is a capable SUV if you are going stir crazy and want to take a road trip. Given the luxurious interior, it's easy to keep right on driving. With a V8 under the hood, the GX 460 can tow a small camper or a trailer full of motorcycles or snowmobiles for a weekend getaway. It's also the ideal luxury SUV for a family who lives outside the city and needs to travel unpaved roads to get home."
The new safe is currently available for the 2019 – 2021 Lexus GX 460 as a center console safe and includes the option of having the customer personally selecting one of the three locking mechanisms.

Console Vault has over 65 different in-vehicle safes, customized for light trucks, SUVs and select sedans across many brands and model years. Consumer demand for in-vehicle theft prevention is being driven by a significant increase in auto thefts and "smash and grabs and is now seen as an essential option for in-vehicle security. For 2021, the Company is planning an aggressive roll-out of new products to expand the range and types of vehicles covered.
As with all Console Vault products, the safe for the Lexus GX 460 is made from 12-gauge steel, exceeding all automotive quality standards and fits in the console of your vehicle, concealed from view. They are easy to install and require no modifications to your vehicle. All models include free shipping anywhere in the United States.
A recent customer provided a testimonial on why the Console Vault In-Vehicle Safe has been a positive addition to their vehicle:
"I purchased a Console Vault In-Vehicle Safe and was surprised at the peace of mind it brought me when I have to leave my handgun in my SUV if I go into a government building for a meeting where it is prohibited to have my handgun with me. My friends noticed that I also placed my wallet and watch in the Console Vault safe when I go for a run or a hike. It decreases the stress of worrying about the possibility of smash and grabs and my belongings being stolen."
About Console Vault, LLC
Headquartered in Columbus, OH, Console Vault was founded in 2002 by an entrepreneur who decided to provide a solution for the rash of smash and grab car thefts he was seeing. The creation of an in-vehicle safe proved to be a viable solution that could secure both valuables and handguns in owners' vehicles.
Console Vault in-vehicle safes are designed to be the most innovative, highest quality products with guaranteed fit, styling and durability. Each safe is custom designed for easy installation for a wide and ever-growing range of vehicles. We are committed to providing peace of mind and a strong sense of security wherever you need to be. To learn more or review the entire Console Vault collection, visit www.consolevault.com