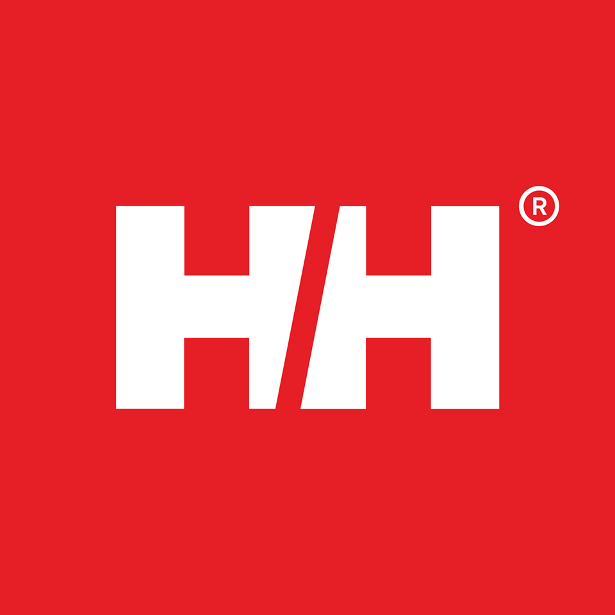 PINTEREST | TWITTER | FACEBOOK | YOUTUBE | INSTAGRAM
MEN'S / BASELAYER
APPAREL / MEN'S / BASELAYER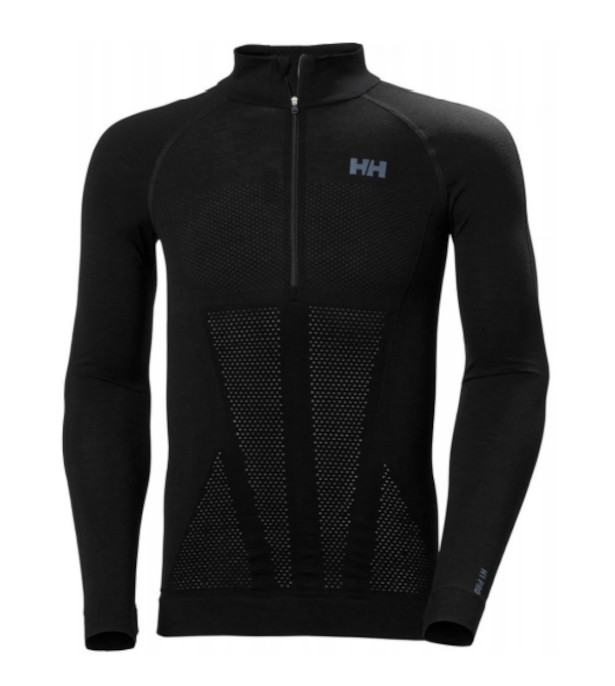 LIFA MERINO HEAVYWEIGHT 1/2 ZIP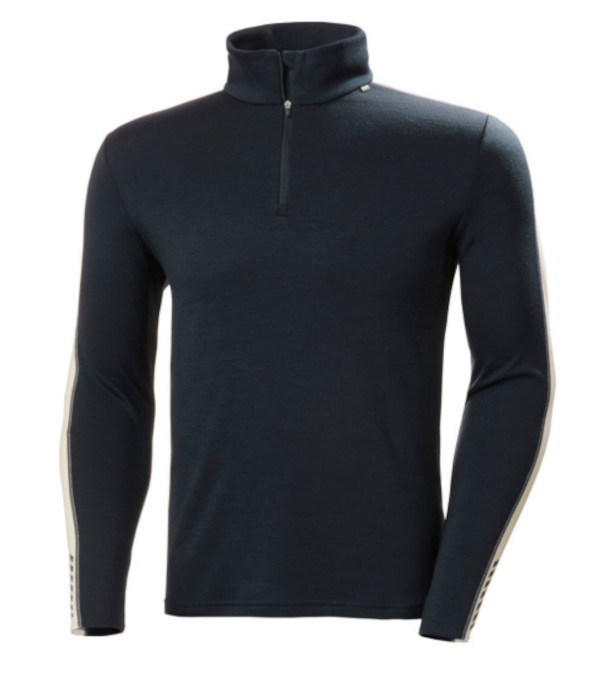 LIFA MERINO MIDWEIGHT HOODIE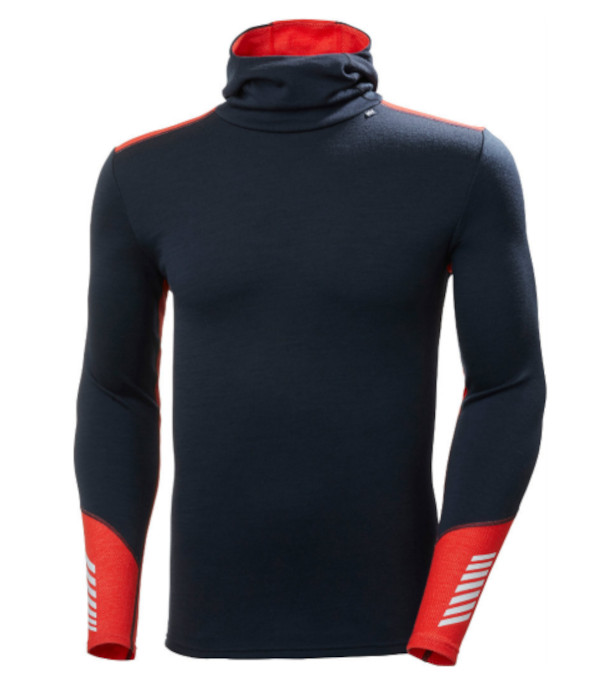 LIFA MERINO LIGHTWEIGHT 1/2 ZIP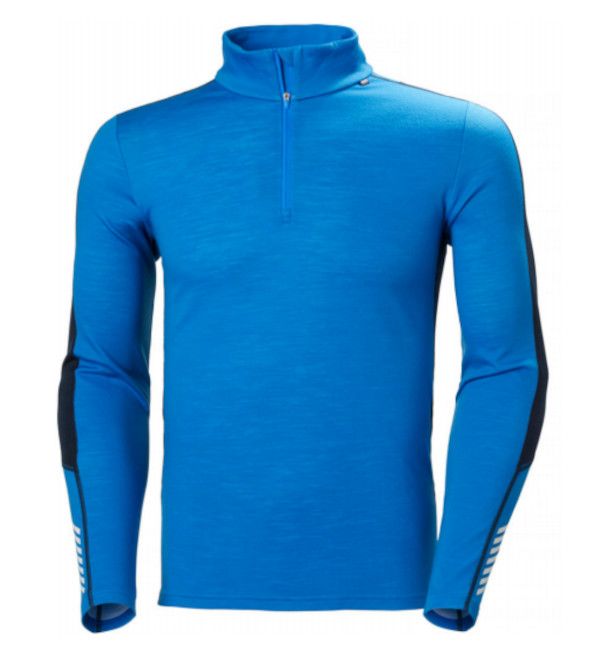 LIFA ACTIVE 1/2 ZIP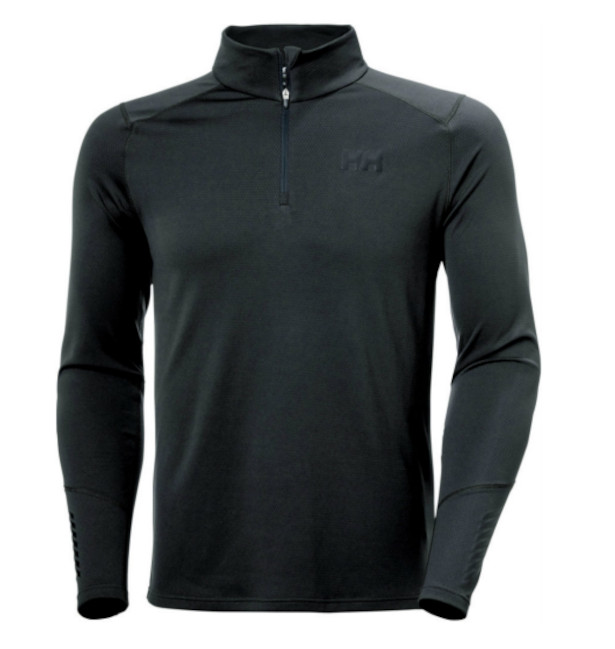 LIFA MAX 1/2 ZIP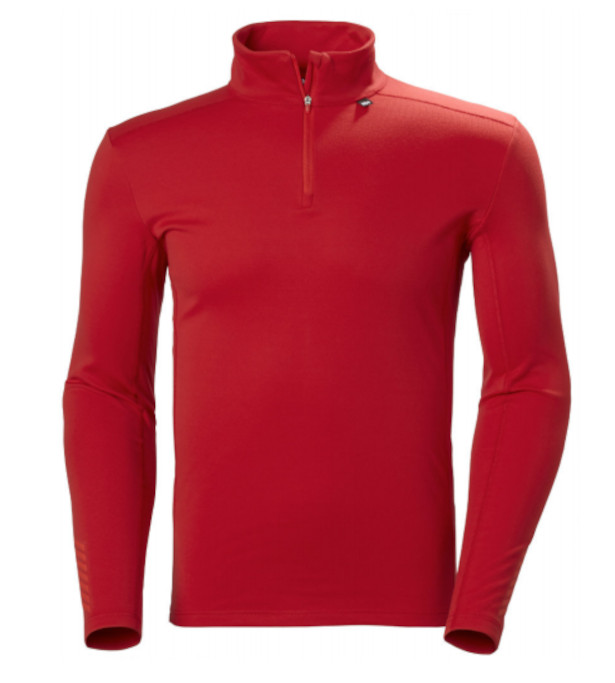 MEN'S / MOUNTAIN
ODIN INFINITY SHELL JACKET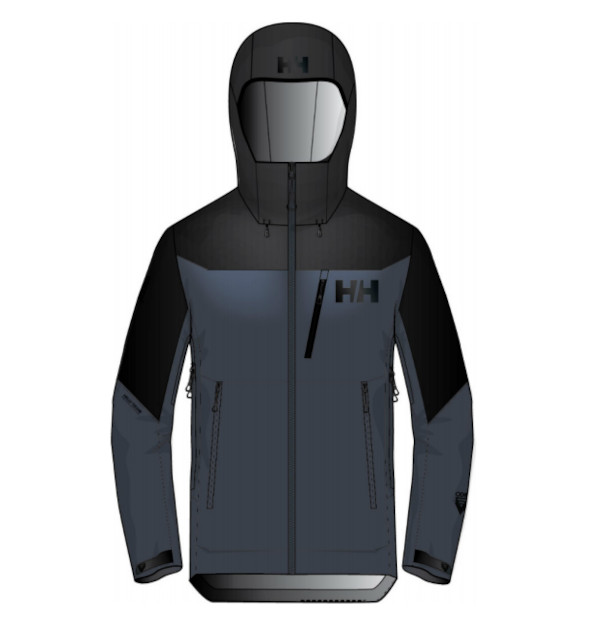 ODIN LIFALOFT DOWN HYBRID JACKET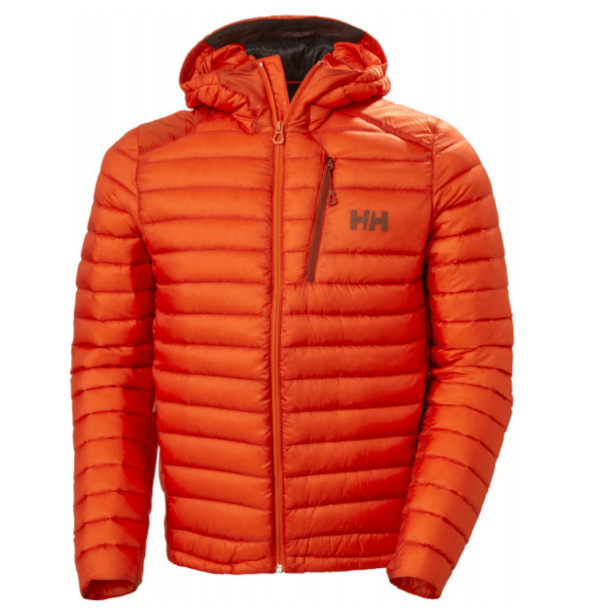 ODIN HUGINN PANT
LOKE PANTS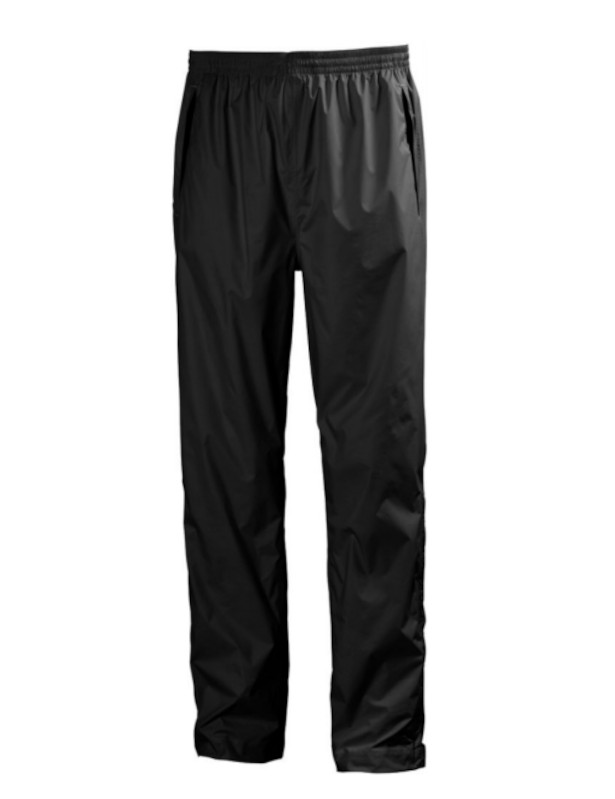 Innovatuive >> Buzzy Blends brings honey to the table with a tasty twist! www.buzzyblends.co.uk
For 20% off use code: club20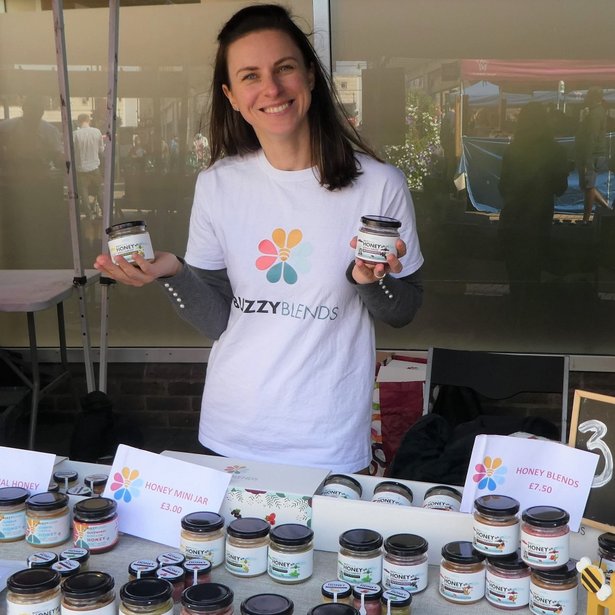 Buzzy Blends brings honey to the table with a tasty twist. Their products are defined by originality and breaking with tradition – delivering on all the health benefits of honey in brand-new blends with other delicious ingredients from Mother Nature!
Buzzy Blends is an independent, family-owned business based in UK, that was created to bring honey to the table with a tasty twist. Our apiary is enrolled in an 'xceptional quality' program, which means that it's often inspected to ensure that we're sticking to the highest of standards.
Our unique range of handmade honey is seriously big on flavour without compromising on quality. With our bees at the heart of everything we do, our honey is collected by ethical beekeepers who care for and protect the bees, and our blends are made with absolutely no additives or preservatives, just 100% natural ingredients that deliver all the nutritious goodness. We have a mix of flavours such as peppermint, chocolate right through to lemon and ginger and cranberries.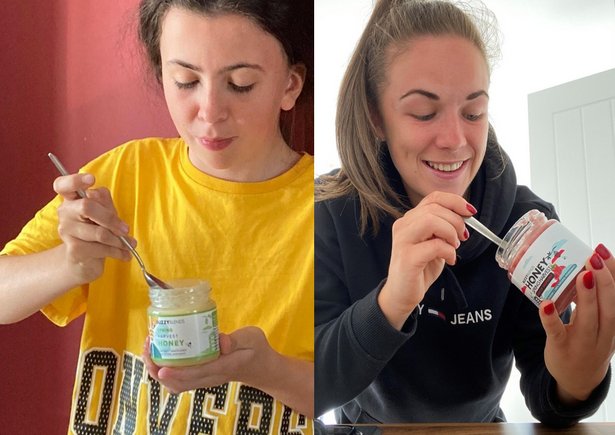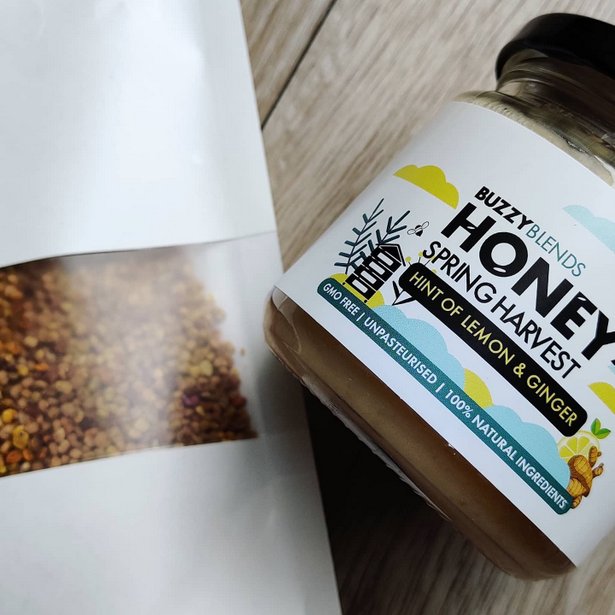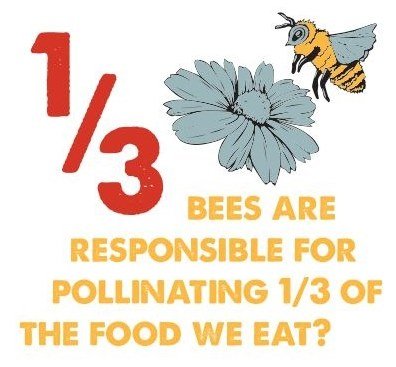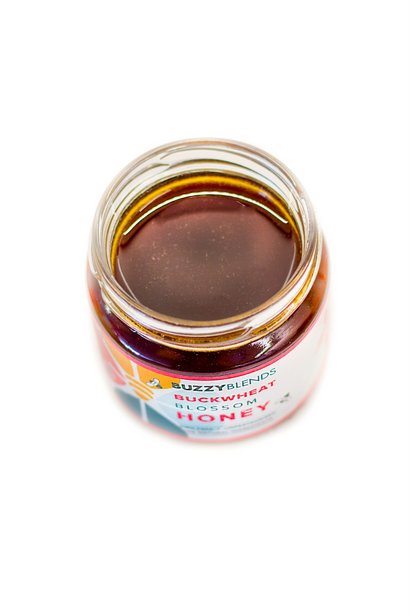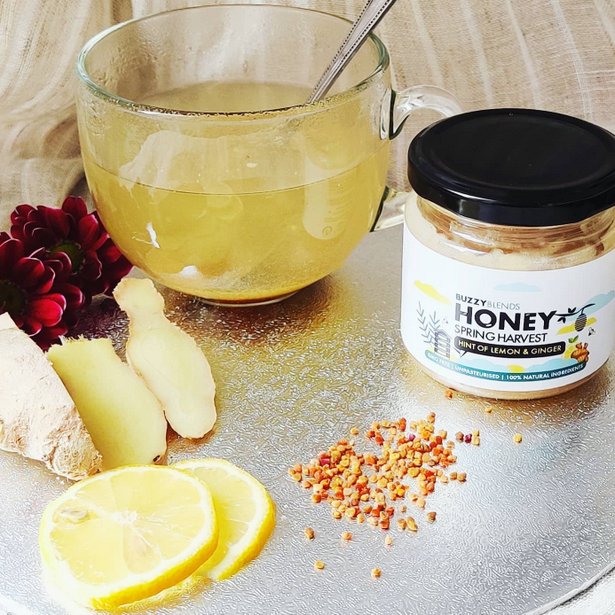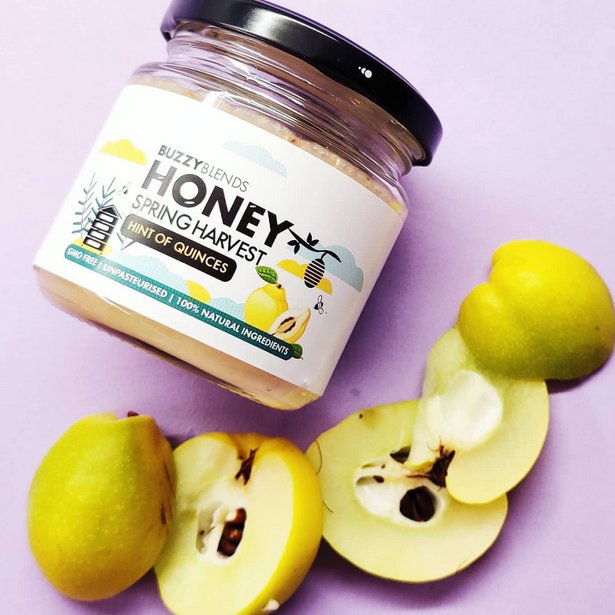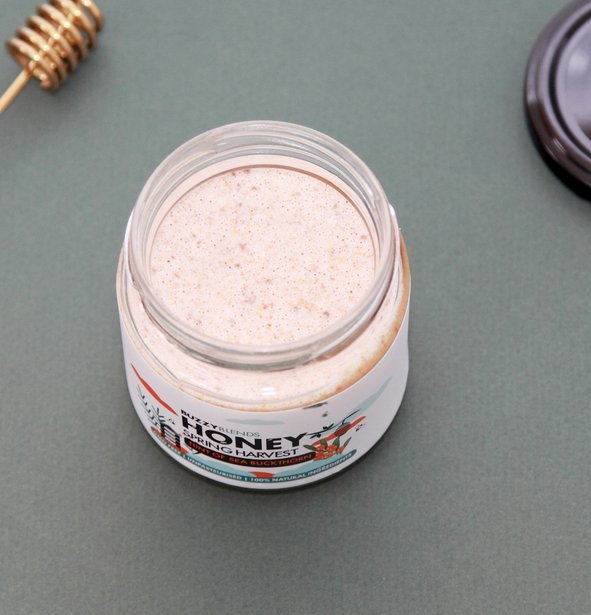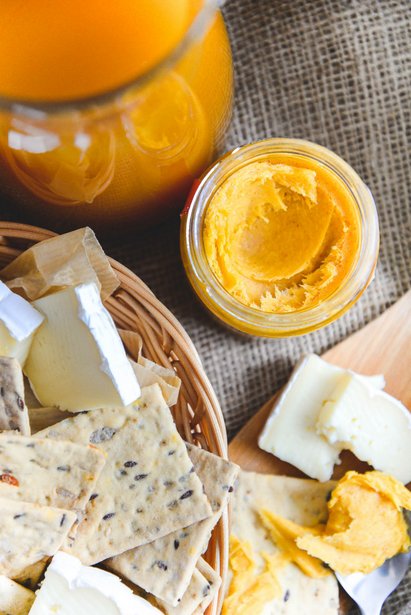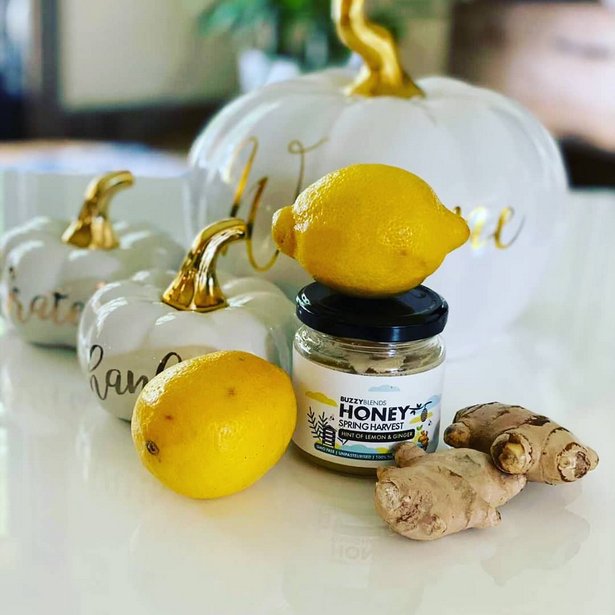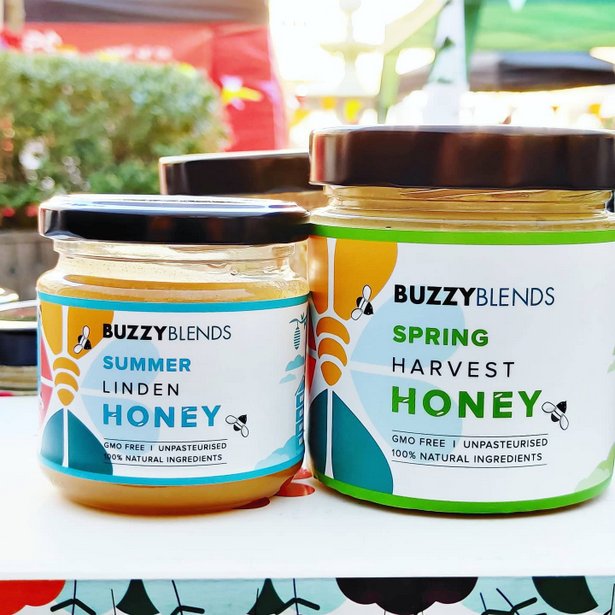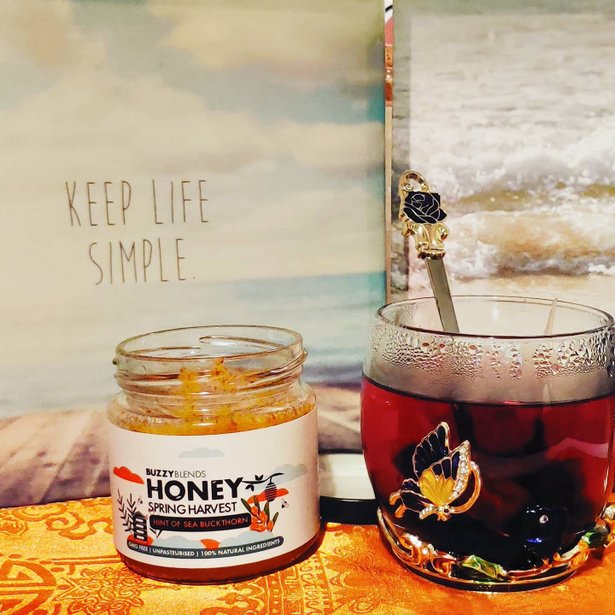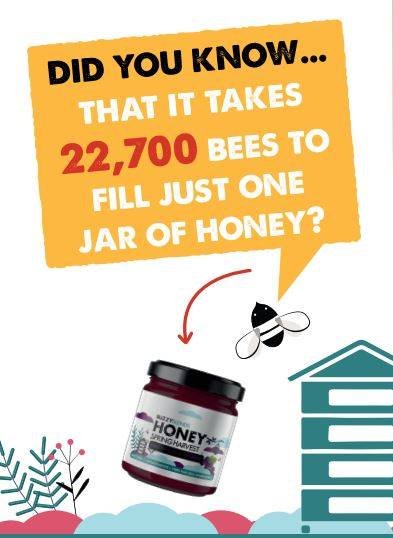 FROM BioTech Life Sciences >> NMN 10g + Natural Citrus – Pharmaceutical Purity >99.5% – Anti-Aging, Rejuvenate Stem Cells, Hair Colour & Thickness – Increase Energy & Metabolism – Boost Mood & Memory (NMN 10)
www.btl.science & On Amazon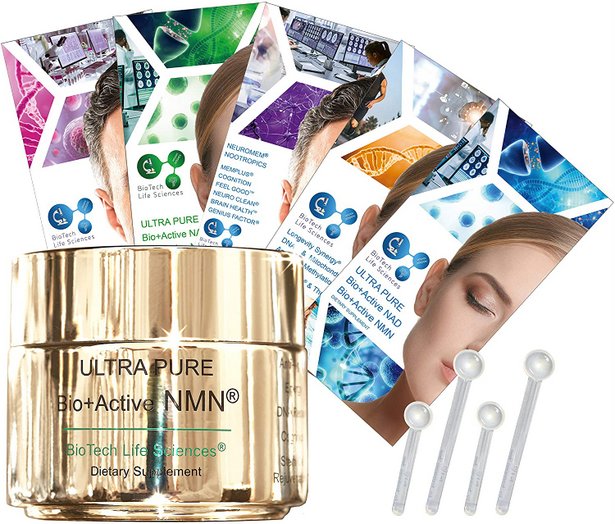 ✅ THIRD PARTY TESTED & MANUFACTURED USING HIGH-PRESSURE LIQUID CHROMATOGRAPHY – Unfortunately, as you may have noticed, many companies are adding extra fillers and minimal amounts of NAD+ & NMN in their supplements. Our NAD+ & NMN are manufactured with a patented formulation of crystalline Nicotinamide Mononucleotide that is optimised for pharmacodynamic and pharmacokinetic properties including stability.
✅ MORE VALUE FOR YOUR MONEY – Our NAD+ & NMN may look to be higher in price than other brands, but because our product is a Higher-Purity, you actually get more for your money per dosage. We have a dedicated team of Pharmacologists, Chemists & Research Scientists formulating the cleanest form of NAD+ & NMN for you so that you get all the benefits without the fillers.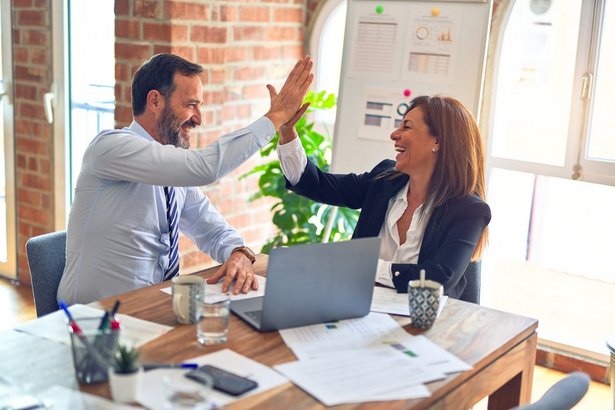 ✅ ANTI-AGING & INCREASED ENERGY – Increased NAD+ levels help boost ATP levels which increases energy levels. It protects the nervous system, preserving brain health & acts as a neuroprotectant + supports neurogenesis. Reduces fat cell production, helping boost metabolism & aid weight loss. Increasing NAD levels in the body help with increasing DNA repair, restoring cellular health & premature aging.
✅ STEM CELL & EYE HEALTH REJUVENATION – For longevity & life extension, Nicotinamide Adenine Dinucleotide & Nicotinamide Mononucleotide are effective for stem cell health, fighting free radicals + induce natural healing. Studies have shown it boosts immunity, reduces toxins & corrects deficiencies in the immune system, targeting cellular dysfunction.
✅ BENEFITS – Many of our clients report Increased Energy & Strength, finding it easier to start the day. ✅ White & grey hairs getting darker ✅ Increased Optimism, Mental Clarity & Concentration – see our NMN & NAD+ reviews. ✅ We are a team of Science & Nutrition researchers co-operating with other labs around the world. ✅ Providing you the best Phytochemical & Nutraceutical supplements. ✅ The cleanest, purest ingredients – QUALITY FIRST, COST SECOND- we only accept the best for our health.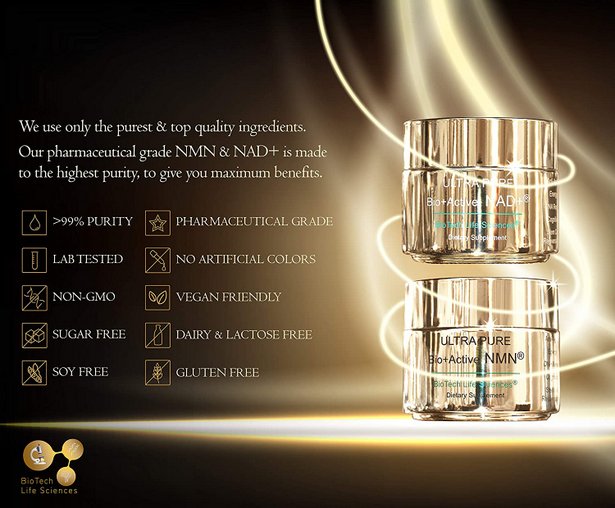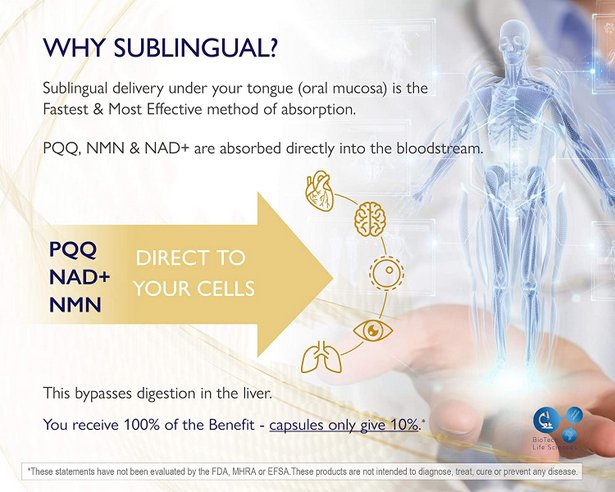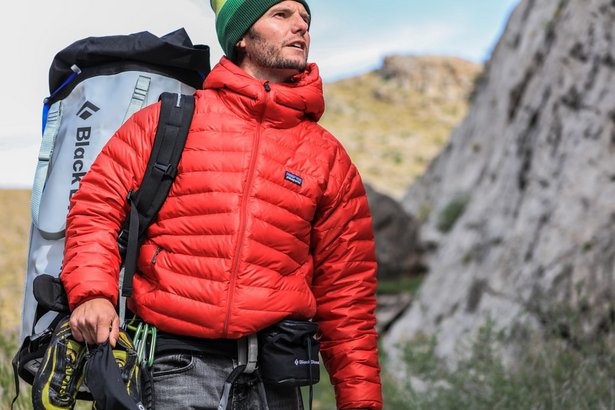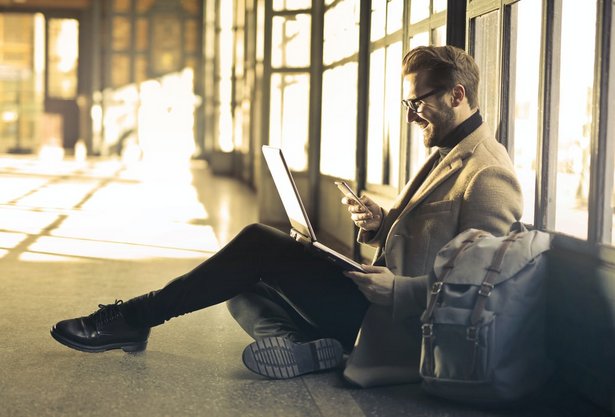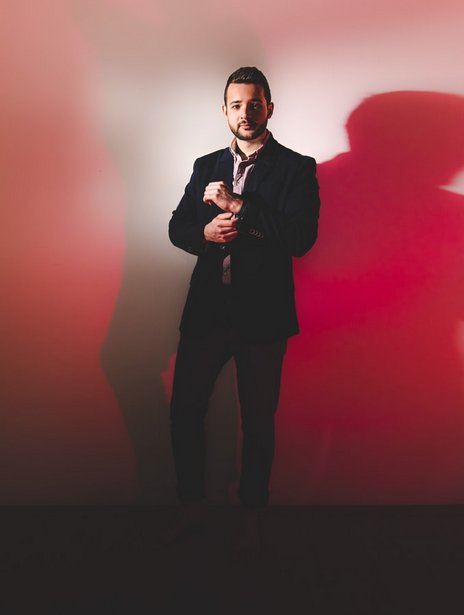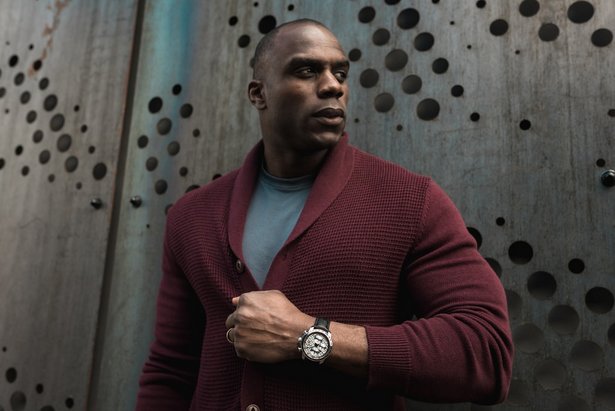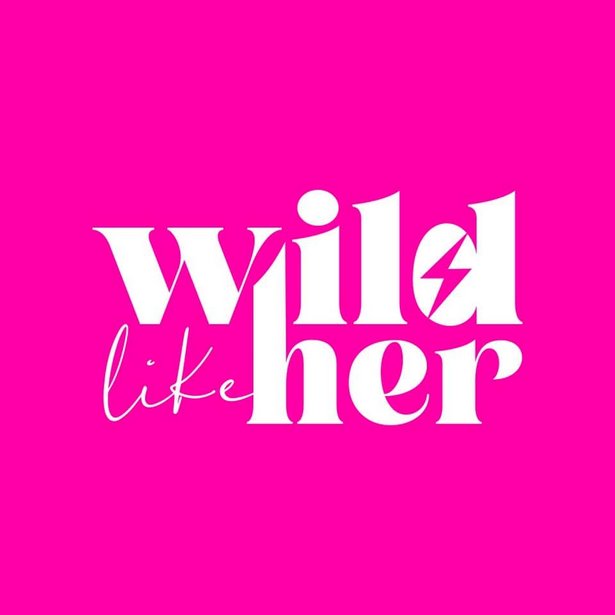 Wild Like Her, is a womenswear brand created to help women keep their playful identities alive through fun and colourful fashion!
I'm sure some of my designs would work well as gifts for her and a potential gift for him with the Your Year Your Way design…! ✊🏻💖
www.wildlikeher.co.uk
@wild_like_her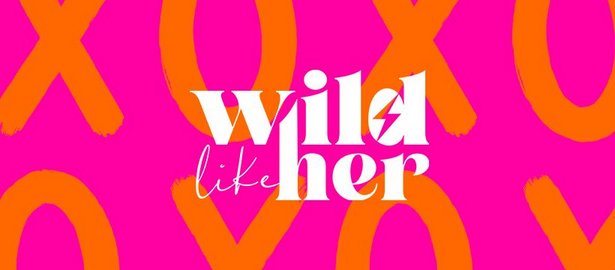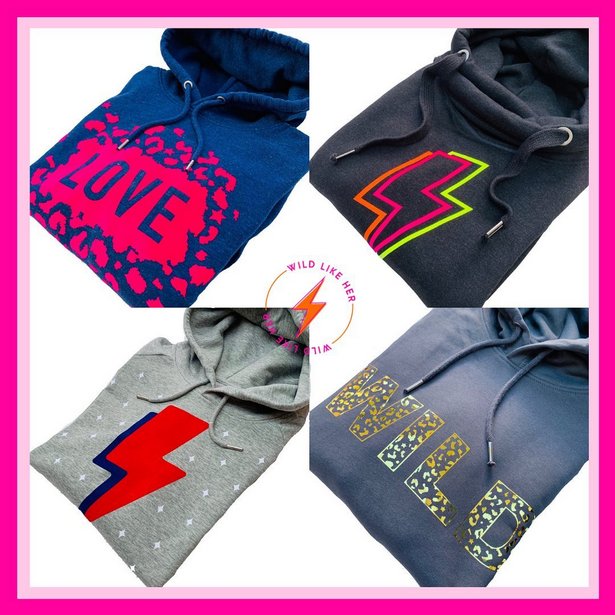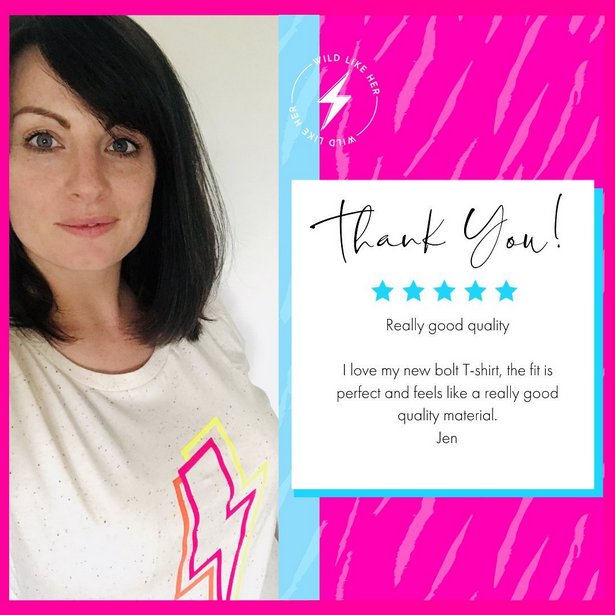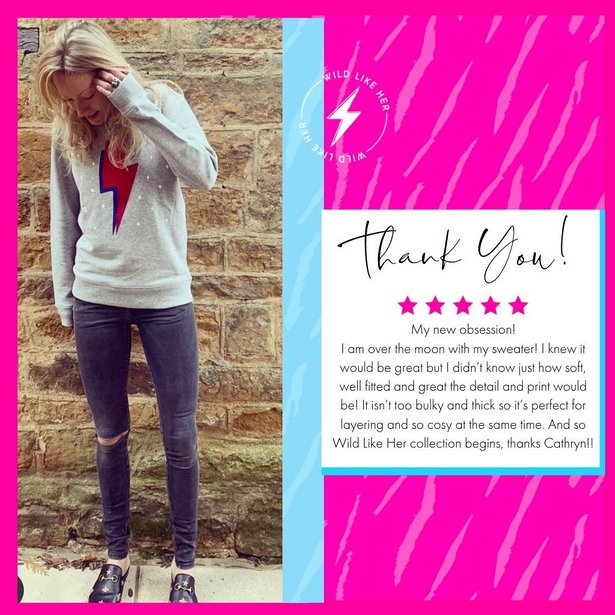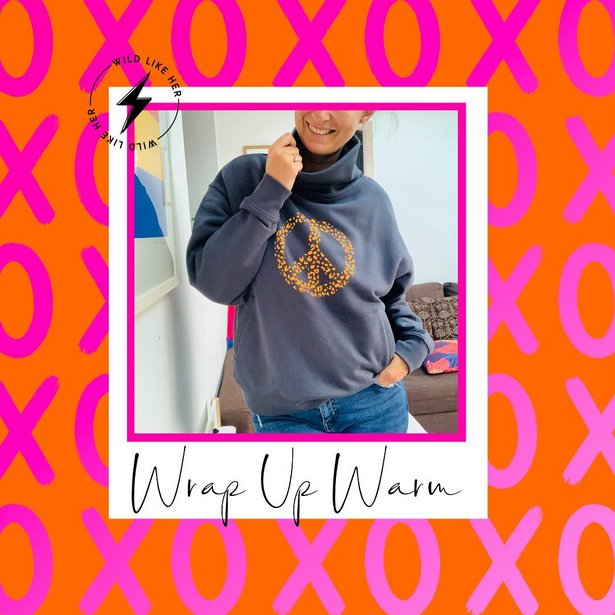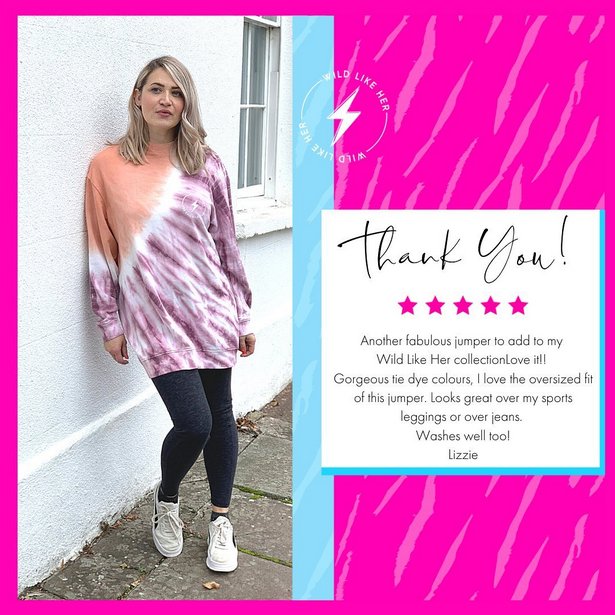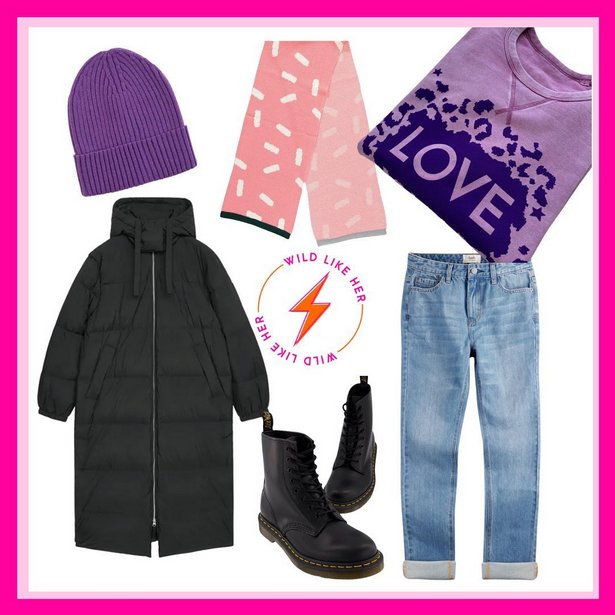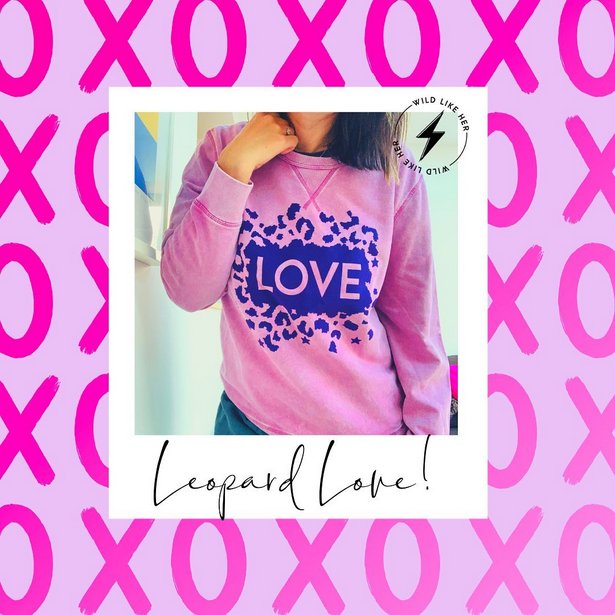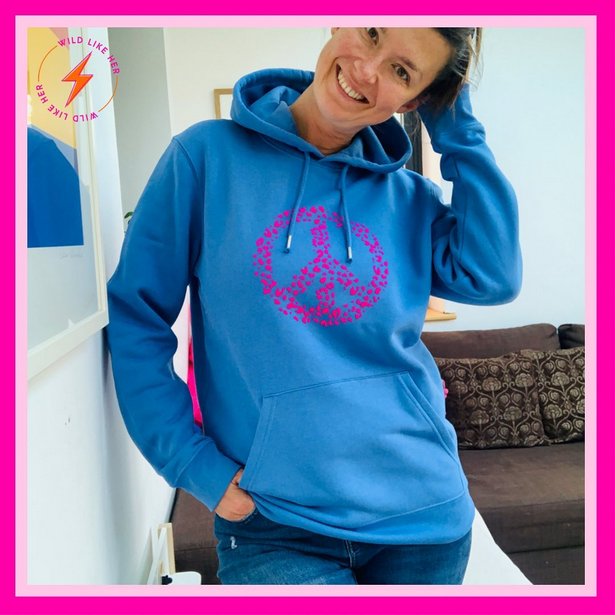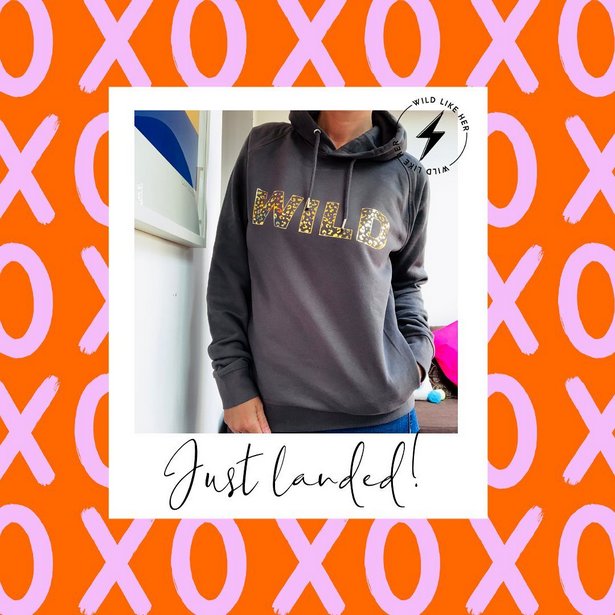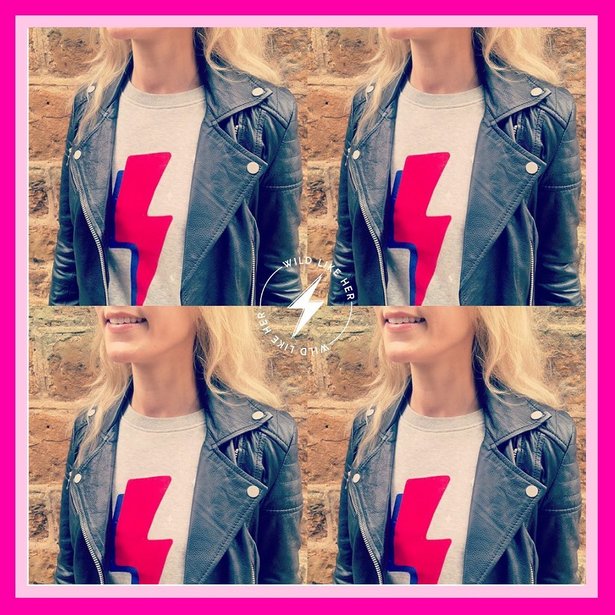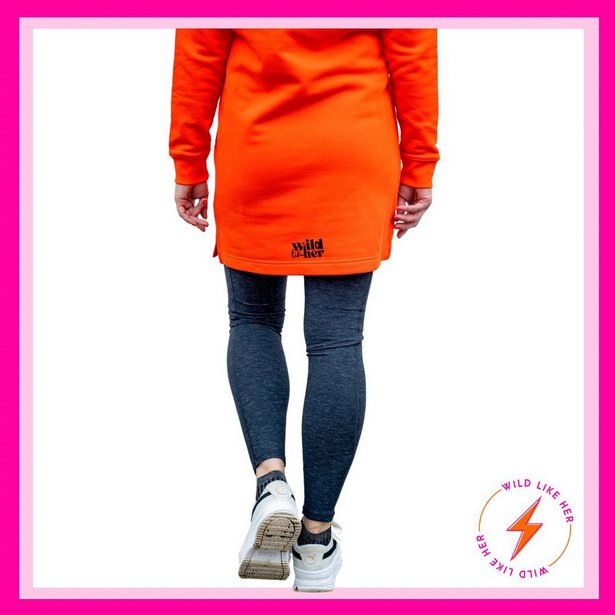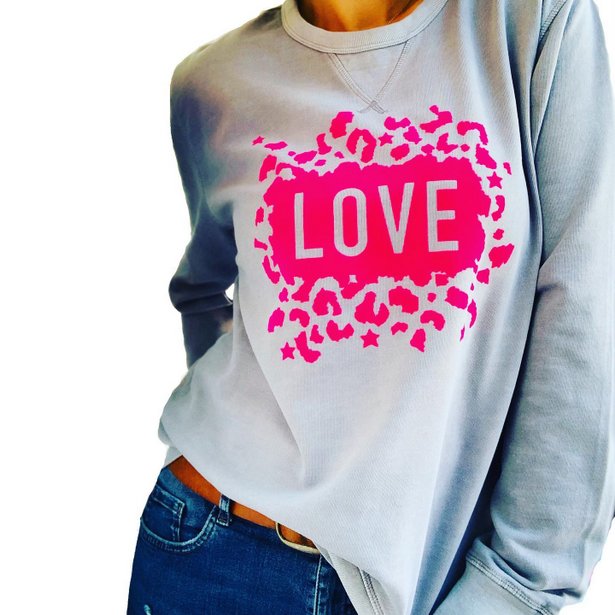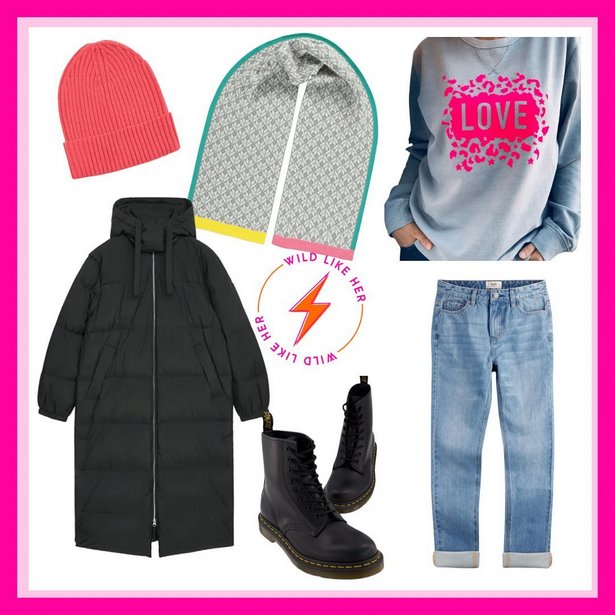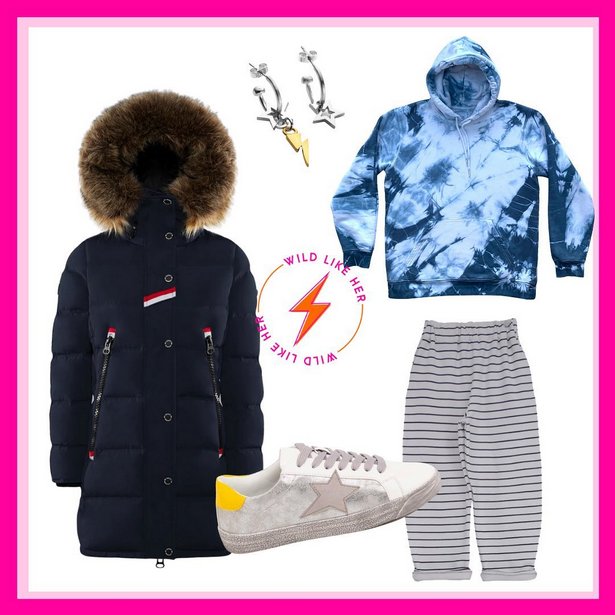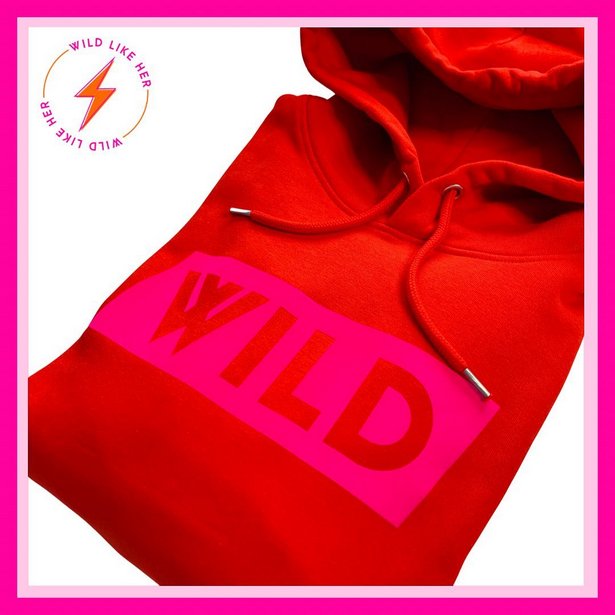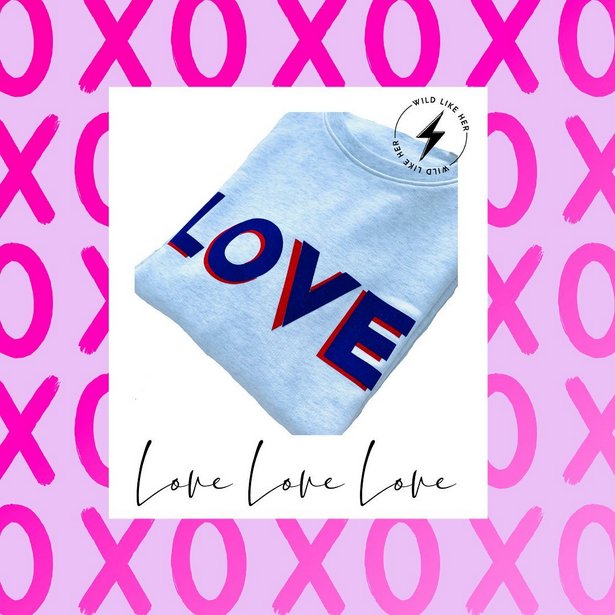 Pixel Buds – Gifts to impress
Nifty wireless earphones for people that are always on the go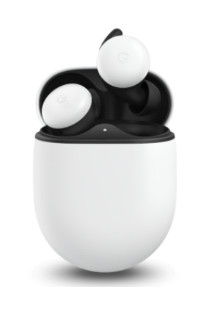 Price: £179
Availability: Google Store
Colours: Clearly White, Just Black (available later this summer)
Key features:
Pixel Buds' integrated Google Translate feature makes them the perfect device for those that manage to get away this Christmas
Custom-designed earbuds with adaptive sound capability that subtly adjusts the volume as you move between quiet and noisy environments, helping you stay zen while navigating the busy shopping centres
Soft and smooth, the ergonomic design stays place so the buds don't get knocked out of your ears when taking off your coat, scarf and hat
Our voice accelerometer means you can have crystal clear phone calls even when stepping out from your Christmas parties
Their water and sweat-proof design means you don't need to worry about going for runs in the rain or snow
A gift voucher for the brilliant new online meal planning service www.fivedinners.com by celebrity chef Theo Michaels – each week you receive x5 recipes and 1 shopping list. FiveDinners encourages the family to eat together, reduces stress of deciding to what to cook eat night, reduces food shopping bills and reduces food waste. While shopping for your own ingredients helps you to understand the ingredients your cooking with and the variation helps children to discover new tastes.
In a nutshell FiveDinners helps to make life that little bit easier.
'Such a great idea! I love that I can plan for the week ahead making exciting new dishes that everyone likes. Thank you for making my life easier!!'
'It's truly a life saver, it's the best feeling to wake up already knowing what you are going to make – before FiveDinners I used to stress about what to cook!'.
Neos SmartCam
The Neos SmartCam is the perfect present for this Christmas. Tech lovers and tech novices alike can make the most of this nifty gadget for only under £30.
The SmartCam is a perfect, pocket-sized gift that will let you keep an eye on your home and family through the Neos app on your smartphone, no matter where you are in the world (or – during lockdown – out on a run with the dog, or just in the garden!) Its low price and high-quality make it a match that's tough to beat.
Price: £29.99
Features include:
Night Vision
Alexa integration
Motion & Noise Detection
Free Cloud Storage
1080p HD video
As well as the well-loved SmartCam, Neos have this year launched two exciting new Smart Kits to help keep people's homes safer than ever – the Smart Motion Kit & Smart Leak Kit. If you want to bump up the Christmas present, these two products in addition to the Neos SmartCam will make a great, all-round present to make you home smarter than ever
Smarter Motion Kit
The Neos Smart Motion Kit integrates with the Neos SmartCam to keep your home safe and sound by empowering any household item to detect motion, allowing you to protect what matters most. Place it on doors or windows so that you are alerted to any unexpected movement, helping you and your family feel safe and sound especially in parts of your home where you'd rather not have a camera. Or you can stick it on the cat flap to keep an eye on Mitten's comings and goings and pop it on the cookie jar so no one steals your digestives – it's completely up to you!
The Neos Smart Motion Kit includes: 2X contact sensors, 1X motion sensor, 1X Smart Bridge. Price: £35.99
Features include:
Open/Close Detection
Motion Detection
Instant notifications
Smart Bridge included
Easy Set-Up
Battery Life Indicator
Smart Leak Sensor Kit
The Neos Smart Leak Sensor Kit is designed to detect even a single drop of water, preventing small leaks from turning into big problems. It also alerts you to unexpected changes to your home with the built-in temperature and humidity sensors. The sensors are small and discrete meaning you can fit them almost anywhere and they can be installed in minutes.
The Neos Smart Leak Sensor Kit includes: 3X Smart Leak devices, 1x Smart Bridge
Price: £44.99
Features include:
Leak Sensor
Temperature Sensor
Humidity Sensor
Smart Bridge included
Instance notification
Sound Alarm
Easy Set-Up
Battery Life Indicator
Personalised humidity & temperature range
Wool you believe it: Yorkshire homeware brand has Christmas all sewn up with gifts for the whole family
Luxury soft furnishing brand, Adriana Homewares, reveals exclusive new Christmas gift collection for 2020
Yorkshire based luxury homeware brand, Adriana Homewares, has Christmas all sewn up this year with its range of beautiful gifts guaranteed to put a smile on your loved ones faces.
Specialising in designing luxurious fabrics and hand making sumptuous soft furnishings and fashion accessories from the finest 100% British Wool, Adriana Homewares' latest collection combines style and long-lasting quality for all the family.
From showstopping super soft throws to keep country homes cosy, to statement cushions that are guaranteed to turn heads in stylish townhouses, Adriana Homewares' collection will ensure you're "guest ready" for the festive season and beyond.
The British brand also offers a collection of high quality, on trend, boxed scarves and wraps which promise to keep the whole family stylish and snug this winter.
Inspired by her Yorkshire heritage and rural lifestyle, owner Adriana lovingly hand makes each item in her Yorkshire studio.
Here's a selection of their best-selling gifts, suitable for everyone looking to source some style for their loved ones this Christmas:
Head over to www.adrianahomewares.com to browse the full range. Matching handmade cushions, throws and lampshades available in all ranges.
Christmas Gift Guide 2020:
Mummy and me luxury scarves:
Kirkham Scarf – Hydrangea and Mustard, Kids £25 each, Adults £75 each.
Twinning is winning in our book, and what better way to show some solidarity this Christmas than with these matching scarves for you and your mini me's. Handmade from beautiful 100% wool, our Kirkham Scarf promises to keep the whole family festively toasty for the holiday season and beyond.
Luxurious and soft to the touch, but durable to withstand the rough and tumble of child's play, they are available in a range of stunning on trend and classic colours. Woven in West Yorkshire and handmade to order in our Leeds studio with a leno stitch edge, our scarves come in a gorgeous gift box – making it the perfect stocking filler!
Ryedale Limestone Throw – Limestone, £220
Keep the cold out this Christmas by snuggling down into our soft, sumptuous, handmade Ryedale Limestone Throw. Part of our Howardian Range, we were inspired by the soft and gentle rolling Howardian Hills – an area of outstanding natural beauty in the North Yorkshire countryside.
Woven in Yorkshire using 100% British Bluefaced Leicester Wool, this beautiful throw oozes rural heritage and is super on trend with its natural tones – also available in Jade, Lavender and Raspberry. This truly gorgeous gift would make a welcome addition to any home!
Sandsend Throw – £180
Help your loved ones unwind from the chaos of Christmas this year by gifting them our beautiful blue Sandsend Throw – intricately woven and handmade with 100% super soft British Wool. This elegant throw is truly unique with a striking, statement design that never fails to turn heads.
The perfect present for those that enjoy winter walks or cosying down with a good book and glass of wine next to a roaring fire. Inspired by the calming waves of Whitby and sandy beach at Sandsend in North Yorkshire, it's a wonderful luxury gift idea.
Rievaulx Lumber Cushion – £85
Dare to be different this Christmas with our stunningly, striking Helmsley range. Our Rievaulx cushion is a key piece in this collection and is available in monochrome check with lime green detail. This show stopping gift is guaranteed to add instant style and sophistication to any home, and is set to be a firm favourite for those that love to stay ahead of the fashion curve.
Handmade from 100% British Bluefaced Leicester Wool, the Rievaulx is super soft and luxurious to the touch and incredibly durable. Complemented with a luxurious British Velvet back, colour matching concealed zip and a plump, naturally hypoallergenic 100% British Wool cushion pad.
Hovingham Wrap- Mushroom, £115
You'd be hard pressed to find a girl who doesn't instantly fall in love with our dreamy Hovingham wrap, available in a choice of beautiful colours. Gift this timeless, piece of quality craft(wo)manship to someone special and watch it become an instant staple item overnight, cosily carrying them through the seasons. Handmade from 100% British Wool, our Hovingham wraps promise to keep you warm whilst adding a splash of style to any outfit. All wraps and scarves come in a beautiful gift box- making it the perfect present to pop under the tree!
Kirkham Scatter Cushion – Hydrangea and Mustard, £85 each
Make sure your home is "guest ready" for the holiday season and beyond by adding a subtle splash of colour with our Kirkham Cushion – part of our Howardian Range. Each cushion is intricately woven in Yorkshire, and beautifully handmade using 100% British Bluefaced Leicester Wool front and 100% British Wool back. It features a colour matching concealed zip and a plump, naturally hypoallergenic 100% British Wool cushion pad. A great gift idea for those wanting to give a special something that's chic, elegant and unique
Esk Throw – £180
Fancy scoring some serious brownie points with your favourite sun seeker this Christmas? We may not be able to promise sunshine, but our Esk Throw will bring an abundance of cosy, coastal charm to your home. Our sumptuously soft, handmade Esk throw is inspired by the picturesque seaside town of Whitby, North Yorkshire and is made from the finest 100% British Wool.
The perfect snuggle companion on cold winter nights and lazy Sundays – which will also add a splash of colour and style to your sofa or bedroom. If you're looking for a gift that's guaranteed to create smiles and sunshine on Christmas morning, look no further!
Rose Hovingham Lumbar Cushion – £85
Bring the garden inside with our beautiful Rose Honeycomb Cushion. Woven in Yorkshire using 100% British Bluefaced Leicester Wool front and 100% British Wool back. Featuring a colour matching concealed zip and supplied with a plump, naturally hypoallergenic 100% British Wool cushion pad. A key piece of our Howardian Range and inspired by the soft rolling Howardian Hills, it's guaranteed to add a touch of femininity and elegance to any boudoir.
Rievaulx Throw – £220
Whether for the sofa or the bed, the Rievaulx Throw will add warmth and style to any home this winter. A modern interpretation of a traditional check design, the monochrome throw includes a lime green detail and is sure to be a showstopper for guests visiting over the festive period and beyond. The fabric is woven in Yorkshire using 100% British Bluefaced Leicester Wool due to its soft and durable characteristics. Ideal for chilly nights and freshening up a look in an instant – complimented with blanket stitch detailing. We are a little obsessed with this ourselves and can see fashionistas from across the globe queuing up to get their hands on this show stopping cosy gift.
Ryedale Scatter Cushion – Raspberry, £85
Bring in a bit of festive cheer by adding a fresh pop of colour to your home this Christmas. Our elegant, eye catching Ryedale Scatter Cushion is guaranteed to transform a room from drab to fab in an instant – helping you to feel confident about greeting your guests over the holiday season. A great gift for those that love to add a splash of fun to their interiors. Handmade using 100% British Bluefaced Leicester Wool front and contrasting dark blue 100% British Wool at the back. Featuring a colour matching concealed zip and a plump, naturally hypoallergenic 100% British Wool cushion pad.
QUALITY GIFTS FOR TODDLERS THAT WON'T BREAK THE BANK
Whatever the uncertainty about Christmas this year, what we do know for sure is that it's going to be a digital one.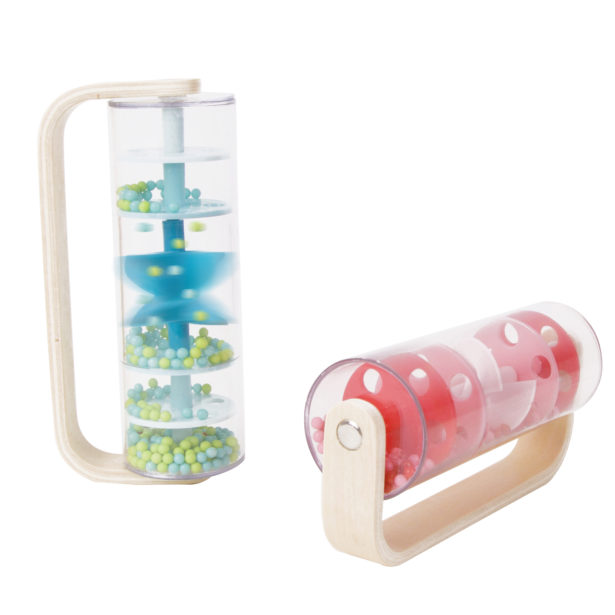 And that has its advantages – no fighting through crowds in busy shopping centres, no rushing to get there before closing time, no staggering with overloaded bags back to the car or on a train.
The internet, with its millions of shopping opportunities at the touch of your fingertips is undoubtedly a great place to shop for Christmas gifts. But when making a purchase without being able to invoke all your senses such as touch and feel, it's difficult to get a true understanding of quality. And quality is a priority when buying for kids, particularly when it comes to under 3s.
The good news is that there are plenty of online retailers out there who consider quality as a given. Hippychick is one such company that has been in the business of toys for 21 years and has built itself an exceptional reputation with parents through generations for quality, safety, and affordability.
Classic World is Hippychick's best-selling range for Christmas and it's easy to see why. Each toy has been carefully researched and developed to stimulate a child's imagination and encourage their healthy development. Box ticked.
They are also environmentally friendly, made from sustainable wood. Another box ticked.
They are safe, thoroughly researched and tested and made with non-toxic paint so if your child does decide to chew or suck them too, (which they invariably will and this is an important part of the sensory development process) there's no problem.
And for all this, a Classic World toy can be yours this Christmas for under £10. Final box ticked.
FOUR CLASSIC WORLD CHRISTMAS GIFT IDEAS FOR UNDER 3S FOR UNDER £10
CLASSIC WORLD ROCKING POUND BENCH
A colourful wooden pounding bench with 6 pegs and a hammer that will help your little one develop their hand-eye coordination and arm strength.
Turn it upside down and it rocks from side to side, making the task progressively more challenging and exciting.
https://www.hippychick.com/categories/wooden-toys/rockingpoundbench £9.50
CLASSIC WORLD RAINBOW MARACAS
Let your little ones experiment with the concept of rhythm, with these colourful maracas. An ergonomic shape designed especially for little hands, this lovely toy can also be purchased in a rainbow of colours which will make a wonderful musical set.
https://www.hippychick.com/products/classic-world-rainbow-maracas £7.50 each
CLASSIC WORLD RAINMAKER
Shake it, rotate it roll it and watch the beads tumble and fall through this rainmaker toy.
Children can use it as a rattle or parents can use it to help soothe little ones with the calming sound of rain.
https://www.hippychick.com/products/rainmaker – £7.95
CLASSIC WORLD WOODEN CATERPILLAR
Just the right size for toddler's hands – this wooden caterpillar toy is fun to twist and bend.
It's made of durable wooden balls and the strong elastic means it will stand even the roughest of play!
The caterpillar is bright and vibrant which promotes colour recognition whilst the twisting and the bending develops fine motor skills.
https://www.hippychick.com/products/cwcaterpillar – £8.95
For further Christmas gift ideas, Hippychick is your one stop shop for under 5s. This year's collection is now available to view at www.hippychick.com/christmas.

Holland & Barrett unveils bumper Christmas range of festive vegan chocolate from Mummy Meagz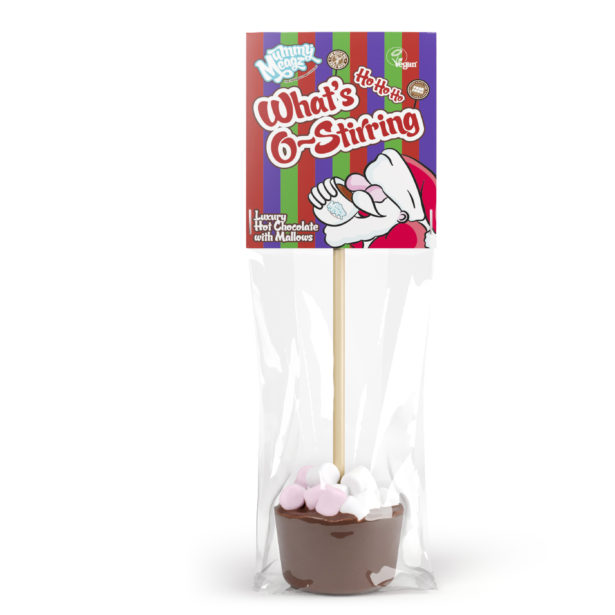 Celebrate the season with vegan caramel snowmen, hot chocolate bursting baubles and stirrers, gift packs, orange chocolate bars and advent calendars!
Holland & Barrett is revealing its exclusive new range of vegan Christmas chocolate, crafted by cult plant-based chocolatier, Mummy Meagz.
Each product offers an indulgent festive experience, and the extensive range boasts more than seven new chocolate delights: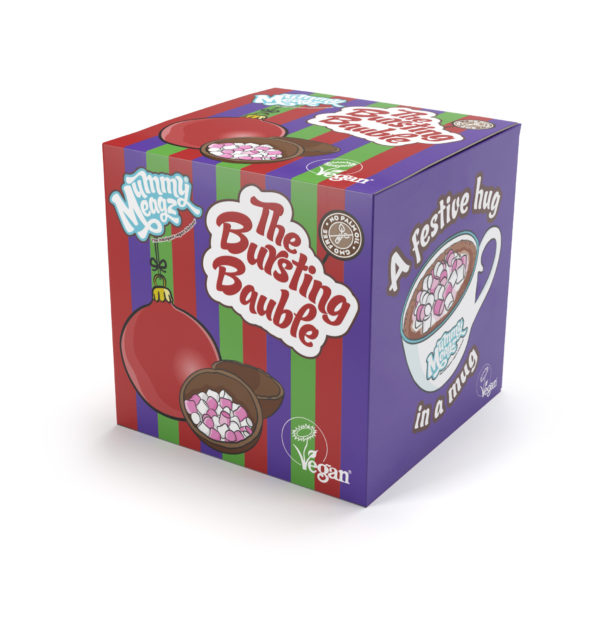 · Advent Calendar
· 12 Days of Christmas Gift Set
· Caramel Fondant-Filled Jolly Snowman
· Hot Chocolate Bursting Baubles
· What's O-Stirring Luxury Hot Chocolate Stirrer with Marshmallows
· Jolly Buttons
· Orange Choccie Bar
The Advent Calendar, Caramel Fondant-Filled Snowman and Jolly Buttons have been created with Mummy Meagz' new Smoove Moove blend, where smooth dairy-free mylk chocolate meets deliciously creamy dark chocolate for an irresistible combination that melts in the mouth.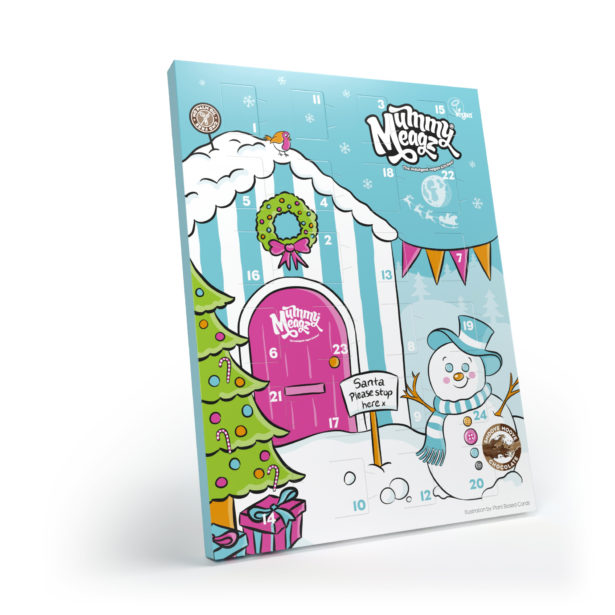 Fittingly for a festive celebration that is all about family, Mummy Meagz was founded by a mother and daughter duo, Meagan and Willow Boyle. Demand for Meagan's sweet treats grew from their Yorkshire-based vegan coffee shop, Blondes, and once their Rocky Roads and vegan crème eggs, known as 'Chuckie Eggs' were discovered by Holland & Barrett shoppers, they soon became part of a viral craze. With vegan food set to be a core part of new product development for winter 2020, it is hoped the Christmas range will be just as well-loved.
Further details about each product are below: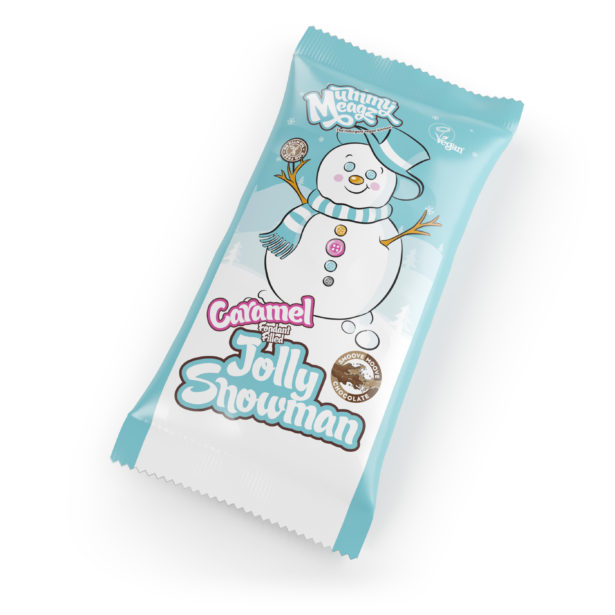 Mummy Meagz Advent Calendar (120g, RRP £4.99): With 24 windows to open, the countdown to Christmas has never been more exciting for vegans, as they can now enjoy the highest quality smoove moove chocolate as they look forward to the big day.
The bespoke packaging, designed by Dan Cook of Plant Based Cards, is adorned with a jolly snowman standing alongside a snow-topped stripy hut, in keeping with Mummy Meagz' unique and fun striped packaging. On top of the hut sits a little robin – which appeared as Willow and Meagan Boyle, founders of the brand, sat in their garden creating the range. This little fellow is sure to catch eyes in shops and homes around the country.
Caramel Fondant-Filled Jolly Snowman (30g, RRP £0.99): You may recognise this jolly snowman character from the Mummy Meagz Advent Calendar. He is sure to put a smile on the face of loved ones and is perfect for popping into stockings. Full of the Christmas season, his belly is filled with a rich and tasty caramel fondant, encased in smoove moove chocolate blend.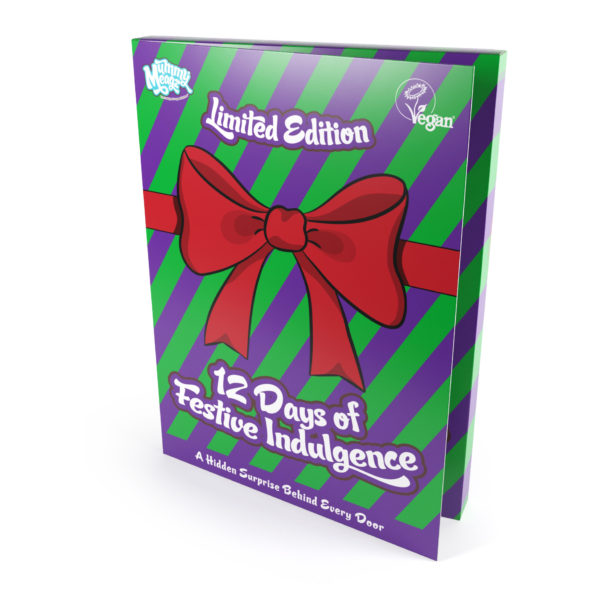 Hot Chocolate Bursting Bauble (40g, RRP £2.99 for 1 and £6.99 for a pack of 3 (120g)): A festive hug in a mug. Hang up these hot chocolate baubles on the Christmas Tree for an edible decoration to share with all the family. A true treat for the eyes, the chocolate bauble can be added to a mug of warm plant-based milk. There it will melt to create a luxurious hot chocolate, bursting to reveal snow-white fluffy marshmallows. These are the perfect addition to any Christmas Eve Box – simply 'drop me, watch me, drink me'!
Available in single packs and packs of three, shoppers can make the purple, red and green foil-covered baubles part of their Christmas tree design – or gift individually. Both pack sizes are presented in colour-coordinating stripy boxes.
What's O-Stirring Luxury Hot Chocolate Stirrer with Marshmallows (50g, RRP £1.99): Those who can't resist waiting until Christmas Day for their hot chocolate fix can settle down in front of the Christmas movies with a What's O-Stirring Luxury Hot Chocolate Stirrer. Named after Mummy Meagz' favourite Barry Island-based TV show, Gavin and Stacey – and as an homage to her Welsh relatives – the premium chocolate-covered spoon can be slowly stirred into hot plant-based milk for a relaxing treat, and then topped with vegan marshmallows.
Jolly Buttons (43g, RRP £1.49): Christmas brings out the child in every adult, so no matter your age, Mummy Meagz believes you're never too old to enjoy a delicious chocolate button – or several! Inspired by the buttons that adorn the jolly snowman featured in other Mummy Meagz products, these smoove moove chocolate buttons are perfect for eating straight from the recognisable blue and white striped pack, or topping sweet Christmas treats, such as cupcakes, tarts and puddings – or even a hot drink. Unlike other bags of chocolate buttons, these look like real buttons, and add a whole new experience to festive treats.
Orange Choccie Bar (43g, RRP £1.99): It wouldn't be Christmas without the wonderfully tangy taste of oranges! Mummy Meagz vegan Orange Choccie Bar is made up of three large segments, making it ideal for sharing… if you can resist the temptation! With all the taste of oranges but none of the fruit pieces, this smooth bar means vegans can enjoy a favourite Christmas treat. The stripy orange packaging includes a smiley citrus character, who has also been imprinted onto the bar.
Twelve Days of Christmas Collection (300g, RRP £14.99): Mummy Meagz' loyal fans will be in for a real treat with this 12 Days of Christmas gift box, which can be unwrapped on Christmas Day and includes 12 miniature Mummy Meagz favourites – plus a secret reveal of a brand-new product due to be launched just in time for Veganuary. The perfect gift for all chocolate lovers, the luxury 12 Days of Christmas box comes ready wrapped with a beautiful bow.
Meagan Boyle, co-founder of Mummy Meagz says: "Food is the centrepiece of Christmas, but so often it contains products which exclude so many people from enjoying it, such as milk, gelatine, eggs, nuts, or large pieces of fruit – which many people simply don't like. We're turning vegan chocolate on its head by offering a delicious and extensive range of treats for all tastes and budgets. Affordable, fun and really tasty, our smooth, luxurious chocolate is sure to appeal to anybody's sweet tooth."
Each product has been approved by The Vegan Society, and bears its recognisable logo, reassuring customers that the recipe is free from animal-products. Even the packaging has been carefully curated by vegan illustrator Dan Cook of Plant Based Cards. There are more than 600,000 people following plant-based diets in the UK (Vegan Society, 2019) and Mummy Meagz is tickling their taste buds with indulgent and high quality confectionary that stands out from other products positioned at the same price point.
The Mummy Meagz Christmas range will be stocked exclusively at Holland & Barrett stores nationwide and online.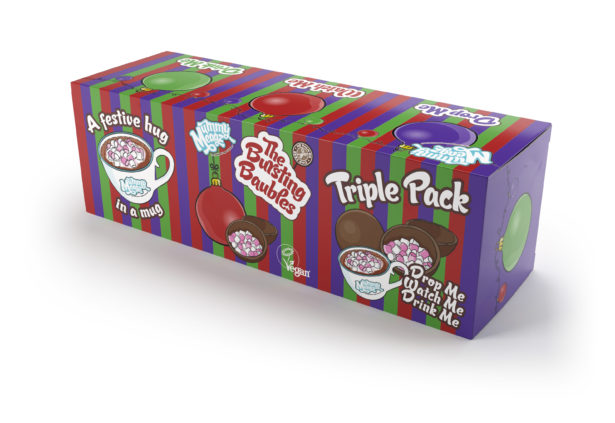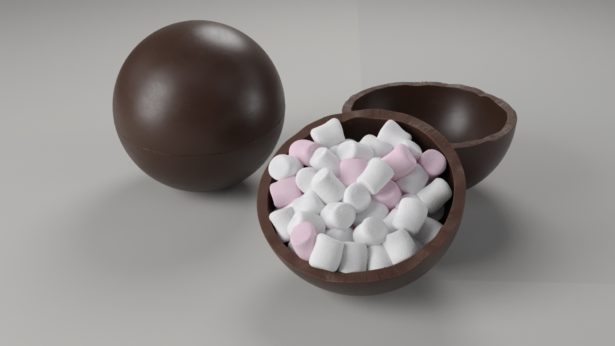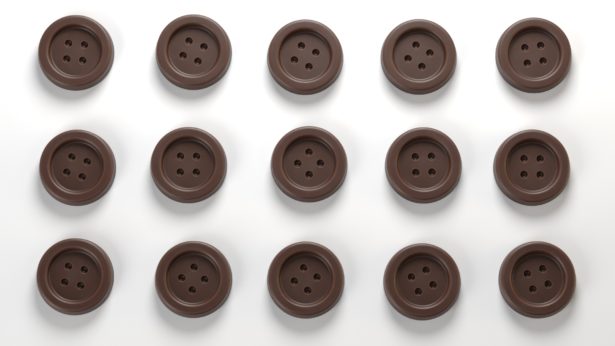 CHRONOS Swimming Goggle by Michael Phelps
FINA-approved Swedish-style swimming goggle delivers luxurious distortion-free vision
If you like 'Swedish style' small socket swimming goggles then take a look at the CHRONOS, a FINA-approved small socket goggle by the Michael Phelps brand which re-thinks this genre to deliver the largest distortion-free field of vision ever available in this category.
Swedish-style goggles are popular amongst frequent swimmers but traditionally offer blurred vision at the top and sides. The CHRONOS is the first to be able to deliver a larger distortion-free field of vision in all directions by using Geo-Plex lens technology which combines precise flat and plain-curved optical lens surfaces to enhance front, downward, forward and lateral vision. The Softeril micro-gasket and anatomical lens shape ensures a comfortable water-tight fit which feels very stable in the eye socket, and the easy adjust head strap and customizable nose piece ensures a perfect personalized fit. RRP £10.99, the CHRONOS is available in a range of lens options including clear, blue, smoke, pink, green and lime to complement indoor and outdoor light conditions.
The Phelps brand is a shared vision between Michael Phelps, the most decorated swimmer of all-time and Aqua Sphere, the swim equipment brand which is widely respected for the technological innovation and integrity of its curved lens goggles. More information at www.michaelphelps.com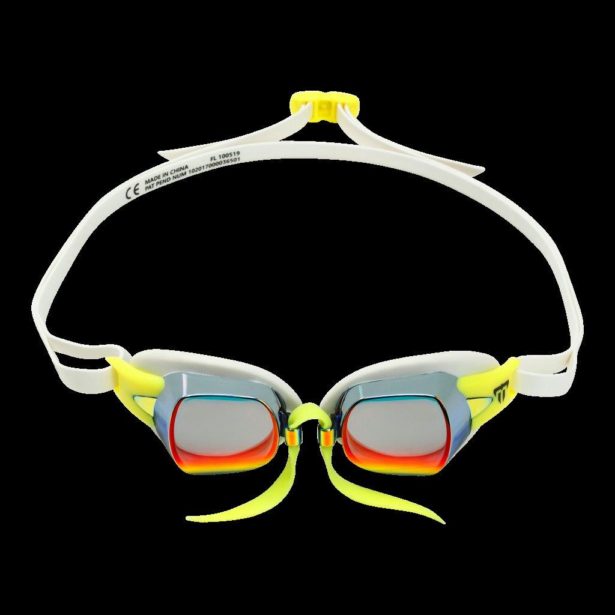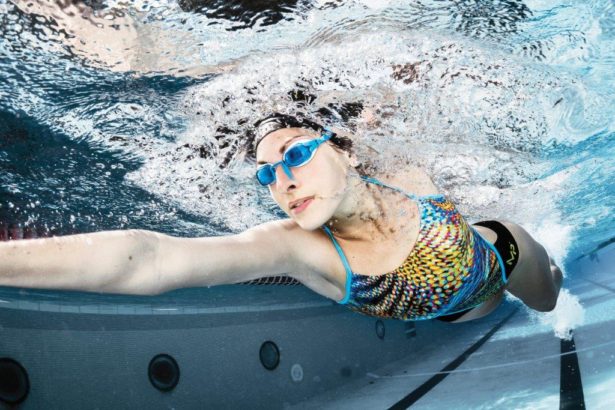 Make a Wild Christmas Wish!
The Wildlife Trusts are offering a gorgeous selection of gifts and wildlife-themed goodies to help people make greener choices this Christmas and raise funds for nature. A page of inspiring ideas can be found at www.wildlifetrusts.org/christmas-gifts​
The charity launched its 30 by 30 appeal this week to raise £30 million to put nature in recovery across at least 30% of land and sea, by 2030. This is in response to the climate crisis and devastating decline that nature is facing and follows a challenging year when many more people felt a renewed connection with – and sought solace in – the natural world. The 46-strong movement of Wildlife Trusts aim to help nature recover from decades of decline and bring on-your-doorstep wildlife back into everybody's lives.
Christmas star buys:
• The Wildlife Trusts' eco-stockist Teemill clothing is available in a range of sizes and colours made with certified organic cotton and using renewable energy and low-cost technology.
o A Christmas beaver jumper with winter-long appeal – The Wildlife Trusts have been at the forefront of bringing back this charismatic creature that's brilliant at restoring wetlands
o Beautiful animal t-shirt designs featuring puffin, otter, owls and insects as well as 'save the bees' and 'wilder future' campaign.
• Feed the birds all year long with food and stylish feeders from Vine House Farm — a conservation award winning enterprise which farms with wildlife in mind and a low carbon footprint thorugh selling their own and Uk sourced products.
• Give a gift donation to The Wildlife Trusts' 30 by 30 appeal to put nature in recovery across 30% of our land and sea.
• Membership package or donations to local Trusts support projects and wildlife close to home and start from as little as £2 a month with family and children's membership options available.
• Adopt an animal – beavers, red squirrels and owls, sea horses, dolphins and otters, money raised goes to helping important conservation work. Special gift box presentations featuring a certificate and soft toy are also available for some species.
A range of gifts from local Wildlife Trusts are also available online. Plastic free homeware, children's' toys, lunchboxes and flasks, jewellery and accessories. For the garden, there are insect bug barns, wildflower seeds, bird boxes and attractive bird feeders. All sales directly support the work of local Trusts caring for wild spaces and the creatures that live there:
• Wiltshire Wildlife Trust supplies beautiful kits for children to make your own 3D animals set, learn to stitch set, make your own cardboard bugs set, soft toys and Christmas cards.
• Suffolk Wildlife Trust have teamed up with Beadstorm designs and local artists to supply beautiful silver pendant jewellery and laser cut wooden decorations as well as earrings and necklaces.
• Yorkshire Wildlife Trust's online store includes a wide selection of wildlife homes and feeders, a plastic free range along with sustainably sourced homeware, kitchenware and children's games. Gorgeous themed gift boxes to inspire are packed with ideas and items to help people make small changes in their lives. Yorkshire also stock British designed Original Duckhead umbrellas. Their delightful canopies are made from 100% recycled plastic bottles with wooden handles sourced from sustainable birch timber. The protective sleeves are also compostable.
• Derbyshire Wildlife Trust has a beautiful range of bird feeders, books, Chilly's water bottles, locally made candles and beauty products such as clay masks and scrubs as well as Jewellery. Collect your own box of grass-fed beef from cows grazed on Derbyshire's nature reserves.
• Worcestershire Wildlife Trust have created a gorgeous range of virtual gifts including a carpet of bluebells, home for dormice or flowers for the bees. You can also adopt a brown hare or barn owl. Money raised will directly support these wild places and fragile wildlife in need of our help.
• Send e-Christmas cards this year via Cumbria Wildlife Trust
The Wildlife Trusts' director of campaigns and policy, Nikki Williams says:
"I'm hoping someone gives me a brilliant beaver jumper for Christmas – no other species has done so much to capture people's hearts in 2020. This year the government granted the beavers living wild in Devon the right to remain after years of hard work by The Wildlife Trusts.
"All the funds raised by these wildlife gifts will go towards our ambitious 30-30-30 campaign to help nature fight back. People's renewed connection with the natural world has shown to be incredibly important in all areas of our lives this year, which we hope will inspire greener gift choices this Christmas. We've gathered some beautiful ideas to help shop with our natural world in mind."
The Wildlife Trusts, a movement of 46 local Trusts, were also hit hard by the unprecedented challenges posed by the pandemic. Visitor centres and reserves had to close causing income for vital conservation work to drop, and many staff were furloughed. The easing of lockdown led to huge pressure on nature reserves from vandalism, anti-social behaviour and wildfires.
Christmas gifts can be viewed at www.wildlifetrusts.org/christmas-gifts
British Victorian Inspired Watches and Bags from The Camden Watch Company Make the Perfect Christmas Gift For Her and Him
Shop Independent British This Christmas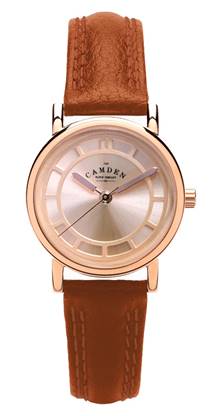 The Camden Watch Company (www.CamdenWatchCompany.com), an independent British brand based in the heart of Camden founded by wife and husband team Anneke Short and Jerome Robert, has a large number of timepieces as well as other gift ideas (backpacks, mugs and wall prints). Anneke and Jerome have curated a small selection of their watches followed by their recently created backpacks for those on the go – whether off to work or off rambling.
WATCHES FOR HER
The Camden Watch Company
No.24 Type II Tan and Rose Gold
Stockist: www.CamdenWatchCompany.com
Price: £89
ROSE CASE WITH ROSE GOLD DIAL AND TAN LEATHER STRAP.
The No.24 Type II is a revised edition of our classic No.24. Featuring a sunburst rose gold dial with a raised index frame, this is a modern yet timeless dial design set in our vintage watch case. It is named after bus route 24 which is London's oldest unchanged bus route and runs through Camden Town.
Case size: ø 27 mm
Case depth: 8.4 mm
Gender: Ladies
Case Material: Stainless Steel, PVD Rose Gold Plated
Strap type: Genuine Leather
Water resistance: 50 metres
Movement: Japanese Quartz (battery)
The Camden Watch Company
No.24 Brown and Gold
Stockist: www.CamdenWatchCompany.com
Price: £79
GOLD CASE WITH SILVER DIAL AND BROWN LEATHER STRAP.
The No.24 is designed to be worn on its own or mixed with bracelets & bangles. It is named after bus route 24 which is London's oldest unchanged bus route and runs through Camden Town. The minutes are designed in what is known as a 'train-track', a fitting reminder of Camden's industrial past.
Case size: ø 27 mm
Case depth: 8.4 mm
Gender: Ladies
Case Material: Stainless Steel, PVD Gold Plated
Strap type: Genuine Leather
Water resistance: 50 metres
Movement: Japanese Quartz (battery)
The Camden Watch Company
Small No. 88 Steel and Tan
Stockist: www.CamdenWatchCompany.com
Price: £89
STEEL CASE WITH SILVER DIAL AND TAN LEATHER STRAP.
This is a smaller version of our classic and bestselling No.88. The lugs of the No.88 are based on those found on classic vintage watches, in contrast to the modern case shape. The dial and crown are reminiscent of steam train gauges. The seconds hand is the same turquoise-blue as the iconic Camden Lock bridge.
Case size: ø 36 mm
Case depth: 8.4 mm
Gender: Unisex
Case Material: Stainless Steel
Strap type: Interchangeable (Genuine Leather)
Water resistance: 50 metres
Movement: Japanese Quartz (battery)
The Camden Watch Company
No.27 Grey and Steel
Stockist: www.CamdenWatchCompany.com
Price: £98
STEEL CASE WITH SILVER DIAL AND GREY LEATHER STRAP.
The No.27 is a modern reworking of the classic vintage dials found on Victorian floor clocks and pocket watches. The Roman numerals have been slimmed down and refined, and the added addition of triangular studs evoke the rivets used in the railways on bridges, tracks and trains.
Case size: ø 37 mm
Case depth: 8.4 mm
Gender: Ladies
Case Material: Stainless Steel
Strap type: Genuine Leather
Water resistance: 50 metres
Movement: Japanese Quartz (battery)
The Camden Watch Company
No.24 Black Mother of Pearl
Stockist: www.CamdenWatchCompany.com
Price: £99
The No.24 Mother of Pearl watch features a black PVD plated stainless steel case surrounding a black Mother of Pearl dial, providing an iridescent shimmer. The dial is highlighted by rose gold hour markers, hours, minutes and second hands. This is all combined together with a black leather strap with white stitching.
The No.24 is designed to be worn on its own or mixed with bracelets & bangles. It is named after bus route 24 which is London's oldest unchanged bus route and runs through Camden Town. The minutes are designed in what is known as a 'train-track', a fitting reminder of Camden's industrial past.
Technical Specifications
Case size: ø 27 mm
Case depth: 8.4 mm
Case Material: Stainless Steel, PVD Black Plated
Strap type: Genuine Leather
Water resistance: 50 metres
Movement: Japanese Quartz (battery
WATCHES FOR HIM
Actor Martin Freeman wearing the new Camden Watch Company No.29 Type II Pilot watch – we have the rights to this photo without the watermark.
Actor Martin Freeman wearing The Camden Watch Company No.88 Camden x KPP tim
epiece which he bought – he is not a spokesperson for the company **We do not have the rights to provide this photo – this was from a charity press junket he was doing.
The Camden Watch Company No.29 Type II Steel White Dial Brown Leather Strap
Stockist: www.CamdenWatchCompany.com
Price: £190
The No.29 Type II is based on The Camden Watch Company's bestselling No.29 model. At ø43mm, it is the largest case in the collection, but due to the tapered sides and different finishes, this watch is anything but bulky.
This is The Camden Watch Company's first foray into military style aviation watches, inspired in part by the rich aviation history of co-founder Anneke Short's family. In classic Camden Watch Company style, it is a vintage-inspired watch packed with modern styling.
The No.29 Type II features a Swiss movement, sapphire crystal, 316L stainless steel and a fine Italian leather strap.
The timepiece also features large, luminous, and most importantly for a pilot watch, 'easy to read at a glance' Arabic numerals. The Swiss movement has a date feature and the upgraded 316L steel makes the case hardwearing and durable.
Case size: ø 43 mm
Case depth: 9.2 mm
Gender: Gent
Case Material: Stainless Steel
Strap type: Genuine Leather
Water resistance: 50 metres
Movement: Swiss Quartz (battery)
The Camden Watch Company
No. 29 Brown and Navy
Stockist: www.CamdenWatchCompany.com
Price: £110
STEEL CASE WITH NAVY BLUE DIAL, WHITE ACCENTS AND BROWN LEATHER STRAP.
The No.29 is inspired by Victorian pocket watches, such as those worn by Camden train workers in the 1900s. The coloured details and clean sub-dial numbers modernise the design, ensuring that it looks as good with a suit as it does with a t-shirt.
Case size: ø 43 mm
Case depth: 9.2 mm
Gender: Gent
Case Material: Stainless Steel
Strap type: Genuine Leather
Water resistance: 50 metres
Movement: Japanese Quartz (battery)
The Camden Watch Company
No.253 Memento Mori Black Strap
Stockist: www.CamdenWatchCompany.com
Price: £175
MEMENTO MORI BLACK WATCH AND BLACK LEATHER STRAP.
The No.253 is a complex and intricate timepiece designed as a homage to the great advancements in engineering during the Victorian era.
Our Memento Mori (translated as 'Remember you must die') special edition is based on a Victorian tradition and designed as a reminder that death is inevitable. Contrary to the morose name, it serves as an inspiration to live each day as it comes and not get caught up in the stress of daily life. Because to remember you must die is to remember you must live.
Case size: ø 41 mm
Case depth: 9.2 mm
Gender: Unisex
Case Material: Stainless Steel
Strap type: Genuine Leather
Water resistance: 50 metres
Movement: Japanese Quartz (battery)
The Camden Watch Company
No.27 Type II 5 Year Edition
Stockist: www.CamdenWatchCompany.com
Price: £148
BLACK CASE WITH BLACK DIAL, TURQUOISE ACCENTS AND BLACK LEATHER STRAP.
5 YEAR EDITION:
The 5 Year Edition celebrates 5 years of The Camden Watch Company. This watch features a black case, dial and strap, with silver numbers and our signature 'Camden Lock' turquoise-blue accents.
The No.27 is a modern reworking of the classic vintage dials found on Victorian floor clocks and pocket watches. The Roman numerals have been slimmed down and refined, and the added addition of triangular studs evoke the rivets used in the railways on bridges, tracks and trains.
Case size: ø 37 mm
Case depth: 8.4 mm
Gender: Unisex
Case Material: Stainless Steel
Strap type: Genuine Leather
Water resistance: 50 metres
Movement: Japanese Quartz (battery)
The Camden Watch Company
No. 27 Camden x Thy Barber
Stockist: www.CamdenWatchCompany.com
Price: £165
GOLD CASE WITH GOLD DIAL AND GOLD MESH STRAP.
CAMDEN X THY BARBER:
The CAMDEN X THY BARBER edition is a No.27 developed in collaboration with barber Frank Rimer. Inspired by the colours, textures and stories of the barbering world, this watch is designed by a barber to be worn by anyone who appreciates the unique aesthetics of the barber lifestyle.
Case size: ø 37 mm
Case depth: 8.4 mm
Gender: Unisex
Case Material: Stainless Steel, PVD Gold Plated
Strap type: Mesh, Stainless Steel, PVD Gold Plated
Water resistance: 50 metres
Movement: Japanese Quartz (battery)
The Camden Watch Company
No.29 Automatic Steel, Rose Gold and Tan
Stockist: www.CamdenWatchCompany.com
Price: £350
STEEL CASE WITH ROSE GOLD AND SILVER DIAL AND TAN ITALIAN LEATHER STRAP.
The No.29 Automatic watch face is inspired by traction engines, a Victorian invention that revolutionised manual labour. The numbers and surrounding frame are inspired by the front plate found on these engines, and the machined pattern in the centre of the dial is inspired by the detailing found on Victorian steam engines in general.
The crown engraving is based on a section of bridge that spans Regent's Canal in Camden.
A perfect example of the Victorian engineering that inspires so much of what we do.
Case size: ø 43 mm
Case depth: 11.55 mm
Gender: Gent
Case Material: Stainless Steel 316L
Strap Width: 22 mm
Strap type: Genuine Italian Leather
Water resistance: 5 ATM / 50 metres
Movement: Japanese Automatic (Miyota 8215 Fine Finishing)
Vibration Frequency: 21'600 bph
Reserve: 42 hours
Lens : Sapphire with dual anti-reflection coating
Case-back Lens : Sapphire with dual anti-reflection coating
Waxed Canvas Backpacks for Stylish City and Country Living
Whether Rambling Country Hills, Trekking Trails of Thailand, or Cycling City Streets, Backpack in Style
Known for their Victorian watch designs, The Camden Watch Company founders Anneke Short and Jerome Robert decided since they're always on the go to create a backpack that's both stylish and practical. Using waxed canvas, which was widely used in the 1850s, the backpacks are great for those trekking through a city, rambling over hills and even those who are on their bikes riding across country hills and city streets – rain or shine. Available online and in-store.
The Camden Watch Company Black Waxed Canvas and Leather Backpack
Widely used from the 1850s onwards, waxed canvas is an extremely durable woven fabric that is impregnated with wax, originally used for sails and waterproofing by the Royal Navy and on British tea-clippers.
The backpack has two exterior pockets, one interior pocket and a laptop pocket.
Size : 46 x 32 x 15 cm
Price: £125.00
Stockist: www.camdenwatchcompany.com
The Camden Watch Company Khaki Waxed Canvas Backpack
Widely used from the 1850s onwards, waxed canvas is an extremely durable woven fabric that is impregnated with wax, originally used for sails and waterproofing by the Royal Navy and on British tea-clippers.
The backpack has two exterior pockets, one interior pocket and a laptop pocket.
Size : 46 x 32 x 15 cm
Price: £125.00
Stockist: www.camdenwatchcompany.com
About The Camden Watch Company
Founded in 2014 by the Anglo-Swiss duo Anneke Short and Jerome Robert, The Camden Watch Company timepieces are designed in Camden, inspired by British heritage and the rich industrial past and vibrant present of the local area.
With prices from £69, they use all their high-end expertise to create beautiful yet affordable timepieces, which can be purchased on their website or at one of their three bricks and mortar stores in Camden, Shoreditch and Greenwich.
Locations
The Camden Watch Company – Camden (Flagship)
31 Stables Market, Chalk Farm Road, Camden, NW1 8AH
MON – SUN 10am-6pm
The Camden Watch Company – Shoreditch
Unit 8, Boxpark Shoreditch, 2-10 Bethnal Green Road, E1 6GY
MON – SAT 11am-7pm
THU 11am-8pm
SUN 12pm-6pm
The Camden Watch Company – Greenwich
Greenwich Market
2 Greenwich Market, London, SE10 9HZ
TUE – FRI 11am-6pm
SAT – SUN 10.30am-6.30pm
BREAST CANCER CHARITY LAUNCHES "littlelifts UNDER SHIRTS"
– A Fundraiser Giving Men a Little Lift For the Day –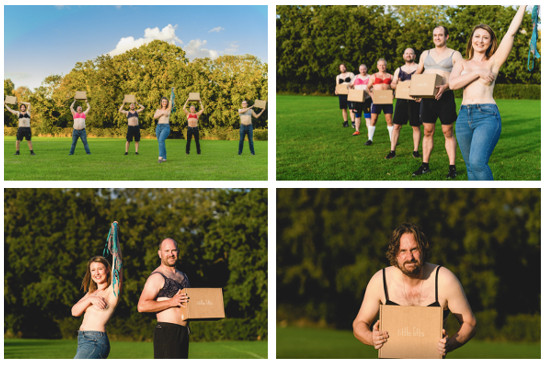 14 September 2020 – Littlelifts is observing Breast Cancer Awareness Month this October by marking the mid-way point, No Bra Day, an annual observance on 13 October, where usually women nationally are encouraged to forgo wearing a bra to encourage awareness about breast cancer. However, this year, littlelifts is celebrating No Bra Day by asking women to trade wearing a bra for the day with the men in their lives.
Littlelifts is therefore encouraging women to ask their boyfriend, husband, brother(s), father, friend(s) or cousin(s), to consider wearing a bra under their shirt for the day as a way to show solidarity with women, who have had or are currently enduring breast cancer and the challenges that goes with treatment.
Men can also experience breast cancer too and the charity hopes that the fundraiser will also raise awareness about breast cancer among men, which is an area littlelifts is working towards supporting in the future.
Oa Hackett, littlelifts founder said: "Empathy is an important quality to embody when supporting women with breast cancer. So we thought, one way to show a little solidarity and understanding with women enduring breast cancer treatment, is to ask men to walk in a woman's shoes (or rather, brassiere) for the day."
"Breast Cancer is something everyone should take seriously and be checked for, including men. Similar to the recent example set by the wonderful 'Postie's of Fakenham' who adorned fancy dress during their rounds this summer as a way to fundraise for littlelifts, we hope people find this new fundraiser a light-hearted way to raise funds while drawing attention to breast cancer awareness month in the process."
Supporting the campaign, Laura Middleton-Hughes (32) from Norwich, was first diagnosed with breast cancer in 2014 after finding a lump in her left breast while on a dream holiday to Australia. She underwent a mastectomy, chemotherapy and a shoulder replacement, and today has traces of cancer in her spine, 12 vertebrae and pelvis. Her stage four disease is stable, but incurable. Littlielifts consulted Laura and other beneficiaries who have had breast cancer, when developing the theme of this year's Breast Cancer Awareness campaign. Laura said:
"Ever since I met Oa [founder of littlelifts] through our primary diagnosis, it was clear she had the drive to create something so successful. When she began littlelifts I knew it was something I would want to get involved in. I have volunteered in many different ways for the charity and in 2019 received my own littlelifts box during my chemotherapy treatment. Since being re diagnosed I have become littlelifts' ambassador, which I am really proud of. Any way I can help raise the profile of littlelifts and make a difference to the lives of those going through chemotherapy for primary or secondary breast cancer is wonderful, and Oa knows I will rarely say no to anything she asks of me."
One of the men taking part is Glenn Sealey, General Manager from Yare Valley Oils, who kindly supply the chilli oil and lip balm found in the littlelifts boxes. Glenn said: "It's an incredible cause and littlelifts is doing so much to help others feel empowered about something that has impacted so many of our lives in so many different ways. I'm happy to be involved and taking part, it should be a giggle for all involved."
Oa concluded: "For some women who have undergone a mastectomy, no longer wearing a bra can be a big adjustment, quite an emotional one and we (littlelifts) recognise this. Our intentions for the forthcoming 'No Bra Day' is for men to show solidarity and to ultimately raise funds during this tricky time for many, so we can continue to support and show kindness to women impacted by breast cancer."
Participants can set up a fundraising page via the littlelifts site: https://www.littlelifts.org.uk/get-involved/fundraise/ Fundraisers are being asked to capture their experience by taking pictures while tagging @littlelifts_uk on either Instagram, Twitter of Facebook #LittleliftsUnderShirts
Six easy steps to taking part:
1. Men, it's important to find a bra that fits comfortably (see below for fitting tips). You want to avoid soreness, red marks and underwiring injuries.
2. Start a fundraising page at https://www.littlelifts.org.uk/get-involved/fundraise/
3. Wear your bra under on 13 October. Those feeling bold can wear their bra on top of their clothing if they prefer.
(Ladies, feel free to go bra-less for the day or wear a decorated or sequenced bra on top of your clothing.)
4. Ask your colleagues and friends to support your fundraising efforts
5. Capture your experience and take some pics: Guys – what was it like wearing a bra for the day? Surprisingly comfortable? Strange? Supportive? Scratchy? Share with us @littlelifts_uk
6. Don't forget to take your bra off before bed!
Resources:
For a correct fit, check out M&S: https://www.marksandspencer.com/c/lingerie/lingerie-guides-page/instore-bra-fit-guide/bra-fit-guide
Anti-Slavery Day & Denim for Freedom
Anti-Slavery Day is marked in the UK on 18th October of every year. A much-needed opportunity to raise awareness of human trafficking and modern slavery, its aim is to encourage government, local authorities, companies, charities and individuals to do what they can to address the problem.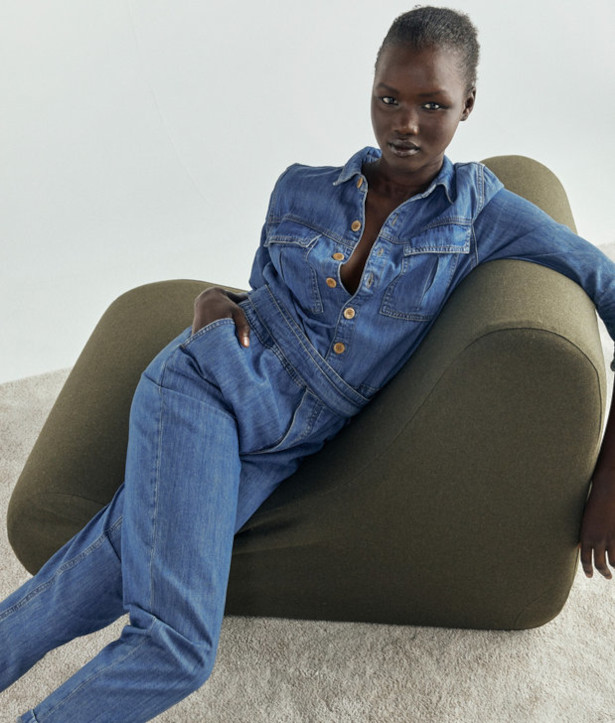 A cause close to the brand's heart, Outland Denim offers formerly enslaved or exploited young women training, employment pathways and holistic support through their revolutionary employment model.
Awarded the A+ in the 2019 Ethical Fashion Report by Baptist World Aid, Outland Denim is also Australia's first B CorporationⓇ denim brand, and is the winner of the 2020 Thomson Reuters Foundation Stop Slavery Award.
Alongside its latest anti-exploitation initiatives, Outland Denim has shifted its production to six capsule collections per year as part of its post-COVID-19 business pivots. The latest drop, "The Weekend Edit", is inspired by the 'new normal' and increased time spent at home.
The Weekend Edit collection is centred around easy wearing chambray pieces made for lounging. All pieces are vegan-friendly, finished with a leather-free jacron paper patch. Highlights include the label's first ever boilersuit, the Piper, made with 100% natural cotton.
Remedio Wellness – CBD
the next generation of hemp-based wellness products. They connect people to the power of nature's remedies through hemp-based wellness products
Real Ketones – Keto lifestyle made easy and healthy powdered
by D-BHB
Eco Lips – the first organic lip balm company | Organic & Fair Trade Lip Care
Kombucha Town – the first company to market live kombucha in cans that are not only 100% recyclable but cost 50% less than glass bottles and are easy to take on the go.
Real Oyster Cult – Farm Fresh Oysters Delivered To You
THX Dreams – Produce
Every time you buy fruit from Thx Dreams! a farmer is featured through a QR code. Consumers can scan the QR code and learn about the farmer behind your fruit. A portion of proceeds from all Thx Dreams! help farm workers achieve their dreams.
Battle Bars – Veteran-owned premium protein bar brand
The introduction of the home office is something we're all still adjusting to, especially as measures continue to change.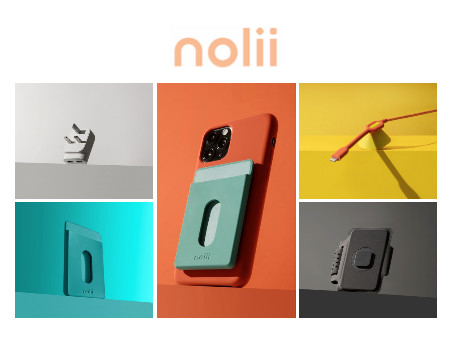 Nolii have a range of intelligent design-led products which are designed to make your life easier – and look great in the home by reducing visibility of messy cables, doubling up charging capability and creating mobility in the home. The Nolii collection is an ideal addition to the perfect shared space with children, spouse, flat mates etc. The diverse product range includes:
Couple Phone Case & Couple Wallet
Couple Fitness Band
Tangle-Free Loop Cable
Dual Charge Plug
Battery Wireless and Battery Lighting Cable
The Nolii range is available to purchase from www.nolii.com with RRP from £25 to £199, with connected product bundles starting from £49. High res imagery can be found HERE.
Yoto | Apollo
Yoto Player
£79.99 + shipping
Yoto Player is a connected speaker designed to safely give children full control over their listening, by entertaining and educating them while reducing screen-time. Controlled using physical story cards, Yoto Player is easy to use by even the littlest hands. Simply insert a story card and the audio will start. Remove it, and it will stop!
//
Arlo Essential Spotlight Camera
A close up of a cameraDescription automatically generated
RRP – £129.99
The new outdoor security camera joins Arlo's family of award-winning devices.
The new camera allows users to cover their basic security needs, with clear video recording and motion notifications direct to their smartphone. 100% wire-free, the Arlo Essential is simple and easy to install in minutes – connecting directly to W-Fi with no base station needed, for straight forward property protection.
Four Stunning Gins for Christmas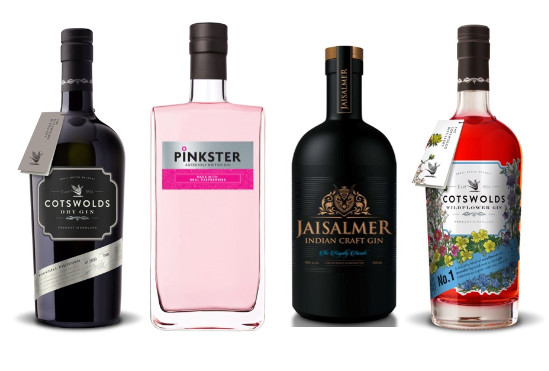 Cotswolds Dry Gin, Cotswolds Wildflower No 1. Gin, Jaisalmer Gin and Pinkster Gin make for fabulous Christmas gifts for the gin-loving friend or relative. Each bottle has its own interesting story and flavour and will surprise and delight any lucky recipient.
Cotswolds Dry Gin
Cotswolds Dry Gin is distilled with a blend of nine carefully considered botanicals. The Head Distiller uses over ten times the average amount of botanicals used by most premium gins and because the gin is non-chill filtered, the oils are retained in the gin which causes a pearlescent cloud to appear when ice or tonic is added, creating the unique 'Cloudy G&T'. Cotswolds was named Best London Dry Gin in the World Gin Awards 2016 and received the Top Outstanding Award in the International Wine Spirits Competition 2017. Difford's Guide recently ranked the gin as one of the top 20 gins available, in a survey of 450 brands.
RRP: £34.95 for 70 cl ABV: 46%
Available from: Sainsbury's, Waitrose & Partners, Majestic, Oddbins, Laithwaites, Harvey Nichols, Selfridges and Fortnum & Mason and online www.cotswoldsdistillery.com and www.amazon.co.uk
Cotswolds No 1 Wildflower Gin
Launched in April 2020, this new expression is a blend of cornflowers, lavender and orange, layered over classic Cotswolds Dry Gin. Inspired by the wildflowers growing in the 'glorious grasslands' of the Cotswolds, a designated Area of Outstanding Natural Beauty, the Wildflower Gin Collection has been created by marrying premium botanicals with the gin distilling and blending skills of the Cotswolds Distillery team. Refreshingly clean and balanced with a lingering hint of bitter-sweet marmalade.
RRP: £34.95 for 70 cl ABV: 41.7%
Available from: www.cotswoldsdistillery.com www.masterofmalt.com and www.amazon.co.uk
Jaisalmer Indian Craft Gin
"The whole of India in one bottle" Jaisalmer is triple-distilled in traditional copper pot stills and handcrafted in the foothills of the Himalayas at one of India's oldest distilleries. Jaisalmer Indian Craft Gin encapsulates the rich heritage of the Indian City of Jaisalmer, with a recipe that combines the ancient knowledge of herbs and spices, vibrant juniper berries and hand picked botanicals. The use of botanicals is a time-honoured tradition in India. Jaisalmer has 11 botanicals, seven of which are sourced from the four corners of India.
RRP: £34.95 for 70 cl ABV: 43%
Available from: The Whisky Exchange
Pinkster Gin
Pinkster is the pioneer of pink gin, made from gin-soaked raspberries grown near Pinkster HQ in Cambridgeshire. The raspberry infusion rounds off the juniper edges giving a deliciously dry gin with a hint of fruit and a smooth finish. Pinkster pride themselves on offering a gin with no added sugar. – all the sweetness comes from the raspberries and it makes for a great winter G&T, perfect with Aromatic Tonic and garnished with a slice of orange studded with cloves.
RRP: £35.00 for 70 cl ABV: 37.5%
Available from: Marks & Spencer, Fenwick, Harvey Nichols, Selfridges, and Majestic Wine, Ocado, 31Dover.com, Master of Malt and Pinkster Gin.com
The Innermost Collection: The gift of wellness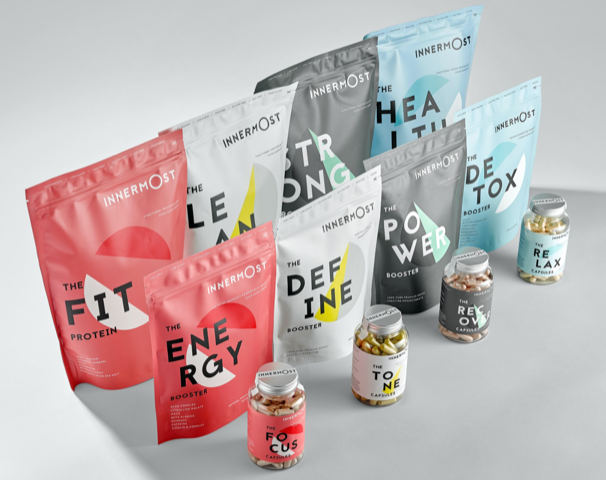 > 12 hero supplements designed as solutions to support your health and wellbeing needs.
> Formulated with the help of leading nutritionists for a holistic, tailored approach to personal wellness.
> Featured in the Men's Heath's Nutritional Supplement Awards.
> Stocked globally at many boutique fitness studios including F45, BLOK, Digme, Victus Soul, Boom Cycle and many more.
Mermaid Salt Vodka – 'Like The Subtle Kiss Of A Mermaid'
Stunning Island Vodka Now Available On The Mainland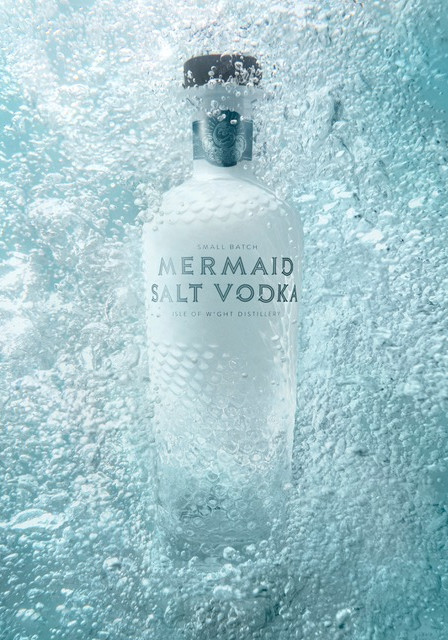 Mermaid Salt Vodka, from the Isle of Wight Distillery, is infused with locally sourced sea salt that enhances its smoothness and flavour – described as being 'like the subtle kiss of a mermaid'. With salt's ability to enhance other flavours, the vodka had already gained a cult following amongst Isle of Wight bartenders for use in cocktails. But now, it's finally available on the mainland and is presented in a stunning, eco-friendly, bottle with sculpted scales, like those of the mythical maritime creature itself.
The Isle of Wight is rich in amazing ingredients which the distillery loves to use – whether it's the rock samphire and Boadicea hops in its signature gin, or the addition of local strawberries to Mermaid Pink Gin.
This vodka was, however, the first time they'd ventured into the surrounding seas for an ingredient. The salt comes from local supplier 'Wight Salt' and is harvested from water collected in the powerful flood tide off the island's southern coast – an area prone to extreme storms that churn up the ocean floor, releasing huge amounts of flavour-packed nutrients. Naturally evaporated by sun and wind, the resultant sea salt retains a depth of flavour and distinct sweetness.
Perfect on its own over ice or with a mixer, Mermaid Salt Vodka also layers on a unique savoury element for cocktails that you just can't get with other vodkas. As with the distillery's gins, the bottle is plastic-free, with an all-natural cork and wooden top, complemented with a plant-based, biodegradable seal. Plastic-free and Net Zero, it's an environmentally-friendly vodka with a hint of sea air!
40% ABV. RRP: £40.00/70cl. Available in John Lewis and online via Master of Malt.
Cocktail recipe: 'Vesper Martini'
20ml Mermaid Salt Vodka + 60ml Mermaid Gin + 15ml White Vermouth. Shake all ingredients with ice. Strain into a chilled glass, Garnish with lime zest.
Tasting notes:
Nose: Fresh sea air on the nose.
Taste: Subtly flavoured with a salt vein savoury note.
Finish: Clean and long.
Holiday Gift Guide Foodie Gift- Pastene Makes it Easy to Gift + Make Meals
As the leading importer of authentic Italian foods and ingredients, Pastene makes it easy to prepare delicious meals at home with a variety of pasta cuts, tomato sauces, grated cheeses, roasted peppers, kitchen ready® tomatoes, marinated artichokes, sun dried tomatoes, and more. The real secret to great Italian cooking is pure, quality ingredients.
For the holiday gift giving season, Pastene is making it easier than ever to help make meals not only easy to gift, but easy to create! For the pasta lover, the novice chef, the hostess, the college student, the gluten-free friend or foodie in your life, Pastene features an array of epicurean specialty boxes to enhance anyone's skills in the kitchen.
Below, please find a few gift boxes under $25 and $50 that can all be purchased at www.pastene.com.
Gifts Under $50
Pastene Specialty Box- $39.99
This ultimate gift box contains Pastene's best-selling specialties featuring six different cuts of pasta and a variety of sauces fit for any feast.
This Gift Box includes:
• 16oz Gnocchi
• 16oz Italian Mafaldine
• 16oz Italian Trivella
• 16oz Italian Regine
• 16oz Italian Spaghetti
• 16oz Italian Linguine
• 28oz Kitchen Ready Spaghetti Sauce
• 15oz Italian Plum Tomatoes
• 24oz Tomato Basil Sauce
• 7oz Roasted Peppers
• 6.5oz Marinated Artichokes
• 7oz Sun Dried Tomatoes in Oil
• 10oz Kalamata
• 3oz Tonno
Gifts Under $25
Pastene Italian Favorite Box- $19.99
This gift box contains all of the classic staples everyone should have in their pantry and is perfect for the novice chef.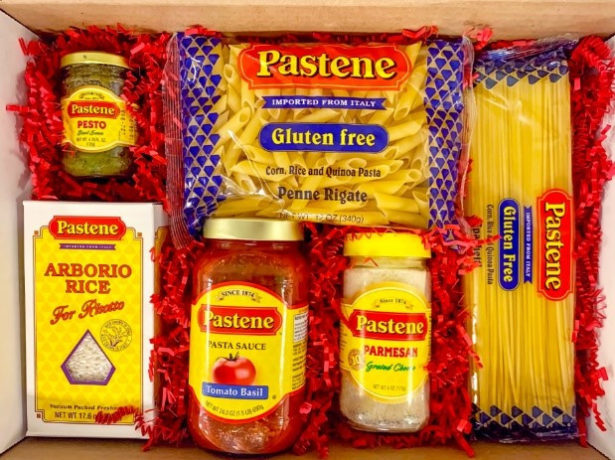 This Gift Basket includes:
• Marinated Artichokes 12 OZ
• Roasted Peppers 12OZ
• Kitchen Ready Spaghetti Sauce 28OZ
• San Marzano Tomatoes 28OZ
• Extra Virgin Olive Oil 500ML
• Italian Spaghetti 1lb
• Italian Ziti Rigati 1 lb
Pastene Gluten-Free Pasta Lovers Box- $24.99
Gluten-free Italian? Mangiamo! Pastene's Gluten-Free Pasta Lovers Gift Box has everything needed to cook up a fresh and easy meal. Filled with a curated selection of epicurean pastas, sauces, signature Kitchen Ready Tomatoes and Parmesan cheese, it's perfect for the food lover in your life.
This Gift Basket includes:
• Tomato Basil
• Grated Parmesan Cheese 6oz 4020
• GF Penne Rigate 7020
• Abrorio Rice 17.6 oz 7005
• Basil Pesto 6312 4.65fl oz
How to go cruelty-free on World Vegetarian Day 2020, 1st October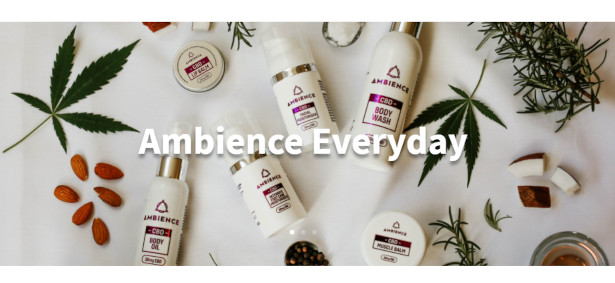 55% of Britons will not buy skincare products if they were aware that they are made with animal products
Simon Manthorpe, CEO of Ambience CBD, discusses the new cruelty-free cosmetic brands are embracing vegetarianism
•41% of Brits agree they've never been as conscious of what they put on their skin as they are now
•​78% agree that all skincare products should be cruelty free and eliminate animal testing from its R&D process
•55% agree that they will not buy skincare products if they are aware that they are made with animal products
Thursday 1st October marks the celebration of World Vegetarian Day 2020. There are now over 1.2 million people in the UK who life a solely vegetarian lifestyle, with the meat-free food market for one reaching a value of £474.5 million, and almost two-thirds of Brits are buying more meat-free products than they were a year ago.
However, it isn't just in the food market that vegetarianism is becoming more prevalent. Meat-free and cruelty-free products are penetrating lifestyle choices for Brits across a spectrum of routines. One conduit for Brits to integrate vegetarianism into their lifestyle is through the medium of CBD oil.
One such market where CBD has become more popular is in the cosmetics sector. Natural skincare ranges have become far more popular in the last few years as consumers are looking to shift away from traditional bases, such as collagen, which is produced from pig fats. Nationally representative research conducted by Ambience CBD has now found that 40% of Britons will only buy skincare products with natural ingredients and a further 55% of Britons will not buy skincare products if they were aware that they are made with animal products.
To discuss why CBD oil is becoming so popular for those looking to pursue vegetarian lifestyles, Simon Manthorpe, CEO of Ambience CBD – one of the UK's leading CBD cosmetics brands – provides his insights.
"New brands such as ourselves saw the power of alternative, natural ingredients that were deemed more popular with a growingly conscious consumer market. Celebrations such as World Vegetarian Day perfectly demonstrate the versatility of CBD and its ability to be integrated into a more holistic lifestyle. One way
CBD oil has recently shot up in popularity amongst consumers in the UK, and is now being used for a multitude of applications ranging from medicinal procedures to cosmetics. Establishing itself as a mainstay in American home life, one in seven Americans use CBD products daily. Now British consumers are cottoning onto the benefits of CBD use, with CBD users in the UK more than doubling between 2017 and 2019."
Sweetology
www.sweetology.com
The Holidays aren't cancelled! Sweetology is creating ways for people to be together, apart. The holidays are hard any year but they are going to be particularly hard this year. The key to surviving is to find ways to keep things as normal as possible, connect together even if it is online, and try to celebrate as many of the traditions as possible. It may take re-imagining but it can be done.
Sweetology has spent this pandemic re-imagining it's business. It has been hosting virtual birthday parties, corporate team building, wedding showers, cake camp and cake decorating competitions all over the country. At its heart, Sweetology is the place to come to decorate cookies, cupcakes and cake decorating kits. This season is no different. In past seasons, Sweetology was making cookies for Santa and decorating gingerbread houses. Now it is shipping these decorating kits all over the country. Make Christmas even more special with a Cookies for Santa Decorating Kit or better yet have the entire family join up in a Sweetology hosted virtual room to decorate gingerbread houses or enjoy a family friendly snowman cake decorating competition.
Sweetology opened its first store in 2014, with the dream of becoming the country's first entertainment concept around the decoration of cakes, cookies and cupcakes. Since COVID, Sweetology has been shipping decorating kits all over the country and hosting virtual decorating parties. Sweetology's kits come with fresh baked sugar cookies and cake, made from scratch buttercream in pre-filled sealed piping bags, professional decorating tips, lots of themed sprinkles and toppers and step by step instructions.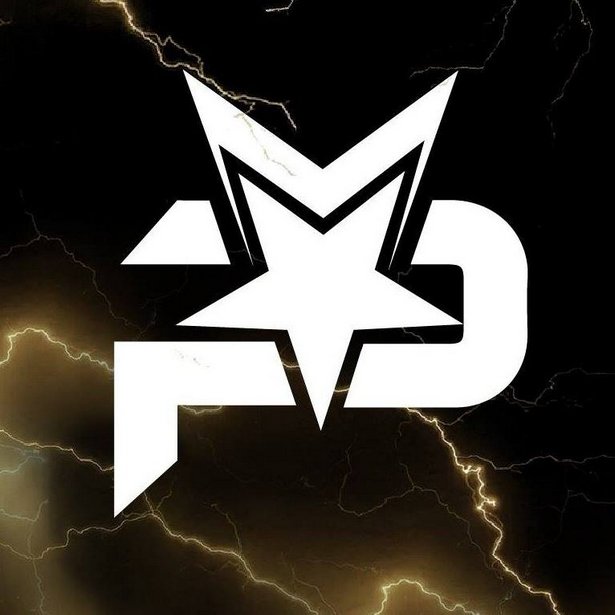 Sports Recovery Like the Pro's with MVP Massager
PlayMakar.com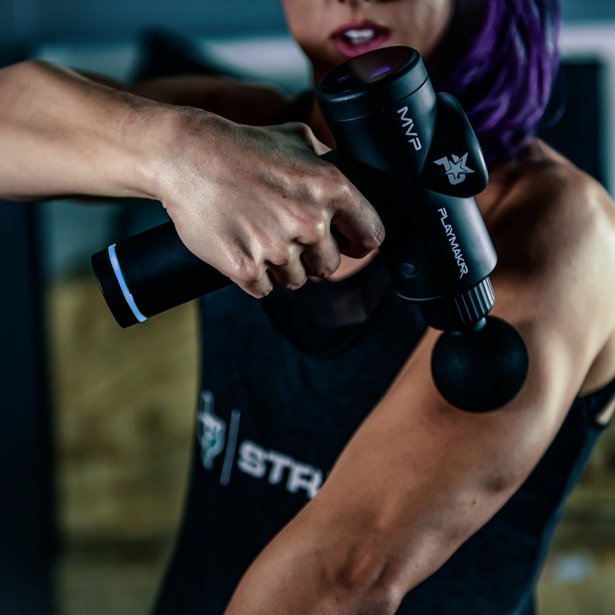 Used by the top pro's in the NFL, NBA and MLB, I believe our line of sports recovery products such as playmakar.com/product/percussion-massager/ & playmakar.com/product/wireless-muscle-stimulator-system/ could greatly benefit you or someone you know.
PlayMakar®, their mission is to inspire your peak performance through our line-up of innovative training products. Playmakar are dedicated to providing their customers with the training and recovery tools that allow you to reach your full potential.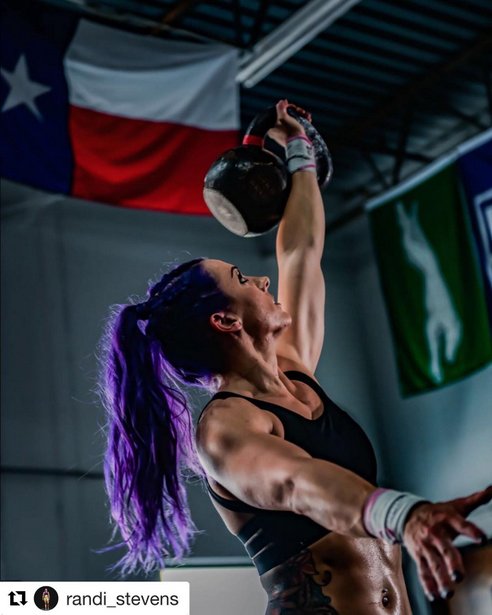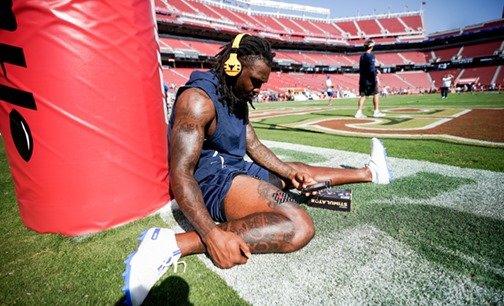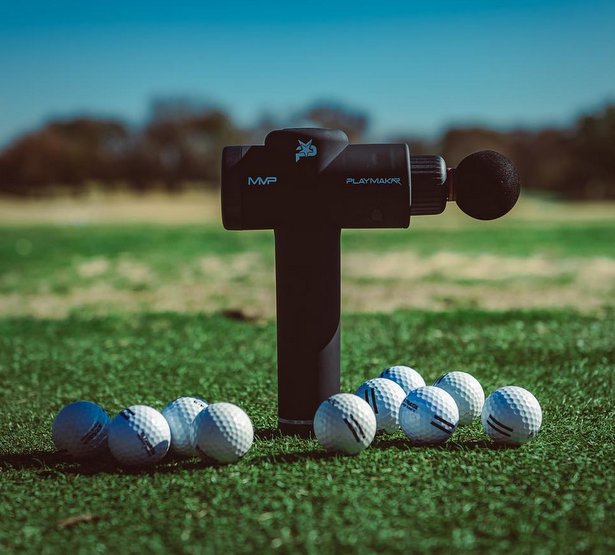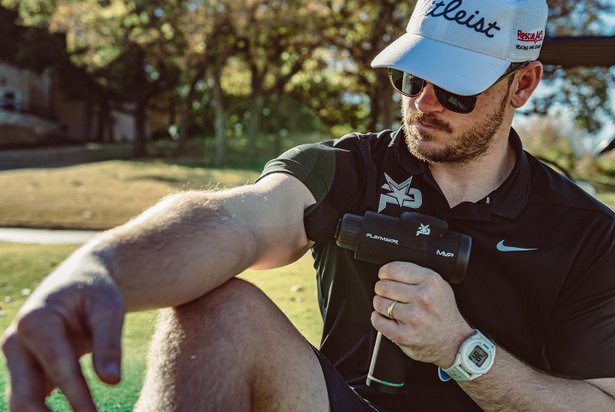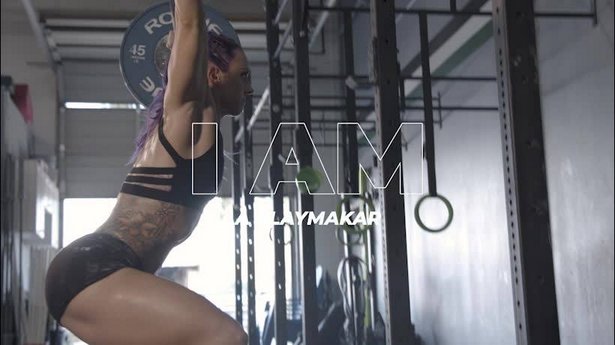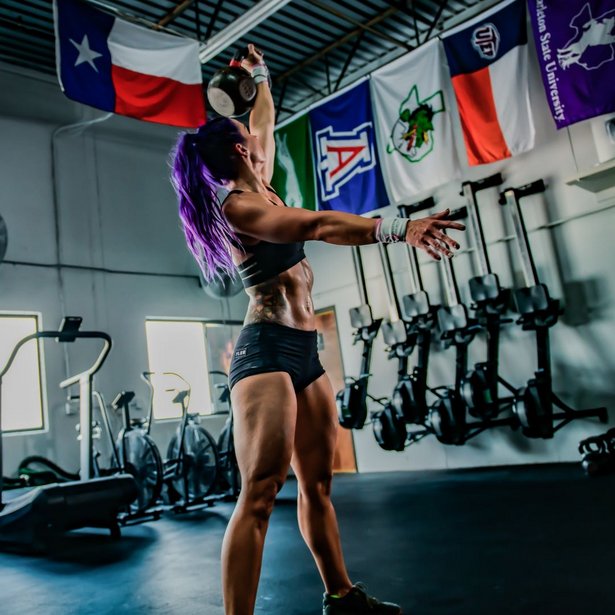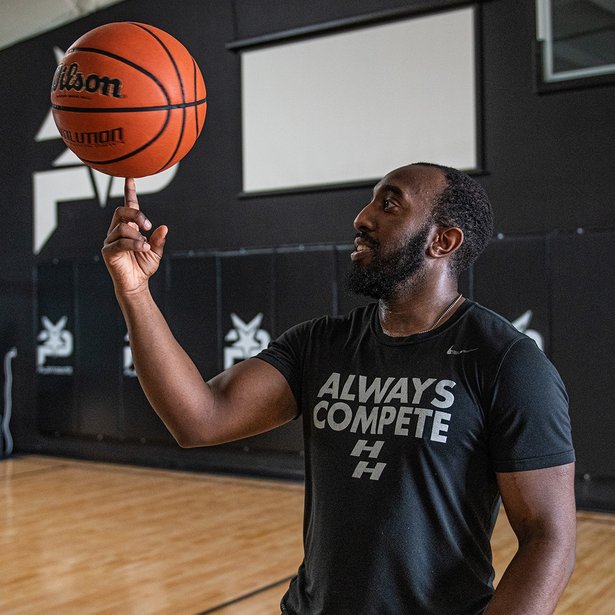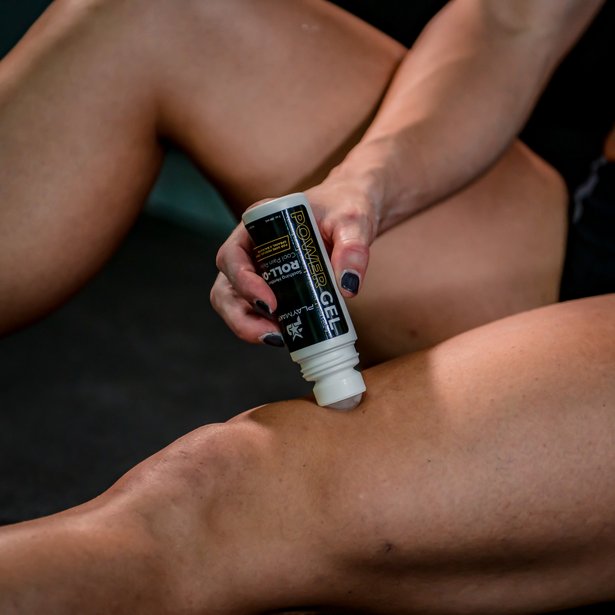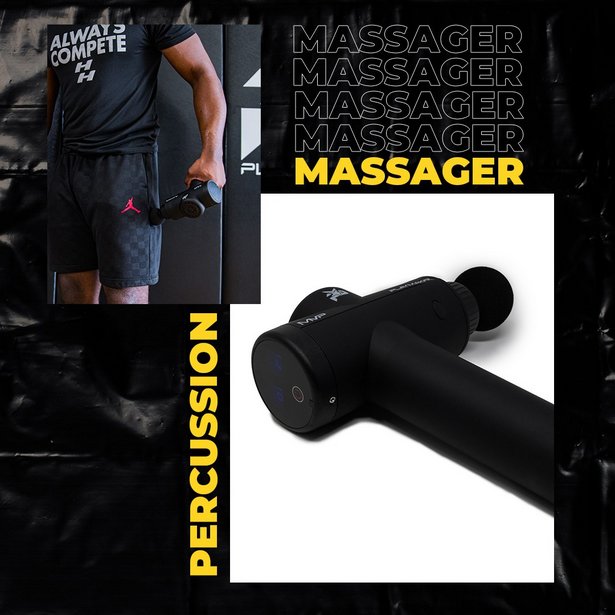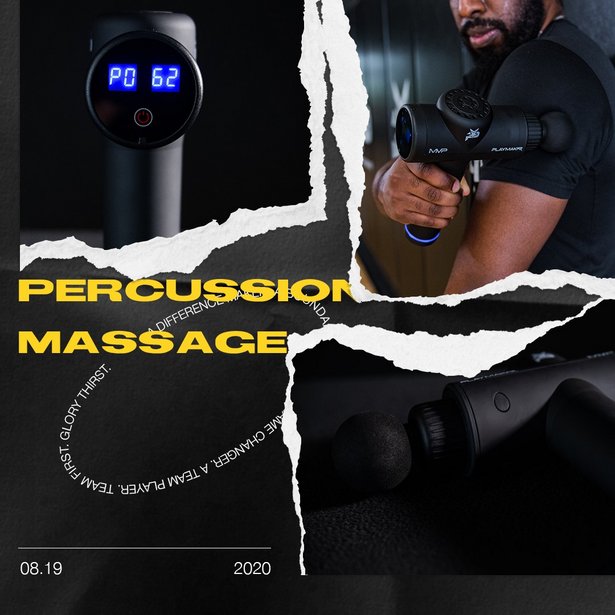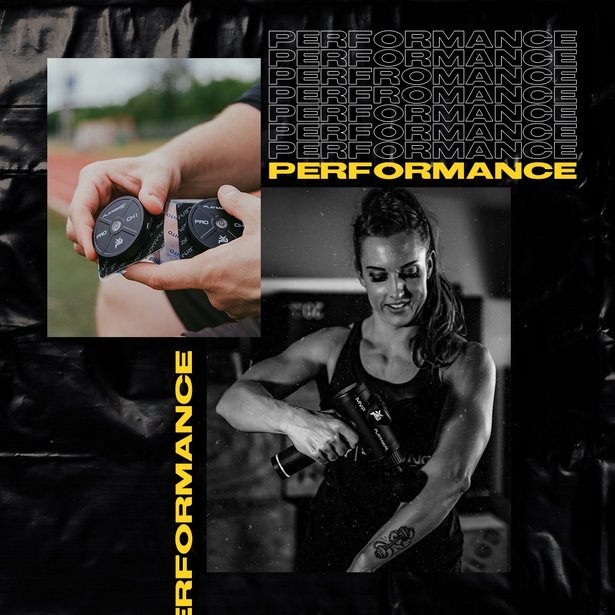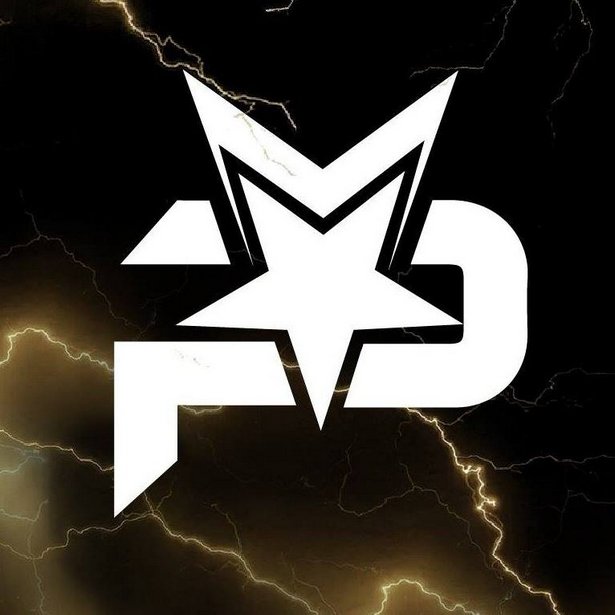 The #PlayMakar PRO Electrical Muscle Stimulator can get you warmed up and #GAMEREADY, but did you know it could also relieve pain as well? The #wireless muscle stimulator can deliver #TENS treatments for fast & effective #painrelief. Working out couldn't get easier than this. 💪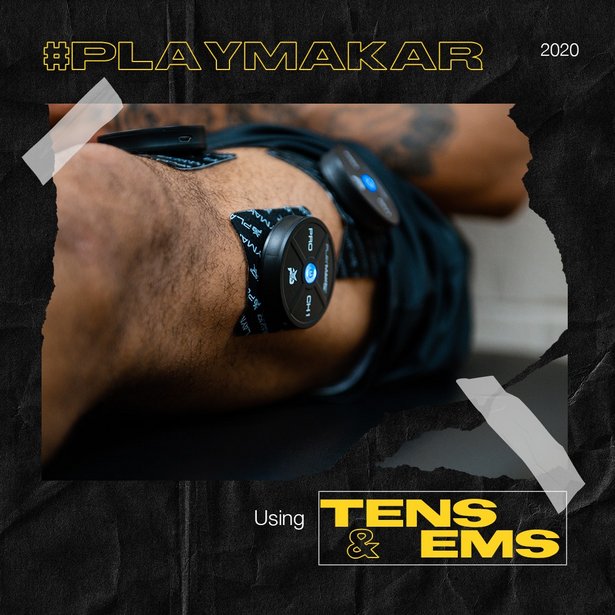 Two pods not enough for you? Need more #musclestimulation? The #PlayMakar PRO Wireless Muscle Stimulator has your #recovery needs. You can adjust your pods independently for up to 4 channels but can you can use as many pods per channel as you would like. Who uses more than four pods 🖐?
What is ambition?
#Ambition: a strong desire to do or to achieve something.
That means get out there and go get your success. Don't wait anymore; move to achieve your goals.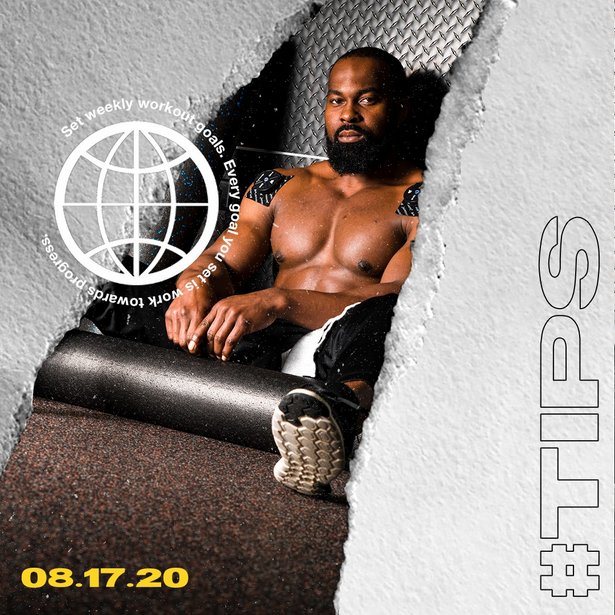 Used by the top pro's in the NFL, NBA and MLB, the Playmakar line of sports recovery products such as could greatly benefit you or someone you know.
The PlayMakar® mission is to inspire your peak performance through their line-up of innovative training products. Playmakar are dedicated to providing their customers with the training and recovery tools that allow you to reach your full potential.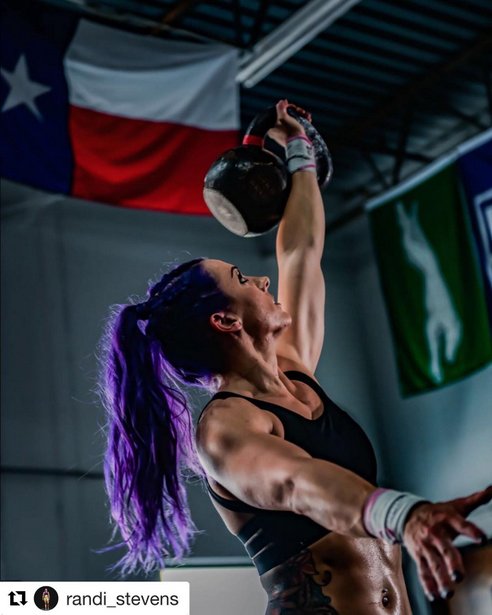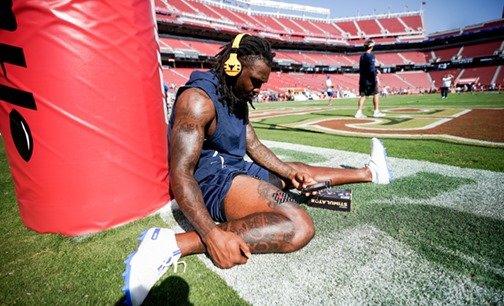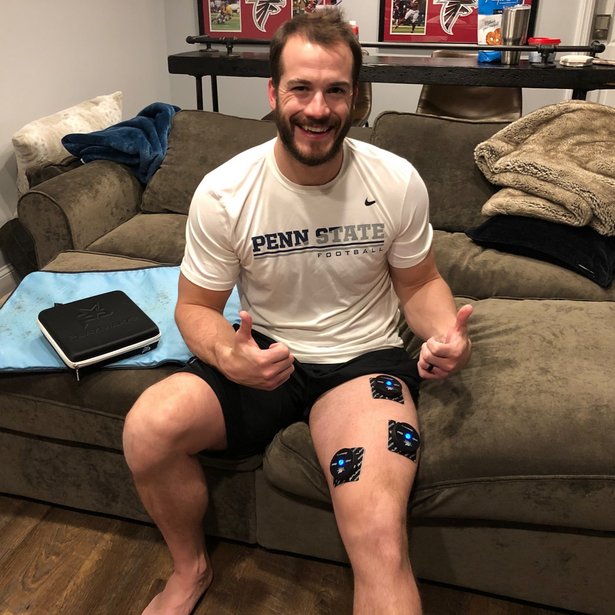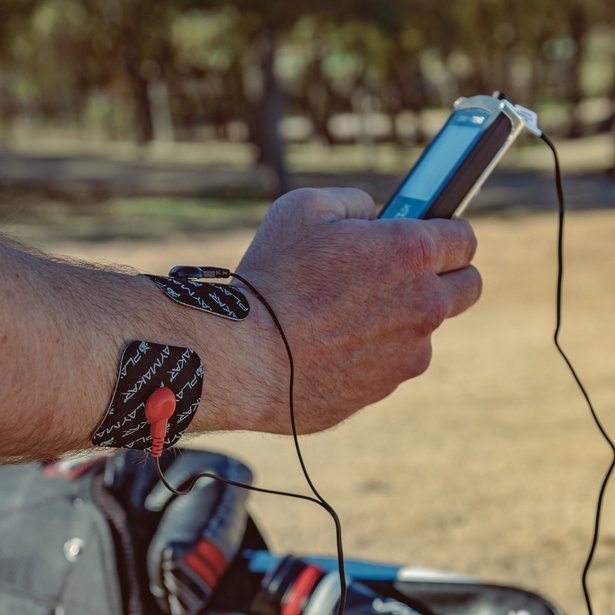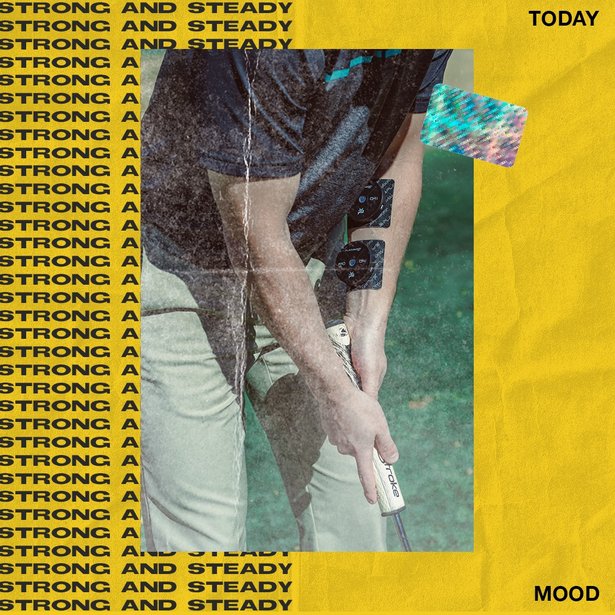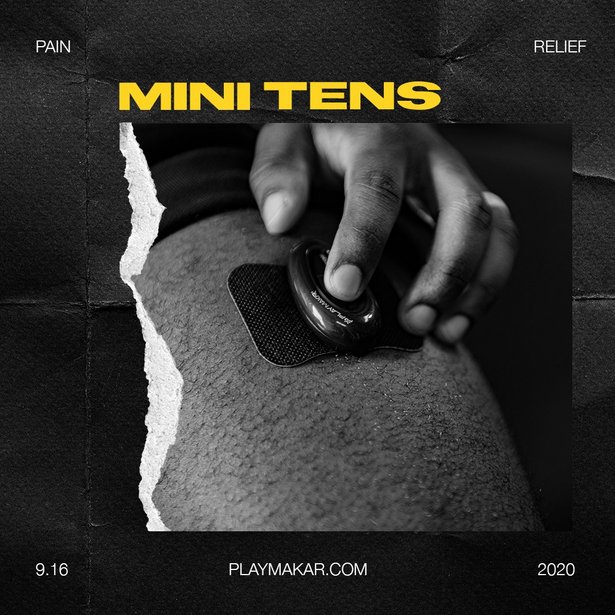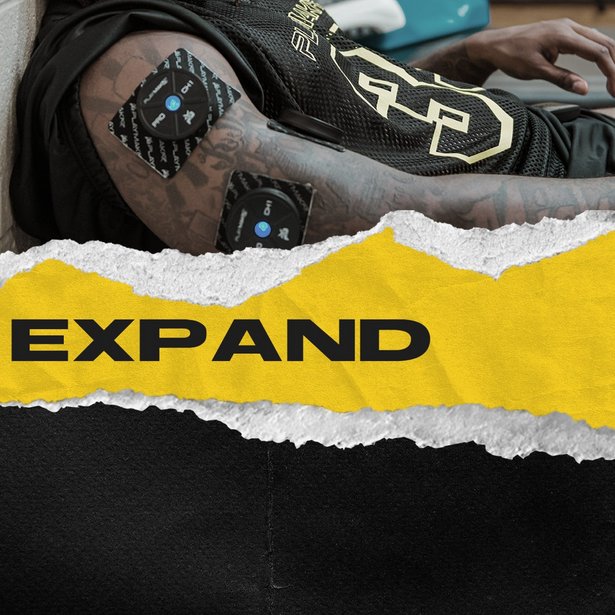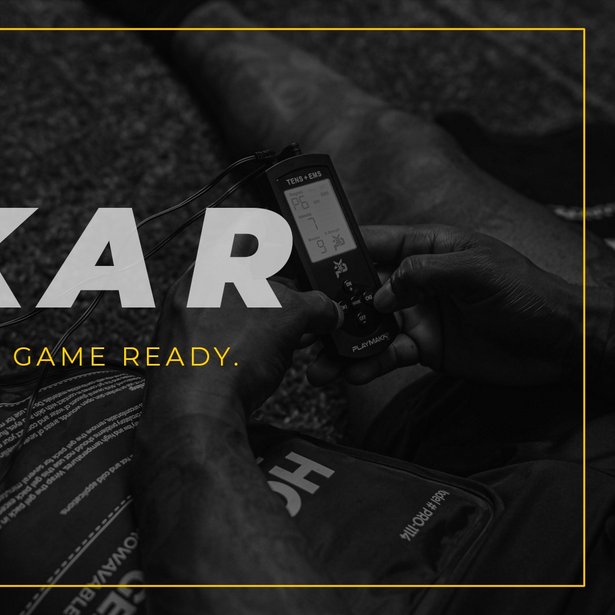 ShadowMyths is about coming up with new ideas but being true to who you are >> www.shadowmyths.com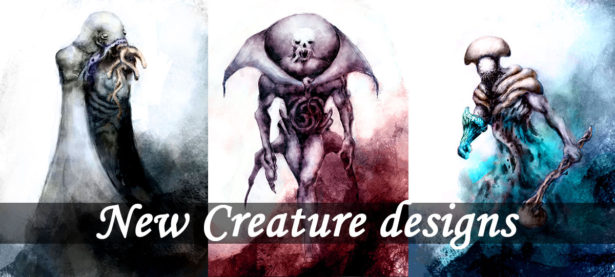 FACEBOOK | INSTAGRAM | TWITTER
How to use the ShadowMyths Cards
Storytelling Game: A basic storytelling game that all ages can play. Shuffle the deck of cards and the dealer deals five cards to each player. The unused pile is left in the center of the table. Each player can trade up to two cards with another player by asking, "Who wants to trade?".
The dealer lays down one card and starts a story. When they're finished, they they draw a card from the unused center card pile and add it to their hand. The next player plays a card adding onto the story and then draws a card from the center pile. This continues until the end of the game.
If the addition to the story makes little sense, other players can challenge the player. All players (even eliminated ones) decide whether the new addition is okay. If most of the players vote against the story, that player is eliminated from the game. The eliminated player's cards are NOT added to the unused pile.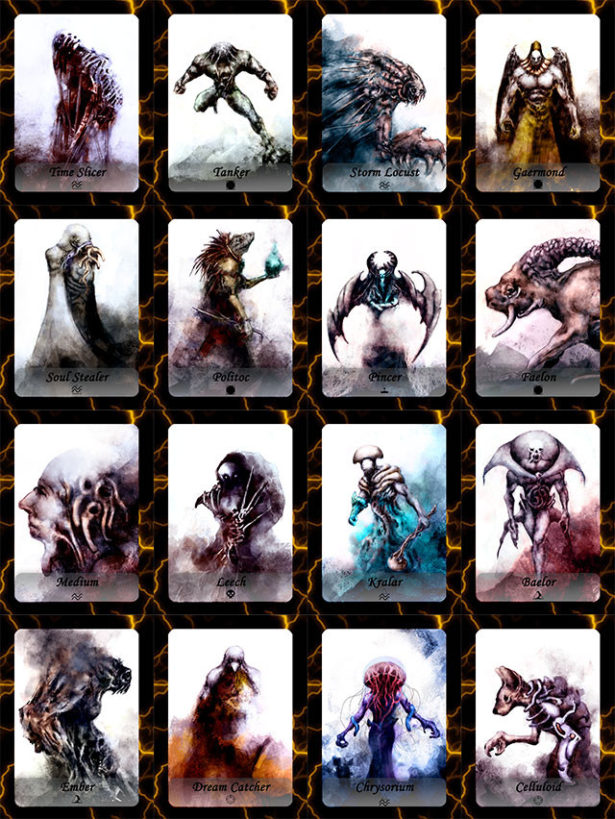 The last player remaining wins the game.
Writer: No matter how long you've been writing or what genre you work in, there will always be times when you reach a roadblock and where you keep rehashing the same idea. These cards can help break that writer's block.
The easiest method for coming up with a new idea is the 3-card draw. Select three cards randomly from the deck and lay them out next to each other in a row.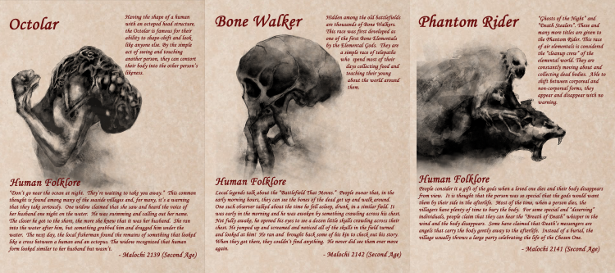 – The first card is the main character.
– The second card is the antagonist or something that happens to the main character.
– The third card is the resolution of what happened.
Using this three-card draw as often as you want will help you come up with new ideas and directions that you can take your existing characters.
DnD/Role-Playing Games: The two main ways that players use the cards in DnD are as props or as a quick way to create new and interesting campaigns.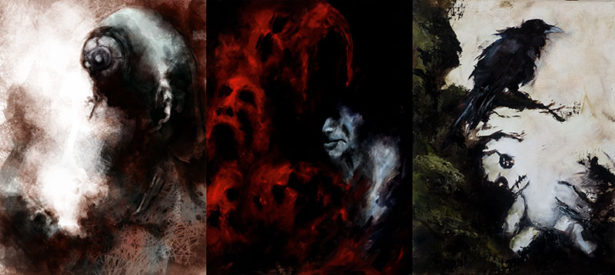 An example as a prop is laying down five cards on the gaming table. As your players enter the room, tell them "You see 5 cards on the table. What do you want to do?" What happens next depends on which card is selected. Remember, not all cards have to be bad. Maybe they gain some new information. Maybe a new spell.
As a campaign generator, use the same method as the Writer. Draw 3 cards and lay them out next to each other in a row
– The first card is NPC who needs help.
– The second card is the villain. This is the situation that the players are trying to defeat or control (or maybe they have to retrieve something).
– The third card is the situation they have to get through to get to the villain.
Oracle Reader: ShadowMyths cards are about understanding who you are and helping with situations that have arisen.
A simple way to use them for Oracle reading is to find a quiet area and calm your thoughts. Then draw three cards and lay them next to one another. The meanings of the layout is: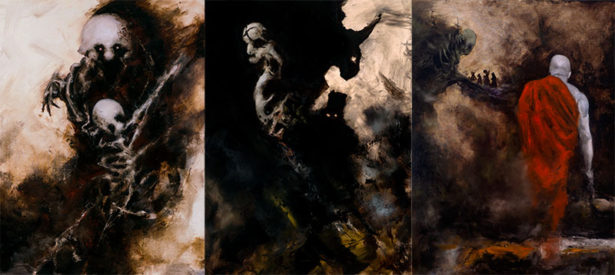 – Leftmost card: What situation/issue has been holding you back?
– Center card: What are you dealing with that was caused by the issue?
_ Rightmost card: What do you need to understand so you can move forward.
Teacher: You can use the same methods that the writers use, the storytelling game, or how the role-players come up with campaigns. In addition, you can use these as a vocabulary lesson where each student picks a random card and write five adjectives that describe what they see. Then have them trade cards and come up with different adjectives for the new card. At the end of the trading, compare to see what words each student came up with.
Therapist: Like Rorschach cards, you can help patients discuss what they see in the cards. The primary purpose is for communication, not for revealing innermost secrets. When we tell stories, we always refer to things that we know or have seen.
The standard method that is used is to have the patient pick five cards and lay them down in any order that they wish. Then they tell the story. You can ask them about situations in the story who the main character is and why they are performing certain actions. The goal is to allow the patient to tell the story in their own way and become comfortable with what is being said. From there, you can explore other avenues and search for ways to help them based on what you've learned.
"These decks are story prompt/idea generation cards using my dark fantasy illustrations. The cards are used by teachers in their classrooms, gamers for DnD and other role-playing games, Tarot/Oracle card readers and writers. Each deck comes with 35 cards and ideas on how to use the decks.
Find out more about the deck at www.shadowmyths.com. In addition, you can see more products at: www.etsy.com/shop/ShadowMyths. Products include books, Oracle Decks, Prints, Original drawings and original paintings." Doug Hoppes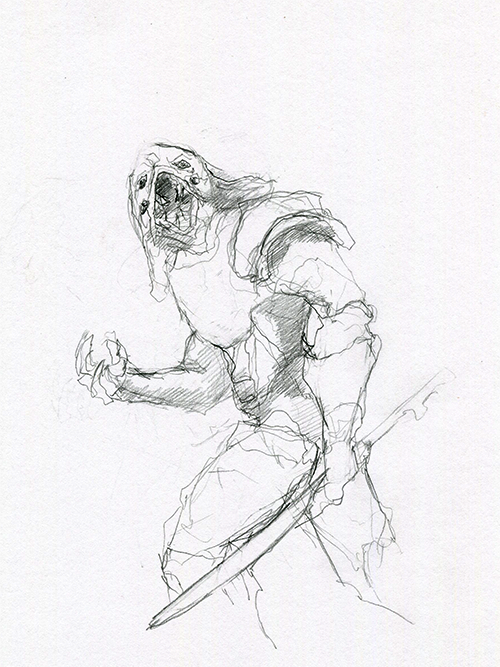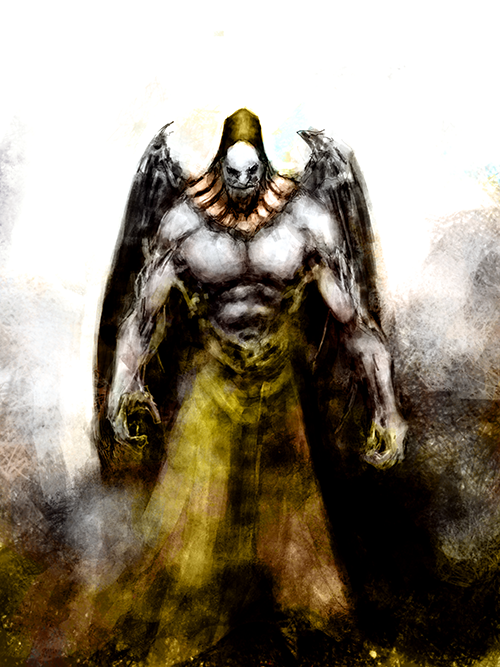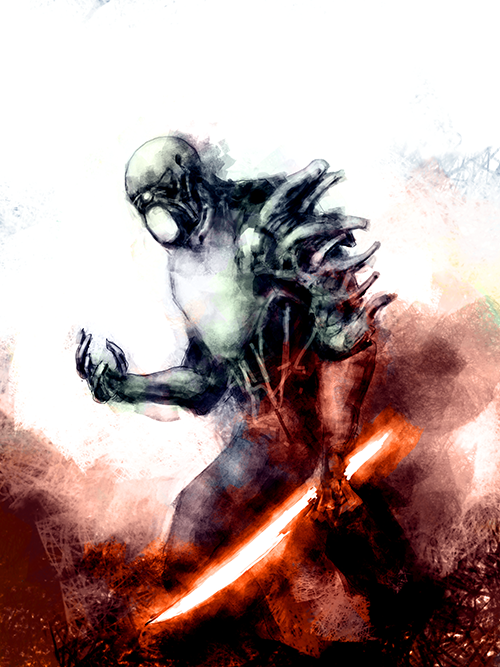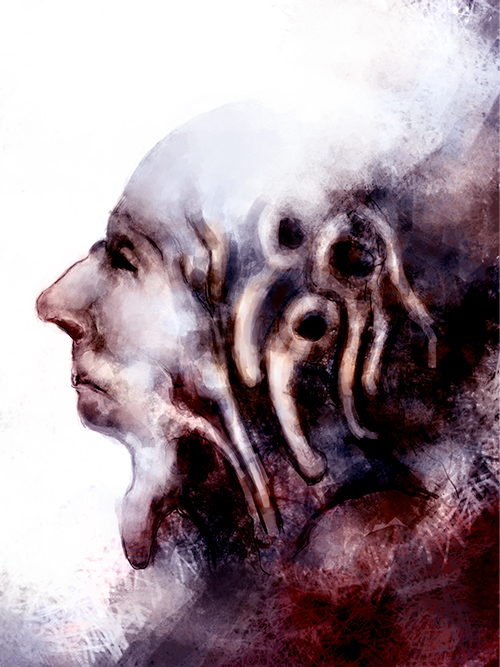 The Try Not to Laugh Challenge – Would You Rather EWW Edition: (This book was the #1 book in Canada for two weeks last year, and the #4 book in the US)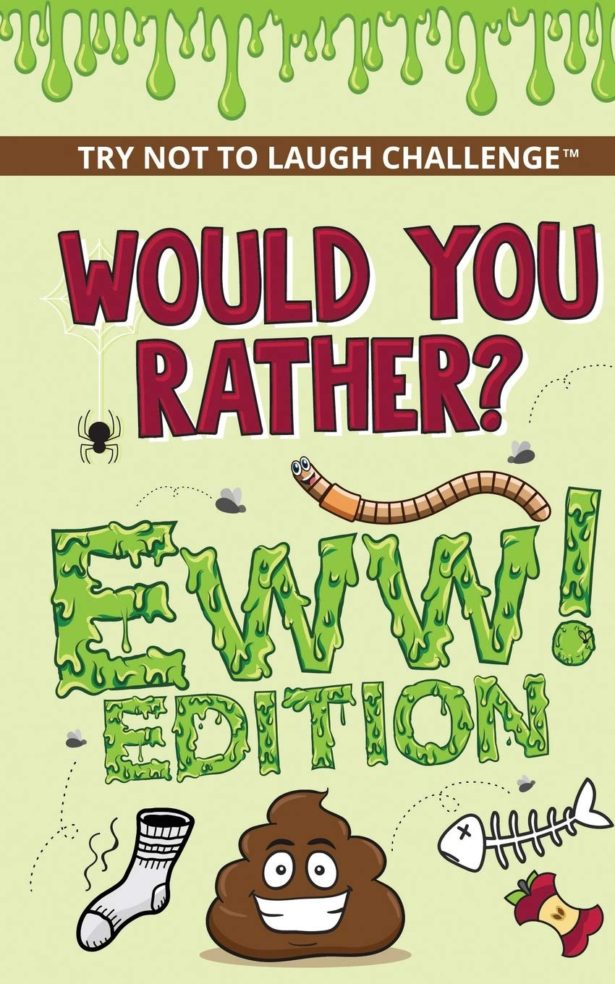 Life's too short for boring questions and games, so we have just what you need! Look no further than The Try Not to Laugh Challenge's Would Your Rather? – EWW Edition for one of the best additions to a family game night, long road trips, parties, and MORE!
Our Would You Rather? – EWW Edition includes 160+ hilarious, creepy-crawly, ooey-gooey, and smelly questions that are guaranteed to make you stop, think, and giggle! Whether it's a conversation starter, ice-breaker, or party game… this book is guaranteed hours of screen-free FUN!!
How do you play?
Take turns reading the Would You Rather Questions aloud, then voice your pick and in the goofiest way possible, explain 'why' you chose that one! If your answer and explanation get a laugh, then mark down that laugh point! At the end of the game, the person with the most laugh points is crowned the LAUGH MASTER!
Don't Laugh Challenge – Stocking Stuffer Edition: (Consistently a top 25 book on Amazon!)
If you are open-minded about your kids learning new jokes and becoming more self-confident and developing a stronger sense of humor than this book is for you, ehr them!! I'm sure by now you have heard of The Don't Laugh Challenge™ Joke Books, but in the rare case, you haven't, please allow me to explain what all of the fuss is about. The Don't Laugh Challenge™ Joke Books are unlike any joke book before it. It is not meant to be read in isolation, but instead, it is a game or a challenge that is to be played between friends, siblings, cousins, or any two people who like to tell jokes.
Schwab Stock Slices: For $5, investors can buy any company on the S&P 500, making it easy to buy or gift stocks in easy dollar amounts, such as $25, $50 or $100. Spending $25 can allow you to gift slices of Disney, Apple, Google, and Netflix when one full share of each combined would cost nearly $1,500.
Stock Slices are perfect for:
People who we cannot visit in person due to COVID-19 and digital gifts for family/friends that live far away
Personalized gifts
Gifts under $25
Women who want to start investing but don't know how
Tech-savvy teens & millennials
Use Image3D's Reel Builder website to create photo reels using your own photos
● Your custom RetroViewer will be ready five days later
A viewer and photo reel retails for $29.95, making the RetroViewer a unique, affordable gift for the holiday season:
● Keep in touch with family and friends you can't see during the holidays
● Use as an unexpected stocking stuffer for children, parents and grandparents
● Create a thoughtful, romantic holiday surprise for your significant other
● Give your bridesmaids or groomsmen a gift they'll never forget
Bel Essence (www.belessence.com), a skin care company making highly effective skin care products from natural and organic ingredients. Bel Essence creates its products based on a simple principle – nutrition for the skin. If we use products that give our skin the vitamins, minerals and omega 3 and 6 fatty acids it needs, we will have naturally healthy skin. Plant oils such as Argan, Hemp, Rice Bran, Avocado and others are rich in the vitamins, omega 3s, fatty acids and other nutrients important for soothing and treating common skin conditions and irritations and give you healthy skin. These oils have been known for centuries for their health, healing and restoring properties, giving your skin what it needs to regenerate and rejuvenate itself to its best.
Bel Essence combines plant oils, all researched for their nutritional properties and combined to deliver the best nutrition to skin. The products are built from these oils, not a base of filler ingredients with oils sprinkled in. This is why the products enjoy 4+ star reviews – they are natural and organic, cruelty free certified, made in the US, paraben and sulfate free, and very effective in repairing and rejuvenating skin.
Lizard Skins is an industry leader in accessories that revolve around the hand-to-grip interface. Any grips needed for bats to BMX, and even gaming, make it better for the athlete to prevent slipping.
You can find their site here: https://www.lizardskins.com/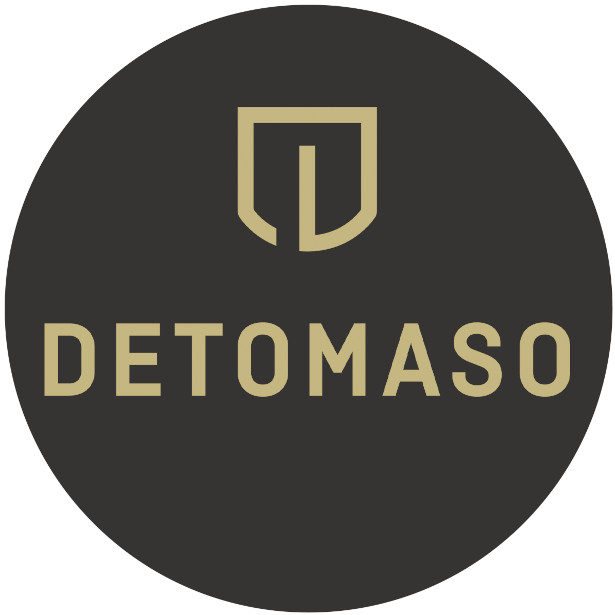 Detomaso Watches combine an award-winning design, a precision movement by Seiko, and handmade Italian leather bands. Our Green Viaggio Automatic was featured in Sports Car Market as a highlighted product and received the prestigious Red Dot Design Award.
Featured product: Green Viaggio Automatic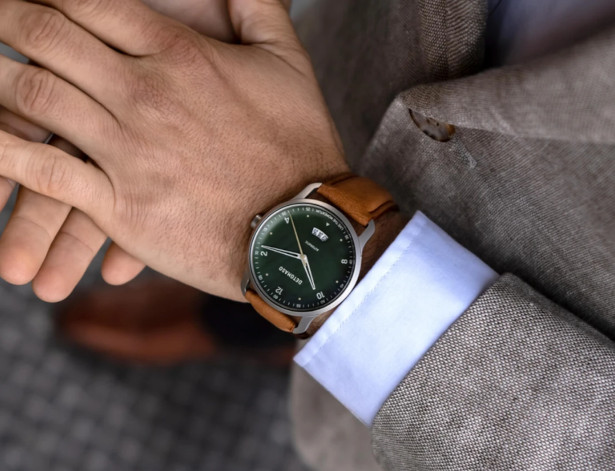 Description: The Green Viaggio Automatic was takes design inspiration from classic Italian sports cars. The dial was created to look like a speedometer and features a date window. The watch was built to stand the test of time using a stainless steel case and scratch resistant glass. The back has see through glass for you to admire the inner workings of the Seiko movement. Finally the watch is completed with a handmade Italian leather strap.
Price: $224.25 (with 25% off discount) // MSRP $299
www.detomasowatches.com/watches/viaggio-automatic/4335/viaggio-automatic-green-leather-brown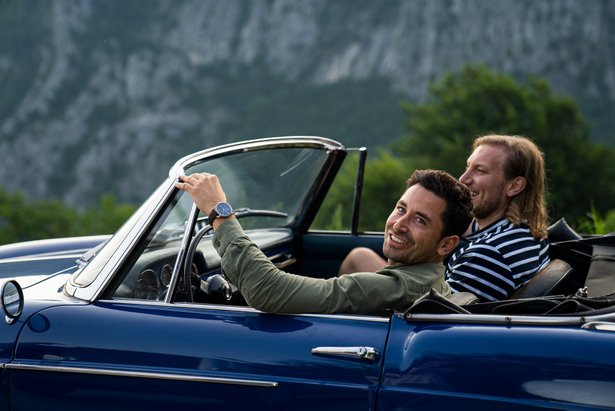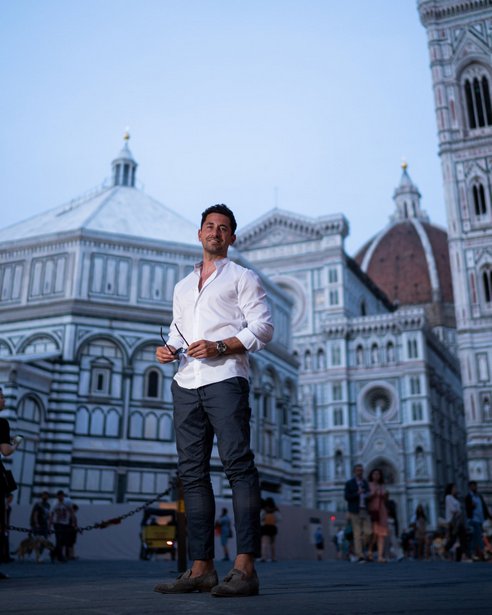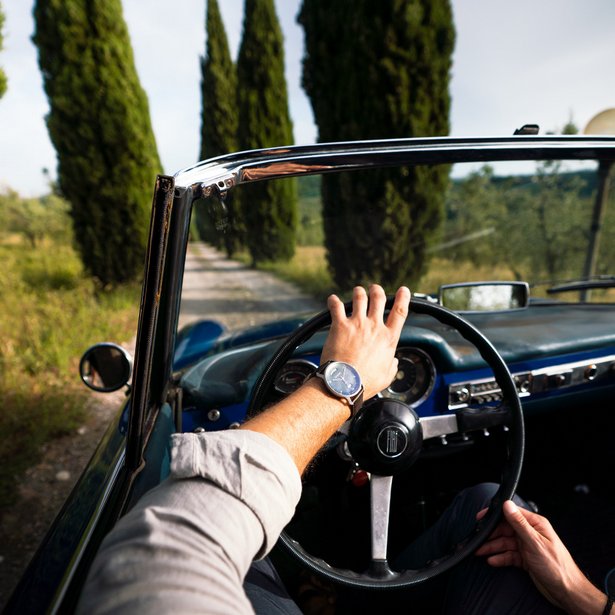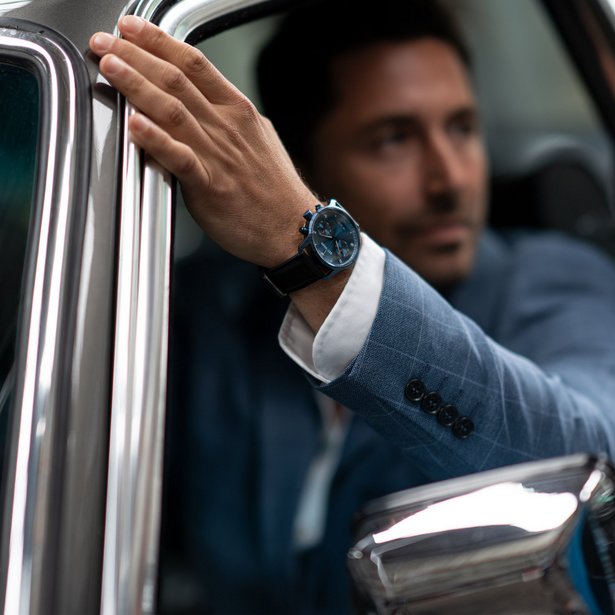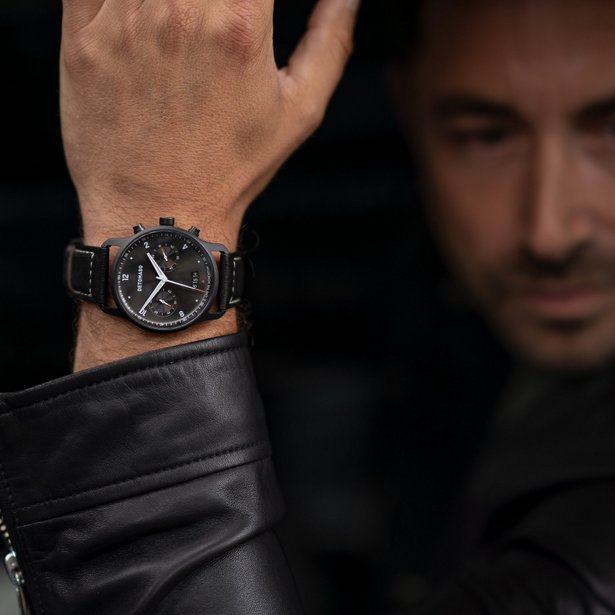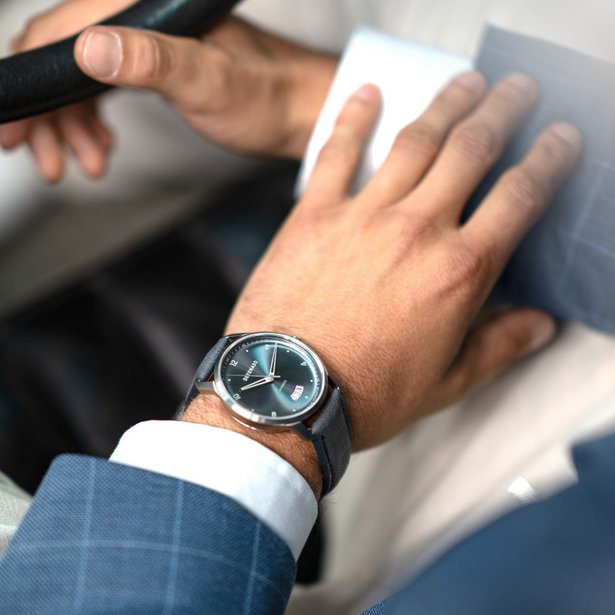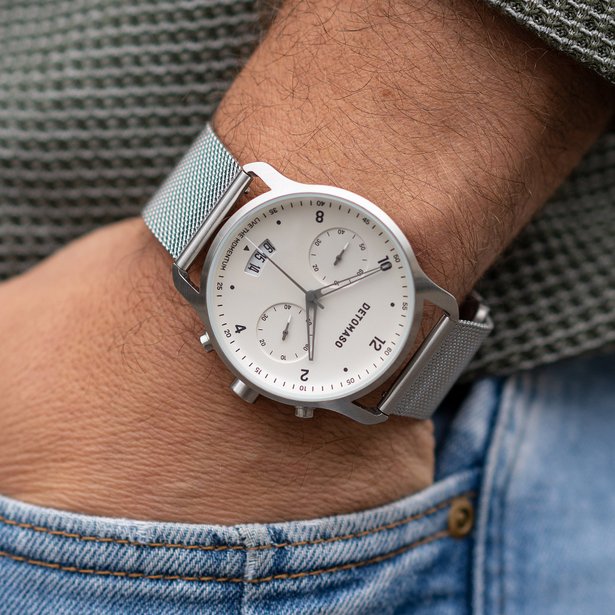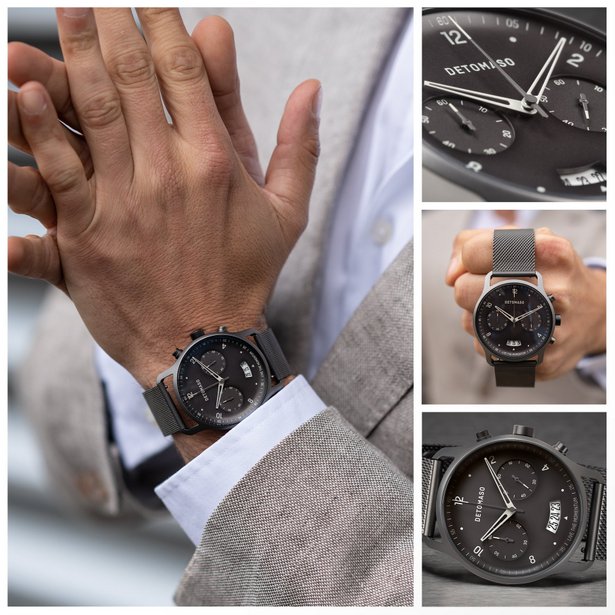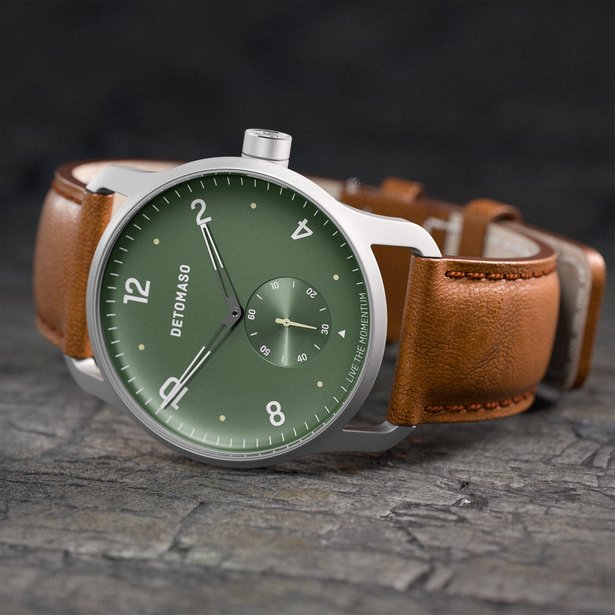 Nunbelievable, a mission-based baked goods company that donates a meal for every cookie sold. www.Nunbelievable.com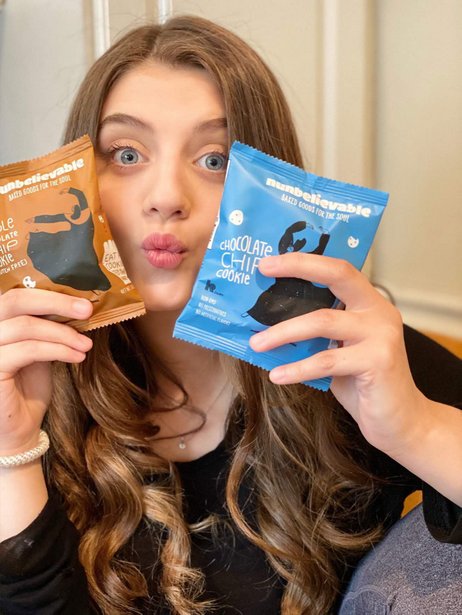 Nunbelievable cookies are a great present for people of all ages to enjoy!
Each cookie is packaged individually, made with better-for-you non-GMO ingredients, making it a perfect snack for students to pack for lunch or after school.. Not only are they delicious, but they make a difference! They have been able to donate over 100,000 meals to partner soup kitchens across the country thus far.
The cookies are 3-ounces each, and come in four flavors: Chocolate Chip, Peanut Butter, Oatmeal Raisin, and Double Chocolate Chip (Gluten Free) for those with dietary restrictions. All the flavors have been well loved, as seen on the hundreds of reviews on their website. They offer two size varieties: a 6-pack at $17.99, a 12-pack at $29.99, as well as a monthly subscription option.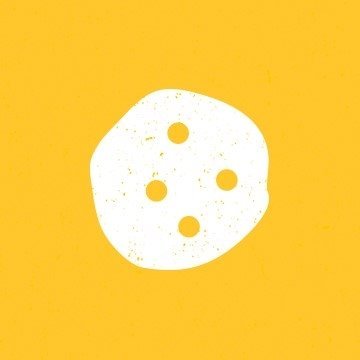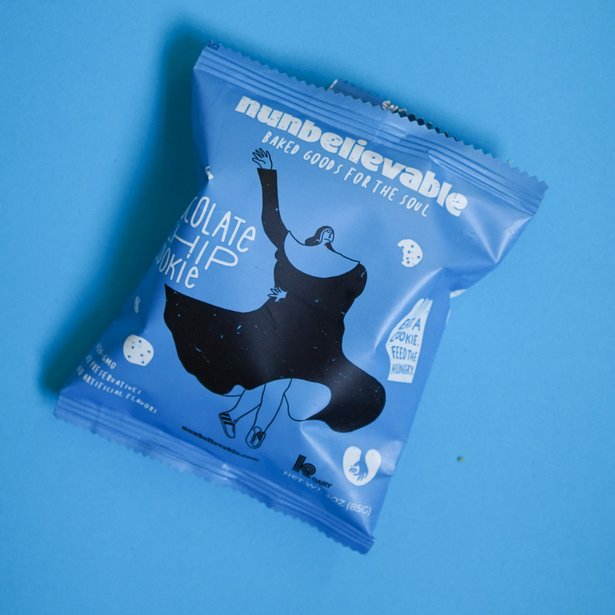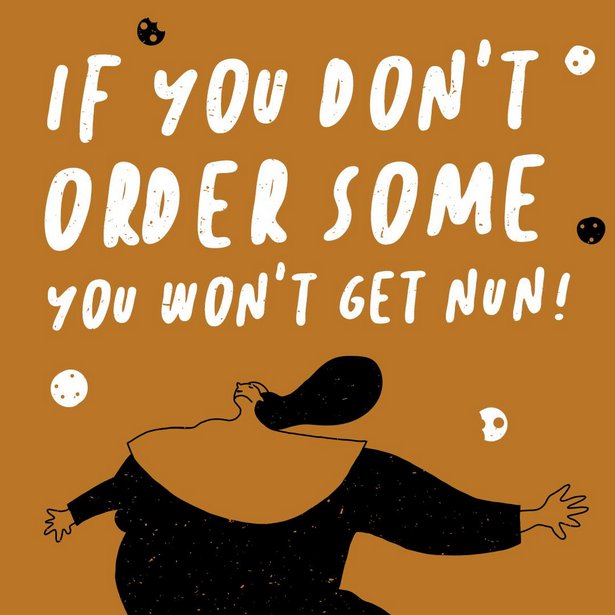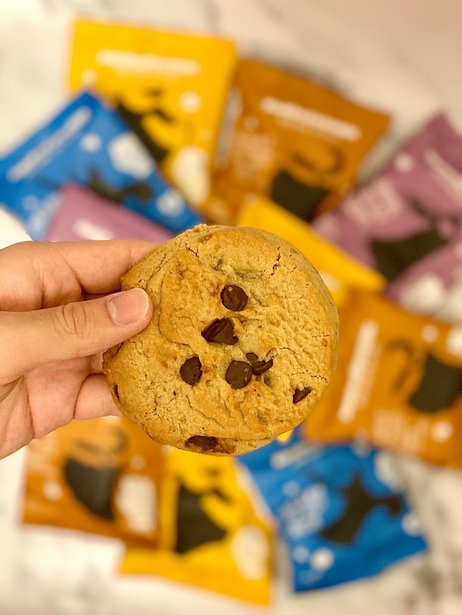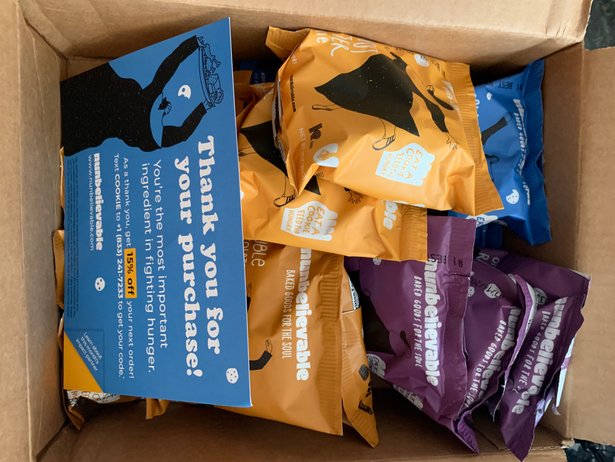 Lilienthal Berlin combines an Award winning design, a Swiss movement, and interchangeable leather bands into one finely crafted watch.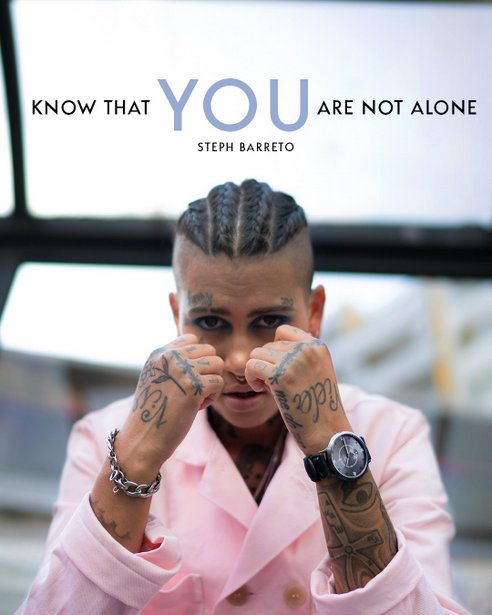 The L1 All Blue has won numerous design awards and is our topseller worldwide.
Featured product: L1 All Blue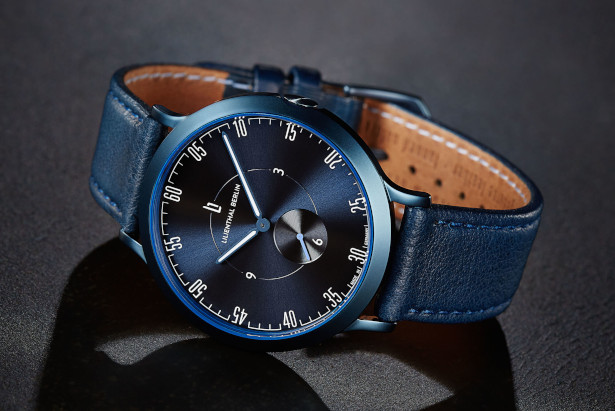 Description: The L1 All Blue is where style meets fine craftsmanship. The watch dial features a special suncut blue dial fascinating light refraction and an extraordinary effect of depth. The dial is complemented by the Superluminova coated hands allowing them to glow in the dark. The watch is powered by a Swiss quartz movement and housed in a stainless steel case. Lastly, the watch is completed with chemical free, vegetable tanned leather band.
Price: $201.75 (with 25% off // code: FALL25) // MSRP $269 (valid from 10.5.20 – 11.01.20).
See more at : www.lilienthal-berlin.com/l1-all-blue-blue?c=8&number=L01-108-B003E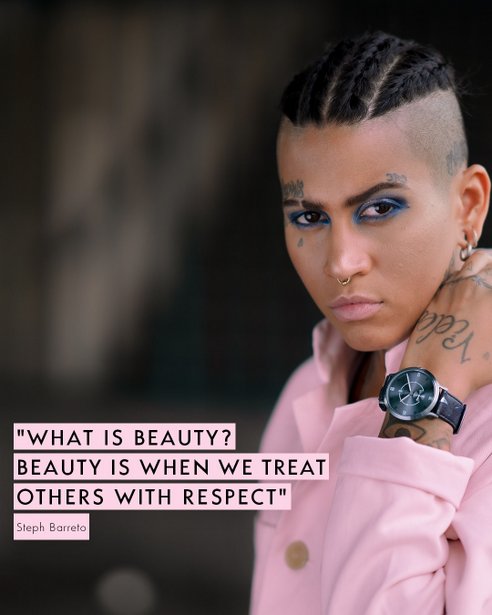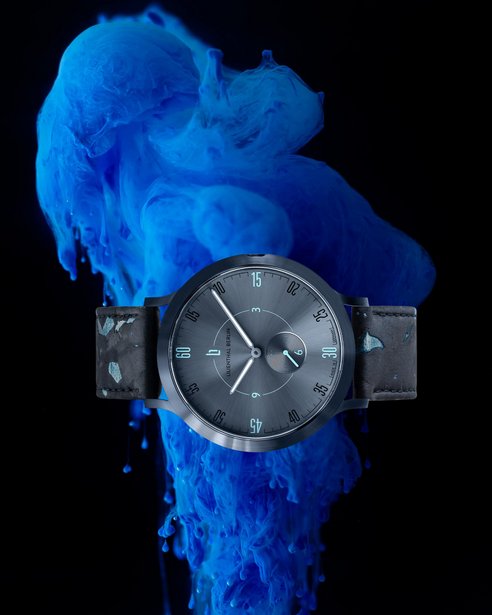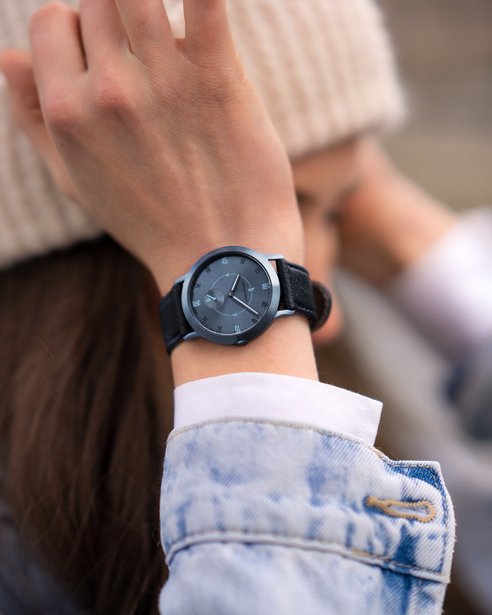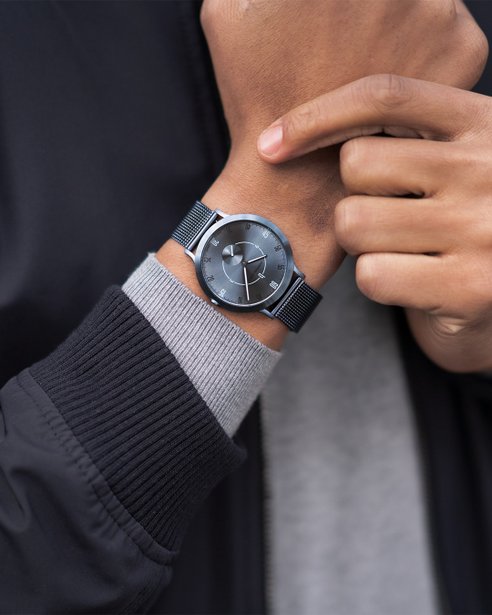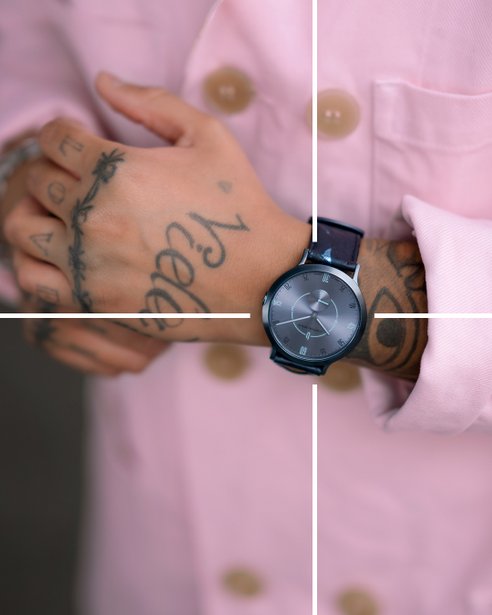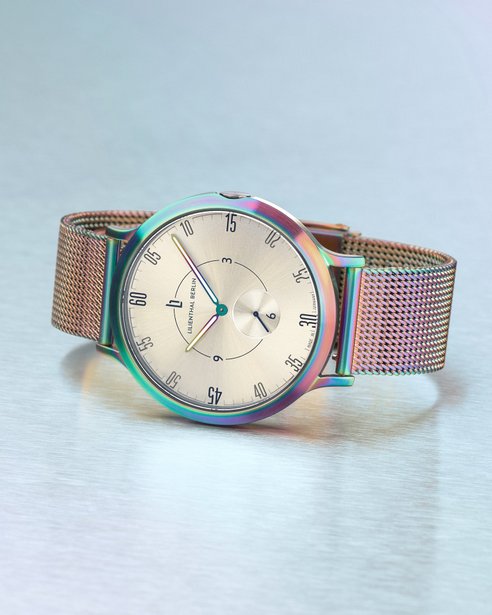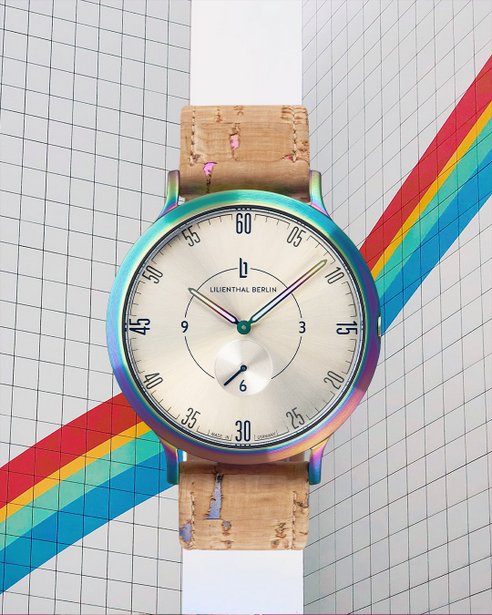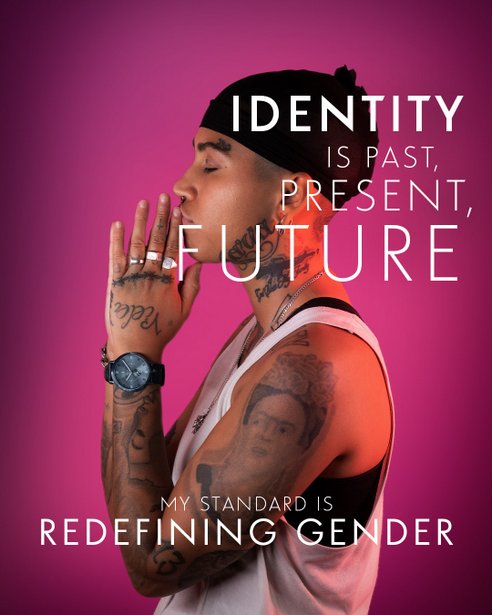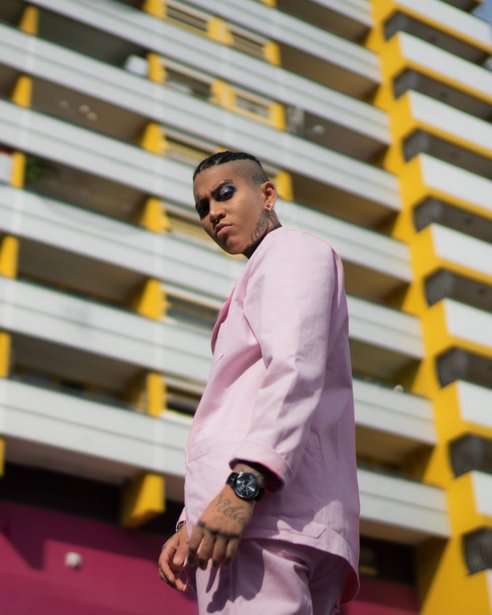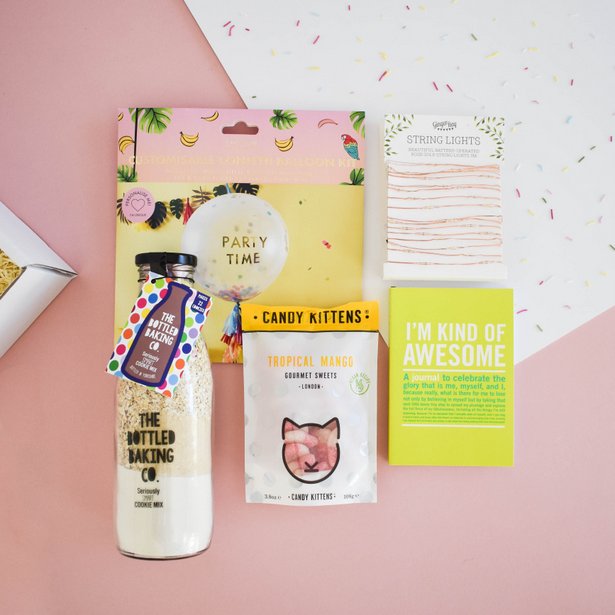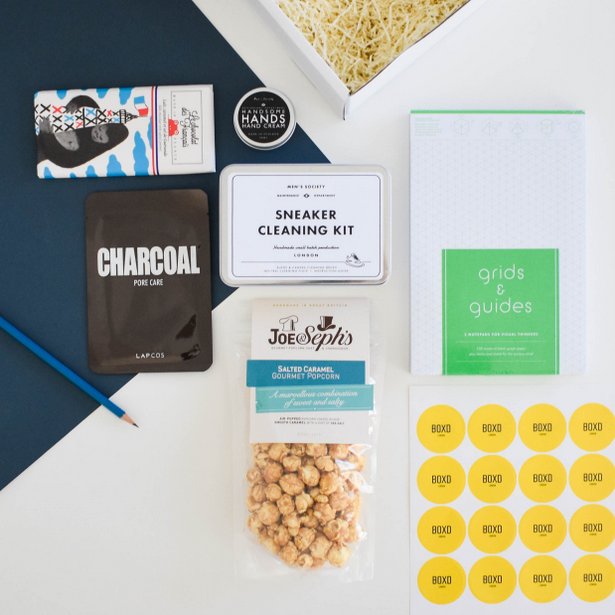 BOXD is a new online shop selling curated gift boxes for teens and tweens, founded by Mads Panchoo, Editor of online parenting magazine THE LONDON MOTHER.
Mother of two Mads said: "I've had the idea for BOXD for over a year, but it was only during lockdown that I had time to put my plans into action. I noticed (from my existing audience of over 25,000 followers and in some popular parenting Facebook groups) that there wasn't a specific place to go to buy gifts teens would want to receive, that could be sent by post, and that are focused on the teen and tween market. So I put together a focus group of young people aged 10 to 17 (mainly my kids and their friends), and together we curated a selection of products that this age group would be pleased to receive as gifts. The gift boxes can be sent for any reason or season."
BOXD has proven to be particularly popular among aunts, uncles and grandparents looking to send some love in the post.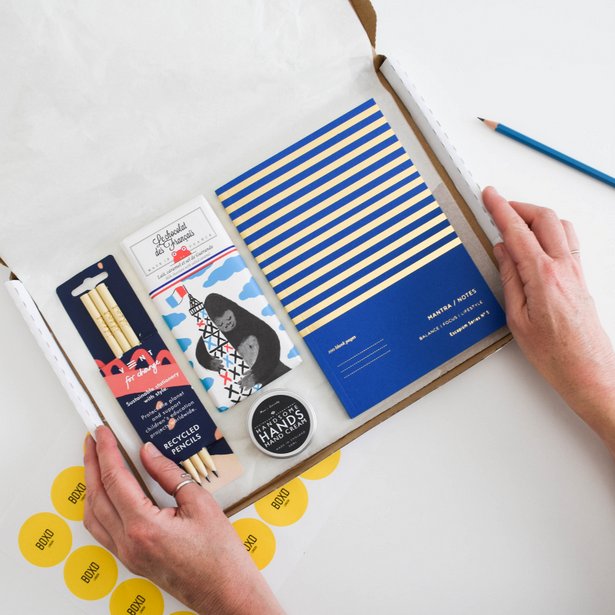 Each item in every BOXD gift box is thoughtfully selected and the contents include organic chocolate from French brand Le Chocolat des Francais, stationery from luxury stationer Katie Leamon and tech accessories from Wild + Wolf.
BOXD sells items in three categories and stock is regularly refreshed and updated. Shoppers have the option to choose next day delivery (orders placed before 12pm) – perfect for any last-minute gift giving.
Letterbox Gift – prices start at £25.
At least three items are sent in a letterbox friendly gift box meaning no signature required.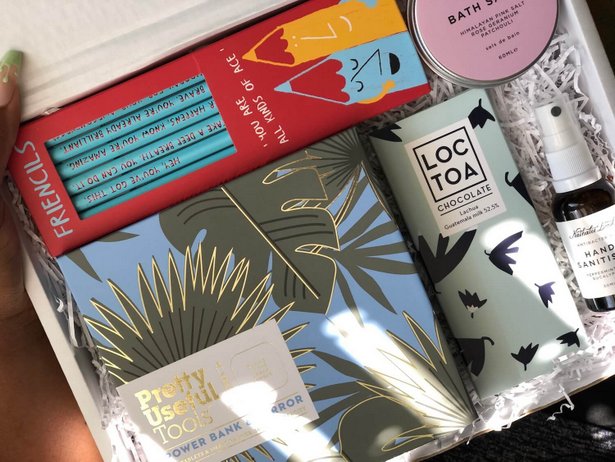 Gift Boxes – prices start at £42.
Luxury gift box containing five or more items dispatched in eco-friendly packaging and compostable mailers.
Design Your Own Gift Box
Shoppers can choose specially curated items from the online marketplace and design their own Gift Box.
www.shop.thelondonmother.net
Email: shopboxd@thelondonmother.net
Instagram + Facebook – @shopboxd#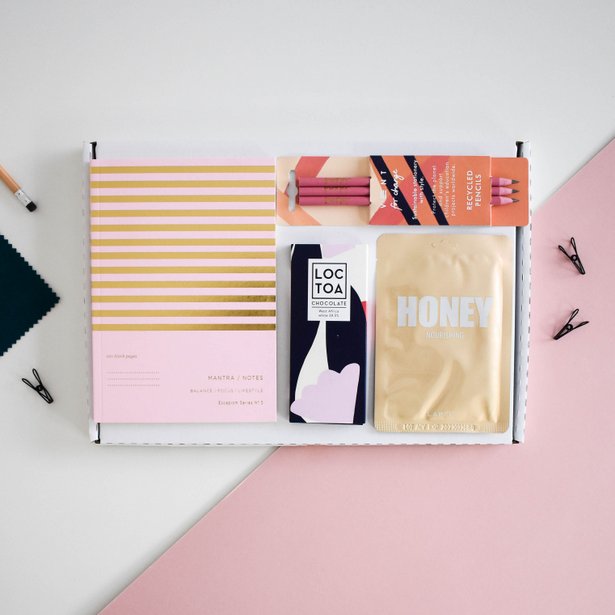 Spiced Skincare brings the benefits of exotic spice extracts to skincare.
Our products are all-natural, cruelty-free, and made of luxurious ingredients in the USA. Explore our first collection: a love letter to the spice of Cinnamon.
#SpiceUpYourSkin
Spiced Skincare brings the benefits of exotic spice extracts to skincare. It's all-natural, cruelty-free, and made of luxurious ingredients in the USA.
The Original Cinnamon Face Scrub
Cinnamon has been used for thousands of years not just for its pleasant and warm aroma, but for its powerful properties. Our scrub does wonders to cleanse, gently exfoliate and fully rejuvenate skin.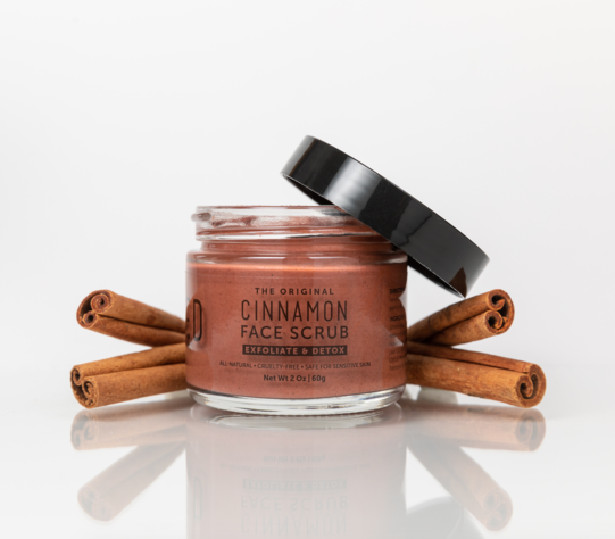 The Original Cinnamon Face Mask
Using the antioxidant power of cinnamon, our mask boosts collagen production naturally, minimizes wrinkles and fine lines, and locks in moisture.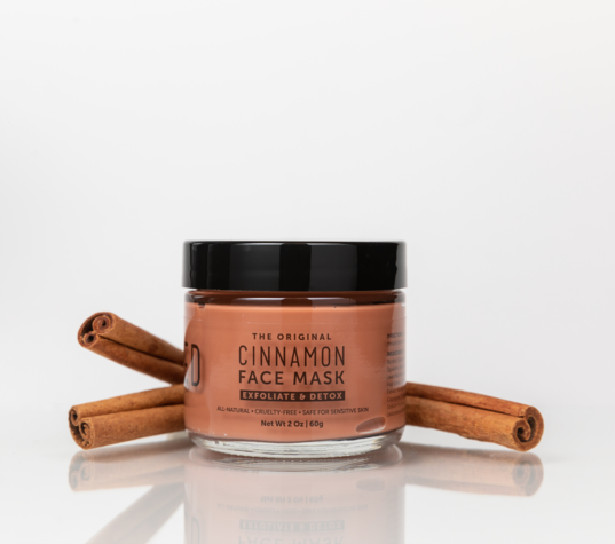 Coaster Games www.thedarkimp.com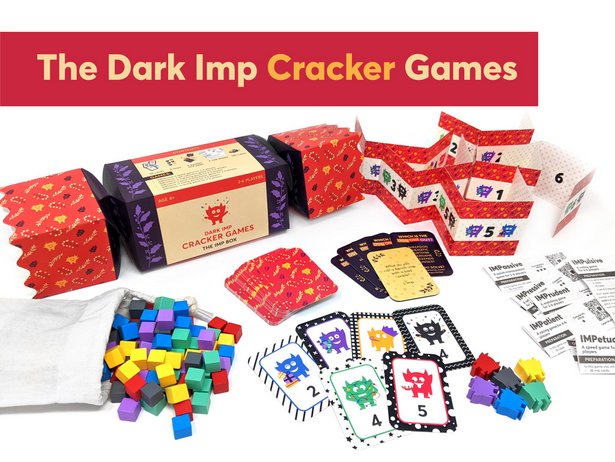 Six games on cardboard coasters in a little pack. Rules on one side, game on the other. Super light, compact and excellent value. You don't write on the coasters, so the games can be played again and again. Replayable and plastic free.
The coaster games are £6..99 + p&p and are available from
www.TheDarkImp.com
We help parents of teenagers to reclaim family time by playing board games together. Creating an irresistible offline world, that rivals the online one.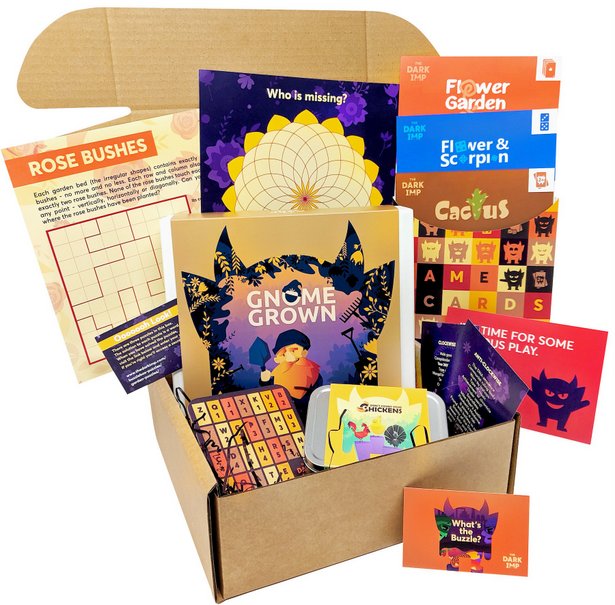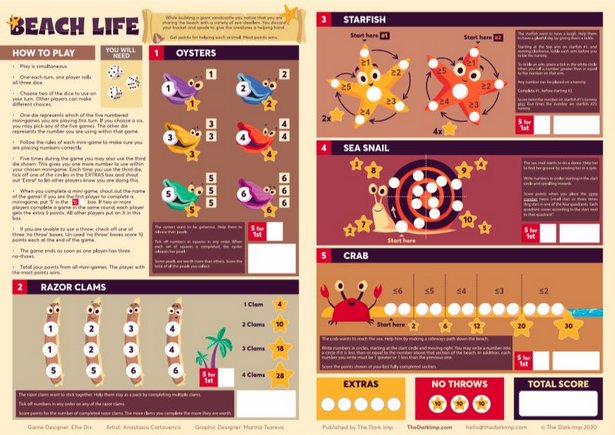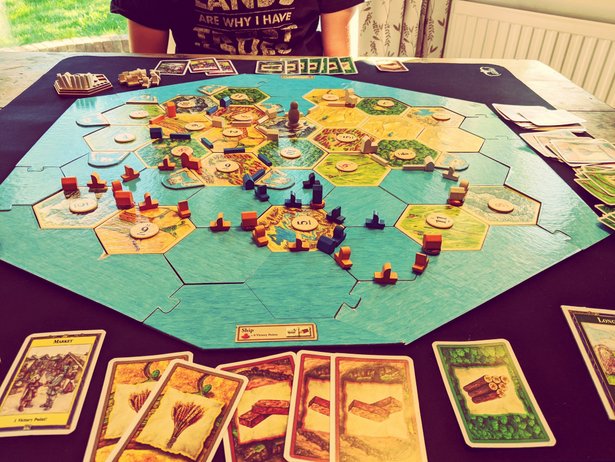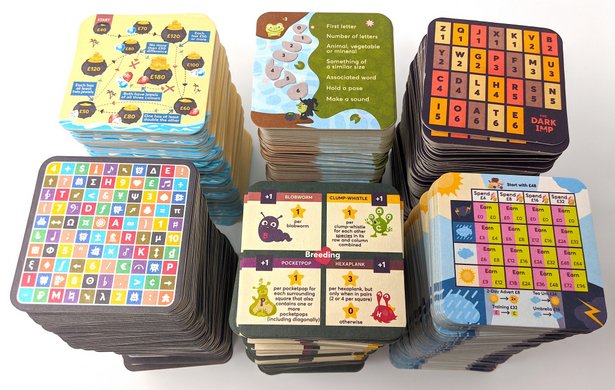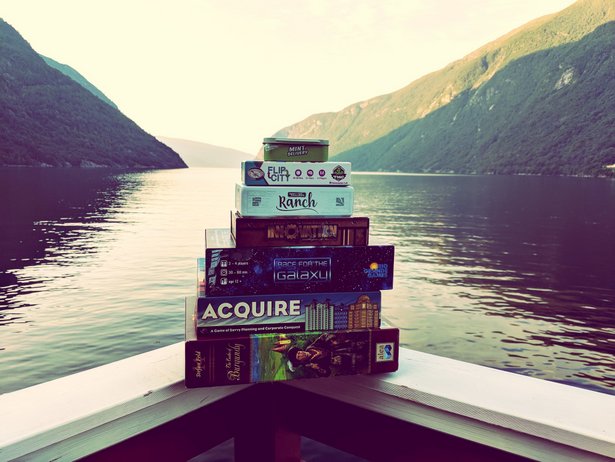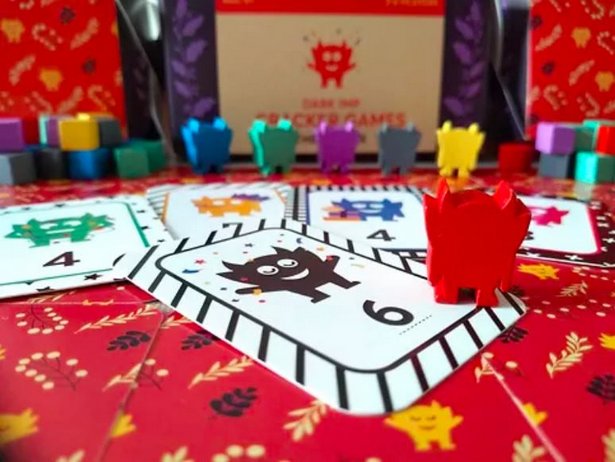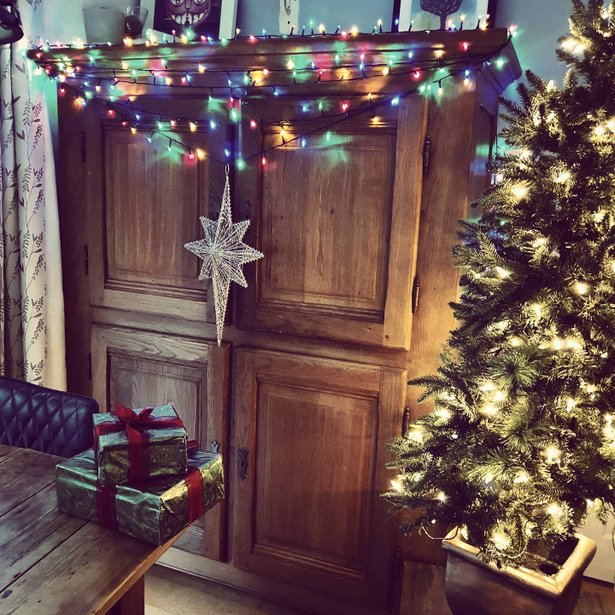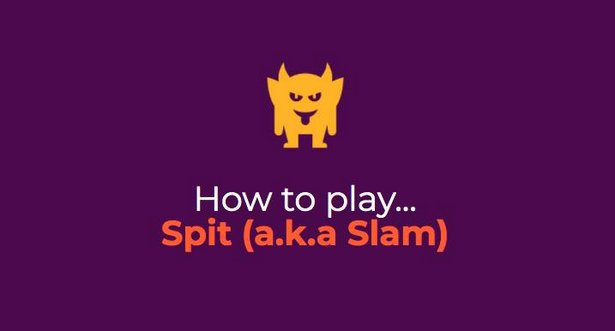 Olive Oils from Spain
Website: https://www.oliveoilworldtour.com/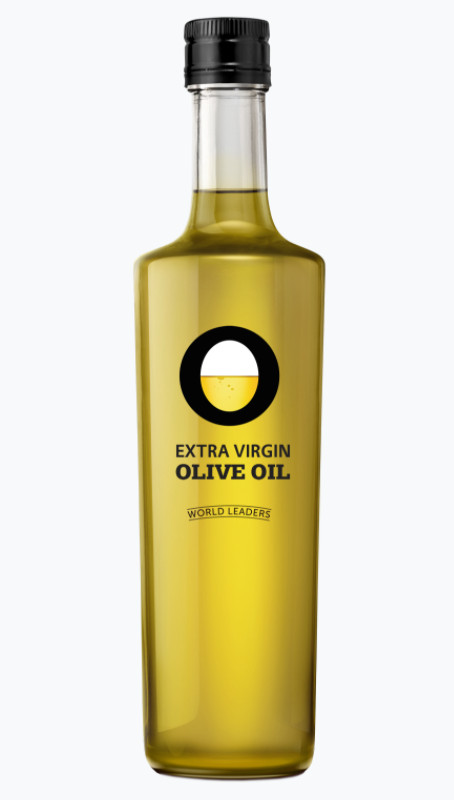 This holiday season give the gift that you know your loved ones will use with a bottle of Olive Oil from Spain. Cook a variety of authentic Spanish, heart-healthyrecipes that actually taste better from the Olive Oil World Tour, or bottle your ownconservas (preserved goods in olive oil) for thoughtful handmade gifts. Preserve ingredients like onions, peppers, green beans, pork tenderloin, fresh tuna and cherry tomatoes in Extra Virgin Olive Oil from Spain for a quick and pretty addition to antipastos, salads, entrée toppings, and more.
Olive Oils from Spain is the promotional brand of the Spanish Olive Oil Interprofessional, a nonprofit organization formed by all the representative associations of the Spanish olive oil sector, and whose main objective is the dissemination of the healthy product internationally. With the "Olive Oil World Tour" campaign as a tool, it has proposed to make the world a place with more flavor and urges consumers to join the European way of life: "Join the European Healthy Lifestyle with Olive Oils from Spain."
Revitalizing Facial Serum – A celeb favorite our Revitalizing Facial Serum adds instant moisture to your skin while making skin less oily. This serum is formulated with a high-potency hyaluronic acid and a weightless combination of rose and Vitamin C that replenishes moisture, improves skin texture, and increases hydration.
Citrus Body Oil – This hydrating and weightless blend of olive squalene, baobab and rosehip seed oil leaves your skin silky smooth and radiant without leaving a trace of oiliness. CW Body Oil can also be added to your favorite lotion for extra moisture.
A little further background info: Created in 2014, husband and wife team Rob and Chelsey Wang started CW Skincare with No Secrets out of a desire to grow public awareness of nasty chemical and synthetic ingredients that have found their way into a majority of mainstream products today. Their collection offers high quality, safe and effective alternatives. Chelsey Wang products are made with organic ingredients, cruelty-free, and always vegan.
chelseywang.com
Balu Organics, an online boutique of elevated essentials for babies and tots!
Balu Ball Pit with Balu Balls https://baluorganics.com/collections/balu-ball-pits
www.baluorganics.com
Bond Between Sisters Pin: https://store.theanimalrescuesite.greatergood.com/products/63559-bond-between-sisters-pin
Handmade, fairly traded from Bolivia which, feeds 35 shelter animals, supports the artisan community there
Alpaca Fingerless Mittens: https://store.theanimalrescuesite.greatergood.com/products/78839-alpaca-fingerless-mittens
Handmade, fairly traded, feeds 71 animals
Super Cozy™ Fleece Paw Print Throw Blanket: https://store.theanimalrescuesite.greatergood.com/products/48750-super-cozy-fleece-paw-print-throw-blanket –
feeds 71 animals, designed exclusively for The Animal Rescue Site
Super Cozy™ Paw Print Fleece Slipper Booties: https://store.theanimalrescuesite.greatergood.com/products/87067-super-cozy-paw-print-fleece-booties –
Feeds 71 animals, a bunch of designs
Handmade Recycled Driftwood Christmas Ornament:
https://store.theanimalrescuesite.greatergood.com/products/52429-handmade-recycled-driftwood-christmas-ornament –
fair trad​e from the Philippines, feeds 35 animals
4.0ctw Tennis Bracelet – $3,984
Make a statement with this gorgeous lab-grown diamond tennis bracelet that gives back. At least 10% of the net profits are donated to help the lives and land negatively impacted by diamond mining, and a tree is planted for each order.
https://www.miadonna.com/products/lab-grown-diamond-tennis-bracelet
1.0ctw Bezel Set Diamond Earrings – $1,674
The classic stud earring gets a modern twist with MiaDonna's Bezel Set Lab-Grown Diamond Earrings. But this gift also gives back. At least 10% of the net profits are donated to help the lives and land negatively impacted by diamond mining, and a tree is planted for each order.
https://www.miadonna.com/products/lab-grown-diamond-bezel-stud-earrings
11-Stone Lab-Grown Diamond Band – $729
Featuring 0.50ctw of lab-grown diamonds, the 7-Stone Band can be worn beautifully by itself, or stacked with other bands. But this gift also gives back. At least 10% of the net profits are donated to help the lives and land negatively impacted by diamond mining,and a tree is planted for each order.
https://www.miadonna.com/products/11-stone-lab-grown-diamond-band
Petite Basket Necklace – $519
The Petite Basket Necklace features a 0.25ct lab-grown diamond and is the perfect addition to any outfit. But this gift also gives back. At least 10% of the net profits are donated to help the lives and land negatively impacted by diamond mining, and a tree is planted for each order.
https://www.miadonna.com/products/petite-basket-necklace
THE MOST WONDERFUL TIME OF THE YEAR AT CARLUCCIO'S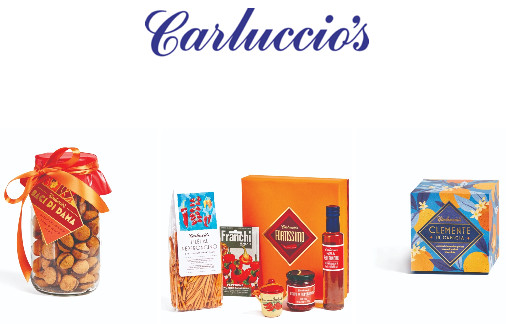 Christmas with family and friends will be cherished more than ever this year, and Carluccio's much-loved Christmas range is back to bring joy to your home. Driven by a genuine passion for artisan Italian produce, Carluccio's still sources, as it did 20 years ago, the very best products from the length and breadth of Italy. It is this passion that continues to drive Carluccio's – to this day they never use a middleman, but deal directly with specialist producers to bring you, quite simply, the very best of Italy.
This year, Carluccio's Christmas collection tells the story of its unique suppliers and their dedication to their craft; from family bakeries in Veneto, to farmers in the hills of Piemonte and clementine growers in Calabria. As well as those hero products that are a must-have at Christmas, Carluccio's bring you its extensive range of award-winning panettones; from the most traditional to prosecco cream-filled, and limoncello and spritzed-spiked varieties, as well as delicious gluten-free option.
All Carluccio's products are available for purchase in-store from 19th October, or can be ordered nationwide from Carluccio's online shop at www.carluccios.com.
PANETTONE
Fresh from Italy, you can't get more authentic than a Carluccio's panettone at Christmas time. Made from September through to December by specialist producers, these treats are only found in-store at Christmas. Just as it is in Italy.
PANETTONE TRADIZIONALE 1kg, £18.95. This multiple award-winning part-bread, part-cake is made with plump sultanas, candied peel, natural yeast (from a starter dating back over 100 years) and is finished with a hazelnut glaze. A chocolate version (1kg, £19.95) with milk and dark chocolate pieces taking the place of dried fruit and candied peel is also available.
PANETTONE ALLO SPRITZ 950g, £19.95 Enjoy the Italian Aperitivo staple in a panettone. Piped with a sweet and aromatic spritz filling with classic orange notes and covered in dark chocolate, this is the ultimate in Christmas indulgence.
PANETTONE AL LIMONCELLO 950g, £19.95 A fresh limoncello cream sings in this homage to everyone's favourite Italian liqueur. Paired beautifully with candied lemon peel and white chocolate this is a really indulgent treat to refresh those taste buds.
PANETTONE AL PROSECCO 900g, £19.95 When panettone and prosecco meet, what's not to like? This sweet festive bread made in Veneto is filled with a creamy custard mixed with local prosecco.
GLUTEN-FREE PANETTONE 500g, £14.95 So that everyone can enjoy the taste of Christmas, this candied cedro and sultana filled sweet bread is made with natural yeast and rice flour.
GIFT BOXES
FORTISSIMO, £32.95 Ensuring any dish packs a punch, this gift set is perfect for any chilli lover with chilli pasta, chilli oil, a zesty chilli pesto, spicy nduja and chilli seeds to grow your own. This will certainly spice up someone's life.
PASTA E SAPORI, £32.95 You can't go wrong with Italian pasta. This guaranteed crowd-pleaser comes with trofie, bucatini al bronzo and pappardelle, with a selection of wild boar ragu, pesto and clam sauce for the perfect way to experiment.
PROSECCO E GIANDUIOTTI, £30 Piemontese melt in the mouth Gianduiotti (165g) paired with a bottle of sparkling Prosecco (750ml) for an indulgent celebration.
IL TERZETTO, £17.95 The truffle trio – White Truffle Oil, Truffle Honey & Tritato di Funghi – the perfect gift for any truffle enthusiast!
CONFECTIONERY
CLEMENTE IN CAMICIA 300g, £17.95 The box is filled with segments of 20-day syrup soaked candied clementines that are covered in rich, dark, indulgent chocolate to create a pop of flavour once bitten into.
LIMONCELLO CHOCOLATES 150g, £9.95 Pleasing to look at and to tuck into, you'll be delighted to bite into a dark chocolate shell, only to discover a fresh white chocolate Limoncello cream inside.
STELLINE DI CIOCCOLATO 550g, £12.95 Milk chocolate stars filled with a soft, indulgent hazelnut filling that melt in your mouth. Scatter on your Christmas table as decoration.
REGIONAL CAKES AND BISCUITS
PANDORO 750g, £17.95 The cousin to panettone, this sweet Italian bread comes in a festive-inspired star shape from Veneto. This joyous buttery delight is also available in a miniature version (£3.50, 80g).
PANFORTE BIANCO DI SIENA 300g, £10.95 Packed with fruits, nuts and spices, this rich Tuscan cake is sure to satisfy your appetite for a taste of Italy.
RICCIARELLI 200g, £9.95 An Italian delicacy that is a staple amongst many Italian households at Christmas. Made with ground almonds, egg and candied peel incorporated into a dough, these dreamy bites will help to forget any troubles from the year.
BACI DI DAMA 875g, £24.95 Two hazelnut and butter Italian biscuits are joined by a chocolate 'kiss' of dark chocolate filling. The baci are made by hand in a bakery in Piemonte.
Black Fire Tequila, an independently owned spirits brand.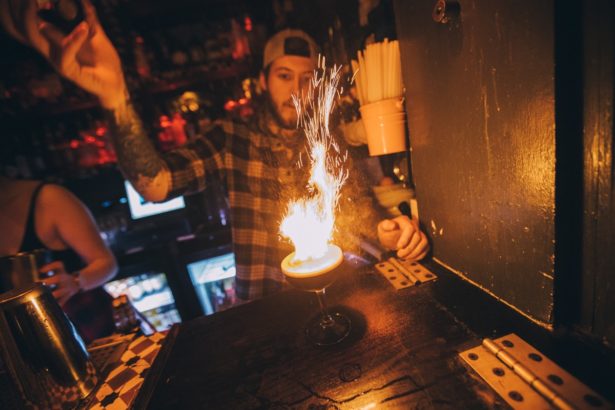 Black Fire combines three of earth's most natural highs; coffee, tequila & a hint of chilli. Cold macerated & cut with 50% less sugar than other coffee liqueurs, it is superb drunk neat over ice or as a base for coffee cocktails.
Buy at :- amzn.to/3iwipBy
See more at :- www.blackfiretequila.com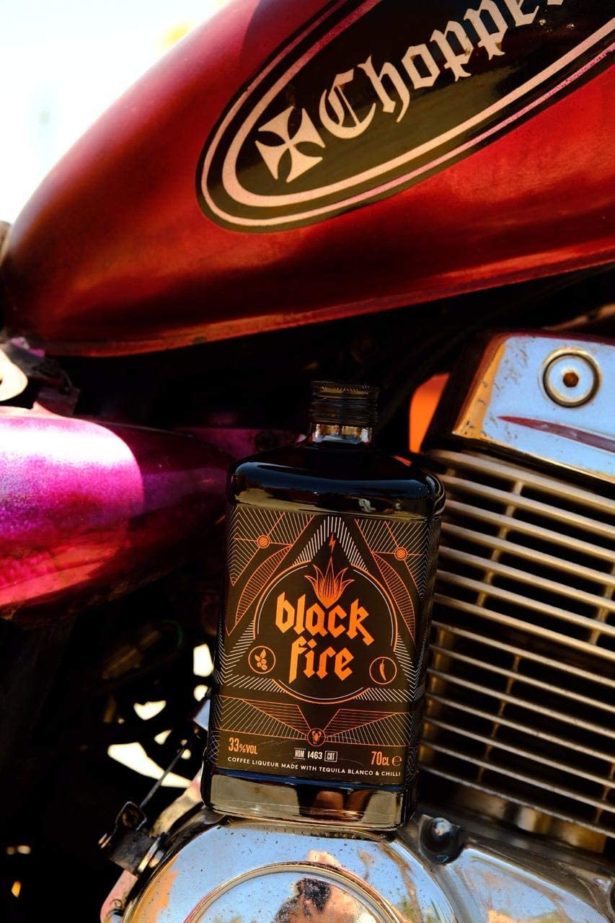 Perfect for gifting: Black Fire's exceptional taste & unique bottle design comes with an accessible price tag of £20.95 (Amazon). Hitting two big consumer trends of growth in coffee flavours & tequila, we hope this piques interest.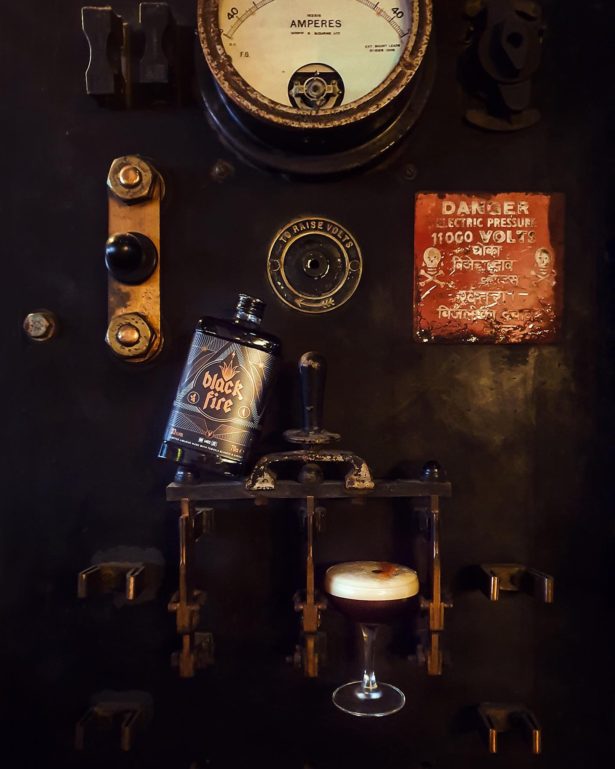 Tasting comment: The liquid has the consistency of a spirit rather than a syrup which is down to using 50% less residual sugar. The ultimate goal in Black Fire's taste was one of balance where no one ingredient overpowers the other, to create a seamless journey that reveals the best of Mexico. Coffee, tequila & a hint of chilli.
& availabler on Amazon where we they 100+ reviews with a 4.8/5 rating!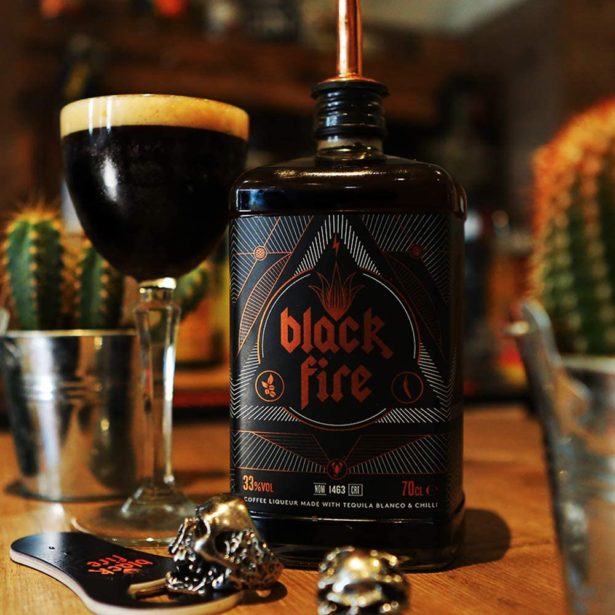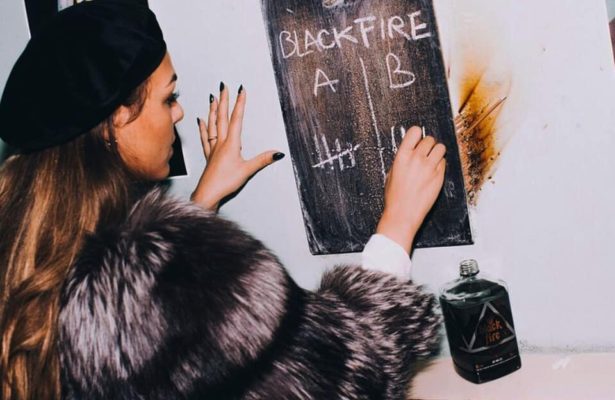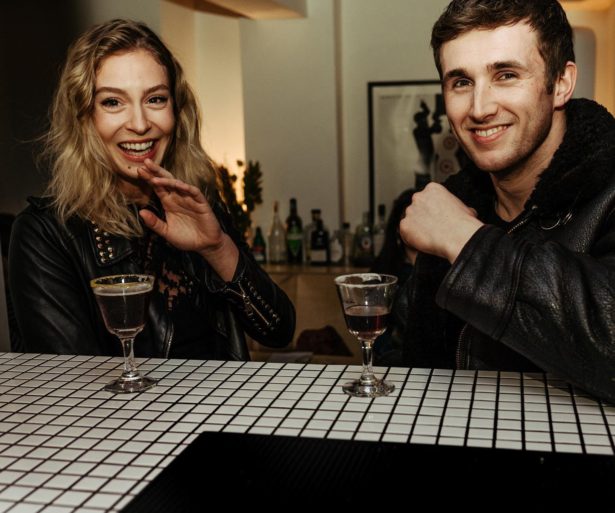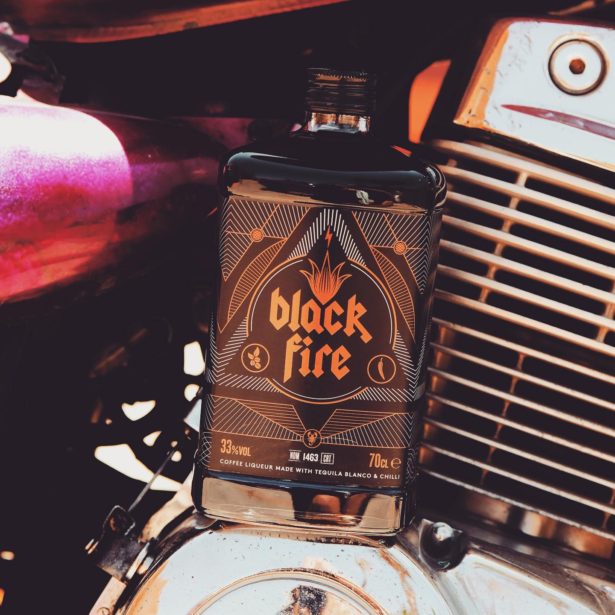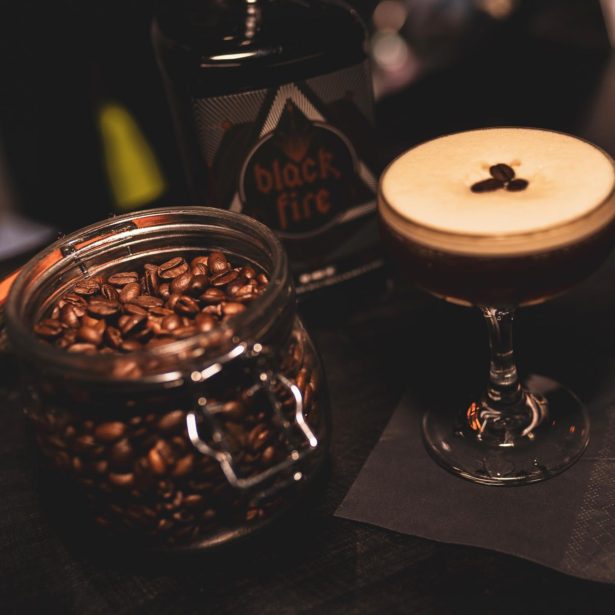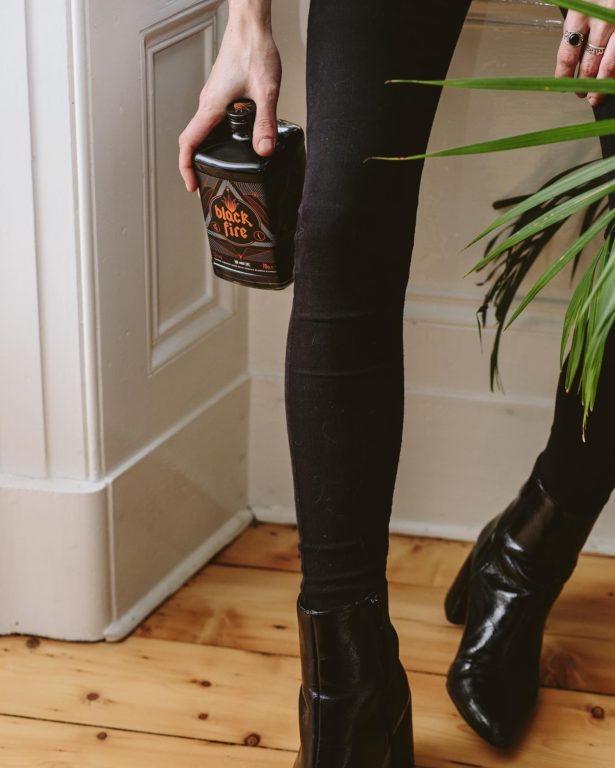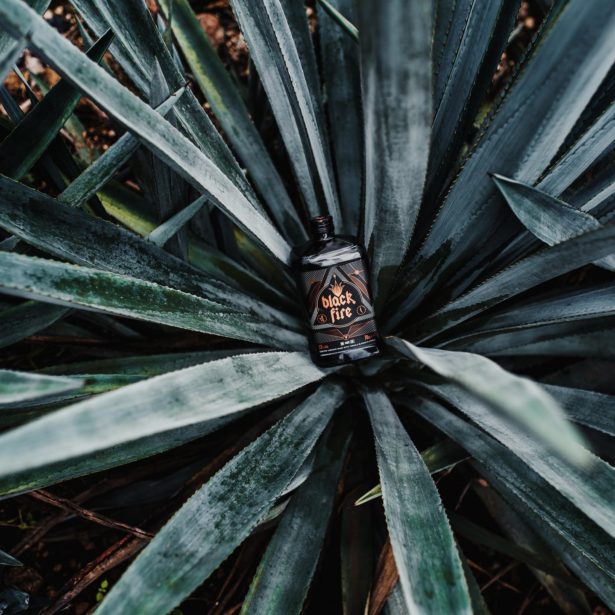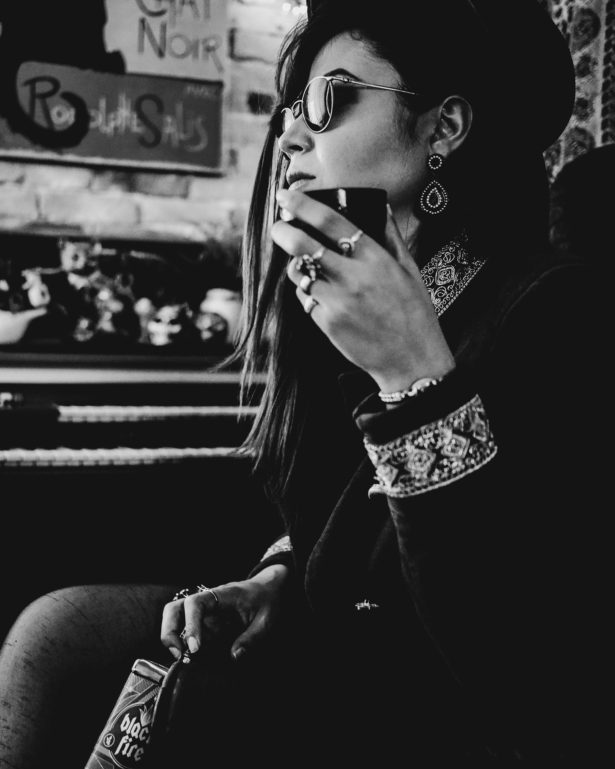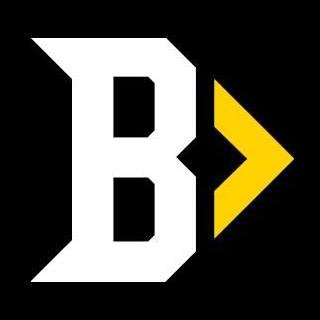 Beerhunter, an online beer delivery service based in Bury.
Beerhunter has launched its new beer advent calendars!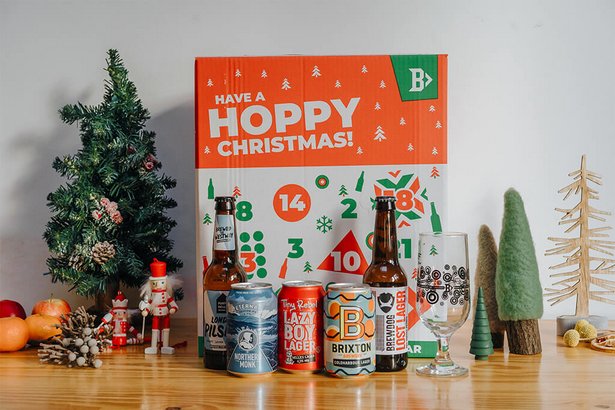 A full range of these enticing advent calendars are available, including a Best of British Craft Beer Advent Calendar and a Vegan & Gluten Free Craft Beer Advent Calendar, each filled with a selection of brilliant brews.
"We are Beer Hunter
We've climbed The Rockies, traversed the slopes of the Alps and trudged the back streets of Manchester to hand select a range of craft beers and brews that will tantalise the taste buds of even the well trailed connoisseurs.
With over 350 beers in our collection, we pledge to bring you the finest beers that microbreweries and specialist brewers worldwide, have to offer"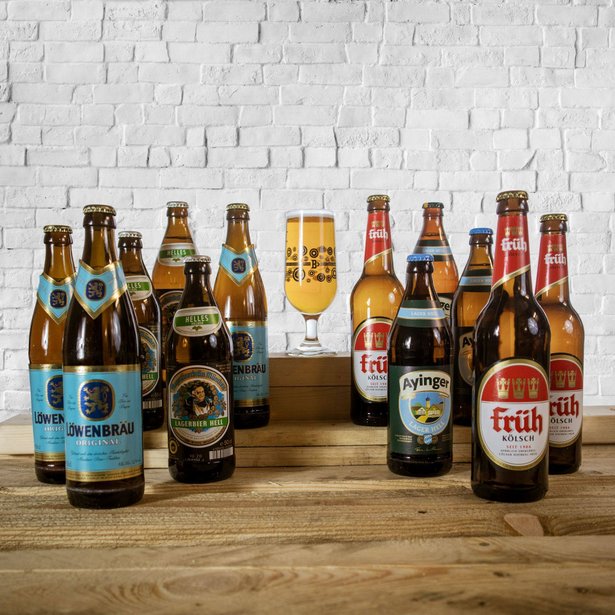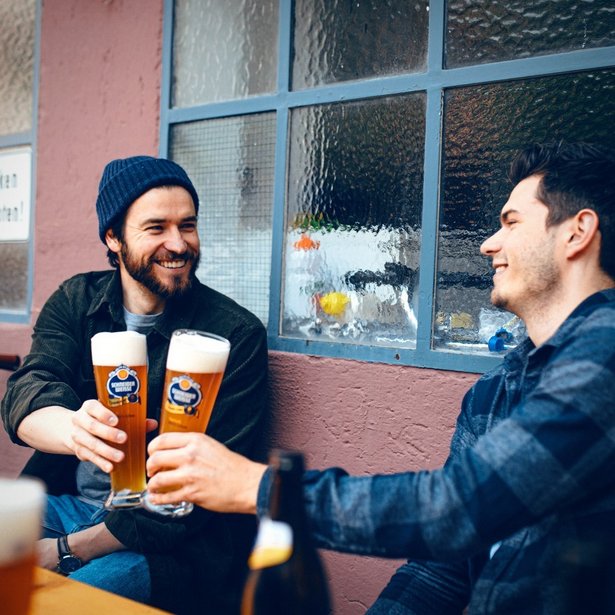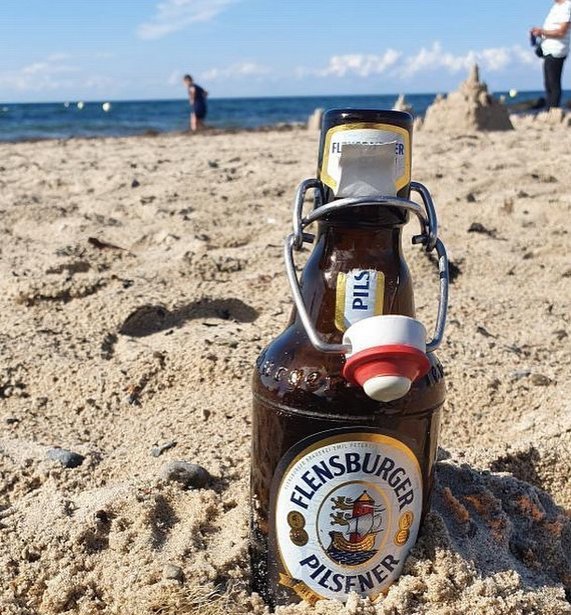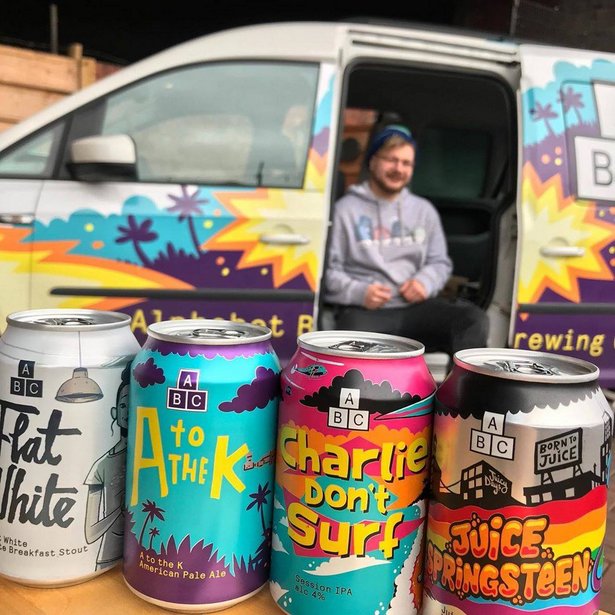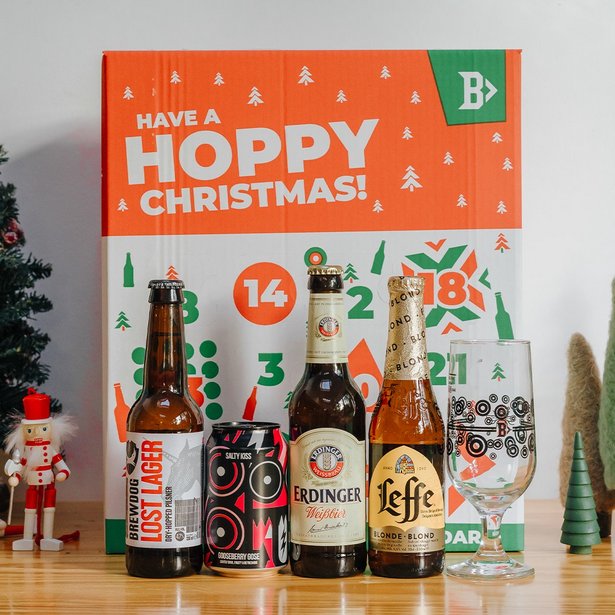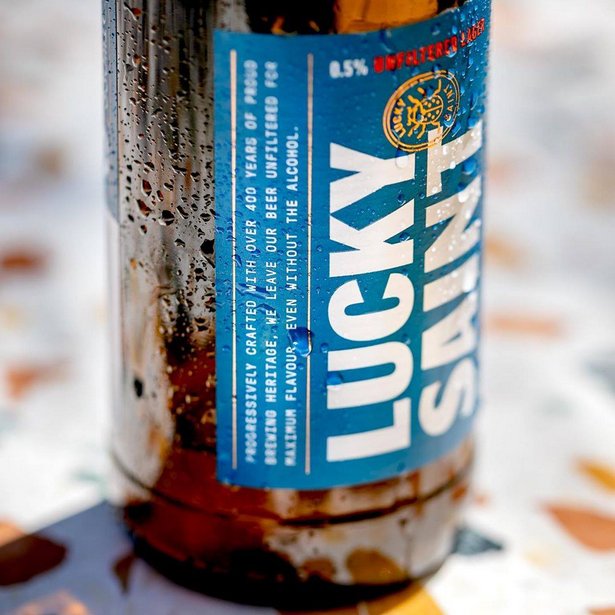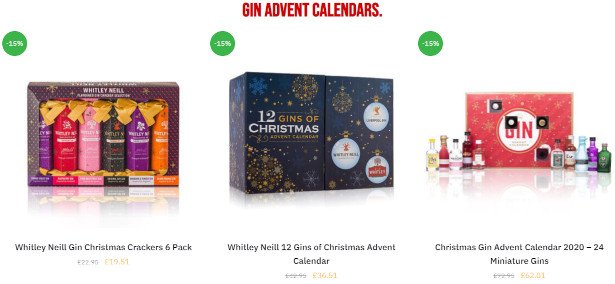 Update your scent without spending a penny
Perfume Direct has shared its great 'insider tip' for updating your signature smell – layering.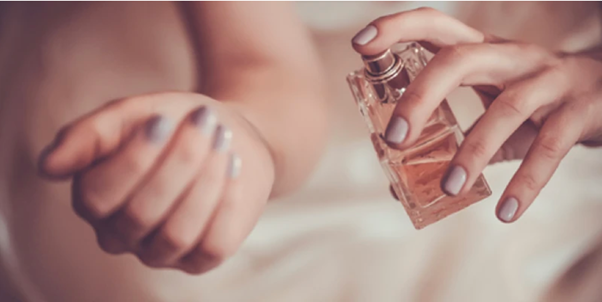 We've all been there. You love wearing your favourite fragrance but you can't smell it on yourself – which is quite simply a bit annoying (plus it might end up that your smell is a little 'over-powering' to others around you as you!)
So if you're looking to update your signature scent for the Autumn season, or perhaps just want to get more from your current perfume collection, then 'the secret art of fragrance layering' could be just what you're looking for.
And according to Perfume Direct's recent survey, on average people in the UK have five bottles of perfume open at any one time so mixing two scents together to make a new and unique fragrance is the ideal way to maximise your current scents …and it won't cost you a penny!
A close up of a personDescription automatically generated
Jonny Webber from PerfumeDirect.com explains how to subtly layer your scents to create a fresh new fragrance:
"Mixing your perfumes together can be an exciting way to create a completely custom scent, showing off your personality through your choice of fragrances. By being able to layer different scents, you can create a new fragrance out of your collection whenever the mood strikes.
"Fragrance layering is also ideal if you just can't find the 'one', a perfume that you absolutely love. Instead, you have the chance to make your own signature scent using perfumes you already like. By layering your perfume, you can also help to make the overall scent last longer, as your skin won't absorb all the fragrance oils as quickly."
So, when it comes to layering your fragrances for the first time, where do you start? How do you decide the right fragrances and in what order?
"Although there aren't really any 'rules' in what you can and can't layer, you might want to follow some general guidelines to try and achieve the best results", says Jonny.
"Always spray the heavier scent first, or it could overpower the lighter fragrance.
"Understanding the various notes and layers within each individual fragrance can also help. The top notes of a fragrance are what you usually smell straight away when you spray it; they are usually fresh and light. Middle notes form the heart of the fragrance and often consist of warmer and soft scents. The bottom notes develop last and linger for hours.
"If you've never layered your fragrances before, consider combining two perfumes that share a common note. A good example of this would be jasmine, which is very popular and used in a multitude of different fragrances. If you're feeling a little braver, choose two opposite fragrances; for example, a spicy note mixed with vanilla, or a woody note with something citrus-based.
"In many cases, woody and musk-based fragrances are the easiest to layer with, as they can combine effortlessly with fruity notes, floral notes or even something spicy.
"Everyone's perception of scent is different, so try experimenting until you find a combination that you love. It's wise to avoid combining two heavy fragrances as this could result in an overwhelming blend. For example, Black Orchid by Tom Ford is absolutely best worn on its own as it's already very intense and complex.
"So, if you've got some time on your hands, why not spend some time creating new concoctions out of your perfume collection? You never know what you could end up with!"
www.perfumedirect.com
Some examples of perfumes that layer really well together include:
Anything Jo Malone! Jo Malone is all about fragrance layering and there are many combinations of its perfumes and creams that go well together including Jo Malone's Wood Sage & Sea Salt Body Crème with its Lime Basil & Mandarin Cologne.
A picture containing toiletry, perfume
Description automatically generatedA picture containing toiletry, perfume, lotion
Description automatically generated
Floral scents provide a great anchor for mixing so start with a classic floral boutique like Viktor + Rolf's Flowerbomb and combine it with a sophisticated scent like Cartier La Panthère for a more refined fragrance
A picture containing toiletry
Description automatically generatedA close up of a box
Description automatically generated
Another good way of amplifying your fragrance is to layer two scents from the same family, or scents with the same notes – e.g. try teaming Gucci Bloom (a floral with notes of jasmine) and Mugler Alien (a wood-based fragrance with jasmine).
FASHION SHOE DESIGNER:
JESSICA RICH
STEPS BACK INTO CLOTHING WITH THE
LAUNCH OF
​"RICH BASICS"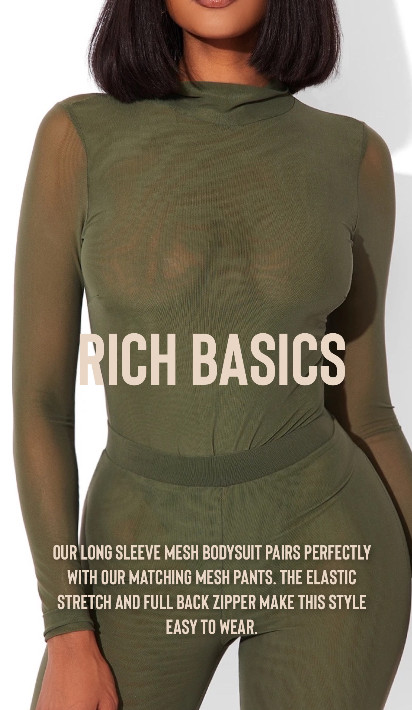 (Los Angeles, CA) – ​A-list favorite fashion shoe designer Jessica Rich steps back into clothing with the launch of her new "RICH BASICS" collection which released Friday, September 25th, exclusively at jessicarich.com.
The designer, most known for her celebrity favorite shoe collections that have been worn by the likes of Saweetie, Cardi B, Normani, Kylie Jenner, and JLO, is dropping a line of luxury basics ranging from two-piece sets with tops selling at $85 and bottoms selling at $95 a piece. The detail of the sets standout, as they are double-meshed in the front in order to provide extra comfort, but most importantly to make bras optional. The styles will be available in nine rich colors, including black, nude, copper, red, purple, grey, leopard, white, and green. The hand wash/dry clean only collection, is versatile in use as they are perfect for lounging at home or even dressing up for a night out. Amid the ongoing pandemic, many are still working from home, while others are making a slow transition back to normalcy, and the RICH BASICS collection has been made to satisfy both types of people.
"Staying aware of what consumers need is crucial in delivering successful collections," said the Jessica Rich Collection designer.
Rich started her career in fashion making clothing and launched her online store in 2015. Since then, she has released several massively successful shoe collections, the latest being the Monaco Sandal. With the rapid growth her brand has seen, it only makes sense for her to dip back into what she knows best, clothes. "Creating a line with all women in mind was extremely important to me, and I think the RICH BASICS collection shows that. I love how the pieces are luxurious enough to be dressed up, yet comfortable enough to lounge in. Any woman at any stage of life can make use of this line," the designer said of her new collection.
About Jessica Rich Collection:
The Jessica Rich brand was founded by fashion expert, Jessica Rich. Jessica began sharing her love for fashion on Instagram, allowing newly acquired and long-time fans to enter her world, follow her journey and inspire each other to reach their dreams. The positive feedback and demand she received from her loyal audience led her to launch her online store in 2015. In late 2017, Jessica debuted Transparent by Jessica Rich, her first line of shoes. Transparent has been wildly successful and proved that her signature aesthetic can be translated across multiple categories. The intent behind her clear stiletto heels is to pair them with anything and everything, giving the customer versatility and once again saving them money without sacrificing style. Finding the balance between modern design and fine craftsmanship, Jessica's footwear is stylish yet wearable. Since then, Jessica's designs have been worn by high-profile celebrities such as Kylie Jenner, Kim Kardashian, Kourtney Kardashian, Jennifer Lopez, Cardi B, Joan Smalls, Saweetie, Lala Anthony, Normani and Toni Braxton (just to name a few). Since the launch of her brand, Jessica has been featured on Vogue, PopSugar, Page Six, Footwear News, People Magazine, Essence Magazine, InStyle, BlackEnterprise, US Weekly, E! News and DailyMail securing her path in the fashion industry. Jessica is an international brand having customers across the globe.
EYE-CATCHING AND INNOVATIVE CHRISTMAS GIFTS FROM SWAROVSKI OPTIK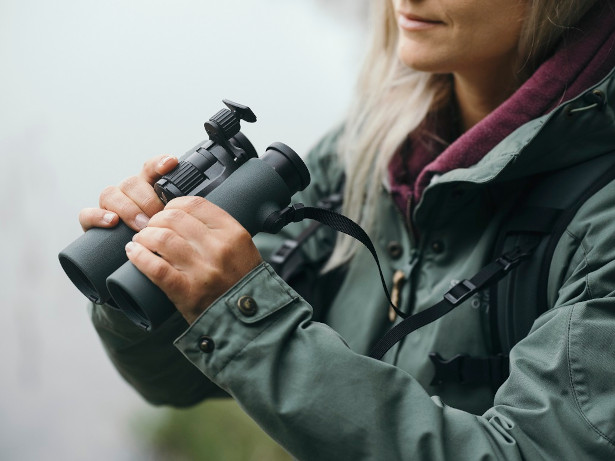 Forget the socks and bottle of port this Christmas. For those present hunters looking to offer a gift that will certainly be remembered this year, the long-range optic specialists SWAROVSKI OPTIK has three visionary products which promise a new dimension of wildlife watching.
Gift givers looking for a present for the Social Birder in the family can choose the ground-breaking dG (digital guide) monocular, the first long-range optical device that allows users to identify and discover birds as easily as possible thanks to unique optics and pioneering technology. For wildlife enthusiasts looking to become at one with nature, SWAROVSKI OPTIK's newly launched NL Pure boasts a revolutionary magnification of 12x ensuring viewers have a truly immersive experience. For those intrepid explorers keen to spot wildlife on their travels and woodland walks, the CL Pocket binoculars can fit into even the smallest of bags and are ideal for viewing birds and other animals while on the go.
For the Social Birder: SWAROVSKI OPTIK's dG, From £1,650
For friends and family who pride themselves on their collection of the latest gadgets and love sharing updates on their wildlife spots, SWAROVSKI OPTIK's innovative dG (digital guide) is an exemplary gift. The dG is the first long-range optical device that allows nature enthusiasts to easily observe, identify and share sightings of birds, and is therefore also ideal for parents eager to teach their children about different species of birds. After utilising the 8x magnification power of the dG to locate wildlife, users can then digitally document images and videos of their spot via the integrated, high-resolution camera. With the simple push of a button, these are then transferred to a smartphone and identified by the Merlin Bird ID app or the dG Mammals app, which instantly provide information about the species spotted. Social birders can share their discoveries using the device's integrated Wi-Fi hotspot which allows up to five other users within a five-metre range to live stream sightings using the SWAROVSKI OPTIK dG app! For more information, visit SWAROVSKI OPTIK.
For the Experienced Wildlife Watcher: SWAROVSKI OPTIK's NL Pure Binoculars, From £2,370
Launched on 1st September 2020, the new visionary SWAROVSKI OPTIK NL Pure binoculars are sure to bring a smile to the face of any experienced birdwatcher this Christmas. The NL Pure binoculars perfectly pair an expansive, revolutionary field of view with barely perceptible edges, enabling the binoculars to create a new dimension of wildlife watching. The NL Pure has the largest-ever field of view of up to 70° with edge-to-edge sharpness, allowing users to experience nature immersed in the moment. SWAROVISION technology used in the NL Pure design guarantees visionary images due to its 12×42 magnification, making it easy for birdwatchers to identify every detail. Furthermore, the NL Pure's ergonomic shape and accompanying Forehead Rest Pure (FRP) guarantees relaxed viewing and its lightweight and slim build provide comfort for keen wildlife watchers even for longer periods of time. The NL Pure is available in three models; 8×42, 10×42, and 12×42 magnification. For further details, visit SWAROVSKI OPTIK.
For The Budding Naturalist: SWAROVSKI OPTIK's CL Pocket, From £600
For those who have discovered an interest in wildlife spotting after spending more time immersed in nature this year, SWAROVSKI OPTIK's CL Pocket are an ideal introductory model of binoculars. The CL Pocket model is also perfect for those who are planning an adventure or trip in 2021 thanks to their robust aluminium housing and conveniently designed foldable bridge, which allows the binoculars to fit into even the smallest of bags and pockets. Along with an impressive 119-metre field of view, the binoculars are well-suited for those who wear glasses, thanks to the individually adjustable twist-in eyecups. Although small in size, the ergonomic binoculars, which are available in 8×25 or 10×25 magnification, don't compromise on quality and offer unique optical excellence of the highest order in the compact range. For more information, visit SWAROVSKI OPTIK.
The world belongs to those who can see beauty.
Experience the moment!
SEE THE UNSEEN.
www.swarovskioptik.com
Matchstick Monkey, the award winning teething toy brand is excited to share Christmas with you.
Please have a look at the attached and let us know if you would like high res images or any further information. Please do not take images directly from the book.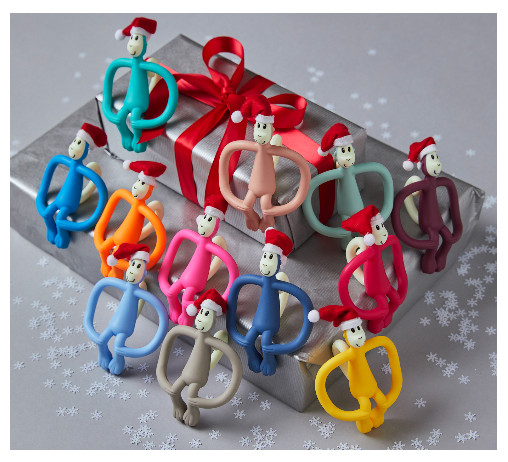 If you know about Matchstick Monkey, we are sure you will be excited to see the new animals feature, please note that Shreddy Shark, Fudge Fox & Dinky Dinosaur are under embargo and not available currently. Date to be confirmed, but fine to include in Christmas gift guides appearing from 1st November 2020.
Looking forward to hearing from you.
Hilary x
www.matchstickmonkey.co.uk
MEGMASTER LAUNCHES NEW ECO-FRIENDLY FIRELIGHTERS – RHINO BALLS!… for the braai-Master who has everything.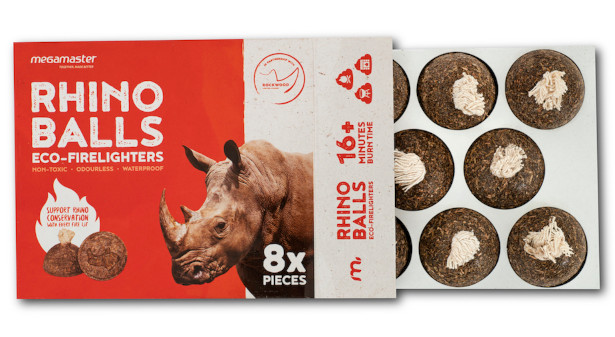 There's a new product on the market set to change the ease and convenience with which we do that one thing that separates South Africans from the rest of the world. The thing that unites us more strongly as a nation than anything else – how we braai. Even in the face of adversity, there's always been one real and meaningful place for us to gather. Where our hearts and minds are free to connect, in those moments, it's more than a fire. It's a celebration of being together that makes everything better. Now Megamaster's latest offering is guaranteed to enhance your braai experience and creates a great gift for the braai-Master who has everything!
Gracious, these are great balls of fire
South Africa's most loved supplier of lifestyle cooking and heating products, Megamaster, is keenly interested in the protection of our natural heritage and to do their part they have launched Rhino Balls Eco-Firelighters. These environmentally-friendly firelighters boast a 17+ minute burning time, are waterproof, and stunningly, leave no residue. Made from rhino dung, the signature key ingredient, wax, and sawdust, with a cotton wick, so you know these beauties are biodegradable and non-toxic. It also means that they're perfect for cooking and indoor and outdoor use.
Importantly, they're easy to use. Simply stack your wood or charcoal around the balls to ensure proper air circulation, light the wick, and once your fire is merrily burning away, add more wood or charcoal.
Light up your summer and save more rhinos
It's no secret that countless species have paid the price for our success, but perhaps none more so than the African rhino. Megamaster has teamed up with Rockwood Conservation, who take an aggressive conservation approach to save this species. Rockwood is a rare haven for over 300 Southern white rhinos, set against the backdrop of the vast expanse of the Northern Cape veld. This highly secure place of hope and survival boasts state-of-the-art security and 24-hour monitoring, including a battalion of highly-trained mounted rangers. We use the dung from the rhinos to make Megamaster's Rhino Balls Eco-Firelighters. Then give a percentage of sales back to Rockwood' to fund their work. So, with every firelighter you buy, you support saving South Africa's rhino.
Recommended Retail Selling Price: R30 for an 8 piece box
Current Stockists: Builders Warehouse, Game, Makro, Pick n Pay, Takealot and several independent stores and butcheries.
Social media handles: @MegamasterSA @rockwood.conservation (Facebook) or @officialrockwood (Instagram)
Websites: megamaster.co.za – rockwoodconservation.com
Norfolk Natural Living.
Norfolk Natural Living was created by Bella Middleton with one aim: to enhance the everyday and bring a sense of pleasure to daily rituals, from washing your clothes to caring for your plants, and even falling asleep.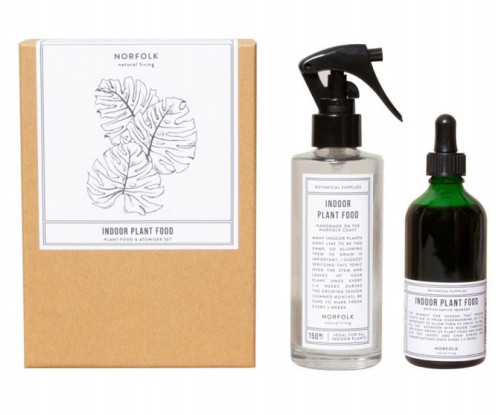 A trained aromatherapist, mother-of-three Bella was inspired by the countryside and coastal landscapes which surround her Norfolk home and every product has wellbeing and nature at its core.
The collection is blended, bottled and crafted by hand at their Norfolk workshop and is 100% non-toxic, 100% vegan and 100% hypoallergenic.
Norfolk Natural Living has a standalone shop in Holt and all products can be bought online at norfolknaturalliving.com
La Basketry – Craft kits that teach you how to weave baskets and even a beautiful rope bag. This is perfect for everyone from beginners to experienced crafters. Each kit includes everything needed plus a video tutorial from the founder Tabara and prices start from just £25.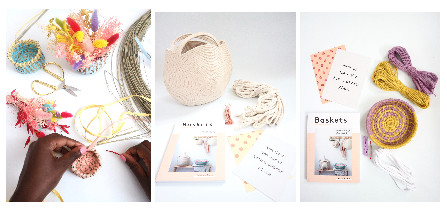 Green & Wild – This gorgeous range of plants is both design-led and practical, because every plant comes with a unique 'plant personality' card detailing how to take care of it perfectly. Highlights include The Super Succulents Set (a trio of practically unkillable showstopping plants), the Hoff Pot Collection (which allows you to mix and match sizes and colours of plant pots and saucers for a stunning look and also practical drainage for much loved plants) and the Hoya Kerri Sweetheart Plant (perfect for a loved one).

"My Style, My Cue"
Introducing the HDJ-CUE1 Headphones
Pioneer DJ launches new headphones inspired by pro range
used by DJs including Peggy Gou, Carl Cox and Fatboy Slim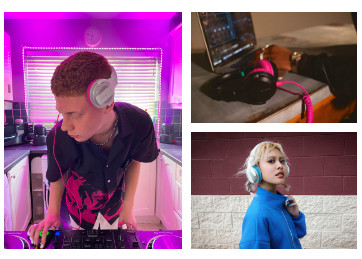 @pioneerdjglobal #MyStyleMyCue
Pioneer DJ release a new addition to the over-ear headphone range, the HDJ-CUE1. Using the same design as those worn by professional DJs like Peggy Gou, Fatboy Slim and Carl Cox, the HDJ-CUE1 headphones come in three different colours, with additional bold customisation accessories. With specially-tuned sound quality, comfortable fit, foldable and lightweight design, the HDJ-CUE1 headphones are ideal for those looking to start their DJ journey, relax at home or listen to music on the go.
Available in both wired and Bluetooth versions, the HDJ-CUE1 are designed to cater for DJs and music fans alike. Each model features professional DJ look and feel, rich sound, compact design, and a high-quality finish – all from €69.
Alongside the three base-colour designs; matte white, matte black and matte red, personalisation is made possible with the accompanying HDJ-CUE1 accessory pack (HC-CP08 – sold separately). With five different, vibrant-coloured ear pads and cables, the accessories give the opportunity for users to customise their headphones to best reflect their unique style.
To celebrate the release of the headphones, Pioneer DJ has partnered with emerging rapper New World Ray to create an original track for the HDJ-CUE1. Available exclusively on TikTok and Instagram from Thursday 3 September, the track is accompanied by interactive filters. On TikTok users are challenged to take their cue and create original video content over the track in their style. Whilst over on Instagram, an interactive filter will be available which allows users to try out the headphones and take part in a gamified filter.
Fashion icon Leo Mandella aka Gully Guy Leo is teaming up with Pioneer DJ to create a look inspired by each coloured model, serving up a different style for each colour.
BISSELL (available from major electrical retailers and bisselldirect.co.uk)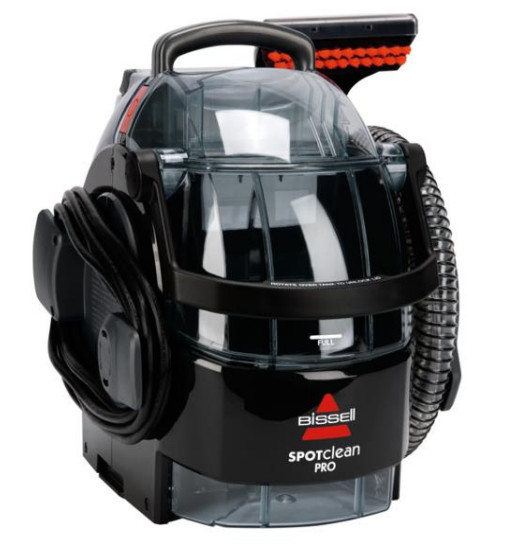 NEW SpotClean Pro – combines powerful vacuum suction, brushing action and cleaning solution to remove dirt & stains (RRP £149.99)
NEW SmartClean Pet – a pet-owner's best friend, exceptional bag-less vacuuming power rapidly removes dust and debris (RRP £249.99)
KitchenAid (available from kitchenaid.co.uk)
Pebbled Palm Artisan Stand Mixer with NEW Gold Metallic Seasonal Bowl (RRP £599)
Artisan K400 Blender in NEW Pebbled Palm (RRP £279)
Artisan 2-Slice Toaster in NEW Pebbled Palm (RRP £199)
NEW Artisan 1.5L Kettle in Pebbled Palm (RRP £149)
Artisan Stand Mixer in NEW colours – Feather Pink and Matcha (RRP £599)
Microplane (available from hartsofstur.com)
NEW Adjustable V-Blade Slicer – the compact Mandolin offers two slicing options, from paper-thin to thick (RRP £49.95)
NEW Professional Serrated Peeler (RRP £19.95)
Sacla' (available from www.sacla.co.uk)
Giandujotti Chocolates by D Barbero (150g £10)
Le Rustichelle Egg Pasta by Rustichella d'Abruzzo (500g £12)
Vegan Panettone (750g £15)
White Truffle Flavoured Olive Oil by Inaudi (100ml £17.50)
Manicardi Deluxe Balsamic Dressings Triple Pack (3 x 300ml £25)
Ranieri Extra Virgin Olive Oil Jeroboam by Ranieri (3L £80)
Tracklements (available from tracklements.co.uk and fine food delis and farm shops nationwide)
NEW Special Edition Rhubarb & Apple Chutney (RRP £3.60, 220g)
Cranberry, Port & Orange Sauce Le Parfait Jar (RRP £5.80, 310g)
Christmas Spice Chutney Le Parfait Jar (RRP £5.80, 300g)
Particularly British Piccalilli Le Parfait Jar (RRP £5.80, 260g
9-Mini Jar Gift Set (RRP £6.20, 280g)
BRITAINS POSHEST POOCH APPROVES ALDI'S WINTER PET RANGE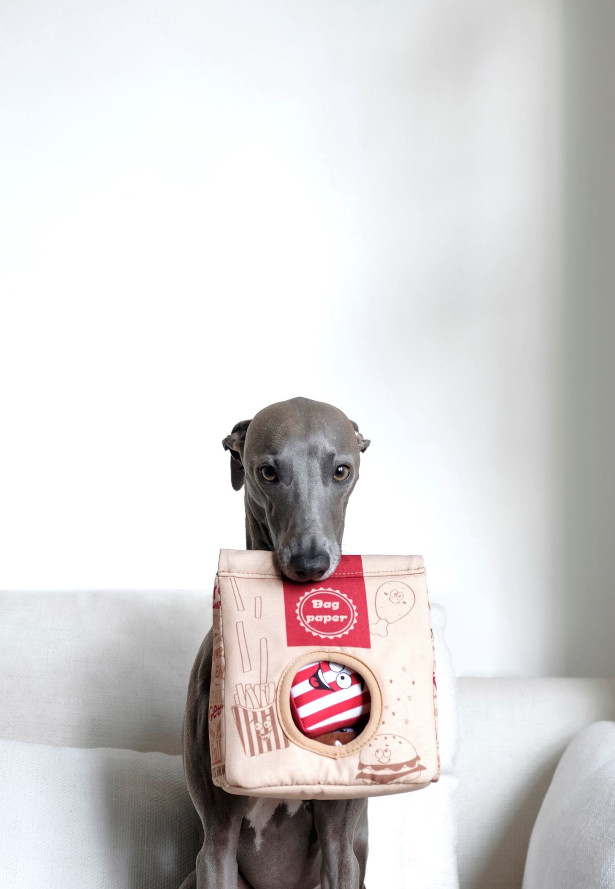 Aldi's Essential Winter Pet is certifiably paw-some – having been approved by Britain's Poshest Pooch, All About Lloyd.
More used to wearing £150 Burberry jumpers as seen elsewhere on his feed, Lloyd has been trying out Aldi's latest range for size, with the highest priced item available for less than £20.
Lloyd (@AllAboutLloyd) enjoys breakfast in bed with Aldi's Slanted Pet Bowl
Supermarket Aldi has today revealed a partnership with Britain's boujiest pooch and social media sensation, Lloyd of @AllAboutLloyd.
Accustomed to working with big fashion powerhouses, having previously modelled for Burberry and Axel Arigato, Italian greyhound whippet Lloyd has a taste for the finer things in life. Over the past few weeks Lloyd, with help from human Paz, has been putting Aldi's latest Essential Winter Pet range (available to pre-order online from 4th and in stores from 8th October) through its paces, scrupulously testing each item to find out if it meets his high standards.
Lloyd, a self-confessed 'hound full of personality and style' is no stranger to high fashion. Those familiar with his feed will know that only the best is good enough for this particular pup, which is why Aldi's Parka Jacket (£14.99) was the perfect fit for this fussy fashion aficionado.
Lloyd looks fetching in Aldi's A/W Dog Parka Jacket
Winter weather ready ahead of frosty morning walks, this parka is kind on the eyes and on the bank balance, offering savings of up to 37% vs competitor brands[1].
Lloyd tries a dif-fur-rent look, seen here in A/W Dog Towel Coat whilst taking it easy in the XL Comfy Pet Bed
When he's not preening or posing, Lloyd still finds time to play. Aldi's latest collection features a vast number of toys, but Lloyd only had eyes for this Plush Dog Toy (£4.99).
This particular dog only had eyes for one doggy bag
Another clear favourite, Lloyd gave the Slanted Pet Bowls (£4.99) the two paws up. Ergonomically crafted and perfect for those posh pooches who simply don't like to do all the work – the tilted design of these bowls make supper just that much more enjoyable – and what's more, shoppers can save a healthy 66% vs those similar on the market[2].
Lloyd effortlessly enjoys a stress-free snack with the Slanted Pet Bowl
Julie Ashfield, Managing Director of Buying at Aldi UK comments: "Every pet owner out there wants to give their best friend the very best, and we're adamant that cost shouldn't be a barrier to delivering on that desire."
"Working with Lloyd has proven that you can treat your pets to the best no matter what your budget, thanks to the high-quality yet affordable products that we're proud to offer our customers."
Paz, owner of Lloyd, adds: "The new Aldi pet range was an instant hit with Lloyd. He loved the squeaky Food Bag Dog Toy and immediately settled into the Comfy Pet Bed, making it his own. Lloyd has been lucky enough to model for a number of luxurious brands, so we know about quality, but we both agreed that Aldi's pet range exceeded expectations and met his high standards! Amazing value for such great quality and style."
Aldi's Essential Winter Pet range is available to pre-order online from the 4th of October, and can be found in stores from 8th October, while stocks last.
Essential Winter Pet:
BD
PRODUCT CODE
PRODUCT
PRICE
SV
707323
XL COMFY PET BED
£19.99
CM
706097
CORDLESS PET GROOMING KIT
£19.99
SV
705749
LARGE PET MEMORY FOAM MATTRESS
£19.99
SV
707321
LARGE COMFY PET BED
£16.99
SV
705534
ML DOG PARKA JACKET
£14.99
SV
706733
COMPLETE BIRD FEEDING STATION
£14.99
SV
705476
CAT SCRATCHER HAMMOCK/POM POM
£14.99
KM
705160
CAR SEAT COVER
£12.99
SV
705472
MEMORY FOAM PET MATTRESS
£12.99
SV
707316
MEDIUM COMFY PET BED
£12.99
SV
703161
DOG SEAT BELT HARNESS M/L
£11.99
KM
20486
WASHABLE PET BOOT MAT
£9.99
KM
705146
EDGED DIRT BUSTER RUNNER
£9.99
SV
706691
IGLOO HEDGEHOG HOUSE
£9.99
SV
705503
S/M DOG PARKA COAT
£9.99
SV
707315
SMALL COMFY PET BED
£8.99
SV
706692
XL PLUSH DOG TOY
£8.99
SV
704893
REFLECTIVE TRIM DOG HARNESS
£8.99
SV
703162
SEAT BELT HARNESS XS/S
£7.99
SV
706689
3 IN 1 BIRD FEEDER
£7.99
AC
707937
COSY PET BLANKET
£7.99
SV
703505
CATIT BALL TOY SCRATCH PAD
£6.99
SV
704996
DOG TOWEL COAT
£6.99
CM
705441
PET FOOD CONTAINER
£5.99
SV
706735
HIDE AND SEEK DOG TOY
£5.99
SV
705144
PLUSH FOOTBALL DOG TOY
£5.99
SV
705498
SLANTED PET BOWLS
£4.99
SV
704450
CAT PLAY CIRCUIT
£4.99
KM
20182
EDGED DIRT BUSTER MAT
£4.99
KM
707592
PET TOWEL
£3.99
KM
17624
LARGE WASHABLE PET FEEDING MAT
£2.99
BRING BACK THE BEES
With 97% of natural bee and butterfly habitat lost in the UK since World War 2, help bring back the bees with the fabulous sustainable Beebombs from Houses of Parliament Shop!
Handmade in Dorset, Beebombs contain thousands of seeds from 18 different species of native wildflowers, mixed with nurturing soil and protective clay.
Best scattered in Autumn or Spring, simply throw your Beebombs onto cleared soil, await for the beautiful wildflowers to bloom and the bees, butterflies and other pollinators will return!
Beebomb Wildflower Seeds – £8
Houses of Parliament Shop – shop.parliament.uk
Adventure-Filled Story Woven with Faith and Family Values
Shreveport, LA, September 22, 2020 — Matt Loman has already saved his family and his village from famine, finding his life's true purpose in the process. But the journey toward his ultimate destiny is far from over, and just two days into his much-anticipated honeymoon, a compelling voice in his dreams pleads with him to "come home."
Following the voice, Matt embarks on an adventure that few could imagine, as he spars with a band of crazed warriors, gets stuck in an enormous web and is nearly torn to shreds by giant beasts. How will he explain his latest escapades to his beautiful young wife, Patience?
With the Kingdom of Truevine and all that is good threatened by evil forces, it's up to Matt and Patience to push beyond their own strengths, draw upon their faith and find the answer to saving the kingdom and their lives. Will they find it in time?
Coming Home takes readers on a family-friendly journey filled with faith, suspense and sweet romance. Written by father-daughter authors Bruce and Vernae Ewing, Coming Home unfolds one adventure at a time, with colorful characters and clever challenges for Matt and Patience that subtly reinforce family values and inspire readers to seek out their own true purposes. Suitable for all ages, Coming Home is an immensely enjoyable read that makes the perfect choice for family story time.
Dr. Bruce Ewing has been a pastor for 48 years, with 28 of those spent as a military chaplain. He has been married to the love of his life, Valerie, for 47 years and is the father of two precious daughters, Brecia and Vernae. Dr. Bruce is a Marriage and Family Relationship Consultant, teacher of biblical principles and teller of stories. His love for God and family is the catalyst for his writing. Love healed his own heart, so he tells stories to inspire others to discover the same grace he has received.
Co-author and Dr. Bruce's daughter Vernae Ewing Thompson holds a BS in marketing and an MBA. She is married to singer/songwriter Lance Thompson. Vernae is an actor, model, producer, director and business owner. She acquired her love for books and writing through her childhood experiences while listening to her father's wild bedtime adventure stories and stories from the Bible.
Coming Home is the second installment in the popular Treasure Tree series. Watch for the next book, The Reign of War. For more information, please visit www.thetreasuretreebook.com, or connect with the authors on Instagram: @thetreasuretreebook; or on Facebook: thetreasuretreebook.
Coming Home (Book 2 of the Treasure Tree series)
Publisher: High Bridge Books
ISBN: (Paperback): 978-1-946615-65-7
Available from Amazon.com
New Holiday Adventure Features Team of Intrepid Youngsters on Quest to Save Santa
New York, NY, Oct. 1, 2020 — Not even the Macy's Thanksgiving Day parade could persuade the people lining the streets to look up from their phones. Only a few small children even noticed that something was horribly amiss: Santa Claus was a no-show. In an era when children practically dictate their wish lists and parents scramble to outdo each other, it seems the holiday spirit — along with Santa — has disappeared. When word spreads that Santa has, in fact, been kidnapped, it's up to a group of unfairly labeled children culled from The Naughty List to rescue Santa and remind everyone of the true meaning of Christmas. Will these intrepid youngsters rise to the challenge? There's only one way to find out!
Author Thomas Conway sets the stage for worldwide adventure in this imaginative, modern Christmas tale that blends elements of pop culture with the age-old tradition of Santa Claus. The Naughty List opens in a world without Santa, where toy manufacturer Eastern Industries has just released a new holiday marketing scheme, monopolizing the attention of the children and draining their holiday spirit. With Christmas fast approaching and the North Pole in chaos, a team of intrepid youngsters recruited from Santa's Naughty List aim to rescue Santa and save the holiday.
While primarily a Santa tale, The Naughty List cleverly incorporates Winter holiday beliefs from around the world, including the legend of Marduk, a Babylonian god; the Roman feast of Saturnalia; the epic story of Jangar from North Asia; Moravian traditions of animal communication; and the present real-life adventures of Israeli Santa Claus, Nicola Abdou.
Also sprinkled with references to holiday favorites such as Miracle on 34th Street, T'was the Night Before Christmas, Rudolph the Red-Nosed Reindeer and others, this wonderfully rich tale promotes right over wrong, good over evil and love over fear.
Suitable for all ages, The Naughty List skillfully weaves valuable lessons about overindulgence and society's tendency to put labels on children, with the overarching theme that when kids misbehave they should not be defined by their bad deeds but rather see it as a learning opportunity, since when we appreciate the best in humanity and combine our talents, we are capable of almost anything.
The Naughty List, winner of the 2020 Indie Book Award in the E-Book Fiction category, is the first release from Thomas Conway. His 30-year career spans various industries. When not at work, he devotes his time to environmental matters and inventing stories for his two children.
The Naughty List
Publisher: Skylands Publishing House
ISBN-10: 1734123400
ISBN-13: 978-1734123401
Available from Amazon.com
100% natural cotton woven hammam towels that perfectly fit to any kind of sports.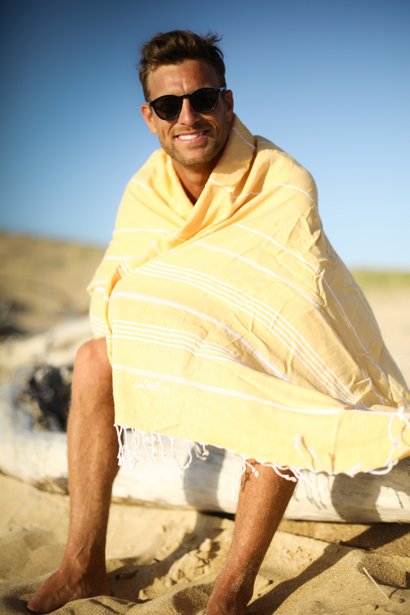 The towels are absorbent and quick-drying, small and lightweight.
The ideal leisure, sports and travel companion!
The traditional towels follow a more than 600 year old Ottoman weaving tradition, weigh only 275 grams (10 oz). Measuring 100 x 180 cm (40" x 70"), LeStoff Classic towels are the same size as a bath towel, and are available in 33 colors. For more info take a look here: www.lestoff.eu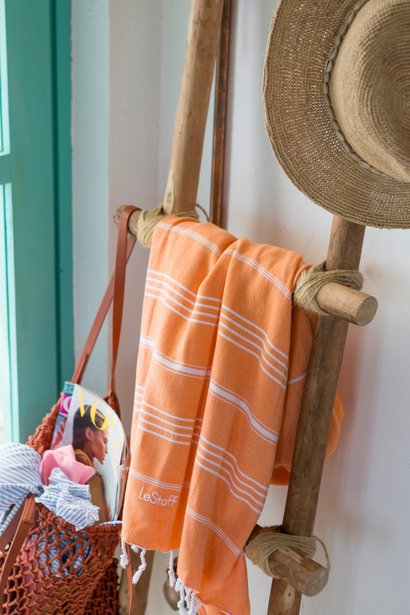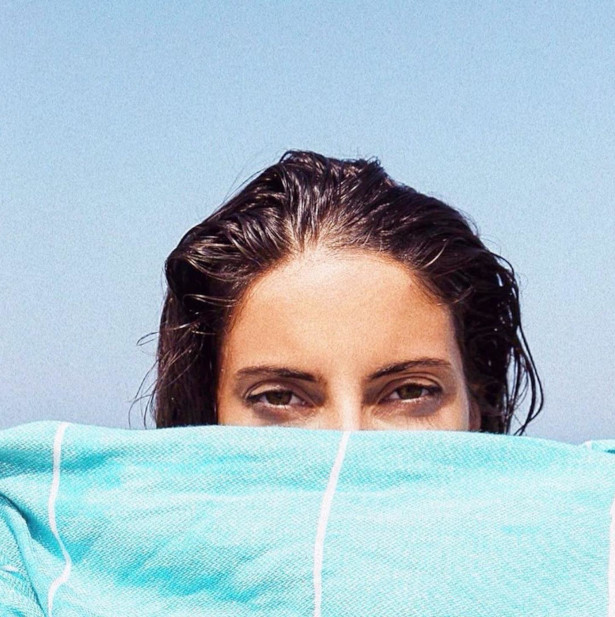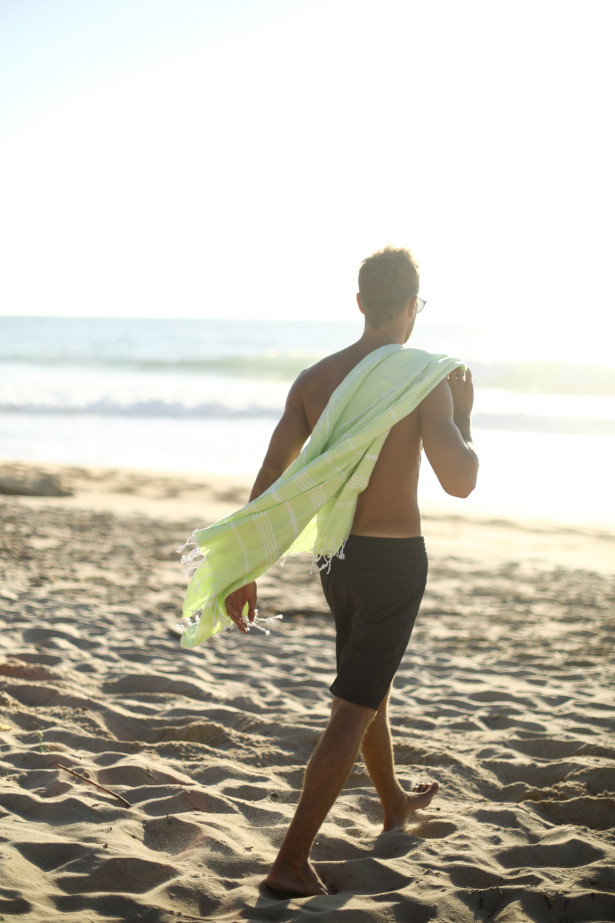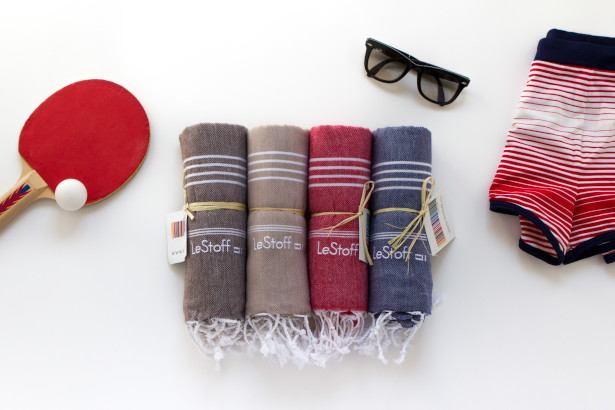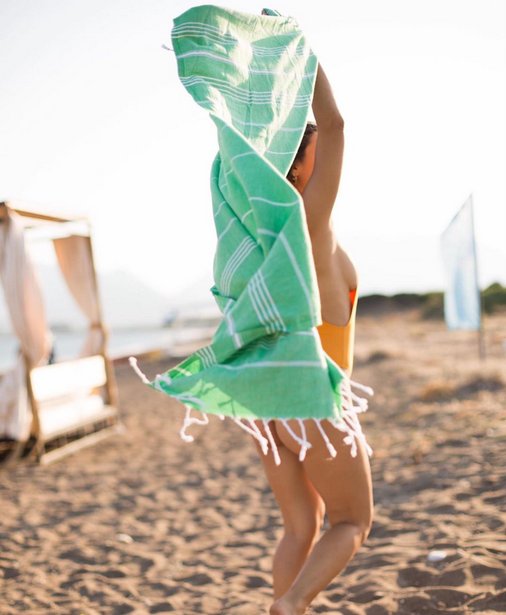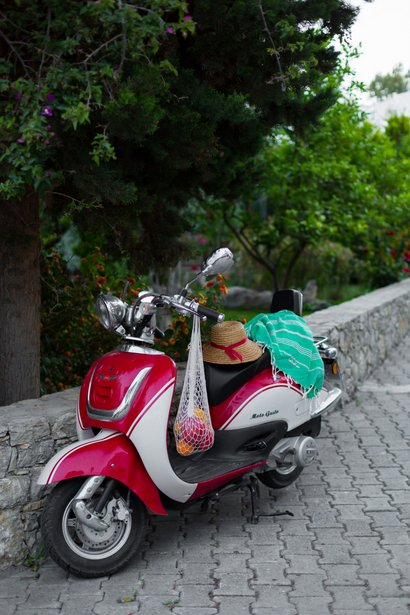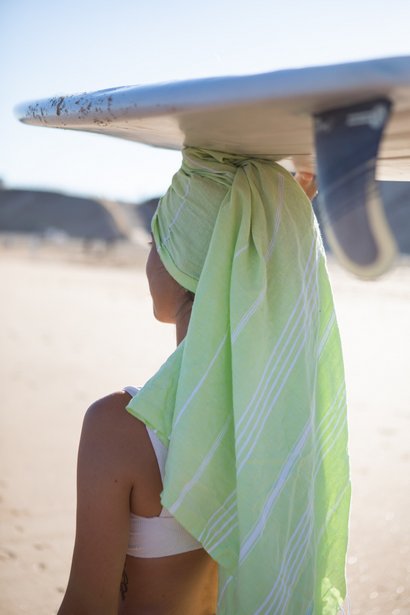 Aerus ActivePure Technology Air Purifier Kills COVID-19 on Surfaces in Lab Results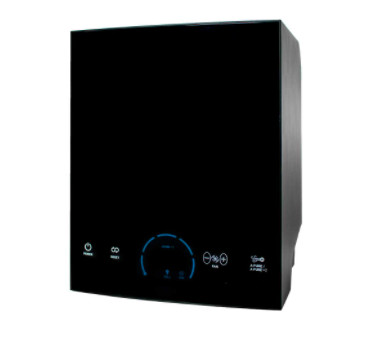 Aerus ActivePure Air and Surface Purifier Provides 99.98% SARS-CoV-2 Surface Reduction Rate in Controlled, Independent Laboratory Studies
DALLAS (Sept. 30, 2020) – Aerus, the global leader in surface and air purification solutions, announced Wednesday that independent test results on their Hydroxyl Blaster with ActivePure Technology confirms that the product kills the SARS-CoV-2 virus on surfaces. The testing data conducted by independent Food and Drug Administration-compliant laboratory, MRIGlobal, established a 99.98% surface kill rate of live SARS-CoV-2 virus in seven hours. SARS-CoV-2 is the virus that causes COVID-19.
Aerus' award-winning ActivePure Technology is scientifically proven to destroy microscopic pathogens and contaminants on surfaces and in the air and is available in over 70 Aerus products, including the Aerus Medical Guardian cleared by the FDA as a Class II Medical Device 510(k). The Aerus Hydroxyl Blaster with ActivePure Technology is an affordable, mobile, plug-and-purify air purifier that works on interior aerosolized pathogens and surface contaminants.
Controlled, independent laboratory studies have established the efficacy of ActivePure Technology in Aerus products including:
93% surface kill in three hours of live SARS-CoV-2, even when covered by a protective biofilm, with the Aerus Hydroxyl Blaster with ActivePure Technology
98% surface kill in six hours of live SARS-CoV-2, even when covered by a protective biofilm, with the Aerus Hydroxyl Blaster with ActivePure Technology
99.999% kill rate of airborne RNA viruses in just 30 minutes with the Aerus Medical Guardian with ActivePure Technology, an FDA 510(k) Cleared Class II Medical Device
99.9999% kill rate of airborne RNA viruses in 60 minutes with the Aerus Medical Guardian with ActivePure Technology
"We have a technology demonstrated in independent lab studies to kill COVID-19 indoors and gets the world back to work, back to school and back to life in a safer manner. Our unit works in real time to destroy 99.98% of new COVID-19 viruses reintroduced to the space, after just seven hours of installation," said Joe Urso, chief executive officer of Aerus. "The efficacy of our data is consistent with our other previously reported RNA and DNA virus test data and confirms that ActivePure Technology used in our surface and air purification systems is the fastest-acting continuous solution available. We are beyond pleased to announce these COVID-19 disinfection results with our ActivePure Technology solutions."
How ActivePure Technology is Different
Air purifiers generally fall into two categories: active or capture-based. As the name suggests, ActivePure Technology is an active-based disinfection solution, which enables Aerus devices with ActivePure Technology to not only disinfect and purify the air but surfaces as well. Aerus' patented technology uses free oxygen and water molecules and converts them into powerful oxidizers, known as ActivePure Molecules, that are released back into the room, filling the interior space. ActivePure Molecules continuously seek out and destroy the room's pathogens and contaminants in real time, 24 hours a day.
Capture-based air purifiers do not work in real time and are only effective against the contaminants that are captured and killed through a HEPA filter, carbon or ultraviolet light. These units, by design, are only partially effective at reducing some of the airborne pathogens and are not effective at treating pathogens on surfaces. Other devices, such as bi-polar ionization, have questionable results as indicated by the Centers for Disease Control (CDC) and the American Society of Heating, Refrigerating and Air Conditioning Engineers (ASHRAE).
ActivePure Technology:
Actively and continuously disinfects surfaces and air 24/7, minimizing contamination, recontamination and cross contamination in real time
Safe to use in occupied spaces
Works without chemicals or ozone and breaks down viral contaminants into harmless byproducts
Aerus is awaiting final approval from the FDA for Emergency Use Authorization (EUA) for the Aerus Hydroxyl Blaster with ActivePure Technology for use in reducing SARS-CoV-2 surface pathogens. The results have also been submitted by Aerus to the FDA-equivalent Canadian and European Union regulators, requesting that they clear Aerus ActivePure devices to combat the SARS-Cov-2 coronavirus. Aerus expects to receive clearances in all jurisdictions.
Additionally, Aerus is also running independent laboratory tests to demonstrate the efficacy of ActivePure Technology on airborne SARS-CoV-2 virus for FDA clearance.
ActivePure Technology is available in a wide range of products, both portable and installed, and is sold by a limited number of companies including Aerus, Aerus Enterprise Solutions (AES) and Vollara.
For more information on the efficacy of ActivePure Technology, please go to ActivePure.com/covid.
Food & Treats: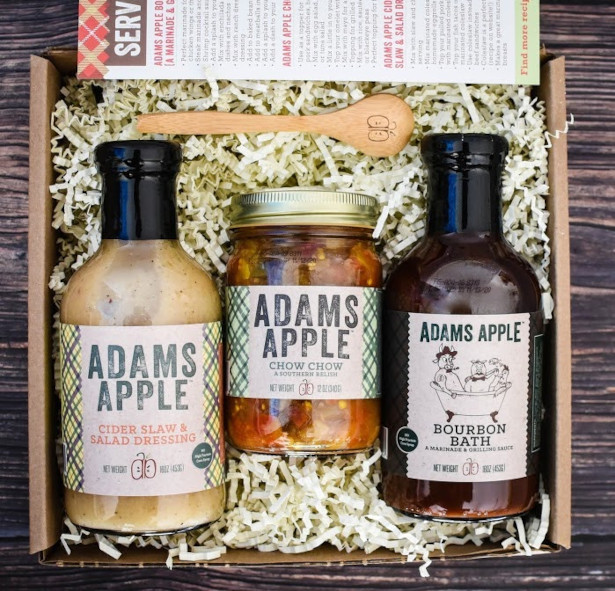 Adams Apple Co
Theresa Adams, creator of the Adams Apple Company, has vivid memories of her first apple butter encounter. As a little girl growing up in rural Illinois, she remembers watching it cook in a copper kettle on a family farm.. She created her first recipe while in college, canning apple butter as Christmas gifts for family and friends. The annual tradition continued, and as fate would have it, she married an "Adams" in 1992.. "Adams Apple Butter" was born. Over twenty years and thousands of homemade jars later, she now offers her perfected award-winning Adams Apple Butter to satisfied customers around the country who say, "It tastes like memories". Check out our favorite recipe – Little Baby Apple Pies.
Revival Ice Cream
When it comes to indulging in this cool, creamy treat, Revival Ice Cream is one brand you'll feel good about supporting as you eat scoop-after-scoop. This woman-owned business knows great flavor starts with sourcing clean ingredients without compromise. It starts with fresh, natural flavors. This is ice cream you'll feel good about eating as you taste a combination of sustainable, organic ingredients that are in-season and locally sourced. Their honey comes from a local beekeeper, refreshing mint comes from Carmel-by-the-Sea, and herbs such as lavender and rosemary are grown right in their own backyard.. Vegan options are also available.
Beauty:
Crystal Hill
Since ancient times, crystals have been prized for their beauty, to symbolize power and for their healing capabilities. It's about time we incorporate them into our everyday, modern habits! Discover synergistically blended formulations of crystals, botanicals, and other organic ingredients that are nourishing and soothing for your skin. All crystals sold by Crystal Hills have been cleansed and charged with a tuning fork (4096) by a certified Reiki practitioner. Crystals are sourced from mines with sound ethical and environmental practices.
Clef Skincare
Because life is crazy enough, your skincare routine should be easy, quick, and effective. Life's too short to waste time on multiple skincare products every morning and evening. Their revolutionary copper peptide mask combines the functions of nine different masks into ONE for a stress-free solution. This mask moisturizes, brightens, repairs, smoothes, tightens, nourishes, and heals your skin in one simple step. Some great benefits you'll see from these masks; fades acne scars, dark spots and hyper-pigmentation, visibly evens skin tone and improves texture and enhances skin for a luminous bare-faced glow. Use 2 boxes every month to achieve flawless skin!
Mikel Kristi
This eco-lux brand creates products that combine the purest plant-based ingredients with leading-edge scientific advances. Developed by a Board Certified Physician Assistant who owns a world-class medical aesthetics practice, Mikel Kristi is designed to really work.This gentle yet effective line harnesses the power of botanicals to aid in increased cell turnover and repair, boost collagen and help protect from environmental stressors. But all you're likely to notice is soft, glowing, healthy skin whether you live in Arizona or anywhere else on the planet! And two more reasons to love this brand, it's always cruelty-free and eco-friendly too
Honestly pHresh
Deodorant is one item you don't want to be caught without wearing this summer, but fresh, dry underarms aren't always what they seem. Honestly pHresh is raising awareness about the toxic truth of most deodorant products containing antiperspirant properties. Up until recently, it was thought that the only way to avoid the unpleasant smell associated with sweating was to block sweat from leaving the body altogether. As it turns out, sweat is actually odorless. What causes that embarrassing odor is actually the bacteria on our skin combining with and breaking down our sweat.Allowing our bodies to reap all the benefits of sweating while also keeping us dry and smelling great is what the pHresh philosophy is all about.
Fitness:
Zeno
Zeno gym makes it easy to bring home workout gear to you. Zeno gym's benches, mats and boxes can be used for a variety of exercises from push-ups to glute raises. Made using high-density foam and contract materials, each bench provides a stable surface while the anti-slip glides on the base ensure the bench stays in position. Perfect option for busy parents to still get a great home workout in!
Tech:
UV Brite
At a time when we're more aware of our exposure to germs and bacteria, the UV technology brand TruTemp introduces a line of self-sterilizing, insulated water bottles. Have confidence that your drinking water is safe and pure with every sip. While UV light has been used for decades to kill germs, the UVBrite water bottle line ensures you're getting the proper wavelength in UV disinfection.
Home:
Celebrated
Choose from beautifully curated decorations and tabletop items categorized by kid and adult themes. First, choose a themed party box. Next, customize your party! Shop by Kid Parties, Adult Parties, and Seasonal Parties, or create your own. Celebrated also sends you time-saving essentials: a party planning guide, a suggested menu specific to your party, and tips and tricks for bringing your party to life.
Parabo Press
We rely on our phone to take the majority of our photos, but what if we want to turn them into something more? Inspired by small-batch printing methods, Parabo Press creates a unique and modern line of photo prints. Turn your phone's camera roll into photo art that's worth holiday gift giving. Parabo Press has the affordable gifts that inspire under $20 and under $50.
Bath Bean
The Bath Bean is THE luxury accessory designed to keep you in one spot while bathing. The Bath Bean is a sleek silicone stopper that holds your body in a reclined position. No more slipping! This releases body tension and allows your limbs to float for the ultimate weightless relaxation experience. Let the hot water do the work while you enter a state of pure bliss.
Vim+ Vigor
Vim + Vigor creates 100% natural soy wax candles with the most delightful and unexpected fragrance combinations that will transport you away to your happy place. Goodbye stress! These meticulously crafted fragrance blends like grapefruit and vanilla, beach linen and driftwood, and tobacco and amber, are designed to awaken your senses while delivering a sense of peace. Vim + Vigor candles are hand-poured into beautiful natural wood and pure copper vessels so beautiful you'll want to keep them around long after your candle has burned. And that's exactly the idea. Vim + Vigor candles are made to be repurposed as plant pots, mugs, vases or anything you can imagine.
RotoShovel
Say goodbye to shovels as you know them and cut your excavation time in half with the RotoShovel, the world's first lithium-ion battery-powered automatic handheld shovel with an auger. Ideal for homeowners, DIY gardeners, and professionals. Powered with a lithium-ion battery, this auger shovel drives into the ground, creating holes that are three inches in diameter and seven inches deep. It's ideal for bulbs, perfect for flowers, planting flats, and vegetables.
Wellness:
Meddy Teddy
All over the world kids and parents are practicing yoga, mindfulness, and meditation with Meddy Teddy. Did you notice that our sweet bear, Meddy, has his eyes closed? That's Meddy's way of reminding us to go within and to find our own 'inner teddy' with a sense of calm, a feeling of being grounded and a gentle lifting of our spirit. Parents throughout the world can now bring their very own Meddy Teddy into their home, yoga studios, children's classrooms, and community centers to share the love of their practice with all the little ones (and grownup ones too). Not only will bringing Meddy Teddy into your child's daily routine provide a sense of love and connectedness, but Meddy teaches kids the benefits of yoga by bending his soft, furry body into different yogic poses and shares enlightenment through his sweet stories and Meddytations.
Vitality Extracts
We often underestimate how major stress and anxiety take a toll on our health and we have yet to determine how the pandemic will impact our mental health. What we do know from current studies, if left unmanaged, both can lead to physical ailments such as headaches, digestive issues, skin problems, chronic pain and more.This is where Vitality Extracts steps in, to provide essential oils that are pure, safe and free of chemicals. Created by a group of health and wellness enthusiasts, these aromatherapy oils are optimal for natural healing from stress and anxiety. Along with essential oils, the brand makes diffuser jewelry from natural stones so beginner users to expert practitioners can experience long-lasting benefits in an attractive, non-invasive way.
Gifting:
Box Babe Gift Co
Looking to send an adorable gift to cheer them up? Box Babe Gift Co. makes it easy. Plus, all products come from women-owned companies! If you're a gift-giver who typically can't decide on just one item, with Box Babe, you don't have to. Select from an assortment of themed personalized gifts arranged in a colorful gift box – stainless steel tumblers, succulents, candles, bath bombs, margarita mixers, and more! Whether for a loved one, co-worker or soon to be BFF, you'll have fun selecting the right gift. It's just what we all need for our quarantine blues.
Fashion:
Elisamama
Selecting an outfit that works both for photos and holiday gatherings doesn't need to be challenging or dull. There are beautiful, functional, and durable fabrics made just for such occasions – African wax prints. Your kids can transition from play to party effortlessly.
Elisamama has just the African print collection for your children this season. A black-owned business, they feature bright, quality pieces that are eye-catching and comfortable. Kids will have fun in these easy-to-wear pieces and parents will love the look.
Their gorgeous clothing range from girls' dresses, jumpsuits, and shorts to boys' shirts. There's even a mommy and me collection perfect for photo opps! There is indeed something for every style-maven who loves to easily move around and look good!
Balanced Body is the world's leading resource for Pilates and integrated movement equipment and education. Not only do we offer an amazing lineup of healthy gift ideas – including theMOTR, your all-in-one home gym.
Evolved by Nature's new silk-based hand sanitizer is made from pure silk protein dissolved in water & and is free of allergens, fragrances, parabens, BZK and other unnecessary chemicals. It's safe for kids and the plane, and contains just four ingredients. Evolved by Nature also just launched a new soap this week, the first and only on the market to be formulated with pure silk in liquid form. The product features Activated Silk™ 10S, a liquid silk cleansing system that won't harm the skin barrier like harsher surfactants on the market.
DripDrop Oral Rehydration Solution is a delicious powder you mix with water, and the closest thing to a saline IV drip. It's perfect for working out, hangovers, travel, athletes, and illness, and it's a great stocking stuffer and makeup bag/dop kit essential when traveling.
Lumais a countertop appliance that utilizes UVC light technology to kill 99..9% of germs, bacteria and viruses, including coronavirus. Luma was developed for use in households, offices, restaurants, schools, and public spaces, delivering simple and dependable cleaning in an appliance that can quickly and effectively disinfect high-touch objects. Luma also boasts a connected mobile companion app to educate users and share data about appliance health and usage history.
www.constanthampers.com.au
Comments: Gift hampers are a great and convenient Christmas present that are hassle free and easy to order. Constant Hampers (www.constanthampers.com.au) is a great option for a gift with a personal touch. They support Australian businesses by curating high-quality products for a variety of hampers suitable for any occasion. You can order great gift hampers with local products from regional Victoria, such as Yarra Valley or Mornington Peninsula without leaving your house.
kennedyandwarner.com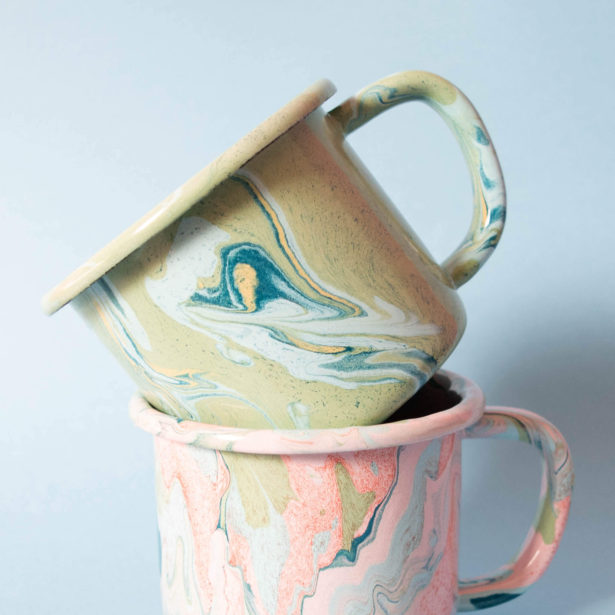 Kennedy & Warner has a wide range of ethical and eco-friendly gifts. What we have that's particularly popular at the moment is our enammel marble mugs. A perfect gift for foodies and outdoor entertainers.
Kennedy & Warner website: www.kennedyandwarner.com
Marble Mugs: https://www.kennedyandwarner.com/collections/bornn
Let me know if you'd like any further information.
Handmade custom Pet Keyrings available at www.heartbeathandicrafts.com.au
From $35 AUD.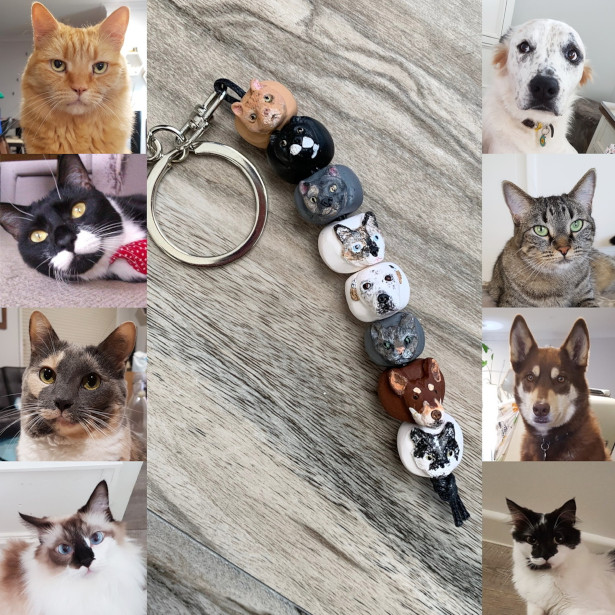 Custom beaded keychains made to look like your cherished and beloved dog from a photo.
Custom dog keyrings are the perfect way to celebrate the life of a pet if they are ageing or have passed over the rainbow bridge.
Custom pet beaded keychains by Heartbeat Handicrafts are lovingly handcrafted and sculpted from polymer clay, then finishing touches added with acrylic paints and sealed. They are the ultimate unique gift for the person who loves their pet, but who seems to have everything already.
Evil Eye Beads & Accessories.
Number 1 seller.
'At Home Evil Eye' wall decoration.
omgbeads.com/shop/ols/products/at-home-evil-eye
www.EvilEyeMerchant.com
Coravin announces the Australian launch of its new SmartClamps™ collection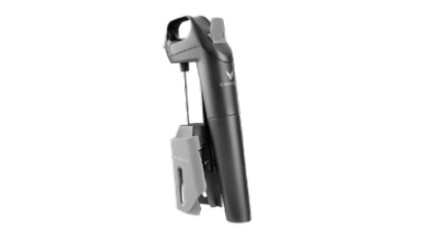 Leading wine technology company Coravin is thrilled to unveil its innovative Wine Preservation System,
SmartClamps™ to the Australian market, available from 1 August 2020.
The company's patented technology, which has received accolades worldwide, allows consumers to enjoy any
bottle of wine, in any amount, without opening the bottle or wasting a single drop. The latest collection,
SmartClamps™ features three designs that are sleeker, more intuitive, and boast the same unmatched wine
preservation.
Introducing Model Three, Model Five and Model Six. The cutting-edge offering makes enjoying the most coveted
of drops as easy as 1, 2, 3. Simply insert, tip and pour! The Coravin works by inserting a hollow needle through
the cork and pressurising the bottle with Argon gas. This allows wine to perfectly flow and be enjoyed by the
glass. Once the needle is removed, the cork naturally reseals itself, allowing the wine to stay fresh for months
and even years.
The SmartClamps™ range was developed with first-time users in mind. The three models feature a unique handle
design to ensure a perfect pour every time and a sturdy grip base to avoid any spills.
"Innovation is at the heart of what we do, and our latest models and technology is continuing to revolutionise the
way the world drinks wine. We have made it even more accessible to enjoy a glass of wine and preserve the bottle
whilst ensuring that the last glass tastes just as amazing as the first," says Greg Lambrecht, Founder and Inventor
of Coravin.
In an exciting new step for the brand, a Coravin Screw Cap accessory is included with every system. The Coravin
Screw Cap provides wine lovers with the ability to pour and preserve their favourite screw cap wines with the
freedom to enjoy it by the glass, prolonging the life of the wine for up to three months.
With simplicity and preservation at the helm of design, Coravin has completely changed the way in which the
world buys, preserves and enjoys wine. The technology was created to extend the life of a meaningful, old,
expensive or just a downright delicious bottle of wine. Founded in 2011, and driven by a passionate team,
Coravin's inventive products empower consumers to explore the world of wine at any level.
Collectors, retailers, sommeliers and wine enthusiasts agree – the SmartClamps™ collection is the most
ingenious, game-changing technology that the wine industry has experienced.