CREAM OF THE CROP:
Luxurious new hand cream which naturally sanitises, launches nationally
Aussie make-up artist develops world-first sanitising hand cream
a world-first hand sanitising cream that revolutionises the way we cleanse and moisturise our skin.
Harnessing the genius of Mother Nature, esst sanitising hand cream combines plant-based ingredients with medical grade antibacterial properties to formulate a game-changing skincare product. This luxurious cream has a quintessentially Australian botanical scent, feels light on the skin, and provides deep nourishment, belying its germicidal efficacy (lab-tested) to kill 99.9% bacteria.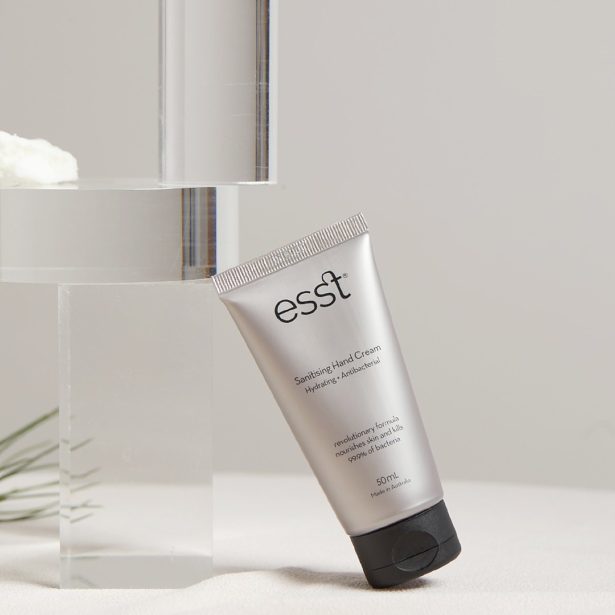 Botanic Alchemy
Settling for nothing less than botanic alchemy, esst's synergistic formulation is pivotal to making it a world-first.
Macadamia Oil, White Cypress Leaf Oil and Shea Butter calm and condition tired, stressed hands. Sandalwood's transformative properties ensure antiseptic, astringent and anti-inflammatory ingredients. Honey Myrtle Oil, is a leading antibacterial oil, tackling microbes, bacteria, fungus, and viruses.
Nerolina Oil reinforces this already formidable combination acting as a powerful disinfectant. In addition, its floral and slightly woody scent promotes the aroma therapeutic benefits of anti-anxiety and relaxation by calming and balancing racing minds.
Anchoring this sublime combination is Silver Citrate, a naturally occurring chemical element used medicinally for more than 2000 years, and precursor to antibiotics. Its ability to kill pathogenic microorganisms and speed cell-regeneration makes it a powerful panacea for skin damage and infection.
Essential Innovation
A nod to the word 'essential', esst is the brainchild of Melbourne based make-up artist, and founder, Emma Davis. Back in 2017, Davis was inspired to create a luxury hand cream that would also naturally sanitise.
"As a makeup artist, I found my hands were constantly drying out and had a constant whiff of chemicals, due to the hand sanitiser I used in between each client consultation." Davis said.
Davis's uncompromising approach meant her criteria was non-negotiable. Clearly, 99.9% antibacterial and 100% nourishing were paramount, as was an invigorating scent. Brand pillars of sustainability, transparency, and science-backed performance championed Australian ingenuity and production, ensuring locally-sourced essential oils were 100% pure, natural and traceable botanicals.
Keen to develop a product which also respected the earth's natural goodness Davis's commitment to the planet led her to find packaging produced using sugar cane which is FDA approved for direct food contact and does not contain undesirables, such as Bisphenol A.
The tubes are made at a facility in NSW, featuring one of Australia's largest privately-owned solar farms. This energy harvesting verifies the tubes leave virtually no carbon footprint. Additional packaging components are also recyclable, and Davis accepts used tubes mailed back to the team to be professionally recycled. This ethical stance guarantees the hand cream and complementary new products (launching 2022) be vegan, non-toxic and cruelty-free.
Conceived over four years ago to support a safe work environment, esst products are multitasking for modern times. Health and wellbeing are now priorities for those on the move, so for sanitised, supple, sensational skin, esst is a self care movement.
ESST is available for purchase from today for $39.00 (AUD) from the website: www.esstlife.com.au