Yeti Cards and Gifts.
Shelli the owner artist designs and makes a range of unique gifts and homewares that feature fun alphabet inspired designs. One collection in particular
that we would love to share with you is – A Very Welsh Alphabet
A Very Welsh Alphabet Glass Cutting Board 20x28cm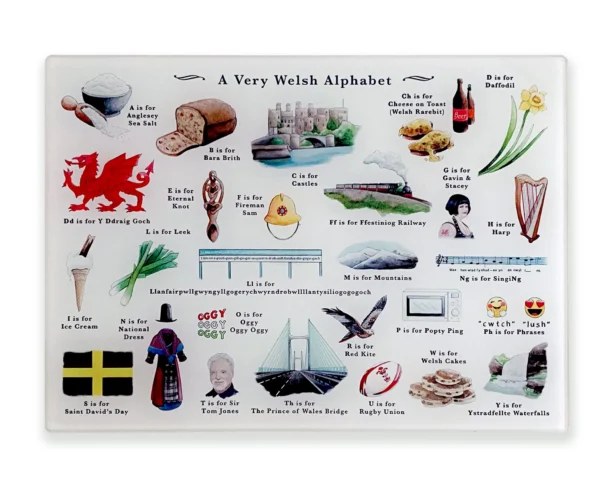 This hand-printed, tempered glass cutting board features 27 colourful illustrations of quintessentially Welsh things from "Anglesey Sea Salt' and 'Bara Brith' to 'U is for Rugby Union'.
A Very Welsh Alphabet cutting board costs £14.99 and can be purchased via her website, here is a direct link: https://yeticardsandgifts.com/collections/a-very-welsh-alphabet
A Very Welsh Alphabet is also available as a:
* Tea towel £14.99
* A3 Fine art print £18
* Greeting card £2.80
* Ceramic mug £9.99
* Metal storage tin £14.99
A little more information about her work and product range can be found via her website: https://yeticardsandgifts.com