Xootz. Fun Without Limits. CHRISTMAS GIFT GUIDE…. www.xootz.co.uk
Xootz, the wheeled toy & action sports brand for kids, is on a mission to promote, inspire and encourage children to get outdoors and have fun without boundaries. From electric ride-ons to stunt scooters and skateboards, Xootz has all outdoor activities covered to provide plenty of fun this Christmas!
Recommended age: 3-7
On sale: Late September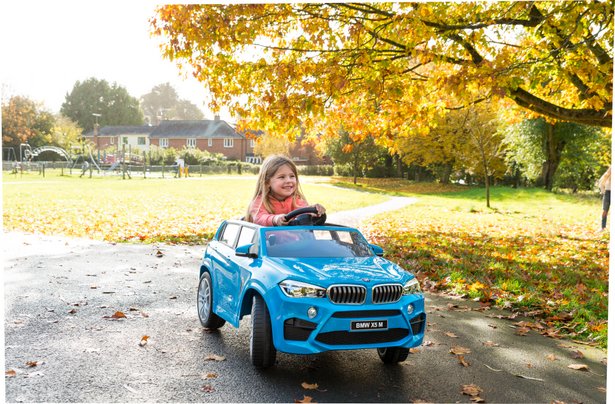 A new breed of grandeur, the Xootz BMW X5 M Electric Ride-On makes a powerful statement. This officially licensed BMW ride-on features all the details of the full-scale powerhouse. Kidney grille, sculptured bonnet and unmistakable working front lights, this ride-on has presence. With a 3-speed drive and reverse gear, little ones can practice their skills in the ultimate driving machine. If they are too young to take the wheel parents don't need to worry, the included remote control allows them to take control. It also boasts two opening doors, a realistic steering wheel, an adjustable seat with seatbelt and an internal MP3 player with AUX input.
Xootz Decoy Dirt Scooters, in Black or Silver: RRP £119.99
Recommended age: 6+
On sale: Mid-October
One of the key Xootz values is having fun "without boundaries" and this Dirt Scooter is the epitome of this, ensuring no terrain is off limits and there are no barriers to exploring new trails. Designed for kids aged 6+ to adults up to 100kg, you can now tackle those trails that were once impassable. This affordable yet durable dirt scooter is designed with a heat treated aluminium deck, and strong steel handlebar. It shares many features with higher price point offerings, all in a great value package with an impressive spec.
Xootz Phantom & Shred 2.0 Stunt Scooters: RRP £49.99
Recommended age: 6+
On sale: Mid-October
This is perfect for young shredders wanting a first stunt scooter setup. With a contemporary design and perfectly coordinated performance, these scooters have all the essentials for taking on some daring new tricks. The precision quality ABEC-7 bearings and 100mm wheels, combined with the stunt scooter T-bar and 3-bolt tube clamp ensures kids will be landing sick tricks in no time at all! Phantom and Shred 2.0 consist of the same outstanding features as current best sellers within the range, but with some fresh graphics and colourways. The scooter has an impressive max weight of 100kg.
Xootz Brainache & Monster Mash-up Scooters: RRP £44.99
Recommended age: 5-12
On sale: Mid-October
These youth stunt scooters help beginners learn their very first jumps, hops and tricks. Including a fixed height handlebar, these scooters don't fold up, which ensures they maintain strength and rigidity when used for a variety of jumps and tricks. Featuring 36cm wide bars with soft grips, ABEC-5 bearings and a built-in aluminium rear brake for keeping in control, these stunt scooters have all the essentials covered.
Xootz Deviate & Streak Skateboards: RRP £26.99
Recommended age: 3+
On sale: End of August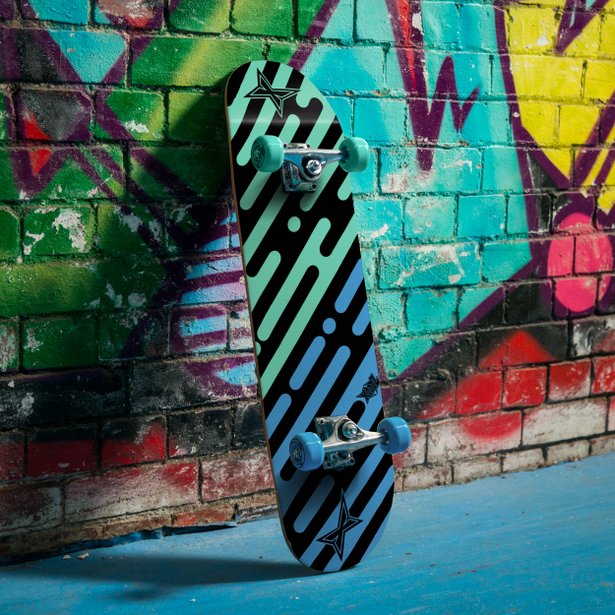 The Xootz Deviate and Streak Double Kick Skateboards are a great introduction into the world of skating. Ideal for beginner or amateur skaters, this 31" skateboard is a great platform to learn on and practice stunts and tricks. Made from tough 9 ply maple deck with strong black grip tape, it is reliable for a trick heavy performance. It benefits from lightweight 5" aluminium trucks, 608Z bearings, 6mm PE risers and 54 x 36mm PVC wheels to offer a controllable, smooth and fun riding experience. Featuring a unique contemporary design, colour-coordinated wheels, these skateboards are ready for kids to show off their tricks down at the skatepark.
Xootz Scout Tri-Scooters: RRP £49.99
Recommended age: 3+
On sale: Early November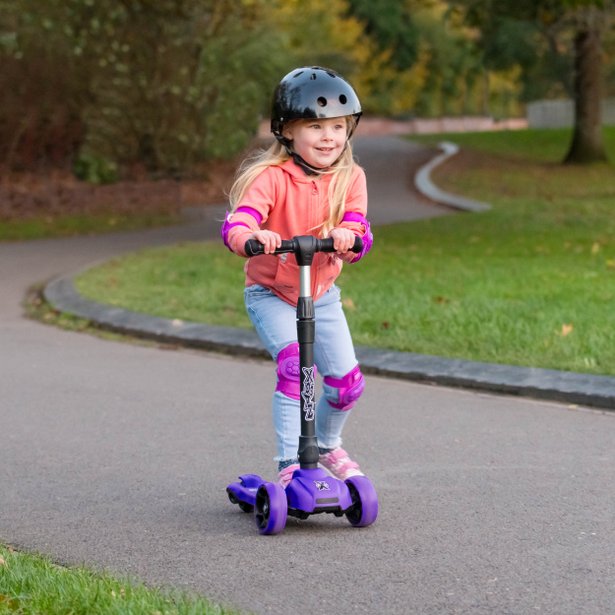 The Xootz Scout Tri-Scooter is designed to give little ones the confidence they need and help them to grasp the basics of scooter riding. This three-wheeled scooter allows children to practice their balance and stability. Featuring an adjustable and foldable stem for comfortable riding even as they grow, a rear brake so they stay in control and a wide footplate for improved stability, the Scout Tri Scooter is a perfect first scooter. Suitable for 3 to 6 years olds, this three-wheeled scooter has an extra wide footplate with texture grip, super-soft TPR grips on the handlebars and works by tilt and turn steering, meaning kids simply lean in the direction they want to go, and the wheels will then turn.
Xoots Elements Scooter: RRP £109.99
Recommended age: 6+
On sale: Now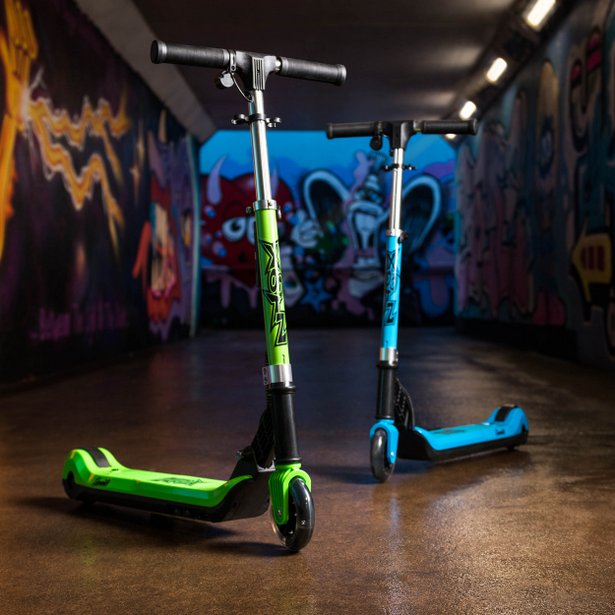 Capable of reaching speeds of 8km/h, the Xootz Element Electric Scooter will provide hours of high-speed thrills for active children aged 6 years and over. Offering speed, agility and excitement, kids can switch between traditional push scooter and electric motor scooter modes! The electric mode provides travel up to 10km in a single charge.
With the easy-to-use thumb throttle placed on the Element's cushioned bars, kids will be able to dart in and out of obstacles at the local park. Thanks to the powerful integrated 70W gear driven motor they'll love being propelled along at speed. The Elements Scooter also folds for easy transportation and storage.
Xootz Quad Skates, in Blue and Pink: RRP £32.99
Recommended age: 5+
On sale: Now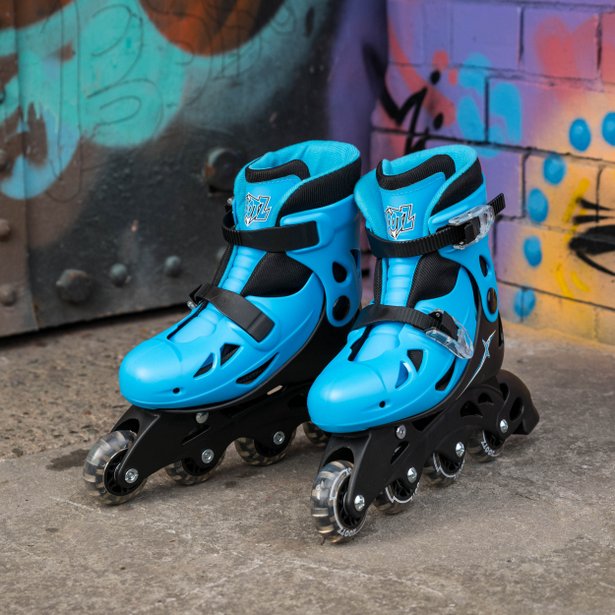 Looking for the most affordable beginner skate around? The Xootz Quad Skates offers both performance and value, and are ideal for juniors who want to try out this exciting sport. Comfortable and supportive roller skates designed for learners, they adjust to fit your child's shoe size thanks to an adjustable touch and close fastener (UK Child Sizes 9-12 & 13-3), perfect for growing feet! Providing plenty of ankle support thanks to the super comfortable padded boot, the Xootz Quad Skates are great for new riders who will take some tumbles. Finished in a super cute pink and baby blue design, little ones will love getting to grips with their brand new skates.
Xootz Inline Skates, in Blue and Pink: RRP £32.99
Recommended age: 5+
On sale: Now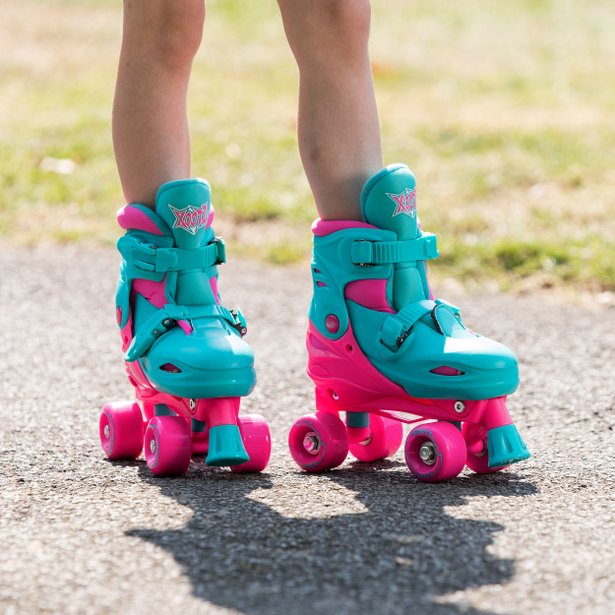 These are the perfect beginner skates for budding little skaters. These Xootz Inline Skates are for those who want to practice their skating skills or want to learn a new sport. The super comfortable boot provides plenty of ankle support so junior riders feel secure when they head to their first roller disco or test them out at their local skate park. You can also adjust the skate to fit your child's feet as they grow. Featuring a PVC stopper and bushings as well as 608Z bearings, these blades offer a smooth, manoeuvrable ride with loads of stopping power for when they need It.
Xootz. Fun Without Limits.
Xootz bridges the gap between wheeled toys and action sports and our mission is to inspire and encourage kids to get outdoors and have fun without boundaries and to do it in style!
Since 2014, Xootz has developed a multi-award-winning range of scooters, go-karts, skateboards, electric drift trikes, skates, and ride-ons including premium officially licensed vehicles from BMW to McLaren. This offers hours of thrills for kids with no boundaries.
Xootz products are available from a range of well-known stockists, including Amazon, Argos, Very, Littlewoods, Skates.co.uk, Halfords, and Skate Hut.
Follow Xootz on social media:
Instagram: @xootzofficial
Facebook: @xootzofficial