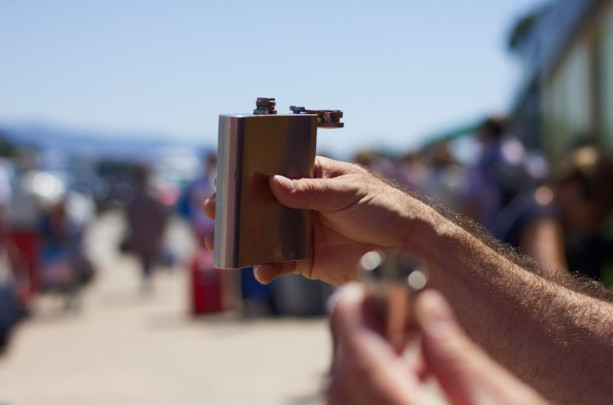 Hip flasks have a long association with alcohol. The modern flask may have originated in Victorian times as an easy way for workers to carry drinks. With the advent of Prohibition in the US, hip flasks became the perfect concealers for illegal spirits.
Credit: Elliot Bishton, Chief Mixologist at Engravers Guild
Hip flasks are no longer the fashion statement of the 20th Century, but are still popular for transporting alcohol. Whether you need a warming drink to get the blood pumping when exploring the outdoors, or a cheeky beverage to get the party started at a wedding, a hip flask is the perfect discreet container for your drink of choice.
Elliot Bishton, Chief Mixologist at Engravers Guild – the seller of personalised hip flasks – has suggested the best way to use your hip flask for a variety of occasions. Enjoy at your leisure.
For weddings
Spirit: Bourbon
Drink: Old Fashioned (50ml bourbon, 2 dashes Angostura bitters, ½ teaspoon sugar / 5ml sugar syrup)
How to make it: Mix 25ml of bourbon with the sugar/sugar syrup, bitters and 2 ice cubes. Then add the rest of the bourbon and more ice cubes, stirring slowly.
Weddings often involve copious amounts of alcohol; Champagne for toasts, wine with dinner, and drinks from the reception bar mean guests are often drinking through the day.
Those wanting to avoid expensive bar drinks can bring a flask of their favourite spirit. Bourbon is a popular choice – it's sweet, smooth and complements the mood. An Old Fashioned is essentially sweetened, aromatic bourbon, so a flask is sure to go down well with friends at the reception.
Note: Be sure to check the quality of your hip flask before storing this cocktail in it, as the sugar can corrode some metals. The hip flask should be high quality and made from food-grade stainless steel (301-304 grade). Check your care guide for more information.
For camping
Spirit: Gin
Drink: Bramble (50ml gin, 1 tbsp. blackberry liqueur, 1 tbsp. sugar syrup, 30ml lemon cordial)
How to make it: Mix all ingredients together in a cocktail shaker, then decant into your hip flask.
For a classy fireside drink that evokes the flavour of the forest, gin should be your spirit of choice. For the bramble cocktail, find a gin that uses berry botanicals.
You can mix the drink in the flask beforehand to save packing space. Then, sit back and become one with nature with this fruity cocktail.
Note: The same as above, the sugar and cordial in this cocktail can corrode some metals. Be sure to only store this drink in food-grade stainless steel (301-304 grade).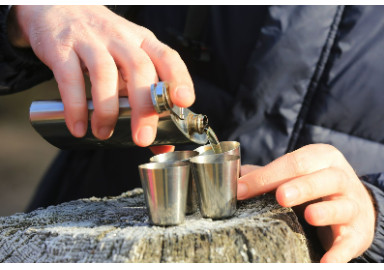 For festivals
Spirit: Vodka
Drink: Skittles Vodka (1l Vodka, 250g Skittles)
How to make it: Separate the Skittles by flavour, and pour into 5 plastic bottles. Add 200ml of vodka to each bottle and shake well. Either leave the bottles for up to 24hrs, shaking every few hours. Or, put the bottles in a dishwasher cycle. Once the skittles have dissolved, strain the liquid through a coffee filter or cheesecloth. Pour into your flask, and keep chilled until you are ready to party.
Most festivals will ban glass, so pouring your bottle of vodka into a flask will not only save weight, it will ensure you can actually take your drinks in.
The sweetness of Skittles vodka makes this the perfect mixer-free drink for festivals. Pour your favourite flavour into a hip flask for a drink sure to keep you dancing well into the night.
Note: The same as above, the sugar in this cocktail can corrode some metals. Be sure to only store this drink in food-grade stainless steel (301-304 grade).
For Outdoor Pursuits
Spirit: Whisky
Drink: Percy Special (equal parts whisky and cherry brandy)
Braving the elements can be a cold affair, so a warming drink can make all the difference. Taking whisky in your hip flask will not only keep you warm, but will also light the fire for you to hunt the biggest game or catch the largest fish.
A Percy Special in your flask is the quintessential outdoor cocktail. Invented by the 10th Duke of Northumberland, it captures the essence of the outdoors and keeps you warm on a cold day.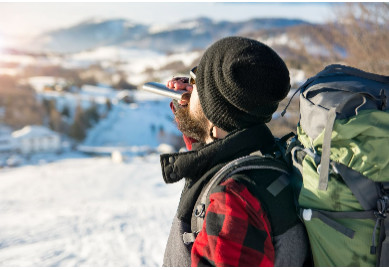 Hip flask care
Stainless steel: Stainless steel is an ideal material for your hip flask as it is a highly impermeable metal. 304 stainless steel in particular is designed for food usage, so should work well for your more adventurous beverages.
Copper: Copper is a far softer metal than steel, so you need to be careful what you store in your flask. Avoid anything acidic or carbonated; these will rust the metal and can make you ill.
Pewter: Antique hip flasks may be made of pewter. They look beautiful but require careful care. Don't leave alcoholic drinks in pewter for longer than 24 hours, and never put carbonated drinks in.
Whatever material your hip flask is made from, be sure to check the included care guide for any restrictions on what can be stored.
Keep it classy
Hip flasks are a classy addition to the right situation. Save using your hip flask for social events where drinking is appropriate.
Credit: Elliot Bishton, Chief Mixologist at Engravers Guild