TREAT YOUR PET THIS CHRISTMAS WITH LILY'S KITCHEN
Treat your cat or dog to the purr-fect festive gift this season from as little as £1.25, with the 'tail-wag approved' Christmas range from Lily's Kitchen.
Good tidings we bring, for you and your furry kings! Lily's Kitchen has created an extra special Christmas menu for four-legged friends this year. Using top quality natural ingredients including freshly
prepared meat and offal, the B Corp pet food brand is serving up a delicious selection of recipes and treats to make sure cats and dogs can join in the festive feast.
From advent calendars for dogs and cats, to Christmas dinners and Festive Turkey Jerky, this seasonal selection has everything you need to serve up a showstopping dinner for furry family members.
The range launches in September 2022, via Lily's Kitchen, and will also be available for purchase at retailers including Pets At Home, independent pet stores, Waitrose, Ocado and Amazon.
THIS YEAR'S CHRISTMAS RANGE FOR DOGS
Lily's Kitchen Advent Calendar for Dogs, 100g – RRP £12.00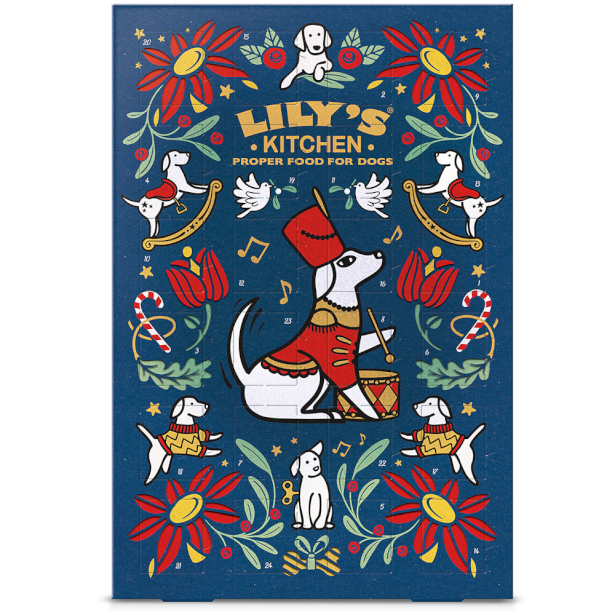 Let your woofer count down to the big day with this premium advent calendar. Featuring a selection of three delicious biscuits made with top quality ingredients:
Training Treats – A troupe of mini organic bone-shaped biscuits, made with organic apples and farmhouse cheddar to help keep your dog's attention on wintry walks in the park._
Rise and Shines – Flower-shaped treats made with beef liver, fresh carrots, blackstrap molasses and alfalfa to help keep your dog's coat as shiny as a Christmas bauble._
Bedtime Biscuits – Blissful bedtime treats, made with honey, yoghurt, chamomile and passion flowers to help soothe your dog on those exciting nights before Christmas Day.
Lily's Kitchen Three Bird Feast with all the Trimmings, 400g – RRP £3.35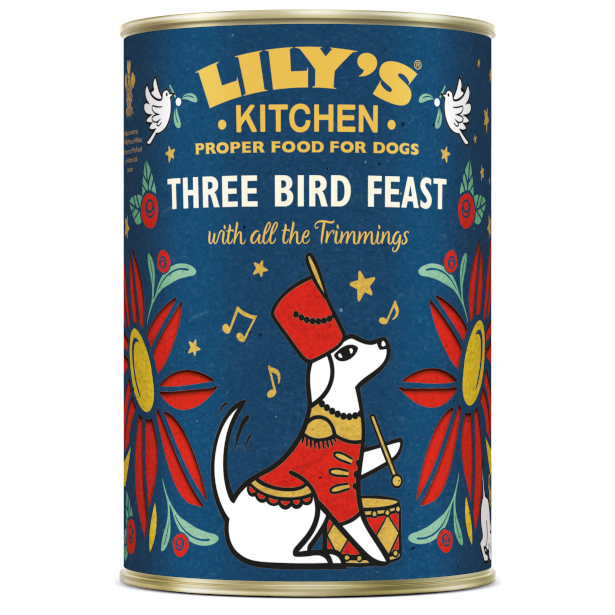 Christmas dinner. It's really THE dinner of the year, isn't it? And now it can be for our four-legged friends as well. This spectacular three bird feast, with all the trimmings, includes freshly prepared turkey, duck and goose with seasonal parsnips and cranberries, of course.
Lily's Kitchen Cracking Festive Treats Meaty Selection, 300g – RRP £18.00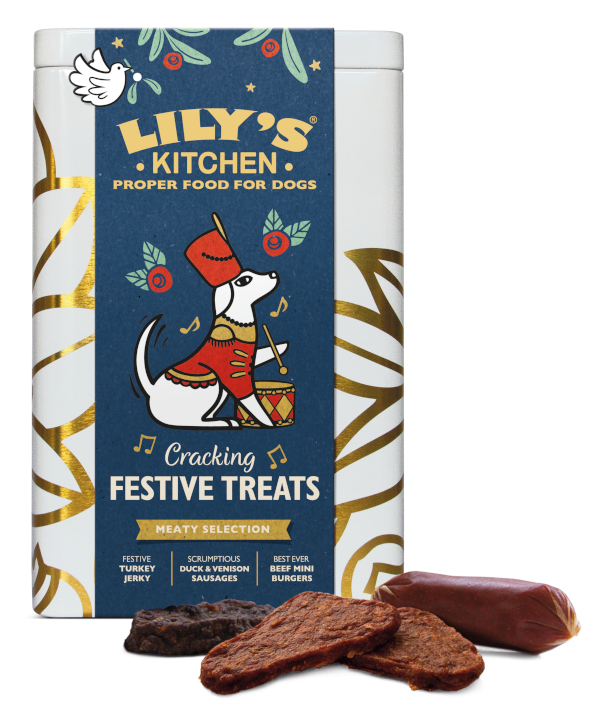 When you're digging through your own selection of Christmas treats, why not let your dog tuck into their own treats tin? This is the gift that's sure to make your dog's Christmas dreams come true. The tin also makes a beautiful (and useful) keepsake for you too, so gifts all round! Snacks inside include:
Festive Turkey Jerky
Scrumptious Duck & Venison Sausages
Best Ever Beef Mini Burgers
Lily's Kitchen Festive Turkey Jerky Dog Treats, 70g – RRP £3.25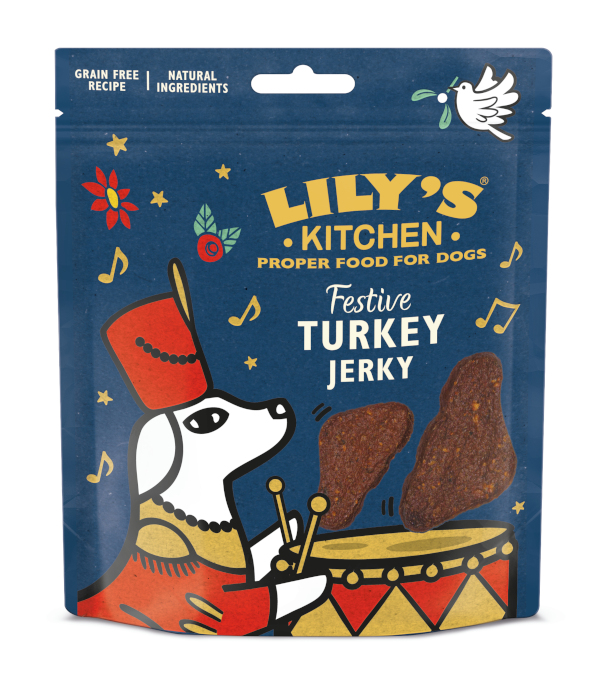 Who said turkey is just for humans at Christmas? Let your woofer join in the festive feast with our delicious Festive Turkey Jerky made with proper meat, for a proper treat. This tempting grain-free recipe is made with natural ingredients – so your furry family can enjoy them throughout the festivities, guilt free.
THIS YEAR'S CHRISTMAS RANGE FOR CATS
Lily's Kitchen Christmas Advent Calendar for Cats, 42g – RRP £12.00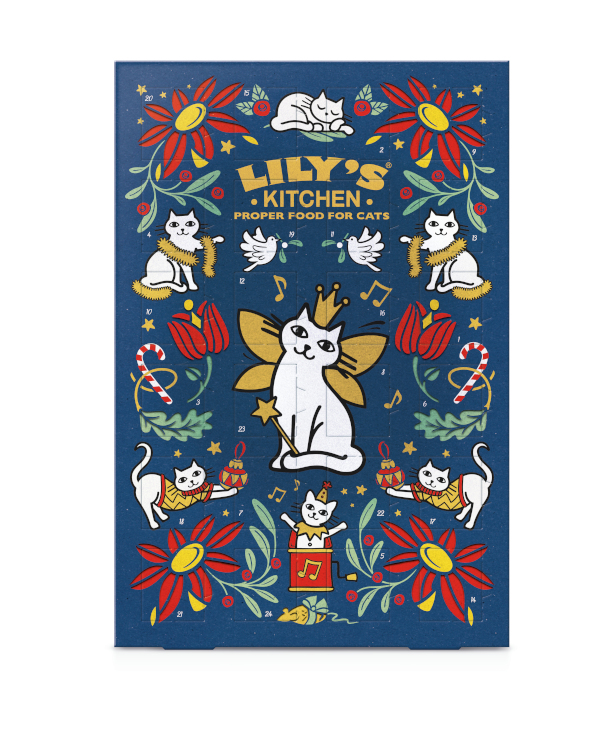 Every cat in the land gets a daily treat in the countdown to Christmas with this purr-fect advent calendar. Treats inside include deliciously crunchy pillows filled with salmon and chicken. What else would feline wishes be made of?
Festive Salmon Nibbles – With a soft centre and crunchy shell, these treats are naturally delicious and made with freshly prepared salmon and chicken liver.
Cracking Chicken Nibbles – Delectable treats made with fresh chicken. These are delicious delights for twinkly eyed Christmas cats.
Lily's Kitchen Festive Turkey & Ham Paté Feast for Cats, 85g – RRP £1.25
Your favourite feline will adore this special Christmas feast. This festive paté for cats is full of natural, delicious ingredients, so they can enjoy a Christmas dinner of their very own. Made with freshly prepared turkey, succulent ham and juicy cranberries, this festive feast is not only delicious but is a nutritionally complete, grain-free recipe! Definitely worth popping that fireside nap on hold.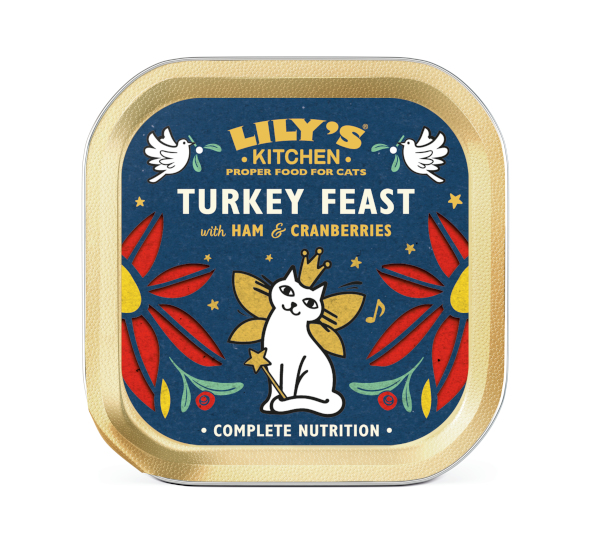 *NEW FOR 2022* Lily's Kitchen Festive Tasty Cuts Turkey with Chicken & Duck, 3 x 85g – RRP £3.75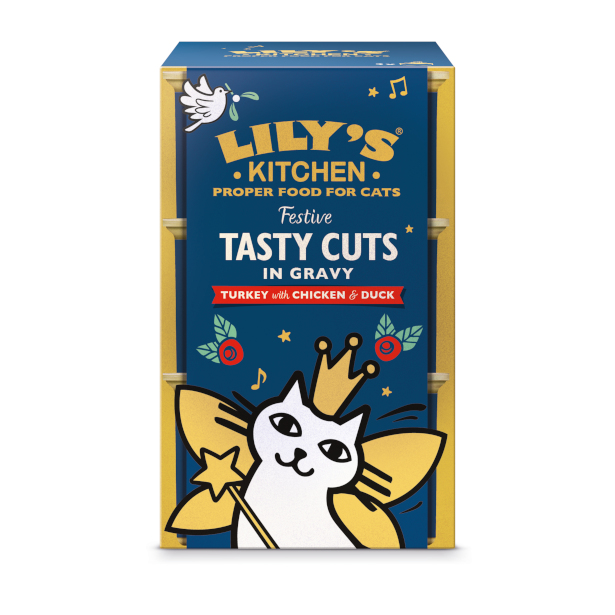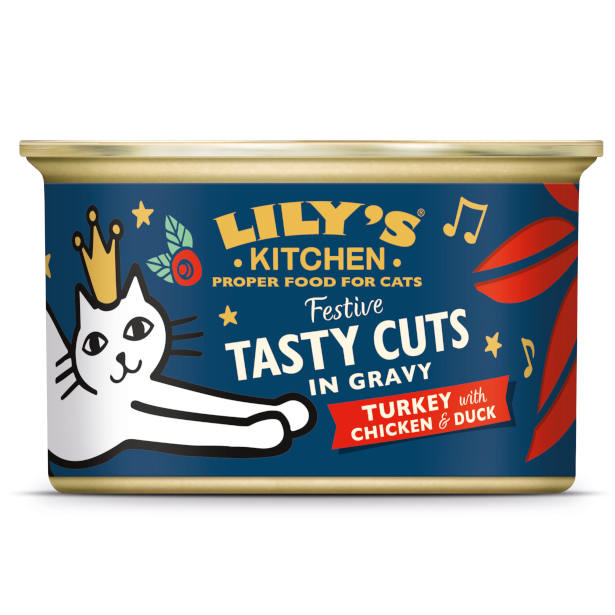 A delicious recipe of turkey with chicken and duck in a sumptuous gravy, with a sprinkling of cranberries. Nutritionally complete and made to a grain-free recipe, this trio of Tasty Cuts is the perfect festive feast or Christmas gift for the tail-flicking, whisker-licker in your life.
After all, who said it's only humans that get to join in with the festivities.
Post-dinner cat nap essential!
Samantha Crossley, Marketing Director at Lily's Kitchen, comments: "Who said Christmas is just for humans? Let your pet join in the festivities as well! At Lily's Kitchen we know that pets are family too, and households up and down the country will want their four-legged family members to be just as much a part of the festive season as those on two. Our latest range does exactly that, while also providing the very best, all-natural, ingredients."