Third Angel presents… The Distraction Agents… A game, a challenge, a puzzle and a story in a box. https://thirdangel.co.uk/
The Distraction Agents is a handcrafted, limited edition experience that cannot be found in shops.
With covid once again threatening our Christmas plans, and games of all kinds more popular than ever, The Distraction Agents makes a perfect seasonal gift or an ideal family Boxing Day boredom buster.
Just imaging opening the mail to find this statement >>>>>>>
"We noticed you. You are special.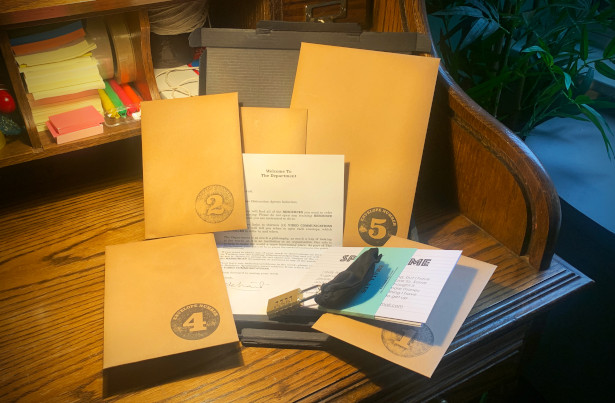 The Department of Distractions is searching for new recruits, and they think YOU might be just what they need.
Could you be a Distraction Agent?
We're looking for people who see the world in a slightly different way. People who notice things others don't. And we think that might be you!
The Department is a shadowy organisation with a contested purpose: does it harmlessly bringing light relief and moments of intrigue into people's stressful lives, or is its job to distract us from what's really going on..?
Part game, part story, part puzzle, part invitation to engage in some distracting yourself, The Distraction Agents is perfect for anyone interested in board games, quizzes, role playing games, urban legends, problem-solving, conspiracy theories, detective stories or escape rooms.
"A great stocking stuffer"
Brit Of An Escape Habit
The Distraction Agents arrives first through the post, with a challenge box full of carefully created and beautifully designed print, all devised (and in some cases hand drawn) by the artistic team at Third Angel in Sheffield. An email follows, with links to exclusive online films from your new Distraction Agent colleagues, guiding you through the tasks and offering support and help to succeed in your quest to become an Agent.
"We found The Distraction Agents to be an excellent puzzle game, a fun piece of interactive theatre that puts brains to work. We think that this would make an excellent last minute Christmas gift, something fun to whittle away the dead time over the Christmas holidays"
Our Family Reviews
The game extends the world created in touring theatre show The Department of Distractions. The cast, which includes Third Angel regulars Umar Butt (My Name Is, Tamasha Theatre Company), Stacey Sampson (This is England, Channel 4), and Nicholas Chambers (The Great Gatsby, Wilton's Music Hall) alongside Third Angel Co-Artistic Director Rachael Walton, developed and adapted their characters to create the experience of working alongside seasoned Distraction professionals.
"This is a game to be sipped and enjoyed, where you can craft stories you and your friends will tell long after the game itself is finished." Armchair Escapist