The Perfect Outdoorsy Gifts for Every Active Mum This Mother's Day
• February 16, 2023
We all know that mums are the most complicated people to buy gifts for. But if your mum is outdoorsy, then you're in luck. Show her how much you appreciate her enthusiasm for being active this Mother's Day with one of these perfect outdoorsy gifts.
From stylish and supportive sneakers to intelligent tech for tracking her runs, hiking trips, and bike rides—we've got you covered when it comes to finding the perfect Mother's Day present. Whether she loves running, yoga, hiking, cycling, or any other outdoor activity, something here will make her smile on the big day. So look through our picks and find the perfect gift your active mum will love.
The Best Outdoor Active Gifts for Mums
Are you looking for the perfect Mother's Day gift for the fitness mum in your life? We've got you covered! Whether your mum is an avid runner, a committed yogi, or an outdoor enthusiast, here are some gifts that will make her smile this Mother's Day:
• For the runner: A GPS watch. This is a great way to track every step and keep track of her progress. Plus, it looks great when she's out on her runs!
• For the yogi: A yoga mat. Soft and supportive, help your mum take her practice to the next level by upgrading her old beat-up mat with a new cushioned one.
• For the adventurer: A water bottle and hydration pack. These are perfect for those who love to explore — keep your mum well-hydrated (and stylish!) when she's out in nature.
Whatever activity your mum loves best, you can't go wrong with these active outdoor gifts as beautiful tokens of appreciation this Mother's Day!
Running Shoes and Workout Gear for the Active Mum
You know she's active—she never stops! Show her how much you care by investing in some proper workout gear to help keep her comfortable and protected while she's being active outdoors.
If running is her passion, pick up a breathable pair of running shoes with good stability. She'll need something that protects against the elements while standing up to the miles and miles of physical activity she enjoys.
To go hand-in-hand with the shoes, find her some weather-resistant leggings and a comfy top. A lightweight windbreaker or reflective vest will also provide comfort and protection for those long runs on rainy days when the forecast doesn't align with her training plans.
Finally, don't forget about a few accessories that will make all the difference for the active mom in your life. A sweatproof headband, sunglasses, and lightweight gloves are great additions that will make her Mother's Day even more special!
Skincare Gifts for the Fitness Mum
If you want to pamper your active mum, why not give her a skincare gift? After all, she is out there in the elements, braving whatever the weather throws her, so the least she deserves is some hydration and protection! Here are some of our favourite picks:
Anti-Chafe Cream
A good anti-chafe cream is a must-have for all mums actively exercising. They can be beneficial for mums who are involved in outdoor running, biking, and hiking. Good anti-chafe cream can help protect their skin from developing dryness, irritation, and blisters. It can also help provide a protective barrier against the elements.
Balmy Fox's Anti-Chafe Cream is formulated using only natural ingredients, including beeswax, arnica, comfrey, and tea tree – to soothe, heal and protect.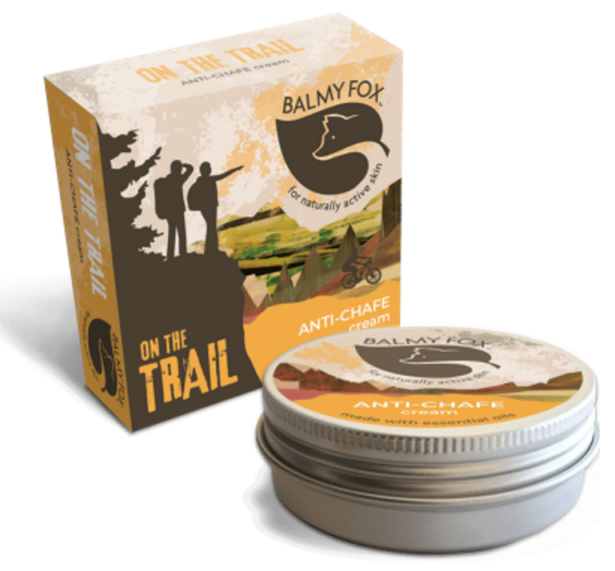 Sunscreen
Sunscreen is a must for outdoor activities, no matter your skin type. Look for one that is natural, light, and fast-absorbing, as anything too heavy can impede your sweat's natural cooling process.
Ideally, choosing a water-resistant sun cream that's broad spectrum and contains antioxidants and hydrating ingredients like berry wax and mango butter would be best.
Balmy Fox's Sun Cream is a water-resistant, no-sting formula using only natural ingredients, including berry wax, mango butter, coconut oil, arnica, and borage oil – to soothe, heal and protect.
Lip Balm
Whether your mum is a runner or cyclist, swimmer or surfer, skier or climber, chances are she will need lip protection from all the wind and sun exposure on the go. Our all-natural vegan lip balm – delivers serious hydration without any petroleum oils or parabens. Plus, it has SPF 25 to protect against UVA/UVB rays, so her lips stay soft and smooth whenever she heads outdoors!
Balmy Fox's SPF Lip Balm is a water-resistant, no-sting formula using only natural ingredients, including berry wax, mango butter, coconut oil, arnica, and borage oil – to soothe, heal and protect.
Gear and Gadgets for the Outdoorsy Mum
For the tech-savvy mum who's always on the go, consider gadgets such as fitness trackers for tracking her steps and calories burned throughout her exercises, weatherproof Bluetooth speakers to take on all her outdoor adventures, or even a power bank, so she never has to worry about running out of juice while she's out in nature!
Unique Gift Ideas for Every Type of Fitness Mum
Every active mum is different, so finding the perfect Mother's Day gift for them can be challenging. But you don't have to settle for something generic—there are unique gifts out there that will make every active mum smile this Mother's Day. Here are a few ideas to get you started:
Hiking Essentials
If your mum loves exploring nature, why not treat her to hiking essentials? She'll have everything she needs from insulated water bottles and compasses to walking sticks, headlamps, and insect repellent for those outdoorsy trips.
High-Tech Wearable Tech
Look no further than a fitness tracker or smartwatch for mums wanting to stay motivated and track activity. State-of-the-art devices can track heart rate, sleep patterns, and calories burned—everything a fitness mum needs to reach their goals!
Athletic Apparel
Help your mum stay comfortable while keeping up with her workout routine by gifting her some stylish athletic apparel. It could be anything from compression tights to running shorts or even a fitness bandana for that extra special!
Whatever you decide, we're sure your active mum will love it. With these unique gifts, she'll be ready for any adventure she has in mind this Mother's Day!
Love Your Sporty Mum
With Mother's Day approaching, why not give your active mum something special to show appreciation? Whether it's a new set of running shoes, a new skincare gift set, a fitness tracker, or even a subscription to an outdoor magazine, there's something for every active mum.
Show your active mum how much you care this Mother's Day with the perfect gifts that cater to her active lifestyle. Not only will she be thankful for the thoughtfulness, but you'll also give your mum something she will love and use.