Are you looking for the best Christmas gift to announce? Here it is! – an affordable book series that empowers hope, love, and joy for the entire family!
The Santa Spirit series includes 5 books to help both children, teens, and adults rediscover the joyful and generous messages the Santa figure was designed to deliver. Rather than seeing Santa just as a
singular person from the North Pole, we all can be Santas! Embracing diversity, inclusion, and multiculturalism, these books help us focus on how we can deliver the Santa Spirit of loving kindness every day to everyone anywhere!
We all need to rediscover the Santa Spirit – it's not just for children and can help shape the world of today and tomorrow to be a nicer, kinder, better place. These books provide very cool ways to do it!
Why these Gifts are Important

• COVID has given us a year full of struggle and strife – the books give a COVID-friendly approach with at-home activities that families can do together with minimal or no additional expense.
• Parents may face a dilemma of how to explain Santa Claus to children – these books give them ways to avoid "lying" to their children about Santa.
• The Santa Spirit allows for downsizing the cost and commodification of Christmas while encouraging the generosity of kindness, which costs nothing.
• Today's children and families are diverse, so a diverse Santa is needed.
• Children learn what adults teach them – the series supports parents and adults with ideas that encourage positive values and behaviors.
• The books provide hundreds of fun things people of all ages can do to create fun and holiday magic!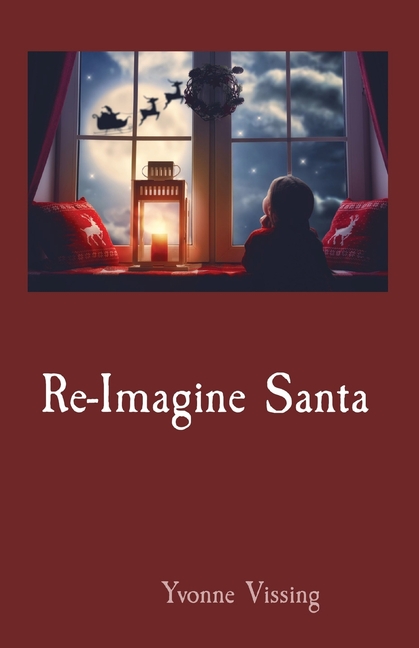 The Books
Reimagine Santa: The social construction and transformation of Santa Claus yesterday, today, and tomorrow. The most comprehensive book yet about Santa is directed at thoughtful adults who want to know how Santa became pervasive, how to handle him, and the best ways to transform him in an inclusive, diverse, and respectful world.
The Santa Spirit is a beautiful picture book that shows how the Santa Spirit is shared by people of all ages and types. It is culturally diverse and inclusive and moves children away from seeing Santa Claus as a person to being the spirit of joy and loving-kindness that anyone can have.
The ABCs of the Santa Spirit for Adults. Adults need to rediscover joy and loving-kindness in their own lives before they can create it for children, and this book gives them hundreds of ways for everyone can find it and share it.
The Legend of the Santa Stocking,a family-focused book around replaces major gift-giving with the creation of stockings into which family members place notes about what they value about one another to create "the best Christmas ever".
A Santa Spirit Advent Calendar Book: COVID Editionis a set of activities and readings that families can do to create a joyful, no-cost holiday season. It gives 24 days of fun activities that people can do without leaving home during the Advent season awaiting Santa's arrival.
Discover more about the Santa Spirit at:
Main website: Santalove.org
Facebook: https://www.facebook.com/Santas.spirit2020
Amazon: https://www.amazon.com/Santa-Spirit-Yvonne-Vissing/dp/1735830429
The Santa Spirit is inclusive to all genders, races, ethnicities, sexual orientations, family compositions, ages, religions, cultures, nationalities, and abilities
AUTHOR INFORMATION Yvonne Vissing, PhD yvissing@gmail.com yvissing@salemstate.edu
(603) 498-5985 yvonnevissing.com
Dr. Vissing is a pediatric sociologist and Santaologist, author of 15 books, an international human rights expert, founding director of the Center for Childhood & Youth Studies and Professor of Healthcare Studies at Salem State University. She uses a mom-scholar approach to the Santa Series books.
Thanks for your consideration of my work!
Yvonne
Yvonne M. Vissing, PhD
Professor, Department of Healthcare Studies, Harrington Bldg.
Director, Center for Childhood and Youth Studies,
Policy Chair, United Nations Convention on the Rights of the Child
yvissing@salemstate..edu yvissing@gmail.com
yvonnevissing.com Center website http://www.salemstate..edu/ccys