Double whammy for the Most Innovative Cookbook in the World Knit and Nibble – winner of the Most Innovative Cookbook in the World at the Gourmand World Cookbook Awards has done it again.
knitnibble.com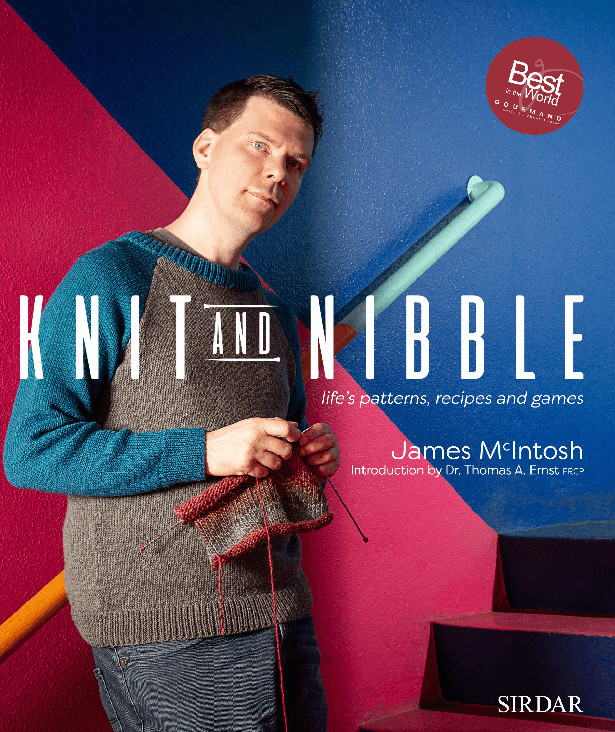 This time being successfully crowdfunded on the popular crowd funding site Kickstarter by 105%. Over 100 backers pledged an average of over £200 each making Knit and Nibble the second most crowdfunded project in the UK on Kickstarter for knitting.
James McIntosh, author says: "After having suffered a depressive episode, knitting has added colour back into my life, and to win such a prestigious award as the Gourmand World Cookbook Award and then again raise such a large sum through Kickstarter to publish the book is a blessing and proves in the growing markets of knitting and mindfulness there is demand in the market for true innovation". Dr Thomas A. Ernst, co-author says: "The success of this Kickstarter campaign mirrors the huge demand for mindful activities in our societies at this present moment".
Knit and Nibble life's patterns, recipes and games Author: James McIntosh Introduction: Dr Thomas A. Ernst FRCP Photography: Anders Beier Format: Hardback, 256 pages, full colour, 250 x 210mm 1.2kg (approx) Categories: Knitting; knitting and wellbeing; crafts; cooking; men's interest; mindfulness and health ISBN: 978-0-9934196-2-1 Published by: McIntosh Publishing Publication: 3rd September 2018 Price: £24.99 / €26.99
PUBLISHING
About the Authors James McIntosh – World Award-winning cookery author who found life in bright colours through 'Knititation' as part of his treatment for depression. Anders Beier – Owner of the title of Gourmand 'Best Food Photographer in the World' for two years running. Dr Thomas A. Ernst – Fellow of the Royal College of Physicians and a Senior Consultant in a large London teaching hospital who offers Mindfulness to complement traditional treatment approaches in his outpatient clinics. Sirdar – One of the UK's most trusted knitting pattern design houses and yarn distributors.
About the book A new, fresh and exciting way of aiding men's wellbeing using a combination of knitting as a mindfulness practice and cooking.
32 contemporary men's knitting patterns (designed by James McIntosh and the Sirdar Design House), together with 35 sweet treats to nibble mindfully. All complemented by mind-calming yarn games.
The book begins with knititation: a mindfulness practice developed by Dr Thomas A. Ernst FRCP.
Knitting patterns are written in easy to follow recipe style format for both the beginner and experienced knitter.
Colour in life: clothes, food and mind.
Update your table top with Zangheim's unique Napkin Rings
NAPKIN RINGS
Setting a beautiful table is an art form, and for special occasions, upgrade your table with Zangheim's selection of Napkin Rings.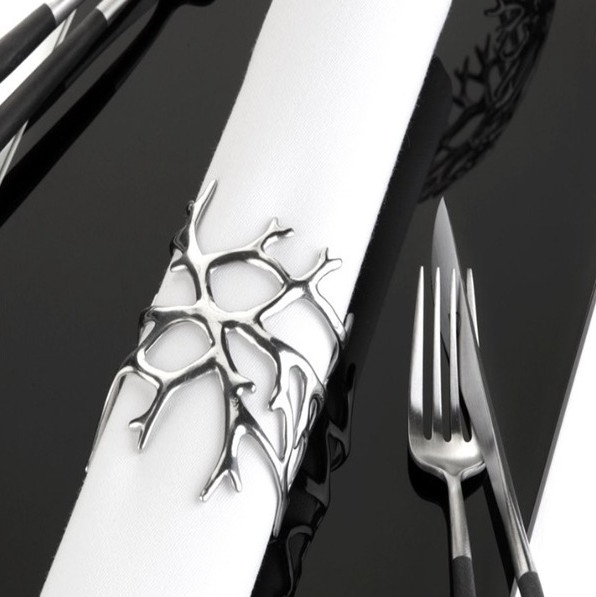 SUMMER PRODUCTS NECESSARY FOR OUTDOOR EVENTS
At Goddess Garden, we're always ready for summer!

Sport Sunscreen Stick: Beat the burn with our space-saving, no-mess sunscreen stick. It fits anywhere and allows for easy touch-up. Plus, the nourishing formula gives your skin a boost without looking greasy.
Facial Sunscreen: Ultra-sheer and nourishing, this water-resistant Facial sunscreen has immortelle essential oil to counter sun damage while protecting your skin. To save space while you're saving face, use as an all-over sunscreen. Your arms and legs will love the extra pampering!
Aloe Vera Spray: A must for any beach bag, this non-sticky aloe vera spray soothes a sunburn and rescues skin from chlorine and salt. The easy, air-powered spray contains tea tree and lavender essential oils to cool skin on contact—a perfect way to refresh before your next adventure!
Face the Day Daily Moisturizer & Firming Primer: Because sun fun doesn't stop at the pool, this 3-in-1 moisturizer replenishes the skin, provides mineral sun protection and serves as a makeup primer so you're ready for whatever the day brings.
The Roots of Goddess Garden Organics:
Goddess Garden Founder Nova Covington, developed safe skincare and suncare solutions for her own daughter, who, as a baby, experienced allergic reactions to conventional skincare products. With support from her biochemist husband Paul Halter, Covington created the largest certified-organic sunscreen brand on the market. After firmly establishing itself as the leader in organic sunscreen, Goddess Garden expanded into the clean beauty category, offering certified-organic facial care, aromatherapy and pure essential-oil perfumes. Goddess Garden sunscreens are carried in over 22,000 stores including Whole Foods, CVS, Walgreens, Wegmans, REI, Sprouts Farmers Market, Kroger, Harris Teeter and many other natural retailers throughout the U.S. and Canada. The company is a women-owned business (WBENC), as well as a Certified B Corp. In 2017. Nova established an ocean preservation foundation, Protect Our Mother, to help protect the coral reefs and clean up the oceans.
For more information, please visit www.GoddessGarden.com.
NEW: Outdoor lighting.. reinvented
💡The outdoor lighting revolution has begun…

The NEW GoOutside™ collection from Urban Cottage Industries reinvents traditional outdoor lighting – with products that are simple to fit, don't rust and are build to last.
With eye-catching looks and exceptional performance, the common pitfalls of traditional outdoor lighting have been avoided with their astute, weatherproof design:
Crafted entirely from solid metals that won't rust (aluminium, stainless steel, copper and brass)
Fast and simple tool free gel connection
Open design allows rainwater to pass harmlessly through without causing corroding
Better light quality thanks to a solid state LED rather than a traditional bulb
Four bold designs with colour and finish combinations
Market leading seven year warranty 💡
FREE Next Day Delivery
www.urbancottageindustries.com
Make a memorable statement with your wrapping with this colourful collection of tape.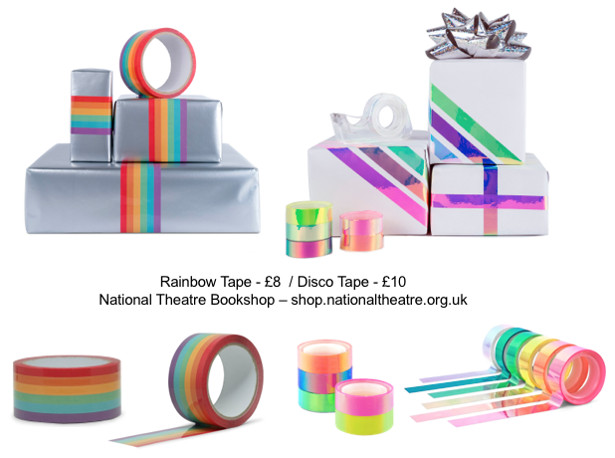 Ditch those sombre brown paper bags and brighten up your wrapping paper with thick rainbow tape and disco cellotape that adds a radiant and vibrant finish to your gift!
Never be disappointed with your presentation again when you have rainbow tape on your brain.
shop.nationaltheatre.org.uk

Tancream
The world's first High Sun Protection with added Self Tan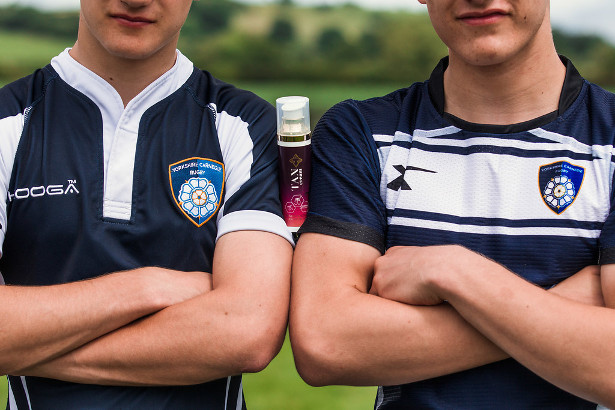 The ultimate Safe Tan
Great for outdoor sports fans & players
www.tancream.co.uk
@tancreamworld
Mr Poppins+Co
An Aussie brand based in Perth creating large, stylish leisure bags and big microfibre beach towels for beach, boat, travel, family…anything.
Their extra large water proof bags come in 4 unique and exclusive prints that will appeal to guys, gals and families and our towels are the biggest microfibre towels on the market. At 2mx1m they are great for guys too and fold compact, are quick drying and sand won't stick to the fibres making it the perfect summer sidekick.
Please check out their website here – http://www.mrpoppinsandco.com
Knock your socks off
Global sporstwear company enhances infrared compression socks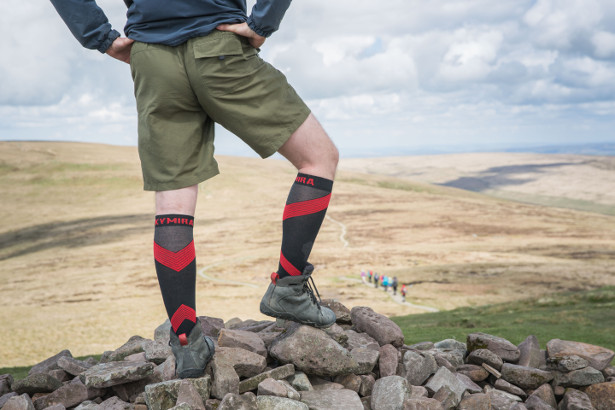 KYMIRA Sport, globally renowned performance and recovery enhancing sportswear expert, has evolved its collection of KYnergy infrared compression socks, to offer an enhanced level of support and comfort for wearers taking part in running, cycling, winter sports or hiking trips.
Made from KYMIRA Sport's signature fabric embedded with KYnergy infrared technology, the compression socks are designed with support bands and ribbed cuffs and have been improved to include a thicker knitted material, better cushioning for the toes and a wider heel area to provide a heightened level of support for the calf muscles during exercise.
What's more, due to the KYnergy infrared technology that captures the energy produced by the human body during exercise and re-emits it back into muscles, the socks will help to increase muscle oxygenation, increase circulation and regulate body temperature – benefits that will aim to improve performance and speed up recovery times.
Tim Brownstone, CEO and Founder of KYMIRA Sport, commented: "We're delighted to have enhanced our compression socks. These improvements are based on our wearers' feedback. Designed with our KYnergy infrared technology, the compression socks will assist pro and amateur athletes and we recommend people wear these for 30 minutes prior to exercise, during and for at least one hour after to get the most out of them."
For more information, please visit www.kymirasport.com
The Best Way to Get a Good Night's Sleep The Good Night Anti-Snoring Ring is a completely natural remedy which uses acupressure points on the little finger to cure snoring.
Unlike other cures on the market, the simple ring is non- invasive with no nasty chemicals, mouth guards or ugly nose clips! How it works: The ring's two acu-activators in your little finger work to free up your breathing passages and promote your natural bio rhythms to give a snore-free restful night's sleep. What you do: You simply place The Good Night Anti-Snoring ring on the little or ͞pinky͟ finger at night just before you go to sleep, and take it off in the morning when you wake up…hey presto – no more snoring! Is there proof Good Night Snoring Ring works? Good Night Stop Snoring Ring is the only product of its kind to be subjected to a clinical trial. Here's the science bit… The clinical trial was a randomised double-blind placebo study designed to evaluate and measure the effect of the Good Night Stop Snoring Ring, it took 7 months and was run in 2013. The study was compliant with Medicines and Healthcare Products Regulatory Agency (MHRA) and Institutional Review Board (IRB) guidelines for the study of 'simple snoring' during sleep. 40 adults took part and had their sleep measured over 14 days. The Good Night Stop Snoring Ring was shown to have helped in 80 per cent (yes, 8 out of 10) cases, by significantly reducing or stopping their snoring. The Good Night Anti-Snoring Ring is just £29.99 and comes with a no risk, no-quibble 30-day money back guarantee.
Available from Boots, your local pharmacy or online at www.goodnightsnoring.com.
STUNNING SILVERS
From everything to summer delicate layering necklaces to chunky winter essentials NU & MII have gorgeous pieces for every season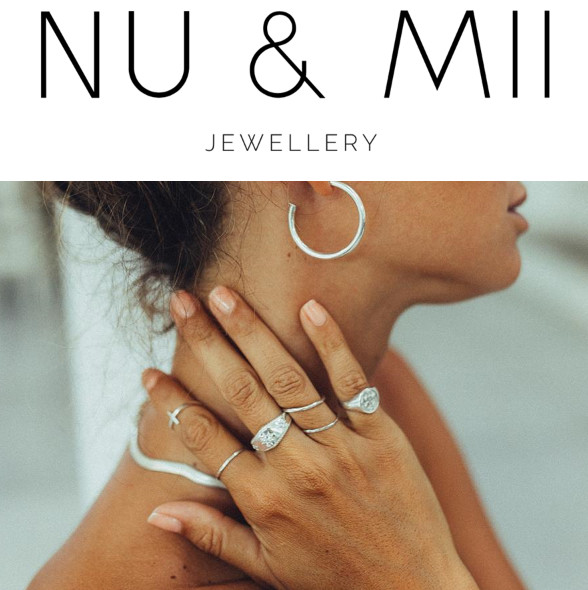 Designers and sisters Anoushka and Mimi's self-titled jewellery brand NU & MII is inspired by their travels and close-knit family ethos. Reflections of these can be seen throughout their stunning fine jewellery that is designed and created by silversmiths in Bali which has become their second home.
Myprotein to power up Sale Sharks with exclusive partnership
Europe's #1 sports nutrition brand to provide a range of products to help fuel success for the North West's only Premiership Rugby side
Leading sports nutrition brand Myprotein has agreed an exclusive deal with Premiership Rugby side Sale Sharks to become the club's official sports nutrition provider.
The Cheshire-based firm will work closely with the club's nutritionists and coaching teams to provide the first team squad – including England stars Denny Solomona and Tom Curry – and the Sharks Academy with a wide range of its award-winning products and supplements.
Myprotein is Europe's #1 sports nutrition brand, operating localised websites in 52 countries and in 33 languages. The firm was acquired by The Hut Group (THG) back in 2011 and now sells the largest range of sports-nutrition supplements in the industry to six million customers worldwide.
Ex-England and Sale Sharks winger Mark Cueto – now the club's Commercial Director – said: "As a player, Myprotein was a nutrition brand I used and held in very high regard so it's fantastic to be officially bringing them into the Sharks family.
"This partnership brings together two huge brands from the North West region and it comes at a great time for us with pre-season training just getting underway. As we look forward to an exciting season ahead, we're really pleased to have such a well-respected sports nutrition brand by our side."
Rick Swaby, Head of Sports Science and Senior Strength and Conditioning Coach at Sale Sharks, added: "Myprotein is a fantastic sports nutrition company that can offer us a vast, high-quality range of products that are already Informed-Sport approved for the specific needs of our players.
"Getting the right nutrition is so important in top level sport – from building strength and increasing fitness levels right through to recovery after training and games. Small margins can make all the difference and a lot of our players already use Myprotein products as part of their nutrition programmes, so it's great that the entire squad will now be able to benefit from the full range of products."
The Sharks squad – including recent signings Chris Ashton and Rohan Janse van Rensburg – have already started an intense pre-season schedule, with the first team training up to three times a day in preparation for the season curtain-raiser against Wasps at the Ricoh Arena on Saturday, September 2.
They also take on Castres Olympique on August 8, and Edinburgh Rugby a week later in two pre-season friendlies.
A spokesperson from Myprotein at The Hut Group, added: "We're delighted to have confirmed a new partnership with Sale Sharks, reinforcing our commitment to sport in the UK and strengthening our ties with top-level rugby clubs in our local community.
"As the North West's only Premiership Rugby side, Sale Sharks has appeal right across the region with a squad full of world-class international players at the very top of their game.
"Performance is at the heart of everything we do at Myprotein and I know the club shares the same ethos as us, working closely with the squad and individual players to ensure every aspect of their nutrition, recovery and wellbeing is looked after.
"It's a perfect partnership and we're confident we can help fuel the club's success this season, from the training ground right through to the pitch during each and every match."
Get ready for the great outdoors this summer with Milton, the UK's number one sterilising and hygiene expert.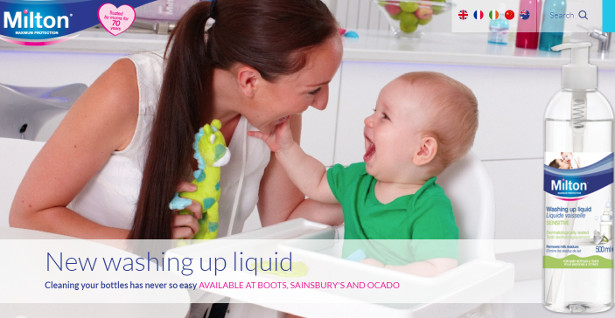 From camping to holidays abroad, staycations, and long lazy summer days out, Milton will help keep you and your family safe at home and on the move this summer. www.milton-tm.com
Banish sticky fingers or simply stay germ free with Milton Antibacterial Hand Gel. Ideal for keeping hands clean and fresh when you are on the go. Kills 99.9% of germs in seconds, non-sticky and dries quickly. With an added moisturising agent to protect the skin, the gel is gentle with a pleasant fragrance.
RRP £2.26 for 100ml. Stockists: Asda, Babies R Us, Sainsbury's, Superdrug, Tesco and Precious Little One.
New and improved Milton Antibacterial Surface Wipes with 'no rinse' & food safe formula mean you can use them to wipe clean plates and cutlery as well as baby essentials such as soothers, teats and teething rings without worrying about the need to rinse afterwards. The formula is bleach free, preservative free and fragrance free; they kill germs quickly and leave no residue or odour.
9 Questions with USA Rugby's Abby Gustaitis as She Prepares for the Upcoming Rugby World Cup Sevens
Abby Gustaitis of USA Rugby talks about Team USA, her training and how she is preparing for the upcoming World Cup Sevens on July 20 in San Francisco. Follow Abby on Twitter @ATown1022 and Instagram @ATown1022
Team USA
What does representing TEAM USA mean to you?
It is literally a dream come true. It is incredible to see all your hard work and dedication come to fruition. It is simply an honor to put the USA jersey on and represent the country. I am humbled every time I receive this opportunity and just look to make my family, friends and supporters proud.
2. I'm sure while chasing your dream you faced some adversity along the way. How did you overcome it?
I think working behind the scenes has been a major key to my success as well as not letting anyone ever tell me no. Trust me, I've heard the word no plenty of times. Every time I didn't make a team or I was cut, I just used it as fuel. I trained on my own, I sought out speed and strength coaches, rugby brains to help me pick apart the games. If you look for help, there are plenty of people willing to lend a hand, but you never know unless you ask.
3. What will be the key for Team USA during the World Cup Sevens?
As a team, our focus has been on more execution as the World Cup is a single elimination tournament. We do not get a second chance during the tournament so we are treating our trainings that way as well!
The energy is very high in these matches but the morale depends on your teammates. We need to have each others backs at all times in order to end the game on top. Our team- we like to look at each other and pat the emblem on our chest, to remember why we play this beautiful game and work so hard for each other.
Training & Preperation
4. What are the strengths of your game?
My main strength is my kickoffs. I play prop, which is in the forwards in 7s rugby. My job is to retrieve the ball when we kick it away and when we receive the ball. I am also a power runner and use my size when we have a mismatch.
AGOGIE Resistance Training Pants
5. Are you doing anything new, training wise, heading into the World Cup?
I just recently started using the AGOGIE resistance training pants. They have resistance bands stitched inside the pants to essentially make everything harder! I usually add in speed work about once a week and I'm excited to wear the AGOGIE pants during these sessions.
6. Interesting! How was your first experience training in them?
I remember my hip flexors were on fire!!! They were tough but helpful in my running form and body positioning. I like that I can wear them during any trainings. I am really looking forward to seeing the effect on my speed, endurance and explosiveness!
The Fun Stuff
7. What other sports or activities do you do instead of rugby?
I LOVE YOGA! I do yoga about 3x per week and it has become my favorite addition to rugby training. It complements it very well as it has increased my strength, balance and flexibility. Otherwise you will catch me at the beach and usually with a book in my hand.
8. What is the best advice you ever received? And who was it from?
One of the best pieces of advice I've received was from my Scion rugby coach, which was, "you perform, you play." I first heard this as his criteria for selecting the team to play each weekend but it's a great way to not get involved with the politics and subjectivity of making a team. This way you control what you can control and not worry about the rest.
9. How do you get mentally prepared before a match? Is there a certain song or band do you listen to?
I listen to reggae music before the games. Usually J Boog or Common Kings. It keeps me in the zone and I'm able to stay calm and visualize how I want the game to unfold. I like to be very chill until I walk into the tunnel before the match. That's when it's time to get hype!
…
Learn more about the AGOGIE resistance training pants @ www.indiegogo.com/projects/resistance-training-pants-clothing
Follow Abby on Twitter @ATown1022 and Instagram @ATown1022
When "the sun is hot and that old clock is movin' slow," you know summer is coming and it's Five o'Clock Somewhere!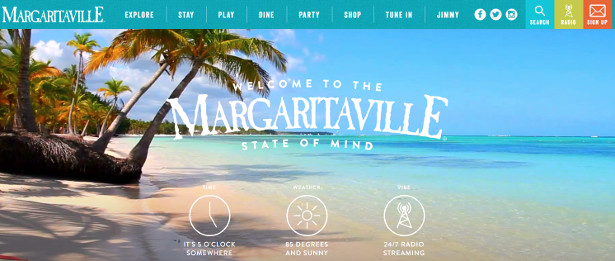 Known for island-vibes and relaxation, the global lifestyle brand Margaritaville offers a variety of products that allow consumers to enjoy the sights, sounds and tastes of their favorite tropical destinations.
Included below is a list of products we've hand-selected with Margaritaville's team, and partners, to outfit your readers with all the supplies needed to host their next summer get-together:
The Ultimate Backyard Bash – Margaritaville's Parrot Bar ($399.99) is an outdoor essential complete with a handy bottle opener, making it perfect for entertaining and serving delicious food and beverage recipes from Margaritaville's first official cookbook. With the addition of drinkware ($37.99) and apron and pot holder set ($39.95), hosts can spend less time in the kitchen and more time in the sun – party planning has never been more stress-free!
Pool Party Essentials – No beach? No problem! Don the pineapple paisley shirt ($88.00) and play host, serving up salsa and chips with the help of the Margaritaville salsa bowl ($9.99) and plate set ($39.95). Too full to swim? Float away to paradise on the lost shaker of salt pool float ($24.99).
Summer Vacation – Make packing a breeze with the men's escape flip flop ($64.99), featuring a padded footbed and flexible outsole to ensure the ultimate comfort during a Margaritaville getaway. Feeling the heat? Travelers on-the-go will love the palm leaf print sunglasses ($29.99) featuring a smoke-blue mirrored lens and polarized finish for all-day protection.
Carnaby Street Eat, the free-entry street food festival, returns for its fifth and biggest year this summer on Saturday 11 August 2018 from 12-6pm.

Experience Carnaby's vibrant restaurants, bars and coolest cafés for a Carnaby alfresco summer party. Taste affordable signature plates and cocktails for one day only, at food stalls and trucks serving exclusive £5 taster dishes, transforming Carnaby into an exciting dining experience in the heart of London's West End. With over 30 global cuisines on offer and the chance to relax and listen to live music, there's something for everyone and the perfect day out with friends and family.
Whether it's a quick overnight trip, a holiday abroad, or a simple staycation, Tractor Ted, everyone's favourite farming superhero has something to keep children entertained this summer.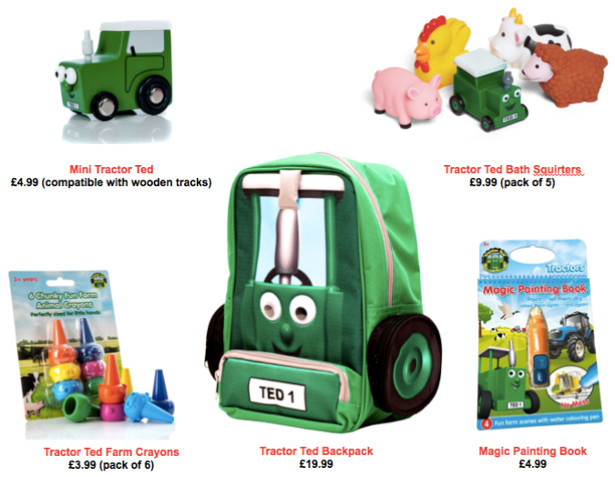 From a perfectly portable mini Tractor Ted (compatible with wooden tracks), cute character bath squirters, through to chunky crayons which won't roll away and a handy magic painting book (just add water to the pen included) – they'll be happily playing for hours.
Pop them in their own Tractor Ted Backpack and you're good to go for any little adventures!
www.tractorted.com
WHERE THERE'S A WILL,
THERE'S A WAISTCOAT
David Lloyd Clubs PTs to swap workout gear for waistcoats in honour of Gareth Southgate's inspirational attire
Uniform change designed to encourage guests to channel Hurculean efforts of the Three Lions in Russia while doing their own exercise sessions back in the UK
World Cup fever has well and truly gripped the nation as England prepare for their first semi-final in the competition since 1990 later today. And aside from the way the Three Lions have shone on the pitch, nothing has characterised their surprise run to the semis more than manager Gareth Southgate's suave sartorial style
So to celebrate the inspiring effect of the England gaffer's Savile-Rowe look, David Lloyd Clubs is encouraging its own PTs to swap their workout gear for waistcoats this week, as the match-up with Croatia looms.
The outfit change has been carried out with a view to inspiring regular gym-goers to channel the unprecedented efforts of Kane, Pickford, Maguire and co. to bring football home, and put that much more into their own exercise sessions in the run up to Wednesday night's eagerly anticipated contest.
The uniform change has initially been trialled to great success at David Lloyd Acton Park, with a view to it being rolled to other David Lloyd Clubs across the UK later in the week if England proceed to the final.
A David Lloyd Clubs spokesperson said: "We were keen to join in with all the fun and excitement around the Three Lions impressive run to the semi-final, and what better way of doing this than encouraging our PTs to harness the motivational effect of Southgate's impeccable dress sense when holding their own sessions this week.
"The buzz that has surrounded England's World Cup campaign has been quite unlike anything we've seen in years, and should hopefully provide great inspiration for people to get active and stay healthy themselves in the days, weeks and even months to come."
Control invisible hazards in the home and sleep better with Awair
Get air aware with the 2nd Edition indoor toxin tracker, available now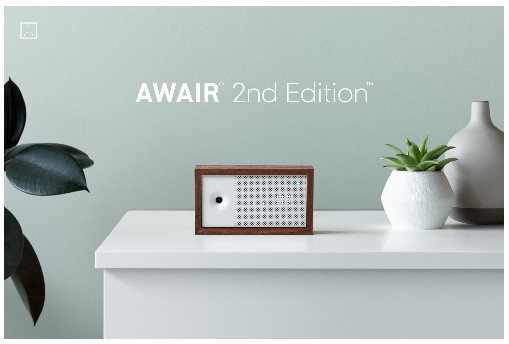 11th July 2018, LONDON – Awair, the creators of the world's top selling indoor air pollution monitor today launches Awair 2nd Edition. An elegant and accurate solution for tracking toxins within homes, schools, hospitals and hotels, the 2nd Edition is designed to help individuals understand how their health is impacted by the air. Ideal for asthmatics, allergy suffers, families, the elderly, insomniacs, and even those with acne, Awair works by offering a series of real-time alerts and personalised tips.
Originally launched in the UK in 2017, Awair's award winning toxin tracker has been updated to address initiatives (e.g. combatting dangerous air) raised by clean air champions such as Sadiq Khan, Birmingham City Council and Manchester City Council. As a result, the new Awair 2nd Edition now detects fine dust (PM2.5) which is extremely dangerous to the body. Invisible to the human eye, when breathed in, fine dust is absorbed into the bloodstream causing major health issues such as respiratory inflammation, heart disease, cancer and birth defects. Commonplace outside thanks to the burning of fossil fuels and forest fires, PM2.5 is evident inside the home too and is generated by everyday activities such as smoking, cooking (frying), burning candles and lighting open fires.
With indoor air up to five times more polluted than outdoor air, thanks to variables such as poor ventilation, carpets, paint, furniture, pets or even using the wrong cleaning products, the beautiful Awair 2nd Edition monitors five key air pollutants that impact our health – fine dust, chemicals (VOC), CO2, humidity and temperature. With each of these factors affecting our general wellbeing, productivity and sleep, the new Awair works by providing real time notifications that are easily read at a glance on the device's LED display and generating a series of personalised and improved tips that are sent directly to a smart device. Together, these ensure that homeowners have a deeper understanding of the air around them and can make the necessary changes needed to breathe safe air.
Crafted from North American walnut, the unique 2nd Edition Awair now also includes a Sleep Report feature that helps individuals optimise bedrooms for a better night's snooze. With one in five Brits sleeping poorly, Awair's toxin trackers have helped individuals sleep 50% better by allowing them to make small changes to their air quality. Other personalised settings include Productivity, Baby and Allergies which ensure that the recommendations and real-time notifications provided are even more tailored to a family's needs.
Borrowing many of the aesthetics from the original Awair, the 2nd Edition is ideal for any stylish or smart home. Compatible with Alexa, Google Assistant, Nest, IFTTT and more, the sleek Awair 2nd Edition connects to the user-friendly Awair app (on any Android or iOS smart device) to ensure users can dive deeper into trends over time. Retailing at £169 ($199) the Awair 2nd Edition is available now from getawair.co.uk.
A Little 'Savoir-faire' from Bonne Maman
Start your day the French way with the new 'Breakfast Savoir-faire' cookery book from Bonne Maman. Detailing a little French breakfast 'knowhow', the brand has branched out from the traditional and taken breakfast and brunch favourites beyond buttery croissants and warm brioche.
With over 30 brand new recipes, Bonne Maman's refreshing look at the most important meal of the day includes a selection of mouth-watering sweet and savoury meals using an array of Bonne Maman's famous conserves, delicious fruit compotes, tangy marmalades and indulgent sweet spreads.
Catering to every palate, the book takes readers on a breakfast journey from tasty on-the-go recipes, adventurous outdoor feasts and hearty weekend favourites through to relaxing breakfasts in bed, sumptuous stacks of pancakes and warming bowls of porridge. Recipes include apricot, orange & carrot shake, overnight oats, super green smoothie bowl, sweet & smoky pan eggs and breakfast lollies.
Complete with mouth-watering photographs sure to tempt any food lover, 'Bonne Maman Breakfast Savoir-faire' makes a perfect gift for any budding cook or passionate foodie. Available in paperback on Amazon , Waterstones and Foyles bookstores for £9.99.
For more information about the Bonne Maman range, recipes and inspiration on what to do with your beautiful empty Bonne Maman jars visit: www.bonnemaman.co.uk
BREAKFAST COMPOTE LOLLIES
(SERVES 6)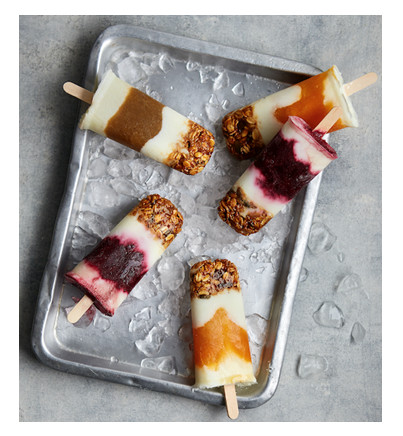 Ingredients:
60g toasted granola
2 tbsp Bonne Maman Salted Caramel
300g fat-free, thick- set natural yoghurt
200g Bonne Maman Cherry, Apricot or
Rhubarb Compote
Method:
1. In a small bowl, mix the granola with the caramel and stir well to combine.
2. Spoon the mixture into the bottom of 6 ice-lolly moulds and press down firmly with the handle of a wooden spoon.
3. Add alternative dollops of yoghurt and compote. Insert a lolly stick into each and freeze overnight until firm.
Cooks Tips:
For a dairy-free alternative, puree the compote with a little fresh orange juice and make compote-only lollies. If you don't have custom-made lolly moulds, then small freezer-proof containers will do the job. Just pop a lolly stick into the mix and freeze in the same way as with proper moulds. When you take them out of the freezer, run the outside of the container under hot water to release the lolly.
High-resolution images and full recipes for all mentioned above are available – please contact Pippa Evans at WixHill on 01483 203992 or e: pippa@wixhill.co.uk or Jenna McCooey e: jenna@wixhill.co.uk with any enquiries.
Notes for Editors:
– Recipe development by Moyra Fraser.
– Image copyright, Bonne Maman UK
– Recipe from : Bonne Maman – Breakfast Savoir Faire (Simon & Schuster),
– available through Amazon, Waterstones and Foyles @ £9.99.
About Bonne Maman: Bonne Maman is one of Britain's best-loved conserves, famous for its signature red gingham lids, use of simple, traditional methods and high quality, all natural ingredients. The full Bonne Maman UK range includes:-
• Conserves – New Rhubarb & Strawberry, Mirabelle Plum, Strawberry, Strawberry & Wild Strawberry, Wild Blueberry, Black Cherry, Fig, Apricot, Berries & Cherries, Raspberry, Peach, Damson Plum and Blackcurrant
• Marmalades – Bitter Orange, Sweet Orange and Tangy Mandarin
• Caramels – Hazelnut Praline Caramel and Salted Caramel
• Compotes – New to the breakfast aisle- Apricot, Cherry and Rhubarb
• Chilled Desserts – Strawberry Mousse, Chocolate Mousse, Salted Caramel Crème, Crème Caramel plus Tarte Tatin Aux Pommes, Crème Brûlee, Baba au Rhum, Vanilla Crème, Coffee Crème, Chocolate Fondant and New Dark Chocolate Crème with a touch of Sea Salt.
• New Yoghurts – Strawberry Yoghurt, Rhubarb Yoghurt and Rhubarb Yoghurt
Bibetta Bottle Insulator:
Bibetta Bottle insulators are perfect for keeping baby and drinking bottles insulated when you're out and about. Our stylish bottle insulators are made with thick neoprene for great insulation to help keep your drinks either cold or warm for longer.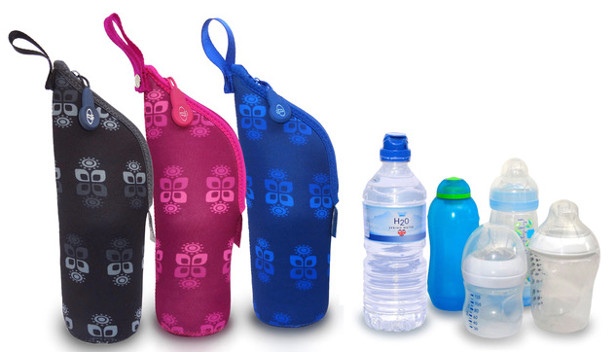 Products are made with neoprene, the same material used to make wet suits, making it soft and stretchy to fit around a range of bottles and sizes. The products are 100% waterproof, hand and machine washable, and quick to dry.
The bottle insulators are beautifully designed making them both fun and practical to use. All Bibetta products have passed UK safety requirements and are BPA free, PVC free, phthalate free and AZO dye free.
Pura Stainless:
Every year British households throw 22 millions tons of waste in the bin. Pura Stainless is one of the brands combatting the issue with their 100% plastic-free, Nontoxic Certified bottles that can be re-purposed as your child matures, offering both value for money and sustainability.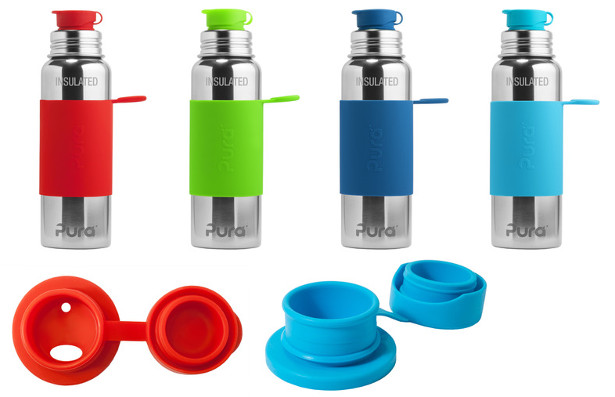 Feeding bottles, sippy cups and drinks containers can be the bane of a parent's life. Whether it's lost lids, broken spouts or bitten teats, expensive baby bottles or cups can end up relegated to the cupboard of battered equipment, only to spill out each time it is opened. The reason that families go through so many bottles so regularly is that they are designed for a particular stage and time in a child's life. They are often made from materials that can be easily cracked or damaged when dropped or transported, so accidents naturally happen.
Our unique lid system allows our bottles to evolve with the changing needs of your family. Re-purposed bottles can be used for years instead of months by simply replacing the silicone top.
Everything you see form Pura is unique because we design each and every product to be the best in it's category. The adult sport bottles have therefore been designed with adults in mind with a colourful yet practical design.
With Pura you can rest assured that you are always using the safest and most eco progressive bottle on the market.
It's coming home with BIC SHAVE CLUB
To celebrate the football event of the year, BIC SHAVE CLUB has launched a World Cup competition for football fans across the country.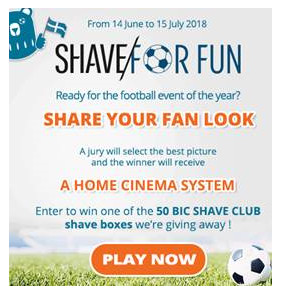 To enter, share your 'footy fan' look via the website here. A jury will select the best picture and the winner will receive a state-of-the-art home cinema system. BIC SHAVE CLUB is also giving away shave boxes for 50 runners up
Football fever leaving you short for time? Don't fear BIC SHAVE CLUB is a subscription service for non-disposable, refillable razors for men, delivered straight to your door.
Sign up today to benefit from an introductory offer of £3.00 for the first month, with free shipping.
Members of BIC SHAVE CLUB receive a free razor handle and fresh blades delivered on a monthly or bi-monthly basis to meet their shaving needs, the high performance razor and refill kit is available exclusively online at www.bicshaveclub.com
Beauty Experts Angelo David and Jacob Guttman Introduce
The Flex Brush
The Ultimate Detangling Brush for Wet and Dry Hair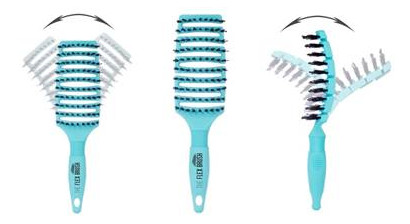 World-renowned celebrity hair stylist Angelo David, owner of the elite Angelo David Salon in New York City, and hair-tool veteran Jacob Guttman, founder and CEO of Creative Pro Hair Tools, introduce The Flex Brush—an all-purpose tool that detangles safely, massages the scalp and promotes hair health and growth. The brush's versatility combined with its flex technology make it the most forgiving hair brush on the market.
The Flex Brush, designed for both wet and dry hair, bends to follow the contours of your head, massaging your scalp and stimulating the production of natural oils. The brush has vents that allow heat to pass through it, so blow drying won't damage it. For ultimate detangling, pair it with Flex Detangle Spray, a revolutionary leave-in conditioner that increases flexibility to decrease damage during styling and detangling. Here is what sets The Flex Brush apart from other brushes on the market:
It is the most versatile brush on the market, so whether your hair is curly, fine, delicate or thick—or if you have extensions or a sensitive scalp—the Flex Brush is your go-to hair tool
The Flex Brush is made from all-natural rubber, and the coating has a soft-touch finish that's comfortable and easy to grip
The Flex Brush is vented and super lightweight, so it can be used while blow drying. Air can pass freely through the integrated vents, resulting in much faster drying times.
Thanks to its flexibility, the Flex Brush gives your scalp a soothing massage that increases the blood supply to your hair's follicles. Increased circulation helps increase the flow of oxygen and nutrients that is essential for growing strong, healthy hair
The Flex Brush is especially great for detangling children's hair. Unlike traditional brushes, it flexes to avoid snagging on tough knots, so there's no pain, plus you get damage-free detangling on all hair types, whether hair is wet or dry.
About the Flex Brush
The Flex Brush is the creation of two of the most innovative minds in beauty: Angelo David, owner of the elite Angelo David Salon in New York City, and Jacob Guttman, founder and CEO of Creative Pro Hair Tools. While on the beach in Aruba, Angelo was pained by watching people destroy their hair as they yanked rigid brushes through knots, tearing ends and destroying roots. He contacted Jacob and together they designed The Flex Brush—an all-purpose tool that detangles safely, massages the scalp and promotes hair health and growth. It is designed for both wet and dry hair.
The Flex Brush comes in three variations: The Flex Brush XL Nylon Bristle, The Flex Brush Petite Mixed Bristle and The Flex Brush XL Mixed Bristle. SRP is $20 for the smaller size and $26 for the larger brushes. The Flex Detangle Spray is available in two sizes: the 2 oz bottle for SRP $6.95 and the 8 oz bottle for SRP $17.95. For more information or to purchase the Flex Brush, visit https://theflexbrush.com/
Follow Flex Brush on social media:
Faceboook: theflexbrush https://www.facebook.com/theflexbrush
Instagram: theflexbrush https://www.instagram.com/theflexbrush/
Twitter:@theflexbrush https://twitter.com/theflexbrush
Follow Angelo David on social media:
Facebook: @AngeloDavidSalon https://www.facebook.com/angelodavidsalon
Instagram: @AngeloDavidHair https://www.instagram.com/angelodavidhair/?hl=en
Twitter: @AngeloDavidHair https://twitter.com/angelodavidhair
Take a splash into David Hockney's paintings with this stunning towel featuring his distinctive artwork.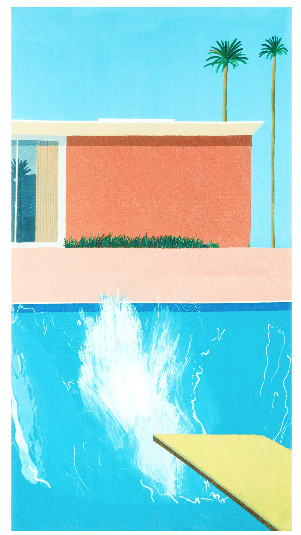 The perfect backdrop for showing off your sunbathing poses, or to make a 'bigger splash'.
Exclusive to Tate Shop, these bright and radiant colours will be shore to dry you off in style!
David Hockney 'Bigger Splash' Beach Towel – £45
Tate Shop – shop.tate.org.uk
Orvis Summer Pet Essentials
– Orvis Cooling Vest, £24. Dip this vest into cold water and ring dry to create a comforting cooling vest for your dog. Protect your dog from overheating when the temperature climbs.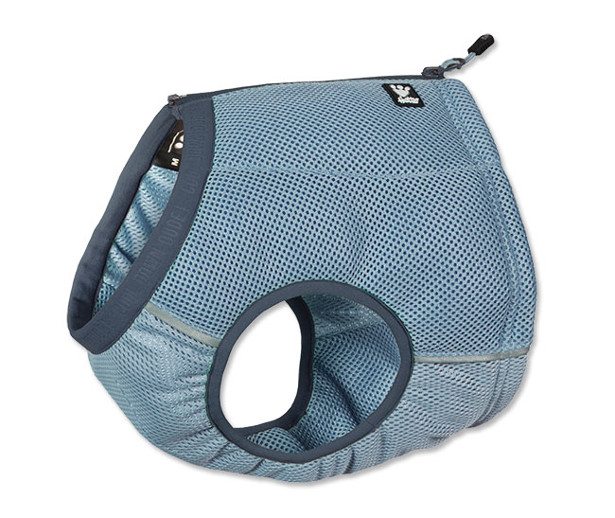 – Orvis Sunbrella Indoor/Outdoor bed, £99 – £139. Built to live indoors and out, this Sunbrella Platform Dog Bed is the most weather and sun resistant dog bed on the market. Available in 11 colours.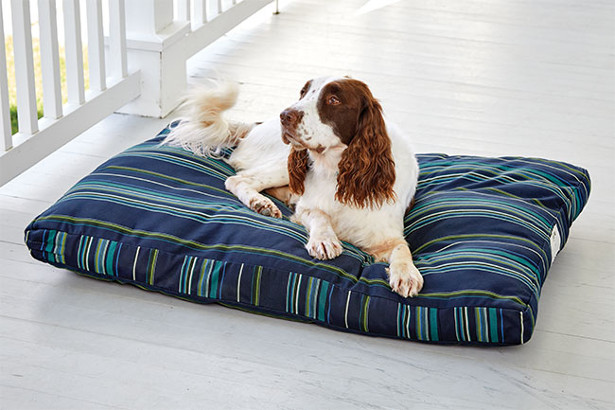 – Orvis Soggy Doggy Drying Towel, £20. Nip that wet dog smell at the doorstep. Dry your dog with the soft chenille drying towel that soaks up water like a giant sponge! This super-absorbent deep-pile drying towel fits over your hand like a mitt so you can easily dry away.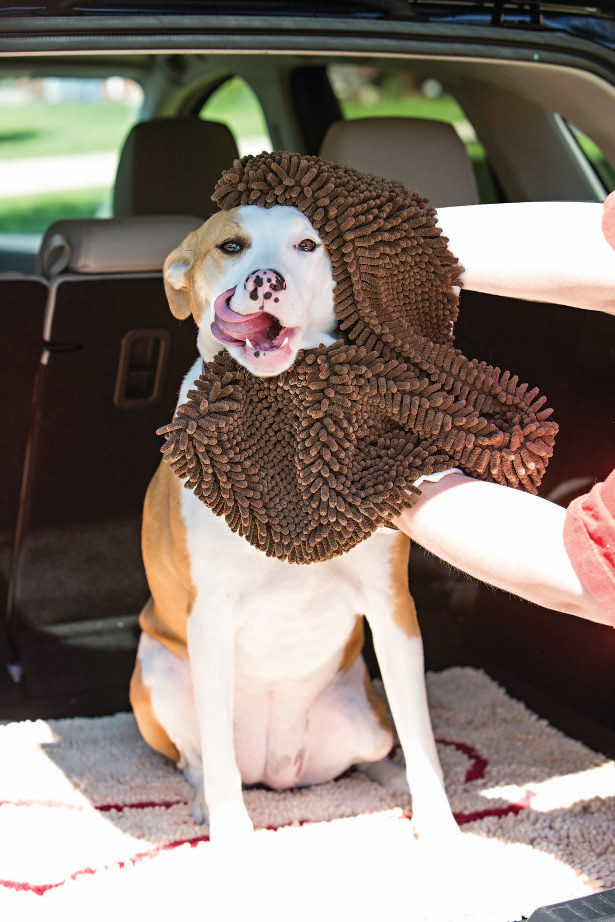 Shane Hayes & the Ketones Fitness & Health Approach
Shane Hayes works in the health and fitness world, helping others achieve optimum health and offer an alternative to the sugary , processed drinks so commonplace today.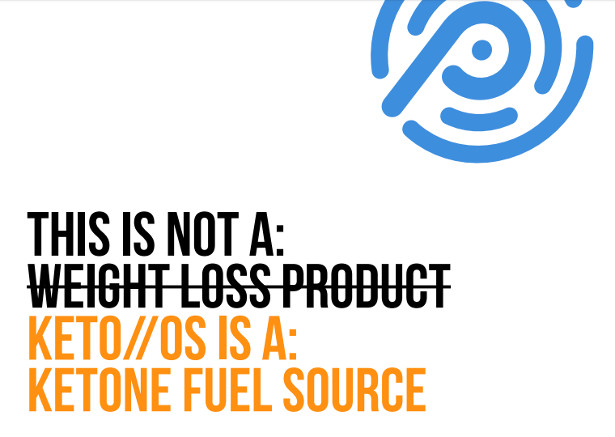 Shane offers products wholesale to customers, that enhance mood, energy, health , promote healthy insulin levels and fat loss. Ketones are a naturally occurring in body. They help the body enter a state of ketosis https://www.ruled.me/what-is-ketosis/ which facilitates fat burning mechanism within body. Used in conjunction with a nutritional ketogenic diet (see previous link). Not to be confused with a ketoacidosis diet or condition. Not only are they great tasting and refreshing they allow for a change in fuel source for energy needs that offset the spikes and troughs we all experience as sugar or glucose burners. Jet fuel vs regular petro as a visual. Used with caloric and energy deficit it helps achieve health or wellness, on a optimum scale. Over 6 different, great tasting flavors, mix with water, coffee, protein shakes, to make great smoothies, refreshing ice drinks, and more! Offered in USA,Canada, Taiwan, England, Australia, and soon Mexico Order inquiries: mailto:activeinvestment29@gmail.com or call 208-754-4530 * if you suffer from extreme medical conditions consult with your doctor before use. I would love to be featured in your social media sphere of influence.
Chefling, the ultimate solution for the smart kitchen, delivers quick, healthy, and tasty recipes to help you stay on track with your health and fitness goals.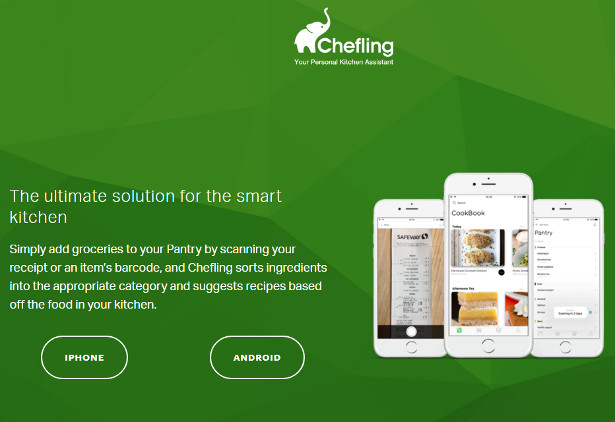 Simply scan your receipt or an item's barcode after grocery shopping and Chefling with provide you with recipes that incorporate the ingredients you already have.
www.chefling.net
Only have chicken, broccoli, and eggs in the kitchen? Chefling keeps track of the ingredients you have on-hand and suggests simple and relevant recipes for you to whip up a meal before your gym session.
Chefling delivers the following features and more in one engaging and easy-to-use-app:
Inventory Organization – easily add items to your pantry, monitor freshness and receive notifications when items are about to expire
Intuitive Recipe Suggestion – select recipes based on what is already in your pantry
· Shopping List Management – click to add items to your shopping list; once purchased, swipe on the item or scan your receipt to add items to your pantry
· Voice Assistant Integration – use voice assistant devices such as Amazon Echo and Google Home to add items to your shopping list or listen to step-by-step cooking instructions for a complete and easy hands-free experience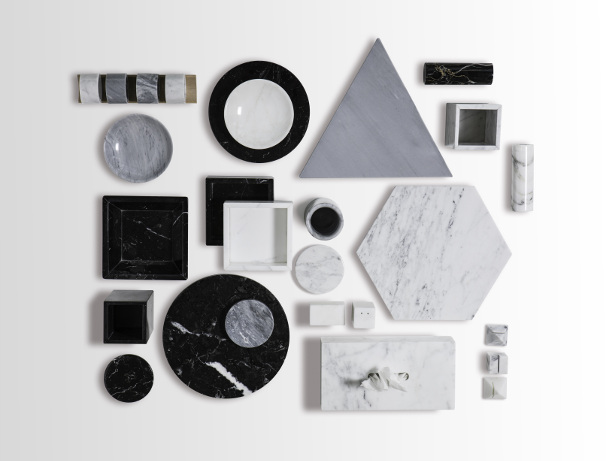 To model the solid soul of a stone into soft and cozy shapes
with a feminine sensitivity: this is the flair of Fiammetta Vanelli,
a woman entrepreneur, with a family history of almost two
centuries linked to the extraction of Carrara marble.
Her objects combine the thousand-year old Italian artisan tradition
with the most advanced technologies and each creation
is a unique piece.
With the brand FiammettaV, this way of thinking of marble is
reflected in sophisticated collections.
From step counting shoes, clothing that could reduce blood pressure, and hunger supressing foods– here's the future of fitness
Pure Gym has scoped out the most innovative new product concepts, patented by brands including Adidas, Nike, and Under Armour

Thought your Fitbit was cool? PureGym has researched some of the latest patented products set to make their way into the fitness world – and they're pretty impressive.
These ground-breaking new concepts cleverly combine both fitness and technology, in the hope to create a product with the power to change the way we work out.
Fitness products of the future could include underwater punchbags, an electricity generating shoe and muscle building supplements for OAPS.
See the full list of patents here.
Adidas: Self-charging smart shoes with a specially-designed sole that generates electricity to count your steps and track your distance.
Under Armour: Chemical-releasing clothing that releases therapeutically effective chemicals such as Magnesium, which is believed to be beneficial in regulating heart rhythm and reducing blood pressure.
Bioventures: Anti-aging muscle-boosting supplements that use amino acids to stimulate muscle protein.
Robert Magrino and Bernadette D'souza: An underwater punch bag that showcases the physical benefits of exercising in water.
Nike: Sports bra that is easier to put on and take off, adding an extra level of flexibility.
University of Copenhagen: Foods, additives and supplements that work within the body to temporarily remove the sensation of hunger
Stephen Rowe, Chief Marketing Officer at Pure Gym, said: "We're excited to see the fully-realised versions of these potential game-changing products, and discover just how they can help to further revolutionise the fitness industry.
"We look forward to seeing some of these products hopefully roll out throughout the next few years."
You can see the full list of products, alongside their filed patents, on the PureGym website here: https://www.puregym.com/future-of-fitness/
Animal rights group launch cute postcard campaign to help grey squirrels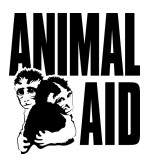 Animal Aid, one of the UK's largest animal rights organisations, has launched a postcard campaign to help save grey squirrels from being culled. The cards will be sent to local Wildlife Trusts who are part of the grey squirrel culling initiative, Red Squirrels United.
The postcards will be sent to Northumberland Wildlife Trust, Ulster Wildlife, the Wildlife Trust for Lancashire, Manchester & North Merseyside and Wildlife Trust of South & West Wales. Members of the public will send the pre-written postcards to the organisations asking them to withdraw their support of culling of grey squirrels.
The text on the postcards will encourage the Wildlife Trusts to explore alternative methods of helping red squirrels, instead of culling grey squirrels. The front features a cute embroidery design of two grey squirrels.
Animal Aid previously helped to deliver a 100,000+ signature petition to the Wildlife Trusts' head office in Newark. This called for an end to grey squirrel culling, and was started by dedicated campaigner Courtney Scattergood. In addition, more than 11,000 people complained to Red Squirrels United through their website.
Says Jade Emery, Animal Aid Wildlife Campaigner:
'Culling one kind of squirrel in order to try to boost the numbers of another kind of squirrel is outrageous and cruel. It is profoundly disappointing that the Wildlife Trusts are so outspoken against the badger cull but support the killing of other defenceless wildlife.
'We appeal to the Wildlife Trusts to stop this callous culling of grey squirrels, and instead invest this time and money into alternative, humane initiatives to boost numbers of red squirrels.
ICE ICE BABY
As the UK sizzles into another record breaking heatwave, Zangheim have all you need to keep your drinks, food and cocktails on ice to keep the heat at bay.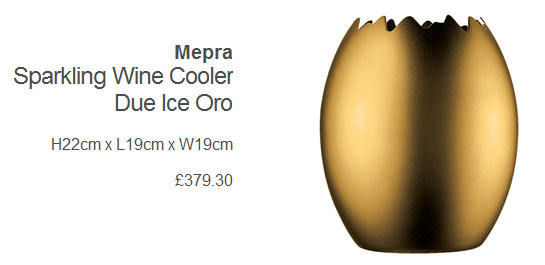 Les Georgettes by Altesse has won a coveted UK Jewellery Award.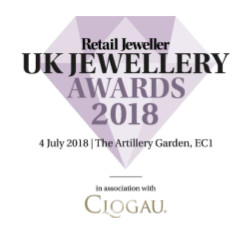 The results of the UK Jewellery Awards 2018 were revealed on 4th July at the Artillery Garden, London where the jewellery industry elite came together for a night of recognition and celebration of the sector's achievements.
Les Georgettes by Altesse has won in the Brand to Watch category and was praised by Retail Jeweller's expert judging panel for "providing a product that proved to be an instant hit with retailers, our panel all agreed that this brand has demonstrated significant potential and is most definitely one to watch."
With 19 targeted categories, the awards cover every aspect of the jewellery industry, from New Designer of the Year to Ethical Jewellery Business of the Year.
The UK Jewellery Awards are the most admired and relevant awards in the jewellery and retail industry. The awards provide industry recognition and unrivalled networking opportunities.
Ruth Faulkner, Editor, Retail Jeweller, said:
"This year's awards has been one of the most memorable to date.
"The new venue has been extremely popular, and we are blown away by guests' positive reaction to the event. It is a real achievement to be the custodian of the UK's premier industry award ceremony and the fact that it was so well supported is testament to just how highly it is regarded in the trade.
"Our rigorous judging process ensures that winning one of these awards means you are the very best at what you do so huge congratulations to all of our finalists and winners."
For more information on the Retail Jeweller Awards 2018 go to
https://awards.retail-jeweller.com/winners-2018
Rock around the Christmas Tree with BoomBocs
Sleigh the Christmas lists this year with the ultimate retro-inspired gift – BoomBocs, the wireless rechargeable speakers.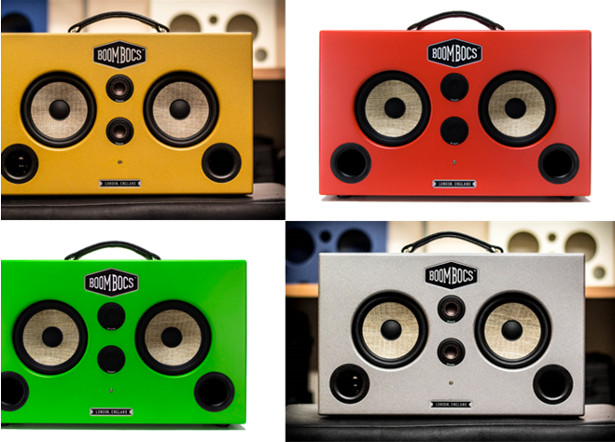 Already enjoyed by the likes of Rita Ora and Lady Gaga, BoomBocs comes in a myriad of colours to brighten up the darkest of winter nights. The range features 'Classic' colours as well as 'Deluxe' metallic for the most fashion-forward family.
Designed by sound-engineer-to-the-stars, Jonny Williams in Brixton, BoomBocs has true British heritage and each one is still handcrafted by highly skilled audio specialists.
Perfect for the 80's dad or the most style-conscious sister, BoomBocs is the ideal gift for someone looking for both style and substance with its superior audio quality. The family will be rockin' around the Christmas the tree all day long.
Available from £699 from www.boombocs.co.uk
Fibaro Wall Plug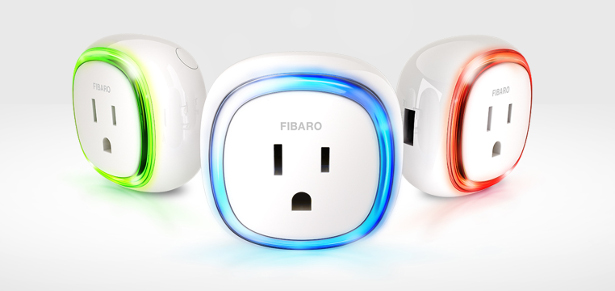 The Wall Plug by Fibaro is a Z-Wave compatible smart power adapter that gives any connected device that uses a standard power outlet the ability to be controlled through Z-Wave smart home hubs, including Fibaro's Home Center 2 and Home Center Lite. For easy, plug-and-play setup, users can simply insert the Wall Plug into any standard outlet and push a button to pair with the Z-Wave network. An LED ring on the front face of the Wall Plug indicates the strength of the Z-Wave network by changing colors. Available in two versions, the Wall Plug comes as a standard plug or standard plug with an additional USB port that provides independent energy readings of connected devices. Within the mobile app, users can manage connected devices and turn them on and off to save energy. For example, air conditioning units can be turned on and off remotely, and users can save money on their monthly energy bill by not leaving the air conditioners running all day long.
The Wall Plug has the ability to monitor power levels and energy consumption, with watt usage being indicated by specific colors via the Wall Plug's prominent LED ring. Users can set a maximum power limit for each of their connected devices, and Wall Plug can identify connected devices that are drawing the most energy. When Wall Plug senses that devices are drawing more energy than the set maximum amount, it can shut down power to those devices automatically. Wall Plug is available for $59.99 on Amazon.com.
Watermelon Mint Refresher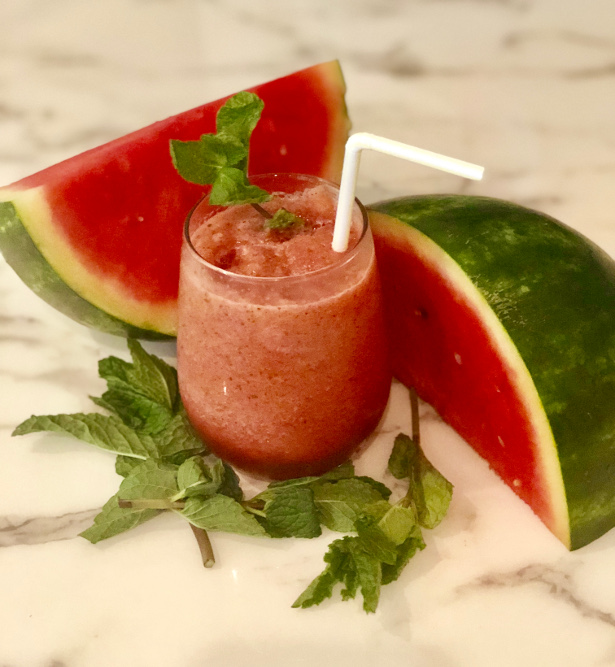 If you are looking for a refreshing snack that is quick, tasty and beneficial for your well-being, you found it. In fact, watermelon has many health benefits, including hydration, which helps keep your body cool and is packed with nutrients, vitamins and minerals.
The recipe is as simple as it gets. All you need is:
• Blender
• Watermelon
• Ice
• Fresh Mint Leaves
Throw everything into the blender until your desired consistency, and voila, you have the perfect snack on a hot summer day, especially after playing an intense game of rugby.
The amount and order of the ingredients does not matter because there is no right or wrong way to create this delicious snack. You may prefer a spoon to a straw, which means a larger amount of ice thrown in. You may not be a fan of mint so adding less leaves or even none at all would be your preference.
Whether you are five or fifty-five, the watermelon mint refresher is a win-win for everyone!
Ellie Hirsch is the co-founder of Parent U Up by Mommy Masters®, the only 24/7 parenting subscription service, delivering evidence based behavior modification tools through humor and philanthropy, around the globe. Explore and learn more at ParentUUp.com.
Instagram: @themommymaster (https://www.instagram.com/themommymaster/)
Twitter: @Mommymasters (https://twitter.com/Mommymasters)
Facebook: MommyMasters (https://www.facebook.com/MommyMasters/)
Facebook Group: Parent U Up by Mommy Masters (https://www.facebook.com/groups/143263112981950/)
Linked In: MommyMasters (https://www.linkedin.com/in/mommymasters/)
Crowd Cow, who is offering the must-have meat for summer BBQs.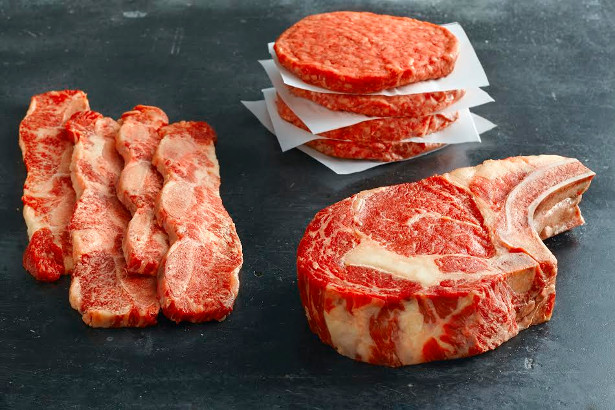 www.crowdcow.com
Crowd Cow began as a way to help people discover and enjoy the very best beef from small, independent ranches while making it a fun and easy experience. Crowd Cow has grown to offer a large variety of sustainably raised meats at fair prices through their "crowdfunding a cow" process. Experience the range of quality meat with their one-of-a-kind meat packages like the "Grill Master Share."
Detoxwater is the premier aloe vera-infused water brand sourced with the highest-grade aloe vera available as part of a pledge to bring consumers the healthiest, best-tasting product imaginable. With only 30 calories per bottle, Detoxwater delivers the clinically-proven benefits of pure aloe juice – an ingredient known to support immune function, healthy digestion, nutrient absorption, and improved skin elasticity. Detoxwater is available nationwide in six delicious flavors: Original (Lychee & White Grape), Mangaloe, Pinamint, Appleberry, Peachberry, and Cryptokiwi.
Grass Fed Coffee is the world's first ready-to-drink butter coffee. Created following an ancient Tibetan formula said to improve endurance, focus, motivation, and mood, Grass Fed Coffee can also be used as a meal replacement and a pre-workout beverage. Grass Fed Coffee is made with a mixture of organic, fair trade coffee extract, MCT oil, and sustainably-produced grass-fed butter high in vitamins, minerals, antioxidants, and healthy fats. Grass Fed Coffee is currently available on Amazon Prime, Bristol Farms, Lazy Acres, and more.
UPTIME is the first premium energy drink to enter the market. Unlike "extreme" energy supplements, UPTIME helps you feel and perform at your best by restoring your natural energy and delivers sustained mental clarity and focus without the crash. It's how energy should feel. Packaged in a stylishly sleek aluminum bottle, the crisp sparkling drink features a blend of citrus flavors made with premium non-GMO and gluten-free ingredients like Ginseng and Gingko Biloba. UPTIME is available in both Original and Sugar Free options and is available nationwide at 7/11 and other major convenience retailers.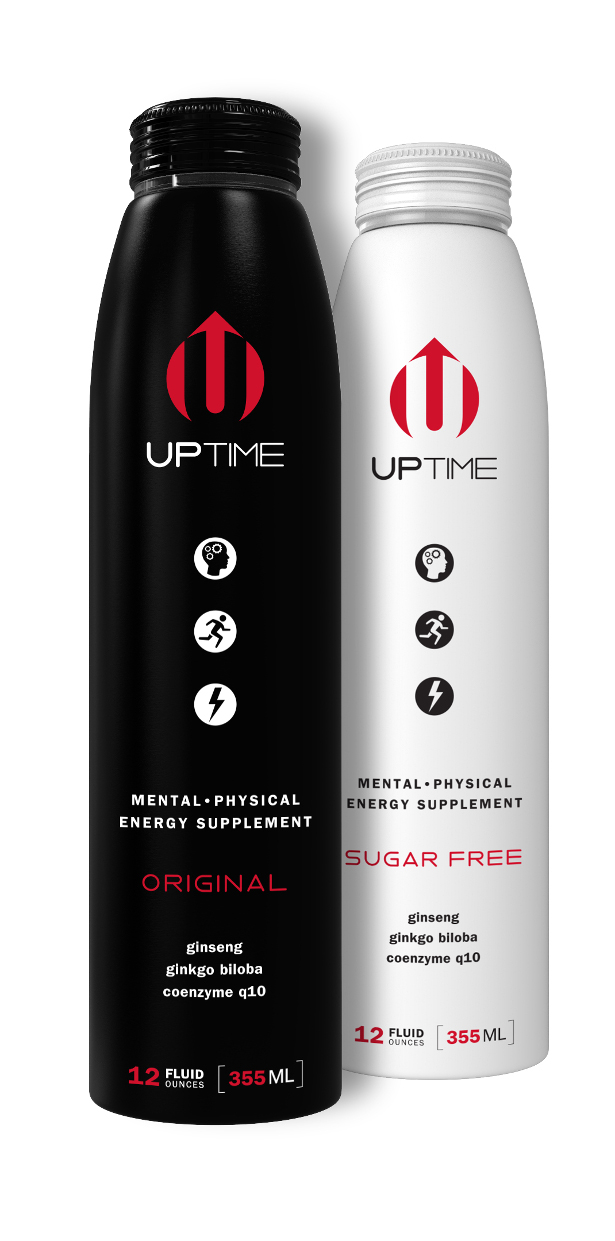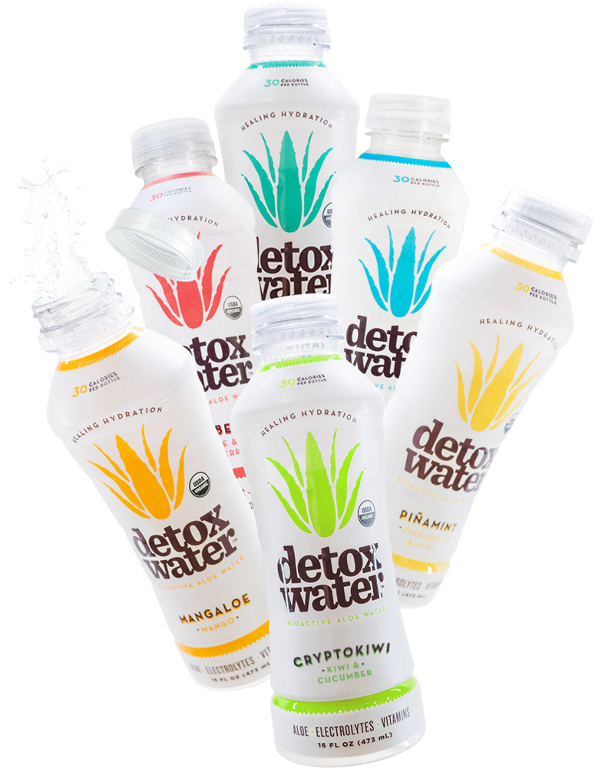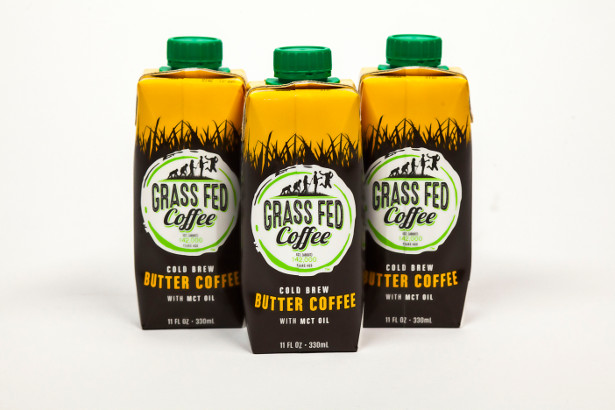 LEGENDARY MUSIC BRAND NOW THAT'S WHAT I CALL MUSIC! ANNOUNCE RELEASE OF HISTORIC NOW100
Release Date: 20 July 2018
Pre-Order Date: 06 July 2018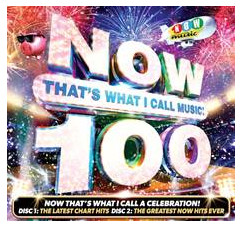 We are two weeks away from a landmark moment in the history of popular music, when the most trusted curators of pop music for over 35 years, NOW That's What I Call Music, release NOW100 on 20 July. Celebrating 100 albums featuring over 2000 artists and sales of over 120 million, this iconic moment in pop history will have fans across the nation celebrating nearly four decades of the world's biggest music brand mapping the soundtrack to their lives.
Having woven its way into the hearts of the British public back in 1983 – when there were 4 TV channels and no mobile phones – the treasured compilation albums have become part of the country's history and ingrained in its popular culture, with sales equivalent to every UK household owning 4 NOW albums. The musical institution has since found global success in over 60 countries including the USA, South Korea and New Zealand.
To acknowledge this monumental occasion, NOW That's What I Call Music! 100 will feature two discs; the first celebrating the biggest pop tunes of the moment including Calvin Harris & Dua Lipa, George Ezra and Clean Bandit and the second a NOWstalgia-filled special, remembering the best of the past 99 albums, with classic tracks from UB40, Phil Collins, Oasis, Spice Girls and Destiny's Child.
Also on disc 1, there is an extra special track from the winners of GMB's "Sing It To Win It", girl-band MU4 with "You Can't Hurry Love" by the Supremes, recorded at the legendary Abbey Road Recording Studios. Phil Collin's cover version of this classic is the opening track for the very first NOW album. NOW1 will be re-issued on CD, cassette and vinyl to celebrate this momentous occasion and reflect how NOW has evolved over 35 years. And if that wasn't enough the NOW Music App will be the only place you can download and listen to all 100 NOW albums.
Over the years the NOW albums have mapped the supersonic careers of the biggest names in pop music, with Robbie Williams holding the record for most appearances, featuring a whopping thirty times with Take That chart-toppers such as Pray and It Only Takes A Minute, and solo hits Angels, Millennium and ROCK DJ. Bajan songstress Rihanna places second, with twenty-seven NOW appearances and Calvin Harris takes third place, featuring twenty-six times.
Whilst NOW has been the backdrop for the most iconic music moments for the past 35 years, its rise has been so stratospheric that it is now part of history, firmly woven into the UK's pop cultural fabric. Whether it's Cabbage Patch Dolls in 1983, Tamagotchis in 1996 or the final episode of Friends in 2004, the brand sparks NOWstalgia in everyone, as memories and music intertwine and transport people to the most memorable moments in their lives.
NOW 100 Track List
Cat no: CDNOW100
Barcode: 190758352626
CD 1 – Hits
01. Calvin Harris & Dua Lipa – One Kiss
02. George Ezra – Shotgun
03. Clean Bandit feat. Demi Lovato – Solo
04. Ariana Grande – no tears left to cry
05. Anne-Marie – 2002
06. Jess Glynne – I'll Be There
07. Years & Years – If You're Over Me
08. David Guetta & Sia – Flames
09. Post Malone – Better Now
10. Jonas Blue feat. Jack & Jack – Rise
11. Liam Payne & J. Balvin – Familiar
12. Banx & Ranx & Ella Eyre feat. Yxng Bane – Answerphone
13. M.O, Lotto Boyzz & Mr Eazi – Bad Vibe
14. Tiësto & Dzeko feat. Preme & Post Malone – Jackie Chan
15. M-22 feat. Medina – First Time
16. 5 Seconds of Summer – Youngblood
17. Bebe Rexha feat. Florida Georgia Line – Meant To Be
18. Zedd, Maren Morris & Grey – The Middle
19. Khalid & Normani – Love Lies
20. Jax Jones & Mabel feat. Rich The Kid – Ring Ring
21. Cheat Codes x Little Mix – Only You
22. Shawn Mendes – In My Blood
Bonus track:
23. MU4 – You Can't Hurry Love (GMB competition winners)
CD2 – Classics
01. UB40 – Red Red Wine
02. Phil Collins – Against All Odds (Take A Look At Me Now)
03. Bon Jovi – Livin' On A Prayer
04. Wet Wet Wet – Love Is All Around
05. Spice Girls – Wannabe
06. Oasis – Wonderwall
07. Robbie Williams – Angels
08. Cher – Believe
09. Britney Spears – …Baby One More Time
10. S Club 7 – Reach
11. Destiny's Child – Survivor
12. Kylie Minogue – Can't Get You Out Of My Head
13. Justin Timberlake – Cry Me A River
14. James Blunt – You're Beautiful
15. Shakira feat. Wyclef Jean – Hips Don't Lie
16. Take That – Rule The World
17. Coldplay – Viva La Vida
18. Katy Perry – I Kissed A Girl
19. Ed Sheeran – Sing
20. Mark Ronson feat. Bruno Mars – Uptown Funk
21. Justin Bieber – Love Yourself
25 NOW Facts to whet your appetite:
The first ever NOW compilation sold 1.1 million copies in 1983 and featured 28 artists; Kajagoogoo, UB40 and Culture Club had two songs each, while Peabo Bryson and Roberta Flack doubled up for the duet 'Tonight, I Celebrate My Love'.
2. NOW That's What I Call Music! compilations have been the most popular CDs every year since 2010 – except for 2015, when Adele beat it.
98 (out of 99) the number of albums to reach No 1 in the Official Charts
Over half of the UK population, have bought (or been given) a NOW numbered compilation album in the past.
The first Now album to be released as download was NOW 62 in 2005
Cassette tapes ceased in 2006 with the final cassette being NOW 64
The most successful volume to date is 1999's Now 44, which sold 2.3 million copies and is the biggest selling compilation album ever
Girls Aloud have clocked up the highest number of consecutive appearances – 13 albums – with a track in every album from NOW 54 to NOW 66
In 2017 NOW sold more product than the top selling DVDs and console games such as FIFA and Assassin's Creed.
U2 had the longest gap between first on 1984's Now 4 and last appearance on Now 99 in 2018
11. It would take over 250 hours to listen to 1-100 Now albums
12. NOW! compilations have spent 654 weeks at number 1 (up to fourth week of NOW 99)
13. MiniDiscs started with NOW 43 in 1999 and ended with NOW 48 in 2001
14. NOW 4 was the first volume on CD. It featured fifteen songs, compared to thirty-two on the LPs and cassette.
15. NOW 4 is the only volume that didn't get to Number 1. It spent two weeks at Number 2.
16. NOW 9 was the last volume to be available as a single CD. Since NOW 10 it has been two discs every time.
So far the series has featured 602 number 1 hits
Bestselling NOW Album is NOW THAT'S WHAT I CALL CHRISTMAS (4.3m)
19. Madonna had never allowed any of her tracks to appear on a NOW – until her song Into The Groove features on the series' 30th anniversary edition.
20. Oasis's Songbird was the shortest song to make the NOW! grade, at 2.04 minutes
21. The longest track on any NOW album is Don McLean's American Pie at 8.34 minutes
22. U2 had the longest gap between first on 1984's Now 4 and last appearance on Now 99 in 2018
23. Willow Smith on NOW 78 with Whip My Hair was the youngest to have appeared on a Now album at just nine years old
24. Since Run DMC vs. Jason Nevins on NOW 39 there have been thirty 'versus' couplings.
25. Hollywood actors who have appeared on NOW include; Will Smith (Now 26 with D J Jazzy Jeff & The Fresh Prince – Boom Shake The Room ), Ewan McGregor (NOW 38 with PF Project feat Ewan McGregor – Choose Life ), Kate Winslet (NOW 50) and Nicole Kidman (NOW 51 with Robbie Williams – Something Stupid) and Brittany Murphy (NOW 64 with Paul Oakenfold – Faster Kill Pussycat)
With the hottest days of the year continuing through the weekend, everyone will be sure to have a water bottle at hand.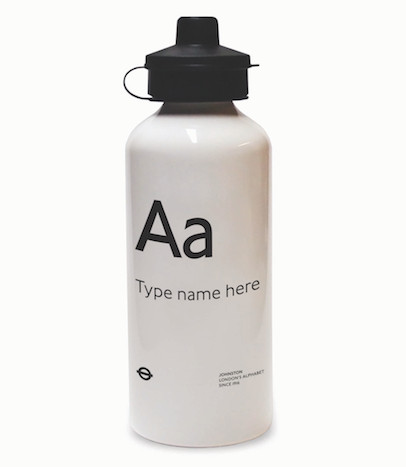 Make sure you don't lose yours in the crowd with the stunning bespoke, personalised Water Bottle from the London Transport Museum shop.
Personalised Johnston Alphabet Water Bottle
£14.99
London Transport Museum
www.ltmuseumshop.co.uk
INTRODUCING DAN BLASKEY
COMEDIAN, ACTOR & VOICE OVER ARTIST…
HAS HIS TV DEBUT ON CHANNEL 4'S 'LOOKALIKES'
A unique comedy tribute brought to you by actor, comedian and voice-over artist Dan Blaskey.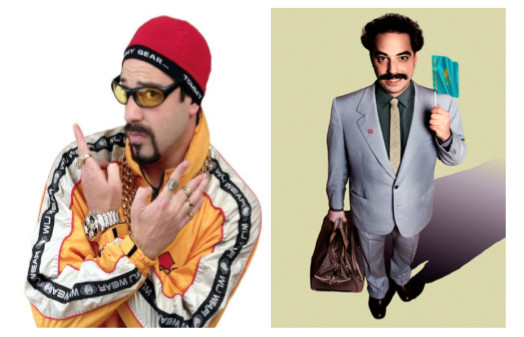 Dan Blaskey recently made his TV debut on Channel 4's show 'Lookalikes', which is currently on air at 10.30pm every Wednesday. Dan (aka Dani B) appears as Ali G in the show and it seems the audience just can't tell the difference – he looks, acts and is practically the legend himself (but officially not).
Lookalikes is now in its second series following a huge success from the first series. The show is a structured, fly-on-the-wall, reality comedy, following antics at Britain's premier lookalikes agency.
Dan was approached to appear on Lookalikes following his unique comedy show going viral on social media, with over 8 million views and counting. The clip shows Dani B performing at an Indian wedding, which got picked-up by well-known media platform, LadBible.
Blaskey's act includes a hilarious, interactive, live comedy performance, tailored for each event, which combines uncanny impersonation, original stand-up comedy, and sharp improvisation. His comedy is planned and prepared for all events to maximise on client's needs and has delivered outstanding performances for all types of audiences.
The live act typically opens with a 20-minute stage show which consists of a big entrance, a section of stand-up comedy and an Ali G style interview with the event VIP. After the show, the character steps into the role of compare, introducing acts and speeches or presenting awards with humour, as well as improvising with the guests and photo opportunities.
As a result of the hugely popular act, Blaskey was also asked to perform at various events including international bookings such as the Hong Kong Rugby Sevens in April this year, where he performed as Kazakh Dan (Borat tribute). For this event, Blaskey created filmed content to promote the event and presented a series of live performances at the stadium, which proved a huge success.
Dani B also produces Ali G (or Borat) style video episodes, designed to mimic the original TV programme. The episode, typically between 5-10 minutes in duration, is shot over a half day on location, then edited to either be shown at an event or to promote a brand or business. Please check out some videos here: www.youtube.com/watch?v=Q5OQkxN2YaU and www.youtube.com/watch?v=fhSjFRtmARw
Previously, Dan completed his drama degree at John Moores' University in Liverpool and then went on to complete a Masters in Classical Acting at the Royal Central School of Speech and Drama in London.
Dan has performed in several plays at the Edinburgh Fringe Festival including; 'Corpus' and 'Minibreak' by award-winning writer, Ben Ockrent, and starred in several theatre productions including L'Hotel at the Sherman Theatre, Cardiff, with theatre company 'Jarbones'.
Dan has also won 'Best Overall Celebrity Recreation' at USA's Sunburst Convention for Celebrity Impersonators in Orlando, Florida.
Dan has been performing the tribute acts for around 17 years at corporate events, award ceremonies and gala dinners, as well as private functions like weddings and birthdays.
For the past four years, Dan has also been working as a voice over artist on a range of projects including TV commercials, audio books, cartoons and video games. For more information on this, please go to: www.damngoodvoices.com/dan-blaskey.
To check out Dani B's viral video, please go to: https://www.facebook.com/LADbible/videos/ali-gimpersonator-steals-show/3324192420961258/
For any media enquires and/or any bookings for Dani B, please contact Jenny Vanderwerf on jenny.vanderwerf@jvpublicity.com or call 07721 015182.
Please follow Dan B on: Facebook: @AliGtribute Twitter: @AliGtribute Instagram: aligtribute
Freda and Wolf is introducing an alternative approach to hair growth and healthier hair!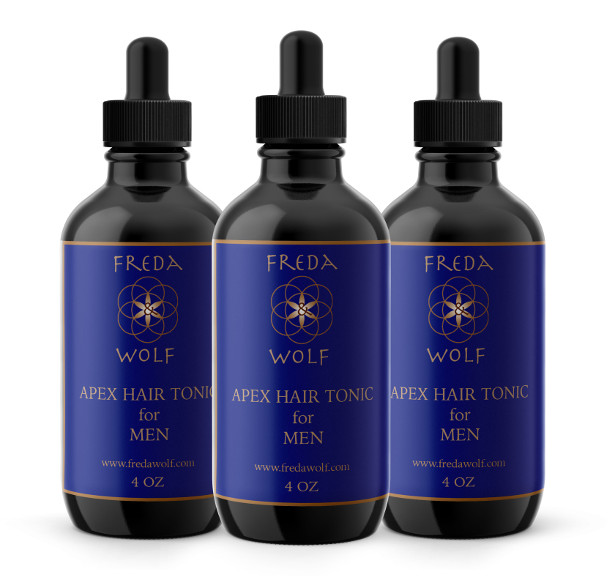 Have you had a hard time growing hair? Have you experienced hair loss or thinning of hair? Do you want to experience thick, healthy, and luscious hair? Then it's time to meet Apex Hair Tonic for men, an organic supplement containing a selection of 11 Chinese and Western herbs.
HAIR BENEFITS:
Grow longer, thicker hair
Strengthen hair follicles
Promote new hair growth
Stop hair loss
Boost shine and lustre
Promote hair volume
Reduce grayness
DIRECTIONS:
Use four droppers of this tonic supplement each day.
This bottle will last 30 days.
Each day, you'll take four droppers (not drops!) of the hair growth tonic. We recommend mixing in the four droppers with 6 ounces of water (or smoothie, or juice) and drink it in the morning or evening. It may take a few weeks to see results. For new hair growth it usually takes 6-12 weeks. This is a health supplement with compounding effects, meaning, it needs to be taken daily over time to experience maximum benefits.
Don't wait to promote healthy thick hair growth, boost your libido and energy!
OTHER BENEFITS:
More energy
Stronger immune system
Accentuated mental focus
Mood balance
Accelerates muscle recovery
Maximizes testosterone function
Boosts libido
PLEASE NOTE:
Free shipping within the contiguous United States
Organic, gluten free, plant-based, NO animal testing, non-GMO
www.fredawolf.com or www.apexhairtonic.com
AnxioCalm by Terry Naturally can be used while on vacation or traveling.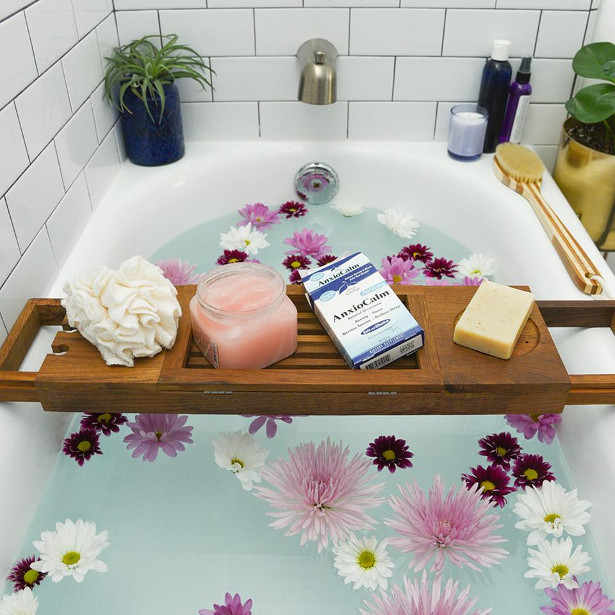 While vacation is a fun and relaxing time, it can be anxiety provoking and stressful for many. From getting the whole family ready to airport snafus and flying fears, skip the stress and make AnxioCalm by Terry Naturally a carry on must-have. Great for everyday or occasional use, this product is a fast-acting supplement clinically studied to quiet nerves and relieve occasional anxiety without drowsiness!*
AnxioCalm by Terry Naturally® is a natural, clinically studied and effective nutritional supplement to improve occasional anxiety or nervousness, everyday stresses or excessive worry. The supplement can be used every day or occasionally when you need extra support, without drowsiness or mental fogginess.
Thrive: Feel Stress Free is an app which uses evidenced-based techniques for the prevention, detection and treatment of common mental health conditions such as stress, anxiety and mild depression.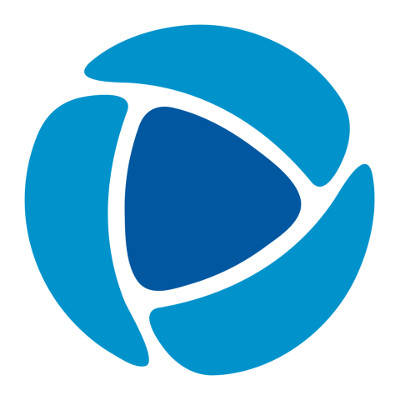 TWITTER | INSTAGRAM | FACEBOOK
Thrive: Feel Stress Free is an app which uses evidenced-based techniques for the prevention, detection and treatment of common mental health conditions such as stress, anxiety and mild depression. Research has shown that for those who screened positive for mild-moderate anxiety and/or depression, 96% of them 'recover' within 8 weeks of using Thrive: Feel Stress Free. It has also been shown to speed up depression recovery time, working the same as some anti-depressants without the side effects. There are three main aspects of Thrive: Feel Stress Free, including prevention, detection and treatment. The app also includes 24/7 support and is available when and where employees may need it.
The prevention: The app encourages support seeking behaviour and detects issues before they become too severe. Thrive is not for the 1 in 4 struggling with their mental wellbeing, it is for the 4 in 4 of us that need to care for our mental wellbeing and cope with life's daily stresses. The exercises within the app, mood tracking and systems all prevent mental health conditions occurring or becoming worse.
The detection: The detection aspect is done by using PHQ9/GAD7 quiz to analyse a user's mental wellbeing, from this daily screen the app can determine if a user is suffering with anxiety and or depression. Users will be then recommended a personalised plan within the app and directed to the right support within their company/sector to improve their mental wellbeing.
The treatment: The app consists of many forms of treatment. The four relaxation techniques are calm breathing, meditation, deep muscle relaxation and applied relaxation – meaning there should be something for everyone. Each of the techniques are evidence-based, clinically proven and used in real life therapy to help manage common mental health conditions such as stress, anxiety and mild depression.
Looking for travel gadgets for your summer holiday?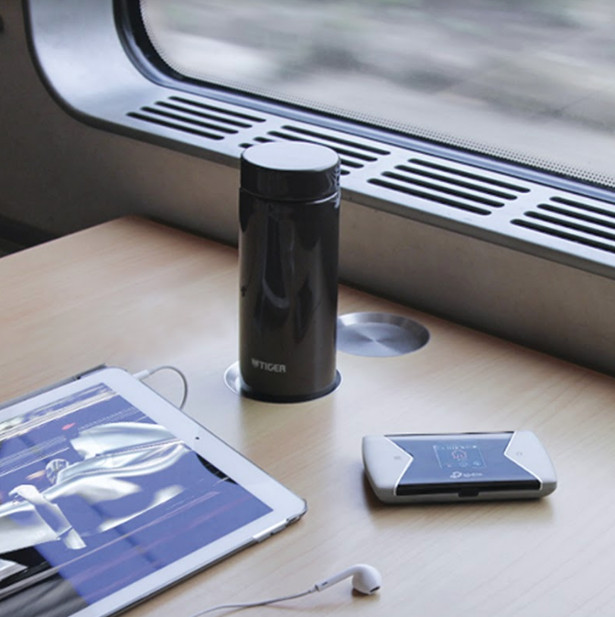 With the M7450 Mobile Wi-Fi, you can have a secure Wi-Fi network wherever you go. No more panicking over whether that dodgy internet cafe in Thailand is going to let in hackers to your personal devices.
This pocket-sized Mi-Fi easily shares a 4G/3G connection with up to 32 wireless devices like tablets, laptops, and mobile phones at the same time for up to 15 hours.
Enjoy Netflix, upload those travel snaps to social media whenever, get to your destination hassle free and more. The M7450 is the perfect travel companion for personal travel, business trips, outdoor activities, and everywhere else life takes you. RRP £159 on Amazon.
Secure your valuables on-the-move with the Master Lock Portable Safe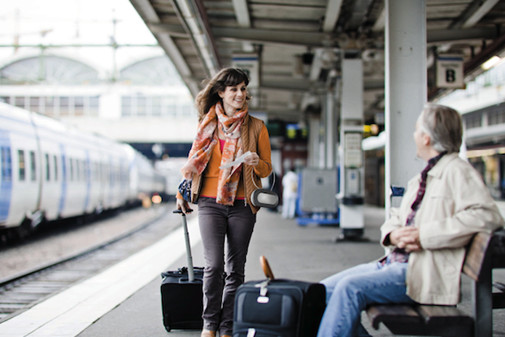 The lightweight and sleek Master Lock Portable Safe is the ultimate summer solution for keeping your valuables secure, wherever you are.
Whether you are spending the day by the pool or on the beach, the water resistant and shock absorbent safe features a concealed cable for securing it to fixed objects and doubles as a convenient carrying handle.
The reliable, secure and convenient clutch design is perfect for commuters, cyclists and pushchair parents, offering peace of mind by keeping possessions locked away when you are on-the-move.
At just 73g – half the weight of an iPhone 6S – the safe is also a super lightweight companion for backpackers travelling alone as it's easily attached to plane, train and coach seats during naps or trips to the toilet.
The safe is also set to be a music festival favourite, protecting your phone and wallet from the elements and providing a handy deterrent to would-be thieves.
Backed by Master Lock's unrivalled security heritage, smartphones, cameras, gaming devices, cash, cards, jewellery, keys, passports, sunglasses and more are easily hidden away behind a dependable dial combination.
Secure access to your favourite tech has also been taken into consideration, with a headphone / charging cable access port so you can still use the devices without having to open the safe.
The Master Lock Portable Safe is the affordable summer security essential from a name you can trust – and at just £29.99 it's great for gifting too.
Note to editors
The Master Lock 5900 Series Portable Safe is available in white or grey with a recommended price of £29.99 and available from leading retailers. Visit the Master Lock website or connect via Facebook, Twitter, Pinterest or YouTube.
About Master Lock
Recognised around the world as the authentic, enduring name in padlocks and security products; Master Lock keeps developing innovative and high quality products. Leader in security solutions for sports, home, school, work and travel solutions, Master Lock has recently launched a full range of storage security and safes solutions. Master Lock padlocks are covered under a limited lifetime warranty. Find out more information on www.masterlock.eu.
The SRS-XB41 Speaker features a new LIVE SOUND mode, recreating the feeling of listening to music at a live gig.
It also boasts a 'Party Booster' feature, allowing the speaker to be used like an instrument, with sound and lighting reactions. This, combined with the fact that it is waterproof, means the XB41 is the ideal party speaker, especially for those who enjoy their music bass heavy.
I've popped a little more info below on the product for your reference.
SRS-XB41 (RRP: £200)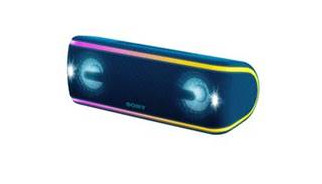 Extra Bass sound with LIVE SOUND mode
Sound effects with Party Booster
Speaker lights and flashing strobe
Waterproof and dustproof
24 hours of battery life

Carry samples sizes of your favourite health drinks wherever you go.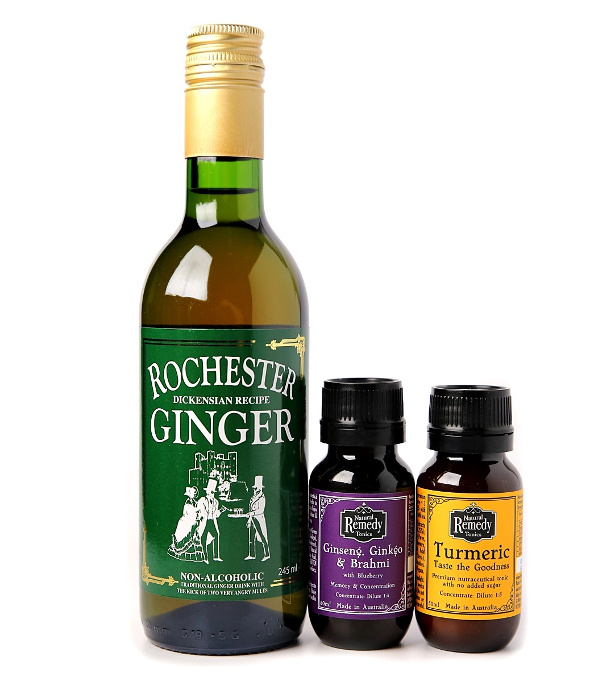 Rochester Ginger- traditional ginger drink ideal for keeping travel sickness at bay
Natural Remedy Tonics' Turmeric- an incredibly concentrated and natural inflammation & pain reliever
Natural Remedy Tonic's Ginseng- perfect pick me up for jet lag or the morning after
Sample packs available for $25
Full size versions, buy online or in stores Australia wide
www.remedytonics.com.au
@remedytonics
Top 10 things to do at DogFest 2018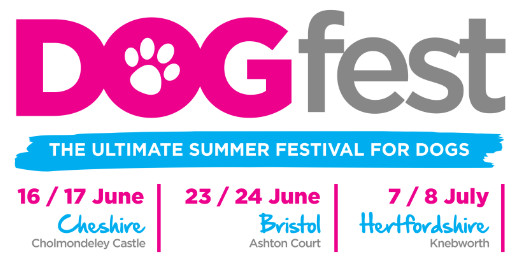 Meet celebrity dogs at the 'Hound Hangout'
From Aunko (@huskyanuko) to Monty (@montyminidachshund), you can give your Instagram some serious 'paw-points' when you and your pooch strike a pose with a stellar line-up of famous #DogsOfInstagram at the Hound Hangout.
Meet our celebrity animal lovers
Hear exclusive talks from the celebrity animal lovers in the VIP area. Chris Packham and Michaela Strachan (Springwatch) and Paul Manktelow (ITV's This Morning) will be among the stars and experts appearing, click here to see what's on and when.
The Fitzpatrick Roadshow: Meet the Team
An exclusive chance to meet some of Professor Noel Fitzpatrick's team from his world renowned veterinary practices and ask them questions about their life changing work.
ShadowQuest dog display team
Watch this troupe of super-smart dogs showcase their jaw-dropping skills – from abseiling down a 30ft tower to zip-wiring across the ring and jumping through hoops of fire! Just one act from a jam-packed schedule full of shows and demos.
School 4 Dogs, featuring Britain's Got Talent's Lucy Heath and Trip Hazard
Help your furry friend become teacher's pet with obedience classes from non-other than Britain's Got Talent finalist, Lucy Heath and her tiny canine companion, Trip Hazard.
Temptation Alley & Dog Diving
Just two of our awesome 'have-a-go' activities: Temptation Alley is your dog's chance to get from the start back to their owners while NOT getting distracted by the tantalising treats, while Dog Diving is just that: watery hilarity with a special swimming pool.
Dogs with Jobs
From sniffing out life-threatening diseases to performing 'search and rescue' after fires, come and hear all about how these amazing dogs that work for a living help to save lives every single day.
Puppy School
Thinking of getting a new addition to the family? Watch our live demonstrations with some very cute little furry models, to learn more about what it takes to own and train a puppy.
Great Dog Walk
Put your best paw forward in The Great Dog Walk, led by Supervet Noel Fitzpatrick with expert tips from the team at The Big Tick project. Great exercise whether you have two legs or four!
Music and shopping – festival favourites
From cool music on the main stage to hot street food for people and dogs, the festival vibe is everywhere. And the Shopping Village is a paradise for pampered pooches with glamorous perfume, £800 chesterfield beds, hi-tech activity trackers, and even special dog ice cream and 'beer'!
American Graffiti Tiles £360 per m2
Stone and Ceramic Warehouse and SACW Paving are pleased to be showcasing a selection of porcelain tiles, including brand new products, at the House & Garden Festival 2018 (Stands K1 & K2, 20 – 24 June 2018, Olympia, London). As regular exhibitors at the show, they will once again be inspiring visitors with the very best new designs.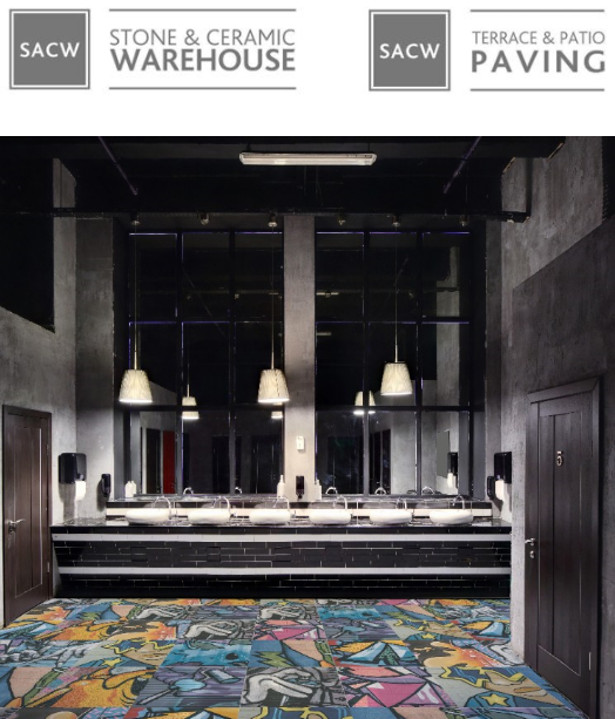 Left to right: Parisienne Gabriella Tiles from £78 per m2, Grigio del Colle Tiles from £144 per m2
The Stone and Ceramic Warehouse have been sourcing and importing outstanding floor and wall coverings for over fifty years. The latest additions to their ranges, which will be showcased at the House & Garden Festival (stand K1), continue their dedication to supplying their customers with the latest in cutting-edge design, alongside practical surfaces. From sophisticated patterned designs to impressive porcelain slab tiles, there is something for everyone in their collection.
Top left clockwise: Legna Versailles £96 per m2, Coliseum Arabescato from £144 per m2, Textura Chevron £72 per m2 & Coliseum Statuario Venato Slab Tiles from £144 per m2
One of the new additions to be showcased on the stand are the new Legna tiles. Available as planks and Versailles panels, these tiles have a realistic wood-effect texture. For those looking for a more contemporary feel, there are also the Coliseum tiles. These are available in marble, stone, concrete and metallic finishes. Other new launches include the new American Graffiti and Textura tiles, which will add colour, texture and pattern to any design.
Top left clockwise: Medici Nonni Cobbles £120 per m2, Boardwalk Nut £144 per m2 & Stucco Grigio from £90 per m2
In addition to these fabulous tiles, the team will also be demonstrating their impressive collection of external 2cm porcelain pavers at the SACW Paving stand (K2). Porcelain pavers provide huge advantages over other materials and are now available in many realistic imitation finishes such as wood and stone. In addition, they are virtually maintenance free and resistant to stains, scratches, frost and chemicals, resulting in an outside space which will keep looking good for years to come.
Top clockwise: Boardwalk Nut £144 per m2, Parisienne Butterfly Tiles from £78 per m2 & Stucco Greige from £90 per m2
Whether your home is modern or traditional, large or small, look no further than the Stone and Ceramic Warehouse for the perfect surfaces, both inside and out. Visit their expert team on stand K1 and K2 at the HOUSE fair 2018, Olympia, London on the 20 – 24 June 2018.
Flamingo Black and White Stripes Sarong
British Made Gifts
www.britishmade.gifts
Description: Our stylish bikini cover ups will invite glamour into your holiday suitcase, made from a luxuriously soft silky chiffon fabric, our sarongs drape in the most flattering way.
Wear our sarongs through the day to cover up and protect your skin, or in the evening to add that extra layer in the breeze.
Perfect for the beach or pool, wear your sarong in a variety of ways.
An ideal gift for someone who regularly visits the beach, or loves to sunbathe in the garden. Or an alternative idea for group holidays or hen weekends.
Other features include;
• Size approx: 150cm x 100cm
• Machine washable
• Air dry only
• Printed in vibrant digital colour
• Professionally hemmed edge
View product on company website:https://britishmade.gifts/product/flamingo-bw-stripes-sarong/
Price: £15.99
Decadent Decaf is the world's first decaf coffee brand that only ever does decaf.
With the largest range of decaffeinated coffees in the world, you'll find six flavours available all year round.
We only ever use the Swiss Water Decaf Process to create our decaffeinated coffee, which uses water to decaffeinate the beans. This method is chemical-free (most decaf is made using chemical solvents), environmentally friendly, leaves the coffee 99.9% caffeine-free and preserves the unique taste of each blend.
This has been officially recognised by judges at the Great Taste Awards, the world's largest and most trusted fully independent food and drink awards. They awarded three Great Taste Awards in 2017 to:
· Costa Rica Strictly Hard Bean Swiss Water Decaf Decaffeinated Coffee Beans – 1 Star
· Indonesia Sumatra Mandheling Swiss Water Decaf Decaffeinated Coffee Beans – 1 Star
· Signature Espresso Blend Swiss Water Decaf Decaffeinated Coffee Beans – 1 Star
The current selection of single origin Swiss Water Decaf process decaffeinated coffees are available in whole bean, cafetiere/filter grind, espresso/aeropress grind or, as raw green bean for home roasting.
Prices:
Colombia Medellin Swiss Water Decaf Decaffeinated Coffee Beans & Ground 227g – from £5.49
Costa Rica Strictly Hard Bean Swiss Water Decaf Decaffeinated Coffee Beans & Ground 227g – from £5.49
Signature Espresso Blend Swiss Water Decaf Decaffeinated Coffee Beans & Ground 227g – from £5.49
Ethiopia Sidamo Swiss Water Decaf Decaffeinated Coffee Beans & Ground 227g – from £5.99
Indonesia Sumatra Mandheling Swiss Water Decaf Decaffeinated Coffee Beans & Ground 227g – from £5.99
Kenya AA Swiss Water Decaf Decaffeinated Coffee Beans & Ground 227g – from £6.99
Stockists:
decadentdecaf.com
Ocado
Amazon

HomingPIN: The solution to lost property


The frustration of losing a suitcase, laptop, mobile phone or set of keys is enough to drive anyone up the wall. Not only is it costly to replace lost property, but losing a laptop or electronic device puts you at risk of losing precious photos, documents and information.
Up to 20 million bags are mislaid in airports every year, and in London alone, 50 000 mobile phones get left behind in taxis annually. South Africa is no different, with thousands of personal belongings making its way into Lost & Found containers nationwide every year. HomingPIN offers an innovative solution to this global problem with the HomingPIN tag.
HomingPIN offers baggage loops with tags, key rings and stickers that have a unique identification number on them. This number gets activated online prior to using the tag, and is linked to the owner's email address and cellphone number. If someone finds a cellphone, keys, baggage, or any other item that has a HomingPIN tag on it, they can easily notify the owner by visiting www.homingpin.com and entering the unique identification number, as well as their contact details. The owner is immediately notified via SMS and email, and is able to contact the founder to retrieve their belongings. Finders are not given the owner's contact details, however, so it is up to the owner to make contact first.
HomingPIN is integrated with the worldwide World Tracer system, which all baggage handlers have access to. For airlines, HomingPIN will instantly provide information on the bag's whereabouts when it is found. The airline will then contact the owner to arrange transfer of the goods. What's more, is that HomingPIN can provide reasonably-priced transportation of your found goods, from anywhere in the world.
HomingPIN tags, stickers and key rings allow you to tag a variety of items including, but not limited to, luggage, laptop computers, mobile phones, keys, wallets and passports. Easy-to-use and practical, they're a life-saver for the whole family. With this handy tool, lost goods have a much better chance of being returned to their owners, and owners have peace of mind too!
HomingPIN starter packs recommended retail price is R200 and the standard pack recommended retail price is R450. HomingPIN packs are available at select Cape Union Mart Stores and online at www.takealot.com
Find HomingPIN on social media:
Facebook: https://www.facebook.com/HomingPin-South-Africa
Feel free to use this across all of your channels:
Better safe than sorry – Importance of getting vaccinated

Before you set off on your holiday, keep in mind that there are many diseases in the world that we don't have to worry much about on British soil. For instance, malaria, typhoid and yellow fever – to name a few – are all prevalent in regions across Africa. Here's what MedicSpot GP, Dr Zubair Ahmed has to say on the issue:
'If you're travelling to risk areas where disease is widespread, you might need to get vaccinated before you travel.
'Diseases such as malaria are often transferred via Anopheles mosquitos which are commonplace in regions of Africa, South Asia and parts of Central and South America. Malaria is a serious and sometimes life-threatening disease. However, it can easily be prevented by taking a course of anti-malarial tablets such as Doxycycline, Chloroquine or Malarone.
'If you're unsure whether you need to get vaccinated or when you need to start your course, book an appointment with your local travel clinic at your earliest convenience. The nurse or pharmacist will be able to assess which vaccines or medications you need and advise you on how to protect yourself while abroad.
'In addition to making sure you have all of the necessary vaccines for your travel, your nurse or pharmacist will be able to advise you on optional medications such as altitude sickness tablets or diarrhoea antibiotics to make your journey more comfortable.'
About Dr Zubair Ahmed
Zubair read medicine at the University of Aberdeen and subsequently trained to be a GP and worked as a GP both in England and Scotland. He realised that primary healthcare provision could be made much more efficient and safer through the use of technology; which led to the launch of MedicSpot. He strongly believes that innovation has the potential to increase capacity in our health system whilst also improving the quality of care. Dr Ahmed is passionate about solving health challenges that we face through creativity and innovation. He holds an MBA from London Business School.
www.medicspot.co.uk
Brand new to the Little People, Big Dreams collection, the National Theatre Bookshop is proud to introduce
Jane Austen, Georgia O'Keeffe and Harriet Tubman to their shelves.
Introduce children to inspirational women who changed the world and celebrate the revolutionary journeys of wonderful women across the globe for our next generation of leaders.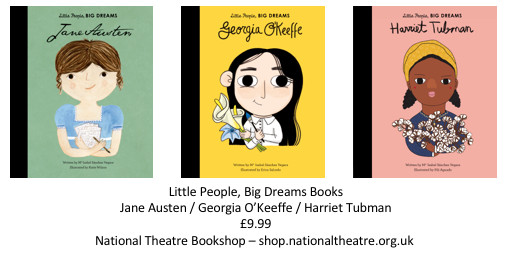 ——
National Theatre Bookshop – Little People, Big Dreams Collection
Bigger And Better!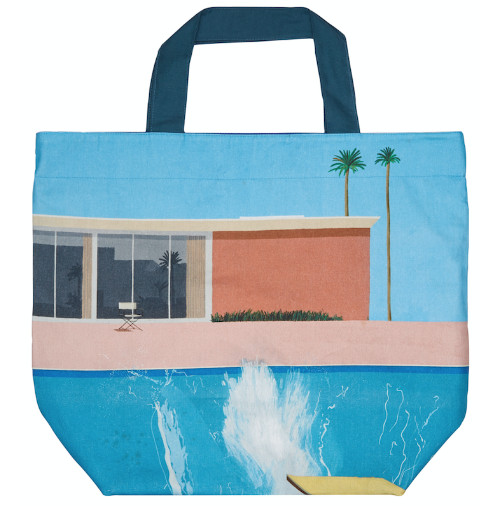 Make the biggest splash at the pool this year with the artistic beach bag featuring David Hockney's iconic painting, A Bigger Splash.
Roomy enough for all your beach essentials, and with a splash-proof lining to protect the outside print from your wet costume, its the perfect poolside accessory.
Hockney Bigger Splash Beach Bag, £40 from the Tate Shop
shop.tate.org.uk
Where to watch the World Cup in London…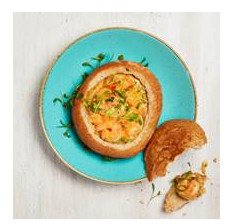 The World Cup is fast approaching and whilst we wait with baited breath to see how far England can go this year, we've got you covered as Las Iguanas Wembley and Royal Festival Hall are broadcasting the matches live. This is the perfect opportunity to tuck into a Peanut & Prawn Maracanã; prawns cooked in a peanut, chilli, coconut, lime & coriander sauce served in a sourdough bread bowl inspired by the famous Maracanã Stadium in Rio and a Brahma beer- close your eyes and you are almost there!
What's more, we encourage you to head to their website for the opportunity to WIN a trip to Rio for you and a friend! https://www.iguanas.co.uk/blog/rio
The Triple Decker is coming
Launching on Kickstarter Fall 2018.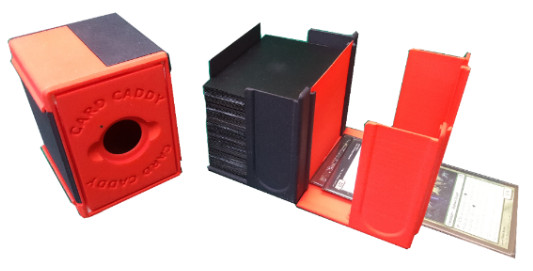 All of the features of our acclaimed Card Caddy product, the ONLY playing card case that turns into a discard tray, with a capacity of 100+ sleeved cards! The Triple Decker has been redesigned from the bottom up, with requests, suggestions and ideas from YOU, our customers! Want to see the preview? Click here for our sneak peek of the Triple Decker.
Built for gaming
Use mini-cards, tokens, chips, coins and dice? We've got you covered with our new accessories
Modular and multi-purpose
As with all of our products, the Triple Decker will accept cool extras like storage boxes and score pads
To celebrate, everything on our website is 66% off (1/3 of its price, get it?) through June 20th. Use the coupon code "triple" at checkout.
Fabulous Faux Wood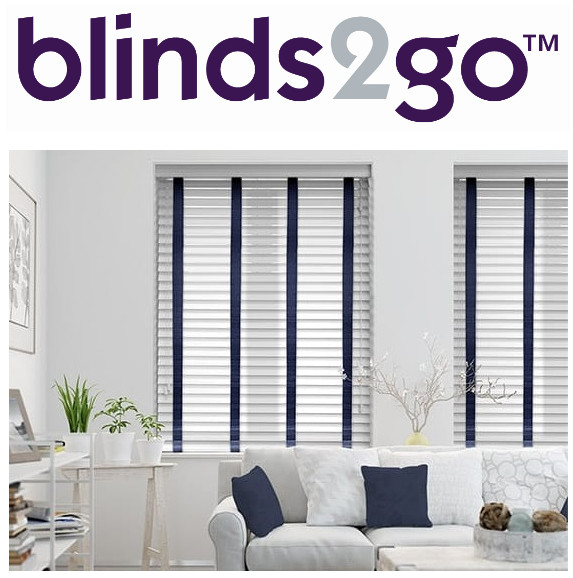 Blinds 2 Go, the UK's largest online window blinds retailer, has introduced a fantastic new collection of Faux Wood Impressions venetian blinds. In a range of new colours from Limestone and Driftwood to Rosewood and Sevillan Walnut, the Wood Impressions collection offers exceptional value as well as good looks!
These timber look blinds have the benefit of looking exactly like wood but without the drawbacks. They do not warp, twist, fade or crack and require minimum maintenance to keep them in tip top shape. They are the perfect choice for Kitchens and Bathrooms where humidity is an issue, but they are also a great option for living rooms, bedrooms and offices.
Available with or without tapes, in a range of over 50 colours including traditional wood effect and modern painted wood effect finishes, these blinds have to be seen to be believed!
And best of all is the price. They offer unbelievable value from just £9.93 for a made to measure blind, no wonder they are the best selling blinds in the UK!
For free slat samples and further information visit www.blinds-2go.co.uk tel 0800 862 0464.
Matchstick Monkey Teething Toy, £9.99
🏖 If you're hitting the beach with your tiny tot this summer, get creative with the award winning Matchstick Monkey and provide hours of fun!…
Available in a rainbow of bright colours, the original Matchstick Monkey Teething Toy is a must for your beach bag. As well as soothing your baby's teething gums, they'll love to play hide and seek with their little monkey friend… where will he end up next?
Matchstick Monkey 100% Organic Cotton Muslins with Teething Label, available in grey, blue or pink £19.95 (70cm x 70cm)
Or how about a game of peekaboo? All you need is a Matchstick Monkey 100% Organic Cotton Muslin (which also come with a handy teething label) to hide under. This can also double up as a light sun hat to shade them from the sun with some simple knotting.
A little larger than the muslins, but still crafted from 100% organic cotton, and complete with the same handy teething label – a Matchstick Monkey Muslin Swaddle provides the perfect picnic blanket for them & their toys, or a light mat for them to lie on.
It's all about the multi-purpose items this summer! ☀
Matchstick Monkey 100% Organic Cotton Muslin Swaddles with Teething Label (pack of 2), available in grey, blue or pink, £24.00 (120cm x 120cm)
www.matchstickmonkey.com