SERGIO PEREZ – 2017 PHOTO & BODYWORK
The photo is accompanied by a hand-carved piece of bodywork from Perez' VJM10 Sidepod and an official Sahara Force India plaque containing Sergio Perez' printed, digital signature.
www.mementoexclusives.com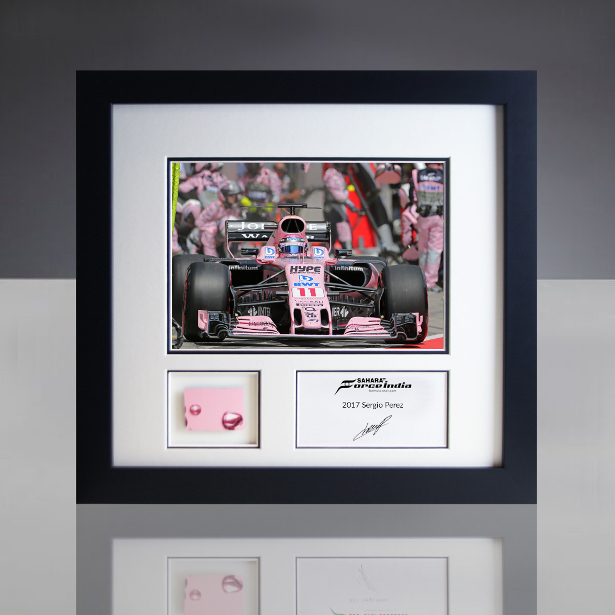 5 Interesting facts about Testicles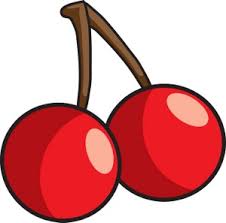 Medics at International Andrology – specialists in men's sexual and reproductive health International Andrology say,
"A man's testicles are an often much-misunderstood part of his anatomy. So much so that most men hardly know what they do other than the basic concept, that they create and store sperm.
"There is a great deal more to these complex organs than basic fertility, so to better understand this most masculine of organs, here are 5 facts you may not know about testicles."
1. Why are they outside? Strange isn't it, this most sensitive organ would seem to be crying out for protection. Indeed, in many animals in the animal kingdom, their testicles are located in the body. But in humans, the testicles exist outside the body to regulate and reduce their temperature. A vital element to keeping fertility viable. Lower temperatures equal higher and more active fertility rates.
2. Testosterone to revise ageing? Testicles produce and store sperm but they also produce an incredibly important hormone called Testosterone. This compound is responsible for the hormonal changes men experience during puberty including hair growth and vocal changes. It is also a chemical that can help men retain their youthful energy in later life and many doctors believe is part of men staying healthier. Testosterone injections for men can help fight a number of aging symptoms, improve skin health, energy levels and fertility mobility. A true elixir of life!
3. In language, is a fruit really a fruit? The Aztecs called testicles 'Avocado' due to their shape and the resemblance to this fruit while the Greek term for testicle is 'Orkhis' which is where we derive the name of an Orchid in English. It's wise to never ever get those words confused in those countries.
2
4. What are the major Diseases in the testicles? Testicular cancer is a very treatable condition as it usually occurs in younger men, counter to most other cancers. To check for this disease, the man or his partner should feel gently for small swollen lumps, which are not painful, but are just under the skin, on the round parts of the testicles. Men should begin checking from their late teenage years for any irregular shaped areas. Other diseases that can affect the testicles include Hypogonadism, Urethral Strictures and Erectile Dysfunction.
5. What causes Premature Ejaculation? It's believed that as many as 30% of the male population will suffer from premature ejaculation at some point in their life. While some of these cases can be attributed to psychological factors, doctors are increasingly diagnosing physical factors as the cause. These include Hypothyroidism, Erectile Dysfunction, Chronic Prostatitis, Chronic Pelvic pain syndrome, Psychological factors; e.g. Anxiety/depression, partner issues as well as lifestyle factors such as Alcohol and Recreational drugs. Private clinics that focus primarily on male sexual health issues such as London's International Andrology should be consulted if you feel you are experiencing the symptoms of this condition.
About International Andrology International Andrology is a world leading organisation of highly qualified physicians and surgeons who have played major roles in the development and improvement of modern surgical techniques in the field of men's sexual and reproductive health. From its UK base in Queen Anne Street, International Andrology London offers the most advanced treatments for male sexual dysfunction, sub-fertility, aesthetic and functional urogenital surgery successfully treating problems like erectile dysfunction, Peyronie's disease (extreme curvature of the penis) and premature ejaculation. In addition to utilising the latest evidence-based medicine and technologies to deliver the best medical and surgical treatments, the clinic also provides counselling, nutritional advice and lifestyle support.
CRL Stone taps into the tile market with Ceralsio
Ceralsio tiles are ideal for the kitchen and bathroom pictured (left to right) in Oatmeal, Arizona, Marquina (wall & floor) with Calacatta Gris vanity and Arctic White.
Following the success of its Ceralsio porcelain surface, CRL Stone has launched tiles for walls and floors, for a seamless finish in the kitchen and bathroom.
Available to match the kitchen worktop and bathroom countertop, Ceralsio tiles are extremely durable, non-porous and resistant to scratches, stains and UV rays making them ideal for internal and external applications.
Ceralsio tiles are available in two thicknesses – 6mm for wall cladding and 10mm for floor tiling – and a large choice of sizes from 30 x 30 cm to 150 x 300 cm responding to the trend for large format tiles in the contemporary bathroom and kitchen.
As a non-porous surface, the build-up of bacteria or mould is prevented with Ceralsio, while no extra care or special products are needed to clean it. A mild cleaning product is all that is required to keep the surface looking as good as new.
Available in 25 colours, Ceralsio tiles tap into the latest trends in interior design, offering a natural palette that works in harmony with overall setting. Team the porcelain flooring and wall tiling with a worktop or countertop made from the same durable material for continuity of design throughout the room.
For more information call CRL Stone on 01706 863 600 or for free samples click on www.ceralsio.co.uk
Introducing Ted Baker's AW17 collection of tech accessories from the brand's exclusive partner, British manufacturer Proporta.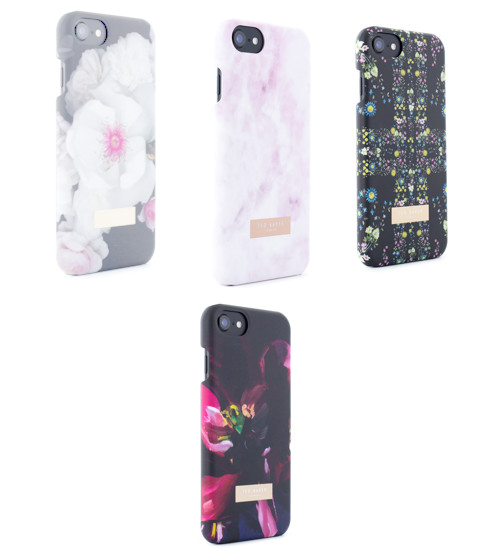 Following a voyage across the galaxy, Ted Baker returns with a stellar range of iPhone 7 and 7 Plus accessories for style pioneers. As always, each case has been designed with luxe detailing and cutting-edge construction firmly in mind, cleverly colliding Proporta's unwavering dedication to durable protection for your iPhone and Ted's flawless sense of design.
This season's unearthly textures, futuristic metallics and galactic prints set Ted's case collection worlds apart. From undulating petal formations, to a supernova of celestial glitter and cosmic shades, Ted's collection will elevate your iPhone t0 the height of sophistication.
Proporta's latest range offers a choice of its beautiful tactile soft-feel Hard Shell case, given the final stamp of approval with Ted's rose-gold branding the plate, or the signature Folio case, complete with a hidden internal mirror for a look that's light years ahead, finished with Ted's elegant metallic gold or rose-gold trim.
Available for iPhone 6, 7, 6s and 7 Plus, Ted's AW17 collection starts at £29.95 and is available from www.proporta.co.uk.
The 21st Century Childhood Health Pandemic: How Healthy Family Holidays Could be the Antidote

With worrying statistics that almost a third of children aged between 2 and 15 are overweight or obese[1], and recent warnings that children are bingeing on social media like they would junk food[2], it would appear there is a health pandemic amongst our youngest generation. To break the vicious cycle of unhealthy habits, Health and Fitness Travel, the wellness holiday specialists, urges that families need to provide healthy experiences to promote positive well-being for their children. From encouraging exercise and good nutrition, to taking active and healthy family holidays, parents can take small steps towards creating the foundations for healthy behaviours that will last their children a lifetime.
With the Summer holidays soon ending, the start of a new academic year invites an opportunity for implementing new behaviours and habits. It's estimated that around one in five children starting primary school this September will be overweight or obese[3]. Although schools have various healthy eating initiatives in place, parents need to do more to teach their children healthy eating habits at home, and model these behaviours themselves. Simple measures, such as portion control, limiting snacks, reducing sugar intake and involving children in the preparation of food are good first steps to making positive changes.
Likewise, engaging in regular physical activity with your child will help them maintain a healthy weight, promote optimal growth and boost their confidence. At least 60 minutes of physical activity per day is recommended for children aged five and above, and presents a wonderful opportunity for parents to bond with their children.
For parents looking to completely overhaul their family's health, a family wellness holiday could be the key, where healthy eating, regular activity and joint meaningful experiences can kickstart healthy habits and create lasting memories. Research[4] has shown that children value family holidays more than toys and other material goods, demonstrating that parents should be saving their hard-earned cash for healthy travel experiences with their children, rather than the latest gadget.
Family wellness holidays allow parents and children to enjoy extended periods of playful downtime together, away from the stresses of regular life, and can strengthen the parent-child bond. They also offer the perfect opportunity for children and adults alike to discover a new hobby or hidden sporting ability, which they can continue long after the holiday. Aside from the physical and emotional benefits outlined above, holidays are also believed to advance children's brain development and improve concentration skills, demonstrating a clear link between holidays and educational attainment.
Top 5 Health and Fitness Holidays for Families
Best for Sports – Sardinia: Forte Village
Set on the Southern tip of Sardinia, this action-packed retreat will have the whole family spoilt for choice with the array of activities on offer. Watch the kids excel in a sport they love, with a choice of 13 specialist training camps, including tennis, basketball, dance and football. Make a splash together as you enjoy some family bonding out on the waters during water sports, and get some culinary inspiration as you learn healthy recipes together at the cooking school.
Health and Fitness Travel (0203 397 8891 healthandfitnesstravel.com) offers 7 nights at Forte Village from £1,525pp. Price includes half board, return flights and transfers.
Best for Yoga & Spa – Vietnam: Fusion Maia Family Holiday
Visit Vietnam and enjoy some well-earned family time at a wellness retreat that dedicates itself to the art of relaxation. Enjoy some soul-centring exercise together as you and the kids experience Fusion Maia's signature style of yoga, suitable for all levels. Rebalance your bodies as parents indulge with holistic treatments, while little ones join in with their own mini treatments. Say goodbye to your frantic daily routine at home to make the most of your family-friendly yoga vacation.
Health and Fitness Travel (0203 397 8891 healthandfitnesstravel.com) offers 7 nights at Fusion Maia from £2,285pp. Price includes daily breakfast, return flights and transfers.
Best for Mountain Biking & Windsurfing – Portugal: Martinhal Luxury Beach Resort
Discover the best of Portugal with mountain biking and windsurfing on an active family adventure holiday. With lessons available for all ages at the award-winning windsurfing academy and a varied selection of TREK bikes, sporty adventurers of all sizes can make the most of these stunning surroundings. After an active day; indulge in the luxury spa while the children enjoy one of the seven kids clubs and five sports academies, including surfing, windsurfing, swimming, tennis and football.
Health and Fitness Travel (0203 397 8891 healthandfitnesstravel.com) offers 7 nights at Martinhal from £1,105pp. Price includes breakfast, return flights and transfers.
Best for Multi-Activity: St Lucia The BodyHoliday WellFit Families
Keep active in the Caribbean on an action-packed family holiday at this all-inclusive luxury wellness resort, which promotes family bonding, well-being and fitness. Enjoy a bit of healthy competition in the parent vs children competitions, including volleyball and beach-a-thalons, or cook up a storm together in the healthy family cooking classes. With activities ranging from dance classes and cycling adventures, to sailing lessons and abseiling, there is something new for everyone to try.
Health and Fitness Travel (0203 397 8891 healthandfitnesstravel.com) offers 7 nights at The BodyHoliday from £1,935pp. Price includes full board, return flights and transfers.
Best for Adventure – Oman: Zighy Bay
Combine family fitness with a taste of adventure at this luxury retreat in Oman, set upon its own private beach and surrounded by spectacular mountains. With a dedicated Kids clubs for children and teens, youngsters can enjoy activities including treasure hunts, swimming relays and beach bowling, as the teens try out slack lining, rock climbing and yoga. With kayaking, mountain biking and paragliding, there is no end to the excitement for mum and dad too.
Health and Fitness Travel (0203 397 8891 healthandfitnesstravel.com) offers 7 nights at Zighy Bay from £2,135pp. Price includes breakfast, return flights and transfers.
For advice, guidance and booking visit http://www.healthandfitnesstravel.com/family-holidays or call 0203 397 8891
Decorating with Playful Yellows
By Everlong – Superior Finish Paint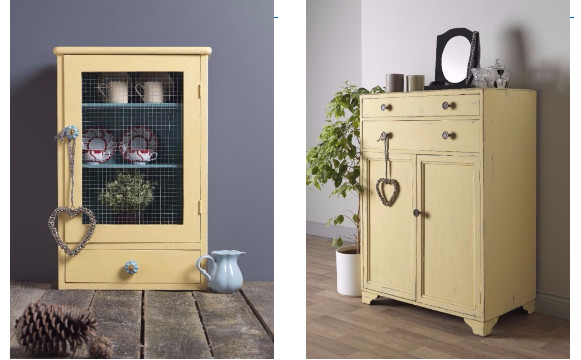 With Pantone's vibrant Greenery being this year's top colour trend, the 2018 colour predictions are in and it's safe to say they are just as exciting. Out of 8 stunning new predicted colourways, we're head over heels for the 'Playful' colour scheme. True to its name, this palette is full of colours such as Minion Yellow, Green Flash and Blue Skydiver, designed to make you smile. So why not get ahead of the game and decorate your home in gorgeous shades of Minion Yellow (our top favourite), with a little help from Everlong Paint.
Sven Cycles Roadster Model in gold.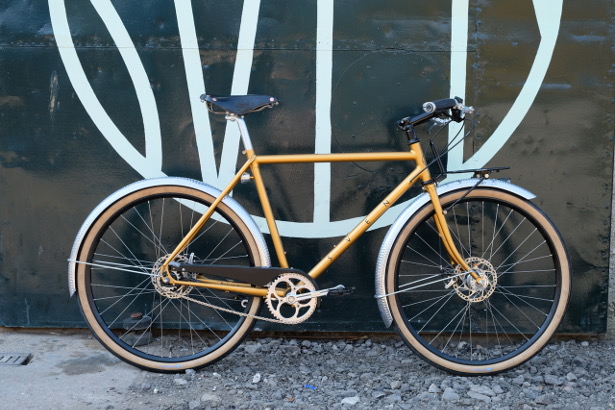 This particular custom British model is very adaptable and low maintenance making the bike an irresistible commuter for town or country.
Key features include TRP Spyre brakes that are reliable in all weathers and conditions, and Dynamo hub lighting to give excellent visibility, both in the city and on unlit country lanes. Go for gold with this luxury bespoke rider!
Price: £4,000
Available: www.svencycles.com​
Powerfully feminine: BOSS Allusion Watch Collection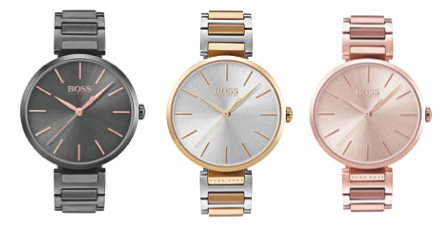 The BOSS Allusion watches are essential accessories for confident contemporary females. They're versatile style soul mates for outfits ranging from clean-cut work wear to chilling-out gear. Iconic BOSS design language translates detail into powerful signature looks. Understated is the new beautiful.
Fine metal T-bars, echoing familiar iconic BOSS cufflink, connect slender bracelets with a perfectly round case. The metal bracelets and cases present an immaculately balanced combination of polished and brushed surfaces. This sets the scene for a further eye-catching interplay of light on the sunray dials. Elegant applied indexes ensure that punctuality is never an illusion in the context of wearers' multi-tasking lifestyles. These watches are the perfect accessory for modern women who like to manage their own time and the paths it takes them on.
Different models make up the BOSS Allusion family. For the purists there are monochrome versions with a finish in either yellow- or carnation gold, or a silver color. A bi-color option hosts a playful dialogue in a yellow-gold and silver color scheme. And to ensure that eye-catching evolves into head-turning there is a distinctive piece in grey, a loyal tribute to timelessness. Time to look impeccable.
Technical features:
Movement: 3-hand
Water resistance: 3 ATM
Case: 316L stainless steel / IP
Diameter: 36 mm
Dial: Sunray
Available from August 2017, £249.00 GBP
Great supermarket deals on home cleaning equipment from Minky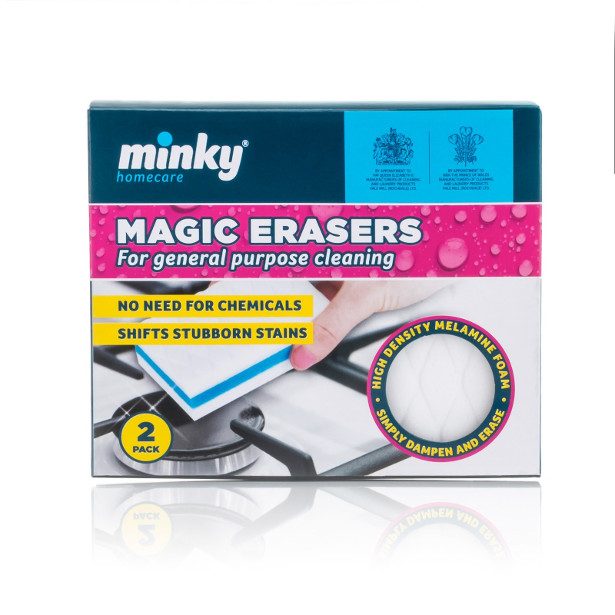 What is it? Minky Magic Erasers
Offer: Was £2.50, Now £2.10
Valid in store and online until: w/c 18.09.17
About the product: No need for chemicals. Shifts stubborn stains. High density melamine foam. Simply dampen and erase. For general purpose cleaning.
What is it? Minky Extra Thick Sponge Wipes
Offer: Was £2.00, Now £1.50
Valid in store and online until: w/c 18.09.17
About the product: Super absorbent. Multi-purpose. For wiping, cleaning and mopping up spillages. 100% cellulose.
What is it? Minky Dish Brush With Soft Grip Handle
Offer: Was £2.25, Now £1.90
Valid in store and online until: w/c 18.09.17
About the product: Stiff robust bristles. Soft grip handle.
Celebrating Elements of Design with Chelsea Design Quarter:
BAGNODESIGN to make its mark on London Design Festival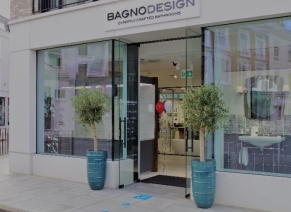 Luxury bathroom brand BAGNODESIGN will be involved in the London Design Festival for the very first time in September, following the opening of its flagship European showroom in Chelsea earlier this year.
Taking place from 16 to 24 September, the London Design Festival will see hundreds of unique events and opportunities taking place across the city, with the intention of celebrating
design in its broadest scope, from the local to the international.
BAGNODESIGN in Chelsea will host exhibitions, talks and pop-up events during the London Design Festival.
As a proud member of the Chelsea Design Quarter, BAGNODESIGN will mark its involvement in this iconic festival by hosting a series of expert talks, exhibits and networking events, under the collective theme of 'Elements of Design'.
Taking place at the brand-new showroom on Chelsea's Kings Road, the Boutique BAGNODESIGN Festival will feature different elements of design, with an exhibition and pop-up boutique by Georgina Boyce Fine Jewellery, Hannah Shucksmith Jewellery and Tatty Rose Flowers already confirmed.
Throughout the London Design Festival visitors are welcome to browse the BAGNODESIGN showroom and view the latest bathroom trends and products through a wide range of inspiring displays. Spanning two floors, the Chelsea showroom has the prestige to go with the postcode, with beautiful products at every turn.
Much more than a regular showroom, BAGNODESIGN Chelsea is also the ideal spot for architects and designers to meet with clients and fellow professionals, with workstations, meeting tables and video conferencing facilities available.
"We are delighted to be involved with the London Design Festival for the first time," comments BAGNODESIGN Chelsea Showroom Manager, Emma Saxby. "We are part of such a wonderful and diverse design community on the Kings Road and feel very at home as part of the Chelsea Design Quarter. We are very excited about the opportunity the Festival gives us to celebrate and promote BAGNODESIGN as part of the design capital of the world."
Further announcements on expert talks and design exhibits taking place at the BAGNODESIGN London showroom will be announced shortly.
For more details call BAGNODESIGN on 020 7553 6999 or visit www.bagnodesignlondon.com
Four steps to smashing through that dreaded gym plateau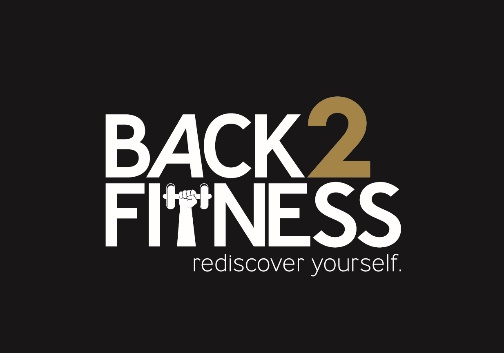 When it comes to exercise everyone's goals are different. For some people it's all about weight loss, for others it's to stay in peak condition, while for many exercise is a means to an end – a way to ensure those occasional treats don't catch up with them.
Whatever the reasons for hitting the gym, pounding the pavements or playing sports, one thing that every gym bunny will fear is the dreaded plateau.
Plateauing is that point to which despite doing the same amount of exercise and eating all the right things, performance slows and pushing yourself doesn't wield the same results it did in pre-plateau days.
Strength & Conditioning Coach and Founder of transformational fitness programme, Back2Fitness, Sam Yassin, outlines his four steps to pushing on through the plateau…
Be honest. "This" says Sam "is perhaps the single most important and beneficial thing you can do for yourself – whatever stage of your fitness journey."
He added: "Ask yourself whether you really are working out with the same intensity as you did before – when boredom creeps in it can be tempting to cut corners when it comes to working out."
"If a plateau in weight loss is holding you back" continued Sam, "keep a food diary; while you might think you are eating all the right things, you might be surprised to see the odd thing creeping into your diet that perhaps shouldn't be."
Be realistic. The beginning of any weight loss and fitness journey is always the time when the most improvement can be seen. After all, the difference between a complete lack of fitness and being able to complete (and feel good after), a 30-minute HIIT session is huge. Conversely, the difference between being fit and very fit is small, so the changes are much less visible and harder to achieve.
"The same goes for weight loss" says Sam, "when a person has a lot of weight to shift the pounds seem to roll off as there is more weight to lose. However, that level of weight loss isn't sustainable and as a person gets smaller, it is quite natural for weight loss to slow – the main thing to note is that the weight is still coming off and not going back on."
Shake things up. As with anything, doing the same thing over and over gets boring and our bodies become more practised, and therefore, more efficient at doing it. "If you think you have plateaued with your workouts" advises Sam, "mix things up a bit, for example, if you are mostly weights based, add in more cardio"
He added, "Adding in other forms of activity could also give your workouts a boost, consider joining a local sports team, heading out for a run or even start cycling or walking to work."
Track the things that matter. If your weight is stubbornly fixed at one place, start to look at other measurements which do show improvement. Body measurements such as waist and arms are often good indicators of a changing physique, as is BMI.
"Taking weekly photos" added Sam, "can be a great way to see one's progress and can be a great motivator."
A recent Back2Fitness success story is 53-year-old businessman, Bren Foster who was also faced with a plateau. Bren said:
"I would see guys at the gym doing the same old exercises and they've plateaued but don't know what to do to kick start things."
Bren signed up to the Back2Fitness programme which lifted him out of his fitness and nutritional rut, seeing him drop weight and build muscle mass – achieving the tone and bulk of a man 30 years his junior.
To find out more about the range of Back2Fitness programme packages available, visit www.back2fitness.co
Woven Ink Stationery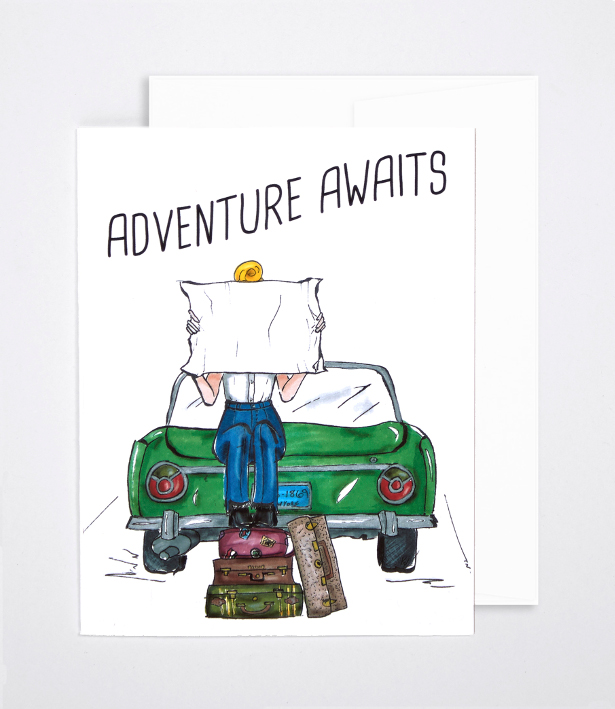 WOVEN Ink Stationery offers luxury hand-illustrated greeting cards and art prints inspired by the latest New York City runway and streetstyle trends. We are a two-woman start-up, founded by two friends who met in university and wanted to do something creative with their degrees. We hand-make all cards and prints from start to finish in NYC and, as committed environmentalists, we always print on 100% recycled cardstock.
We like our cards to stand out from the crowd – think bright colors, cheeky poses, chic figures. Statement cards for statement people. Because we're aware of the environmental impact of paper products, we also design our cards to have a long (perhaps permanent) lifespan. Our notes live on office desks, framed on gallery walls and added to annual Christmas Card displays. In a digital world filled with lifeless texts and empty social media, the gift of a hand-printed card communicates more than just the message inside. Time is a non-renewable resource; giving a written note communicates that your loved one is worth the precious time of selection, writing and mailing. Printed notes build and grow relationships of greater meaning than any 'like' button can achieve. So, make sure to water your relationships, give them a little sun, a little love – send a card.
And if our in-stock collection isn't quite what you need, we also offer custom cards and prints. Tell us what you'd like and we'll make it happen, from birthdays to graduations to wedding thank you notes.
Visit us at woveninkstationery.com, or drop us a line at hello@woveninkstationery.com. We'd love to hear from you!
David 'Flats' Flatman and Mark Durden-Smith set to tackle Premiership Rugby Highlights on Channel 5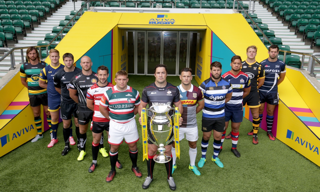 15th August 2017: The first airing of Rugby highlights on Channel 5, will be hosted by Rugby legend and former Bath prop, David Flatman, capped by England eight times, and Presenter Mark Durden-Smith. The duo, who have worked together since 2013, will be giving their expert opinion on the weekend's action and showcasing the key happenings from every game in the league. Channel 5's highlights package will cover Premiership Rugby, Anglo-Welsh Cup and Premiership Rugby 7s, and each week will feature the insights of former and current players.
David Flatman has made a seamless transition from player to presenter and has proven himself to be as competent in front of the camera as he was on the rugby field. After an accomplished career, which spanned an impressive 14 years and yielded a European trophy with Bath, 'Flats' has positioned himself as a one of the most sought after and respected pundits and was last year named by the Telegraph Sport as their 5th best pundit on television.
Mark Durden-Smith has been presenting across sports and lifestyle TV shows for over two decades and brings a wealth of experience to the Premiership Rugby highlights show. Mark is seasoned in hosting rugby related shows; he was previously one of the main hosts for ITV's Rugby World Cup 2015 coverage and was also the main host for Sky's BAFTA winning rugby coverage.
This year's season promises to be the most intense and entertaining yet. Last season champions Exeter completed their meteoric rise to the top, winning their first Premiership title only seven years after being promoted from the Championship. The chasing pack will be led by the current double European champions Saracens and Wasps, who will be looking to exact revenge on Exeter after the dramatic Premiership play off final in May. London Irish are also back in the Premiership, and along with other big names such as Leicester Tigers, will provide exciting action to avid rugby fans across the UK. The Premiership Rugby Highlights adds to Channel 5's growing portfolio of sports content.
Credit: The Premiership Rugby highlights Show airs on Channel5 from Sunday 3rd September at 8pm.
Checkatrade joins forces with Caterpillar to offer even greater members' benefits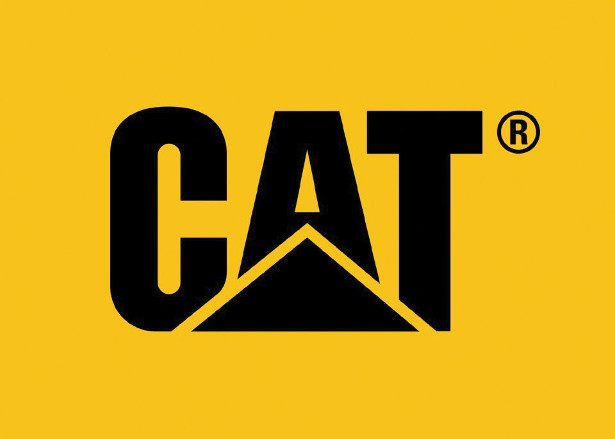 Leading UK consumer champion, Checkatrade, has built an enviable reputation for looking after the nation's homeowners by providing easy to access, up-to-date information on vetted local tradespeople, and now the firm is set to provide even greater benefits to its members by partnering with construction giant, Caterpillar.
Members already receive a range of significant benefits including inclusion in the Checkatrade search feature which has the potential to put a member's details before thousands of homeowners looking for a reliable tradesperson in their area.

To become a member of Checkatrade and join over 25,000 of the UK's best tradespeople who have already signed up, potential members must undergo a thorough background check and commit to, and uphold, the 'Checkatrade Standard'.
The standard outlines the service customers can expect from Checkatrade recommended tradespeople, including being courteous, keeping appointments and being honest in all dealings.
With a commitment to service at the core of its business, Checkatrade chooses its partners very carefully, only ever working with those businesses that reflect its own commitment to quality.
Recently announcing its decision to work in partnership with Caterpillar, Checkatrade Founder and CEO, Kevin Byrne points out why it was an easy decision:
"Caterpillar is a world-renowned company built on a strong ethics and is committed to providing the very best for its customers, something we can relate to at Checkatrade. With its innovative products and solutions, it was an easy decision to work in partnership with them and give our thousands of members discounted access to these great workplace solutions."
Checkatrade members receive 30% off products at www.shopcaterpillar.co.uk and the Shop Caterpillar range includes everything the busy tradesperson needs to work safely and in style and comfort. The range includes water-resistant jackets, safety footwear, heavy knit gloves and utility lights, perfect for hard to reach places.
Visitors to the site will also find a sign-up form to learn more about Checkatrade membership. Alternatively, to find out more about becoming a Checkatrade member, visit www.checkatrade.com/join.
Award Winning Bridal Dress Owner Calls on SMEs in Northern Ireland to 'Grasp the Opportunity'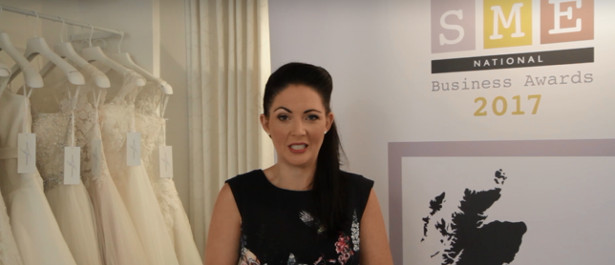 A stunning multi award winning Wedding Dress Boutique has this week made a direct appeal to SMEs in Northern Ireland to enter a prestigious national awards.
The SME National Business Awards were launched in July 2017 as a result of the continued success of the SME Business Awards around the counties of England.
The awards are directed at SMEs which at 98% of all businesses are the main engine of the UK economy.
Nicola Harris, the Owner of George James Bridal has spoken on video about how the economy of Northern Ireland is experiencing annual growth of 3.4% and how SMEs 'need to grasp the opportunity' to showcase their success to the rest of the UK.
You can watch the video from Nicola to SMEs in Northern Ireland at https://youtu.be/nCpq7TFsl8c
Entering awards are a fantastic way to grow any business. An SME only needs to reach the finals of the awards to experience their profile and their promotional opportunities.
It gives them a brand new and exciting marketing strategy that both social media and the traditional press love and is also a productive tool to utilisie with existing customers and their target audience.
There are 13 categories to choose from.
Businesses can enter up to 3 categories. There are a selection of highly experienced and respected judges and each entry is judged by up to 4 of our panel.
Finalists will be chosen following the preliminary judging and they will be announced online on the 4th October 2017.
The awards will culminate in a Glitzy Black-Tie Final at the iconic Wembley Stadium on the 1st December 2017.
The evening of celebration will recognise all the finalists and allow every business that reaches the final the opportunity to promote their incredible achievement.
Further information on the awards can be found at www.smenationals.co.uk
You can watch the video from Nicola to SMEs in Northern Ireland at https://youtu.be/nCpq7TFsl8c
Slim rim washbasins have the edge

Stratos (pictured 1 &2) and Circus washbasins have a slim rim, for a sleek and minimal edge in the contemporary bathroom.
Slim rim washbasins are in demand, making a style statement in the bathroom that is on trend. BAGNODESIGN offers the perfect opportunity to tap into this look with Stratos and Circus.
Creating a minimal look that fits seamlessly into the modern bathroom, the slim rim on the Stratos and Circus washbasins brings many functional benefits with it too. Simple to clean, the narrow rim makes room for the inner basin to be maximised, for a generous bowl size despite its sleek appearance.
Choose the Circus wall-mounted or countertop washbasin in either an Oval or Round design to introduce curvaceous shapes into the bathroom, or opt for the strong geometric lines of Stratos for a contemporary solution that never goes out of fashion.
Prices start at £375 for the Stratos countertop washbasin and from £325 for the Circus wall-mounted washbasin.
DREW COLLINS BECOMES FIRST TO WALK LENGTH OF THE 3 PEAKS CHALLENGE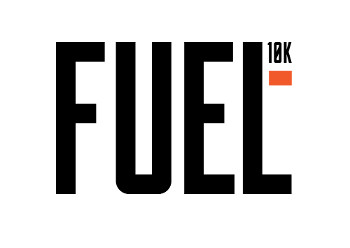 After more than 400 miles, 3 mountains and 24 days, Drew Collins is now the first person to walk the entire length of the Three Peaks.
Not content with climbing the highest peaks in England, Scotland and Wales, which come in at a hefty 3,209, 4,413 and 3,560ft respectively, photographer Drew, 30, from Essex, decided to push himself one step further by summiting each mountain and trekking onto the next.
The challenge saw him hiking from Ben Nevis, through the Lake District and Scafell Pike and into Wales, ending his near-month-long trek at the foot of Mount Snowdon.
"I knew it would be a difficult challenge to tackle, but it was so much harder than I thought it would be," said Drew.
"Mountains have been climbed, most trails have been hiked, I craved to do something bold yet unique. Wild Peaks Walk was the answer to that craving.
"I picked up a few injuries along the way and hit a few mental barriers, which really tested my will and strength to continue.
"The mental aspect of the walk was undoubtedly the hardest part; it's very easy to just stare at your feet as each foot passes the other and forget to take in the beautiful surrounding landscapes.
"I had a few near misses including being chased by a particularly angry bull, but overall music played a huge part in keeping me motivated along the way.
"Ultimately, I found the energy reserves to push on. I continued through the physical and mental pain, which helped me see what is truly possible."
Drew was the first ever winner of active lifestyle brand FUEL10K's 'Fuel Your Journey', which provides a month's free FUEL10K products to those in serious need of FUELIFICATION.
Pip Daly, Brand Manager, FUEL10K, said: "Drew is a shining example of what can be achieved when you put your mind to it and here at FUEL10K we are really pleased to have supported Drew on his incredible journey.
"Drew was our first Fuel Your Journey winner and now, we are encouraging others to be inspired by him and choose their own daring mission.
"Fuel Your Journey is a monthly competition where we invite adventurers to tell us what they'd like to achieve and explain why they need FUEL10K to help them get there.
"It's open to everybody – you don't need to be a pro, you just need to be on a journey – but the most inspiring missions will be the ones we choose. We'll use our platforms to let the world know what you're trying to do, and be your number 1 fan in getting word out about your quest."
So, how did FUEL10K help Drew?
"Oh my, that Quark stuff is amazing!" he said.
"I took a few pouches along with me and kept them as a treat for when I was feeling low and tired. They really do perk you up."
http://fuel10k.com/fuel-your-journey/
Putting ergonomics into bathroom design with Geberit Acanto

…Independent research into bathroom habits has informed Geberit Acanto, a new range of bathroom furniture and ceramics
The new Acanto bathroom series focuses on ergonomics, with storage solutions designed to be flexible and ceramics that are timelessly modern.
The new Geberit Acanto bathroom series is designed to meet the needs of the individual, with how we use the bathroom and what we store in it informing its design. The result is a range of furniture and ceramics that centres on ergonomics, ensuring that frequently used items are stored within an optimum reach zone to maximise on user comfort.
Our research revealed that up to 90% of personal hygiene products and 50% of cosmetics stored in the bathroom are used daily, with items such as extra toilet paper, clean towels and cleaning products needed once every few days or weekly. Geberit Acanto responds by ensuring that frequently used items are stored within an optimum reach zone – within 0.28m2 of an average adult's reach. Other items, such as clean towels and toilet rolls, can then be stored within a longer reach of of 0.37m2 so they still remain accessible.
Geberit research into how we use the bathroom involved a detailed look at the importance of placing the most used items within optimum reach, as the above diagram shows. This informed the design of the Geberit Acanto series, which includes the Studio cabinet (pictured right), which provides a new level of functionality.
Geberit Acanto furniture is available in three colours – Lava, Sand and White – and the base units and tall cabinets have flexible interiors allowing a different arrangement of the drawers, compartments and shelves creating an uncluttered environment. A special feature is the addition of wall-mounted magnetic boards – enabling storage trays or boxes to be attached precisely where smaller cosmetic items are needed, transforming the mirror cabinet above the washbasin into a beauty centre complete with built-in magnifying mirror.
The range features various materials – glass, metal, painted and wood finishes – which combine in one series to create solutions that are both unique and highly durable.
Ceramics within the Geberit Acanto series are just as versatile, with washbasins in many different shapes and sizes but all with a distinctively soft, organic and slim rim design. The toilet and bidet follow the same clear design lines, with a Rimfree® design that not only looks good, but is also easy to clean and more hygienic.
A luxurious bathtub completes the series and fits in perfectly with the overall aesthetic to offer an indulgent bathing experience. Made from acrylic to help the water stay warmer for longer, the bath has a smooth surface and echoes the level of comfort that is felt throughout this range.
For more details visit www.geberitcollection.co.uk or call 01926 516800.
Roma from Masterclass Kitchens, pictured in Oxford Blue with Terracotta Sunset and Scots Grey.
All things bold and beautiful

From contemporary urban apartments to country-style retreats, any kitchen can carry the latest up and coming trend for bold, beautiful colours.
Adding interest, creating a focal point or used as a contrast to of-the-moment materials, a bold colour palette can be introduced as the perfect accent in any setting.
Helping homeowners make the most of a colour movement that will be hot news in 2018, Masterclass Kitchens has just introduced a vibrant new colour palette, with several bold shades to choose from. From the sophisticated, deep tones of Oxford Blue and Mulberry to the brighter hues of Terracotta Sunset and Claret, each colour is brave and bold.
Even the hand rails in the Masterclass Kitchens H-Line collection are awash with colour, painted in the same vibrant shades for a completely streamlined and high-end finish throughout the room.
A strong, bold colour turns a kitchen island into a focal point in the classic kitchen, as shown with Carnegie from Masterclass Kitchens, pictured in Terracotta Sunset and Scots Grey.
For more ideas of how to go bold with your kitchen design call Masterclass Kitchens on 01443 449 499 or visit www.masterclasskitchens.co.uk
Boxing Hopefuls' Bout with TV's Deadliest Debt Collector
EBF Boxing Challengers Train with TV Bare Knuckle Promoter at His Warrington Gym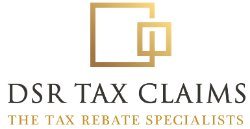 Two EBF (European Boxing Federation) title challengers spoke today of their training session last weekend with bare knuckle boxing promotor Shaun Smith, once dubbed 'Britain's Scariest Debt Collector' because of his gangland enforcer past, at his gym in Warrington. Nottingham-based boxers Jack 'The Machine' Mantell and Paul 'The Meatball' Thompson visited the Warrington gym as part of their training for their title challenges in September.
Shaun Smith, a TV celebrity due to documentary coverage of his past as a debt collector for gangs in Liverpool along with his bare knuckle boxing promotion, met with the two promising young boxers at his Warrington gym as a part of their preparations for their upcoming title challenges, and put the two men through their paces in a full-day training session. Speaking about the session, Thompson expressed his gratitude at being afforded the opportunity, stating that "it was an amazing experience and just reminds me of why I fell in love with boxing in the first place". Mantell said that "it is great to be put to the test by such a legend". Shaun Smith added that it had been "a pleasure to train a couple of gifted and hardworking young boxers, I am sure they will both go far".
Mantell, 23, and Thompson, 25, both face opponents at the Nottingham Motorpoint Arena on Friday 29th September. Paul 'The Meatball' Thompson faces Tim Sobers to challenge for the EBF Super Welterweight title for the Midlands area, while Jack 'The Machine' Mantell challenges Sam Godfrey for the EBF British Middleweight title. The boxers are both sponsored by DSR Tax Claims, a firm of specialist tax preparation experts based in Nottingham. DSR Tax Claims founder David Redfern said that "I am so proud of the dedication and passion these two boxers show in their preparation for their title challenges".
For tickets or information about the event, call 0115 795 0232.
IRISH FESTIVAL GOERS BECOME MORE DISCERNING IN THEIR TASTES WITH 67.5% LOOKING FOR GOURMET FOOD OPTIONS THIS FESTIVAL SEASON
HOWEVER, THE EVER-POPULAR SPICE BAG REMAINS A FIRM FAVOURITE!

August 2017: With only three weeks to go until Just Eat brings the first ever Full Moon Beach Party to Electric Picnic, Just Eat, Ireland's leading marketplace for online food delivery has commissioned some research to find out just what Irish people love about festival food. Almost 90% of those surveyed claim that the festival food offering is either extremely (49.9%) or very (39.3%) important to them. When it comes to finding their festival flavour, tastes vary with American Food (25.3%), Pizza (21%), and Burritos (14.3%) proving to be popular options. In addition it's interesting to see that festival goers are also becoming more discerning in their tastes with 67.5% looking for gourmet options however, old favourites prevail with 29% stating that they will be looking out for the Spice Bag as one of their favourite festival foods.
Survey respondents claimed that Conor McGregor (24.1%) and Beyoncé (20.1%) are the celebrities that they would most like to share their spice bag with and a massive 76.1% said that the best post-festival recovery tip is enjoying a trusty takeaway and chilling on the couch. Most people spend on average between €10 – €20 on food per day (53.1%) with wellies (26%) and baby wipes (16%) voted as the most essential festival accessories.
52.3% of people said that the thing they would most wish for at a festival is someone to order and bring them food and luckily enough the Just Eat Retreat at Electric Picnic will provide a taste of Thailand for festival goers where they can relax and order food and drinks to be delivered to them by the much-loved Just Eat waiters. Also on the menu this year is the Just Eat Picnic Porter concierge service which will be on hand with rickshaws at the car park of this year's festival to help festival-goers deliver their kit easily to the festival entrance, making the arrival stress free.
Edel Kinane, Marketing Director at Just Eat Ireland said, "We've had an amazing festival season so far with festivals such as Beatyard, City Spectacular and Taste of Dublin. We're particularly excited about bringing the first ever Full Moon Party experience to Electric Picnic complete with real sand and palm trees! This year marks Just Eat's 4th year in Stradbally so we wanted to bring a new experience to the Retreat which will make food discovery more exciting for everyone. It's interesting to see through our survey results that consumers are looking for more gourmet options at festivals but that the trusty spice bag is proving as popular as ever so we have created a special Thai Spice Bag with our restaurant Saba which will only be available at the Just Eat Retreat. The Just Eat Waiters will also deliver specially created Full Moon party cocktails".
Just Eat customers are in with a chance to win one of 10 pairs of VIP Weekend tickets to the sold- out Electric Picnic Festival between now until the 21st August if they order on Just Eat and find one of the 10 Full Moon Party plates which will be randomly hidden in 10 orders around the country.
Source: https://www.just-eat.ie/blog/just-eat-festival-flavours-survey-2017-2/
Almost half of football fans would avoid scheduling their wedding day on match day
Power management company, Eaton, reveals the lengths fans will go to in order to watch their team, with 39% of Brits admitting they would only miss a match on TV if a power cut forced them to
London, UK, 10 August 2017 – Almost half (41%) of British football fans wouldn't schedule their wedding day on a match day, reveals power management company Eaton, and a third (35%) would prioritise catching the game over going on holiday.
The results from the survey of 2,000 football fans – commissioned by Eaton to celebrate its partnership with Manchester City Football Club – demonstrates the loyalty fans feel to their football team and how much of a priority keeping up-to-date with it is to their lives.
In fact, over a third (39%) admit the only reason they would miss a football match on TV would be due to a power cut giving them no choice in the matter. The unfortunate reality is that sometimes these loyal fans don't get a choice – one in 10 fans reported that a power cut, affecting their home and surrounding area, has led to them missing a match. Eaton has developed xStorage Home, which is available for pre-order now, to provide homes with electrical energy in the event of power cuts – powering lights and even a TV and broadband router to retain power if needed.
Pedro de la Horra Calomarde, Segment Manager Residential Buildings EMEA, from Eaton responded to the research:
"It's surprising to learn how many fans have missed a game due to power cuts. We partnered with Manchester City to share best practice on how the use of power management solutions highlight the benefits of improved quality of life and to the environment. By developing battery storage solutions, such as xStorage Home, we're making sure people have a reliable power supply and that there's back-up in place to avoid outage and mean no one ever misses a match due to power cuts."
Almost a third (30%) of the fans surveyed said they would pay £100 or more to avoid missing a match. Millennials proved to be the most eager to cough up the cash to overcome any issues preventing them from tuning in, with 80% saying they would pay to ensure they could watch their team play.
One fan who has gone above and beyond to catch every game is City fan, Sean Riley. Sean, 51 years old from Manchester, has missed just one City match in 28 years, including away games. Sean said: "I started going to matches with my dad in 1974 and have been an ardent City supporter ever since," says Sean. "For the past 28 years, I have been very fortunate and privileged to attend every competitive game played by the club, at home, away, and in Europe. The single exception was the CSKA game in Moscow in 2014 which was officially played behind closed doors so no one could attend". He continues: "My wife is also a committed fan of the Club, so naturally, we got married outside of the football season, to ensure our big day didn't clash with any of the fixtures!"
Most fans (72%) put their devotion down to a love for their team and wanting to be with them every step of the way. A quarter (24%) said it's because they want to be a part of the post-match analysis and 18% admitted they like to know the results because they have a Fantasy Football team.
Martha Newson, cognitive anthropologist at University of Oxford, commented:
"Typically, our families are the people we experience life's highs and lows with – and are the people we are most likely to sacrifice ourselves for. In some ways, football clubs and other such groups evoke, and even manage to exaggerate, our evolved tendency for this kin psychology so that we treat other group members like our closest kin. For some football fans, the ritual of the game becomes more important than our most cherished family rituals, like birthday parties and weddings."
In May 2017, Eaton became Manchester City's new Official Home Energy Storage Partner in the UK. Eaton signed a multi-year deal with the Club who are committed to lead the way in sustainability.
Eaton, who have more than 100 years of experience in the industry, will share best practice in energy storage to help enhance the Club's efforts across all its daily operations at the Etihad Stadium and City Football Academy.
For more information on xStorage Home, please visit: www.eaton.com/mancity
Scott Ermeti Promoted to Pelican Products
President of International Business


Barcelona – 11 August, 2017 – Pelican Products, Inc., global headquarters of Peli™ Products, has
promoted Scott Ermeti to President of International Business.
Over the course of 20+ years, Scott worked his way up through Pelican's ranks starting out as the National
Sales Manager for their Industrial Division. Most notably, he served as Pelican's first official employee
located outside the United States and he established Peli Products, the company's European
headquarters in Barcelona, Spain. Under his leadership Pelican's international business has become a
powerful global brand and now accounts for 30% of the company's annual revenue. Prior to Scott's
promotion he was serving as Pelican's Senior Vice President of International Business.
In his new position, he will report directly to Phil Gyori and have full profit and loss responsibility for
Pelican's entire international business (excluding BioThermal) which includes sales, marketing,
manufacturing and distribution in more than 100 countries around the globe.
"Scott's understanding of Peli and the global marketplace make him uniquely qualified to continue to
spearhead Pelican's global operations," said Phil Gyori, Group President of Pelican Products. "I'm
confident that his customer-centric approach, vision, and proven leadership will continue to yield next
level products and services tailored to our customers abroad."
Scott has been appointed by the U.S. Secretary of Commerce to serve on the boards of two prestigious
organisations; the Industry Trade Advisory Council (ITAC) and the District Export Council. He is also a
member of the Outdoor Industry Association's Trade Advisory Council (OIATAC). These three
organisations serve as advocates for the Aerospace, Outdoor and Small/Medium Business industries'
trade agendas with members of Congress and the White House. His service on these boards helps the
United States Government and member companies form foreign trade policy including importing,
exporting, domestic manufacturing and small/medium-size business support.
Before joining Pelican, Scott worked with Bata Brands (Lausanne, Switzerland), one of the world's largest
manufacturers and retailers of footwear. He holds a Master's Degree in Business Administration from the
University of Chicago's Booth School of Business and a Bachelor's degree from Indiana University. Peli™
Products is a portfolio company of Behrman Capital, a private equity investment firm based in New York
and San Francisco.
What You Need To Know About Nutrient Timing To Enhance Your Rugby Performance
By Nic Makim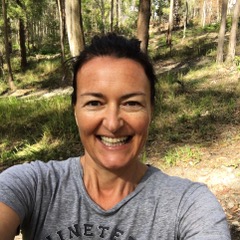 Nutrient timing may be the key to enhancing your effectiveness on the rugby field. You've trained hard, your fitness is at its peak, you are reading the game better than ever, you've gelled well with your team, you love rugby but you're just not nailing it. I used to be a fiercely competitive point to point jockey, so I know first hand just how infuriating this can be. It could be costing your team a win.
You have your fitness program all sorted, but have you taken into account how enormously your training performance may be improved with a balanced sports nutrition program. What are you eating and when are you eating? I create sports nutrition programs specific to my client. However, usually with most sporting clients their diet requires an increase of a variety of quality protein, complex carbohydrates, and healthy fats. Keep hydrated for effective training performance.
Why Nutrient Timing Is So Important
Nutrient timing enhances your training performance. Pre-workout, mid-workout and post-workout are important stages for nutrient requirements.
Pre-Workout
A pre-exercise meal is to top up liver glycogen which depletes overnight during your sleep. Avoid eating any new foods, too much fibre or spices. Avoid overeating. In order to prevent 'hitting the wall' muscle glycogen stores must be topped up regularly during extended exercise. The amount of quality nutrition varies depending on duration, body weight, intensity, training status and goals.
Mid-Workout
Enhance your workout with an easily digestible carbohydrate that enters the bloodstream quickly. This helps to offset fatigue and sustain continued training.
Post-Workout
Whey protein is easily digested and has a high concentration of essential amino acids compared to other protein sources. It is unrivaled for its ability to increase muscle mass in the post-workout period.
Hydration
Coconut water is a natural electrolyte perfect before, during or after a workout. Water with the juice of a lemon added helps alkalise the body. Additionally, an essential natural sports drink powder will help power you through a workout. For a pre, mid and post match or training the hydration I love is a delicious natural orange drink. It helps my clients get the most out of their training as it is enriched with full B-complex [stress + energy], replenishes nutrients and electrolytes, it is only 35 calories, provides 100 percent of your daily vitamin C and has no artificial colours, flavours, or sweeteners.
Pre-Exercise Hydration:
Maintains electrolyte balance
Supports proper hydration
During:
Fuels physical activity
After:
Replaces electrolytes and nutrients
Helps aid recovery after exercise
Ditch The Sugar
Especially relevant is removing refined sugar from your diet. Refined sugar causes inflammation which increases aches and pains.
If you would like a 30-Day Energy & Performance System for balanced nutrition to improve your rugby performance and gain energy simply email me: nic@nicmakim.com.au
Nic Makim is a nutritionist, health coach and blogger focusing on weight loss, cleansing, stress and enhancing performance.
http://www.nicmakim.com.au
https://www.instagram.com/nicmakim/
https://twitter.com/MakimWellness
https://www.facebook.com/nicmakimnutrition/
https://www.linkedin.com/in/nicmakim/
Cornish brewing company, Skinner's Brewery, have launched a Beer Tasting Kit – an accessible yet educational pack to facilitate an evening of beer tasting: helping lots of beer lovers discover much more about what goes into those great ales before they go into you.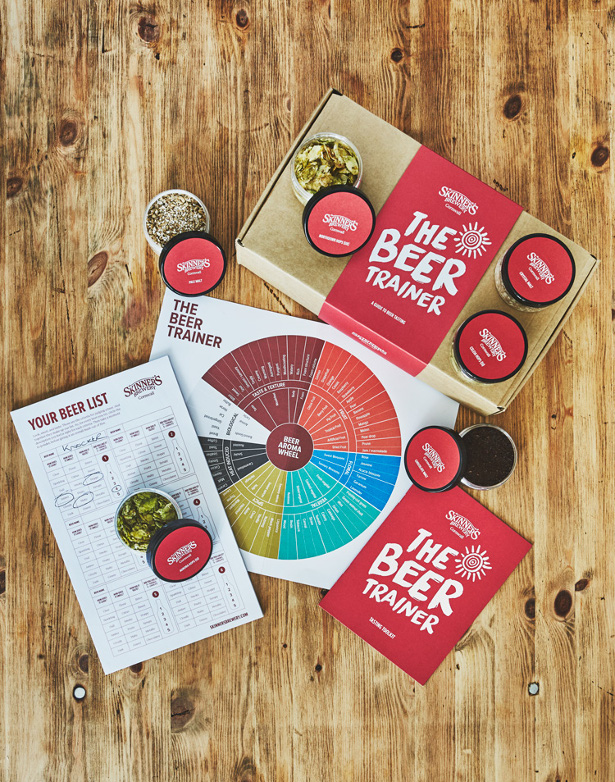 The Skinner's Brewery Beer Tasting Kit provides a fun way for friends and family to get together and create their very own beer academy at home. The kit includes: an extensive handbook including detailed beer notes and food pairing suggestions; tasting note cards for each participant; an aroma wheel poster and six jars of different beer ingredients to spark the senses. The most valuable piece of kit is the Beer Trainer guide – with tips on how best to host your beer tasting evening, but also a resource for those who are wannabe beer nerds. With information on what beer is made of; the different processes to how it's made; the di erences in taste, flavour and production of the beers; and even a quiz to test yourself on your new beer knowledge.
Ambit
Ambit – be informed, intellectual and creative.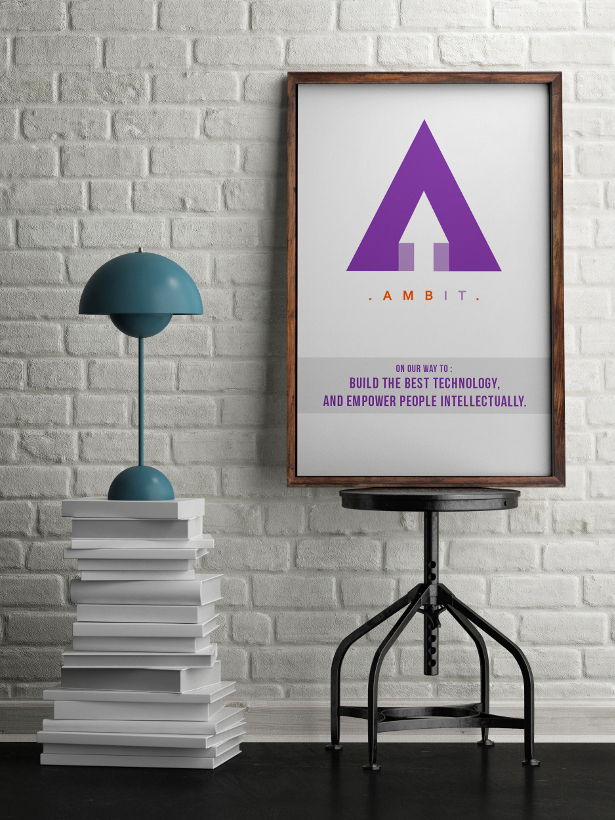 Ambit, the network of intellects is the place where intellects and creative people come together to create and share values for each other and nurture creativity and intellection of the community overall, as the social media of intellects we connect the likeminded intellectual being, the app is designed with the following science:
Nurturing intellection: human intellection is measured by the horizontal axis (knowledge of diverse subjects) and vertical axis (in depth knowledge of a subject) and to nurture intellection we are providing the user with his interest related news, blogs and articles to widen the horizontal axis of his intellect and for vertical axis we are giving the research tool in which we have the articles from the basic Wikipedia to books and academia articles,
Nurturing Creativity: We believe that creativity works very well when we have organization, knowledge, engagement, environment, ability and feedback, we have implemented all these factors of creativity deep into our app design, for example organization of daily feed, knowledge filter tool so that all your energy is use for absorption, not for searching, also very easy article maker and poster, instant sticky notes for your creative ideas which increases the ability to act creatively,
Solving problems:
1) Providing organization in the information abundant world, with news and blogs in one place.
2) Simplify your life by working as 6 in one app: news app, blog app, notes app, article writing app, research app, and social media of likeminded intellects.
3) shorten the idea to execution cycle as idea inspired by an article need to be capture instantly, then it has to be researched upon for idea expansion and realization, then this expanded idea needs to be share within a beautiful article for feedback.
In future our daily jobs will be taken by bots and humans will have job related to intellectual and creativity, due to which we are working for the vision as to make the society more intellectual and creative we want to make the society more intellectual and creative.
Twitter: ambittweet
Facebook: ambitapp
Instagram: ambitapp
Website: htpp://www.ambit.world
Danielle Collins
The World's Leading Face Yoga Expert
Face Yoga to Firm the Neck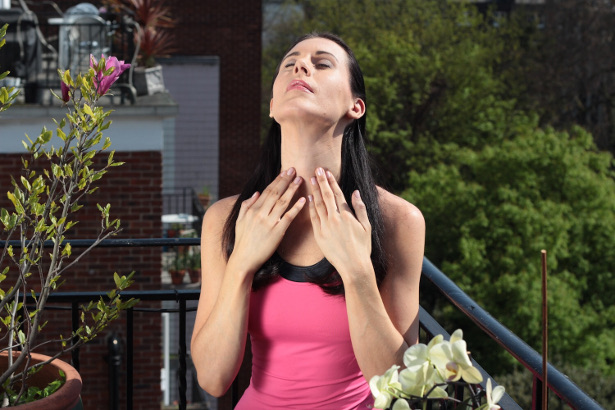 There has been a lot of press lately about the phenomenon of 'Tech Neck'. This is when the thin skin on the neck is pulled down by looking down at phones and laptops which causes lines on the neck. Taking a little time each day to do some simple Face Yoga techniques can strengthen the muscles of the neck and lift and smooth the skin.
One of Danielle's favourites is Swan Neck: Begin looking straight ahead with your chin level. Turn your head to the right so that it is in line with your right shoulder and then tilt your head backwards. Hold 6-8 seconds. Return your head to forward position with chin level. Turn your head to the left, in line with your left shoulder. Tilt your head back and hold 6-8 seconds. Repeat 3 times.
Danielle Collins Face Yoga App
These workouts can be used as quick solutions to rejuvenate, tone, lift and relax the face or can be practiced together to form a complete daily plan.