SLICE FOR GOOD: PAPA JOHNS LAUNCHES THREE RUGBY PIZZAS TO RAISE FUNDS FOR CHARITIES IN ENGLAND, SCOTLAND, AND WALES during the GUINNESS SIX NATIONS
The Pizza delivery brand announces three new limited edition rugby pizzas with proceeds donated to rugby charities in England, Scotland and Wales
The Rose, The Thistle and The Dragon are available to purchase in select stores and online until 25th April
Papa Johns is an official partner of International Rugby Unions in England, Scotland and Wales
As the home nations prepare to go head-to-head on the rugby pitch once again this February, Papa Johns is bringing fans closer together with the launch of three NEW rugby
pizzas in honour of England, Scotland, and Wales. As rivalries are renewed on the pitch, the nations will also lock horns in the kitchen,
with three new pizzas: The Rose, The Thistle, and The Dragon ready to take centre stage ahead of the Guinness Six Nations.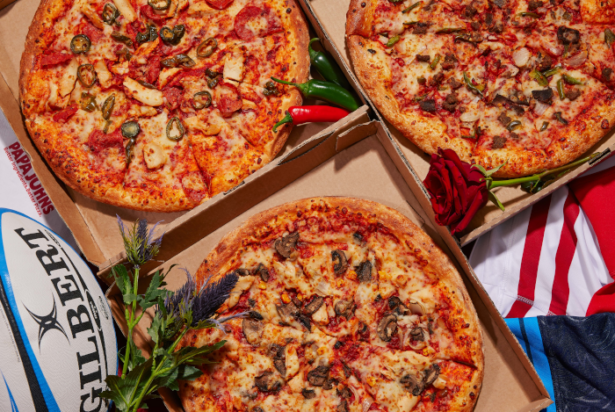 The newly launched pizzas are part of the brand's continued mission to give back to communities through sport, for each pizza sold a donation will be made from the brand to each union's chosen
charity.
Each rugby pizza will be available to order online and in select stores between 23rdJanuary-25th April.
The Papa Johns kitchen has cooked up a feast fit for a flanker for English rugby fans with The Rose. Made with its classic tomato sauce and topped with steak, spicy beef slices, peppers, onions, and
chilli's, it's full of flavour and makes the perfect matchday meal for fans to tuck into.
Proceeds from The Rose pizza will be donated to Rugby United, a new project which aims to empower community clubs seeking to make long term cultural changes in how they engage and become more accessible.
With research finding a gap in the population of Black and South Asian groups engaging in rugby, the project focus opens doors to people from all backgrounds via community groups, targeted recruitment of
coachesand volunteers, and providing active playing opportunities.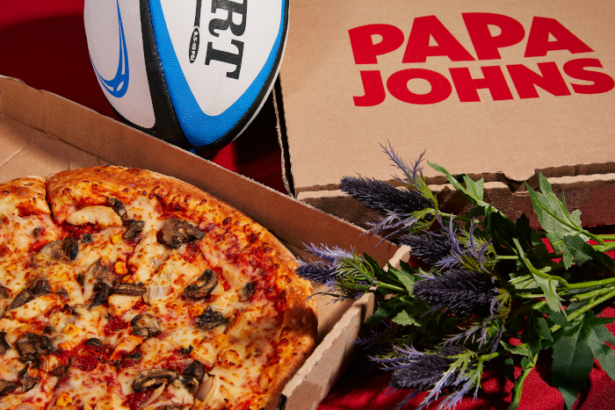 Inspired by the nation's symbol, pizza lovers in Scotland can get stuck into the newly launched The Thistle made with chicken, mushrooms, sweetcorn, and onions, with proceeds from each pizza
donated to My Name'5 DoddieFoundation – a charity committed to its vision of a world free of MND.
Set up by the late Doddie Weir, the iconic Scottish rugby union player, My Name 5′ Doddie Foundation is continuing its incredible work in supporting sufferers of Motor Neuron Disease. The charity
invests in the most promising research to help find new treatments, gain improved knowledge, and ultimately find a cure for MND.
From Cardiff to Caerphilly, Welsh Rugby fans will be able to tuck into a fiery feast. Introducing The Dragon, a tasty new pizza inspired by the fiery power of the iconic Welsh symbol. Topped with succulent
slices of pepperoni, chicken pieces and spicy jalapenos, customers can help raise funds for Welsh Rugby Charitable Trust with each purchase.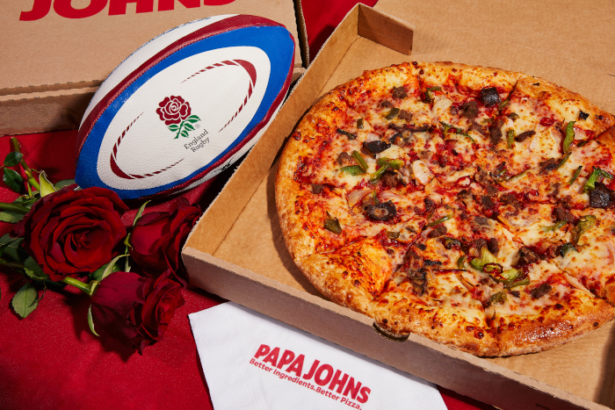 Welsh Rugby Charitable Trust is a charity established to help players who have sustained serious injuries playing rugby. To date, the charity trust has helped hundreds of players in Wales, from
grassroots to professionals with financial support towards rehabilitation, counselling, career advice, educational opportunities, and retraining.
Rebecca Rose, Senior Marketing Director at Papa Johns UK said: "As official partners of the three International Rugby Union's, we're
proud to support each home nation with three newly launched rugby pizzas, just in time for the Guinness Six Nations, that will help raise funds for charities in Wales, England and Scotland."_
"We hope our customers will enjoy trying the newly launched pizzas and join us in our mission to continue to support rugby and raise money for three amazing causes that are doing such important work
within the sport."
The Rose, The Thistle and The Dragon pizzas will be available to purchase online or via the Papa Johns app and in select stores for in each respective nation from 23rd January to 25th April.