ReGen De Peau launches their revolutionary Platinum skincare. Tap into the future of luxury skincare.
ReGen De Peau Platinum Skincare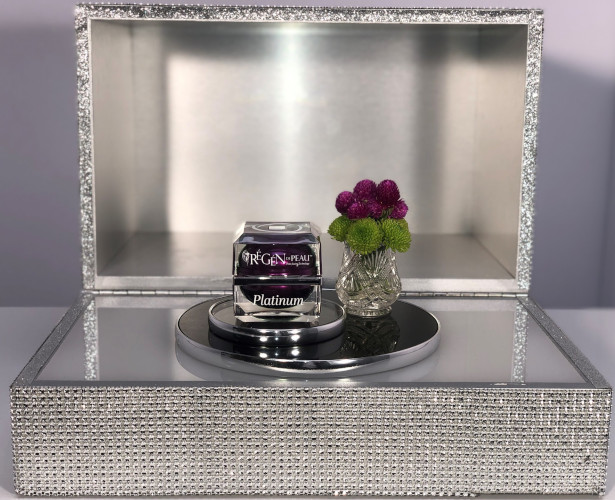 "My life long desire to create a revolutionary, regenerative, natural skin cream became a reality with my ReGen De Peau Platinum all inclusive formula"
ReGen De Peau Platinum is an innovative, natural skincare backed by science that disrupts the way a person ages with powerful treatments of healing, lifting and wrinkle reduction. One product… One application… One minute… Two times daily. ReGen™ features Pene-Fusion 8™ technology that allows the ingredients to live together in an encapsulated form and ingredients to remain active even after the package is opened. It is made up of four ingredient complexes: MDI complex, UGL Complex, BMPX Complex and the organic Japanese Blue Lotus flower extract, known to be a miraculous turnaround in anti-aging. Apply a dime-size portion directly onto skin, each to the forehead, cheeks, chin, and neck with a firm tapping motion to expedite penetration and energy into the outer layer of skin.
No additional moisturizers, eye creams, or lip creams are necessary. Any other cream, sunscreen, or makeup, can be applied 10 minutes after application.
Régén De Peau Platinum hydrates and accelerates skin cell renewal. Protect skin day and night against free radical damage with this breakthrough Pene-Fusion 8TM technology. Recent Research and Development breakthroughs include: Manufacturing and producing the fastest enzymes, combined with the power of peptides, penetrating nutrients and minerals that go deeper than any other product known in skin care. Finding ingredients and developing new products that are proven to optimize the energy of skin cell renewal evenly for laser skin care procedures. The cooling properties of this gel cream formula are enormous for pain relief and post procedure rapid healing. Results that speak for themselves. ReGen De Peau Platinum has more ingredients than any other skincare product with four complex, clinically proven powerful combinations, plus 47 other highly-effective and proven ingredients such as alkaline pure and mineral-based water – a first in skin formulation. TAP into the Next Generation of unisex, multi-functional, multi-cultural skincare.
Made-In-The-USA, FDA/USDA – approved.
Founded by Oli Scarlato, with 35 years in the industry, Scarlato has traveled the world as a spokesperson, first as a model for Revlon turned laboratory geek and scientific ingredient research specialist to develop and bring to market revolutionary new skin care products with her Pene-Fusion 8 Technology: cutting-edge yet simple skin care formulas clinically tested and shown to assist resurfacing and renewing aged, wrinkled, scarred, and blemished skin. Suffering scalding burns over 50% of her body at age 4, started Scarlato's quest to create her "dream cream" – ReGen De Peau Platinum – the world's only natural, time-released, single-step, anti-aging skin care regimen. The "dream cream" became a reality. Science had finally met simplicity. A devoted philanthropist, Scarlato is highly-respected in the health and beauty industries, having worked with noted companies such as: Dow Brands, Lange Laboratories, and Trionics Laboratories. As a scientific skin care research specialist by trade, and a philanthropist to critical burn patients in both action and heart, Scarlato is bringing to life her vision of revolutionizing skin care technology. Scarlato contributes to children through the gift of her healing products, specifically those who experience the physical disfigurement and pain of burns. Her personal mission is to improve the quality of life for these children through continued development of healing products. Our current challenging times have led to an increased awareness of the need for self-care. ReGen De Peau Platinum is a solution to care for skin after wearing a face mask all day. For more information visit: www.regendepeau.com/ Insta: @regendepeauofficial Twitter: @regendepeau FB: www.facebook.com/regendepeauofficial/