Put a Spring (Clean) in Your Step with Eco-friendly Cleaning Products from Modern Milkman
https://themodernmilkman.co.uk/
Spring is on its way, and households across the nation are gearing up for the annual deep clean! Modern Milkman, the 21st century's answer to the traditional milkround, not only delivers fresh milk and groceries directly to the doorstep, but also plastic-free cleaning products and toiletries – helping to keep customers and their homes spotless, without making a mess of the planet.
Environmentally friendly and chemical-free, all products are housed in returnable glass bottles with reusable nozzles. Keeping your house and conscience clean, Modern Milkman even collects, washes and refills your empties!
Here are Modern Milkman's top picks from its collection of return and refill, eco-friendly household products, perfect for keeping your home germ and plastic-free this spring.
Baththings starter pack
£8.50 pack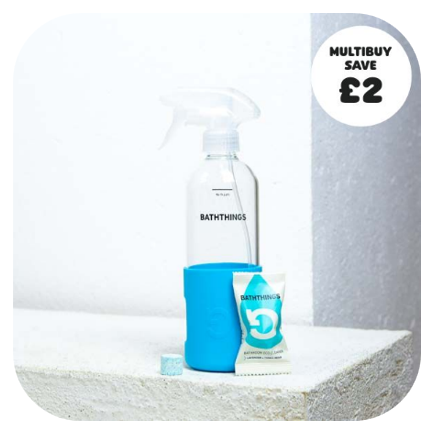 This starter pack includes both a bathroom glass bottle and bathroom cleaning spray tab – aka everything you need to keep your home sparkling and clean!
Made by Homethings, who also believe single-use plastic is bonkers, this bathroom cleaning spray tab can be used on shower trays, bathtubs, tiles, taps and sinks. It contains non-toxic, vegan and cruelty-free ingredients, and has a light lavender and tonka scent – perfect for creating a relaxing bathroom aroma.
To use, fill your glass bottle with lukewarm water and drop in a tab. Let it dissolve completely before you put the nozzle on. For stubborn stains (we're looking at you, toothpaste in the sink), spray, wait 10-15 seconds and then wipe. Easy-peasy!
When you've finished with your cleaning solution, rinse out your bottle, order some more all-purpose tabs and then refill.
The cleaning spray comes in a chic glass bottle, so you can keep your bathroom sparkling clean without any single-use plastic. The tablets are packaged in home-compostable paper, so you can easily throw it in your home compost bin when you're done!
Miniml Starter Pack
£15.00 pack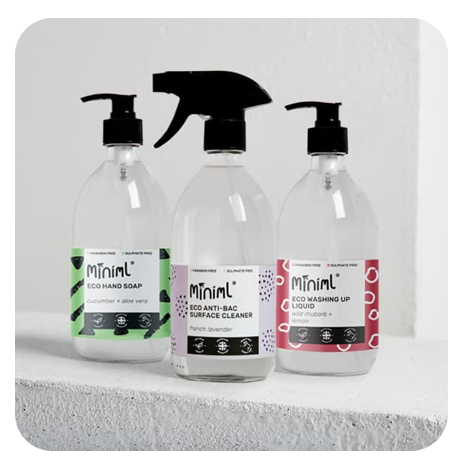 Give your house and the planet the TLC they deserve with our Miniml Starter Pack. This bundle boasts everything you need to keep your dishes spotless, your worktops squeaky clean and your hands smelling divine.
The Miniml cleaning products arrive in glass bottles, which you can leave on your doorstep for Modern Milkman to collect and refill. You know what that means – no more single-use plastic or waste!
Seep compostable sponge
£2.50 each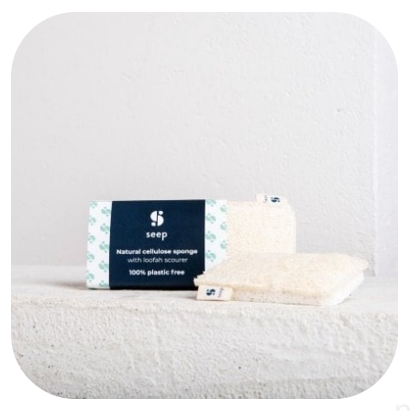 Get squeaky clean pots and pans with the plastic-free, non-scratch, Seep sponge. It's double-sided, with all-natural wood-pulp cellulose on one side and pure loofah plant on the other. That way, you have a smooth, gentle surface for more delicate dinnerware and a scrubby, abrasive side for tougher food stains.
The Seep sponge also retains more washing up liquid than the average sponge, which means it requires less soap. It can even be washed in a dishwasher or washing machine (up to 40 degrees) between uses meaning each sponge lasts for around one month – just make sure to dry it out between uses to prevent mould. Once it's been thoroughly used, cut it up into chunks and pop it in your home composting bin – simple.
Homethings dishwasher tablets
£9.50 pack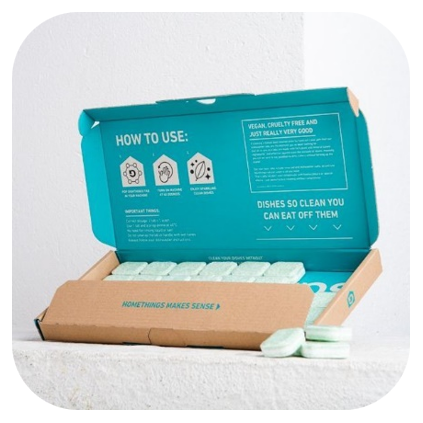 Dishthings are powerful all-in-one plant-based dishwasher tablets that will keep your dishes looking squeaky clean. They're proven to outperform Finish and Ecover , and at 24p per tablet, you'll be able to clean more for less. Each Dishthings tablet is coated in 100% biodegradable material, which means there's no need to unwrap, and no plastic waste.
For more information and to join the Modern Milkman milkround, visit: https://themodernmilkman.co.uk/