Mid week treat // recipe from Owen Morgan and Estrella Galicia
Root vegetable & wild mushroom pisto, crispy cacklebean egg, truffled manchego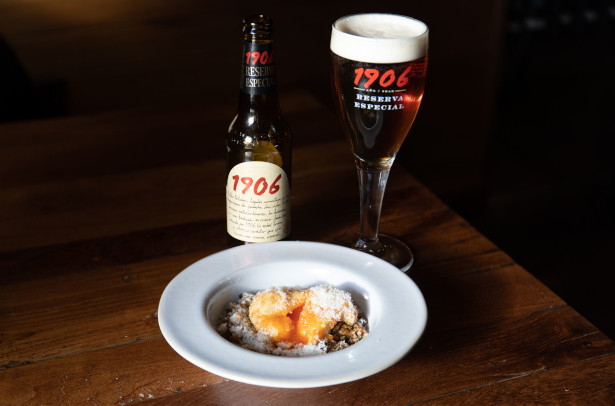 Pisto Manchego is a classic bar tapa. It is similar to a French ratatouille. This is our autumnal version, using just root vegetables instead of the normal summery Mediterranean vegetables. Topped with a deep fried rich Cacklebean egg and generous grating of truffle manchego, it's a treat any day of the week and pairs perfectly with Estrella Galicia lager.
Serves 6
For the pisto
50g dried wild mushrooms
500ml boiling water
1 butternut squash, brunoise
1 leek, brunoise
4 cloves garlic, minced
1 celeriac, brunoise
4 medium carrots, brunoise
2 tablespoons thyme leaves
25g ñora paste
100ml amontillado sherry (optional)
70g miso
Pour the boiling water over the dried mushrooms, stir and cover. Leave for 30 minutes.
After the 30 minutes strain the mushrooms, keeping all the mushroom liquor. Finely dice the rehydrated mushrooms, then sautée in olive oil and seasoning for 1-2 minutes. Set aside.
In the same pan sautée the leek and garlic together with olive oil and salt until soft and sweet ans set aside.
Then sautée the squash separately with olive oil and some salt, until the squash has softened. Set aside.
Finally, sautée the celeriac, carrots & thyme together with some olive oil and salt. Continue until softened but still with a little bite.
Put all the vegetables together in to one pot, on medium heat. Add the ñora paste and amontillado sherry. Evaporate and reduce.
Now add the miso paste and the mushroom liquor. Stir in and check for flavour and seasoning.
For the egg
6 Cacklebean Arlington eggs (or a rich free-range alternative)
Flour
2 extra free-range eggs
Panko breadcrumbs
Light olive oil
To poach the egg, heat a pan of water and bring to the boil. Crack 3 eggs at a time into the water, being careful to keep the separate. Simmer for 1 minute, then refresh in iced water to halt the cooking. Repeat with the other 3 eggs.
Lay out 3 dishes or containers, one each for flour, whisked egg (your remaining extra eggs) and panko breadcrumbs. Season your flour.
Take your poached chilled eggs from the water and blot dry, Coat in the seasoned flour, then the egg, then the breadcrumbs.
To fry, heat a saucepan 1/3rd full of light olive oil, and bring to a temperature of 180 degrees. Lower the breaded eggs in with a slotted spoon and fry for 1 minute or until golden brown and crispy.
To finish and serve
Serve on top of the pisto, with generous amounts of truffled manchego served on top.