New From Brewing America®… including Cold Brew Coffee Kit in a Mason Jar!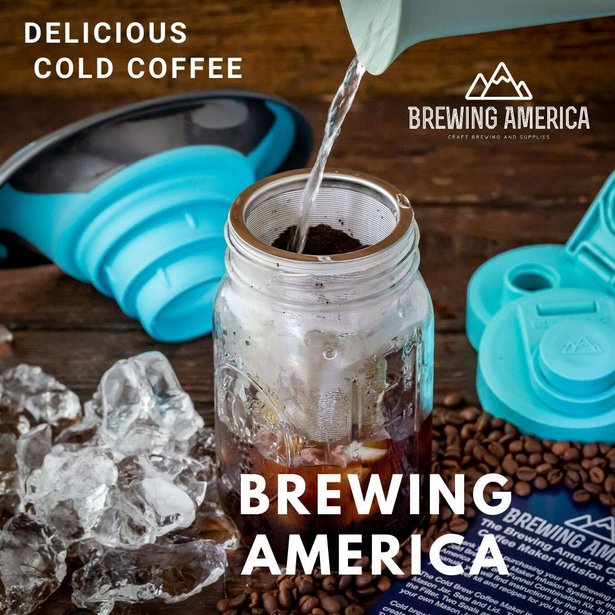 Brewing America® released some new products for Mason Jars that are great for coffee lovers and even feature innovations like dissolvabel labels!! You can easily find their products on their website, Amazon, Ebay andWalmart.com. too! Here's what they've released this year!
1. Cold Brew Coffee Kit in a Mason Jar! These make a great giftbecause they are easy and convenient! You prepare it the day prior andlet it sit on your counter or fridge….that's it!! It's a Mason Jar witha stainless steel filter to put your coffee grounds in, offered in both 1 quartand 2 quart sizes. But the best part is their LID! They designed and patented their American-made Mason Jar Lids! American-made means safe and high quality that folks can trust and depend on! The lid boasts no drip, nospill, no leak and stay-open lid design features.#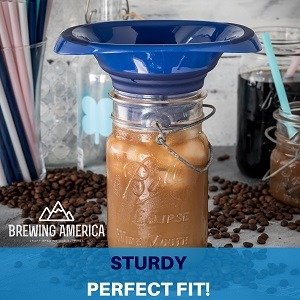 2. Mason Jar Funnel: to help folks keep their kitchen clean! It fits both wide-mouth and regular mouth mason jars and collapses down foreasy storage. Customers LOVE our funnels and they have tons of awesome reviews on it!#
3. Dissolvable Labels: To keep your drinks and foodorganized in the fridge, freezer or pantry, these labels are magical atclean-up time! They disappear under running water in less than 30seconds! So no scrubbing or sticky residue! And no more forgettingwhat's in that container and how old it is….less waste! Check out their video on it — very cool!
All this is backed by their personal customer service, great instructions and willingness to help brewers, fermenters and mason jar lovers!
Brewing America® are proud they have improved the homebrewing industry and to bring most of their manufacturing back to America! They are a certified Service – Disabled Veteran – Owned Small Business. They are a husband and wife team (both Veterans) with a small team of employees.
Please check out their website www.BrewingAmerica.com to see their products.
Brewing America®
www.brewingamerica.com
www.facebook.com/BrewingAmericaCo/
www.instagram.com/brewingamerica/
www.amazon.com/s/ref=nb_sb_noss?url=me%3DA2PGURVGLFZIBY