Mandira's Kitchen an award winning producer of authentic Indian food with perfect gifts for Mother's Day www.mandiraskitchen.com
Mandira's kitchen is an award-winning producer of authentic Indian food. Their all woman team, based out of a 400 year old cowshed , overlooking the magical Silent Pool in the Surrey Hills create delicious freezer meals, and accompaniments such as chutneys and ice creams and also provide bespoke catering and food experiences such as cookery lessons and spice tours.
All the food is made using fresh produce, containing no gluten or unpronounceable bits with vegan and dairy free options. Delivered to any address, the food can be heated in 4 minutes to give you a wholesome homemade meal.
Mandira's have several offers for Mother's Day
Mother's Day Special Weekend Meal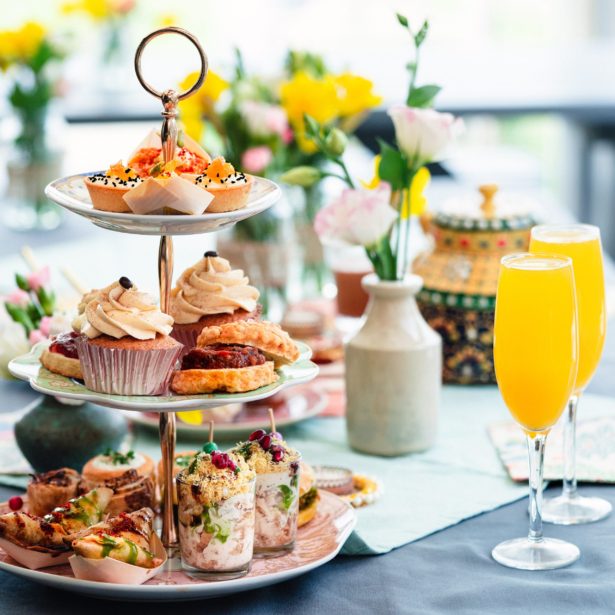 Available for delivery by 25 March and will ensure a delicious luxurious indian banquet with minimal cooking and preparation – the food will arrive frozen and can be stored in a fridge for 48 hours or in a freezer for up to 6 months. Available as Classic meat and fish, vegetarian and vegan options and all special dietary requirements taken into account (just ring the order line) – visit the website for menu.
Mother's Day Indian Afternoon Chai on the Patio
For those within travelling distance of our premises beside the idyllic Silent Pool in Surrey you can book to take Mum to Afternoon Tea (Chai) on the patio with a sumptuous indian afternoon tea.
The menu includes:
MK Mimosa on arrival
Cocktail Vegetable Samosas (v) = (Crispy pastry filled with spiced potato & peas)
Vegetable Sliders (v) = (Homemade patties with chutneys in a mini brioche bun)
Spiced Chicken or Vegetable Puffs = (A melt-in-the-mouth spiced mousse on a bed of puff pastry)
Mini Papri Chaat (v) – (Sweet, sour, savoury – an explosion of flavours & textures)
Khati Roll Pinwheels – (Smoky chicken or vegetable skewer with onion salsa wrapped in paratha)
Spiced Cheese Scones with Tomato & Date Chutney (v)
Rose Scones with Cardamom Clotted Cream (v)
Chai Masala Cupcakes (v)
Spiced Cream Cheese & Pineapple Tarts (v) (Sweet and savoury, and with a kick!)
Gajar Halwa (v) – (Our decadent warm spiced carrot pudding topped with a pistachio cream)
Mango Lassi – (A refreshing chilled drink to finish your meal)
Served with unlimited Masala Chai
They also have a range of Gifts and Tableware which make perfect mother's day gifts, especially:
Chutney Serving Set with Chutney & Spiced Crackers
£39.99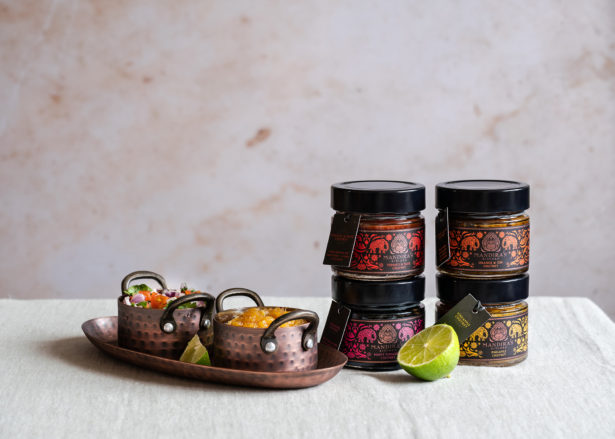 Two mini antique copper serving bowls complete with an oval tray and a jar of our Tomato & Date Chutney with Spiced Crackers. A great way to serve your condiments, dips, chutneys etc. (Hand wash only)
Spice Experience Kit – Authentic Indian Spice Tin (Including Delivery)
£30.99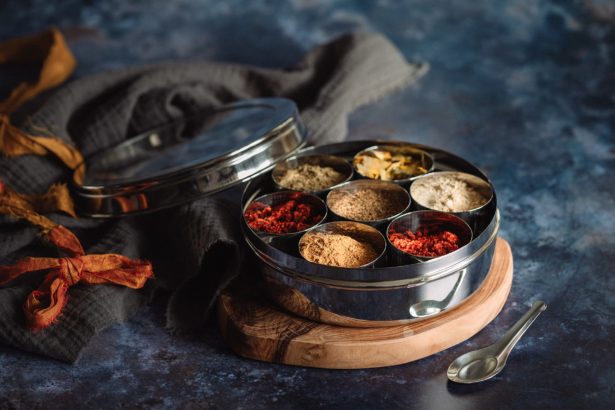 This authentic Indian spice tin will look amazing in your kitchen. This 'magic' tin not only looks the part bu it also contains all the spices you need to create an authentic Indian feast in your own home, together with a recipe booklet to start you off. And also check out our instagram page for some special lockdown meals to make using these special blends!
Seven exclusive blends that we use in our kitchen to produce our award-winning meals. You can also add our beautiful serving dishes, chutneys, crackers, etc to create the perfect dine-in experience at home.
Suitable for vegetarians and vegans. Gluten, nut and preservative free.
Contains Onion Bhaji Masala, Chicken/Meat Masala, Bombay Potato Masala, Chilli Masala, Chai Masala, Garam Masala and Raita Masala.
Vintage Hand-Painted Kettle With Chai Glasses & Chai Mix
£39.99
These stunning kettles are hand painted and embellished to add a touch of romance to your table. Comes complete with 4 chai glasses and a jar of our special chai mix. Please note as these are hand painted they may have slight irregularities, unlike the smooth finish of a machine-made item. The kettle is only for serving (not heating) and needs to be hand washed.