THERMOS Hydration Bottles, Travel Mug & Dual Compartment Food Jar
which are perfect for active outdoors lifestyles
Since 1904, Thermos® insulated products have been providing convenient solutions for a more enjoyable on-the-go eating and drinking experience.
Genuine Thermos Brand Double Wall Hydration Bottle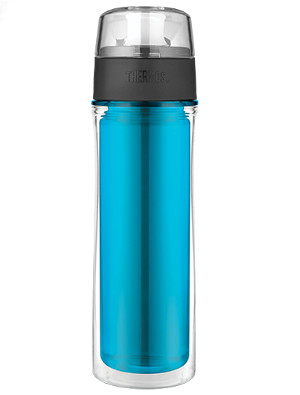 Perfect for sportspeople who love to stay active, the Thermos brand Double Wall Hydration Bottle features a hygienic rear button lid for one-handed operation, as well as a lock to make sure you don't get wet while running or exercising at high impact. The double wall construction is sweat and slip proof and provides insulation, keeping your drink cooler for longer.
Available from John Lewis and Thermos.co.uk from £15.
Genuine Thermos Brand Stainlesss King™ Travel Mug
This classy travel mug features a durable stainless steel interior and exterior, and keeps your tea or coffee hot for 5 hours thanks to its Thermos Vacuum Technology. Cool to the touch, it fits in most car cup holders, and features a built-in tea hook to hold tea bags and most loose leaf infusers.
Also available in midnight blue and matte black. John Lewis, Amazon, Thermos.co.uk, £35
Genuine Thermos Brand Dual Compartment Food Jar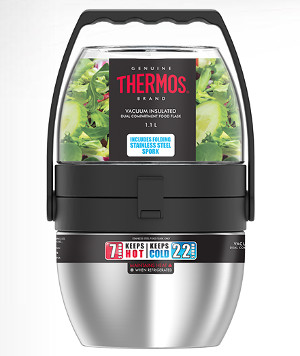 With two separate hinged compartments that keep contents secure at separate temperatures, you can carry hot and cold food together – with hot food keeping hot for up to 7 hours and cold food for up to 22 hours. Perfect for carrying the likes of salads along with hot dishes for lunch al desko, it's easy and convenient to eat healthy, fresh food on the go. The bottom compartment is made from durable stainless steel with Thermos™ vacuum technology.
Available at Thermos.co.uk and John Lewis, from £39.99