Healthspan Elite launches first co-created sports nutrition range with the All Blacks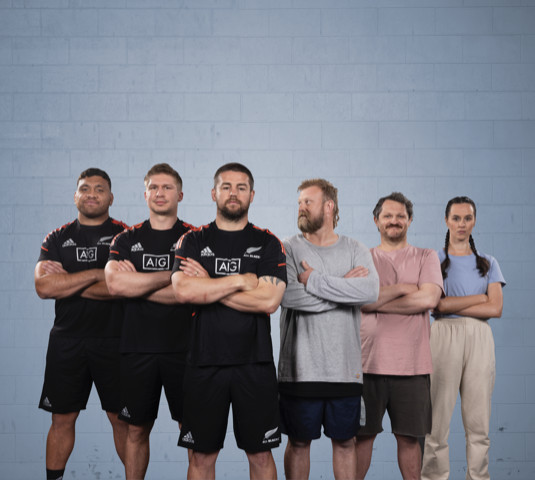 • Healthspan Elite and the All Blacks co-create first sports nutrition range, launched in the UK on 1st February
• Brought to you by the Official Sports Nutrition Partner of the All Blacks, the range consists of 32 products, from vitamins to pre-workouts and a range of proteins
• The product range is designed to improve performance and complement diets, and is suitable for anyone, from the All Blacks to those that lead an active lifestyle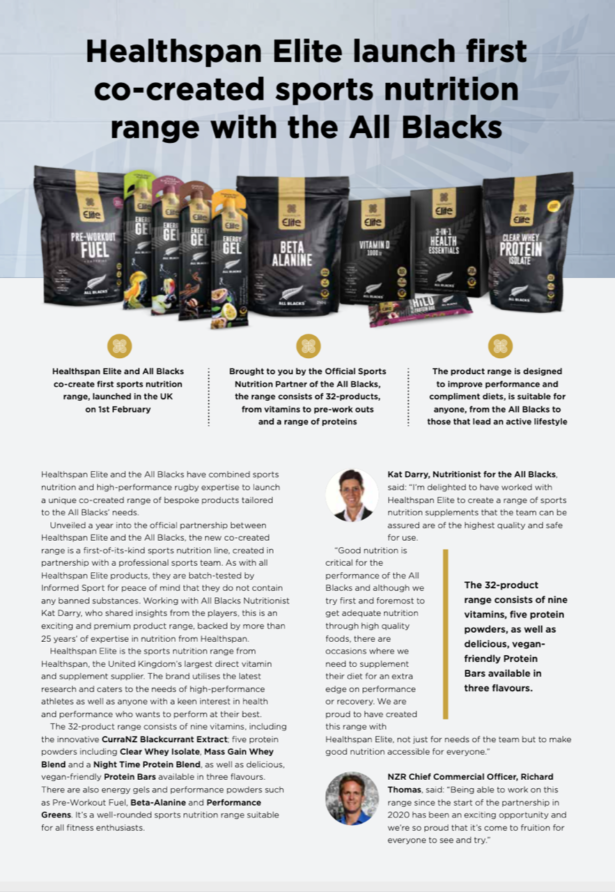 Healthspan Elite and the All Blacks have combined sports nutrition and high-performance rugby expertise to launch a unique co-created range of bespoke products tailored to the All Blacks' needs.
Unveiled a year into the official partnership between Healthspan Elite and the All Blacks, the new co-created range is a first-of-its-kind sports nutrition line, created in partnership with a professional sports team. As with all Healthspan Elite products, they are batch-tested by Informed Sport. Working with All Blacks Nutritionist Kat Darry, who shared insights from the players, this is an exciting and premium product range, backed by more than 25 years of expertise in nutrition from Healthspan.
Healthspan Elite is the sports nutrition range from Healthspan, the United Kingdom's largest direct vitamin and supplement supplier. The brand utilises the latest research and caters to the needs of high-performance athletes as well as anyone with a keen interest in health and performance who wants to perform at their best.
The 32-product range consists of nine vitamins, including the innovative CurraNZ Blackcurrant Extract; five protein powders including Clear Whey Isolate, Mass Gain Whey Blend and a Night Time Protein Blend, as well as delicious, vegan-friendly Protein Bars available in three flavours. There are also energy gels and performance powders such as Pre-Workout Fuel, Beta-Alanine and Performance Greens. It's a well-rounded sports nutrition range suitable for all fitness enthusiasts.
Kat Darry, Nutritionist for the All Blacks, said: "I'm delighted to have worked with Healthspan Elite to create a range of sports nutrition supplements that the team can be assured are of the highest quality and safe for use.
"Good nutrition is critical for the performance of the All Blacks, and although we try first and foremost to get adequate nutrition through high-quality foods, there are occasions where we need to supplement their diet for an extra edge on performance or recovery. We are proud to have created this range with Healthspan Elite, not just for needs of the team but to make good nutrition accessible for everyone."
NZR Chief Commercial Officer, Richard Thomas, said: "Being able to work on this range since the start of the partnership in 2020 has been an exciting opportunity and we're so proud that it's come to fruition for everyone to see and try."
Head of Nutrition at Healthspan Elite, Rob Hobson, said: "I am thrilled to be supporting the new range of products create by Healthpan for the All Blacks partnership. This new range of Informed Sport-Accredited supplements have been designed with performance and wellbeing in mind for both elite athletes and those with an interest in sport."
Healthspan CEO, Martin Talbot, said: "Healthspan Elite has already been supporting the All Blacks with supplements to aid their health and performance for more than six years, so being able to have a co-created range with such a prestigious rugby team is a privilege. Our values and beliefs are complementary, and we both share a passion for health and performance. We will launch in New Zealand and in other international markets, and have secured distribution in retail in New Zealand, both online and marketplace. We are also working on retail in the UK and Ireland. This is an incredible range for people to try, from the everyday elites to professional athletes, it 'Works for all'."
The Elite and All Blacks range has been specifically developed to provide trusted, batch-tested (Informed Sport) vitamins and supplements, designed to aid and support performance that works for all.
The Healthspan Elite All Blacks range will be available online at www.healthspanelite.co.uk and www.healthspanelite.nz, and instore at Unichem and Life Pharmacy.