Bram's View – Whitby
Property reference: 28336

Located on Whitby's West Cliff with wonderful sea views, this apartment hosted Bram Stoker when he created Dracula! With this year marking 120 years since its original publication – and Stoker's 170th birthday in November – there's no better time to visit. Close to the cliff lift to the beach, Pavilion Theatre and swimming pool, guests can walk along the seafront or climb the steps to Whitby's iconic abbey. With boat trips, historic sites to explore and loads of other activities, guests can follow in Stoker's footsteps and create their very own classic story.
PRICE: WAS: £274, NOW: £227 (£18.91pppn)* for three nights' self-catered accommodation arriving 6th November 2017. Sleeps four in two bedrooms with one pet welcome. To book, visit www.cottages.com or call 0345 498 6900.
PUMPKIN PIE…BUT NOT AS WE KNOW IT…
LITTLE MOONS LAUNCHES UK'S FIRST SPICED PUMPKIN PIE MOCHI ICE CREAM FOR HALLOWEEN & THANKSGIVING
Little Moons (www.littlemoons.co.uk)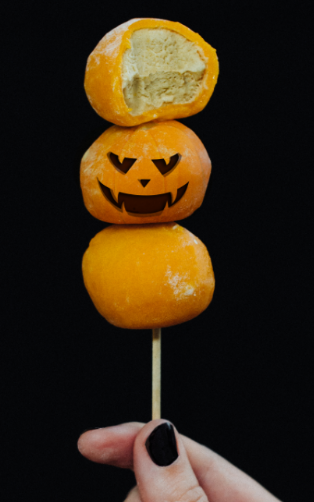 Launching in October, the Spiced Pumpkin Pie edition will be available exclusively at the Little Moons mochi ice cream bar at Whole Foods Market stores across London (High Street Kensington, Piccadilly Circus, Fulham, Richmond and Clapham Junction).
Mochi is a Japanese delicacy where it has been enjoyed for thousands of years. Traditional mochi is filled with red bean paste, however, Little Moons have innovated the concept by combining delicious gelato spheres made from British dairy and wrapping them with sweet, soft mochi dough.
This new edition has taken inspiration from the classic transatlantic dessert, the pumpkin pie. The gelato and mochi is made by combining real pumpkin with an autumnal spice mix of cinnamon, nutmeg, clove and ginger to produce a scrumptious seasonal treat.
The delicious taste, special consistency and colourful appearance makes Little Moons mochi a unique and indulgent gelato experience. Gluten-free and less than 100 calories each, they are the perfect bite-sized treat; ideal as a snack or as an after dinner reward for those looking for some measured indulgence.
The Spiced Pumpkin Pie edition can be found at the self-serve mochi ice cream bar at Whole Foods Market stores in High Street Kensington, Piccadilly Circus, Fulham, Richmond and Clapham Junction and also the Mochi Pop bar at the High Street Kensington branch.
Visitors can choose to take home their own assortment of Little Moons mochi ice cream spheres in a freezer bag box at the self-serve station or head to the dedicated bar (at High Street Kensington) to create their own Little Moons 'Mochi Pop', a skewered stack of prettily coloured spheres of mochi ice cream designed to be enjoyed immediately.
Guests will be able to enjoy a range of innovative Little Moons varieties, mixing and matching them to create their own exciting flavour combinations: Matcha Green Tea, Toasted Sesame, Coconut, Raspberry, Yuzu, Vanilla, Mango, Salted Caramel, Chocolate, and Hazelnut and now Pumpkin Pie.
At the Little Moons mochi ice cream bar, a selection of one to five delicious mochi spheres cost £1.50 each and six or more cost £1.25 each.
Little Moons launched a retail range in August 2015 at Whole Foods Market and has since become one of Whole Food Market's best-selling ice cream brands. Still available in a six sphere pack in Whole Foods Market (£5.99) is Toasted Sesame, Vanilla, Coconut, Matcha Green Tea, Mango and Raspberry flavours. Little Moons Mango, Matcha Green Tea, and Coconut flavours are also available nationwide at Ocado with an RRP of £4.99 and Little Moons Matcha Green Tea and Mango are available at Waitrose with a RRP of £4.99.
Little Moons require no preparation before consumption and are best savoured one bite at a time after removing from the freezer for three to five minutes to allow the mochi to soften.
Visit our website: www.littlemoons.co.uk
Follow us on Twitter: @lovelittlemoons
Follow us on Instagram: littlemoonsmochi
Like us on Facebook: www.facebook.com/littlemoons

Trunk or Treat – Television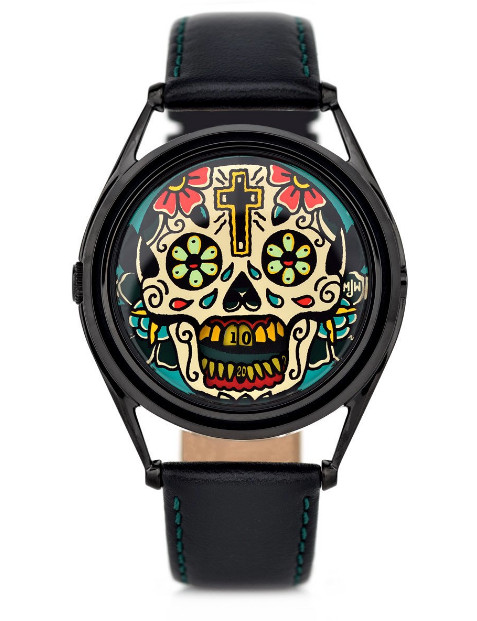 The perfect watch for halloween
mrjoneswatches.com/products/last-laugh-tattoo
The Last Laugh Tattoo is not your average watch. Instead of hands, you check the time on the skull's teeth.
Dual Crossroads

A Metaphysical store in South Pasadena, CA. Dual Crossroads is gaining traction in South Pasadena. People come for the simple fact that this shop is not the typical cookie cutter gift shop or antique shop that the community is used to. Dual Crossroads prides itself on being a unique attraction in its own.. With everything from house made candles, to amazing handmade halloween decorations, to healing sage, to costume jewelry, to crystals.. there is something for everyone. Please let us know if you would like any further information, or would be interested in featuring our kids halloween workshop on your radio's calendar of events or doing a write up on our shop! We would love to have you down to the shop to take a look around and explore. We are so grateful you took the time to read this email!. Below is more information on our shop and owner as well as the workshop!
About Dual Crossroads: Everyone has a light and dark to who they, which makes up part of who they are as a person. Within the heart of South Pasadena, at the historical Alexander Building on Mission Street, those two halves come together at Dual Crossroads.
Dual Crossroads was created by Jennifer Maimone in November 2016, and opened its doors during the 2016 holidays. Jennifer's goal was to bring a balance of light and dark, where the public could come and enjoy the ultimate one-stop-shop. The eclectic elements of Dual Crossroads are apparent when you first walk in. People will find a mixture of goods, including gifts of Spiritual New Age, Gothic accessories, and Geeky novelties. Dual Crossroads also offers craft workshops and meditation sessions to the public. Learn more at www.DualCrossroads.com, or follow on Instagram (@DualCrossroads) for the latest information.
Dual Crossroads is located at 1005 Mission Street, in South Pasadena. Hours are Mon, Wed-Sat from 11am-6pm, and Sun 11am-3pm.
How to have a safer, brighter Halloween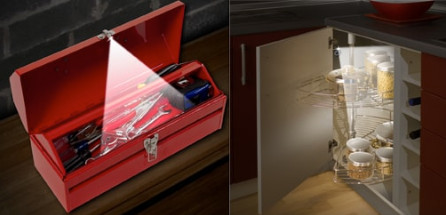 A few products from the LED industry's most evolved brand, Panther Vision, to keep everyone safer this Halloween. After reviewing your website, I think that their Button Lamp, Powercap, and Lightspecs in particular will fit perfectly in your Halloween guide.
The button lamps are tiny but powerful LED lights that can be stuck just about anywhere. For Halloween, stick them outside and create a safe path for trick or treaters, or place them on your child's candy bag so that they remain visible in the dark.
The Powercap are hats ranging from baseball caps to beanies that light up the path in front of you. The Lighspecs are a line of LED lighted reading glasses, lighted safety glasses, and lighted wallet readers also designed to provide you with convenient, hands free light.
You could even get creative with building these products into your Halloween costume. Parents and children can leave their flashlights at home and create hands free light for a safer, more convenient Halloween night!
www.PantherVision.com.
Following last year's successful sold-out run, Tea Break Theatre's immersive thriller, Dracula, returns to Sutton House for Halloween as part of the National Trust's 'Queered Season'.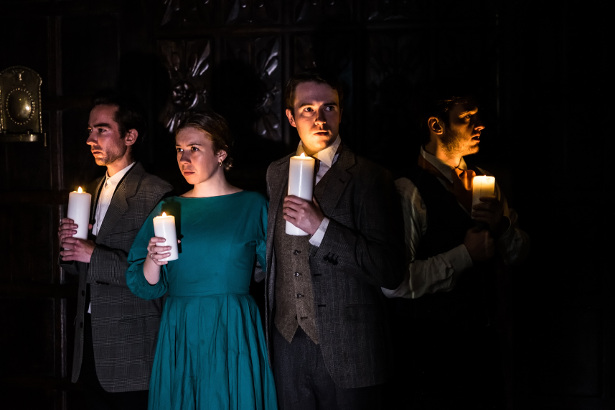 Based on Bram Stoker's classic text, and set within the historic rooms of the Tudor Sutton House, this electrifying interpretation, full of twists and turns, shines a light on some of the forgotten identities in the original novel.
Dracula is a theatrical journey that will lead audiences into the darkest corners of the house and the deepest depths of their nightmares. This is a haunting and visceral promenade experience that will transport visitors back in time to discover a legacy of blood that stretches through the ages.
Director Katharine Armitage comments, It is a real honour to be bringing the Count back to life at Sutton House as part of their 'Queered Season'. This show is all about shaking the dust off a Victorian text, peering into its innards and then throwing it onstage to create something both classic and completely new. In re-examining our history and literature we can always find voices that were ignored or kept quiet in the past but they're definitely there and now it's their time to come out of the shadows (the problem being, with a horror story, what else will follow out of the darkness!).
Delicious Halloween chocolates.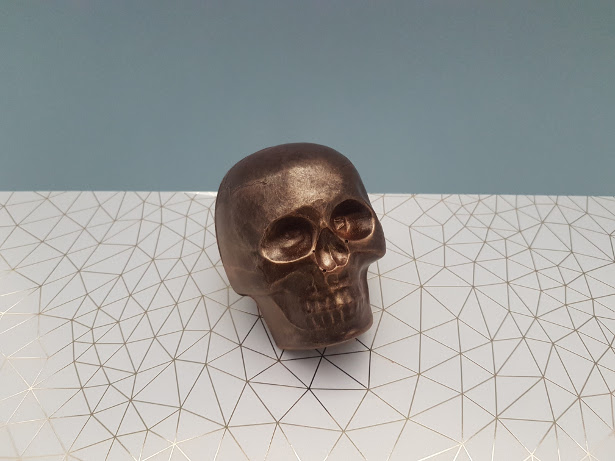 They are sold online and available throughout the UK by a delicious Foodtech Startup www.tabl.com and produced by The Cocoa Den a boutique London based chocolatier.
Halloween Accessories and Decorations Under $20: Apollo Box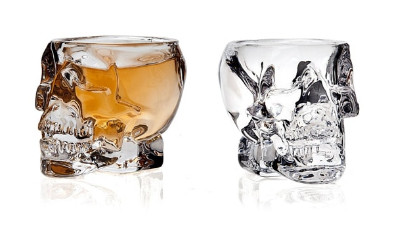 My name is Jannelle Garcia and I'm the Content/Media Specialist for Apollo Box. We're an eCommerce site that specializes in selling unique and one-of-a-kind gifts. I saw your query while browsing through HARO emails and thought that some of our products would be a great fit for your Halloween Guide. I posted links to them below, all of the products are under $20 so they're fun, unique and affordable!
Skull Shot Glasses
Celebrate Halloween in style with these Skull Shot Glasses. Everyone at your party will want to take a shot out of these mini skulls. Fill them with your choice of poison and give 3 cheers to Hallows Eve!
The Mustachifier
New man or woman in your life? This Mustachifier will put a smile on their adorable face. This is a fun, practical and easy costume for your little one.
Bone Chillers Ice Tray
Why settle for plain ice cubes when you can have crossbones and skull ice cubes? Friends will want to feature photos of these fun Bone Chillers in their Instagram and Facebook feed in a heartbeat. If you want to host a standout Halloween Party, use this tray to make spooky ice cubes or Jell-O Skulls!
Mini Zombie Gnomes (Set of 3)
Place these Mini Zombie Gnomes as guards outside of your home to scare away Halloween intruders or pranksters. Place them along your walkway or hide them among your garden bed and see if trick or treaters can spot them.
MOMMY'S TIME OUT® WINE
IT'S HALLOWEEN AND MOMMY NEEDS A TIME OUT!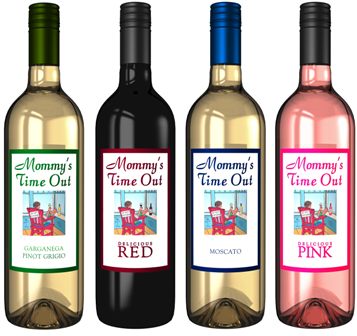 Whether Mommy is helping the kids find the perfect costume, spraying spider webs on the shrubs, or running to get candy at the last minute, Halloween can give mommy the willies! So, we suggest tucking in the little ghouls and taking a moment to relax!
Mommy can take a break with a glass of Mommy's Time Out® wine and a few choice morsels of her favorite candy by her side! (There's no reason the kids need to know you've pilfered their take!)
"Mommy's Time Out Wine really speaks to women, especially with our theme that the wine is a well-deserved break where Mommy can sit back, kick up her heels and be rewarded for her difficult job that offers no holidays or vacations," says said Mike Cincotta, president of Selective Wine Estates, Inc. importers and brand owners of Mommy's Time Out.
Currently, the line features four varieties that have a suggested retail price of $9.99: Mommy's Time Out Garganega Pinot Grigio, Mommy's Time Out Moscato, Mommy's Time Out Delicious Red and Mommy's Time Out Delicious Pink. All are made from grapes grown in Italy and have wonderful fruity undertones. All the wines are fresh, fruity and well balanced and are delicious for sipping with snacks or to complement a meal.
Mommy's Time Out comes in 750-ml and 1.5-L sizes for a suggested retail price of $9.99 or $16.99 for the 1.5L (Mommy's Time Out Garganega Pinot Grigio only). Adults over the age of 21 should enjoy Mommy's Time Out responsibly.
For more information on Mommy's Time Out please visit www.mommystimeoutwine.com.

At Party Remedy we specialise in connecting you with the best Party Business's in your area making planning a party simple.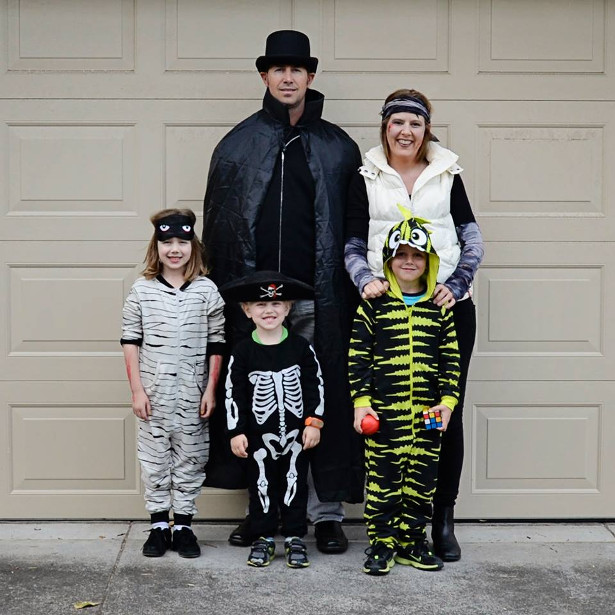 Halloween is coming up and it's a great opportunity to dress up and host a party.
We have a great range of vendors who provide decorations perfect for Halloween.
Check out Katie J Designs and Events, she creates fun party kits perfect for any occasion and her Halloween kit is sure to impress.
This Little Party also have a small range of Halloween balloons to give that extra boost of Halloween style, we adore the confetti balloons which are definitely on trend right now.
It's a great opportunity to get your art and craft on. With loads of resources available on line. Check out our Pint erest Bo ard for loads of inspiration. https://au.pinterest.com/partyremedy/halloween-celebrations/
For more Halloween and Party inspiration, check us out via:
The Party Remedy Website: http://www.partyremedy.com/
Facebook: https://www.facebook.com/partyremedy/
Join our Facebook group: https://www.facebook.com/groups/334032653734366/
Screamland is back this Hallowe'en! A plethora of scares await as the multi award winning attraction returns to Dreamland Margate.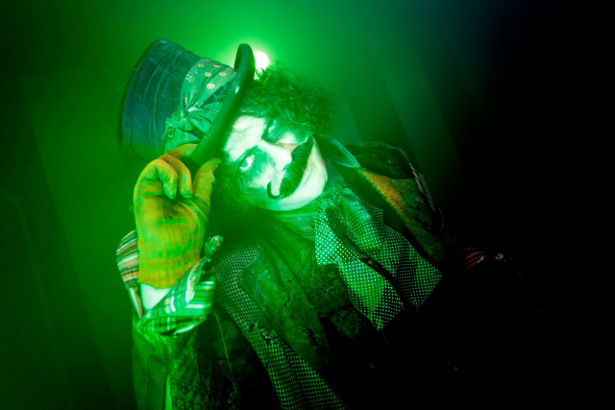 The amusement park on the South East coast, which has recently undergone a £25 million investment, will be transformed into a frightening world full of exhilarating attractions. Screamland is upping the fear factor for 2017 with a whopping six new scare mazes, spooky séances in its Victorian folly and unlimited use of the vintage rides, plus access to Dreamland's mysterious prop store for photo opportunities. This event will open to public from 20 October for six spook-tacular nights.
Alternatively, the 'Get Spooked' event (Hallowe'en-themed family entertainment and activities for younger ones) will be on during the October half term. This will include daily activities for kids that will feature alongside the vintage rides, pop-up entertainment, roller disco and arcades at the free to enter attraction.
Screamland really offers a thrilling and frightful 'scares by the sea' experience this Hallowe'en.
Lime & Lemongrass Halloween Carrot Cake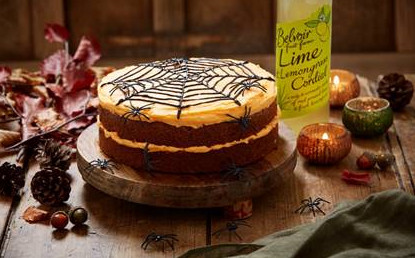 Serves 12
300g carrots, peeled
225ml sunflower oil
170g soft brown sugar
3 eggs
1 tsp vanilla extract
2 tbsp maple syrup
4 tbsp Belvoir Lime & Lemongrass Cordial
zest of 2 limes
325g self-raising flour
1 tsp baking powder
For the frosting
125g unsalted butter
125g icing sugar
50g full fat soft cheese
1tbsp Belvoir Lime & Lemongrass Cordial
orange food colouring
black writing icing
plastic spiders to decorate
Preheat the oven to 180oC/Gas 4/Fan 165oC. Lightly oil a 20cm deep cake tin and line the base with baking parchment. Coarsely grate the carrots.
In a stand mixer or with an electric hand whisk, beat together the oil, sugar and eggs until they are light and fluffy. They need to be thick enough to leave a trail when the whisk heads are lifted.
Add the carrots and remaining ingredients and mix well. Pour mixture into the cake tin and bake for 45-50 minutes.
Leave to cool in the tin for 10 minutes before transferring to wire rack. While cake is cooling beat together all your ingredients for the frosting. Add enough food colouring to make it a bright orange.
Once the cake is cool, cut in half horizontally. Spread half the icing in the middle of the cake and sandwich together. Spread the remainder over the top and smooth with a palette knife.
Pipe the black icing over the cake to look like a spider's web, then finish with plastic spiders.
Halloween Frozen Banana Ghosts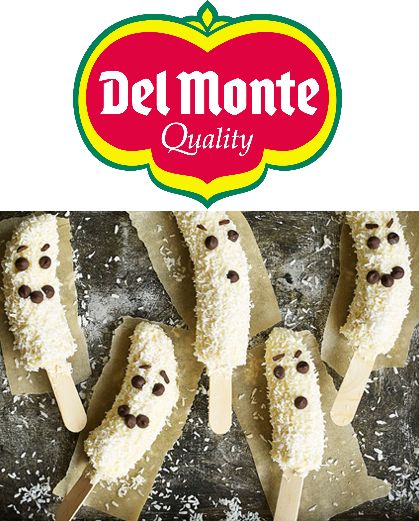 Serves: 8
10 minutes preparation – 4 hours freezing
Ingredients
• 200g white chocolate broken into chunks
• 4 Del Monte® ripe bananas
• 85g desiccated coconut
• 1 handful Dark chocolate drops
Method
1. In a small bowl, gently melt the chocolate either in the microwave – in short bursts on high or over a pan of simmering water (make sure the bowl isn't touching the water). Set aside for a moment while you get the bananas ready
2. Peel the bananas, cut in half, and push a lolly stick into the middle of each piece. Spread the coconut out in a shallow bowl. Line a large baking tray with baking parchment, and make sure there is room for the tray in the freezer
3. Using a pastry brush, coat a banana half in chocolate, letting excess drip away. Sprinkle with plenty of the coconut until coated, then set it on the prepared sheet. Now add two chocolate eyes and a mouth, and if you like, cut a few little eyebrows from the chocolate drops too. Freeze the lollies for at least 4 hrs, and up to a week.
For more recipe inspiration, please visit http://www.delmonteeurope.com

DO HALLOWEEN IN STYLE: COUNTRY HOUSE HOTEL STOKE PLACE HOSTS FIRST IMMERSIVE HALLOWEEN MURDER MYSTERY DINNER

On Friday 27th October 2017, Luxury Country House Hotel just 20 miles outside of London – Stoke Place – will open its doors for an exclusive 45 guests for an immersive Halloween murder mystery dinner in its King & Lamb restaurant. The hotel has teamed up with interactive production company Little Chico Productions to create the perfect Halloween horror experience and an evening to die for. The scene: Lord Goodbottom's highly exclusive birthday bash. The Crime: Murder in the first degree.
Professional actors will start the show while guests enjoy a welcome drink and will bring guests' characters to life. A lavish three-course dinner off the new Autumn menu will follow, during which the cast will answer questions, leaving guests to ponder whether their accounts are gossip, the truth or just plain lies. Guests become detectives and are tasked with solving the crime. The evening concludes with coffee and a dramatic finale during which the murderer is finally discovered and apprehended.
Stoke Place, a grade II listed Queen Anne's Mansion house set in 26 acres of 'Capability Brown' designed gardens provides the perfect haunted home for this fully immersive sophisticated Halloween scare experience.
The Halloween Murder Mystery Evening is by prepaid ticket only at £65.00 per person including parking. Wine for the table is an additional charge, however group bookings of 6 people or more will receive a complimentary half bottle of wine per person.
Arrival drinks commence at 7pm as the actors set the scene. Guests will be invited to sit down at 7:45pm with dinner being served at 8pm. Following a successful arrest of the murderer, the evening will aim to finish at 10:30pm. For those daring enough to stay over after the murderous events of the evening, rooms are also available in the hotel at a reduced rate. For tickets, email: events@stokeplace.co.uk or call 01753 560 219.
DARE YOU TAKE ON HOWL'O'WEEN AT CHESSINGTON?
Visit Chessington World of Adventures Resort between October 20 to 31, 2017, for a spooky Howl'o'ween experience, NOW with two new attractions!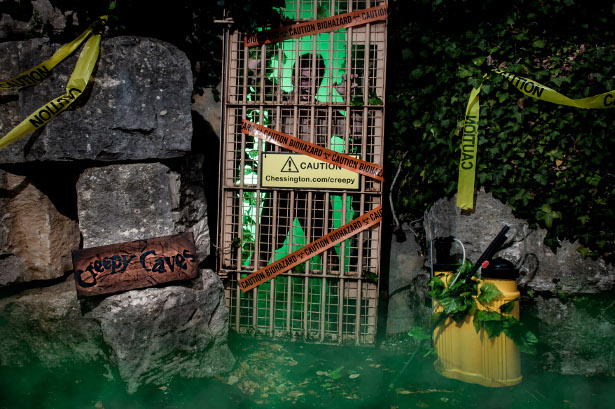 Open late every night until 8pm, spend this Howl'o'ween at Chessington World of Adventures Resort, with four attractions including new for 2017, Creepy Caves Unearthed and Room on the Broom* Spooky Story Time, plus rides in the dark.
With a 'three bat rating' Creepy Caves Unearthed is Chessington's scariest attraction yet. With Zoo Keepers going missing, the Resort has issued one warning, 'enter at your own risk'. Also new for 2017, is Room on the Broom Spooky Story Time. With a 'one bat rating', young adventurers can enjoy a storytelling based on the much loved book written by Julia Donaldson and illustrated by Axel Scheffler, published by Macmillan Children's Books.
The 'two bat rated' Curse of the Lost Tomb maze returns as well, where adventurers can delve into the secret lost tomb of Genghis Khan, full of mystery and riddles. And Trick or Treat Wood is back for those who prefer their scares a little sweeter the whole family can choose a tempting treat or a troublesome trick in the magical woods.
Rides in the dark also return, with last ride entry at 8pm. Take a flight of fright on Vampire, spin underneath the stars on Dragon's Fury's, or incur the wrath of Rameses' Revenge. Plus, with animal shows, a fancy dress competition and character meet and greets, there's spooky fun around every corner.
For the best deals, head to Chessington.com to book Early Bird Tickets before the 15th October, with prices starting from just £26pp for the spooky saver and £30pp for the spooky saver bundle, which includes park and creepy caves entry.
A spooky short break
For the ultimate Howl'o'ween family adventure, why not stay at one of the two Chessington Resort Hotels? With a whole host of entertainment on offer, Chessington is the place to be haunting this Halloween.
Howl'o'ween at Chessington World of Adventures Resort
October 20 to October 31, 2017
Open 10am to 8pm
Tickets from £26pp – guests under the age of 3, get in FREE
Four attractions
NEW for 2017: Creepy Caves Unearthed – 3 bat rating, £6 entry
NEW for 2017: Room on the Broom Spooky Story Time – 1 bat rating
RETURNING: Curse of the Lost Tomb – 2 bat rating
RETURNING: Trick or Treat Woods: 1 bat rating
Rides in the dark
Spooky animal shows, fancy dress competition and character meet and greets
Chessington.com/Halloween
Spooky goings on at The Broadwalk Centre this half term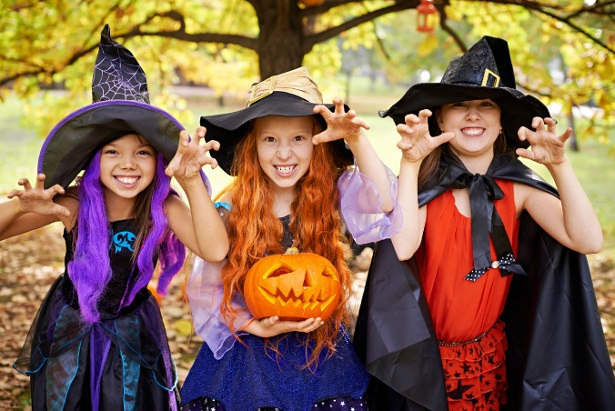 In celebration of the October half term The Broadwalk Centre in Edgware is delighted to announce it will be hosting a free Halloween themed event on Thursday 26th October.
Witch Balloon ModellerFrom 12pm until 4pm the centre will be welcoming a special walkabout witch who will meet with young shoppers, pose for photos and hand out spooky themed Halloween balloons.
Throughout the day a variety of make and take workshops will be taking place for 'little monsters' to get hands-on and create any Halloween decorations of their choice. Kids can choose from pumpkins and bats to ghosts or wizards – the possibilities are endless.
If that weren't enough, a face painter will be on hand to help transform youngsters into a spooky character of their choice.
Angela Brooks, Centre Manager at The Broadwalk Centre, commented;
"We're thrilled to be hosting this Halloween themed event for our loyal shoppers and their families. The event is packed full of activities and features something to help get all children involved in the half term fun.
Those wishing to take part in The Broadwalk Centre's half term event will need to present a valid receipt to a member of staff on the day. This can be from any retailer within the centre dated Thursday 26th October 2017 with a minimum transaction value of £5.

The Dublin Liberties Devil Smash is delicious and very easy to make at home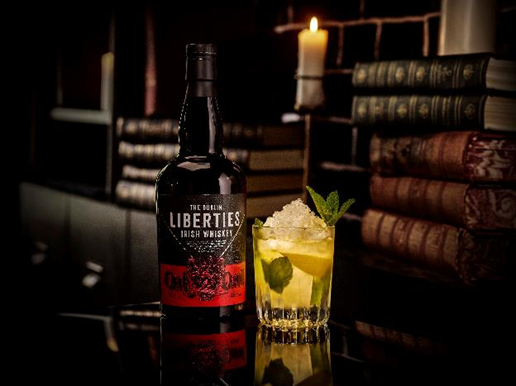 In a Collins Glass muddle 50ml of The Dublin Liberties Oak Devil with 12.5ml honey syrup (1 part honey to 1 part hot water to dissolve), 6-8 mint leaves and 2 wedges of lemon. Fill up the glass with crushed ice and garnish with a sprig of mint – perfection!
The Dublin Liberties Oak Devil Irish Whiskey is a non chill-filtered 46% blend of malt and grain whiskies, aged for many years in selected casks. It takes its name from the Liberties area of Dublin, a riotous quarter of the city known as 'Hell' in the 1700s. An oak-carved devil stood watch over the entrance to the Liberties watching the mayhem happening within.
Over time the devil disappeared and, legend has it, the carving was made into whiskey barrels, its dark power subsuming and infusing the maturing spirit, making this the perfect Halloween tipple.
Available from: Amazon, masterofmalt.com, celticwhiskeyshop.com, the whiskyexchange.com. RRP: £35 for 70cl. ABV: 46%.
https://www.amazon.co.uk/Dublin-Liberties-Irish-Whiskey-Devil/dp/B0187HJVRA/ref=sr_1_1?ie=UTF8&qid=1507037321&sr=8-1&keywords=the+dublin+liberties+whiskey
NOW THAT'S WHAT I CALL HALLOWEEN
www.nowmusicplus.co.uk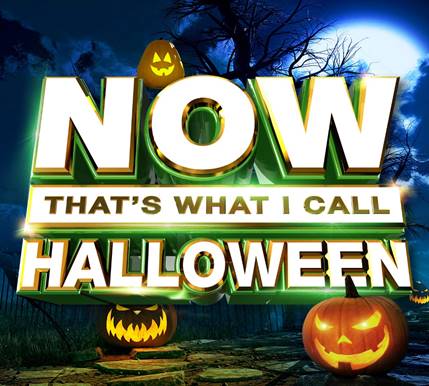 Though Frankenstein, creepy clowns and your mother-in-law are definitely up there, nothing's more scary at Halloween than a bad playlist; never fear, because NOW is here to banish your nightmares with their latest playlist: NOW That's What I Call Halloween.
It's the time of year for chills and thrills, so let out your inner ghoul with a soundtrack to make you scream. NOW bring you the definitive list of spooky songs and terrifying tunes, sure to liven up any evening.
What's more, you needn't be hampered by technology. This release is completely digital, easily streamed through the NOW App, so you won't have to confine your haunting to house parties. Enliven your trick or treating, get your office in the mood for the evening's dastardly deeds, or shake up the school run like a Bat Out Of Hell in the only appropriate way.
The compilation features classics from Michael Jackson, DJ Jazzy Jeff & The Fresh Prince, Madonna and Bowie, as well as contemporary tracks from Shakira, Katy Perry and Little Mix. So whether you venture into the woods or down to the cellar, find yourself fending off the living dead, or just fending off children dressed as the living dead, this is the only playlist you'll need.
TRACK LIST – TBC
Michael Jackson – Thriller
Little Mix – Black Magic
Ray Parker Jr – Ghostbusters
Katy Perry – Ghost
Damian – The Time Warp
Iggy Azalea – Black Widow
Rita Ora – Poison
Shakira – She Wolf
Annie Lennox – I Put A Spell On You (Fifty Shades of Grey)
Adamski – Killer
Ella Henderson – Ghost
David Guetta – She Wolf (Falling to Pieces) [feat. Sia]
B*Witched – Freak Out
Elle King – Where The Devil Don't Go
Madonna – Ghosttown
Ne-Yo – Beautiful Monster
Nicole Scherzinger – Poison (Dave Aude Radio)
DJ Jazzy Jeff & The Fresh Prince – A Nightmare On My Street
Bruce Springsteen – Devils & Dust
Foxes – Devil Side
Bryan Ferry – I Put A Spell On You
ABC – Poison Arrow
Blue Oyster Cult – (Don't Fear) The Reaper
Duran Duran – Hungry Like The Wolf
David Bowie – Scary Monsters (And Super Creeps)
Meat Loaf – Bat Out Of Hell
Monthly pop up restaurant inside FARMbloomington goes to the zombies
Zombie tailgate themed Halloween party includes creepy foods and games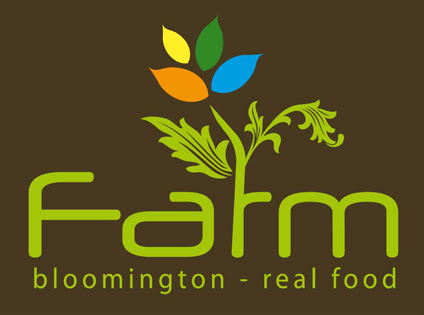 Are you game for October's Gourmet Club? Join us for a Zombie Tailgate themed night full of tricks and treats! Chef D's created a ghoulishly good party full of tasty terror. Don your Halloween attire and come on down to FARMbloomington on October 31 at 8:00 to party. Call us at 812.323.0002 to make your reservation.
APPETIZERS
Hot Dog Mummies with Spicy Mustard
Cheesy Toes – Fried Cheese Curds
Deviled Eggs and Eyeballs
Graveyard Mushrooms with Ghoulish Garlic Aioli
Pernicious Puffs of Haunted Corn with Salacious Seasonings
SALAD
Witch's Herb Garden Salad Station
MAINS
Bloody BBQ Ribs
Spiced Zombie Meatballs
Snake Shaped Calzones
Graveyard Sausages
Mummy's Wrappings Lasagna Roll-ups
Vegetarian Stuffed Acorn Squash
SIDES
Earth Apple Salad
Bride of Frankenstein Slaw
Monster Mash Potatoes
SWEETS
Peanut Butter Finger Cookies
Dirt and Worm Cups
Meringue Bones,
Bloody Snow Cones
Baked Lady Adam Apples
Great Pumpkin Bars
Pumpkin Seed Brittle
Cotton Candy Machine
GAMES
Corn Hole
Bobbing for Apples
Pin the Tail on the Zombie
Pumpkin Carving Contest
Halloween Costume Contest
8:00 pm to 10:00 pm
39.00 each guest
About FARMbloomington Restaurant
FARMbloomington Restaurant serves farm to table fare in Bloomington, Indiana. Chef-Owner Daniel Orr and his team pride themselves on having a good time with Gourmet Club, a once a month pop up inside the restaurant. Each month has a different theme.
FARMbloomington Restaurant
108 East Kirkwood
Bloomington, Indiana
47408
Tipsy Elves Hilarious Halloween Costume, and Hawk + Sloane's Scary Spray
www.tipsyelves.com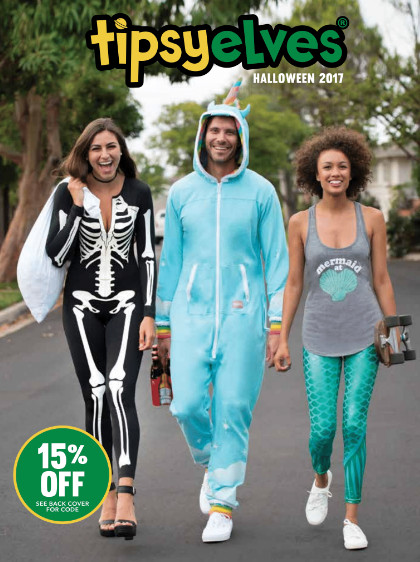 Tipsy Elves is known for their outlandish holiday gear, and their Halloween costumes are no exception!
Additionally, for some of the younger kids who aren't as brave during the Halloween season–there is the perfect elixir to stop the monsters. Hawk + Sloane is a holistic line of all natural sprays infused with essential oils. They have their very own Scary Spray to help kids combat their childhood fears. While some might call it a placebo effect, it's actually formulated with natural ingredients to help calm anxiety, and give kids an extra dose of courage!
Museum of Death – Los Angeles.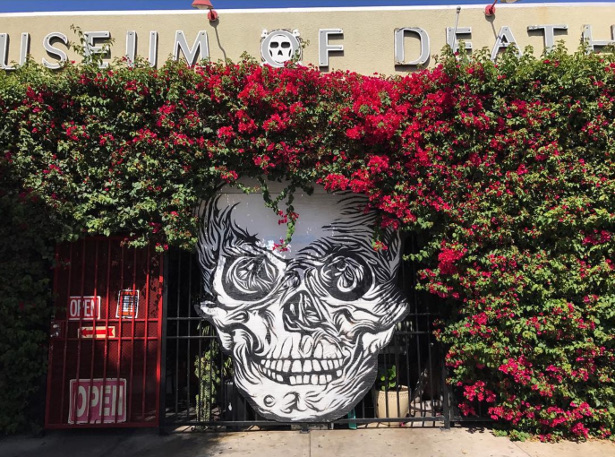 Los Angeles has more museums than any other city in the United States. The city's most macabre museum is the Museum of Death, open year round for those Halloween fans intrigued by death. Most famous for its recreation of the Heaven's Gate cult suicides, which got the institution kicked out of San Diego, the museum includes taxidermy, the severed head of a French serial killer, works of art by murderers and one of Jack Kevorkian's original suicide machines. Is it haunted do you think? It is certainly haunting. The Hollywood facility was once a recording studio so the sound-dampening walls lend a creepy hush to the venue, as if there wasn't enough to keep visitors deathly quiet already!
After visiting the museum, go to the Hollywood Forever Cemetery if you have the nerve. For Halloween, Dia de los Muertos – Day of the Dead will be held at the Hollywood Forever Cemetery on Saturday, October 28th. The annual event is now in its 18th year and includes performances from alternative rock bands, Mexican cuisine, arts and crafts for purchase and encourages guests to come dressed in their finest Calaca apparel. Tickets from $20
www.ladayofthedead.com
CHESSINGTON INTRODUCES 'FRIGHT RESTRICTIONS' FOR SCARIEST ATTRACTION YET
· Guests visiting Chessington World of Adventures Resort this Howl'o'ween, will face 'Brave-o-meter Tests' before entering new attraction, Creepy Caves Unearthed
· Guests' heart rates will be measured before and after the tests to see if they're eligible to enter the experience
· Chessington is encouraging people 35 and over to face the 'Brave-o-meter Tests', following research finding that 35 is the age at which people become less brave*
· 8 out of 10 (83%) under 35s describe themselves as brave, however under one sixth (14%) of over 35s say the same*
· Find out more, visit Chessington.com/creepy
Chessington World of Adventures Resort has swapped Height Restrictions for 'Fright Restrictions' this Howl'o'ween, as it prepares to launch its scariest attraction yet, Creepy Caves Unearthed.
The new experience sees guests, led by Secret Agents, venture into a quarantined area to discover why Zoo Keepers at the Resort are disappearing. Promising scares for the whole family, the Theme Park has introduced 'Brave-o-meter Tests' to ensure guests, particularly those 35 and over, are brave enough to enter the attraction, following research, conducted by the Theme Park, that showed they are less brave than their younger counterparts.
The three 'Brave-o-meter Tests' are designed to tell how well people react to being spooked, brave the dark and interact with creepy crawlies. Guests will wear a pulseometer while facing the tests to measure their heart rates, with those scoring 100bmp or lower admitted entry. Chessington's First Aid Team and appointed 'Brave-o-meter Coordinator' will carry out the tests, and be on hand to assist anybody who gets overwhelmed during the experience.
Jordan Smith, 'Brave-o-meter Coordinator' at Chessington World of Adventures Resort, said: "Creepy Caves Unearthed is set to be our scariest attraction yet and, while we're expecting children to be brave, our research shows that adults' sense of bravery dips after 35.
"We want to ensure that everyone who enters Creepy Caves Unearthed enjoys their experience, and the 'Brave-o-meter Tests' are designed to put those through their paces and really get a sense of how much Howl'o'ween spookiness they can handle. Creepy Caves Unearthed isn't an attraction for the faint-hearted, so it's vital that we make sure over 35s in particular are fully equipped and pass the tests before they enter."
Research by Chessington found that 83% of under 35s describe themselves as brave, while only 14% of over 35s do.
The Resort will be trialling the 'Brave-o-meter Tests' at its Howl'o'ween preview on Thursday October 19. If successful, the tests will take place throughout its Howl'o'ween event.
As well as exploring Creepy Caves Unearthed, guests hoping to have a spook-tacular time at Chessington this Howl'o'ween, will be able to enjoy brand-new-for-2017 Room on the Broom Spooky Story Time**, plus the return of Curse of the Lost Tomb and Trick or Treat Wood, while also riding Vampire and other rides in the dark, as the Resort doesn't close until 8pm from Friday October 20 to Tuesday October 31.
For the best deals, head to Chessington.com to book Early bird tickets, with prices starting from £26pp.
Black Cat Brooch, £5 from from Imperial War Museums Shop

Lucky black cats were carried by many front line soldiers in the First World War and were often taken to the Front Line, where luck and superstition were an integral part of trench life.
Black Cat Brooch, £5, available www.iwmshop.org.uk



PITANGO IS HEATING HALLOWEEN UP!
Pitango releases limited edition Halloween inspired packs
Nothing says Halloween better than a pumpkin, so to get into the spirit of the scary season Pitango will be this October releasing a strictly limited 'Halloween' version of their Organic Pumpkin & Ginger Soup.
The Pitango Organic Pumpkin & Ginger Soup is one of the most popular flavours created by Pitango and is cooked using locally sourced fresh organic pumpkins, hand cut and peeled by chefs in the Pitango Kitchen.
'Our pumpkin soup lends itself perfectly to the Halloween Season', comments Alan Lindeque, General Manager Brands for Beak & Johnston Pty Ltd, 'and we recommend serving with a dash of fresh cream; some toasted pumpkin seeks or even just on its own!'
The Pitango Organic Pumpkin & Ginger Soup Halloween Packs will be available in selected stores nationally from 16th October 2017.
Shelf life is 30 days. RRP $7.50 for 600g.
www.facebook.com/pitangofoods
Spooktacular cupcakes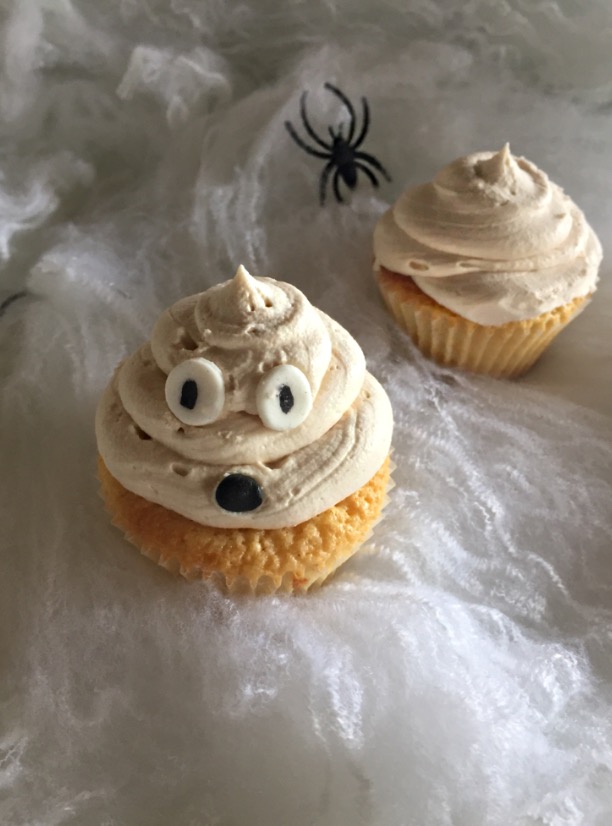 125 grams of unsalted butter (softened)
75 grams white chocolate
1 cup (220 grams) caster sugar
125 ml of milk
75 grams of plain flour
75 grams of self raising flour
1 egg
1 teaspoon of vanilla bean paste (or good quality vanilla extract)
Raspberry coulis
1 1/2 cups of frozen raspberries
1/2 cup of caster sugar
For the eyes and the mouth
A small piece of white fondant
A small piece of black fondant
Black edible pen
Small round circle (we like to use the end of one of our piping tips, around 1/2 cm in diameter)
Buttercream icing
125 grams of unsalted butter (softened)
240 grams of icing sugar
Preheat oven to 170 degrees (340 Fahrenheit).
Line a 12 hole muffin/ cupcake tin with paper cas es (make sure the tin is clean with no traces of any oils from previous bakes, otherwise this will seep onto the cupcake cases).
Melt the butter, white chocolate, sugar and milk in a small saucepan over low heat, stir until all the ingredients have melted.
Remove from heat and pour into a medium bowl, allow to cool for 15 minutes.
Once the chocolate mixture has cooled, whisk in the sifted flour, egg and vanilla. Ensure the mixture is smooth without any lumps.
Be careful not to over whisk the mixture.
Pour the mixture into the cupcake cases, approximately ¾ full. To help pour the mixture we suggest to putting the batter into a piping bag, cut the tip. Carefully pour the batter into each of the cupcake cases.
Bake the cupcakes for approximately 25 minutes, they are ready when a a skewer comes out clean and they are just browning on the edges. 0;
While the cupcakes are baking make the eyes and the mouth.
For the eyes, roll out a piece of your white fondant on a clean board, not too thin but not too thick.
Sprinkle a small amount of corn flour on your work surface if you find the fondant sticks to your surface.
Use your circle to cut "eyes" out from the fondant.
With your fingers make the circles slightly oval in shape.
Set aside to harden, this should take about 10-15 minutes.
Once the white fondant has hardened, use your black edible ink to draw eyes, be careful not to press too hard if the fondant is still a little soft.
Roll out small pieces of black fondant for the mouth, and again make them into an oval shape.
Repeat this process for all the cupcakes you have baked.
Once your cupcakes are done, leave them in the tray, place on cooling racks and cover with a clean tea towel.
This helps to keep the cupcake wrapper from peeling away from the cupcake.
Allow the cupcakes to cool completely.
Using an apple corer (or even a sharp small knife) remove a small section of the inside of each cupcake. Try not to core right down to the wrapper.
Once a small hole has been made in the centre, fill it with the raspberry coulis.
Now frost the cupcakes with the buttercream.
Put a large piping tip into a piping bag (we use an 11 piping tip), add the buttercream.
Starting from the edge, slowly pipe around the cupcake and make your way up to form the "swirl".
Once all the cupcakes are frosted, add the eyes and the mouth
Buttercream
Beat the butter in a mixer (or you could use a hand mixer) until pale.
Add the icing sugar and beat again until very pale, this can take up to 10 minutes.
Raspberry coulis
Place the raspberries and sugar in a small sauce pan on a low heat.
Stir until the sugar has dissolved.
Boil the coulis.
The coulis is ready when the sugar is completely dissolved and it has thickened.
Allow the coulis to cool completely before using.
www.sweetsfortilly.com.au
Banish your arachnid anxiety this Halloween
This Halloween a new game has launched perfect for conquering your fears during the mundane moments of your day. Spider Crush Forage is a thrilling new take on the classic matching game. Free to download on Google Play.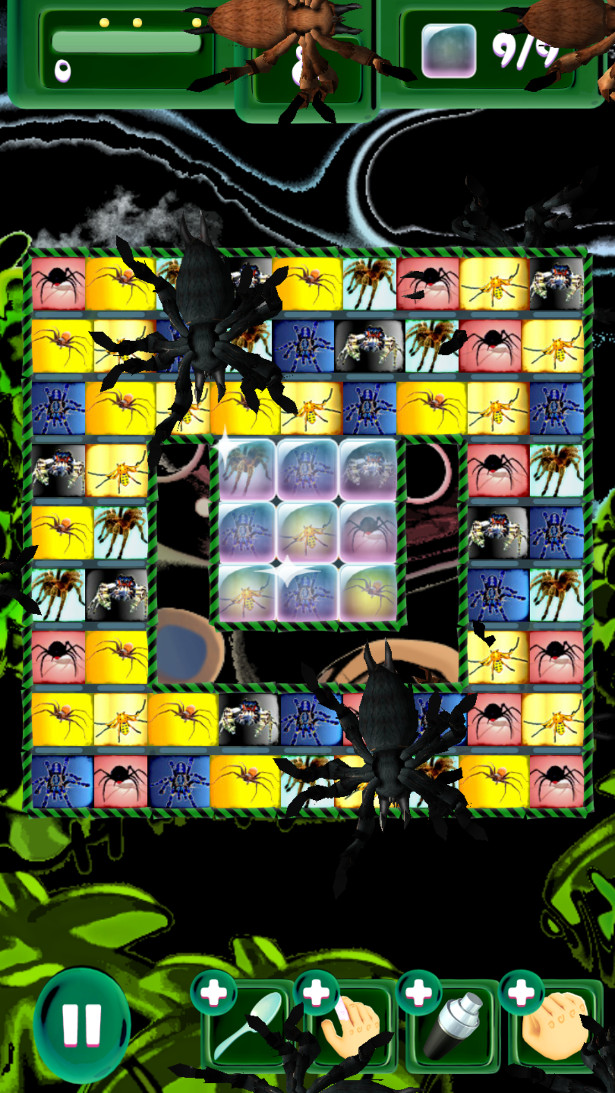 If creepy crawlies put a shiver down your spine and the thought of a furry tarantula puts your teeth on edge this game is perfect for facing your fears – without having to get too close to an eight-legged friend.
Spider Crush is a new free-to-play match three puzzle game with 50 levels and six types of spiders to crush – plenty but not too much for quiet moments. Conquer your fears and crush your way through the levels as spiders scamper across the screen.
Whether you're on the train, waiting in a queue or settling down for a well-earned cup of tea Spider Crush is the perfect spooky escape from the ordinary.
Follow the trail and journey through their dark layers by crushing the spiders. Tarantulas will attempt to distract and spook you. Face your fear – don't follow the spiders!
To celebrate Halloween, Fanta has cooked up our most feared foods into the ultimate feast of nightmares.
Seafood tops the list of foods Brits physically can't stand the sight of – or even be close to.
Unusual fears also include everyday foods like beetroot, mushroom, jelly and ketchup
Fanta has partnered with experimental chefs to cook up the nation's biggest fears and food phobias into a Halloween Feast of Fears
Items on the menu also include beetroot 'intestine' cake, fish skin crisps and edible cobwebs
To up the fear-factor, the feast is served with a grisly side course of things that Brits most dread discovering in their food – including insects and maggots (60 percent) and even toenails (16 percent).

London Designer Outlet (LDO), the Capital's only fashion and lifestyle outlet centre, is calling all wizarding fans as the enchanted world of spells and potions comes to LDO this October half term. Everyone is invited to celebrate the magic at LDO with FREE spell-binding activities every day from 11am from 23rd-29th of October.
Immerse yourself in magic at LDO's very own Wizarding Workshops where visitors can make bespoke wands, learn a variety of spells or have a blast brewing mystical mixtures in Potion-Making Class.
For those who seek adventure, get ready for this magical world to be brought to life before your very eyes in a fun mini show packed full of action, mystery and comedy featuring lookalikes of some rather famous wizarding characters as well as meet and greets!
Not only that but there will be offers, discounts and much more magic at LDO.
Halloween at Tatton Park
From Halloween scares to secret hauntings in the Old Hall, Tatton Park has hours of family fun this October.
HALLOWEEN AT TATTON: Saturday 21 to Sunday 29 October 2017
• Secret Hauntings at the Old Hall
Believed to be one of the most haunted buildings in the country, Tatton Park is welcoming guests into the ghostly Old Hall….if they dare! Discover paranormal activity and secret legends on a frightening trail in the medieval home of Tatton's ancient ancestors.
• "I Spy" in the Mansion
This Halloween, guests are encouraged to sharpen their sleuthing skills as they snoop around the mysterious Mansion and follow the trail to spot the secret treasures of the last Lord Egerton.
• Creepy Conker Fun at the Farm
Visitors of Tatton Park this Halloween are invited to collect a conker from the secret tree and guests can join in the creepy conker fun. Journey through the mystery maze, detecting the spooky surprises as you go
• Spooks in the Secret Gardens
In this spooky garden trail, guests can unearth the spooks hiding in Tatton's secret places.
• Pick Your Own Pumpkin Day
On Saturday 28th and Sunday 29th October, guests can choose their own pumpkin, fresh from the Tatton field, and learn how to create a warming pumpkin soup. With refreshing pumpkin juice and yummy pumpkin muffins, visitors can enjoy a delicious snack before taking their pumpkin home to carve ready for Halloween. Pick a Pumpkin Days are £10 per person. Booking is essential.
Visit Tattonpark.org.uk/events or call 01625 374 400
ENJOY MANCHESTER CITY'S REVAMPED STADIUM & CLUB TOUR,
COMPLETE WITH A SPOOK-TASTIC PUMPKIN HUNT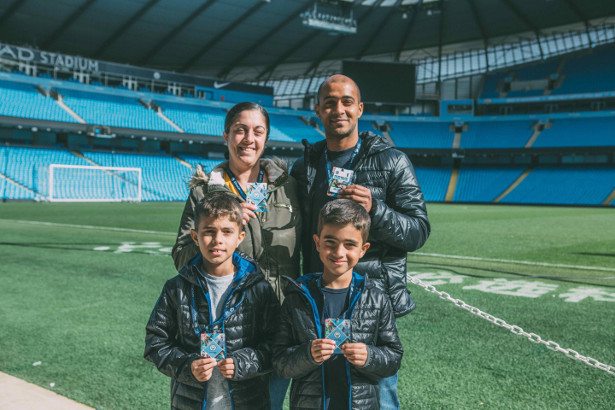 Trick or treat your family to a superb day out this October half term, as Manchester City Football Club unveils its revamped new Stadium and Club tour – complete with a spook-tastic Halloween pumpkin hunt.
Visitors can enjoy the Club's access-all-areas Etihad Stadium & Club Tour where you'll get the opportunity to explore behind-the-scenes including the exclusive hospitality suite: The Tunnel Club, and new, state-of-the-art player facilities.
Fans attending the tour will be welcomed into the recently upgraded First Team changing rooms at the Etihad Stadium, where quotes from Tony Walsh's poetic tribute to Manchester, "This is the Place" have been immortalised across the walls. Guests will also experience the First Team warm-up areas, the away team facilities and the glass tunnel, which brings the players shoulder to shoulder with fans on a matchday like never before.
To ensure the Stadium and Club Tour helps to get guests in the mood for the spooky season, a fun pumpkin hunt – with very special treat for one winner – will be taking place throughout October.
Families will be challenged to spot all pumpkins hidden throughout the stadium, with one spook-tacular prize up for grabs. Every child correctly identifying the number of pumpkins hidden will be entered into a prize draw to become a player escort at the Manchester City v. Watford on 1st January 2018. This exclusive prize also includes a full kit for the winner and two complimentary tickets for parents.
All this alongside the chance to explore the Club's heritage through unqiue memorabilia and interactive displays, giving fans the chance to relive the Blues' greatest moment and truly discover what makes Manchester City the club that it is today.
Manchester City's Stadium & Club Tour is a 90-minute professionally guided tour of the Club and Etihad Stadium. Tickets for the Halloween tour will cost £17.50 per adult, £11 per child aged 5-16 and will run from 16th – 29th October (excluding match days).
Book online at mancity.com/tours or call 0161 444 1894. Exclusive Halloween Tour runs daily 16th – 29th October (excluding match days)
Crabbie's Steak Pie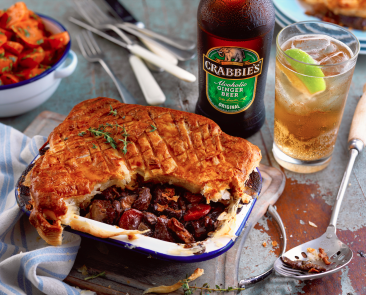 Ingredients
– 1.5kg of beef steak, diced into 2cm cubes
– 1tbs of vegetable oil
– 300 ml of Crabbie's Original Alcoholic Ginger Beer
– 2 garlic cloves
– 2 onions, chopped
– 300g of carrots
– 5 thyme sprigs
– 300 ml of veal stock
– 500g of shiitake mushrooms
– Pack of puff pastry
– Egg yolk
Method
– Preheat oven to 190C / Gas mark 5
– In a large pan heat the vegetable oil over a high heat
– Cook the beef for about 20 minutes, until it has started to brown
– Add the vegetables, cook for another 10 minutes
– Add the stock and Crabbie's Original Alcoholic Ginger Beer
– Cook out until it is a thick sauce
– Place all of the meat and sauce into the bottom of a pie dish
– Roll out the puff pastry to fit the top of the pie dish
– Use the egg yolk to seal the side of the pastry around the pie
– Use a fork or scissors to pierce 2 holes in the top of the pie to let steam out during cooking
– Cook for 40 minutes, or until golden brown
Pink Poppy has a small collection of Halloween hair accessories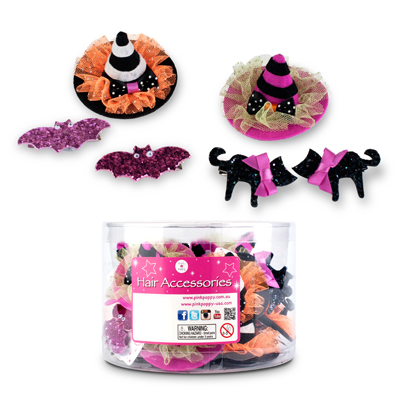 Get in the spirit of Halloween with Cutter & Squidge's all-natural, hand-made spooky desserts, available in store and online.
Spooktacular Spider Web Cake:
A five layer chocolate cake filled with a Belgian buttercream and award winning salted caramel swirled in each layer. Outside, a white chocolate buttercream topped with chocolate cake truffle spiders.
RRP: Slice – from £ 4.50/ 6" cake – £ 42.50 / 8" cake – £49.50 / 10" cake – £75.00 / 12" – £120.00
Halloween Biskies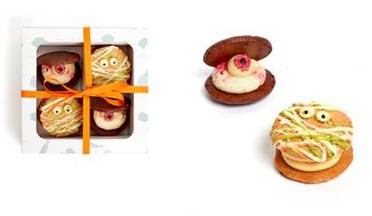 Our newest Biskies from our Halloween Collection, including the yummiest mummy we've seen, the Yummy Mummy vanilla Biskie; filled with white chocolate filling and a rich dark chocolate core and decorated in coloured white chocolate and The Bloody Eye, a chocolate Biskie filled with our lighter vanilla buttercream with raspberry bloody veins. The eye is filled with handmade raspberry jam inside a Belgian white chocolate pearl.
RRP: 4 Box – from £15.50 / 6 Box -£22.90
Nationwide delivery available
Trick or Treat Biskie Box: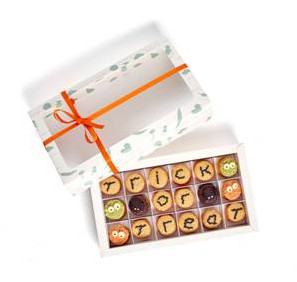 Spiders and monsters complete this terrifying selection as the Baby Biskie box reads Halloween's most famous saying. The inside of the Biskies have the two limited edition flavours from the collection: white and dark chocolate and raspberry vanilla. Perfect for gifting or events.
RRP: 18 box – £19.50
Nationwide delivery available
Lucid Candles
Impress your guests this Halloween with the spooktacular everlasting glow of Lucid Liquid candles.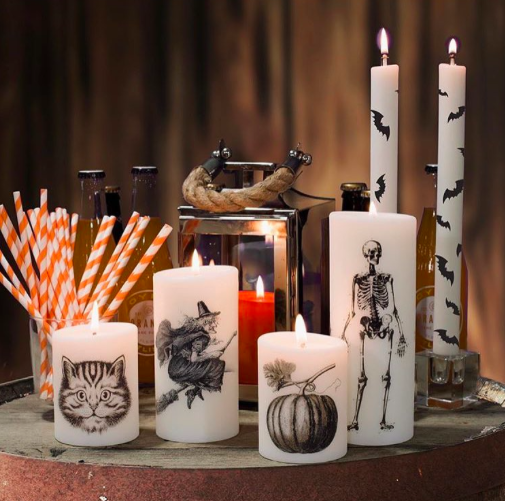 Your Halloween decor is sure to be unrivaled with this festive collection. Each candle has the unmistakable allure of a warm, real flame, but never drips, melts down, or burns unevenly due to the brands slow, clean burning liquid located inside. To use, simply remove the lid, pour in the Lucid Liquid Paraffin, replace the lid, light the candle, and enjoy! These made in the USA candles come in a wide variety of creepy yet cute designs. Lucid's Halloween Collection candles range from $40 to $70 and are available at LucidCandle.com.
LET'S DO THE TIME WARP WITH LUCKY VOICE KARAOKE
Celebrate Halloween with Rocky Horror Show Nights and Bloodthirsty Brunching Days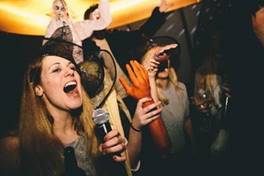 This Halloween, private karaoke company Lucky Voice will be hosting an all-singing celebration of horror, time warps, blood-curdling cocktails and killer karaoke, with a Rocky Horror Picture Show theme.
For the Vampires
Can't get enough of late night mischief? From Friday 27th – Tuesday 31st October, Lucky Voice guests will be able to avail of an evening endless Rocky Horror madness.
The singing: Grab a mic and sing your way through Lucky Voice's iconic Halloween playlist, with top hits such as Thriller and Disturbia, as well as favourites from The Rocky Horror Picture Show (including Time Warp and Science Feature Double Picture).
The cocktails: Feeling (blood) thirsty? Shoot back 'live brains' or wrap your lips around 'The Time Warp', a 70's inspired Tequila Sunrise. Those a bit more daring should opt for the 'Dr Frank 'n' Furter' Potion, a glowing green apple liqueur potion prepared by the Doctor himself, or sample the 'Rocky Apocalypse'. Fancy rocking up in Rocky Horror fancy dress? Pre-book and you'll enjoy Riff Raff's Master Blaster sharing fishbowl as reward.
The costumes: Make the most of Lucky Voice's fancy dress wardrobe, which includes everything from a Frank-N-Furter get-up to a giant orange pumpkin, as well as an abundance of spooky props to help release your inner Magenta.
The Bloodythirsty Brunchers
For those who prefer to be tucked up in bed when the clock strikes midnight, worry not. You can still get in on all the fun, as Lucky Voice Islington will be transforming its legendary karaoke Saturday Bottomless Brunch on the 28th October to a Rocky Horror themed brunch.
Think fun and frolics such as apple bobbing, trick and treats and fancy dress, as well as it's resident glitter artist painting faces as terrifying as you dare. Take a trip to Lucky Voice – all strangers welcome and debauchery encouraged!
Times, Pricing and Detail:
Halloween Lucky Horror Picture Show
Timings: 12pm – 12am
Dates: Friday 27th – Tuesday 31st October
Pricing: £10 per person (Brighton), £12 (Islington) and £14 (Soho)
Rocky Horror Halloween Bottomless Brunch
Timings: 12-3pm Saturday
Pricing: £35 per person
Now that it is pumpkin season, Pet House Candles by One Fur All will Freshen Pet-Loving Homes with a Festive Pumpkin Spice Aroma This Fall!
www.onefurallpets.com/products/pumpkin-spice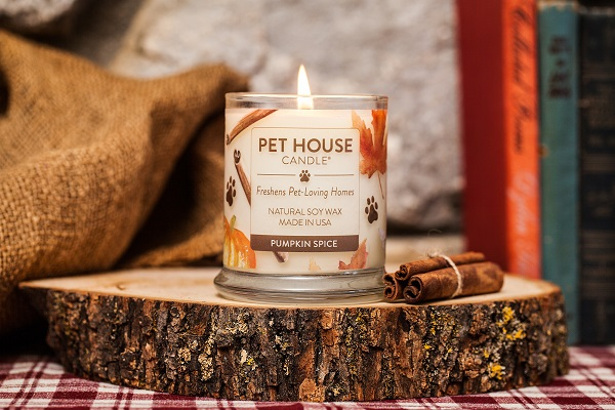 It's hard to escape America's obsession with pumpkin spice products. Come September you can find a pumpkin spice variety of just about everything, from beer and Oreos to dish soap and dog treats.
The love of this fleshy, orange-colored vegetable has created handsome profits for farmers in the past decade and the pumpkin industry has flourished. In recent seasons, Nielsen reports 37% of U.S. consumers purchased at least one pumpkin-flavored product, which accounts for a 79% growth in pumpkin product sales since 2011. It's safe to say the pumpkin craze isn't slowing down anytime soon.
Pet House Candles by One Fur All is following this consumer trend! Their Pumpkin Spice candle is a warm and spicy holiday favorite with a blend of pumpkin, cinnamon sugar, maple butter and vanilla bean. In addition to the iconic fall aroma and visually appealing jar, Pet House Candles are ideal for freshening up pet-loving homes.
As much as we love our pets, they often add unwanted odors in our living space that can be difficult to control. There are various pet odor elimination products available on the market; however, One Fur All has created a unique line of candles, wax melts, room freshening sprays and car fresheners that contain an effective odor neutralizer to create the freshest environment. All of their products are made in the USA, pleasantly attractive, long lasting and satisfaction guaranteed.
Although scented candles seem safe, they often contain harmful chemicals and dyes that are considered just as dangerous as second-hand smoke, according to a study conducted by Dr. Amid Hamidi from the University of South Carolina. The Pet House Candles and Wax Melts are crafted with 100% natural, dye-free soy wax and contain absolutely no paraffin/petroleum by-products. In fact, the entire One Fur All product line is completely non-toxic and allergen free. In addition, every product includes their proprietary blend of essential oils.
Retailing for $21.95, Pet House Candles are attractive and can be used as a decorative piece in the home. There's no need to hide them out of sight. Pet House Candles have become an incredibly popular home accessory and gift item for pet-owners and non-pet owners alike. Be sure to reuse your Pet House Candle jar, too!
One Fur All are avid proponents of animal adoption and have made it a part of their mission to help support non-profit, no-kill rescue groups across the United States. They are proud to help to highlight and support the efforts of rescue groups in all parts of the USA. Learn more at: www.onefurallpets.com/.


Newburgh Quarter of Curiosity – Now Open!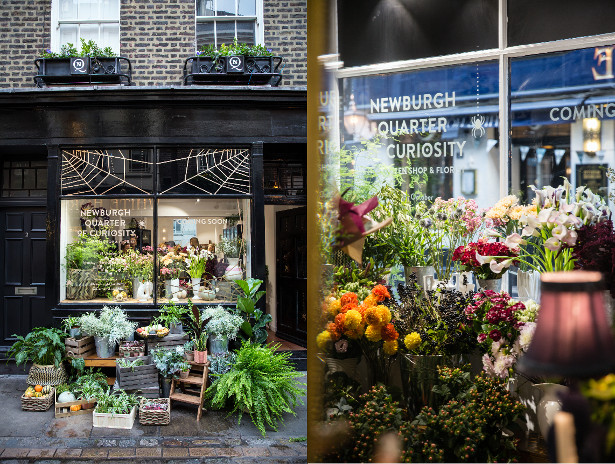 This week saw the opening of the Newburgh Quarter of Curiosity – a two week Halloween florist and workshop space based at 2 Newburgh Street, just off Carnaby Street.
This is now open for two weeks only until Tuesday 31 October.
Over the next two weeks, sign up for FREE workshops including Halloween Headdress Making, Pumpkin Planters, Pimp Your Pumpkin and a Halloween Makeup & Prosthetics Masterclass with London College of Fashion, UAL.
Head down to the Newburgh Quarter on Thursday 26 October for a free Halloween Fright Night event, with live tarot reading, body art from The Gypsy Shrine, drinks, treats and a DJ. Please get in touch for more information.
For the full schedule of workshops, visit Carnaby.co.uk and follow @CarnabyLondon #NewburghQuarter.

THE PIERRE HOTEL'S WICKED HALLOWEEN DESSERT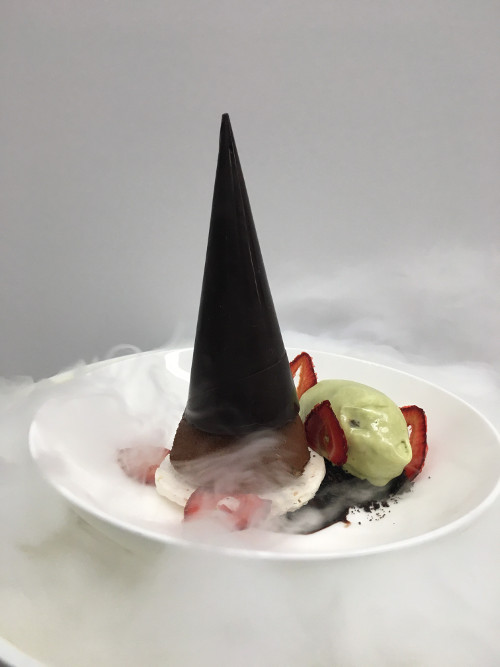 New York's Pierre Hotel is celebrating the launch of its new Broadway At The Pierre cabaret series with a special limited-time dessert inspired by the Broadway musical WICKED!
On October 9th, WICKED kicked off the monthly cabaret series in The Pierre's Two E Lounge, with an intimate evening of song and stories from cast members Hayley Podschun and Jennifer DiNoia.
"The Pierre has a rich history of providing premiere entertainment, dating back to the 1940s and 50s when both our Cotillion Room and Café Pierre offered live music," said General Manager Francois-Olivier Luiggi. "We are thrilled to launch Broadway At The Pierre with WICKED, one of Broadway's most beloved and acclaimed musicals."
In celebration of The Pierre's first featured musical, award-winning Executive Pastry Chef Michael Mignano has dreamed up a special, made-to-order theatrical dessert, the WICKED Witch Hat Trick: Smoky deep dark chocolate, layers of dark chocolate ganache, crunchy hazelnut merengue, melting witch hat," pistachio ice cream and salted caramel sauce (photos and video available). The dessert ($15) will be available at Perrine restaurant on Halloween only.
In Two E, guests can also enjoy a display of costumes from the show as well as themed WICKED-tini and Ozmopolitan cocktails.
WICKED, THE UNTOLD STORY OF THE WITCHES OF OZ, IS NOW THE 8TH LONGEST-RUNNING SHOW IN BROADWAY HISTORY. THE MUSICAL WILL CELEBRATE ITS 14TH ANNIVERSARY ON OCTOBER 30TH.
Chef Mignano was recognized earlier this year by Dessert Professional magazine as one of the Top 10 Pastry Chefs of 2017 in America. More recently, he won the Iron Chef Rooftop Showdown competition at New York's Food & Wine Festival, beating 29 other chefs for the prize.
Broadway At The Pierre is a recurring monthly series. The hotel will announce additional participating shows later this month. Advance reservations required. Call 212-940-8113 or email TwoE@tajhotels.com for more information.
Haunted Cinema: London's first Virtual Reality cinema experience arrives this Halloween
London is one of the world's theatre meccas. From pop-up immersive productions to big West-end shows, Londoners are no strangers to ground-breaking new experiences. Now another evolution: Veero, the UK's first Virtual Reality (VR) cinema.
Veero aims to take VR out of the tech world and into real world, bringing immersive film to the masses. VR cinema is to conventional film what TV is to radio. VR films immerse viewers fully within the narrative, transforming the way filmmakers tell their stories. You're there – in the same place as the protagonist – so there really is no escape.
Veero open their spooky Halloween pop-up on Neal Street in Covent Garden from Thursday 26th October. Tickets are priced at £19.70. You'll wear an individual headset and a pair of 3D headphones, while sitting on a comfortable swivel stool that enables you to easily look at the action all around you. Not only will the image move with your head, but the sound will move too, making you really believe the environment you are in is real. We'll show a compilation of horror shorts from acclaimed directors (line-up on website). Drinks and snacks are available for purchase.
Veero hope to bring the worldwide explosion in VR to the UK. There are over 1000 VR cinemas or arcades in China alone, yet the only permanent VR cinema in Europe is in Amsterdam. (Incidentally, it's sold out most nights.) Beyond this pop-up, Veero will open a permanent central London flagship in early 2018.
Barry Whyte, founder of Veero commented:
"A new golden age of Hollywood is coming. Virtual Reality cinema completely changes the rules. As the UK's first virtual reality cinema, we'll ensure the VR films find their place alongside the world's finest theatre – right in the heart of London's West End. No longer will viewers have to sit at home with a headset on to enjoy immersive films. Veero makes VR social, accessible to everyone."
"Horror is one of the strongest sub-genres within VR film, so it's perfect for Halloween. We can't wait to terrify Covent Garden!"
Veero is presenting their Haunted Cinema popup in partnership with WeAreCinema, Zurich-based experts in delivering pop-up virtual reality experiences.
– Learn more, buy tickets, or sign up for updates at www.veero.co

Reeves gets spooky this Halloween with creative centrepieces
Visit www.myreeves.com for more information.
October 2017: This October, lifestyle and creative brand Reeves, is getting spooky with simple and creative ideas – adding the chill to Halloween parties across the UK.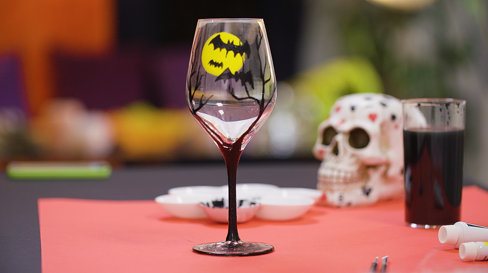 From bottles of 'Human Brew', to wicked wine glasses and impressive pumpkins, Reeves is providing the tools and techniques for the ultimate Halloween party.
Reeves' online bank of easy to follow "how to" guides provide the simple steps to transform everyday objects including wine glasses, old books and family portraits into spooktacular centerpieces.
Wicked Wine Glasses
Simply by using old wine glasses or tumblers and Reeves' Acrylic Complete Set, party hosts can add a spooky twist to all their guest's drinks.
Human Brew
For a boozy bash, Reeves' ghoulish drink labels are the perfect addition. Reeves Watercolour Complete Set has all the tools you need to create personalised labels transforming beer and wine bottles into 'Human Brew'.
Pumpkin Centrepiece
An old book, craft knife, ribbon, glue and Reeves' Watercolour Complete Set is all that's needed to create a classy pumpkin – the perfect centerpiece for every party.
Fiendish Family Portraits
Spooky portraits add the finishing touch to any Halloween party. Reeves' Acrylic Complete Set has all the tools to get creative and add some creepy critters to the family photos.
Reeves Acrylic Complete Set, RRP £18.99, and Watercolour Complete Set, RRP £18.99, are available to buy on Amazon and a wide range of retailers across the UK.
Halloween Safetytats
www.SafetyTat.com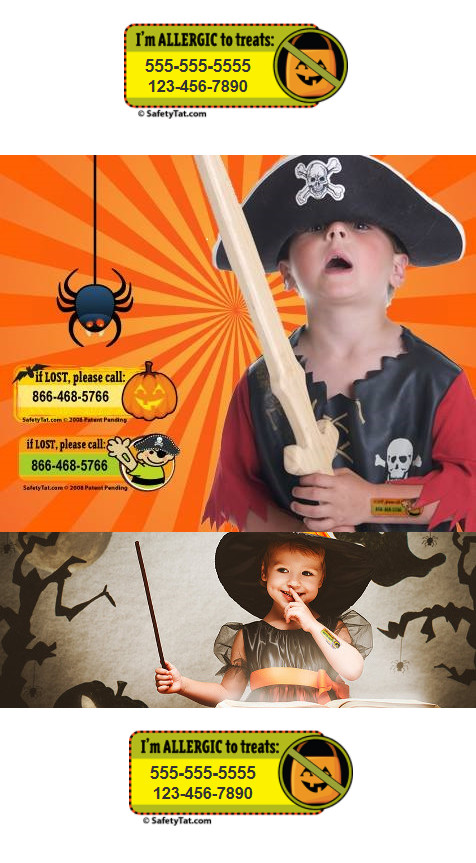 The Halloween themed tats are water apply and come in one and two line varieties featuring ghosts, trick or treaters, and other fun spooky characters. If a customer purchases a Halloween tattoo and a Quick Stick Mini pack, they'd get the Mini Pack for free using the code "safetyspook".
AC Lens is the world's largest retailer of FDA approved Halloween contact lenses
www.aclens.com/halloween-contacts.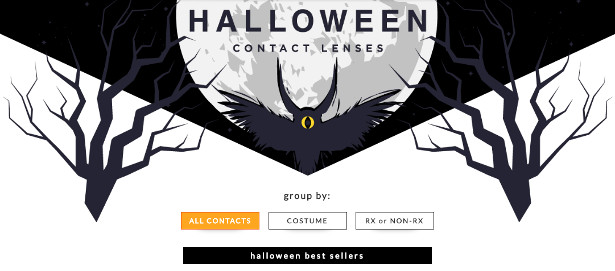 From spooky Zombie eyes to Angelic eyes, your viewers will find the contacts they need to take their costume to the next level. All contact lenses are FDA approved and AC Lens validates all prescriptions with an eye doctor per US law. Valid prescriptions are required for everyone, including those who don't need vision correction, so that the customers eyes can be checked for base curve/fit and to make sure the eye is healthy to wear contacts. If the viewer doesn't need vision correction, we have 0.00 (commonly called plano) Halloween contacts.
Halloween is right around the corner – a night you get to transform into your favorite villain or hero!
Whether you're going all-out as aWhite Walker or the highest-grossing clown from IT this Halloween, decorative contacts can add some "spook" to your look. In the spirit of Halloween, theAmerican Optometric Association (AOA) is warning people about a real fright – damage from wearing un-prescribed decorative lenses.
Decorative lenses purchased from an unregulated source, like online or from a costume shop, can cause serious eye health issues and may even permanently damage your eyesight. The AOA recommends three tips to stay scary, but safe, this Halloween:
See a doctor of optometry for decorative lenses, even if you have 20/20 vision! O.D.s can properly fit your lenses and give you a comprehensive exam to assess total eye health.
Don't share your lenses with friends or family members so they can perfect their costume. This will spread bacteria and germs.
No matter how tired you are after the Halloween festivities, do not sleep in your contacts and give your eyes a break.
Mr Kipling – Treat yourself This Halloween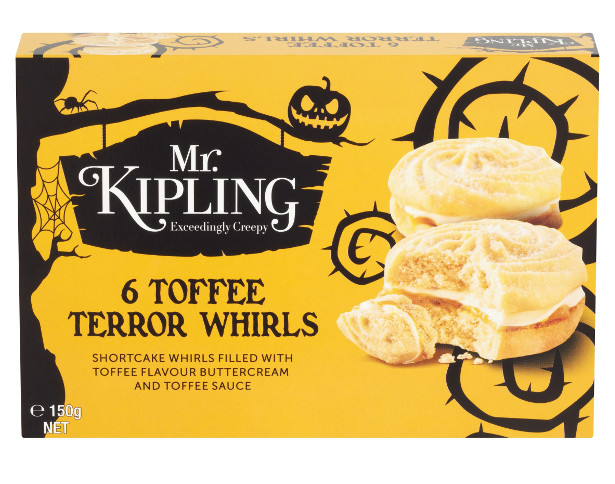 Mr Kipling, UK's best-loved cake brand, has bought out a colourful range of Halloween treats that are deliciously scary. Be brave this Halloween and bite into an absolutely scrumptious Chocolate and Slime Slice or a Terror Toffee Whirl!
Mr Kipling cakes are the perfect every day treat for Aussie snackers – people who savour those moments of indulgence and love enhancing an occasion with delicious sweet treats.
Expertly made with care and attention, using only natural colours and flavours. The Mr Kipling Halloween range is the ultimate treat this Halloween.
Available at Coles and Woolworths supermarkets nationwide.
Ballygally Castle Hotel Co. Atrium, Northern Ireland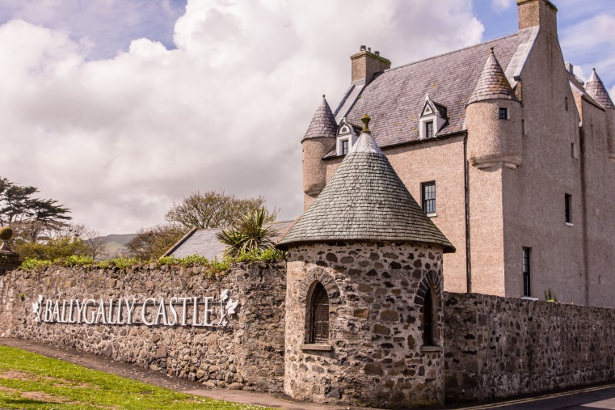 Ballygally Castle Hotel Co. Atrium is positioned at the start of the scenic Antrim Coast, near the foot of the famous nine Glens of Antrim, and the Gobbins Path, a famous and dramatic coastal walk originally built in the early 20th Century as one of the leading tourist attractions comprised of staircases along the cliff edges, dramatic tubular bridges and numerous tunnels. The hotel offers glorious views over Ballygally Bay and towards Scotland and also boasts 18 new deluxe coastal view bedrooms including six family rooms making it one of the largest hotels on the Causeway Coastal Route with 54 bedrooms.
Halloween at Ballygally Castle
Perfectly located near top tourist attractions and offering a selection of recreational activities, the hotel is also the perfect place to spend a Halloween break. This Halloween enjoy specially themed Afternoon teas at the hotel, featuring a wide selection of spooktacular treats including spine-tinglingly tasty sandwiches, freshly baked scones, buns and a selection of scary delights to sink your teeth into. On Sunday 29th October, the hotel will also be serving an exquisite Creepy Crawly Sunday lunch, offering a fabulous 5 course buffet with a variety of ghostly mouth-watering delights for all the family to enjoy!
Visitors staying overnight can also get into the ghostly spirit by searching for Lady Isabella Shaw, a friendly ghost that has walked the old castle's corridors for the past 400 years. Believed to have been locked in her room at the top of the castle by her husband Lord Shaw when she delivered his much desired heir, it is said that she fell to her death from the tower window whilst trying to escape from her room in search of her beloved child. Others believe that she was thrown from the window by Lord Shaw himself. Reported to be a "friendly" spirit, Lady Isabella Shaw walks the halls of the castle and guests may also visit "The Ghost Room", a room dedicated to the ghost located in one of the turrets in the oldest part of the castle.
Hastings Hotels (hastingshotels.com, 028 9042 1066) offer nightly rates at Ballygally Castle from £60 per person with a full Irish breakfast included. Ballygally Castle offers the Themed Afternoon Teas from 27th October to 5th November for £20 for adults and £10 for children. Ballygally Castle offers the Spooky Sunday Buffet on Sunday 29th October from £30 for adults, £16 for children under the age of 12 and free of charge for children under the age of 4.