Gorgeous Gifts Ideas from ARRAN Sense of Scotland

Treat loved ones to the gift of festive wellbeing this year with the help of ARRAN Sense of Scotland. From beautiful body care to hygge home fragrance – finding the perfect Christmas gift has never been easier.
For three decades, the family run business has been creating vibrant, evocative scents which are proudly made in Scotland and inspired by the Isle of Arran's breath-taking scenery. From luxury fragrance to affordable stocking fillers, there really is a gift for everyone at every price point.
 
Gorgeous Gifts for Her 
Whether you're choosing a gift for your mum, sister, grandma or best friend, ARRAN Sense of Scotland has something she'll be thrilled to open on Christmas morning.
A word of warning though, you might just want to keep them for yourself! We promise we won't tell…
After the Rain Eau De Parfum, 50ml – £55.00 / Eau de Toilette, 100ml – £42.50
ARRAN Sense of Scotland's iconic best-selling fragrance - inspired by the unique, fresh scent of an Arran garden following a rainstorm – is a sensual blend of rose petals, musk and floral citrus, mixed with the soft notes of Arran's precious woods.
The perfect Christmas gift for those who love a touch of luxury.
https://arran.com/collections/fragrance/products/after-the-rain-eau-de-parfum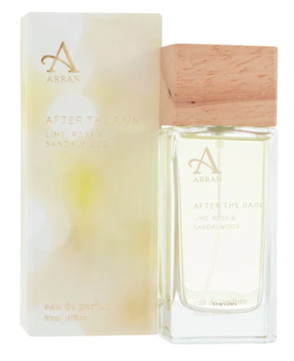 After the Rain Washbag – £60
Containing four items from the enduringly popular After the Rain fragrance range, this stylish cotton canvas washbag is the perfect travel companion. It contains everything you need to feel refreshed and looking your best when on the go or away from home – 300ml Shower Gel, 200ml Body Lotion, 15ml Eau de Parfum and a 40ml Hydrating Hand Cream to protect hands from the harsh winter weather.
The perfect Christmas gift for those who love travelling.
https://arran.com/collections/body-care-gift-sets/products/after-the-rain-female-wash-bag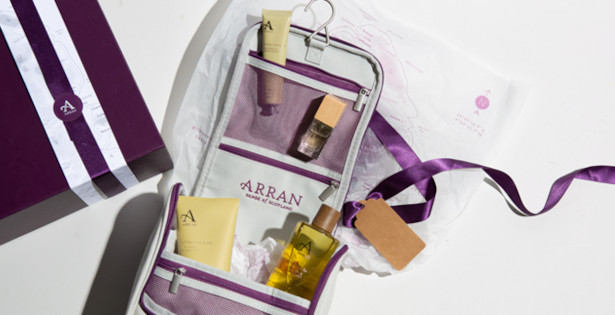 New Kildonan Collection – from £6.50
Escape to Paradise with ARRAN's NEW fragrance range Kildonan – inspired by the tranquil, sun-soaked shores at the south of the Isle of Arran – sweet notes of violet with the heady floral tones of Orris. Available in a luxurious Bath and Shower Gel, Hand Wash, Hand Cream and Solid Soap.
The perfect Christmas gift for those dreaming of summer holidays.
https://arran.com/collections/kildonan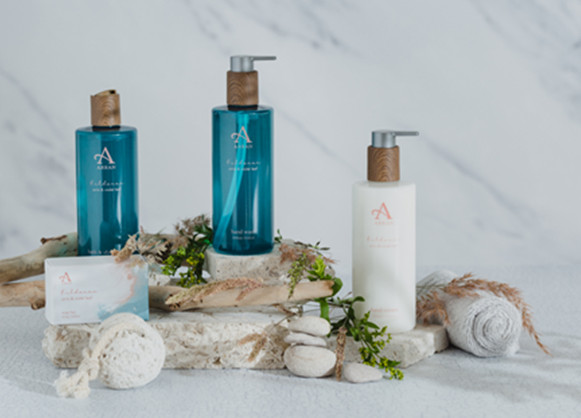 Body Care Gift Sets – £30.00

Featuring a full-sized bath & shower gel and body lotion in ARRAN's three most popular fragrances – After the Rain, Glen Rosa and Glenashdale – and beautifully presented in a signature gift box.
The perfect Christmas gift for those who love smelling beautiful from top to toe.
https://arran.com/collections/body-care-gift-sets  
Hand Care Gift Sets – £30.00 

Featuring a full-sized hand wash and hand cream – shown here in Glen Iorsa, Glen Rosa and Imachar – and beautifully presented in a signature gift box. Also available in After the Rain and Glenashdale.
The perfect Christmas gift for those whose hands need a spot of TLC.
https://arran.com/collections/hand-care-gift-sets
Hydrating Hand Cream Gift Set – £30.00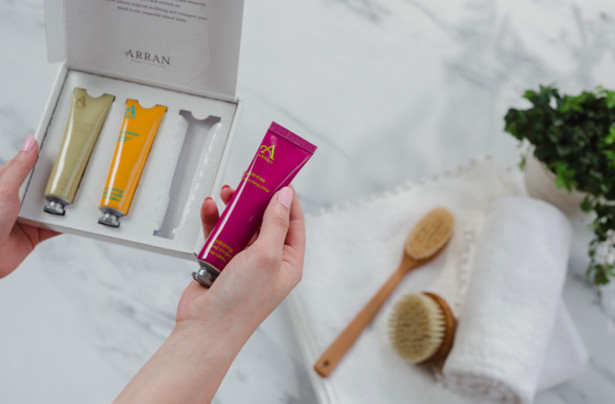 Everything you need for nourished, hydrated hands all in one collection. Each set contains three travel-size hand creams in ARRAN's most popular fragrances – Glen Rosa, After the Rain and Glenashdale.
The perfect Christmas gift for those who love pampering their paws.
Hydrating Hand Cream Gift Set
Gorgeous Gifts for Him 
 
Machrie & Lochranza Men's Wash Bags – £45.00 

These expertly crafted wash bags contain a full-sized bath & shower gel, after shave balm, shave gel and soap. Choose from Machrie, a refreshing scent which boasts layers of sea salt and rockrose, or Lochranza, a deep, distinctly masculine fragrance with a spicy combination of patchouli and anise.
The perfect Christmas gift for travellers, gym-goers, staycationers and over-night trippers.
https://arran.com/collections/gifts-for-him/products/machrie-mens-wash-bag
https://arran.com/collections/mens-wash-bags/products/lochranza-mens-wash-bag
Lochranza & Machrie Men's Eau de Toilette, 100ml – £42.50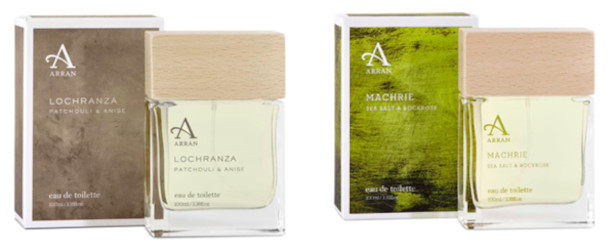 Inspired by the breathtaking coastlines and rugged landscapes which surround Arran's island home, these two flagship fragrances for men are sure to uplift, awaken and energise – whether you prefer Lochranza's warming, wooded spice of patchouli and anise, or Machrie's crisp, clean aromas of sea salt & rockrose.
The perfect Christmas gift to make him feel fresh and revitalised.
https://arran.com/collections/mens-fragrance  
Men's Shower & Shave Gel Discovery Gift Set - £10.00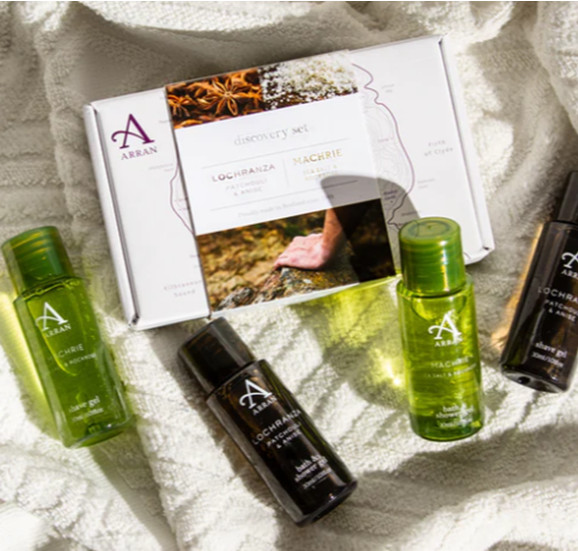 Containing shave gel and shower gel from both of ARRAN Sense of Scotland's best-selling men's ranges, this handy discovery set includes four 30ml bottles – Lochranza Shower Gel & Shave Gel and Machrie Shower Gel Shave Gel – that will fit neatly in hand luggage and give you ample supplies for a trip away.
The perfect Christmas gift for those who like to keep their options open.
https://arran.com/products/new-mens-shower-gel-shave-gel-discovery-gift-set
Gorgeous Gifts for the Home 
 
Calming Mountain Lavender Candle – £35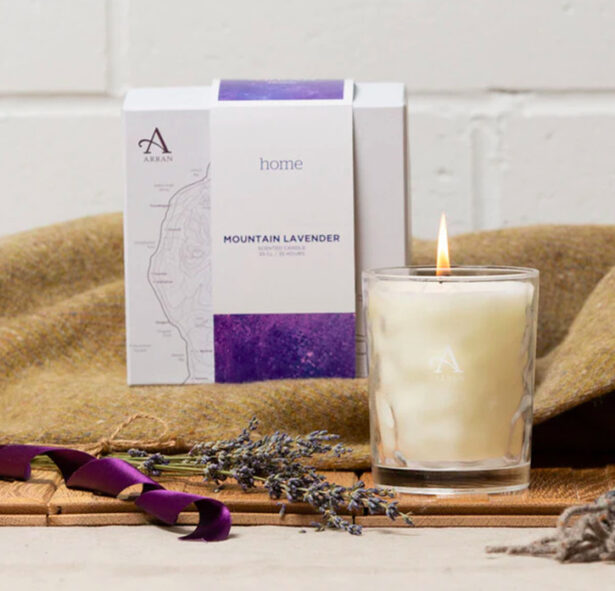 Create a tranquil space with the fragrance of this luxury, lavender scented candle. Lavender has long been renowned for its ability to create a serene state of mind and can also reduce anxiety by affecting the body's fight-or-flight response. Light the candle to help you slow down, breathe and relax.
The perfect Christmas gift for those in need of relaxation.
https://arran.com/products/mountain-lavender-35cl-candle
Home Fragrance Gift Sets – £40.00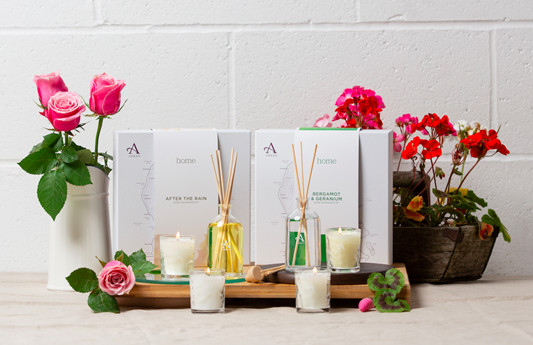 Both of these beautiful home fragrance gift sets are packed with uplifting essential oils – choose from the signature fragrance After the Rain and the beautiful floral scent of Bergamot and Geranium. Each set includes an ARRAN Sense of Scotland luxury reed diffuser and two 8cl scented candles, beautifully presented in an ARRAN branded gift box.
https://arran.com/collections/home-fragrance-gift-sets
Little Luxuries and Stocking Fillers Under £15 
From stocking fillers to Secret Santa surprises and thank you treats for teacher; ARRAN has some gorgeous and affordable gift ideas…
Glen Iorsa Pillow Spray – £15.00
The calming properties of lavender and spearmint promote relaxation and create a sense of peace when spritzed within a room, on your skin or directly onto the pillow.
https://arran.com/collections/glen-iorsa/products/glen-iorsa-calming-pillow-spray
Glenashdale Uplifting Grapefruit & Green Leaf Body Mist – £15.00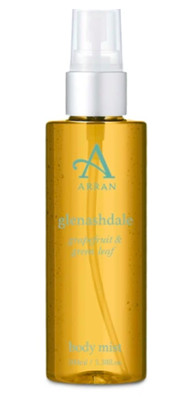 The Glenashdale fragrance is inspired by the waterfalls that bring a revitalising energy to the southern hills of Arran – a zesty blend of freshly rasped lemons and essential oil of grapefruit and finished with the clean, crisp lift of bergamot. The perfect easy spritz of fragrance to keep you smelling irresistible all day long.
https://arran.com/collections/gifts-under-15/products/glenashdale-body-mist
 Apothecary Seaweed and Sage Discovery Set – £10.00 
The fresh, mineral richness of Seaweed and Sage is incorporated into ARRAN's Apothecary Discovery Set. Harnessing the therapeutic powers of the sea, the products are packed with mineral-rich seaweed extract, natural sea salt and moisturising oils. It includes a 30ml Shampoo, Bath and Shower Gel, Body Lotion and Soap.
https://arran.com/products/new-apothecary-seaweed-and-sage-discovery-set/
Ultimate Fig Travel Candle – £9.00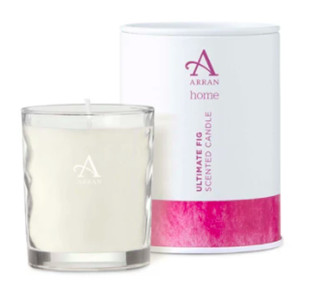 The perfect addition to cosy nights in with soothing essential oils of fig, cassis, and cedar to help unwind and reset.
https://arran.com/collections/candles/products/ultimate-fig-travel-candle-8cl
Glenashdale Hydrating Hand Cream – £12.00 


ARRAN's Hydrating Hand Cream has a nourishing, non-greasy formula and is infused with active plant ingredients to promote deep hydration that lasts up to 72 hours – the ideal size for carrying in your bag or keeping handy on your bedside table.
https://arran.com/products/glenashdale-hydrating-hand-cream
After the Rain 10ml Fragrance Rollerball – £15.00 

Enjoy ARRAN's signature scent on the go in a handy rollerball that's perfect for popping in your handbag. Inspired by the unique, fresh scent of an Arran garden following a rainstorm, After the Rain combines refreshing notes of sandalwood, rose and lime.
https://arran.com/products/after-the-rain-fragrance-roller-ball
  
After the Rain Discovery Set – £10.00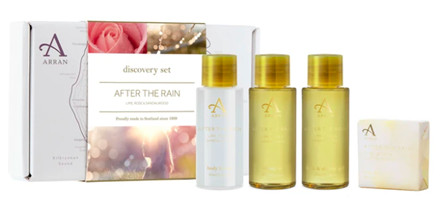 Travel-sized bath & shower gel, body lotion, shampoo, and soap in the brand's signature scent – a timeless blend of lime, rose and sandalwood – packaged in a beautiful gift box that's ready to pop under the tree.
https://arran.com/products/new-after-the-rain-discovery-set
Build your own Gift  
Give the gift of ARRAN by creating your own unique scent experience. Simply select your chosen items from the bath, body, and home fragrance collections, add your own personalised gift note and let ARRAN take care of the rest. The team will place your items in a bespoke ARRAN gift box, all wrapped up and delivered directly to their door, ensuring you can give a thoughtful and tailored gift this year.
https://arran.com/collections/personalised-gift-builder