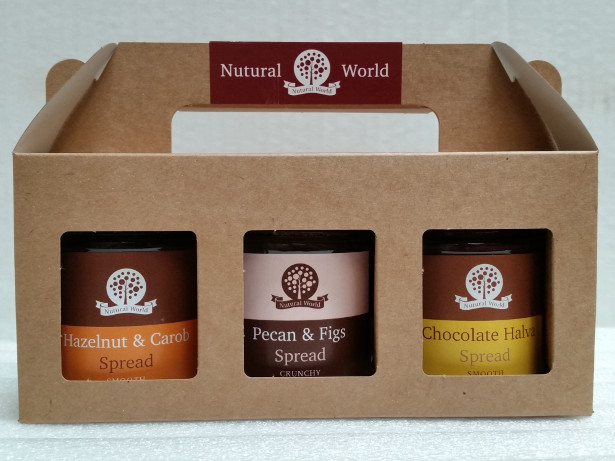 We've all gone nuts for nut butters and spreads recently, so this set of gourmet products from artisan producer Nutural World, who have 12 Great Taste Awards to their name, is sure to be a festive hit with any foodies in the family.
The Festive Spread Collection is made up of three of the company's most popular spreads and comprises of…
• Hazelnut and Carob Spread – keeps things simple with two high quality ingredients, 95% hazelnuts and 5% carob. The connoisseur's chocolate nut spread, with a luxurious and decadent taste.
• Chocolate Halva – add a taste of the East to your toast with this sumptuous dark chocolate spread that includes sesames and dates to produce a rich Oriental exotic flavour.
• Pecan and Figs Spread – this particularly festive spread is made with 90% pecans, which are lightly roasted and stone milled to preserve their great taste and aroma. The addition of figs results in an incredible flavour akin to a rich Christmas Pudding.
This unique Collection is available from www.nuturalworld.com for £15.99 and comes in a stylish presentation box.
Also available are a Luxury Nut Butter Collection, consisting of a jar each of Pistachio, Macadamia and Pine Nut butters, and an Almond Spread Collection, made up of Almond & Coconut, Smoked Almond and Almond Delight (almond and raisins, with a hint of rose essence) spreads.