Lost Years Rum is a premium brand that offers a selection of gift sets, which are perfect for Father's Day.
The gift sets include a range of high-quality rum such as their Silver Moon, Navy Strength, Four Island and Arribada.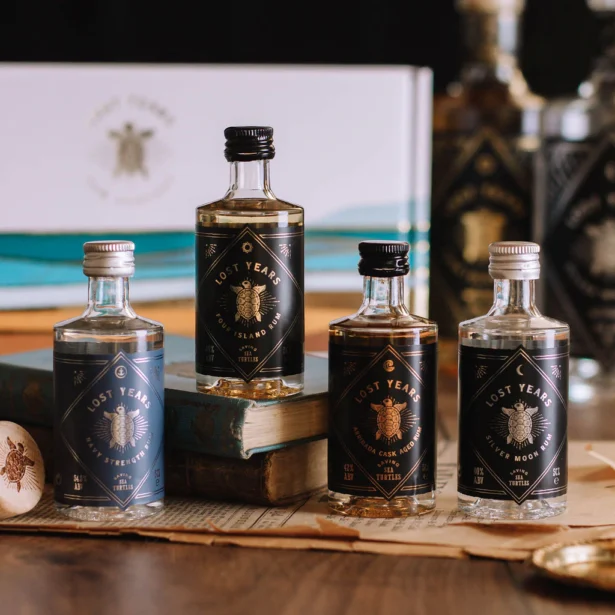 A celebration of pure, unadulterated Caribbean & Latin American rum, Lost Years is totally authentic, with no colours, flavours, spices or added sugar sourced from some of the most revered distilleries in the world. It's also vegan and gluten free.
Lost Years Rum is a small brand with a big purpose. Through its partnership with SEE Turtles, it helps fund community-based conservation at key nesting sites across the Caribbean & Latin America. In a bid to save over one million sea turtles, every bottle it sells triggers a charitable donation.
More information can be found here: lostyearsrum.com
Having trouble finding that perfect gift for dad this Father's Day? Well how about going digital this year and gift him the gift of guidance straight from the stars with a subscription to the #1 astrology app, Hint!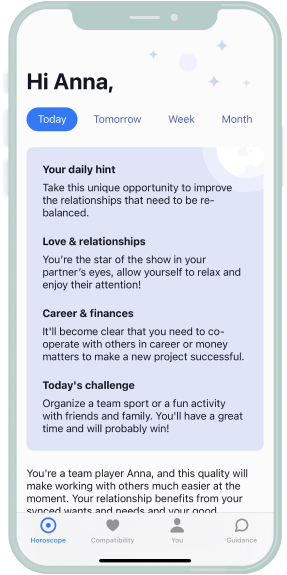 Using Nasa data, Hint will not only keep dad on the straight and narrow with daily horoscopes, but will also match him with his very own personal human astrologer where he has unlimited and on-demand access in order to seek guidance for a greater awareness of life.
The compatibility feature will give dad reports on intimacy, friendship, relationship, family and work so is the gift that will just keep on giving.
Buy Hint for dad www.hintapp.com for $19 / month and take 30% off when using code HINT22 at checkout.
Versatile Gift Guides to WOW Dads this Father's Day
To whoever we celebrate this Father's Day, Samsung has a wide range of gifts suitable for them. No matter what they enjoy, the round-up of Samsung's gift guide has something for everyone to indulge in, whether they are a passionate photographer or an avid gamer!
For those who like to keep track of possessions: SmartTag+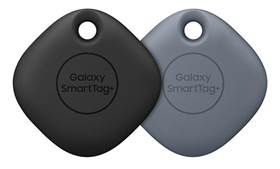 RRP £39.00
Surprise Dad this year with a gift he will never lose. SmartTag+ is a small but powerful tool that can be attached easily to keys, bags, and even family pets to locate them. To detect the tagged item in short and far distances – simply tap the ring button on the mobile and follow the familiar sound of the ringtone calling or scroll through a history of where the tag has been to retrace it.
For those who are avid music lovers on-the-go: Galaxy Buds Pro
RRP £219
Gift Dad the ultimate portable sound experience with the Galaxy Buds Pro. This true wireless earbud is equipped with intelligent ANC – active noise control – which filters out up to 99% of background noise, giving him the luxury to focus on his favourite podcasts or TV series. Perfect for prolonged use, the battery life in Galaxy Buds Pro can last up to 28 hours to keep him connected anywhere.
For those that love health and fitness: Galaxy Watch4 Classic
RRP £249
A picture containing watch
Description automatically generated
Energise Dad to help keep track of his fitness and health regime with the Galaxy Watch4 Classic. From many intelligent features to choose such as the Galaxy Watch4 can track anything from sleep cycles and daily steps to blood pressure and blood oxygen level, so he can be on top of his health whether on a run or relaxing at home. With a variety of options available, the Galaxy Watch4 comes in analogue or digital watch faces in selected backgrounds, fonts, and colours to match his tastes.
For those who love gaming: G7 Odyssey Gaming Monitor
RRP: £619.00
Sizes available: 28″
Treat him this year with a high-end gaming monitor. The Odyssey G7 is great for serious gamers and productive Dads. It has spellbinding visuals with UHD resolution, IPS panel and HDR400 which come together for spectacular colours with total depth and detail. It also has next level performance with 144Hz refresh rate, 1ms response time, and G-Sync compatibility which will raise you to the top of your game.
For those on-the-go: Galaxy Tab S8
RRP £649
The Galaxy Tab S8 features a speedy processor and powerful battery performance for Dads on the go, whether it's to binge-watch a favourite TV show or work on the train home. Featuring its vibrant display, enhanced bass and the brand-new S Pen, this portable and light-weight tablet can spoil every dad with an immersive experience wherever they are.
For those who wants in-house cinema experience: HW-Q950A Soundbar.
RRP: £1,099.00
Surprise your dad this Father's Day with a top of the range soundbar featuring built-in Alexa. Perfect for music and cinema lovers, the Q950A allows you to immerse yourself in the future of cinematic surround sound and it transports you to the heart of the action. It has 3D surround sound and true 11.14ch sound, with wireless rear speakers and an 8″ subwoofer included.
For those who are passionate about photography: Galaxy S22 Ultra
RPR £1,149
The smoothest in the Galaxy range, Galaxy S22 Ultra is perfect for those looking to capture incredible high-resolution photos. Thanks to its Dual Tele Zoom system, the camera is perfect for capturing family photos or holiday landscapes. The Galaxy S22 Ultra even has an intelligent addition to the Gallery with Al Edit, giving Dad the chance to enhance and show off his photography skills like a pro.
For those that love to multi-task: Galaxy Z Fold3
RRP £1,499
The Galaxy Z Fold3 is the perfect gift for those who need a phone to work and play. The premium, durable and foldable device is equipped with a massive screen that offers endless possibilities, from streaming live sport or TV shows to managing emails at the same time, enabling him to master the art of multi-tasking.
About Samsung Electronics Co., Ltd.
Samsung inspires the world and shapes the future with transformative ideas and technologies. The company is redefining the worlds of TVs, smartphones, wearable devices, tablets, digital appliances, network systems, memory, system LSI, foundry and LED solutions. For the latest news, please visit the Samsung Newsroom at https://news.samsung.com/uk/

The Arc4Health Complete Kit is approved as a Class IIa medical device for pain management and tissue repair arcmicrotech.com/arc4health/ (available on interest free credit)
Arc4Health is a remarkably small wearable device that is drug free and non-invasive. It also has regulatory approval as a Class IIa medical device for pain management and tissue repair.
It works by automatically generating a complex series of microcurrents with a simple, one finger operation. In fact, it delivers over 4.6 million permutations within a single treatment
programme.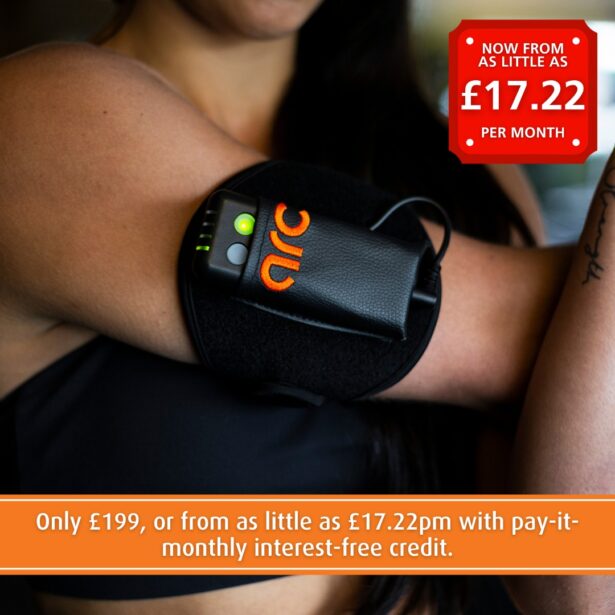 When an injury occurs, the body's natural electrical frequencies can be disrupted, reducing the production of Adenosine Triphosphate (ATP) within the damaged cells. ATP is the energy providing molecule required for all metabolic cellular processes – and is essential for pain management and tissue repair. When tissue is repaired, inflammation is reduced. And inflammation is how the body perceives pain.
The application of Microcurrent Therapy aims to support the body's natural repair process and to help it trigger the production of ATP. Simply put, the sooner the body can start a repair, the sooner it can finish. When an injury is repaired faster, there is less chance of recurrence as, due to working with softer tissue, the repair can be stronger.
We'd love to say our microcurrent devices are the most effective in the world, but in truth, the body is the most complex, amazing and effective microcurrent device ever created. It just sometimes needs a helping hand.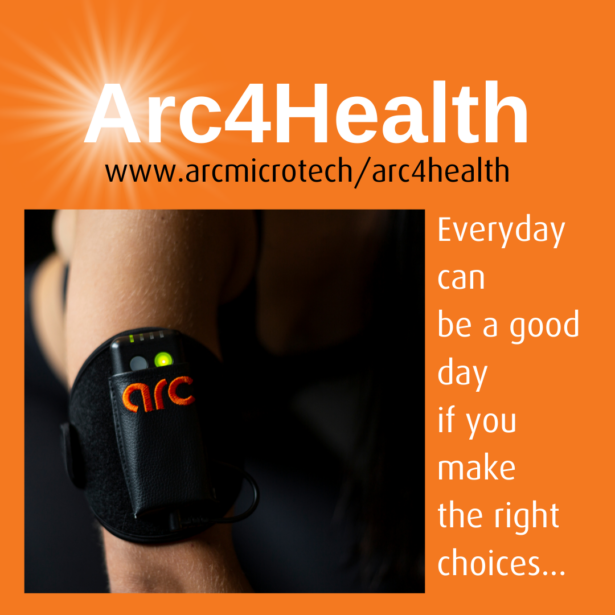 Please note: Like all devices that use modern batteries, the Arc4Health uses a lithium ion battery. Charged on a reasonably regular basis in order to maintain optimal battery life and condition
Whats Included in the Kit?
The Arc4Health Complete Kit includes the following:
• 1 x Delivery Unit
• 1 x Arm Strap
• 2 x Pairs of Self Adhesive Conductive Pads
• 1 x 250ml Bottle of Conductive Gel
• 1 x Charger
• 1 x User Manual
Aches, pains, pulls, sprains, swelling, irritation, stresses and strains. It never seems to stop. Perhaps the question we should really be asking is 'what can we stop from starting?'.
People tend to buy an Arc4Health for a particular, obvious injury, and while we do appreciate this, it slightly misses both the point of Microcurrent therapy and where the real power of our devices lies.
Which is everywhere.
Microcurrent has a systemic effect, which means the effect is felt throughout the entire body, and not just a specific part of it.
Wherever there is a deficit of Adenosine Triphosphate within the cells (ATP) there is also some form of injury or trauma present.
ATP is the energy-providing molecule required for all metabolic cellular processes and is essential for pain management and tissue repair.
When tissue is repaired, inflammation is reduced. And inflammation is how the body perceives pain.
Arc4Health produces over 4.2 million pulses of microcurrent per treatment, at a similar power to your body's own bio-currents. The treatment aims to support the body's natural repair process and to help the regeneration of ATP which then provides the energy required to reduce inflammation. This leads to faster pain management and tissue repair.
Simply put, the sooner the body can start a repair, the sooner it can finish. Also, when an injury is repaired faster, there is less chance of recurrence because the body is working with softer tissue so the repair can be stronger.
Our customers know exactly why they buy an Arc4Health, but quickly learn why they continue to use it so frequently once they've seen what else it can do
Our devices are used by over 70 Olympians, Premier Division Football Clubs, National Sports Teams and many elite athletes around the world.
These are the kind of people who have cutting edge healthcare facilities and unlimited resources at their disposal, who continually seek out the very latest equipment and have the most specialised expertise to test and measure performance with. In short, they know what works and they know what doesn't. Recent independent clinical studies with our devices on DOMS (Delayed Onset Muscle Soreness) showed remarkable results when measured over an 8-week period.
After performing an exercise-induced muscle soreness protocol (heavy intense workout), Microcurrent significantly reduced DOMS by up to 83.3% after 48 hours, the only device in the trial to do so.
When there is an injury to tissue or trauma present within the body, its own bio-currents can be disturbed, and the rate of Adenosine Triphosphate (ATP) production reduced within the compromised or
affected cells. ATP is vital for all metabolic cellular processes and is essential for tissue repair and also pain management. Arc4Health works by introducing over 4.2 million permutations of
microcurrent into the body. This can help kick start the body's own natural repair process by encouraging the regeneration of ATP. The sooner a repair can start, the sooner it can finish.
And the faster you recover, the quicker you can train hard again, and for longer periods.
1. Chang N, Van Hoff H, Bockx E, et al. (1982). The effect of electric currents on ATP generation, protein synthesis, and membrane transport in rat skin. Clinical Orthopaedics, 171, 264-72.
2. Bailey, S. (1999). How microcurrent stimulation produces ATP – One mechanism. Dynamic Chiropractic, 17 (18), 6.
3. Poltawski, L. and Watson, T. (2009). Bioelectricity and microcurrent therapy for tissue healing – a narrative review. Physical Therapy Reviews, 14(2), 104-114.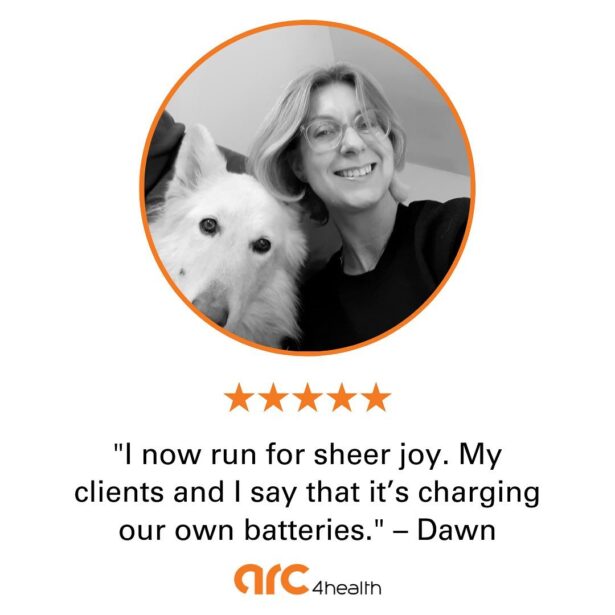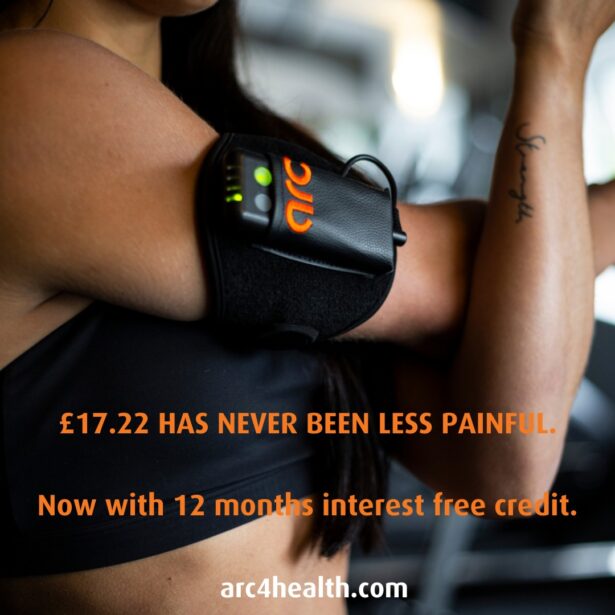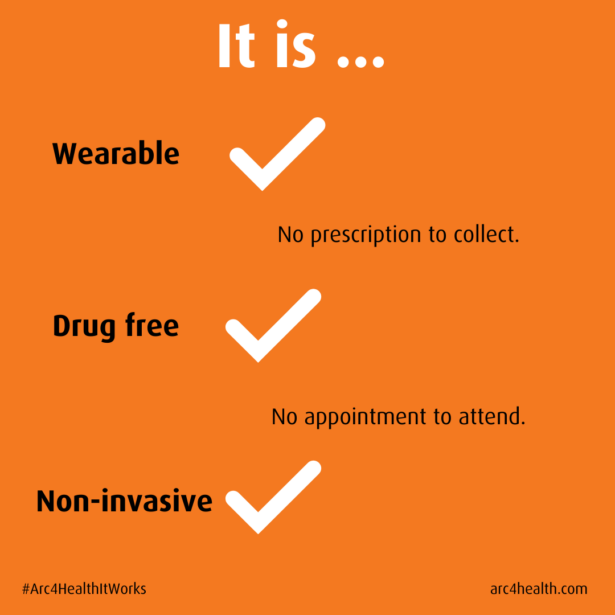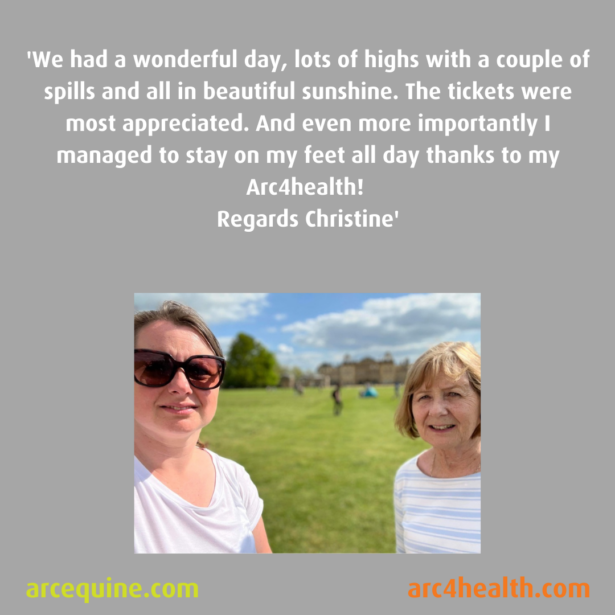 Sons – digital health start up tackling men's mild health conditions. Sons offer products to fight hair loss and improve gut, brain, and immune health.
They have also recently launched a beard booster.
(Sons are offering 40% discount off first purchases on plans – FATHERS40)
Up your beard game
Sons Beard Booster is for men who want to grow thicker, fuller beards. If you suffer from patchy or irregular hair growth, their clinically tested products are all you need.
See more and buy @ :- https://sons.co.uk/pages/beard-growth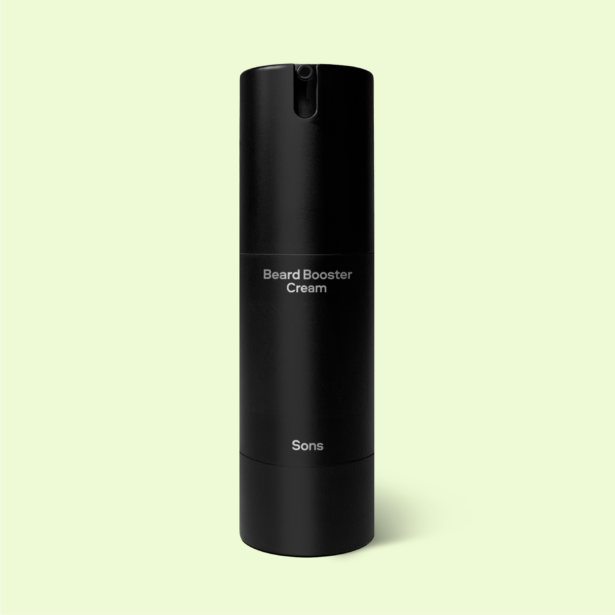 "We help men make informed decisions about health issues they often don't talk about – like how to keep their hair – and deliver reassuringly safe and reasonably priced products to their doors."
See the full range @ :- https://sons.co.uk/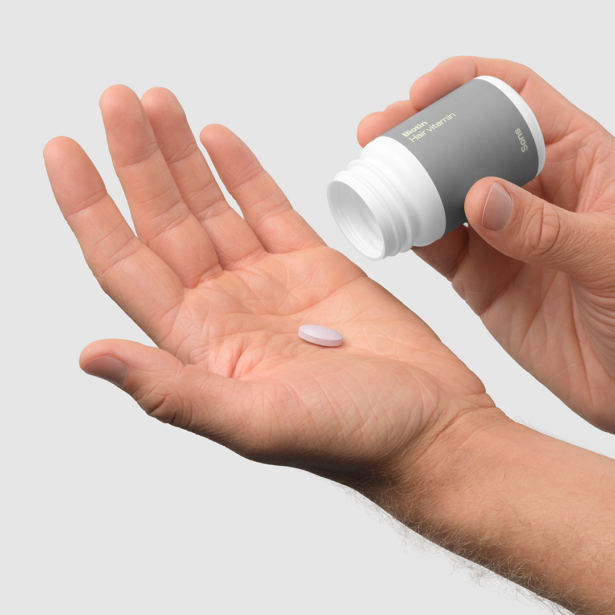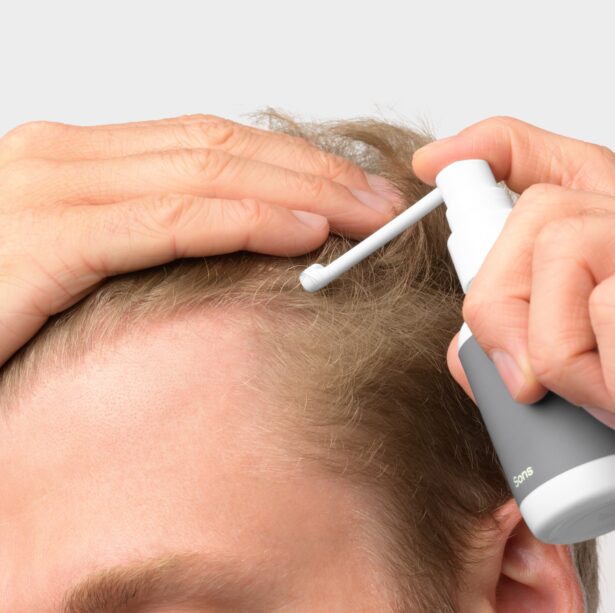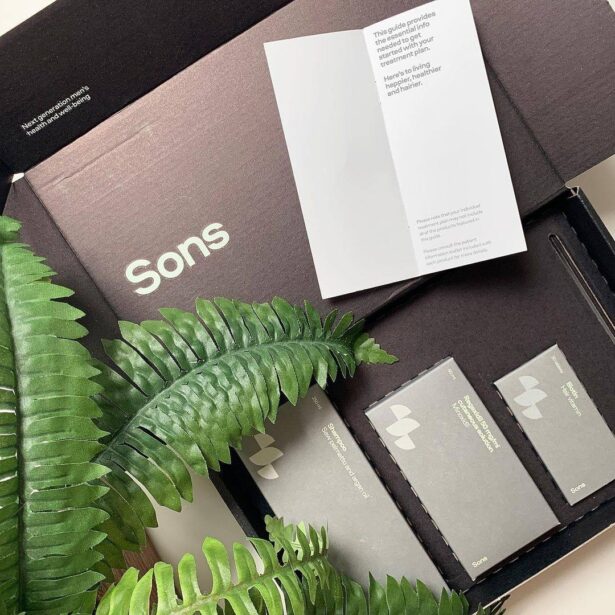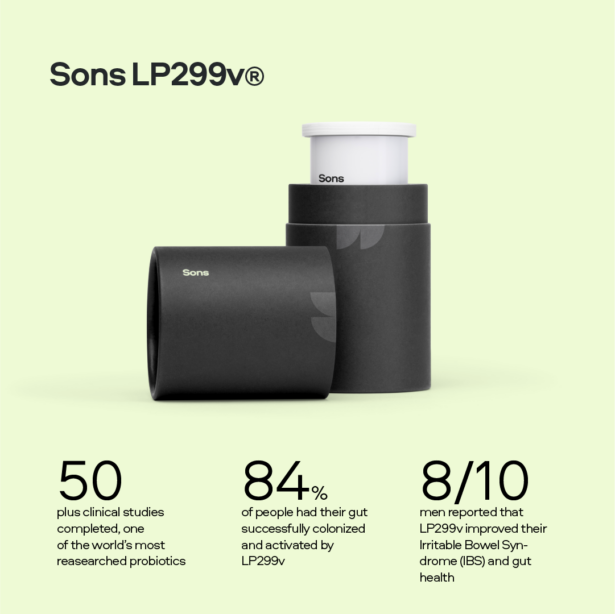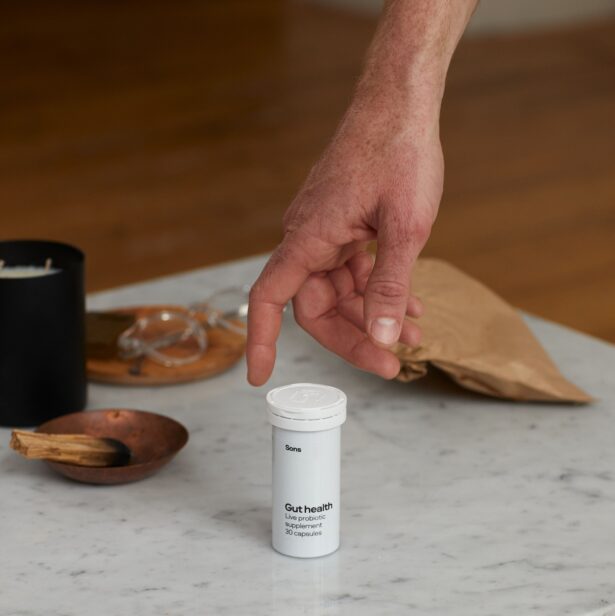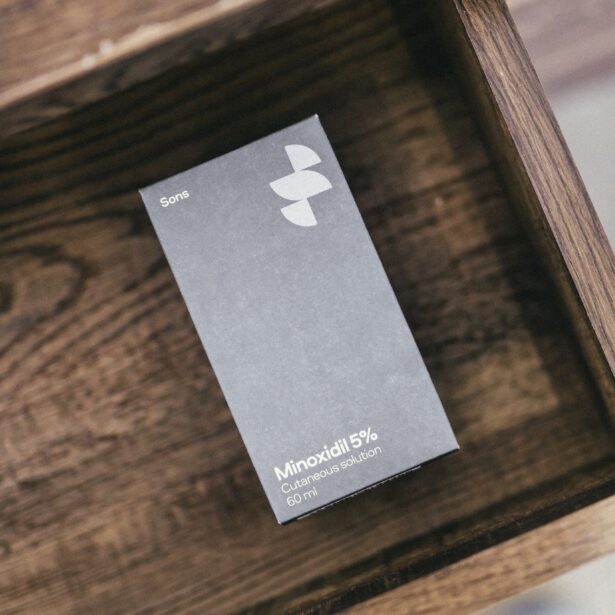 Krystal Jakosky is a life coach and writer based in Boulder, Colorado that teaches people how to own their sh*t and live their most authentic lives possible. krystaljakosky.com
While not necessarily sporty or for the outdoors, why not take this summer to get to know yourself a little better?
Here are 2 items that will inspire you,
1. The first is called the "Permission to be you. Always. Journaling Prompt Cards" and it's a $29.00 deck of cards containing journaling prompts for absolutely everyone. These journaling prompt cards can help you think deeper, get more clarity, and consider questions or choices you've never thought about before.
2. They also have another deck of cards focused on fostering deep, meaningful conversations. This product is called the Illuminating Connection Conversation Cards and it's a $29.00 deck of cards containing conversation starters for couples (and those just wanting to connect more).
Here is a little more detail on each and you can but them now @ :-
Illuminating Connection Couples Conversation Cards $29.00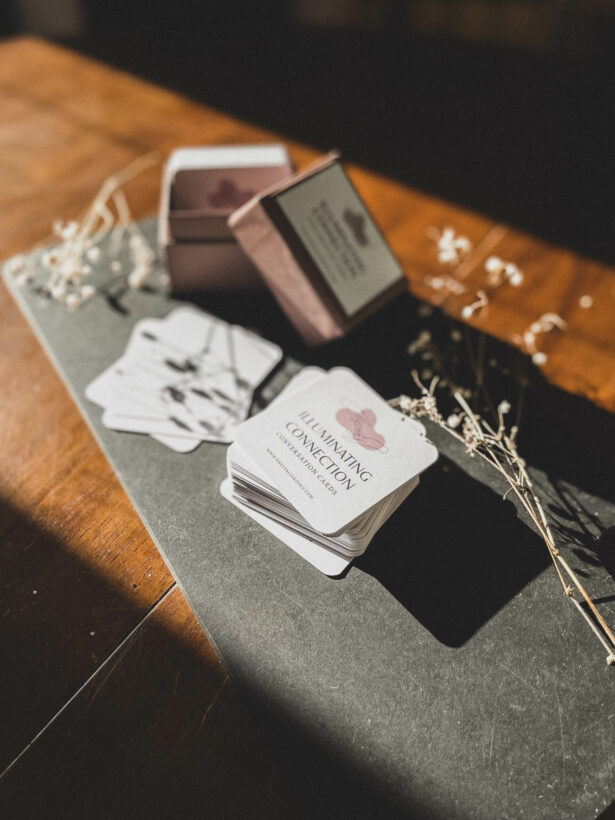 What is something you're scared to ask yet really want to know the answer to?
How do you see our relationship changing in the next 5 years?_
How do you know I truly love you?_
These conversation cards are for anyone looking to reconnect, deepen, or strengthen their relationships. You'll learn new things about your partner…and a lot about yourself. Road trips, dinners, and downtime have just become new opportunities for insight and connection.
The "Illuminating Connection Conversation Cards" encourage positive discussions on topics across the board. With questions covering everything from personal beliefs surrounding finances to religion and sexuality, these will keep you talking for hours and hours.
Whether you're getting to know a new acquaintance or learning something new about an old one, go deep or skim the surface – it's all up to you.
"My fiancé and I brought these cards with us to dinner and over the course of our two-hour meal, we only made it through five cards! Loved how these cards encouraged us to dive deep and let us learn things about each other that we never knew before."_
Permission to be you. Always. Journaling Prompt Cards $29.00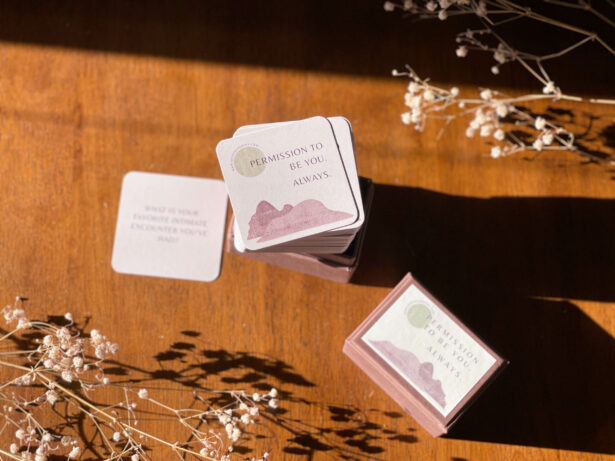 Do you know what makes you tick or gets you excited? Do you know what scares you or holds you back?
The "Permission To Be You. Always. Journaling Prompts" card deck encourages personal introspection on topics across the board. Go deep or just skim the surface – it's all up to you.
Do you feel fulfilled in life?_
Are you looking for direction?_
Do you know what you want to be when you "grow up"?_
If you're a journaler that feels bored of the same old prompts, this is the card deck for you.
Upgraded Massage Gun Deep Tissue with EMS, 20 Speed Percussion Muscle Massager Gun and Stimulator for Pain Relief, Handheld Electric Pulse Massager Body Massager with 20 Pad for Shoulder Back Neck Leg Visit the DOACE Store https://doace.com/products/6151110590662?tab_review=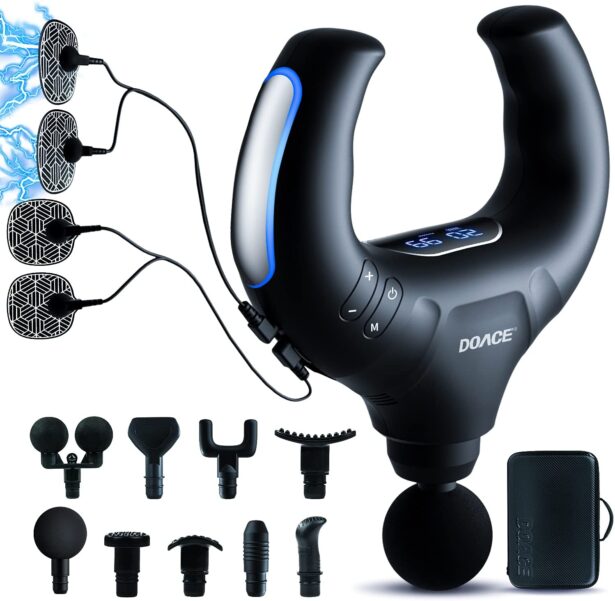 About this item
✅✅✅【Massage Gun with EMS】DOACE massage gun implements two different massage relieving technology into one device. By combining percussion therapy and pulse therapy, DOACE personal massage therapist is able to effectively remove muscle soreness and improve muscle recovery. In addition to athletes and active individuals, many therapists and chiropractors use the percussion massager and EMS massager on their patients to reduce recovery time and help relieve pain, tension, and soreness.
✅✅✅【20 Speed Body Massager with 9 Replaceable Massage Heads】With super quiet powerful brushless motor, the DOACE deep tissue massager has 20 adjustable speed settings delivering up to 4000 percussions per minute, meet the various requirements hitting muscles. With 9 customized massager heads, you will have 9 different types of massage guns, help you relieve tension and pain from your neck to your lower back and down to your feet.
✅✅✅【2* 5 Mode Electronic Muscle Stimulator with 20 Pads】 Built with 2* 5 preprogrammed massage modes for pain and muscle relief, each mode has 15 intensities. EMS therapy simulates the contraction and relaxation of a muscle by sending electrical pulses to the targeted muscle area. This stimulation mimics the same cycles that occur when then the muscles are being exercised and it also helps to improve blood flow to the muscles, providing a catalyst for muscle growth.
✅✅✅【Rechargeable Massage Gun with Type-C Fast Charging】PLEASE fully charge the massage gun before using it for the first time. The cordless massager is equipped with 2500mAh high-quality lithium battery, providing up to 10 hours of battery life and it only takes about 2 hours to be fully charged with Type-C fast charger. Also, the massage gun can charge your cellphone. The body massager has an LED battery indicator so you don't have to worry about power outages.
✅✅✅【Rational Design & Light-Weigh】DOACE handheld massager only weighs 2lbs, "U" shaped design is easier to hold when used single-handedly hand. When using it on the back, it can be held with both hands for precise vertical strength. When percussion mode is on, the vertical moves relaxes your muscles. Package includes: 1* Host, 9* massager heads, 20* pads, 2* leading wires, 1* portable bag, 1* Type- C charger cable, 1* charger, 1* manual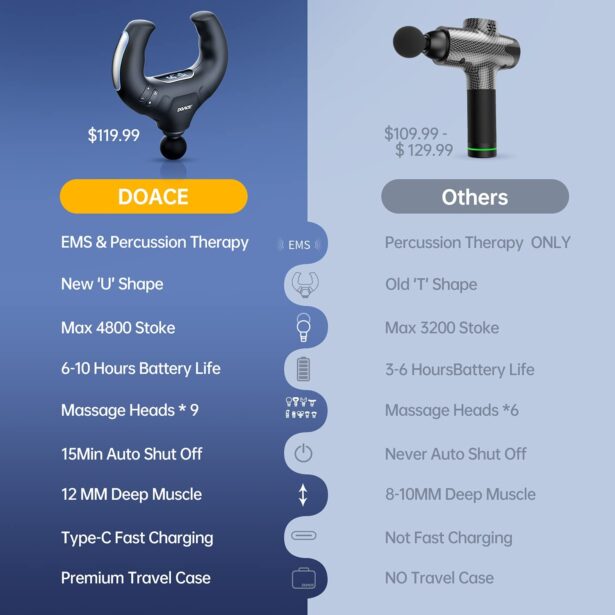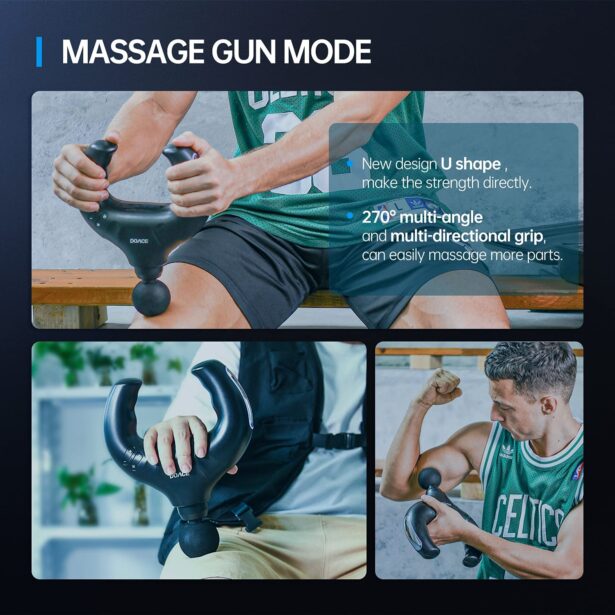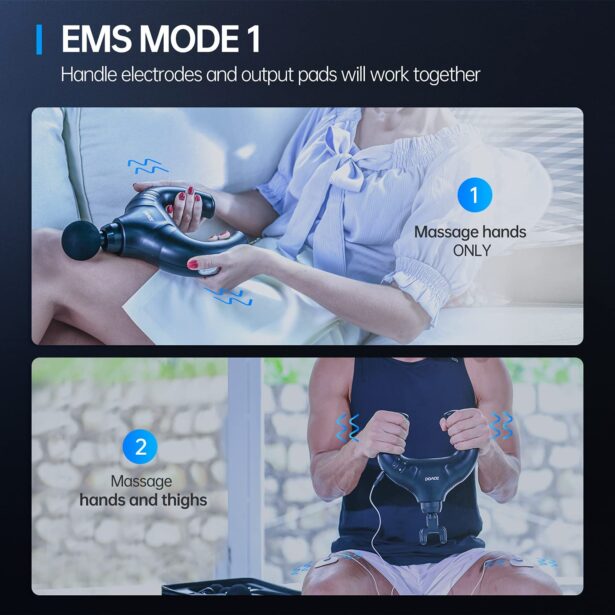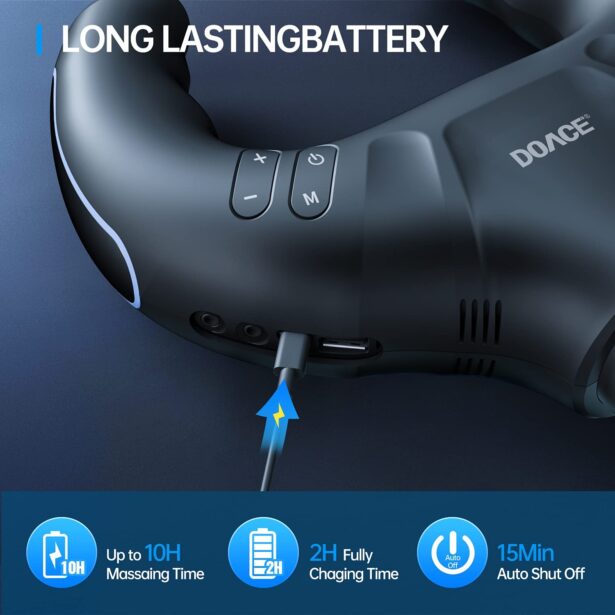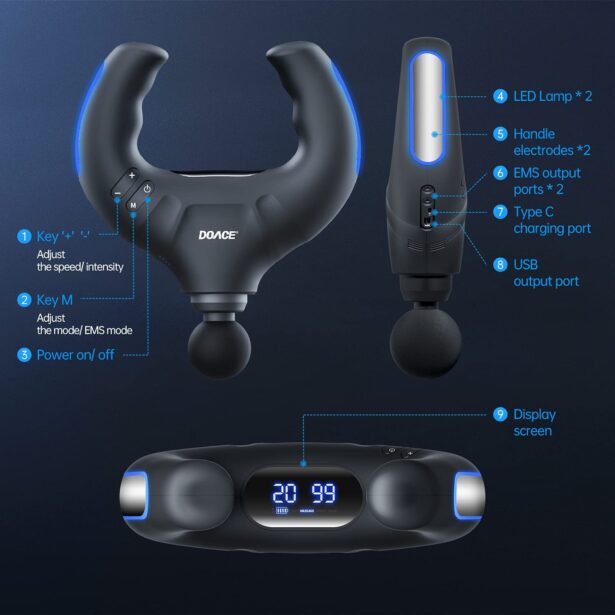 BEE FREE (Liberated From Junk Food) beefreegf.com
BeeFree Warrior Mix (a soft, chewy snack) ; MSRP $8.95
amazon store: https://www.amazon.com/stores/BeeFree/page/DC4DD42B-E0D2-4DDA-B8C2-9BA7261958EA?ref_=ast_bln
Target, Amazon, Kroger, Meijer, many smaller grocers across the US (in
every state), Beefreegf.com
Women Owned, focused on creating jobs for adults with Autism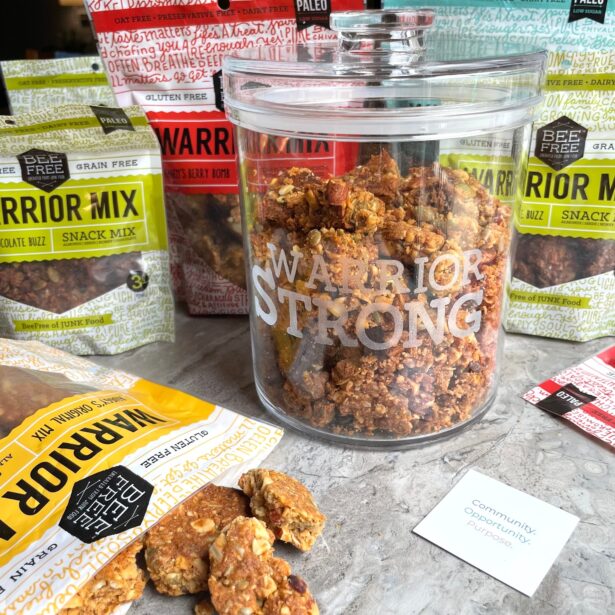 Warrior Mix is shelf stable, almond based product ready to eat out of
the bag for quick snack/ protein snack that fulfills a need for a
little sweet, or a delayed meal
All clean ingredients (gluten free/ paleo certified/ women owned
business certified) product is in chunks so you can eat it like a
granola bar or a cookie; perfect to for a busy new parent that needs a
little clean energy throughout the day!
BeeFree creates a better for you, snackable granola called Warrior
Mix. It is made with simple, plant-based ingredients, lovingly created
by people with autism. BeeFree evolved from my desire to bake tasty
gluten and dairy-free treats for our son. Warrior Mix is
honey-sweetened and plant-base and free from (gluten, grain, added
sugar, preservatives, dairy, soy), and a convenient snack. We believe
real ingredients matter and creating food that fuels the body and mind
while providing jobs for people with autism is just the right thing to
do.
​
BeeFree
#WarriorStrong
IG @beefreeglutenfree
FB @beefreegf
Nourish your inner warrior with our soft, chewy snack made with pure, simple ingredients! BeeFree was created out of need when my son was diagnosed with Autism and now I'm on a mission to bring tasty, clean food to the world and close the Autism job gap!
BeeFree Bakery strives to fill a need for quality bakery items with a taste that pleases everyone. Created by a mother of 4 sons, one who has special dietary needs (has Autism), BeeFree understands the importance of having good food within arms reach. All of our products are teenager tested to ensure they are as tasty as their gluten-containing cousins. We find great joy in baking treats that make life a little easier and a whole lot sweeter. Do check us out and choose to #BeeFreeofJunkFood !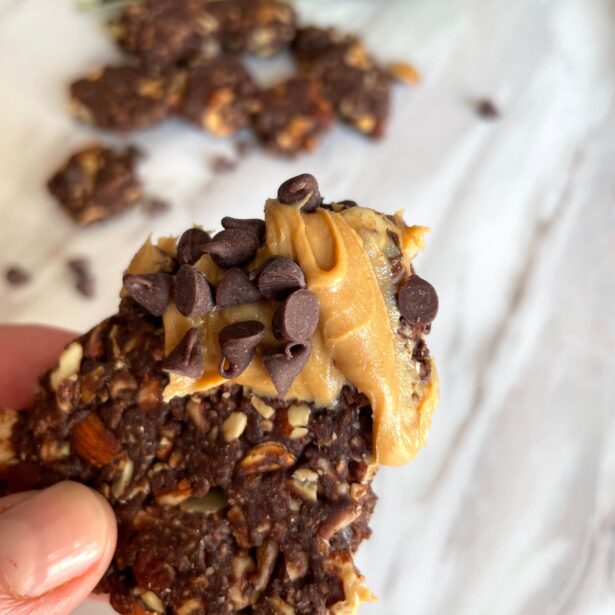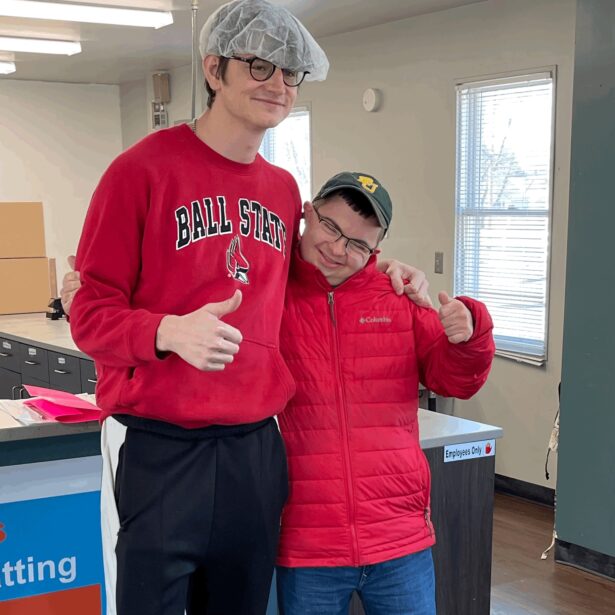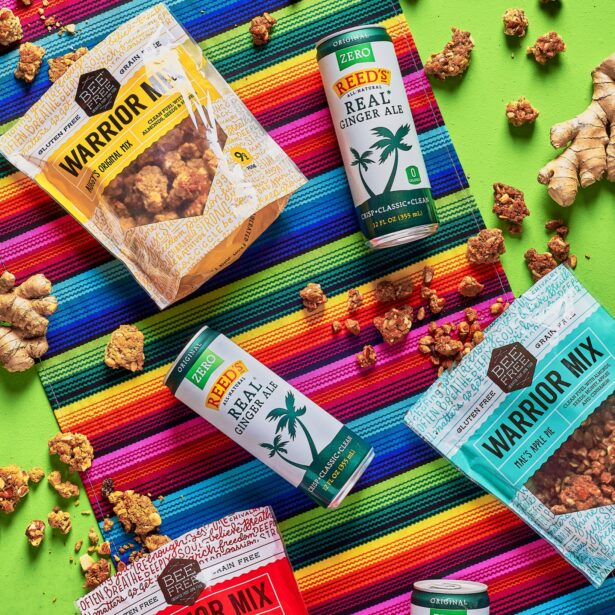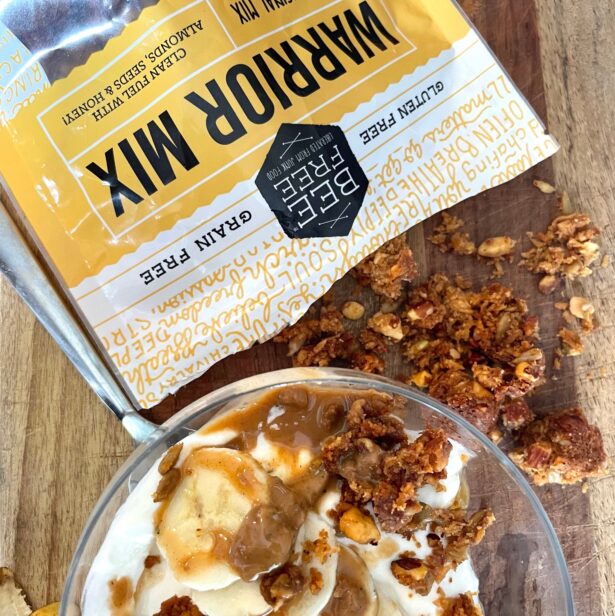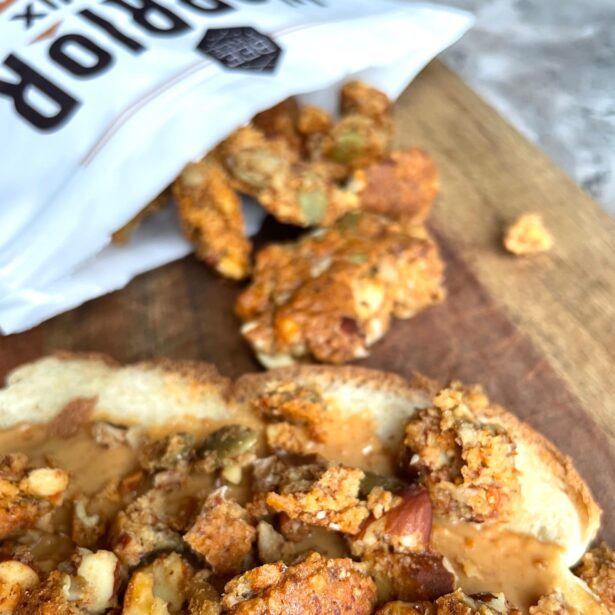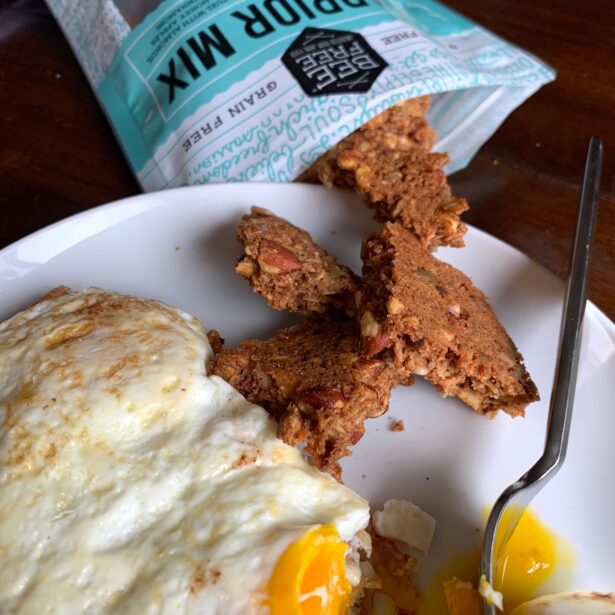 The Campbell Caddie™ is your answer to some of golf's most common issues and it will quickly become your favorite golf accessory. MADE IN THE U.S.A.
https://www.campbellcaddie.com/
Most golfers will experience the frustration of leaving a club at the previous hole at one time or another. Adding insult to injury, a ranger or another player comes up the fairway waving the wayward club. And, not surprisingly, premium clubs are not often returned to the bag drop.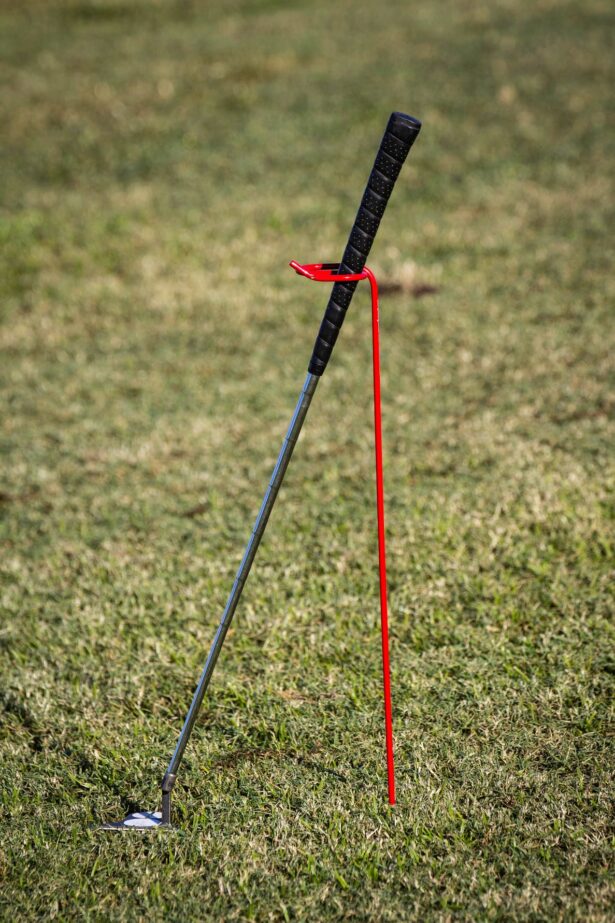 Now, there's a solution to this and other common golf annoyances: The Campbell Caddie™.
It is a simple, looped device that delivers what is promised. The Campbell Caddie™ addresses three common issues for most golfers: left-behind clubs, wet, grassy or sandy grips, and excessive bending or stooping over.
When leaving your cart with more than one club, take your Campbell Caddie™ along. Whether in the practice area or on-course, your caddie keeps your clubs off the ground, grips dry and clean, and clubs by your side.
Fitting easily in your bag, this product is manufactured in the U.S.A. and holds a lifetime replacement warranty for manufacturing defects. It is available in four colors — red, black, blue and yellow — at a retail price of $24.95. Visit www.campbellcaddie.com to purchase yours today.
SPIRIBAM (known for providing the finest rum the Caribbean has to offer) officially launched the most significant projects of their iconic brands to date – Rhum J.M: The EDDEN Project (Engagés pour le Développement Durable de nos Écosystèmes et de notre Nature). After a decade of tenacious commitment to maximize the distillery's approach to environmental and social sustainability thereby allowing the island of Martinique to maintain its prestige as the gorgeous paradise that it is and always will be – all while producing exceptional rhum – EDDEN has officially been brought to life. The decade-long project officially marks Rhum J.M as a global leader in the sustainability movement!
Nestled at the foot of Mount Pelée, the largest distillery of the area has been a longtime advocate of the sustainability movement in Martinique, working to address the challenges to cultivate within the area's terroir-driven tropical climate in the most environmentally and socially responsible manner possible. They have developed a series of methodical improvements to their rhum agricole sugarcane production quality in a measurable and effective effort to diminish its impact on the natural environment by utilizing key practices to hone their craft within a full circular economy.
Attached, please find: EDDEN Press Release + EDDEN Fact Sheet + EDDEN Overview. These detailed briefs include timelines, certifications, facts, figures, and references on a variety of topics from Rhum J.M's strict ethical green practices, preservation of the region's biodiversity, sugarcane harvesting techniques, volcanic soil cultivation, unique water waste treatment techniques, reduction of emissions by more than 90%, waste management protocols, shipping and supply chain efficiency, thorough audits of business practices of its closest suppliers, investment in its team through technical training and career advancement initiatives, technology such as drones, smart tractors, meteorological software systems, ecotourism, and much more.
Indeed, there is a lot to unearth here. I'm more than happy to connect you with Grégoire Guéden (CEO, Spiribam), Emmanuel Becheau (Managing Director, Rhum J.M), Roxanne Garcin (Brand Manager, Rhum J.M), Ben Jones (Managing Director, Spiribam America), Kiowa Bryan (Marketing Director, Spiribam America), Kigan Jo (Brand Ambassador / Mixologist), as well as Karine Lassalle (Master Blender, Rhum J.M) – female powerhouse to explore further.
Balansit® from Balanced Body ($99)
Purchase online here: www.pilates.com/store/accessories/non-slip/balansit
Welcome to the world of dynamic sitting!
From the creators of Oov and now available from Balanced Body comes the latest technology in posture control, core stabilization and strengthening — the Balansit®.
We sit for longer now than ever before. How can you "exercise" while sitting? Unstable devices activate your Core and require user to continuously maintain neutral position. The patented Balansit is a dynamic and active sitting device, engineered so the user must find "balance" front to back (sitting upright versus slouching or overextending) and side-to-side (sitting to one side or another creating asymmetrical loading of the spine and pelvis).
Made of specially shaped foam, the base of the Balansit is made up of two curves. The seat saddle helps support the pelvis in a more "neutral" position. The Balansit is constructed of dense foam and you will "sit higher" off your chair with your legs extended down at a slight angle on either side of the device. If you work at a standard height desk, it may be necessary to elevate your computer for correct ergonomics and your comfort.
We encourage you to have fun with Balansit! Test your balance and stability by rolling back-and-forth and side-to-side to see where you are most challenged. Balansit improves posture and helps us breathe better… and diaphragmatic breathing has been shown to reduce stress & improve concentration!
*We recommend starting at 5-minute intervals and building up to 30 minutes. It is not recommended to sit longer than a 30-minute interval on Balansit.
SISSEL® SITFIT® Plus ($45)
Purchase online here: www.pilates.com/store/sissel/sissel-sitfit-plus
For 40+ years, Balanced Body has worked with clinicians to create rehabilitative equipment that is safe, durable, and effective. Balanced Body is proud to partner with SISSEL®, Europe's leader in physical therapy tools, and bring their innovative therapeutic and movement products to you – including the SISSEL® SITFIT® Plus.
Active sitting with 2 in 1 function! The ideal combination of a sitting wedge and an air-filled pad. It has an ergonomically enhanced shape for active sitting and added comfort. The SITFIT Plus also exercises the back and pelvic floor while seated. Dynamic sitting relieves upper body tension and enhances upright posture to relieve neck pain. Pump and black velour cover included. Made in Germany. One size for teens & adults. Accommodates up to 304lbs (138kg).
IS IT CAKE OR CARVERY?
REALISTIC ILLUSION CAKE STUNS GUESTS AT POPULAR CARVERY RESTAURANT
Jan Foster, who works as a 'Cake-a-tier' at leading carvery and cake-makers Farmhouse Inns, left guests stunned as she cut into a cake designed to look like a traditional carvery.
The showstopping creation was displayed next to an actual carvery at Jan's workplace, Holly Tree Farm in Nottingham, where guests struggled to tell the difference between the two.
The chocolate sponge filled cake was inspired by the recent Netflix series Is it Cake?, which sees highly skilled bakers compete to create the most realistic illusion cakes. Almost immediately after it aired, the show gained popularity – ranking second in Netflix's top 10 most watched TV series[i].
Jan Foster, Cake-a-tier at Farmhouse Inns, said: "My love of baking and attention to detail has been passed down through generations. My Mum loved to bake, so from a young age it's always come naturally to me. Even now that she's passed away, baking makes me feel closer to her.
"As I got older, I became more creative and found my passion in creating illusion cakes – cakes that look like something you see in everyday life. Given that we are also known for our best-in-class carveries at Farmhouse Inns, it felt natural to combine the two together and create a cake that looked exactly like a carvery."
Jan, who has worked at the Farmhouse Inns Holly Tree Farm since 2017, also hosts cake-making classes for children and adults in her spare time.
She continues: "Without a doubt, the most rewarding part of my job is getting to be a part of people's special occasions. I've lost count of how many cakes I've baked now, but I'll never tire of the feeling of seeing someone smile as I show them their creation.
In addition to the carvery illusion, Jan has previously created cakes replicating a full English breakfast, pancake stacks and even popular fast-food dishes.
Emma Smith, senior marketing manager at Farmhouse Inns, said: "Our talented Cake-a-tiers always go the extra mile to delight our guests. From the initial baking to the finishing touches, all of our indulgent cakes are hand-crafted on-site by skilled and passionate bakers like Jan.
"From much-loved classics like our Marz Attack and Carrot Cake, to our seasonal favourites like our Raspberry Spring Surprise, there's something for everyone at Farmhouse Inns!"
To find out more about Farmhouse Inns, visit the website here: www.farmhouseinns.co.uk/
Derek Bell MBE Limited Edition Orange Spice Gin. Derek Bell MBE has enjoyed one of the most successful, diverse and wide ranging racing careers of any British racing drivers. A career which has spanned over 50 years.
Bell is best known as the consumate endurance sports car driver who won the Le Mans 24 Hours five times and the Daytona 24 hours three times and the World Sportscar Championship twice.
This Limited edition 48% proof gin is limited to 917 bottles, the Bell Enamel Helmet badge is sequentially numbered and keeps the Orange leather neck collar in place.
Orange Spice Gin has the following botanicals and is perfect as a cocktail mixed with prosecco or champagne. Botanicals include , Orange Zest, Juniper, Orange Blossom, Pink Peppercorns, Cardamom, Ginger, Allspice and Cinnamon.
www.classicracingspirit.com
£75
Company: Classic Racing Spirit
Sci Fi Poster – Alien Planet and Space Ships Metal Print from Wallsauce.com
High-quality gaming metal print available at Wallsauce.com. Made in the UK, this aluminium print is available in a range of sizes and finishes, including matt and gloss.
Prices start from £65
*Only available in the UK
www.wallsauce.com/metal-prints/fantasy-and-science-fiction-metal-prints/alien-planet-and-space-ships
Voyager expedition flask with compass
www.dalvey.com/voyager-expedition-flask-with-turquoise-compass-03429
Forthe man that deserves a drink for working hard and playing hard. This flask is aperfect companion as his drink of choice will always be in his pocket. Shouldhe get lost in the crowd or the forest, it has a compass to show him the way. Wecan even engrave it so that you can tell him how much you appreciate him.Making it all the more special.
RobertCalderon, Marketing Manager @ Dalvey – www.dalvey.com/
Samsung Premiere LSP9T
$6,497.99
www.projectorscreen..com/samsung-lsp9t-4k-ultra-short-throw-laser-projector.html
If you're a tech enthusiast or cinephile the Samsung LSP9T ultra short throw projector is for you. This super-bright 2800 lumen triple laser projector provides a stunningly immersive 4K resolution image up to 130 inches (4 times larger than a 65 inch flatscreen TV) with the most vibrant colors, and a superior built in soundbar. And it does all this from as little as 4 inches from the screen. This projector is king of the ultra short throw projectors and thanks to it's 4K resolution makes it the perfect pairing for the new Xbox Series X or Playstaion 5. It's designed to work gloriously, even in well lit rooms like a living room, making it perfect for apartment living. You'll be completely absorbed into every movie, tv show, video game or sporting event you put up on your display surface making it completely worth the high price tag. Your place will be the only place you and your friends will want to watch anything.
The sleek polished white casing looks great in any living room regardless of style. It features rounded corners and an attractive fabric cover for the speakers on the front of the unit. The first time I turned it on I was absolutely blown away by the detail and vibrancy of the colors on the projector screen. Once you experience the picture for yourself, it will be the only way you want to watch anything.
Epson LS300 Ultra Short Throw Projector
$1,999
/www.projectorscreen.com/epson-epiqvision-ultra-ls300-smart-streaming-laser-projector-v11ha07120-black.html
While it lacks the outstanding 4K picture of its big brother, the Epson LS500, this 1080p ultra short throw projector produces fantastic pictures and sound making it a great choice for the post college lifestyle. By placing the LS300 UST laser projector just inches from the wall you can experience TV shows, sports, movies, video games and more like you've never before with up to an astonishing 120 inch screen size. It's the perfect living room projector thanks to its 3600 lumen laser light source, allowing it to work in even well-lit rooms. This smart projector features built in Chromecast and includes streaming channels like Hulu, HBO, Disney+, YouTube and more!
Designed with simplicity in mind, the Epson EpiqVision LS300 Streaming Laser Projector has a clean and modern aesthetic to beautifully fit in with any décor. The bright vibrant colors of this ultra short throw's picture look outstanding on the screen compared to any small, boring LED TVs
Wooden Birdhouse (Made of fig wood, reforested wood. Ideal for bird-loving Fathers, plus it helps to protect native bird species. Check out the reviews!) – www.amazon.com/dp/B08FXNZQS5
Hori Knife (A versatile and durable tool for Fathers who love working on his garden!) – www.amazon.com/dp/B08G19YJ7D
Spiral Notebooks (Made of FSC certified recycled paper, comes in a handy size and perfect for Fathers who loved writing! Can serve dad well as a field notebook) – www.amazon.com/dp/B08DHNDR3W
Step Stool (Ideal for dad who love watching netflix and chilling at home! Made of rubberwood – recycled wood, a sustainable source.) – www.amazon.com/dp/B09BM5VV7P
The Colour Collection – Customisable Portrait
The Colour Collection makes a striking and unique portrait of your favourite people.
Hand-drawn from individual photographs supplied by you, each portrait captures the detailed characteristics that make your favourite people so unique. As long as you're happy with the photographs you supply, you should be delighted with the final portraits.
Colour Collection portraits are available in a variety of sizes depending on how much wall space you have to play with.
Sold unframed and printed on a beautiful enhanced matte fine art paper, 200gsm. It makes every portrait look amazing, seriously wait and see for yourself.
burntpeach.co.uk/collections/portraits/products/colour-collection
Price: £79
burntpeach.co.uk
Suede Camel Pick & Sleep Dog Carrier
Not only will your dog love the soft feel. As it's a Pick&Sleep model, you can count on the fact that your doggy will love his new bed on the go. Fold over the sides, and you'll find that this instant bed may often replace his/her actual bed at home.
www.suzys.uk/products/xuede-camel-pick-sleep-dog-pet-carry-bag
£150
Suzy's Pet Brand
www.suzys.uk
Press contact
First Name and Last Name: Ekaterina Dobbelaere
Telephone number: 7984735507
Email address: ekaterina@suzys.uk
Show how much you care with a personalised gift this Father's Day
This Father's Day, choose a gift that is unique to him and one that he can treasure forever. Pick from high-quality wall art he can display in his home, a photobook filled with photos that will make him smile or a personalised apron so that he can cook in style.
Whether you're shopping for dad, grandad or someone who is just like a dad to you, CEWE has a personalised gift to suit all tastes. Each gift celebrates the precious memories and moments you've shared over the years and makes a wonderful keepsake he can cherish.
Square Photobook – up to 202 pages, from £9.99
This Father's Day, treat dad to a trip down memory lane by compiling a beautiful photobook filled with all his favourite memories. Remind him of holidays, special events and family milestones that will make him smile with every page turn.
Framed Photo Prints – from £16.48
For a gift he can display in his home and admire for the years to come, choose a framed photo print that captures your favourite photo of the two of you. Whether it's a family trip or a precious milestone, this is a gift that will be enjoyed every day of the year.
Personalised Apron – from £15.99
If the dad you're shopping for is the cook of the house, a novice baker or king of the BBQ – treat him to a personalised apron that will take his cooking experience to the next level. This thoughtful gift will show just how well you know him this Father's Day.
Personalised Water Bottle – from £26.99
For a practical gift he's sure to utilise every day – treat him to a personalised water bottle complete with a photo and text of your choice. This unique gift is sure to brighten up his desk at work or his weekend adventures.
Personalised Phone Cases, from £14.99
If your dad always has his phone to hand – a personalised phone case is the ideal gift. Quick and simple to make, this is the perfect way to bring those precious memories into everyday life. Choose a photo and text of your choice to make an ideal personalised gift.
5-star hotel The Grand, York.
The Grand is the perfect location for a Father's Day weekend getaway. The hotel is based in the centre of idyllic York and offers services such as:
• Luxury accommodation
• Onsite spa including spa & stay packages
• Discover York & Gin Discovery experiences
• Cookery school
• A range of onsite food and drink options

GIVE THE GIFT OF FABULOUS FLAVOUR WITH THE NEW TRACKLEMENTS FATHER'S DAY BUNDLE
The Life and Soul of the Pantry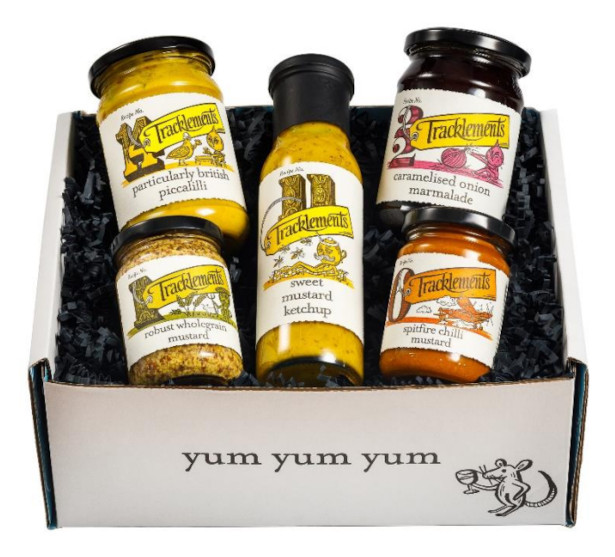 Whether Dad is a budding chef or just loves his food, treat him to the NEW Tracklements Father's Day
Bundle. If you can't see him in person, then it's easy to order direct from www.tracklements.co.uk and
they'll send it, sustainably packed, in a Yum Yum Yum box.
The Father's Day Bundle (RRP £18.25) includes:
• Spitfire Chilli Mustard, 140g – a volcanic
condiment for courageous tastebuds, it fires
up cold meats, pies, cheeses and sausages
• Robust Wholegrain Mustard, 140g – earthy,
piquant and utterly delicious. Stir through
cheese sauce or mash for a robust tang,
excellent in a creamy sauce for mackerel and,
of course, in pretty much any sandwich
• Caramelised Onion Marmalade, 345g – the
UK's first onion marmalade with a splish of
redcurrant juice for a pleasing tang, it's
excellent with pâtés, terrines and cheeses, and
incomparable when melted over sausages
• Particularly British Piccalilli, 270g – a curious mustard pickle packing a rather sharp punch and moreish
crunch, it's beautiful piled onto a Ploughman's (obviously) and alongside meaty terrines as well as a
traditional Scotch egg
• Sweet Mustard Ketchup, 220ml – a sweet piquancy, a good strong kick and a regal shade of yellow,
made with a combination of wholegrain and smooth mustards and a measure of sugar and spices for
perfect balance. A delicious baste for steaks, sausages and chops, it also brightens up mayonnaise,
sarnies, potato and halloumi salads
www.tracklements.co.uk
@tracklements #tastytracklements #LifeandSoulofthePantry
Pure Shave. Superb Quality throughout their extensive range… pureshave.co.uk
A new range of grooming products for men (and women) called Pure Shave. The range was launched July 2020 during lockdown.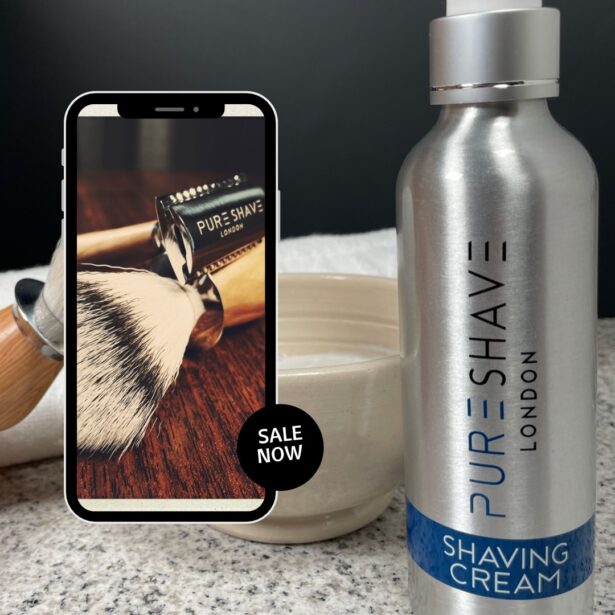 Aside from the fact that all of our products are excellent and have amazing reviews (featured in GQ product reviews), one of the main USPs of their range is their green credentials. All of the Pure Shave range is refillable. They are one of a very few that are offering refillable grooming products. Even their Eau de Toilette, Amber is refillable.
The shaving cream was developed by founder James Kenning, in his kitchen at home and then given a professional make over by a cosmetic formulation company. Its been developed to eliminate razor burn and razor rash which it does with amazing results. The customer feedback has been incredible.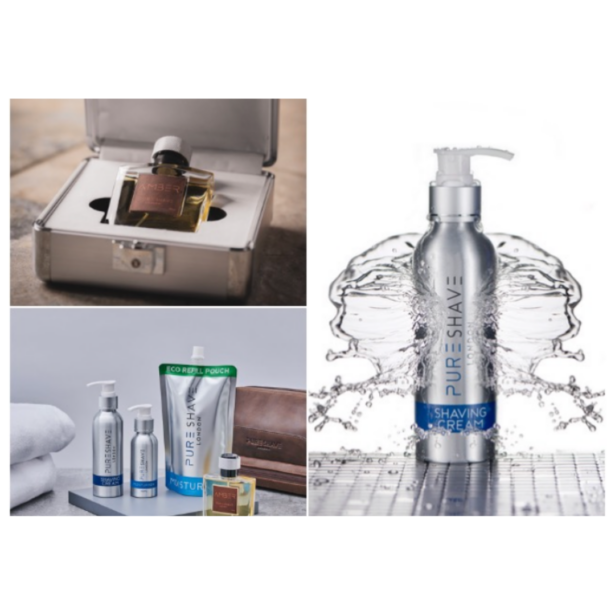 They have many products that would be ideal for Fathers Day. https://pureshave.co.uk/shop/
For gifts check out their Shaving cream starter kit, Branded waxed leather wash-bag and Eau de Toilette, Amber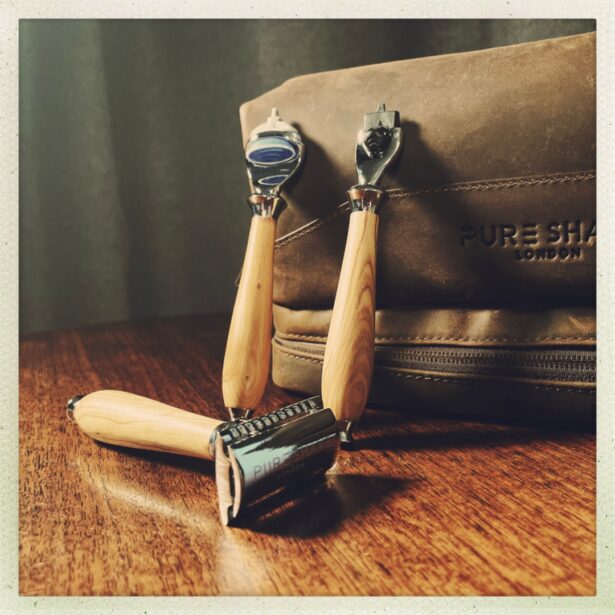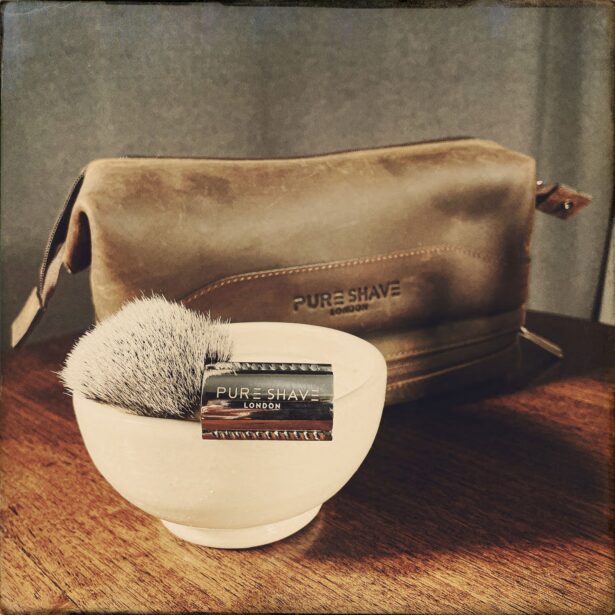 The perfect MANicure with the Ben Cohen Grooming collection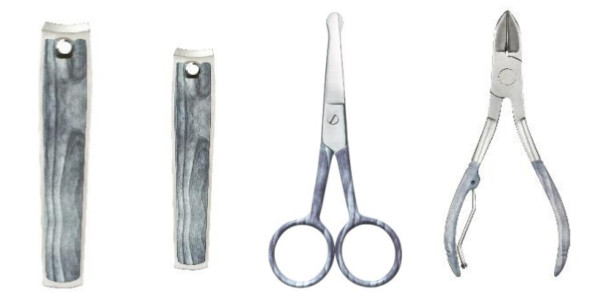 You will be impressed with the grooming essentials brought together by the England rugby international which include nail clippers and pliers, plus nose and facial hair scissors. This range is precision engineered to a high spec for sharp cutting edges and extreme durability. It contains everything the modern man could possibly desire to go from rugby scrum to smart man off the pitch. A full arsenal of tools for hands, feet, facial (beard, ear and nose) hair and everything in between! Each metal implement has a stylised grey wood effect finish and comes with an incredible five year guarantee.
Ben Cohen Grooming Tools, from £8.50 – £15.50 are available in Boots and online at
www.eleganttouch.com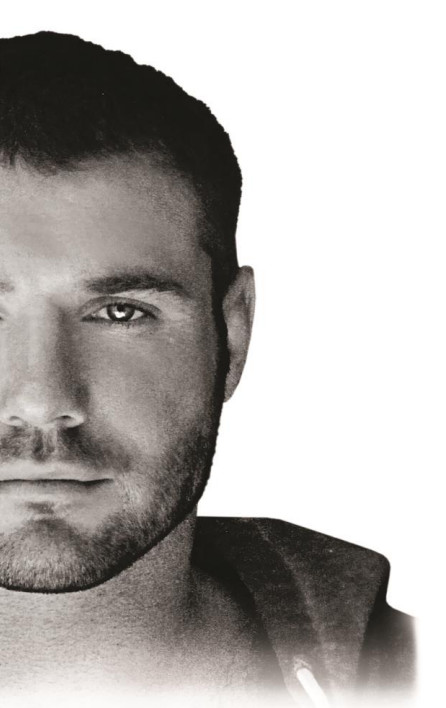 Let Dr Teal's Do The Leg Work For You – The Post Workout Recovery
We all know the restorative powers Epsom salts can have when it comes to relaxing and
unwinding after a stressful day – but did you know they can also help with recovery of
your body?
Just like when we need to relax the mind, an Epsom salt bath can do the same for our
entire body – especially after a long day, running around the office or after our kids.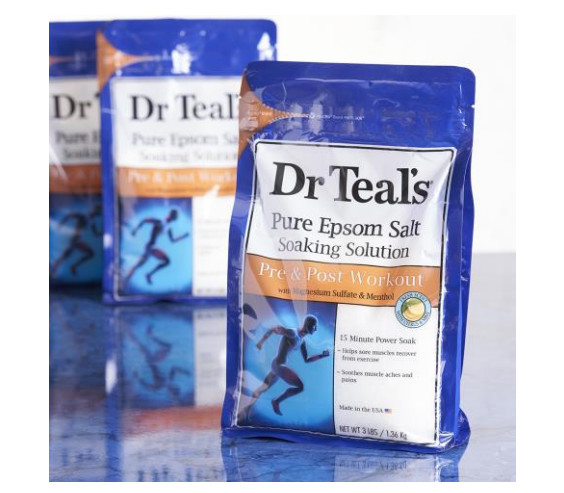 Dr Teal's is there to help pre and post work out too when it comes to reducing tired body.
Epsom salt — otherwise known as bath salt or magnesium sulphate — is a mineral
compound believed to have many health benefits.
When added to your bath after a long day, magnesium and sulphates ions are released
into the water and help aid recovery – either pre or post workout.
Adequate magnesium levels are helpful for exercise as magnesium is essential for your
body's health.
Dr Teal's Epsom Salt Soaking Solution combines Pure Epsom Salt and Menthol, both
known to comfort and relieve the overworked body, allowing for optimum performance.
Pre & Post Workout
Pure Epsom Salt Soaking Solution
• Helps recover the body from exercise
• Soothes body aches and pains
• Relieves mind and body
Dr Teal's Pure Epsom Salt Soaking Solution Pre & Post Workout, £7.99, available in Boots and Superdrug
Directions:
Pour at least 2 cups of Dr Teal's Epsom Salt under warm, running bath water and soak
your body for as little as 20 minutes.
Dr Teal's is one of the fastest-growing wellness brands aligned with a healthy and active
lifestyle. There are a range of products from Epsom Salts to Foaming Baths which help
promote self-care in your everyday.
The Dr Teal's Epsom Salt range helps detoxify skin and promotes body recovery, whilst
adding luxurious essential oils provide soothing, energising and relaxing benefits. Epsom
Salts are comprised of magnesium sulphate, which when absorbed into the body are
known for their detoxifying and relaxing properties. Dr Teal's is passionate about helping you slow down today, so you can have a more productive tomorrow
Father's Day Gift ??!! Look no further …
The Tile Bluetooth tracker is a present your father will never forget (quite literally). Now available in a variety of colours, shapes, and sizes, Tile makes a unique, affordable, and useful Father's Day gift.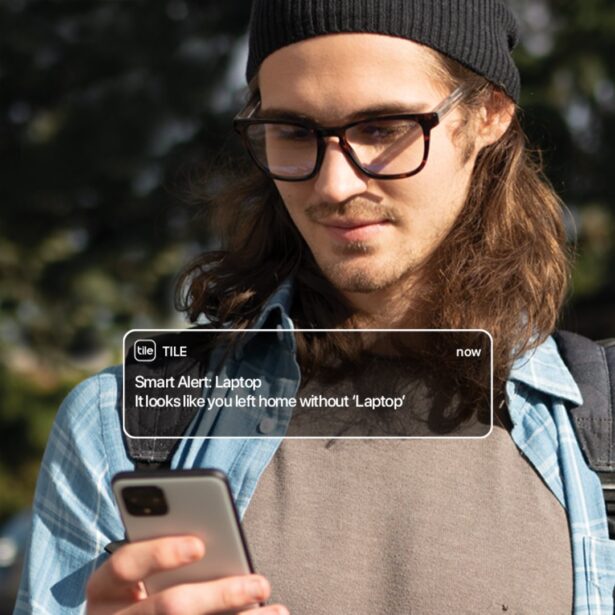 Endless options…
– Mate is perfect for attaching to the most frequently lost item – keys!
– Pro is Tile's high end tracker. It's ideal for keys, backpacks, athletic gear or anything else you value. Pro has a 400 ft. Bluetooth range, Tile's loudest ring and a user replaceable battery.
– Slim is made to slide into narrow spaces and is perfect to tuck into your wallet or pocket. It can also be stuck onto flat surfaces such as your laptop.
With all of these options, you're sure to find the perfect gift for the modern, tech-savvy, time-saving Dad.
More about the brand…
Simply attach the trackers to your belongings and the Tile app lets you ring your things if they're close by, and you can use it in reverse to call your phone – even when it's on silent. If your items are truly lost, the Tile app lets you check where they were last seen on a map. The platform also grants you access to Tile's lost-and-found network, which will anonymously help find the lost or stolen item almost anywhere in the world.
Further product information can be found below. Do let me know if this is of interest for anything you are working on.
Check out some price options including combo options xx
Tile Pro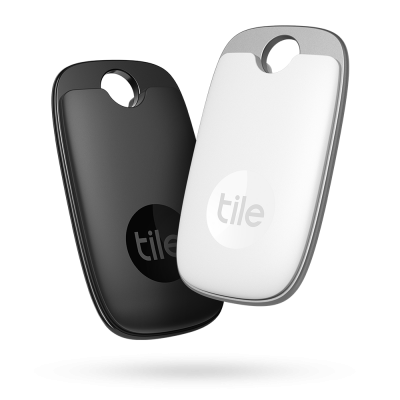 1 Pack – RRP £29.99 PROMO £24.99
2 Pack – RRP £49.99
4 Pack – RRP £89.99
Pro has a new streamlined shape that hangs better on keys, backpacks or wallets.
Tile Mate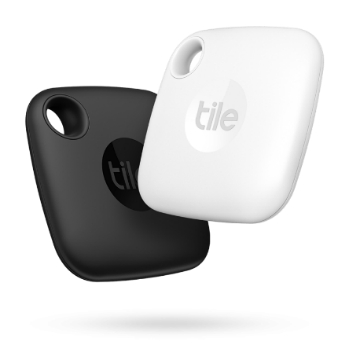 1 Pack – RRP £19.99, PROMO £15.99
2 Pack – RRP £37.99
Mate has a new modern shape and also comes in black, with a bigger range and longer lasting battery. The Mate has up to 250 ft Bluetooth range, is water-resistant and a battery which lasts up to 3-year non-replaceable battery
Tile Sticker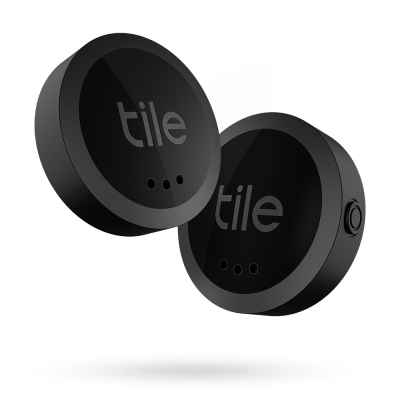 1 Pack – RRP £24.99 PROMO £19.99
2 Pack – RRP £44.99
Sticker has a bigger range, louder ring, and longer lasting battery to go with a new shine. Stick the Sticker which has an adhesive back to remotes and other electronic devices, and use our free app to find them.
Tile Slim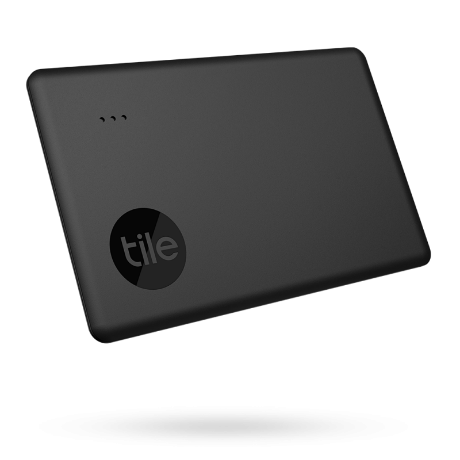 1 Pack – RRP £29.99 PROMO £24.99
Tile's latest version of Slim has a bigger range. Slide Slim into wallets and luggage tags or attach to notebooks. Use Tile's free app to find them. Keep track of more for less with our multi-packs or give them to your friends and family as a gift.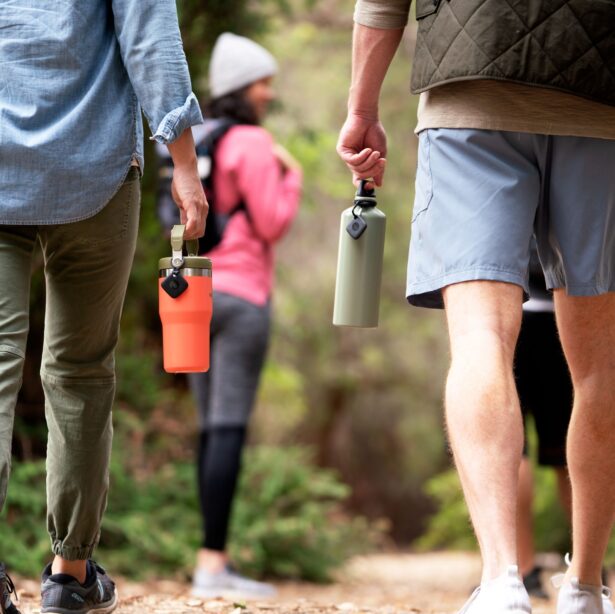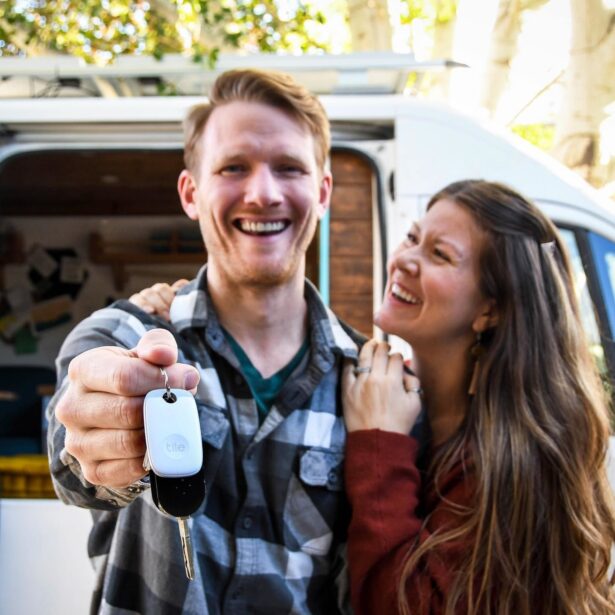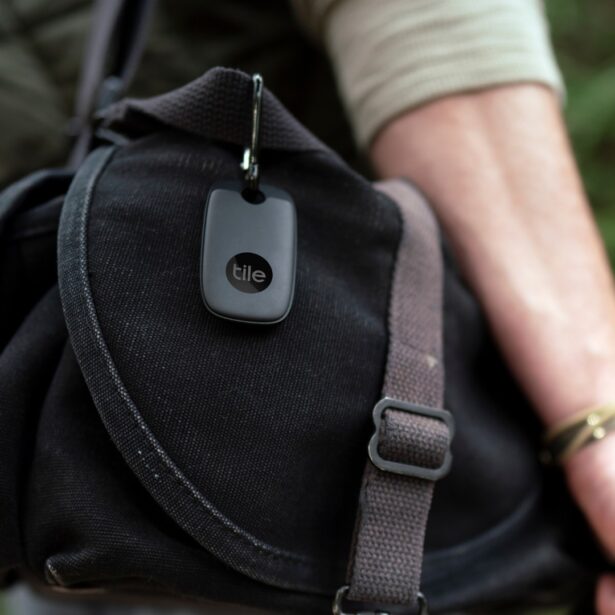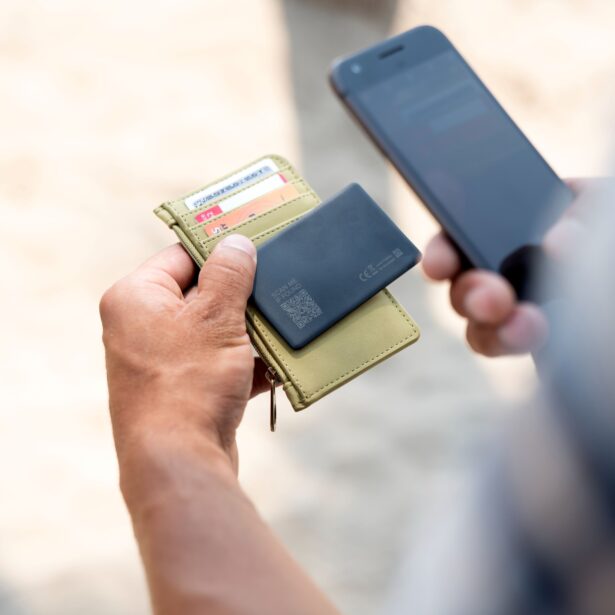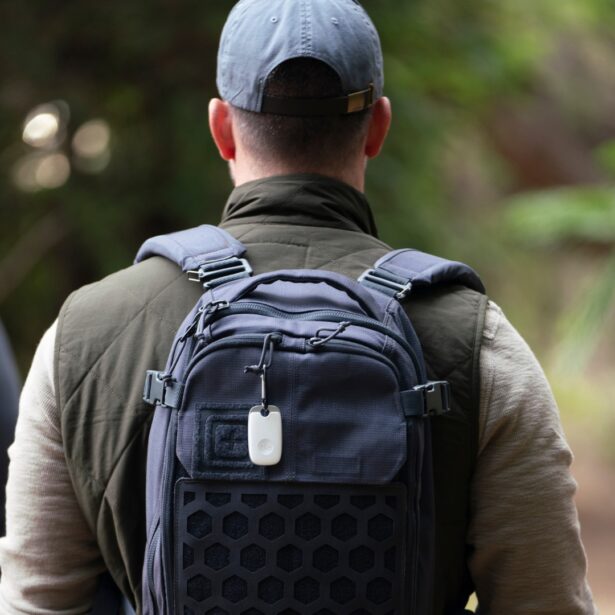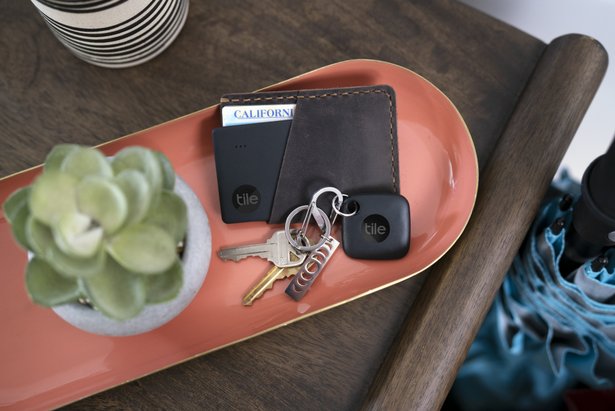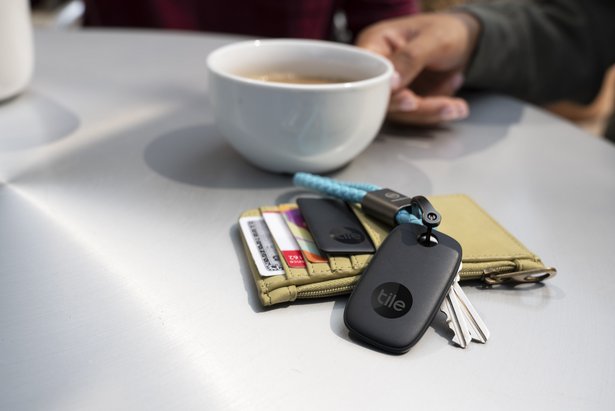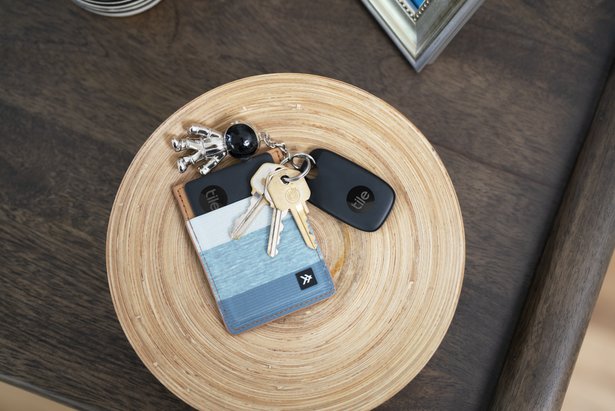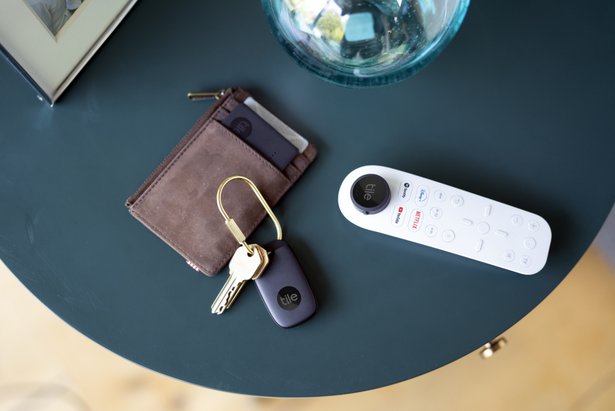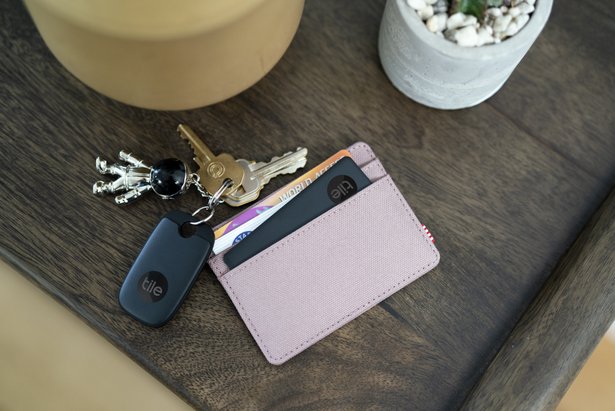 The Stealing: Journey Into a Sublime Gothic Storm by S.A. Sutila
She chose to die.
Now she chooses to live. And love.
BUT HER SPIRIT HAS BEEN
CLAIMED BY A DARK PRESENCE.
See more & buy @ :- https://www.amazon.co.uk/Stealing-Journey-Sublime-Gothic-Storm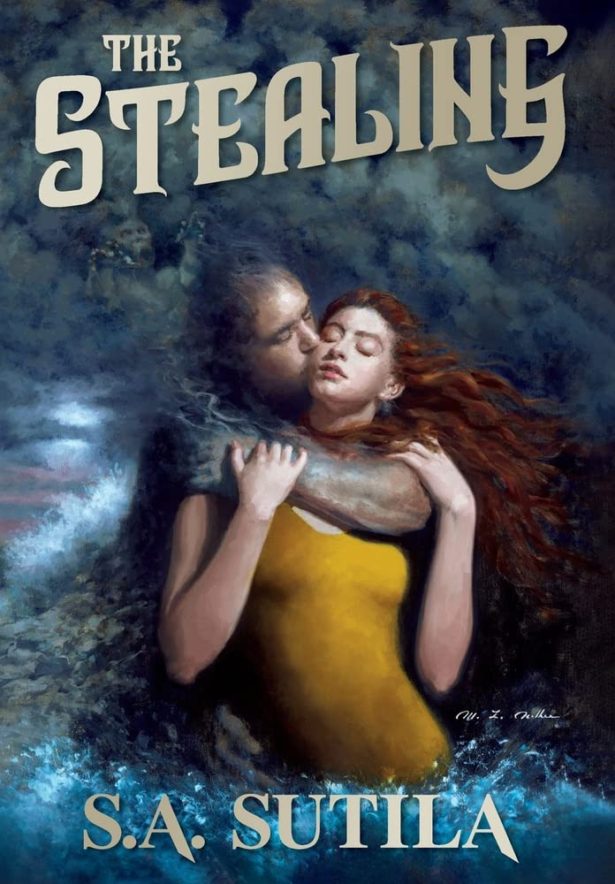 Sarah Vise's life is a literal dead-end street. Abandoned by her mother as a child, she lives on a coastal road to nowhere, working endless hours on her domineering father's fishing boat in the shadow of a run-down lighthouse. As her high school graduation approaches, the end of the relentless monotony seems to be on the horizon. She is accepted into college and has an intriguing encounter with Grant Eriksen, the tall, blue-eyed neighbor who appears intent on making amends for past mistakes.
But when Sarah's father forbids her from going away to college, she is forced to face a future without hope. Sarah decides to surrender her life to the sea.
Grant saves her from drowning, but that night her weakened spirit is carried to a dreamy afterlife world, where a handsome hunter-sage takes her under his wing. Sarah is happy to remain with him until she learns he is even more possessive and dangerous than the men in her "real" life.
To escape his clutches, she makes a terrible bargain. He will return her to the life she now so desperately desires. She will be free to follow her heart, but only for a while. The clock is ticking.
Once she fulfills her end of the bargain, he will steal her spirit again. Forever.
Redefining SELFISH: No Guilt. No Regrets. by Carolyn Hobdey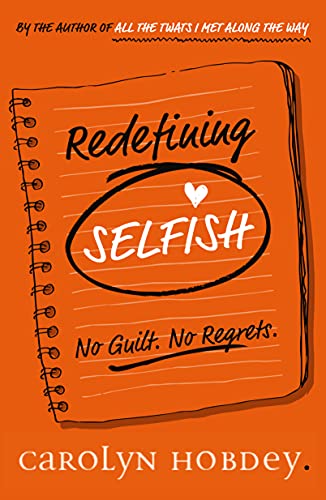 Redefining SELFISH comes at an urgent time when women are reporting worsening levels of anxiety and growing mental health concerns, and are increasingly initiating divorce. Calls to domestic violence helplines are on the rise and, of course, the pandemic has had a massive impact.
The S.E.L.F.I.S.H model created by Carolyn Hobdey guides the reader through how to give up feeling guilty about taking some time out, instead placing ourselves at the top of our 'to do' list and acknowledging the benefits to us and those around us of making ourselves 'better'. Its purpose—and that of the whole Redefining SELFISH concept—is to encourage self-kindness, develop confidence and shift mindsets from harmful to helpful.
See more and buy @ :- https://www.carolynhobdey.com/product/redefining-s-e-l-f-i-s-h/
Hummingbird Cushion

If you're looking for that one final piece to complete your room, stop right here at the Hummingbird Cushion. Designed to bring together opulence and unique patterns, this richly coloured cushion promises to capture the eye of every house guest. It has everything you need to highlight your keen eye for luxury. Crafted from super soft velvet, the detailed pattern captures multi-coloured hummingbirds soaring through the sky. Surrounded by flowers and a deep blue night sky, these majestic creatures seem to reach new heights every time you lay eyes on them. Imagine it sat within the other cushions on your bed. Or, nestled into your favourite reading nook to provide extra back support Overview A colourful and stylish Hummingbird Cushion Skilfully hand-drawn Super soft and perfect for relaxing on after a long day Made from luxurious velvet Design printed on both sides Dimensions: 45 x 45cm Comes complete with a fibre insert
www.mintandmay.co.uk/products/hummingbird-cushion
Price: £38
Mint & May
Terrein is the world's first hiking boot which reacts to movement three times faster than the human body to reduce ankle injuries during outdoor adventures.
Designed for outdoor sports such as walking, hiking and speed hiking, Terrein features a patented mini-piston system which provides stability for the wearer until muscle functions are activated. Afterall, Ankles are the most frequently injured area for hikers, accounting for 40% of all bodily injuries!
Steep hills, slippery fields, precipitous woodland and unfamiliar terrain increase stress on ankle anatomy and elevate the risk of painful twists and tears. Muscles need 100 milliseconds to activate, in contrast to Terrein which needs just 30 milliseconds to react.
Terrein is available to purchase in June 2022 in two striking colour ways, sand and turquoise. The boot can be purchased at www.terrein-footwear.com at a RRP of £180.
A couple of suggestions from British brand, Sealskinz, that are perfect for the active Dad, be it walking the dog, on a family bike ride, or just a quiet run!
Waterproof All Weather Cap
RRP £20.00 / Available here
A technical everyday cap, the Waterproof All Weather Cap combines a mix of traditional style with the properties of a truly waterproof hat. Stay protected and comfortable in the rain with a stiff brim and adjustable rear snap closure.
Waterproof All Weather Ankle Length Sock
RRP £30.00 / Available here
Available in 4 colourways, the Waterproof All Weather Ankle Length Sock is ideal for the unpredictable UK weather in the spring and early summer. The hydrophilic membrane releases perspiration steam and warm air from inside the sock, even while performing strenuous and aerobic activities, while also preventing rain, mud, and sand from getting inside the sock.
Recovery footwear brand OOFOS also recently launched a new colourway and style, that could be popular with your readers.
OOFOS OOahh Sport Flex Slide Sandal – Woodland Camo
RRP £70 / Available here
For the parent who's recovering from an injury, or looking for footwear with function, the OOFOS OOahh Sport Flex Slide Sandal is a contemporary spin on the classic slide, with a sleek adjustable upper strap for a more optimal all-around fit. The brand's proprietary OOfoam™ technology is what makes the experience of OOFOS products so indescribable: OOfoam™ absorbs 37 percent more impact than traditional foam footwear. The patented footbed design also cradles and supports the arches, aiding in the recovery process and scientifically proven to reduce stress on the body by reducing energy exertion in the ankles by up to 20%.
THE IPA YOU NEED TO TASTE,
SKINNY LAGER LAUNCHES SKINNY IPA
Premium Lager Brand, Skinny Lager, Unveils 89 Calorie Skinny IPA.
Skinny Lager, the popular UK premium lager brand, has announced the launch of another innovative break-through beer brand, Skinny IPA.
Available on Amazon UK, the Skinny IPA is a full flavour premium IPA with an ABV of 4.0% at only 89 calories, meaning you can enjoy a decent IPA with less guilt.
Along with not having to worry about the extra calories, Skinny IPA is also vegan, gluten free and kosher certified, meaning it can be enjoyed by many.
Skinny IPA is the next instalment in the journey, with the brand already having the consumer must-have, Skinny Lager.
The Skinny IPA offers a unique alternative for the IPA market. Unlike other IPA brands, Skinny IPA has 40% fewer calories than other premium IPAs.
Adrian Hirst CEO from SkinnyBrands said: "Skinny IPA' will offer a unique alternative for drinkers who are making conscious lifestyle decisions when choosing their food and drink. IPA Drinkers deserve an alternative choice that is transparent with its calories. We want to encourage the nation to 'Just Taste It'.
Lucy Chan Chappells, marketing manager from SkinnyBrands added: "We're really proud to be continuing to expand the Skinny Lager brand with the launch of the Skinny IPA. There has been an unprecedented rise in new to market IPA's, with the global market set to grow annually at 11.4% in over next four years. Skinny IPA is set to lead the way as a lower calorie alternative IPA."
The Skinny IPA is available to purchase now on Amazon UK SkinnyBrands IPA 24x330ml Cans : https://www.amazon.co.uk/SkinnyBrands-IPA-24x330ml-Cans/dp/B09L8YDVFG
For more information please visit the SkinnyBrands website www.skinnybrands.com
With Father's Day coming on the 19th June, I wanted to share some new gift ideas from Young LDN, the luxury beauty and skincare destination in Notting Hill. Young LDN have launched the following luxurious gifts from Bad Norwegian, nothing takes its toll on the skin quite like an extreme lack of sleep, sunlight and stress. Their products are the perfect self-care essentials treat for your Dad! Exclusively available to purchase in the Young LDN studio or online HERE
• Moisturize Face – Packed with a rich source of antioxidants, including Shea butter, Jojoba, Vitamin-E, Aloe Vera and Ion Moise, a natural protection shield against dehydration from shower and shave. Moisturising substances which enriches the outer skin layer with ions such as calium, natrium and magnesium to maintain hydration levels – £49
• Wash Face – 100% Natural, with Cannabis seed oil, apricot seeds, and squalene, a natural antibacterial as well as menthol for a natural boost in the shower. It also doubles up as a shaving cream – £20
• Oil Beard – the king of beard oils! Non-greasy, naturally scented with incredible anti-bacterial properties, Oil Beard utilises a combination of skin friendly ingredients like almond oil, hemp oil and argan oil to leave the skin under your beard feeling refreshed, revitalised and hydrated – £39
• Shave Face – Containing a natural silicone that helps the blade run smooth your skin gets antioxidant protection with the incorporation of Malachite and Allantoin. The addition of natural Betaine helps to reduce irritation with added menthol giving you an energizing cooling sensation – £20
• Revitalize Face – Packed full of powerful active ingredients with its non-greasy formula Revitalize Face is an intense moisturiser, with powerful ingredients such as Argireline which helps to reduce fine lines, Antarcticine which protects the skin from dryness as well as strengthening the skins cohesion and Olivie Squalane, protecting the skin from UV damage, healing chapped/ cracked skin – £69
• Gift Set Face – a combination of Revitalize Face Anti-Wrinkle cream and the Wash Face cleanser, the triple action face wash – £49
As well as the above products, Young LDN will also be offering their signature gift vouchers so that the recipient can choose a treatment of their choice.
TOUGH ENOUGH FOR HEROES ON A MISSION
HAMILTON'S KHAKI FIELD TITANIUM AUTOMATIC IS READY FOR YOUR ADVENTURE IN NEW SIZES AND STYLES
– April 2022 –
A new 38mm size and fresh styles bring even more versatility to Hamilton's Khaki Field Titanium Automatic. A century-long pedigree in military timepieces combined with lightweight materials makes this the ultimate all-purpose watch for modern heroes.
Hamilton's legacy of providing tough, dependable timepieces to military forces during the 20th century lives on in the Khaki Field Titanium Automatic's authentic, built-for-action style.
Previously launched in two 42mm versions, a new 38mm case size accentuates comfort and adaptability while also bringing the design closer to the historically smaller watches that inspired it.
Match your next adventure to one of the three distinct new models: brushed case with black dial and khaki nubuck strap; brushed case with khaki dial and brown nubuck strap; or black PVD-coated case with grey concrete-like dial and grey nubuck strap.
Additionally, two new 42mm versions are introduced: brushed case with khaki dial and brown nubuck strap or brushed case with blue dial and beige nubuck strap.
Performance is at the heart of the design, with each featuring high-grade Super-Luminova® applied to the hands and 12-hour numerals, ensuring perfect legibility at a glance. In line with traditional military specifications, a 24-hour scale is also shown.
Under the dial, Hamilton's highly engineered H-10 movement delivers an 80-hour power reserve and includes a balance spring made from Nivachron™. One of watchmaking's most advanced materials, the alloy's superior resistance to shocks, magnetic fields and thermal variations keeps you on time even in the most extreme conditions.
Whichever size or style you choose, the Khaki Field Titanium Automatic is a watch truly fit for life in the field.
SHARE THE NEWS
Tough, titanium and now available in 38mm or 42mm. Choose your next adventure – and a @hamiltonwatch Khaki Field Titanium Automatic to match #hamiltonwatch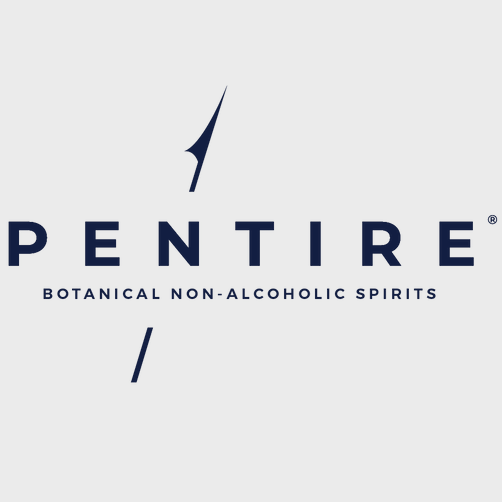 For the dads who aren't drinking (or are trying to drink less), Pentire is the perfect present this Father's Day
Pentire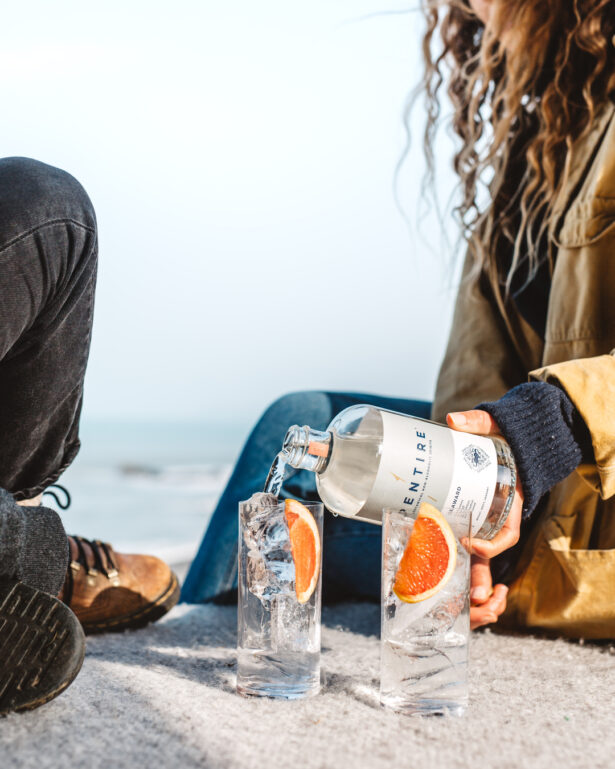 According to a report by the Portman Group and Yougov published earlier this year, one in three UK drinkers [1] are now choosing no and low drinks options on a regular basis, which has increased from 1 in 4 in 2020. Many of these people are choosing to drink less to promote their mental and physical health – these are the people Pentire has been created for.
Made for individuals who value an active lifestyle and an enjoyment of the great outdoors, Pentire [2] – a non-alcoholic spirits company, centred around active living and an enjoyment of the outdoors – allows people to Drink for Tomorrow and wake up ready for the day ahead. For both the amateur and professional athletes amongst us (and everyone in between), Pentire enables you to drink for a clear mind, a rested body, and a day of adventure tomorrow, without having to compromise on fun had with friends the night before. Please see below for more information on the brand and its products.
Pentire has two products within its range:
Adrift – the founding blend, a coastal, herbaceous and fresh infusion of rock samphire, sage, Pentire plant blend, lemon citrus and Cornish sea salt. Serve with Indian tonic and a sprig of fresh rosemary for the perfect wind-down drink.
AND
Seaward – launched in 2021, a bright, zesty and verdant infusion of sea rosemary, woodruff, sea buckthorn, pink grapefruit and wild seaweed. Serve with light tonic and garnish with a wedge of grapefruit for an uplifting drink.
Pentire is a non-alcoholic spirits company that is inspired by the dramatic North Cornish coastline, its fauna and a desire for active living. It celebrates all that the coast is and its spirits allow us to enjoy it without compromise. Both _Adrift _and _Seaward _boast a plethora of health benefits as they contain distilled local botanicals that thrive in the unique climate of the local headland, making them rich in vitamins, carotenoids, flavonoids, antioxidants and omega 3, and always free from added sugar, artificial colourings and flavourings. In a classic Pentire and Tonic (P&T) or in one of the many refreshing serves listed on the Pentire website here [3], both spirits help you get ready for whatever adventure lays ahead.
Nutritional values of both spirits (per 50ml serve):
* Energy 4Kcal / 15kJ
* Fat 0g of which saturates 0g
* Carbohydrates 0g of which sugars 0g
* Protein 0g
* Salt 0g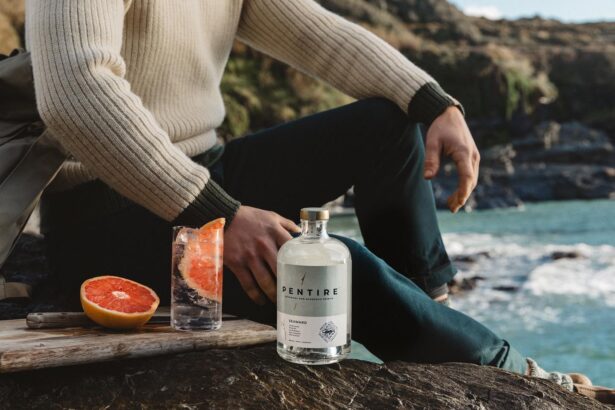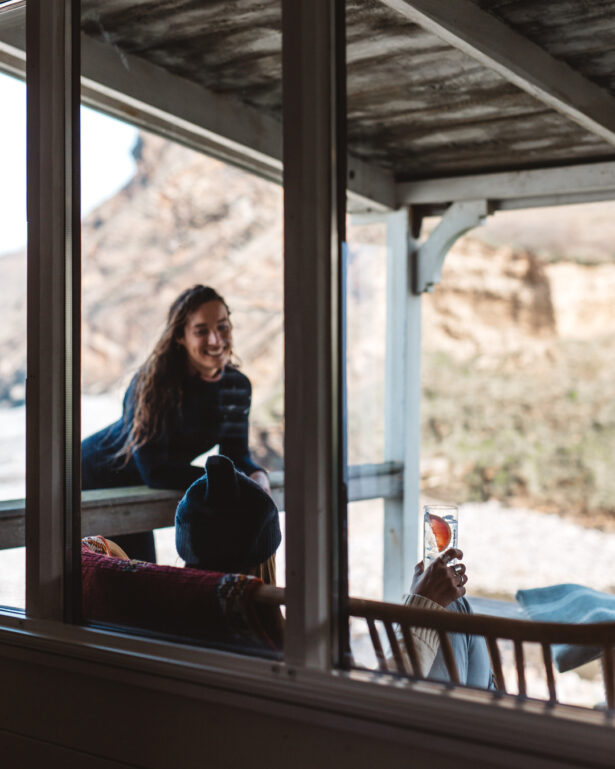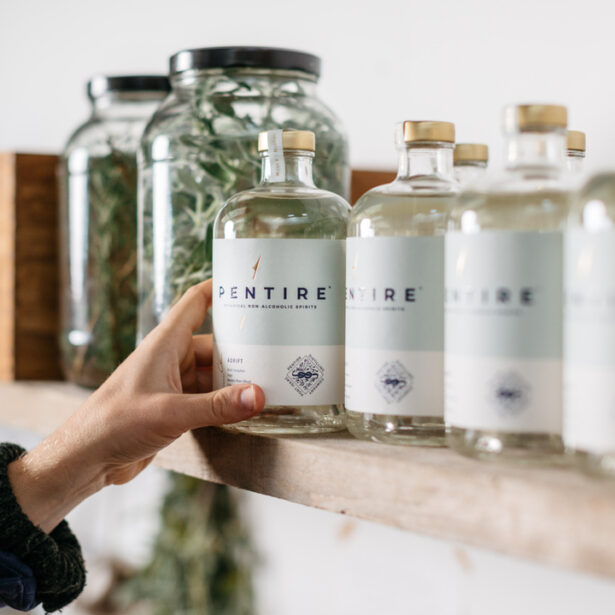 Special Father's Day gift idea from an independent family business, SevenYays. https://sevenyays.com/
SevenYays make 7-day countdown calendars for birthdays and other special occasions. You choose a selection of gorgeous luxe gifts for a friend or family member to open over six days leading up to any 'big day' where they get a bigger gift – the Seventh Yay.
There are ready-made boxes or, customers can choose the gifts themselves, with over 400 gift options including craft spirits, wellbeing and spa products, socks, chocolates, and tons of other fantastic items for everyone.
All of the gifts are sustainably sourced and ethically produced from responsible partners. They support independent British businesses and only source products that are cruelty-free, vegan, and packed with all-natural ingredients.
The Seven Days of Dadliness gives dads a whole Father's Day week.
Seven Days of Dadliness, £40
For the one who's always there for you.
When you ask dad what gift he'd like and he replies with the dadliest of shrugs, treat him to Seven Days of Dadliness. Every dad loves a pair of socks – especially when they're comfy, breathable bamboo, and after organising his favourite gadgets with his new tech kit, he can indulge in some decadent dark chocolate, spicy nuts, and spice-up-his-tastebuds edge-of-his-armchair Bean Boozle jelly beans.
Then he can live every dad's dream – taking to the disco ball-lit stage to reel off some absolute groaners from his little book of dad jokes.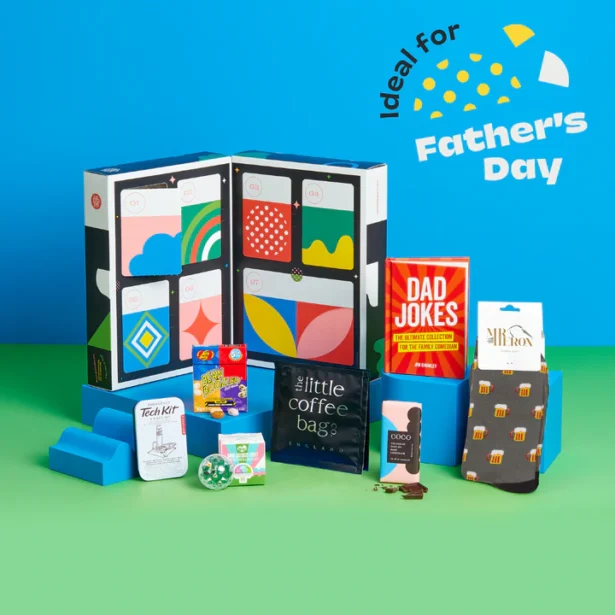 We also recommend the Sevan Days of Blokey Bliss for a special Fathers Day gift.
Seven Days of Blokey Bliss, £42
For the one who knows we all deserve a bit of pampering
Every bloke should have a little 'me-time' every now and then, and this SevenYays is a gentleman's spa day in one delightful package.
Backed by the calming scent of a Seaspray & Driftwood candle, they'll soak and soothe with a Mr T Bath Bag, scrub away their cares with a charcoal and tea tree soap bar, and rejuvenate themselves with diamond eye pads, exfoliating gel and a charcoal sheet face mask. All while nibbling on bittersweet dark chocolate and sipping on a rich, full bodied coffee. _Ahh._ Blokey bliss.
Vegan Friendly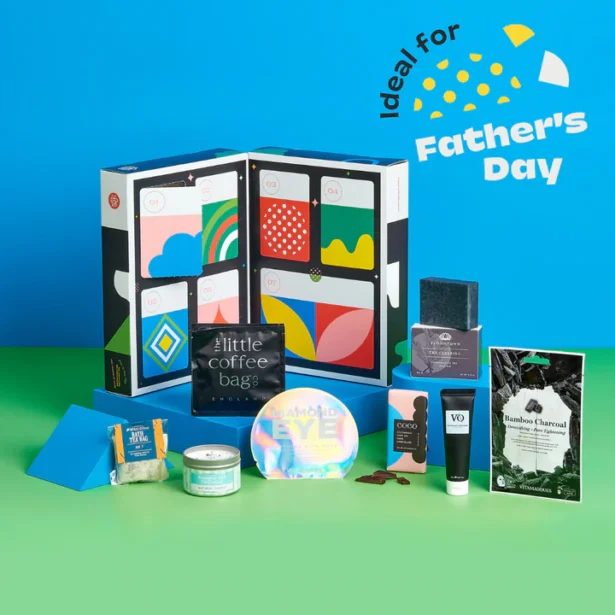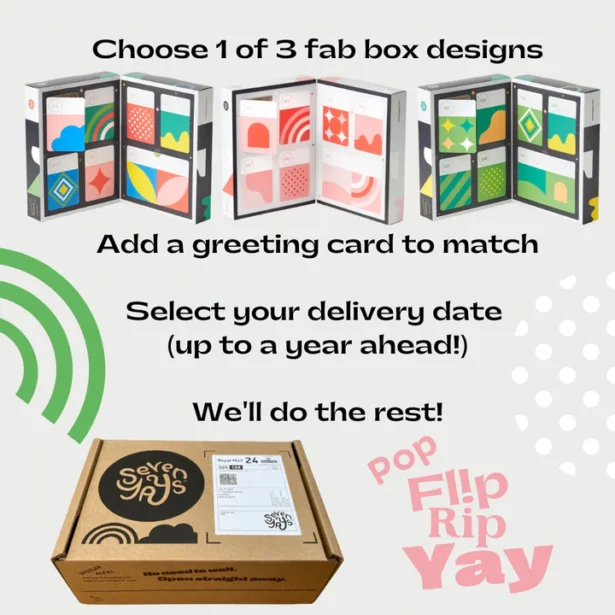 ALERT 50% OFF >>>Perfect Father's Day / for him gift Set… with watch, belt, keyring, sunglasses, wallet & pen ! https://topzilly.com/ use code 50%OFF at checkout for 50% Off!
Topzilly offers best in quality and price. Topzilly is an online retail store based in the United Kingdom. Make your purchase in Just a few clicks!
Topzilly is here to offer the best in quality and price. Topzilly are consistently working round the clock to bring trendy items to your doorstep at great prices.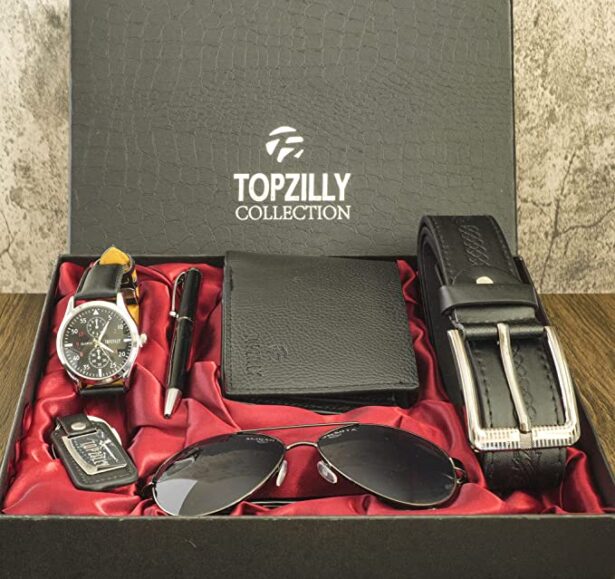 Their stock lines sell fast with new arrivals keeping their website buzzing. This provides their customers with a fantastic shopping experience where they are able to select from a range of products.
An amazing example for Father's Day is their premium mens gift set, check it out below,
Gift Set Men's Premium Leather Quartz Wrist Watch Belt Keyring Sunglasses Wallet Pen Gift Set Valentine's Day| Father's Day | Christmas Birthday Present for Him| Luxury Gift for Husband
This luxurious gift set is the perfect gift for that special man in your life!
Amazing choice for every man, father, husband, boyfriend, brother, yourself, son, boss, Work colleagues, friend, subordinates etc. It is the best gift choice for Birthday, Anniversary, Father's Day, Thanksgiving, Valentine's day, Christmas and so on
Occasions: Work, Travel, Vacation, Outdoor activities etc
Comes packaged in a stunning high gloss black gift box
THIS GIFT BOX CONTAINS: Sturdy and Reliable Pieces Needed In Every Man's Accessories Collection ; Quartz watch, Belt, Wallet, Sunglasses, Keychain, and Pen
See more and buy @ :- https://topzilly.com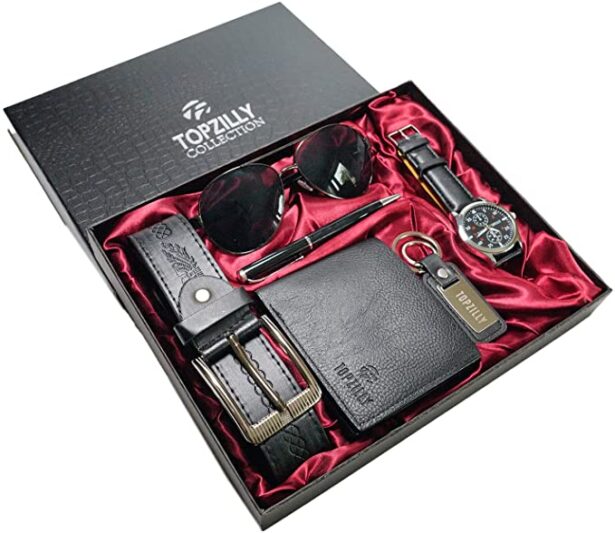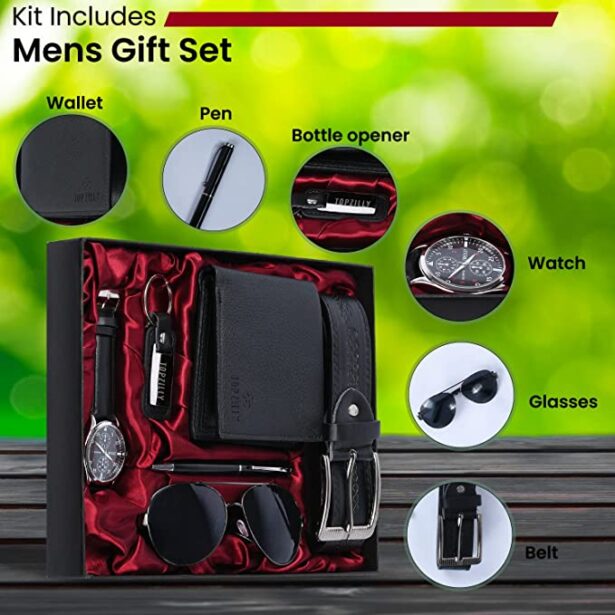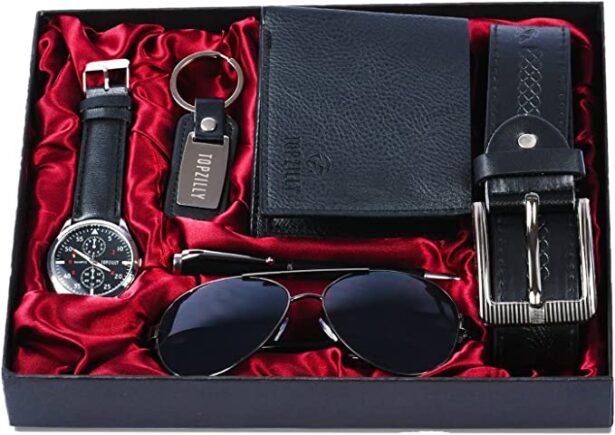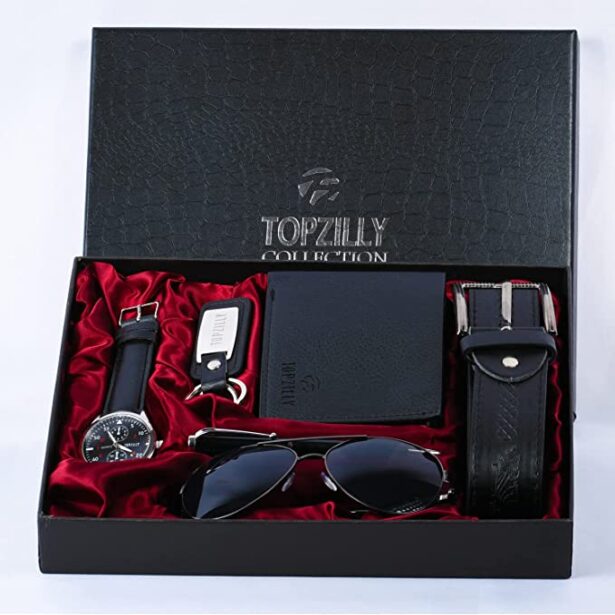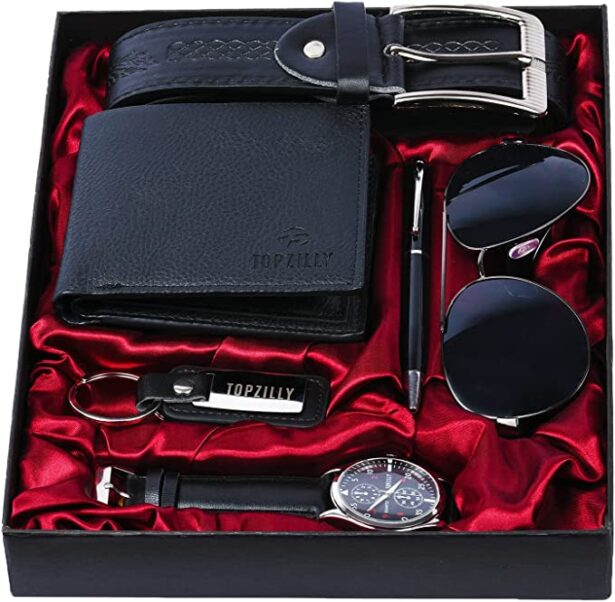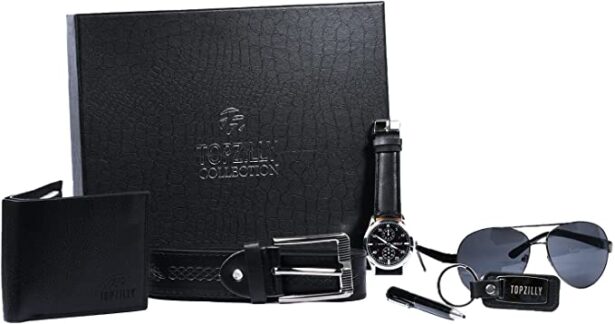 Don't know what to get Dad? check these out from BASTION Pens … bastionboltactionpen.com EDC item!
BASTION Bolt Action Pens (79$ to 240$) Get him a gift of quality that will last for decades. Unique, high end, quality distinctive writing implements like no other. These sophisticated pens will literally last a lifetime. At Bastion, we believe everyone writes their own story. Whether you spend it making plans, achieving your goals or reflecting on your success, every day is a new page. Make sure your pen performs.
All our pens and pencils are made of premium quality stainless steel, titanium, and aluminium, all with a satisfying 'bolt action' mechanism which features a secure lock with replaceable but hard-wearing parts. Our luxury fountain pens and ballpoint pens are high quality heirlooms, and the Bastion Bolt Action Pencil is the ultimate everyday carry writing instrument. Sign with a solid and distinctive writing instrument that combines high quality metals and cutting edge design with expert craftsmanship.
The reassuring weight of the stainless steel pens means you can achieve a clean, precise glide, and the pen will last for decades. Write your own story with #bastionboltactionpen! https://bastionboltactionpen.com/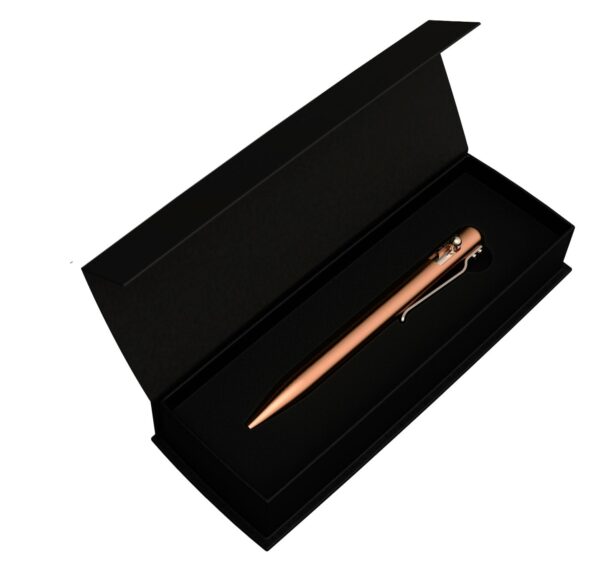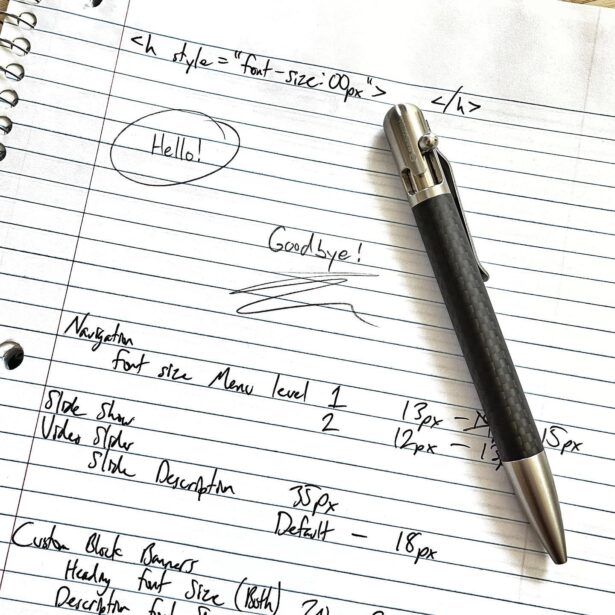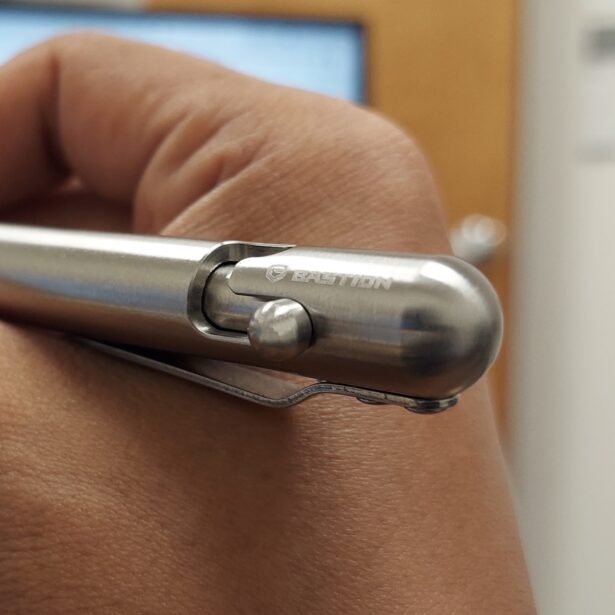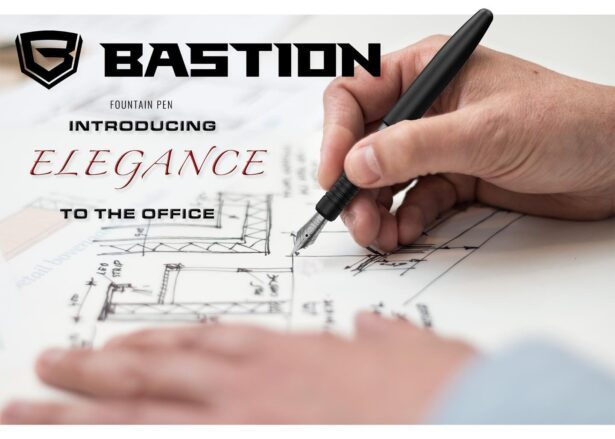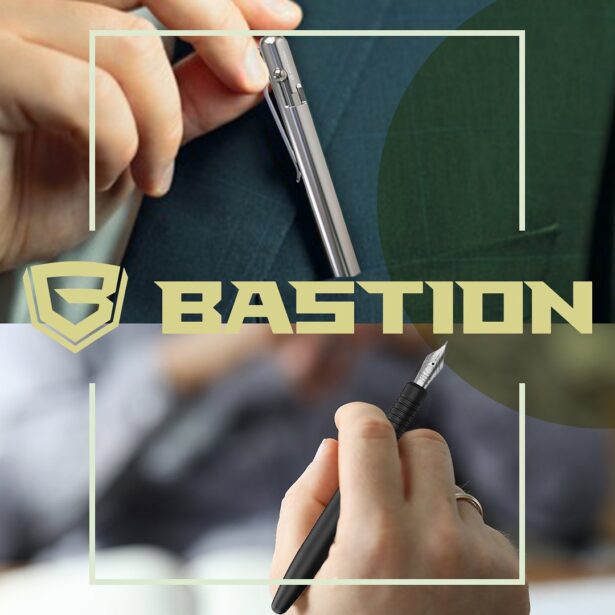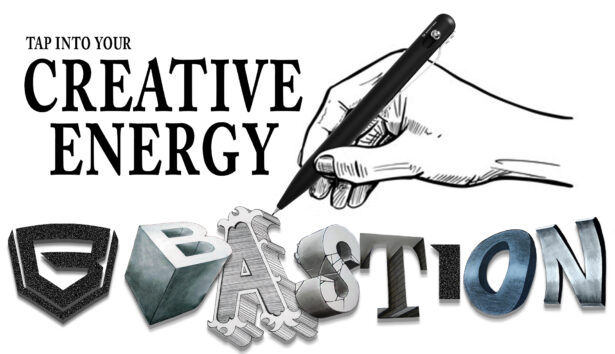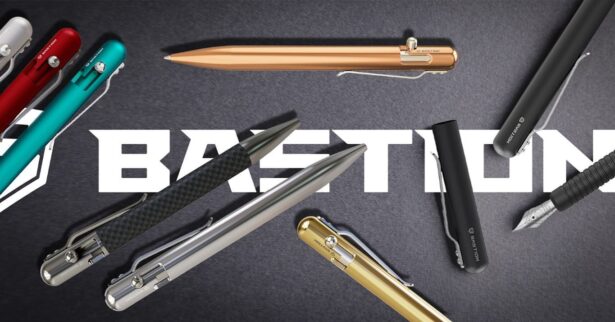 NEW From Mad Beauty: Star Wars™ Collection
The latest refresh of Mad Beauty's Star Wars™ themed bath, body and skincare takes inspiration from the Galactic Empire with the iconic Darth Vader™, Stormtroopers and The Fighter
Pilot™ taking centre stage across a range of products. The result is a highly giftable and collectible collection that lets Star Wars fans everywhere be the commander of their
relaxation routine.
Unwind with the deep and refreshing fragrances of our Star Wars™ Collection which features bestselling formats including bath fizzers, body washes and soap on a rope. The handy
Darth Vader™ shaped lip balm and pocket-sized hand cream tin make perfect treats for galactic travellers as well as the Stormtrooper Gift Set and Wash Bag Set which feature a handpicked selection of products from the range and keepsake giftable packaging.
Mad Beauty is available from madbeauty.com and various retailers.
Star Wars Stormtrooper Gift Set by Mad Beauty, £17.99
The perfect gift for Star Wars fans who love to stand out from the crowd, this Stormtrooper bath and shower collection has everything you need to have you feeling refreshed and ready for your next
adventure. Contains cleansing puff, Stormtrooper Fizzer, Body Wash and Body Lotion. Amber and cedarwood fragrance.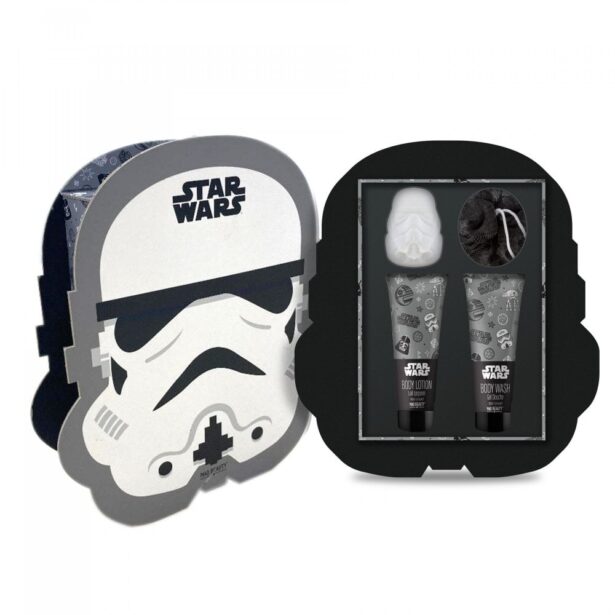 Star Wars Stormtrooper Wash Bag Set by Mad Beauty, £15.99
This toiletry bag contains everything you need for a trip to another galaxy: a body wash, body lotion, Stormtrooper bath fizzer and cleansing puff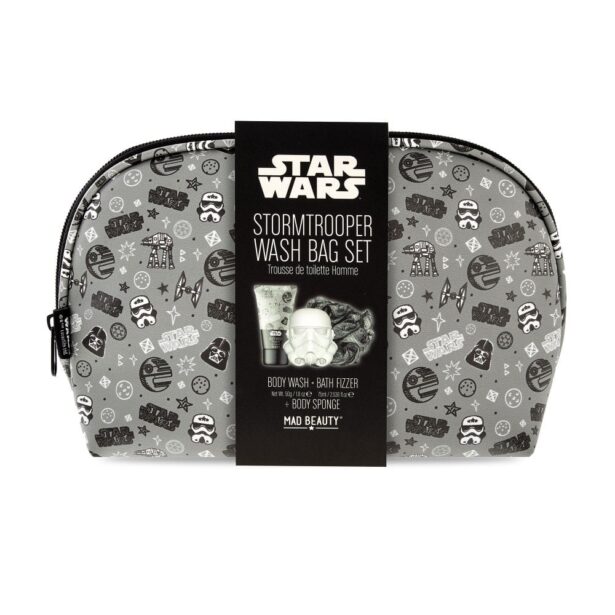 Star Wars Stormtrooper Shaped Soap on a Rope by Mad Beauty, £6.99
The refreshing lime and cedarwood scent of this fun character soap on a rope will help you feel reset and ready for action in no time.
The Fighter Pilot printed sheet mask is
infused with coconut for instant hydration.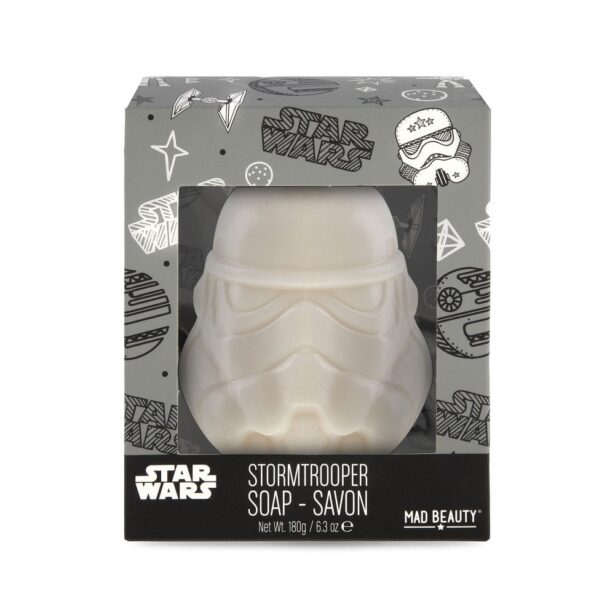 Star Wars Darth Vader™ Shaped Bath Fizzers by Mad Beauty, £7.99
Transport yourself to relaxation with these Darth Vader™ shaped bath fizzers. The uplifting amber and
ginseng fragrance will awaken your senses.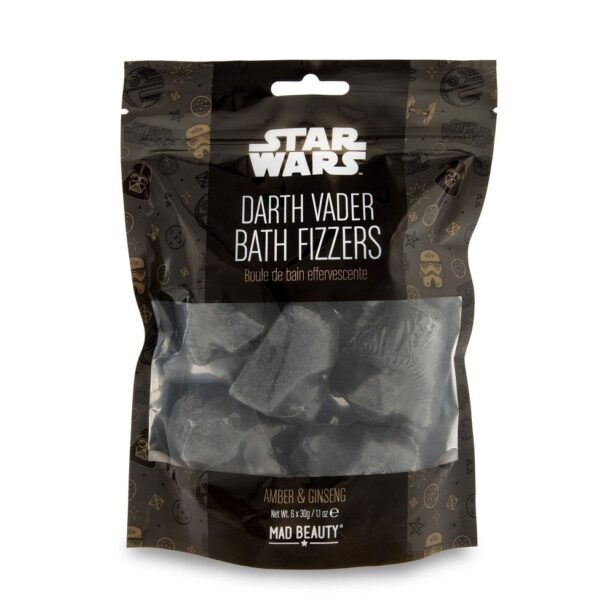 Star Wars Darth Vader™ Face Mask by Mad Beauty, £3.99
Darth Vader printed sheet mask with black tea extract which is known for its purifying antioxidant properties.
Star Wars Men's Sheet Face Mask Trio by Mad Beauty, £13.99
A collection of three printed sheet masks – Darth Vader, enriched with purifying black tea extract, Stormtrooper, with anti-oxidant benefits from green tea, and The Fighter Pilot, a hydrating mask with coconut.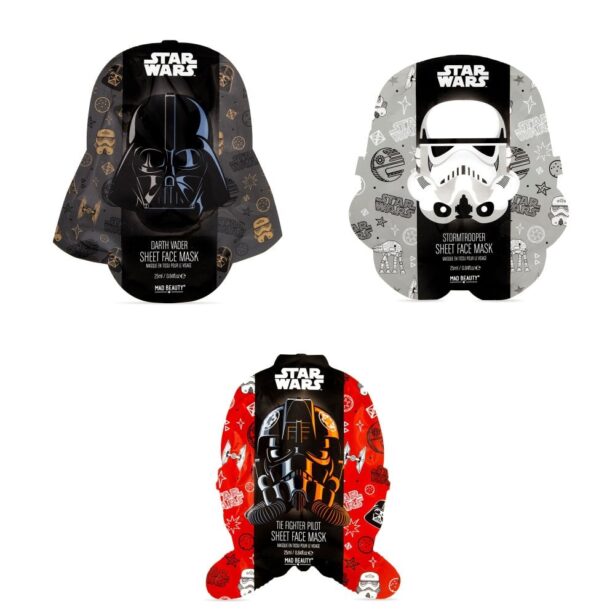 Star Wars Stormtrooper Face Mask by Mad Beauty, £3.99
Revive your skin with this Stormtrooper printed sheet mask enriched with antioxidant green tea extract.
Star Wars Hand Salve by Mad Beauty, £4.99
Keep hands primed and ready for action with this lime and cedarwood fragranced hand salve in a handy compact tin.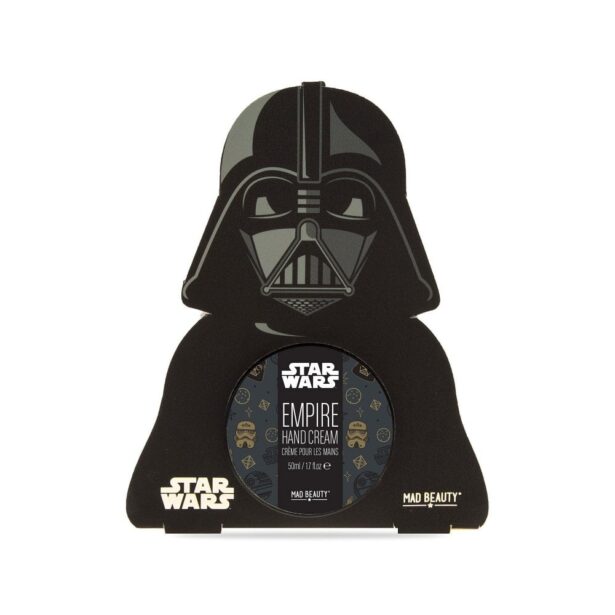 Star Wars Darth Vader™ Lip Balm by Mad Beauty, £4.99
Keep your lips hydrated and prevent dryness and cracking with this moisturising vanilla fragranced lip balm housed in Darth Vader's helmet.
Mad Beauty is available from madbeauty.com and various retailers.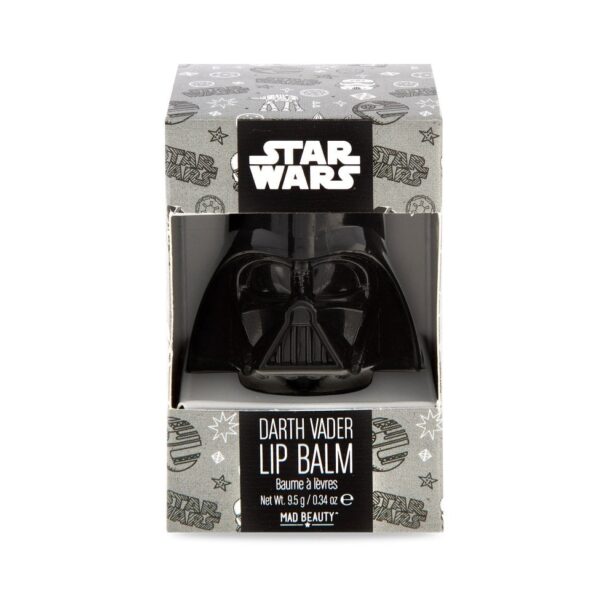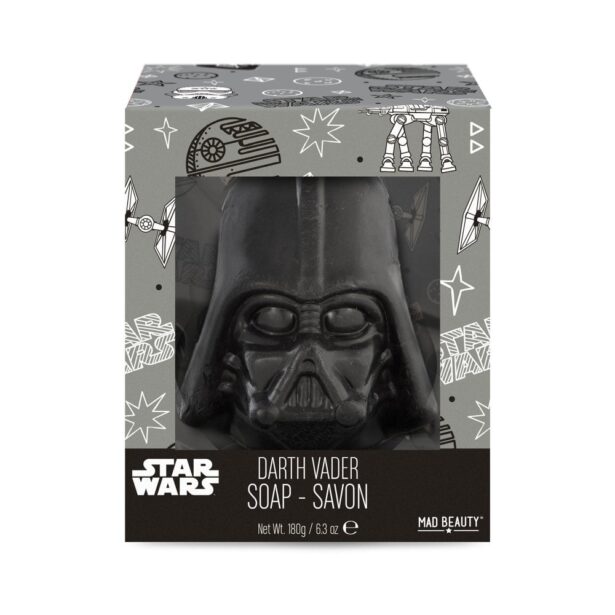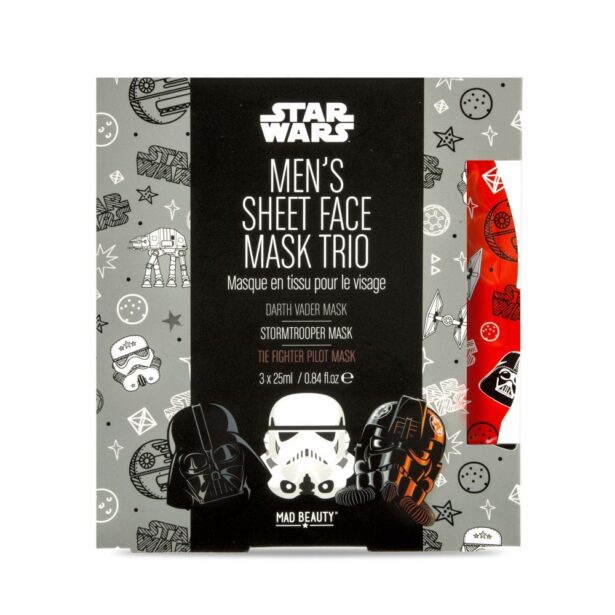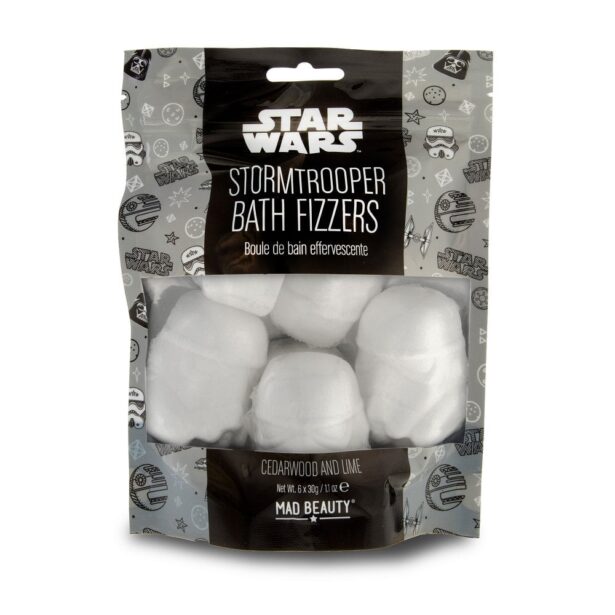 Give the gift of energy this Father's Day. Check out these energy boosting products from Beeline healthcare.
Beeline are the no 1 vitamins brand in Ireland.
1. Co-Enzyme Q10 plays a vital role in the body's energy systems. The amount of the vitamin present in the body declines as we get older, so supplements are important for over 50s. Beeline Co-Enzyme Q10 tablets helps optimise energy levels (https://beelinehealthcare.com/product/co-enzyme-q10-multivitamins/).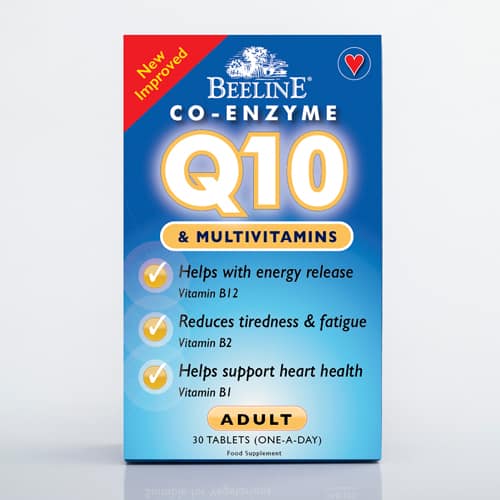 2. Ginseng is a natural energizer. Beeline Ginseng Capsules (https://beelinehealthcare.com/product/ginseng/) use the highest quality Korean Ginseng to deliver energy to the body to help maintain performance and endurance.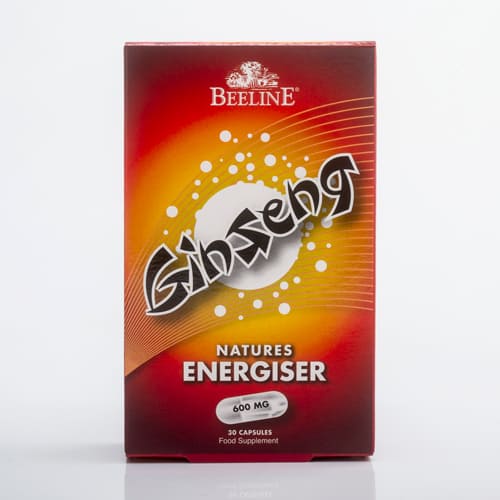 3. B vitamins help the body release energy and reduce fatigue. Beeline B Complex with Vitamin C and Minerals Effervescent Tablets (https://beelinehealthcare.com/product/b-complex-vitamin-c-minerals/) is a zest energy multi-nutrient formula that contains B vitamins and key minerals.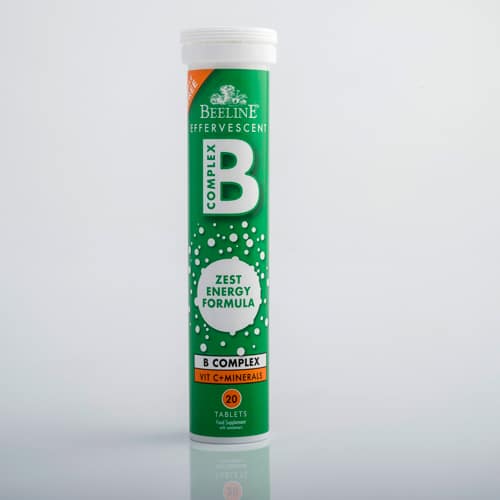 Beeline Healthcare is a leading nutritional health brand that manufacture a range of quality vitamins, supplements and nutritional products.
Operating for over 30 years, Beeline Healthcare was named Ireland's number one vitamins and minerals brand in the Checkout Ireland Top 100 Brands 2021.
KYMIRA specialises in producing infrared fabrics within their garments to help athletes enhance performance, accelerate recovery and reduce the chances of injury.
Targeted and used by Olympic athletes, international sporting superstars from a range of sports including football, rugby, golf and cycling to the everyday fitness enthusiast who takes their exercise regime seriously, KYMIRA's range of products offers several performance and recovery benefits, all of which are backed by science.
Baselayer range
– Leggings, Jumpers, Shorts and Long/Short sleeve tops available for both men and women
– Made from infrared-emitting fabric which helps regulate your body temperature as you work out, dissipating heat and evaporating sweat better than normal fabrics.
– The unique technology increases blood circulation, tissue oxygenation and cellular metabolism, meaning your body has more energy available to utilise whilst you exercise.
Father's Day Gifts for Dad's Who Love to Cook
from Robert Welch
Is your Dad an aspiring pro in the kitchen? Family-owned, kitchen and cookware company Robert Welch has the perfect collection of gifts for Dad's who love to cook.
Head of Customer Connectivity at Robert Welch, Wilson has created a collection of Father's Day gifts that Dad will love…
Pizza Knife, Set of 4, £25
URL: https://www.robertwelch.com/products/robert-welch-campden-chefs-apron
Dad and the whole family will love these curved stainless steel pizza blades will glide through pizza toppings and the bi-directional serrations and pointed tips help to take the toughest of crust too.
Campden Chef's Apron, £55
URL: https://www.robertwelch.com/products/robert-welch-campden-chefs-apron
The mix of heavy-duty canvas and leather trim will make Dad feel like a professional in the kitchen. Woven cord straps tie around the waist and the front of the apron features three pockets – one, fastening with a popper stud and two narrow pockets for holding kitchen tools.
Signature Cookbook & Tablet Stand, £40
URL: https://www.robertwelch.com/products/signature-cookbook-tablet-stand
A perfect holder for tablets and cookbooks, the Signature Cookbook & Tablet stand will become invaluable in the kitchen. Tablets can be held portrait or landscape (perfect for watching TV and cook-a-long shows). Made from stainless steel, this practical solution offers support for various sizes of cookbooks and tablets.
Signature Knife Set with Sharpener, £350
URL: https://www.robertwelch.com/products/signature-knife-block-set-2-free-serrated-steak-knives
Dad can slice and dice like a pro with the 5-piece Signature Knife Set with an integrated ceramic wheel knife sharpener. A magnetic locator draws the spine of the knife to the block to prevent damage when inserting or removing knives. The block comes with five Signature knives including a bread knife, a carving knife, a cooks' knife, a kitchen knife and one vegetable/paring knife.
Signature Plain Edged Steak Knife, Set of 4, £88
URL: https://www.robertwelch.com/products/signature-plain-edged-steak-knife-set-of-4
From the award-winning, Signature range, Dad will love this set of four, plain edged steak knives, presented in an oak knife storage box. Designed in consultation with professional chefs, the steak knives have a lifetime guarantee and are dishwasher safe, for an easy clean-up.
All products now available now at robertwelch.com
For those special chaps in your life, Gifts by Mint has a collection of gift boxes designed to make those memories last.
Fathers will delight at the quirky and beautiful boxes, filled with pleasing things, luxury keepsakes and a tipple or two!
• Boys Toys – the cool cat who appreciates different
• Man of Good Taste – for the man who likes the finer things in life
• Gentleman's Gym – for aesthetes with a healthy outlook on life
S'wheat bottle
www.swheatbottle.com/products/swheat-reusable-bottle
The S'wheat plant-based bottle is made from waste bamboo fibre and wheat straw, which make the perfect renewable material that is durable, insulated and ethically sourced. This unique, innovative material means the bottle won't develop a plastic or metallic taste as it's easy to clean and naturally antibacterial, so it can be used for any liquid, both hot and cold. For each bottle sold, S'wheat plants a trackable tree in your name and removes 20 pounds of ocean-bound plastic, and even donates a portion of the profits towards protecting sea life.
MAROKKA: THIS FATHERS DAY
MAROKKA CURATES A CUTTING-EDGE SELECTION OF STYLISH GIFTS FOR FATHER'S DAY
MAROKKA, the London based Anglo-Italian design house, provides an interesting and stylish selection of gifts this Father's Day. From their signature Gus the Gorilla to the aromatic and therapeutic MAROKKA candles, there is something for every dad.
Charity collaboration is a key feature of MAROKKA's brand DNA, to put that ethos into practice, they partner with the incredible Aspinall Foundation and DOTS (Dogs on the Street), to which they donate 10% of all sales – allowing you to give back this Father's Day.
£130 £95 £136
The classic Gus the Gorilla is the perfect gift for your father, grandfather, or father figure. The geometric shape, available in a range of different colour schemes (including camouflage), provides a refreshing point of conversation to any room. Designed in London and made in Italy, every Gus comes with its own certificate of authenticity and is packaged with eco-friendly materials.
£75 £105
Equally as dynamic as Gus, Yorick the skull is sophisticated and stylish. Also available in a range of colours, most notably metallic black and the cloud pattern. Yorick is a bold sculpture, bound to make a brilliant gift for all the dads, this Father's Day. The inspiration behind Yorick is the regeneration of life, change and transformation. As with all Marokka pieces, 10% of all sales go to the Aspinall Foundation.
£130 £85
This striking geometric sculpture, aptly named 'Wolfy' has been 3D printed over the course of 12 hours and then hand painted, creating a beautiful result. The ice blue and metallic silver colourings make for a trendy and unique Father's Day present, proving something one-of-a-kind and smile provoking.
£35 £22 £15 £35
Marokka's aromatic and sustainable candles are the perfect affordable gift for Fathers Day. Either available in Yorick, a masculine and rich scent of bergamot, amber and cocoa or Gus, a musky, forest-inspired scent of fir needles, white cedar and citrus. Not only are these deep scent profiles perfect for Fathers, but to make matters better they are completely sustainable. The Marokka candles are complete with a recycled wine bottle base, handmade nickel pewter charm lid and 100% cruelty-free and paraben free wax. Refills available.
About MAROKKA:
MAROKKA has a passion for animals, our planet and the geometrical structure of things that surround us in our everyday lives.
They want to leave the world a better place than how it is now and know the best way to do that is to work with others that share the same ethos.
MAROKKA's artisan sculptures and gifts are crafted lovingly to bring them to life boldly and bravely. All sculptures have their own name and personality, but they are also happy for you to rename them when they join your happy family.
Through these creations, MAROKKA hope to create positive change simply, beautifully and with a cheeky wink and smile.
The new candle range has miniatures of our sculptures featured on lids we have handcrafted. The natural wax candle container is made from recycled wine bottles from our Kentish vineyards upcycling at its best. Our cushion range is all handmade from organic cotton (GOTS certified) with the inner cushion being made from recycled drinks bottles
DADDY COOL VINTAGE PLAYING CARD'S CURATES CLEVER COLLECTION OF GIFTS FOR FATHER'S DAY
Vintage Playing Cards, a Suffolk based company, specialising in greeting cards, frames and gifts, made from original art deco parlour games, has curated a splendid array of products to allow for ease of gifting this Father's Day.
These dad-themed products are designed to make great presents for the fathers and father figures in our lives. When unsure on what to get that special man, Vintage Playing Cards jumps in and turns a stressful process, into a beautiful one – especially for those lucky recipients.
Whether it be a handmade quartz clock with some VPC flare, or a unique and interesting bone china mug, there is something for every father here.
£99.00 £50.00 £99.00 £55.00
Starting off with the classic Vintage Playing Cards black box frames, only this time with some witty slogans relating to Father's Day encased. The stylish frames are double mounted onto cream, chorused by the quintessential playing cards which are original to a 1930's spelling game.
These frames make an unusually brilliant gift and are sure to bring a smile to your dad's face.
£35.00 £35.00 £35.00
On a more practical note, these trendy bottle openers are both smart and useful. They contain a magnet inserted underneath the cards so that your bottle top is cleverly caught when it falls. No need to bend down and pick up the tops. The opener is made of cast iron, and they come with wall fixings so is easy to put up! An ideal gift for beer lovers this Father's Day and the perfect addition to any man cave.
£75.00 £75.00
The same concept as Vintage Playing Card's classic and contemporary frames, but with the addition of a quartz clock mechanism for added practically. Copper hands have been added to compliment the stylish cream mounting and black wood box frame, but there is also a black hands option for those more simplistic fathers. Not only a fantastic Father's Day gift, but also a brilliant addition to the home.
£10.00 £10.00
Dishwasher safe and made from fine bone china, these mugs are inspired by Vintage Playing Card's classic frames – making them both trendy and durable. The bold lettering makes way for a unique and modern Father's Day gift that your dad is sure to use every day.
£4.95 £4.95
In true Vintage Playing Cards tradition, their greeting cards are beautifully ornate and refreshing. Whether it be a slogan 'Daddy' card or a king of hearts, there is something for every father within their bustling selection. They are made from original playing cards that have been mounted on a cream card, with space for you to write your own personal message. A real collector's item and a gift that is sure to stay up for much longer than Father's Day.
About Vintage Playing Cards:
Formed in 2008, the idea for Vintage Playing Cards came about when founder, Tracy Kemp, stumbled upon a beautiful art deco pack of playing cards which had a few cards missing. Now useless as a game, the cards were too beautiful to throw away, so she upcycled them into greeting cards.
Vintage Playing Cards now specialises in greeting cards, frames and gifts made, and inspired, from original vintage games.
Stylish, retro and unique – each Vintage Playing Card piece is a true original which is a fabulous addition to any style-conscious home.
Vintage Playing Cards has grown from a small cottage business to supplying renowned shops such as Selfridges, Liberty, Oliver Bonas and Fortnum & Mason.
Run by Kemp, the team are based in a small studio in Suffolk, where most of our products are handmade.
Vintage Playing Cards is constantly evolving with new designs and products and welcomes commissions.
Starting at $22 CAD for an 8″x10″ art-print on a textured watercolor paper, these animal prints would make a great gift for Dads and Husbands.
Moose – elenamarkelova.com/products/mighty-moose-watercolour-print?_pos=1&_sid=57d9024b8&_ss=r
Stag – elenamarkelova.com/products/red-tail-stag-watercolour-print?_pos=3&_sid=5f7d8b130&_ss=r
Salmon – elenamarkelova.com/products/steelhead-salmon-watercolour-print?_pos=1&_sid=5dfb0939d&_ss=r
Bear – elenamarkelova.com/products/misty-bear-watercolor-art-print-double-exposure-fog-mountains-forest-painting?_pos=9&_sid=2d4c4a2c5&_ss=r
Owl – elenamarkelova.com/products/soul-light-barn-owl-watercolor-art-print-double-exposure-spirit-animal-painting?_pos=2&_sid=2022ad0ac&_ss=r
TheTime Power Family Calendar is a jumbo size dry erase family calendar designedby a parent and time management expert!
It is a Simple and Fun Way to Tame the Chaos and Overwhelm While Bringing Your FamilyCloser Together.
Honor Your Time, Find the Beauty in Every Moment.
FamilyCalendar includes:
• Dry-erase Whiteboard Calendar (size: 4 feet long x 1 foot high)
• 5 different Color Dry-Erase Markers
• 2 Magic Dry Erasers
• Pouch to hold the markers and erasers
• 8 damage-free mounting strips to easily adhere to the wall
• Access to YouTube Channel with tutorial videos for setting up and making the best use of your family calendar
It's no secret that routine and consistency are a key to a family'swell-being.
Making sure it happens is another story.
When Istarted my own family, it didn't take me long to realize that my go-toproductivity and management tools would be essential for running my householdand allowing my family and me to flourish.
I triedevery digital family calendar product on the market, as well as wall calendarsof varying sizes, but they were never big enough (especially for thegrandparents in the house to see clearly).
Withdigital calendar products, I updated them electronically, shared them with myhusband and kids' caretakers, but nobody was checking their calendars and theywere forgetting information. You know how it is: out of sight and out of mind!
Irealized I needed something highly visual for everyone who supported thehousehold to see and know what was happening.
I triedthe trending electronic skylight calendars that everybody was talking about,but that meant using another electronic device in the kitchen (which my kids,of course, wanted to play with and we were already maxed-out on daily screentime!).
I triedfancy Etsy calendars, and although I loved the aesthetics, I did not find thempractical. There wasn't enough room to write our family's schedule or mealplan.
Icouldn't find a singular solution that solved everything my family needed tosee and track.
So Idecided to create my own simple, jumbo-size dry erase calendar.
When my mom-friends would come over and ask, "where'd you getthat, I need one too!?" I realized I had something special that could make adifference in the lives of families everywhere.
https://www.jaimeecampanella.com/family-calendar-details
Toasty is a weatherproof, cosy and multifunctional jacket for all outdoor activities. Fully lined with thick, soft, moisture wicking fleece that acts as a blanket to keep your core warm and dry even during the coldest winter months.
Ideal for staying warm and dry pre and post winter sports or when watching the game, it is also great for walking the dog, watching the kids play winter sports or really anytime you leave the house and want to stay warm and dry!
The RRP is $289 including free shipping in Australia ( or flat rate $15 to NZ).
Please let me know if I can help with any further info or have a look at my website – www.toastylife.com.au
(www.headspace.com) app as a great gift idea for Dad for this upcoming Father's Day.
It's common that men won't go out of their way to practice good mental health, and Headspace is a great way they can do this in the privacy of their own homes at a time that is convenient to them.
People can give the gift of mindfulness by visiting: www.headspace.com/buy/gift
RRP $69.99 for a 1-year subscription
RRP 12.99 for a 1-month subscription
There is some really great content within the app that provides beginner-experienced mediations, stress, work/life balance, parenting, relationships and even some great tips on how to get better sleep, connectedness and how to deal with deep emotions.
Knitwise
– Custom Sport Team Sweater
Knitwise
Knitwise is a tech startup specializing in blending technological innovation and personalized fashion. With one-of-a-kind technology, Knitwise turns photos and designs from customers into one-of-a-kind knitwear. The brand began personalizing knit sweaters featuring the furry babies of loving pet parents, but has grown to offer human portraits, logos, quotes, or any other designs that represent what customers hold dearest. Customers simply choose which template they would like to purchase, upload the image they want knitted into their garment, and the technology handles the rest! Perfect for parents, sports fans, businesses and gifs of any kind, Knitwise is bringing individuality to closets.
Website: www.knitwise.com
IG: www.instagram.com/knitwise_official
Essential Elements is here to make hydrating fun and easy with their new hydration sticks. Their hydration sticks are the perfect fuel to recharge for all fitness lovers, athletes, and anyone looking for a little extra hydration. Featuring a combination of apple cider vinegar, sodium, potassium, and buffered vitamin C to ease digestion, you'll keep hydrated and ready to roll. When you exert yourself, you sweat, and that means a loss of both water and electrolytes. The apple cider vinegar in Essential Elements Hydration provides you with powerful replenishment. Just like you, Hydration goes the extra mile for the extra oomph you need to keep working out, finish your shift strong, stay energized throughout the day making it the perfect tool to better your workout.
Pickle Juice is the only product on the market scientifically proven to stop muscle cramps, prevent dehydration and aid in recovery. Pickle Juice uses a proprietary grain and blend of vinegar that blocks that nerve signal being sent from brain to muscle, and a blend of vitamins and minerals for immediate muscle recovery. Whether you are missing something from your diet, exhausted from exercise, or dealing with poor circulation, Pickle Juice can provide a source of relief.
Heat Holders, who are the creators of the world's warmest socks! Perfect for the upcoming Fall and Winter no outdoor adventure would be complete without Heat Holders socks. With Heat Holders®, you can give the perfect gift of warmth! Heat Holders® socks make for the perfect pairing for all of your outdoor needs. Buy them for yourself or give them as a gift, once you try them you'll be sure to fall in love. Internationally recognized as the world's warmest socks, Heat Holders® socks are over 7x warmer than regular cotton socks and 3x warmer than ordinary thermal socks.
Nirvana Water – Nirvana's HMB-infused water boosts muscle performance, reduces muscle recovery time, and slows muscle degradation making it the perfect drink for anyone who prioritizes health and fitness in their lives. HMB is scientifically proven to improve muscle performance, slow muscle loss due to age and disease, and decrease the recovery time from muscle injury. Even professional athletes have seen the positive effects of Nirvana, such as All-Star Kyle Lowry of the Miami Heat and Larry Ogunjobi of the Cincinnati Bengals, who have signed on as ambassadors of the brand. Nirvana HMB is muscle wellness for everybody and every body. With the only patented water-soluble HMB, you'll be staying strong drinking Nirvana.
Electrolit is clinically tested and proven to quickly rehydrate and refuel your body. After experiencing prolonged exposure to heat, excessive drinking or a common illness, Electrolit can help you replenish your electrolytes and bounce back faster so you can keep your life moving. Formulated with magnesium, potassium, calcium, sodium glucose, and sodium lactate plus six ions for electrolyte absorption, Electrolit aids in recovery of the hydro electrolytic imbalance, fulfilling metabolic and hydration needs.
The MEATER Plus smart wireless meat thermometer is an ideal father's Day gift. Hard-to-buy-for dads, that love cooking up a storm in the kitchen or BBQing, will love this smart, handy cooking gadget.
The MEATER Smart Wireless Meat Thermometer is cooking 2.0!
Simply connect to a mobile device and let the delicious creative juices flow
* Freedom to cook meat to personal preference while ensuring it is safe to eat.
* No more under or over cooking! Achieve perfectly cooked meat and fish every time.
* Experiment with different types of fish and cuts of meat with confidence.
* Step away from the oven or BBQ to enjoy less time cooking / thinking about cooking, freeing up time to socialise, prep or simply relax.
* Save money – dual sensors monitor the cooking temperature making sure expensive meat is never wasted again.
Super smart, the MEATER smart wireless meat thermometer [1] is a desirable tech gadget that is designed to enhance the cooking experience for the modern mobile lifestyle. MEATER created and consistently develops its own app which features a smart guided cook system that ensures users achieve restaurant quality cooking results each and every time. After connecting MEATER to any smartphone or tablet, the patented MEATER technology provides estimated cooking times, continuously monitors both ambient and internal temperature whilst meat is cooking and sends alerts to mobile devices when perfection is achieved. It's not complicated, so users don't need to be tech savvy to use it, but it is feature-rich, so there are plenty of possibilities to experiment with.
The completely wireless smart meat thermometer takes away all of the stress of under or over cooked meat, ensuring that the star of a meal is cooked to absolute perfection. With MEATER, users can cook any new cut with absolute confidence, and without any poking or prodding. It also allows users to concentrate on the trimmings, spending extra time with friends and family, or to relax instead of being distracted by cooking times.
Useful all year-round, MEATER is great for al fresco cooking and a must-have kitchen tool whenever meat is on the menu. MEATER ensures safe, succulent and satisfying results every time, whether that be for cooking a heart-warming roast, a mouth-watering steak, or for taking the kitchen into the great outdoors.
MEATER options:
The Original MEATER store-uk.meater.com/products/meater, SRP £79.00 – The first truly wireless smart meat thermometer. This meat probe, with dual temperature sensor, connects with Bluetooth mobile devices within 10 meters.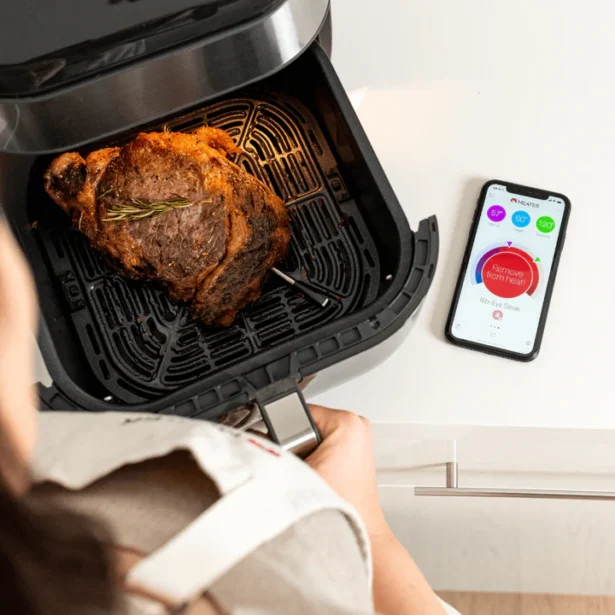 MEATER Plus store-uk.meater.com/products/meater-plus, SRP £99.00 – All of the bells and whistles of the original MEATER with an extended 50 meter wireless range. Thanks to a built-in Bluetooth repeater you can monitor your cook from a smartphone or tablet and receive cooking alerts while enjoying more freedom away from your BBQ, smoker or kitchen.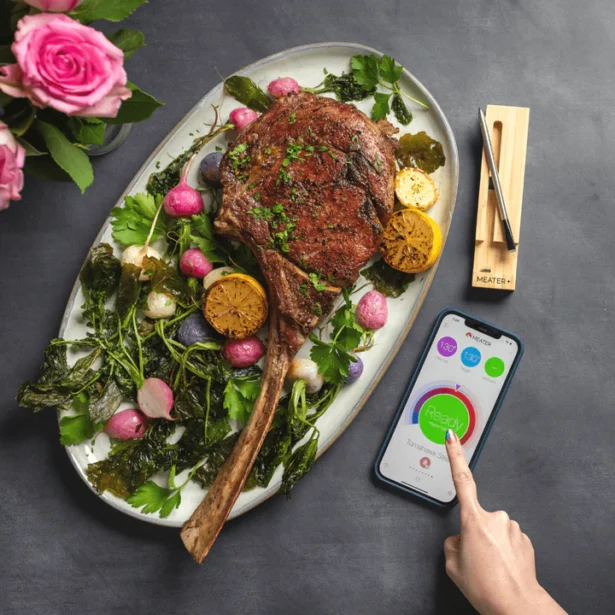 MEATER Block store-uk.meater.com/products/meater-block, SRP £229.00 – £279.00 – Perfect for the cook and BBQ enthusiast, the MEATER Block stores and charges up to four MEATER Plus probes ready to cook and monitor four delicious meats or fish simultaneously. In addition to access to the MEATER app via Wi-Fi (and Bluetooth to Wi-Fi range extension), these probes also boast Standalone Mode – so if you don't have Wi-Fi, no problem! A touch control screen allows you to cook easily, with built-in speakers providing audible notifications. MEATER Block also includes numbered probe clips.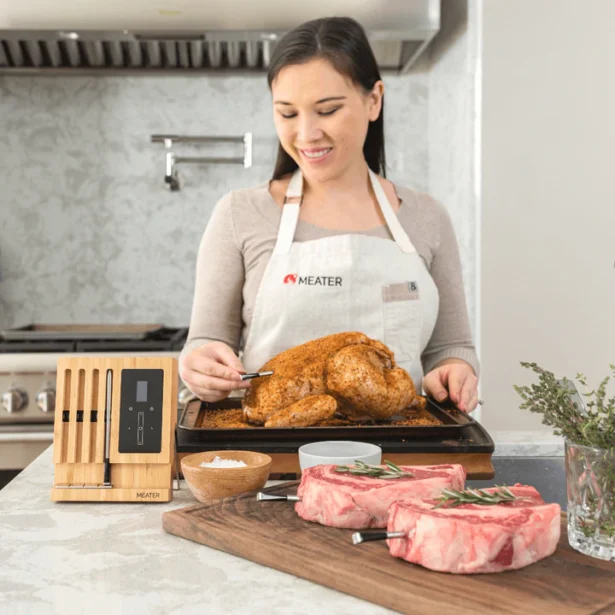 The MEATER smart wireless meat thermometer https://meater.com/ is the perfect kitchen gadget for 2022 and beyond. Tech lovers will enjoy the feature rich app, busy parents can enjoy the freedom to get on with other tasks, and budding chefs have access to a massive, subscription-free, library of recipes. This simple to use, must-have culinary gadget is cooking 2.0!
To find out more visit MEATER meater.com .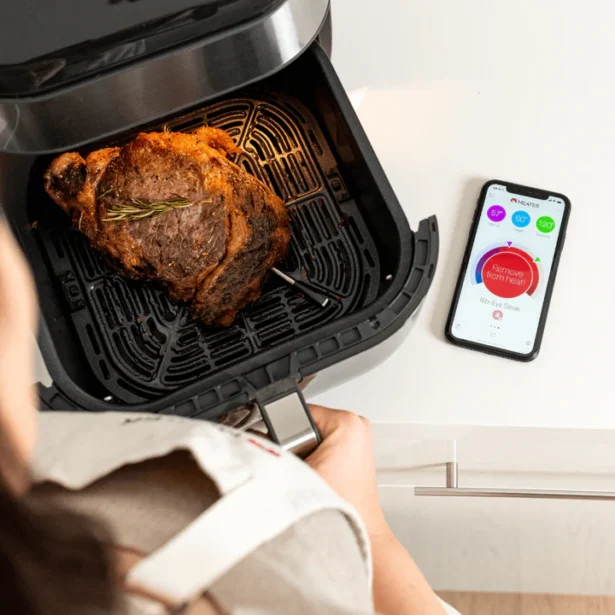 Praying with the Enemy by Steven T. Collis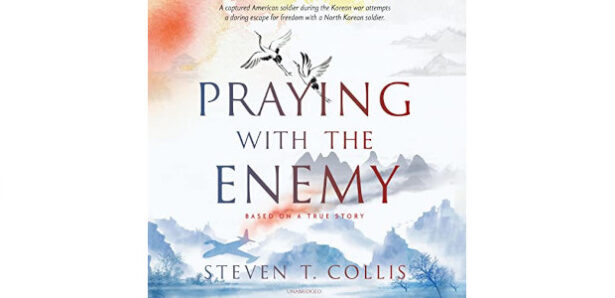 Based on the true story of an American POW during the Korean War and a North Korean soldier who become unlikely allies united in their shared faith in God during a daring escape to freedom.
When his jet malfunctions, Captain Ward Millar makes a last-second decision to eject over enemy territory in North Korea before his plane explodes. His parachute barely opens before impact, saving his life, but the hard landing snaps both of his ankles. Unable to walk, Captain Millar is easily captured by North Korean and Chinese soldiers. His captors interrogate, threaten, and starve him in an attempt to extract strategic wartime information.
He stalls the inevitable by feeding the enemy false information, but it's only a matter of time before they discover his lies. Millar plots a bold, seemingly impossible plan to escape. He knows it will take a miracle to pull it off, but he's not sure if praying to a higher power would even work. He wishes he had faith like his wife, whose firm belief in God can move mountains.
When Barbara Millar receives a telegram informing her that her husband is missing in action behind enemy lines, her family and friends accept the grim reality that Ward is almost certainly dead. Yet Barbara, a woman of deep and sustaining faith, refuses to believe it. She still feels his presence and their connection as strongly as ever. She is certain her husband will return, but she doesn't know how the war and his ordeal might have changed him.
North Korean soldier Kim Jae Pil was raised to believe in the power of prayer, but because the Communist Party kills or imprisons any religious group they perceive as a threat to their power and influence, Kim and his family must keep their Christian faith secret. He has been anxious to return to his family and then escape across the border to South Korea.
With Millar still imprisoned and unable to walk, and the North Korean army becoming increasingly suspicious of Kim's actions, it seems impossible that either man will find the freedom they so desperately desire. But when these wartime foes cross paths, they find in each other an unlikely ally. Despite speaking different languages, Millar and Kim find common ground in their fragile faith and must rely on each other to undertake a daring escape.
Praying with the Enemy is a story of courage, determination, unlikely friendship, and enduring faith.
See more and buy @ :- https://www.amazon.co.uk/Audible-Praying-with-the-Enemy
1. World's Best Dad card, $4.95
Letterpress print by Hatch Show Print and handmade in Nashville, TN.
2. Framed Johnny Cash Hatch Show Print poster, $80
This classic show poster features a full-length photo of Johnny Cash in his all-black attire that over the years has become an unforgettable image of the country music icon. Letterpress print by Hatch Show Print and handmade in Nashville, TN.
3. Guitar t-shirt, $24.95
This ultra-soft tee features a faded display of guitars across the front. (100% cotton)
4. Honor Thy Music t-shirt, $14.98
This raglan tee features our Honor Thy Music slogan in classic Americana style. Available with blue or red sleeves.
5. Outlaws hat, $29.95
This adjustable trucker cap features the iconic armadillo designed by artist Jim Franklin for the Armadillo World Headquarters in Austin, Texas. Commemorates the exhibition Outlaws & Armadillos: Country's Roaring '70s at the Country Music Hall of Fame and Museum.
6. Hatch Show Print sunburst cornhole set, $250
Handmade in the USA.
7. Outlaws Freaker bottle cover, $10
This patented bottle cover can stretch to fit most beer, sports, water and wine containers. This edition features an exclusive design with Willie, Waylon, and an armadillo
8. Retro guitar logo bottle, $34.95
This 24oz. stainless steel, thermal beverage bottle features a retro Country Music Hall of Fame and Museum guitar logo. Versatile for both hot and cold beverages. Available in blue, orange, seafoam and black.
9. Bill Anderson: As Far As I Can See exhibit book, $24.95
One of the most decorated songwriters in history, Country Music Hall of Fame member Bill Anderson broke into the music business with "City Lights," which he penned at the age of nineteen. When Ray Price released the song in 1958 on Columbia Records, it became a country #1, and a hitmaking career that spans eight decades and has touched millions was launched. The book complements the Country Music Hall of Fame and Museum's exhibition Bill Anderson: As Far as I Can See, and it contains a foreword from fellow Grand Ole Opry star Jeannie Seely, along with personal photographs and significant artifact images rarely seen. (Paperback, 80 pages)
10. The Encyclopedia of Country Music, $65
Immediately upon publication in 1998, the Encyclopedia of Country Music became a much-loved reference source, prized for the wealth of information it contained on that most American of musical genres. Countless fans have used it as the source for answers to questions about everything from country's first commercially successful recording, to the genre's pioneering music videos, to what conjunto music is. This thoroughly revised new edition includes more than 1,200 A-Z entries covering nine decades of history and artistry, from the Carter Family recordings of the 1920s to the reign of Taylor Swift in the first decade of the twenty-first century. Compiled by a team of experts at the Country Music Hall of Fame and Museum, the encyclopedia has been brought completely up-to-date, with new entries on the artists who have profoundly influenced country music in recent years, such as the Dixie Chicks and Keith Urban. (Hardcover, 626 pages.)
11. New selection of vintage music posters
12. Gretsch Chet Atkins 1954 G6120-CMHOF Prototype Guitar, $3,699.99
This limited-edition guitar pays homage to the very first Gretsch guitar created for Chet Atkins. Limited availability.
The Dēp sleep hoodie from Dēp Slēpwear.
The Dēp sleep hoodie is a patented, doctor-recommended, ultra-cozy hoodie that's purpose-built to help you sleep better, ANYWHERE. It's made of lightweight material that breaths and wicks sweat to help keep your body temp comfortable and consistent.
A favorite feature is the built-in sleep mask. It is nicely padded and sewn right into the hood so it stays in place and will never be lost. It also wraps around the head to cover eyes and ears, blocking both light and sound, and creating the perfect, peaceful sleep cocoon.
fishingsensei.com
Fishing Sensei
Practical and Thoughtful Gift Ideas
A father's day gift should be something that lets him know you care, be practical, and ideally something that actually improves his life. For example, while a coffee mug is really nice, it doesn't actually improve his life. The following gift ideas will fulfill all 3 of those criteria.
The first gift idea is one that I got my father last year. I got my father the Aikaa Ergonomic Seat Cushion for Father's Day last year. It's a seat cushion to ensure that users maintain proper posture when they sit down. While it sounds uncomfortable, the Aikaa cushion actually naturally helps my father maintain a comfortable, yet correct sitting position. I think anything that helps maintain correct posture will be a fantastic gift for father's day. Nowadays, there are many such products, such as posture corrector backstraps, the ergonomic seat cushion which I mentioned, and even ergonomic bolsters. Here's why I recommend these products for father's day:
1. They let him know you care. Nothing says "I love you and I care" more than health products.
2. They are immensely beneficial in the short term and the long term. In the short term, the right posture will quickly relieve them of many problems such as neck, back and shoulder pain. In the long term, good posture will save them from many ailments like spinal dysfunction and rounded shoulders.
3. If left to his own devices, your father would probably never get these products.. Unlike other common father's day gifts like wallets, posture correction devices are something most people will never ever have in their life, because posture is very often overlooked, despite being immensely important.
My second gift idea is a wooden docking station. I'm actually intending to get one for my father for this year's Father's Day. Wooden docking stations are another really practical and thoughtful gift. Here's why I recommend them:
1. One stop hub when preparing to leave the house. Having a place to store everything that your father needs before he goes for work will make his life much easier. Instead of storing everything messily in a cupboard, wooden docking stations allow him to neatly organize all his things and easily find them all when he needs them. This helps immensely in the morning when working fathers are rushing to prepare for work.
2. Aesthetically pleasing.
3. Really special. Unlike the usual wallets and watches, this gift will really stand out.
Hopefully this was helpful for your piece. If you have any questions just let me know!
Thanks
Reuben
Founder of Fishing Sensei
Cocktail Kits 2 Go have everything you need to craft cocktail classics all in one small, home bar, in-case-of-emergency package. For instance, the Old Fashioned Cocktail Kit includes the ingredients to craft a perfect Old Fashioned Cocktail – aromatic bitters, sugar cubes, bamboo spoon, and instructions for making the drink as it has been made since the late 1800s–all tucked into a vintage-styled, travel-sized tin. Just add your favorite whiskey.
Find them here: cocktailkits2go.com
Forte Series, a premium men's hair product line created by social media star Alex
Costa.
Forte Series offer a Molding Paste that makes the perfect gift for men looking to level up their hair game in 2022. Plus it's sleek, masculine packaging makes it an amazing gift to unbox.
See example shere https://forteseries.com/collections/all-products/products/1-paste
Forte Series is a collection of tools and advice for helping the modern-day guy look good and feel good — so he's ready to capture the big opportunities that come his way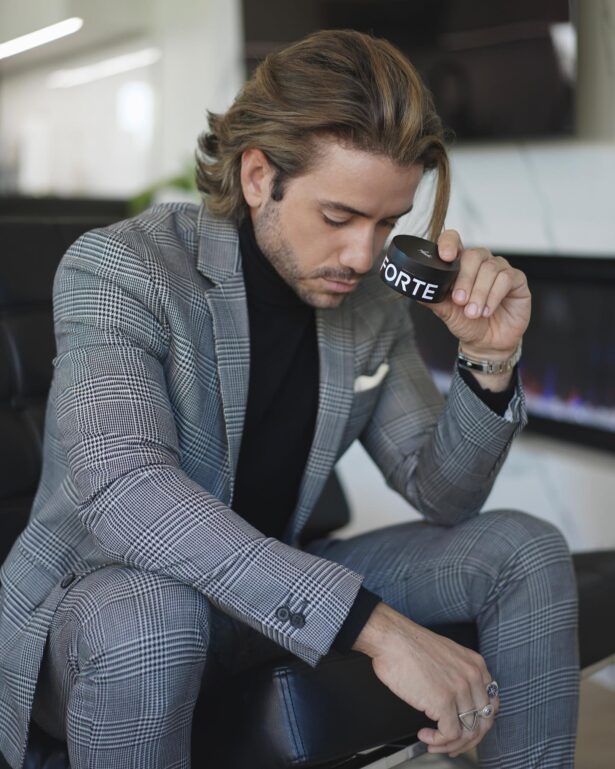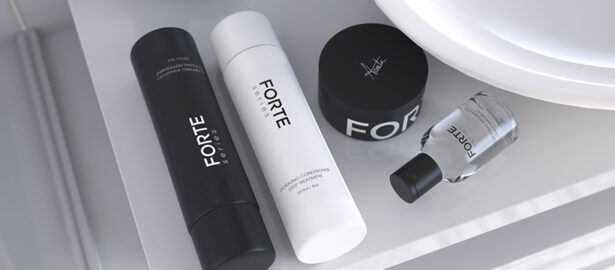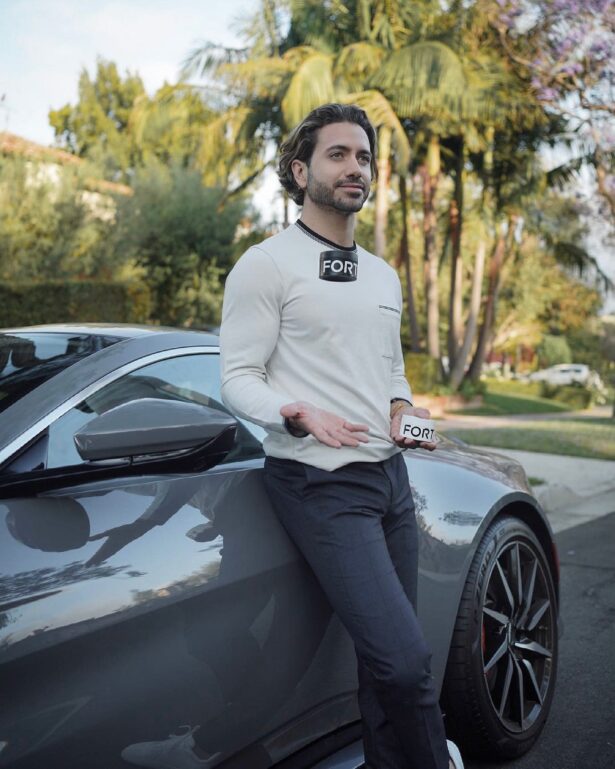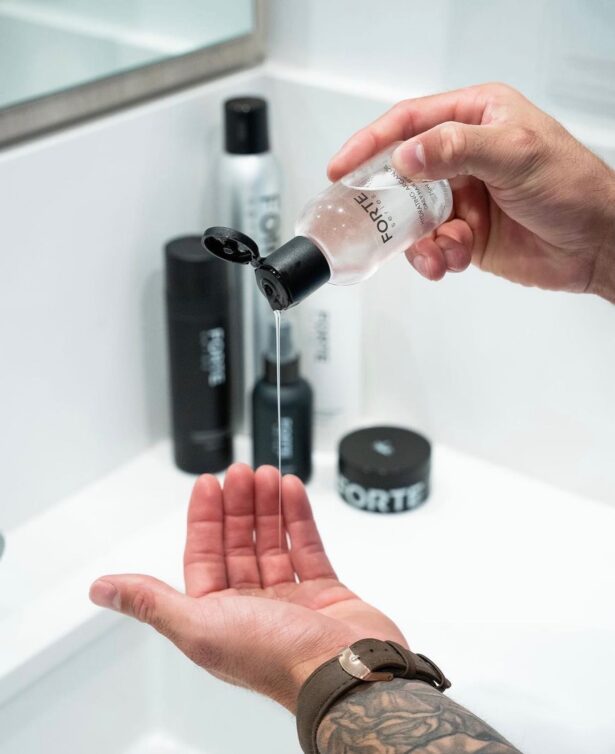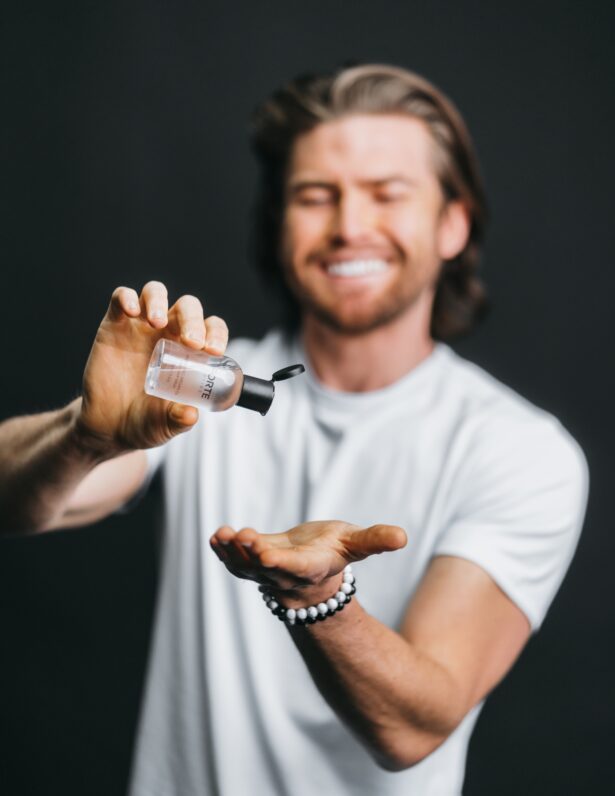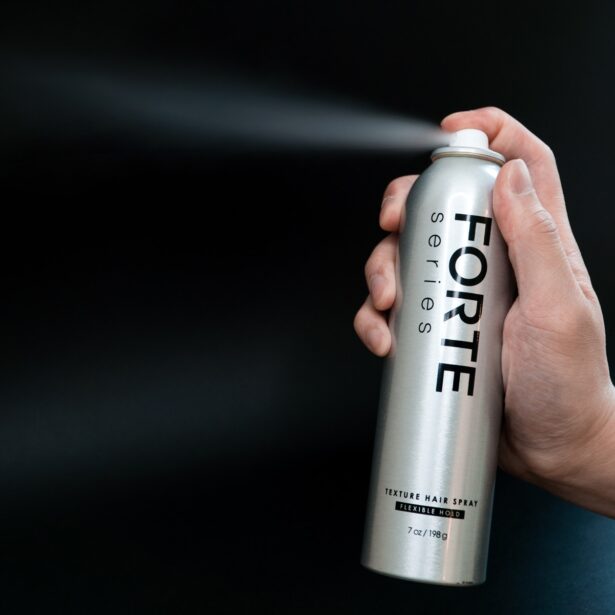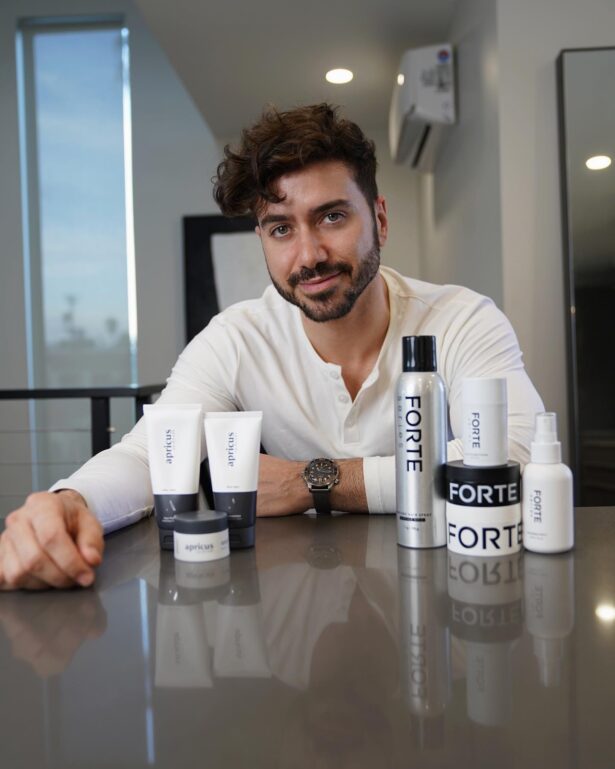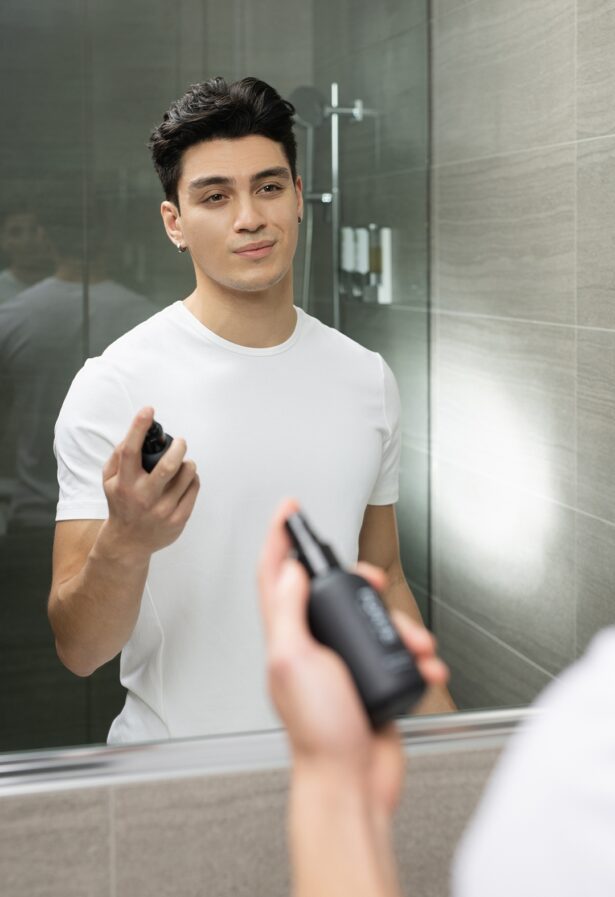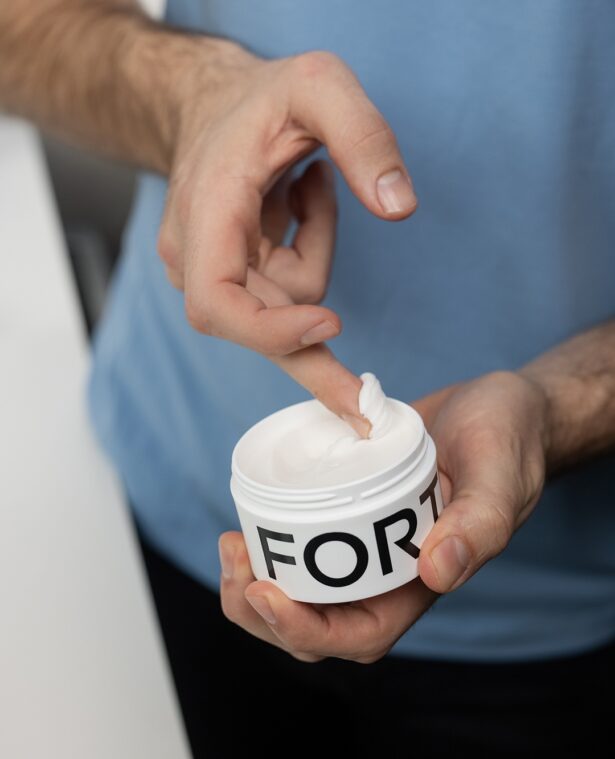 JOYAMO JEWELLERY (30% OFF Orders Today with rugby30) dads are so stylish and really looking after their personal presentation… celebrate their style with a personalised gift from JOYAMO Jewelry joyamo.co.uk
"We are an international company that designs and manufactures personalized jewelry for all your unforgettable moments. Customized necklaces, bracelets, rings, and earrings to celebrate love and your loved ones! JoyAmo, your choice!"