Dove Men + Care offers perfect Father's Day gift sets for the rugby-obsessed dad
Be the MVP this Father's Day by gifting your rugby-obsessed dad or father figure a set from the new limited edition Dove Men + Care LIONS gifting range.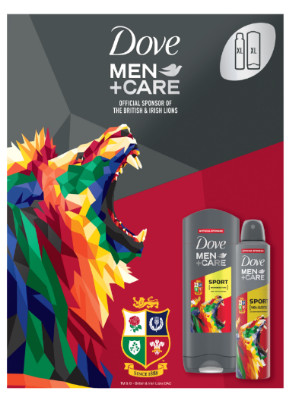 Ahead of their highly anticipated Tour kicking off in South Africa this July, Dove Men + Care has joined the PRIDE and created four limited edition gift sets to help show your dad or father figure he's your Man of the Match this Father's Day.
Featuring fan favourite body washes and deodorants with limited edition British & Irish Lions labels, the range of gift sets also include limited edition Lions collector's tins, washbags and socks to help your dad show his support for captain Alun Wyn Jones and the team.
With restrictions keeping families apart for so long, and the majority of sport cancelled in the past year, the upcoming Castle Lager Lions Series is sure to see the four nations come together as one. And with the Tour set for summer the deodorants and body washes will be welcome additions to your dad's shower and bathroom cabinet!
Dove Men + Care has removed over 1,400,000 pieces of plastic packaging from inside its gifting range since 2017. For the very few parts of plastic packaging left, Dove Men + Care is working to ensure these are fully recyclable, meaning you can send a little care to your dad while still caring for the planet.
Appendix:
*RRP: Recommended retailer price – pricing at all times at the sole discretion of the retailer
Dove Men + Care LIONS XL Duo Gift Set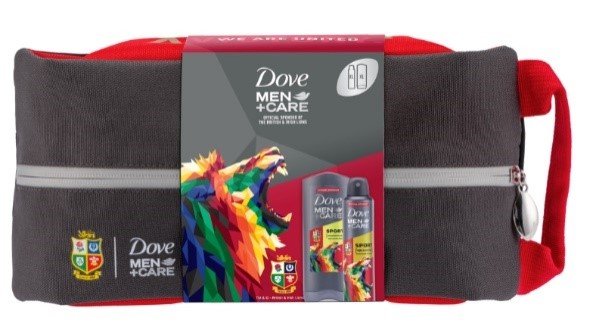 RRP £9.00
Listings:
TESCO, Morrisons, ASDA
Dove Men + Care Limited Edition LIONS Anti-Perspirant Aerosol Deodorant (250ml)
Dove Men + Care Limited Edition LIONS Body Wash (400ml)
Dove Men + Care LIONS Washbag
RRP £12.00
Listings:
ASDA Dove Men + Care Limited Edition LIONS Anti-Perspirant Aerosol Deodorant (250ml)
Dove Men + Care Limited Edition LIONS Body Wash (400ml)
Dove Men + Care Limited Edition LIONS Washbag
Dove Men + Care LIONS Collectors Tin
RRP £9.00
Listings:
ASDA
Dove Men + Care Limited Edition LIONS Anti-Perspirant Aerosol Deodorant (250ml)
Dove Men + Care Limited Edition LIONS Collectors Tin
Dove Men + Care Limited Edition LIONS Socks
Dove Men + Care LIONS XL Bumper Washbag
RRP £25.00
Listings:
ASDA
x2 Dove Men + Care Limited Edition LIONS Anti-Perspirant Aerosol Deodorants (250ml each)
x2 Dove Men + Care Limited Edition LIONS Body Washes (400ml each)
Dove Men + Care Limited Edition LIONS Socks
Dove Men + Care Limited Edition LIONS Washbag