Demand for Aventon E-Bikes – pedal-assist electric bikes – is skyrocketing right now. The popularity is across all age demographics, male AND female, from teenager to 75+. A good part of the demand was brought on by the pandemic. More on that trending demand below. (

aventon.com

)
4 of the MOST POPULAR E-BIKES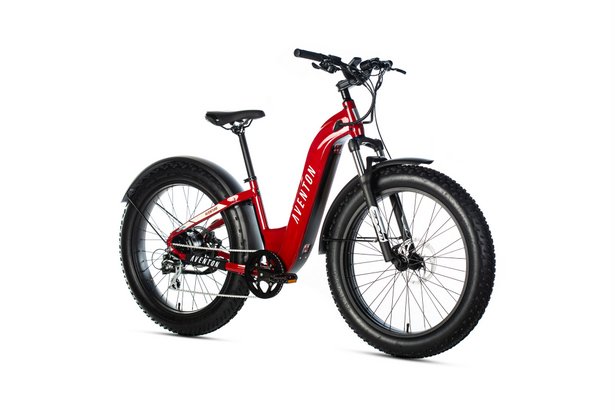 1. Aventure – brand new in 2021 – is a full-size all-weather, multi- terrain, multi- purpose fat tire eBike. It's an urban friendly, commuter eBike that can handle crowded city streets. On weekends head to the countryside for rides on hiking trails through mud, gravel, snow and sand.
• AVENTURE Standard/Classic frame
• AVENTURE Step-Through frame
• Available in 4 dynamic colors
o Camouflage Green (in both step-through and traditional frame)
o Electric Red (step-though frame only)
o SoCal Sand (both step through and traditional)
o Fire Black (traditional frame only)
• Easy upgrade to Class III – 28 MPH
o Aventure ships as a Class II eBike that features 5 Pedal Assist settings plus throttle
o Can easily be configured between Classes I & III giving you more freedom and options to ride
o Use the phone app to easily switch between Class II and III
• A new backlit full Color display screen with charging port & Bluetooth app connectivity
• The Aventon App can be found in Android and IOS app stores
o connects to the bike
o tells the rider how many trees he/she has saved while riding!
o can turn the eBike on and off, control the lights
o switch between Class II and III
o helps Aventon riders connect socially with a local community
o keeps track of mileage and other metrics important to biking enthusiasts!
• 14Ah battery capable of an average of 45 miles per charge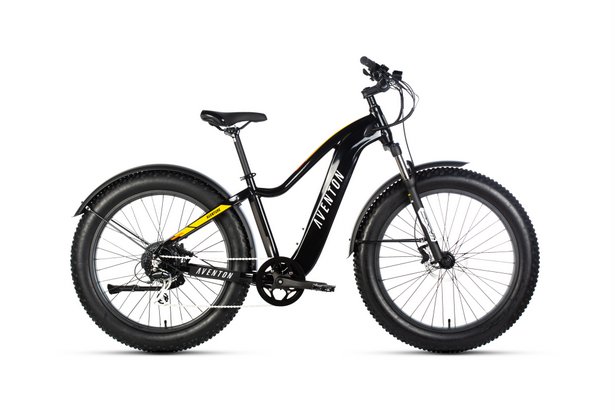 2. Level Step-Through eBike is a commuter's dream that could replace a car for running errands and riding to work or school. This innovative, slick and technologically advanced new eBike, which became available in August, provides easy access with a step-through frame and a smooth, thrilling ride reaching up to 28MPH with pedal assist. This eBike is a tweaked version of Aventon's best-selling Level that was introduced in the Spring. Fans and partner bike shops suggested body changes to appeal to a broader fan base and Aventon built the Level Step-Through based on their wish list — a step-through frame that's easy to hop on and off.
3. Level eBike, introduced in Spring 2020, is engineered for riders who want to escape from their cars but still want to keep up with traffic on their work or school commute. It's built with the same proven motor technology as the Pace 500 electric bike but with geometry and convenience features for urban riders. With peppy handling, a suspension fork, and an extended battery, the Level Commuter EBike can take everything that you throw at it.
• HIGH RES PHOTOS HERE – Level
4. Sinch eBike is the most versatile folding fatbike on the market. With massive 4" tires, a suspension fork, and plenty of power – 500 watt (750 watt peak) motor – the Sinch has some kick, and is a super comfortable electric folding bike that handles like a dream to ride on all terrain types. Perfect for those with limited storage space, the Sinch is foldable and easily stored in your closet, under your desk, in the car trunk or in your RV. Regardless of where you ride and where you travel, the possibilities are endless with the Sinch.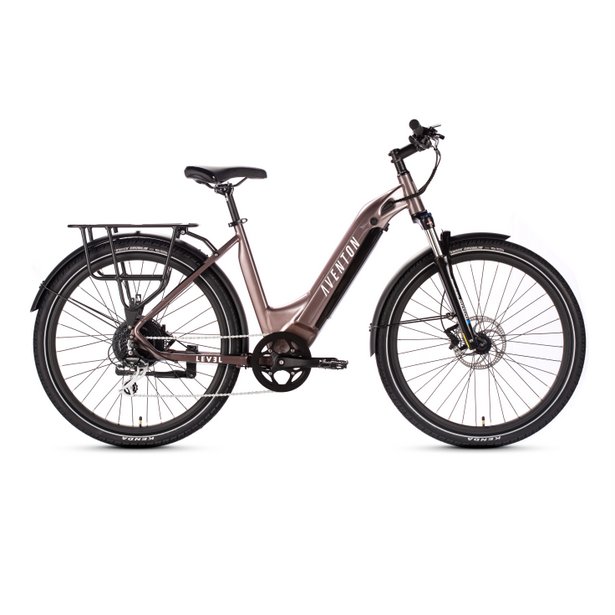 TRENDING DEMAND
The demand for Aventon eBikes shot up once the pandemic hit, continued as states started to reopen and shut-down again, and fears of a second wave and new strain of Coronavirus swept across the country. Many want eBikes because:
• US Government climate initiatives – bill giving 30% tax credit incentives to ditch the car and buy an eBike
• San Francisco Bay Area Air Quality Management District will pay people to turn in their old cars which they can use the money to buy an eBike
• Many saw how the nationwide pandemic shutdown improved air and water quality, and they've become more conscious of their carbon footprints
• An e-Bikes gives an 'assist' to those who may not think they are "athletic enough" for a standard bike or who live in a hilly area –
o allowing them to keep up with friends, kids and grandkids… while still pedaling and getting exercise
• Need for exercise – for both physical and mental health
o gyms, yoga classes and other studios shut down
• Working from home and home-schooling the kids – moms needed an escape and some alone time
• People afraid of mass transit and standard commuting due to COVID
• People afraid of ride shares like Uber, Lyft, van pools, taxi…
• Need for "Social Distancing" & "Self-Isolation" – e-Biking gives you more than 6 feet
• Need to "escape" for fresh air and to explore
• People afraid of plane and train travel due to Covid
o regional stay-cation vacations/weekend getaways – (eBike up the coast and stay at a hotel)
• needed to salvage their 2021… and want their 2022 to be more adventurous