Cocoba Chocolate introduces new Christmas Vegan range…
Cocoba, the Kent-based chocolate company renowned for their irresistible chocolate and hot chocolate gifts, has launched this year's Vegan Christmas range.
Praised for producing 'the best vegan chocolate' Cocoba has concentrated on making the biggest range of vegan gifts yet to ensure that the Christmas magic is accessible to everyone in the form of delicious chocolate treats. With a selection of Vegan Stocking Fillers, including Vegan Hot Chocolate Spoons, Tree Hangers, Vegan Christmas Baubles and Cocoba's Vegan Christmas Gift Sets available to buy, Cocoba's Christmas range is sure to bring Christmas cheer all-round this year.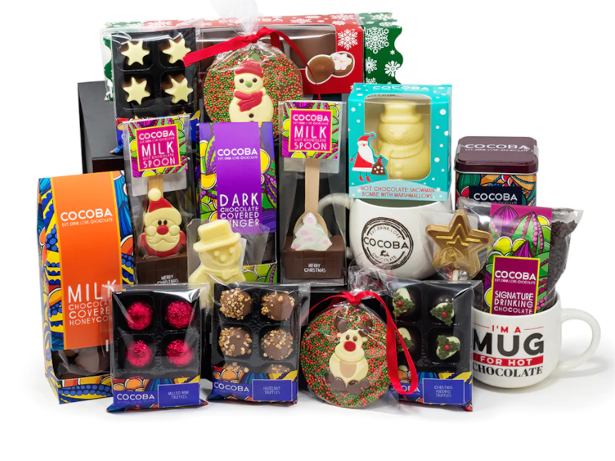 Cocoba's selection of Christmas hot chocolate stirrers from £3.95 (any early bird price?) include a jolly Vegan Christmas Santa Hot Chocolate Spoon, made from silky smooth vegan 'milk' chocolate and topped with a vegan white chocolate Santa Claus. Plus, a beautifully packaged trio of Vegan Hot Chocolate Spoons with Marshmallows – including Milk, Dark, and Salted Caramel flavoured spoons, each topped with a sprinkle of marshmallows, and all of which are completely suitable for those with a vegan or vegetarian diet.
Looking for something to decorate the tree? No problem… Cocoba's complete range of magical treats also includes Vegan Tree Hangers to add a touch of festive fun whilst you deck the halls. Featuring a vegan 'white' chocolate Santa Claus embedded in a disc of thick 'milk' chocolate that's been topped with a helping of sprinkles, at only £3.95 (any early bird price?) per tree hanger, these vegan-friendly decorations are a great way to add sparkle to the Christmas tree.
Made from a perfect sphere of velvety 'milk' chocolate, Cocoba's range of Christmas chocolate gifts features Christmas baubles at £4.95 (any early bird price?) which don't only look great on the tree, but also taste exquisite. These vegan-friendly baubles are expertly spun to create a thick shell of chocolate which evenly encompasses a fluffy marshmallow centre.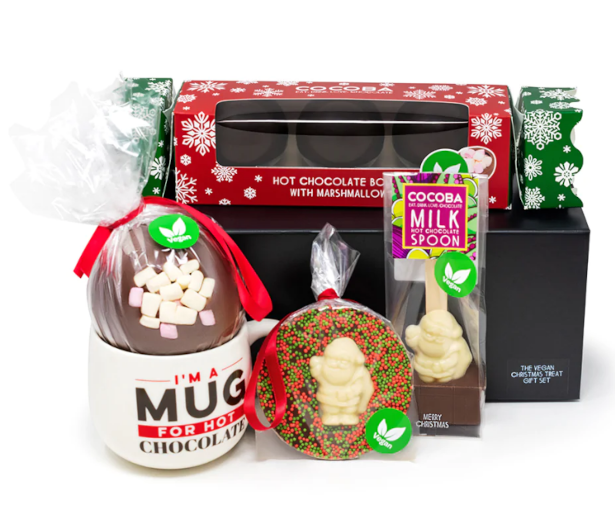 Cocoba has it all wrapped up with a collection of beautiful Christmas gift sets. Vegan Christmas Gift Sets starting from £14.95 include a mesmerising variety of treats to light up the eyes of any recipient on Christmas morning, Treats include the bestselling vegan hot chocolate bombes, complete with a made-to-measure hot chocolate mug. With each product made without any compromise in flavour Cocoba's Vegan Christmas Gift Sets are the perfect gifting solution for loved ones with vegan and dairy-free diets.
Vegan Christmas Hot Chocolate Spoons and Tree Hangers – insert photo
Vegan Christmas baubles – insert photo
Vegan Christmas gift set – insert photo
Cocoba's chocolate products include Belgian hot chocolate, chocolate bars and lollipops, truffles and buttons, and a growing range of vegan dark and 'milk' chocolate.
Cocoba's range is available from www.CocobaChocolate.com as well as Cocoba's flagship chocolate café at the Bluewater Shopping Centre in Kent, independent farm shops, delis, John Lewis, Selfridges and more. All products are handmade in Kent.
Instagram: @cocobachocolate
Facebook: @CocobaChocolate
Pinterest: @CocobaChocolate
TikTock: @cocobachocolate
Twitter: @CocobaChocolate
Web: https://www.cocobachocolate.com