Clinical Supplement Company Inessa Launches Immunity Complex Including Botanicals
Designed to increase your body's resilience, Inessa Immunity Complex contains a unique blend of 8 powerful, evidence-based nutrients, four of which have EFSA approved immunity claims. A combination of vitamins and minerals – vitamin D3, zinc, selenium, vitamin C, along with powerful botanicals, black elderberry, reishi and chaga mushrooms and potent immune-supportive beta glucans.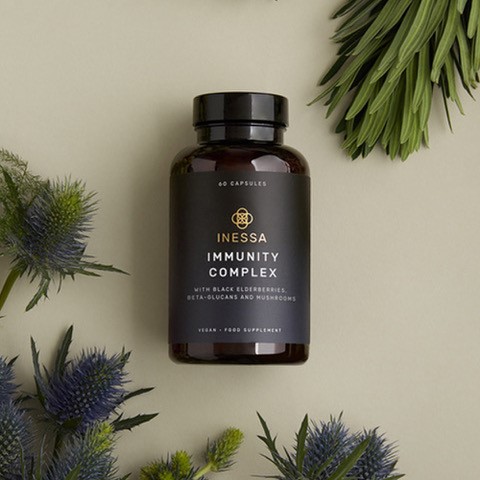 Inessa Immunity Complex replaces separate vitamin D3, C, zinc and selenium, a medicinal mushroom and beta glucan product and black elderberry extract. Each ingredient has been carefully selected for its powerful natural health benefits to specifically target and optimise the immune systems performance.
Our diets play a key role in supporting the immune system – people who are malnourished are known to be more prone to infectious diseases, while micronutrient deficiencies have been shown to weaken our immune responses. Giving your body the right micronutrients is crucial for the development, maintenance and expression of a healthy immune response, whatever your age or stage of life. But sometimes stress, poor diets or lack of sleep can leave us depleted. Inessa's Immunity Complex has been designed to ensure you're getting a regular supply of the high quality ingredients you really need to maintain your body's defences.
New research has emerged that we require a minimum of 2000iu Vitamin D3 per day for optimum immunity and there is an intrinsic link between covid risks and Vitamin D levels. Inessa's immunity complex includes 2000iu Vitamins D3 per capsule to meet your daily needs. Zinc has been included to promote white blood cell count, vitamin C for collagen production, as well as botanical mushrooms and black elderberries which are scientifically shown to strengthen the immune system naturally. The addition of antioxidants and beta-glucans helps support the immune system further, and can lessen the impact of modern pollutants such as poor air quality, smoking and drinking alcohol.
Founder and registered nutritional therapist Aliza Marogy who has 12 years of clinical experience, commented "Improving your resilience to bacteria and viruses has never been so important. Taking high-strength, high-quality forms of vitamins and minerals such as vitamin C, vitamin D, zinc and selenium daily will ensure your immune system gets year-round support. But there are other powerful plant extracts and botanicals which have been used medicinally for centuries which I wanted to include in our Immunity Complex. The Inessa team have specifically chosen a unique complex of nutrients, polyphenols and botanicals for this formula, which all work together to strengthen your natural defences."
About Inessa
Founded in 2017 by Registered Nutritional Therapist Aliza Marogy, Inessa is an award winning, clinical supplement brand, renowned for using the highest quality ingredients in clinically relevant doses. Inessa is formulated with no preservatives or nasties. As a practitioner and sufferer of IBD, Aliza spotted a gap in the market for optimally-dosed, high quality supplement combinations to support her clinical practice and reduce cost for clients. The Amazon No1 best selling vitamin and Vegan Society accredited brand has most recently won 6 Beauty Shortlist Awards. The range includes Advanced Multivitamin, Advanced Omega 3 Fish Oil, Advanced Daily Biotic, Advanced Biotic Complex, Biosoothe, Immunity Complex and Pregnancy Multinutrient.
The brand is stocked on Amazon UK & US and online at www.inessawellness.com