Classic Gifts for Dad
Although Father's Day has come and gone, there is no need to stop showing dad how much you care. So whether it's dad's birthday or you just want to tell him that you're thinking of him by giving him a fabulous gift like a well loved game, we have some awesome ideas for you.
There isn't just one kind of father. There are golf dads, tech dads, and beer-drinking dads, to name just three of the various types of patriarchs. So don't worry if you're having trouble coming up with fantastic gift ideas for Dad because we've done the legwork for you and combed the internet for the greatest presents for all circumstances and budgets.
Fitness Tracker
Fitness trackers have become increasingly popular as a means of keeping track of your progress and makes for a thoughtful, healthy gift. Wearers can track steps, calories, distance travelled, caloric intake, and even heart rate and sleep, depending on the tracker and it's capabilities. Some even have GPS monitoring to keep track of your mileage and speed. While fitness trackers may appear to be a waste of money for people who already have an athletic motivation, they can be the "ghost you" you've been waiting for all along!
The only person you're competing against is yourself unless the software that comes with your fitness tracker encourages you to use social media. Fitness trackers keep track of your goals and progress, psychologically urging you to take more steps today than yesterday, run faster today, and keep that peak heart rate for that intensive interval training for a bit longer. Wearing a fitness tracker – even if it's just a basic pedometer – can increase a user's activity levels by 30%, according to research.
Golf Clubs or Accessories
Golf is a fascinating sport to watch as well as play and it requires a great deal of skill and mental acuity for you to succeed. Jordan Spieth, Rory McIlroy, and Tiger Woods can make the game appear to be so simple. Still, everyone who has played golf knows how difficult it is! Golf clubs are an important part of the game. I can't think of many other sports that require such a wide range of equipment to play! A driver, irons, fairway woods, wedges, and a putter are needed for a round of golf. There are also hybrid clubs, which combine the best features of both an iron and a wood club.
You can spend a lot of money on golf clubs (thousands!), especially if you buy them individually and acquire top-of-the-line equipment. If you're a newbie, however, you don't need to invest a lot of money. Instead, you'll probably need to invest £100-£250 on your first set of clubs. This will bring you at least nine decent golf clubs, which should be sufficient to get Dad on his way.
Electric Shaver
Shaving is an activity that is steeped in masculinity and is something that makes up a large part of any man's self care or grooming time. It's something that each man does in their own way, to create a unique look that sets them apart. While many men enjoy their soothing shaving process, others avoid it for various reasons, ranging from sensitive skin to a lack of time. This is why electric razors have become increasingly popular. They provide a variety of features and benefits that a wet shave cannot. For example, electric razors glide over skin, whereas blades could scrape and harm it. That means fewer cuts, less irritation after each pass, and no unattractive razor burn and a happy Dad!
Pasta Maker
For the aspiring Gordan Ramsey dads out there, a pasta maker is an ideal gift. A store-bought box or package of pasta isn't expensive and usually it tastes fine, but experienced pasta connoisseurs recognise the difference that making it fresh can make to a dish. Pasta makers make it easier to make your own pasta at home, allowing you to achieve the perfect flavour and texture more every time. The whole objective of buying a pasta maker is that it makes cooking pasta accessible to most people who aren't up to the task of doing everything by hand. Any pasta machine you buy will make the process of producing pasta easier right away, so you're already ahead of the game.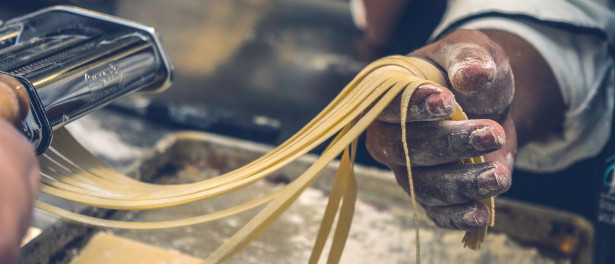 Even those of us who enjoy variety have favourites when it comes to pasta. However, if you know you need to create a specific type of pasta, make sure you choose a machine that can do it. Many pasta machines come with stock blades that can make a few primary forms of pasta. Still, you may expand the list by purchasing accessories. In addition, electric pasta makers typically have a more extensive selection of pasta selections than manual pasta makers.
There are so many options out there for the different kinds of Dads in the world. Our list is just the tip of the iceberg, but we're sure it will help you along your way.