Help bees this Christmas with Friends of the Earth's festive Bee Saver Kit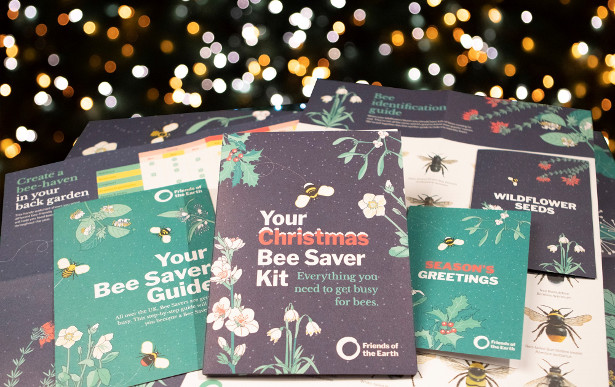 FACEBOOK | INSTAGRAM | TWITTER | PINTEREST | YOUTUBE
Britain's bees need a home as their habitat continues to be destroyed – help them today by ordering your special-edition Christmas Bee Saver Kit.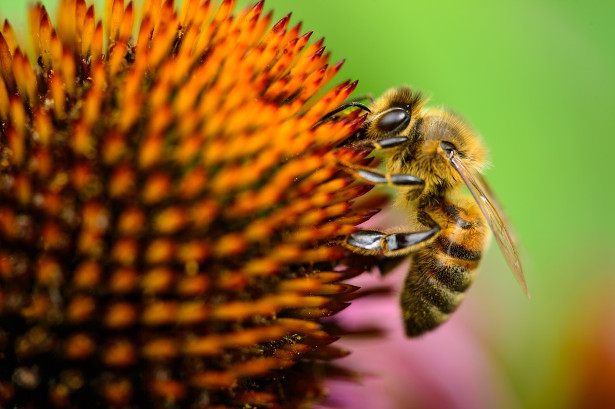 This special festive edition kit includes:
An exclusive Friends of the Earth Christmas card so you can share your love for bees with friends and family
Beautiful bee and wildflower themed wrapping paper so you can give your Christmas gifts a festive bee twist
Everything you need to start saving bees – from wildflower seeds to a year-round garden planner to create a bee-friendly garden, patio or window box at any time of year including the cold winter months
Search 'Christmas Bee Saver Kit' to make your donation of £15 today. Order before 8th December to make sure you receive your kit in time for Christmas.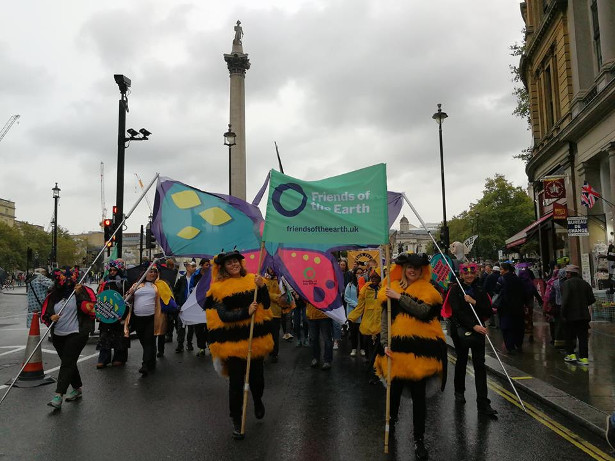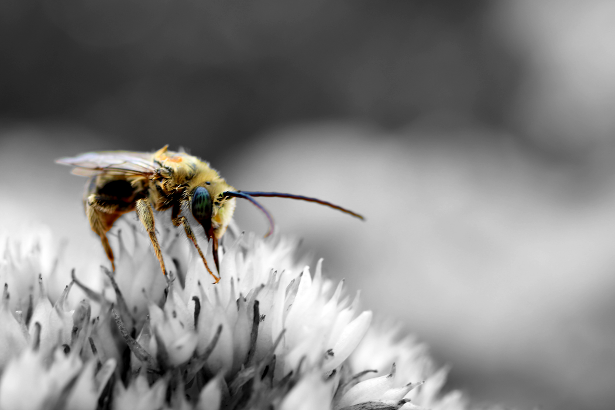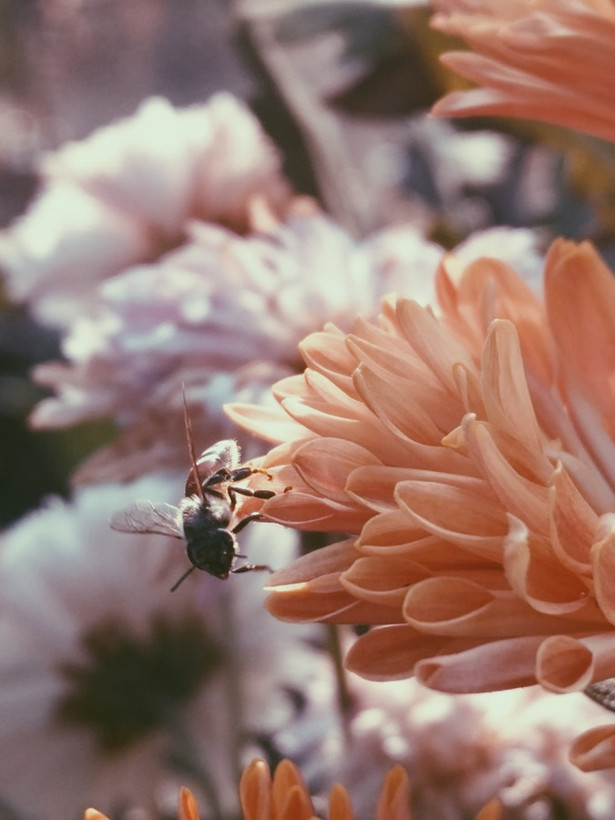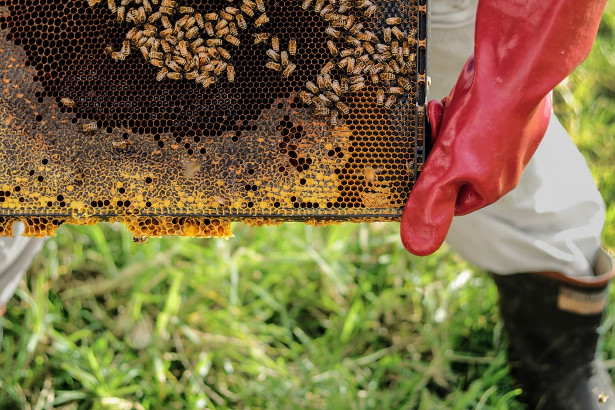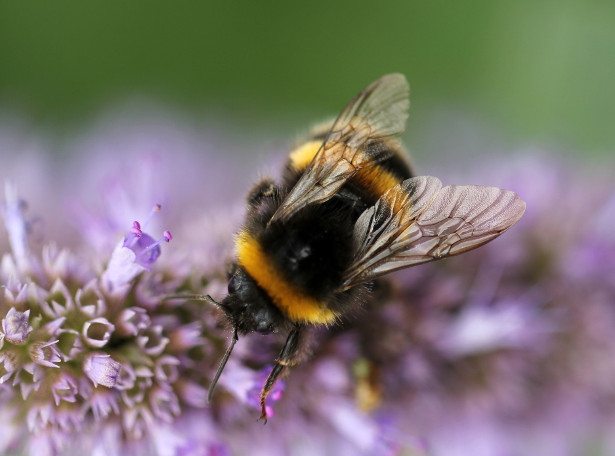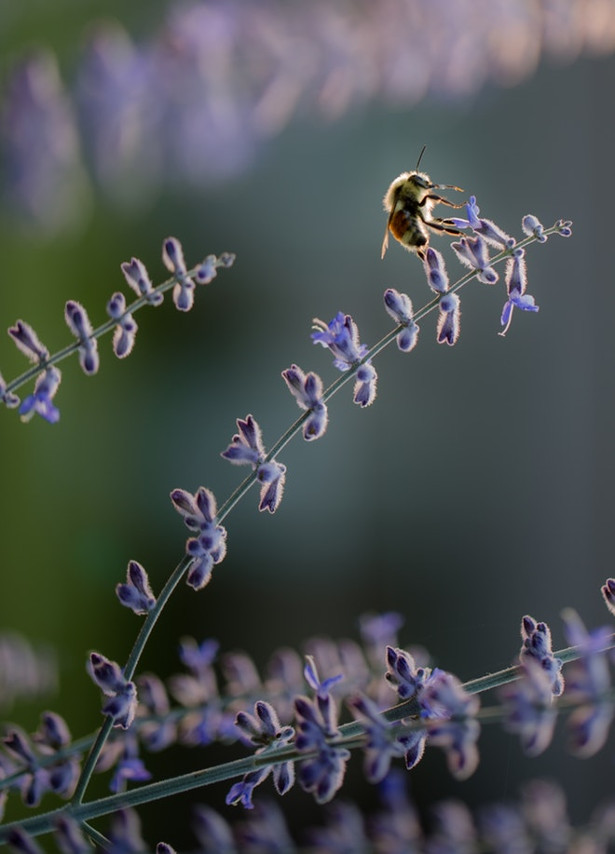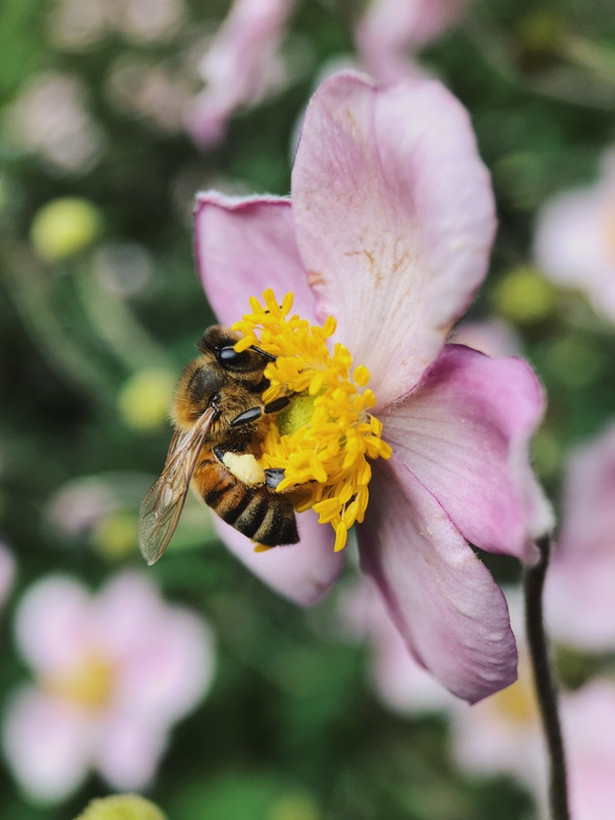 With seasons transforming to a wonderful time of year..
There's nothing nicer than having your home filled with a Christmas infusion of mulled spices and a twist of citrus fruit.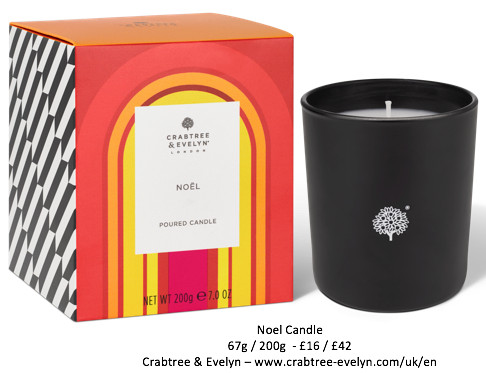 The Crabtree & Evelyn most loved candle is back on shelves for 2018 and most likely flying off again!
Ideal as a gift for family and friends, a perfect luxury stocking filler for a loved one,
or even treat yourself to the sought after annual limited edition candle.
Main notes: Mulled spices / Fraser Fir Spruce and the zest of citrus fruit
Burn Time: 200g – 40 hours / 67g 18 hours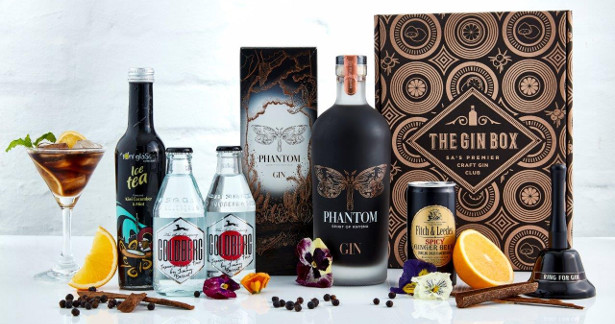 Eye spy with my little eye …
A mirror from Flying Tiger and a keyring from the National Theatre Bookshop that are so spectacular, they'll never leave your sight.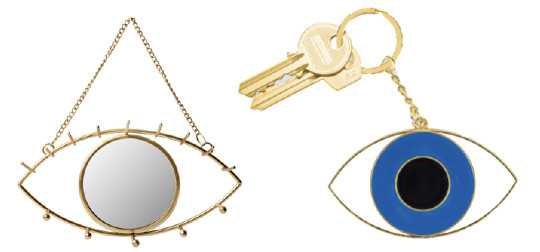 Love is definitely in the eye of the beholder of these wonderful gifts!
Eye Mirror – £4 – Flying Tiger Stores – uk.flyingtiger.com
•••
Large Eye Keyring – £10 – National Theatre Bookshop – shop.nationaltheatre.org.uk
(Sorry these jokes are so cornea…)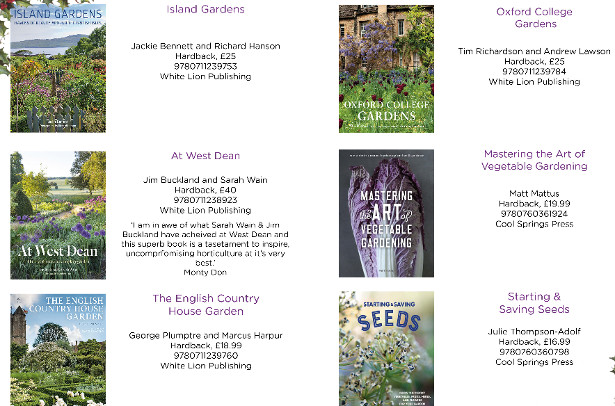 Perfect Christmas Gifts for Everyone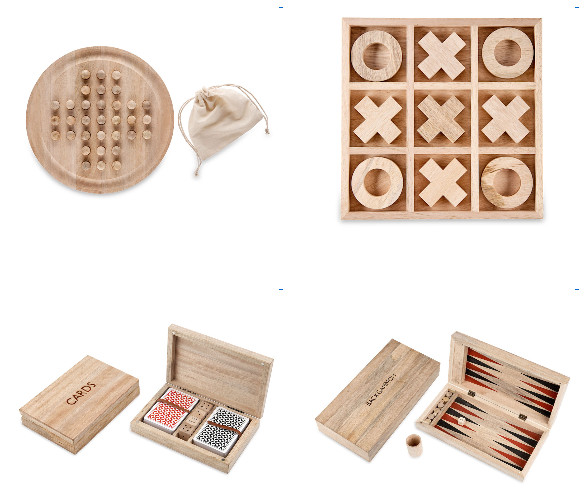 Whether it's a hard-to-buy for Dad or a fussy friend, Shimu have the answer to all your Christmas Shopping headaches!
For the game players…
Mango Wood Solitaire Board £34.95, Mango Wood Noughts & Crosses £34.95, Mango Wood Card & Dice Set £34.95, Mango Wood Backgammon £69.95
For the explorers…
Suede Photo Album £49.95, Savannah Leather Journals from £24.95, Kadira Leather Journals from £19.95, Timu Leather Journals from £29.95
For the home lovers…
Chara Hammered Bottles from £16.95, Kamba Fia Cushion Cover £39.95, Danta Antique Brass frame £16.95, Tabia Rustic Silver tealight holders from £5.95, Beme Brass Heart Pots from £18.95
For the budding home cooks…
Indigo Drop Serving Bowl £22.95, Artisan Bowls £9.95, Nalbari Pizza Boards from £39.95, Ida Moroccan Jug £19.95
For the shoppers…
Rattan Bag with Batik Lining £85.00, Bavisha Leather Bag £195.00, Hasani Moroccan Shoppers, Long Handles £39.95, Short Handles £36.95
For the ones who have everything…
Obra Industrial Wine Racks from £160.00, Buddha head on stone £85.00, Tribal Shell Necklace £225.00, Etched Calligraphy Brush £35.00, Stationery Box £395.00
CREATE WAVES FOR OCEAN CONSERVATION THROUGH YOUR CHRISTMAS SHOPPING
Support the Marine Megafauna Foundation's vital work with these great gifts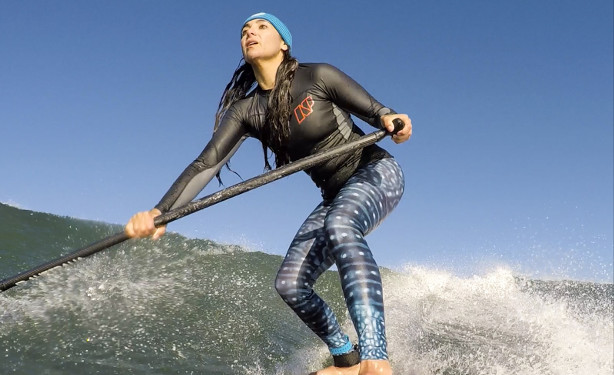 Here are six great gifts to suit all budgets that support the Marine Megafauna Foundation's vital work into the research and protection of our ocean's gentle giants.
CARRY THE WORLD WITH YOU WITH MERAKI BRACELETS
Meraki bracelets (from 25 USD) have 9 element beads and one smiley bead with the element beads collected from all around the world so you have a piece from every part of the world around your wrist. Blank beads are made from matte gray labradorite. A donation is made to MMF for every Ocean Conservation bracelet purchased.
BECOME A WHALE SHARK WARRIOR…WITH THESE RECYCLED LEGGINGS
These Waterlust Whale Shark Warrior Leggings (65 USD), with a print inspired by the largest fish in the sea, are the perfect gift for the active Waterluster. The pattern adorning the leggings is based on the whale shark's characteristic spots and stripes, which form an intricate pattern like a warrior painted for battle and are used by scientists to identify individual sharks. The leggings are made from 10 recycled post-consumer plastic bottles and 10% of profits will be used by MMF to fund satellite tags to track the movements of endangered whale sharks.
SAVE VULNERABLE MARINE LIFE WITH ECO-FRIENDLY BIKINIS
Help save vulnerable marine species by wearing the latest trend in swimwear with stunning MAGDAKINEDESIGNS' Isabela Top (84 USD) and Isabela Bottoms (70 USD). MAGDAKINEDESIGNS' pieces are created from high-end Italian fabric made with ECONYL® Fiber; a regenerated nylon made from recycled carpet fluff and abandoned fishing nets. Each purchase returns a four per cent donation to MMF.
GIVE LIGHT THROUGH YOUR YOGA PRACTICE
Use your yoga practice to help communities in Mozambique with Sahaja Yoga Mats: yoga mats that give back. Each Sahaja mat has a base made from natural tree rubber and an absorbent microfiber towel surface, made from recycled plastics, which combine to give the grip of a towel and support of a yoga mat. For each mat sold (prices start at 127 AUD), a solar light is donated to MMF who distribute the lights to the communities in Mozambique.
GIVE UNPRECEDENTED ACCESS TO THE LATEST CONSERVATION RESEARCH
Invest in whale shark science, education and conservation initiatives by donating to MMF's Patreon crowdfunding campaign (from 3 USD per month, tax deductible for US residents). Receive unprecedented access to MMF's whale shark team's work with private access to their latest findings before they're published, the opportunity to join researchers in the field via live streams and have priority access to join expeditions to iconic locations such as the Galapagos Islands and Komodo National Park. The highest level supporters ($199+ per month) will receive prestigious personal acknowledgement – if you're amenable – on the team's scientific publications.
BOOK THE HOLIDAY OF A LIFETIME
Join MMF's co-founder Andrea Marshall and her team of scientists in their vital conservation research on an MMF scuba diving expedition (from 3,280 USD). On this exciting expedition, divers will be able to explore the coast of Mozambique: one of the wildest and most breathtaking locations to encounter ocean giants like whale sharks, humpback whales and manta rays. Not only will guests have the unique opportunity to dive and interact with these graceful and inquisitive creatures, they will also gain in depth knowledge about the species and contribute to research by helping to collect ID photos of the animals they encounter.
MMF's vision is a world in which marine life and humans thrive together and we aspire to attain it by saving threatened marine life. The charity's target group is marine megafauna, which is vital to the delicate balance of the marine ecosystem. When ocean giants are protected, we also achieve an umbrella protection for a wide variety of marine species.
Unlock your creative side and bring your paintings to life with the 12 Acrylic Paint Set from Tate Shop.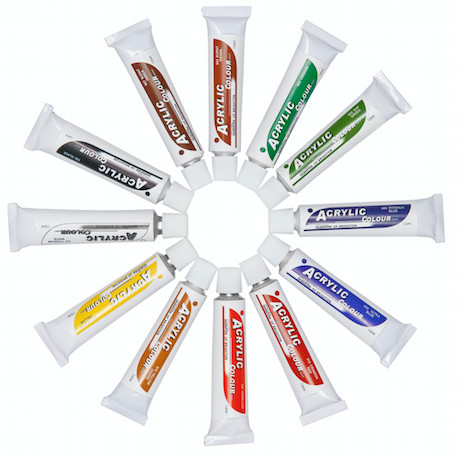 Perfect for beginners to artisans, these range of colours let you show off your skills to paper, canvas or card.
image.png
12 Acrylic Paint Set – £4
Tate Shop – shop.tate.org.uk
The Elho Christmas Edit 2018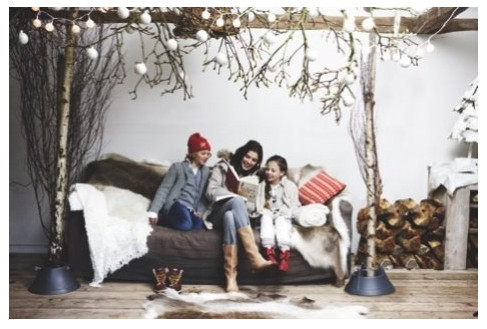 There's an Elho pot or planter to suit any taste, space or style. With so many beautiful colours, designs and sizes to choose from how do you find the perfect Elho gift? Christmas is a busy time, so to help out we've made a list of our top picks for that special someone who is…
…potty about Christmas trees
For Christmas tree purists a real tree must be perfectly showcased in a stunning pot. The Pure Straight Crystal is the luxury handcrafted option to complement any Christmas decoration style. Or introduce light into those long dark nights with a Pure Straight complete with dimmable LED light.
Both pots are suitable for indoor and outdoor use, so trees can be displayed outdoors or easily moved outside after twelfth night. Get both for real tree enthusiasts who have more than one tree at Christmas!
For those that prefer a cut tree, the Nordman and Oslo Christmas tree stands (pictured above) are quick and easy to set up. The built-in water reservoir will keep your tree looking fresh throughout the festive season and both stands are made out of 100% recycled material.
…potty about poinsettias
The poinsettia is just right for Christmas with bright red or pure white flowers and festive green foliage. No wonder so many poinsettia fans use them as Christmas ornaments. With the right care poinsettias can last for weeks so give this majestic beauty the home it deserves.
…potty about houseplants
A houseplant is for life, not just for Christmas but they do make great gifts! With new sizes this year, the b.for original is even more versatile than ever. Choose from trendy ochre, mulberry purple, classic white or warm grey. Or mix them up for added impact. Pair a b.for original with a colourful bromeliad for a modern alternative to the traditional poinsettia.
…potty about food
Whether it's a traditional roast or a vegetarian alternative, fresh herbs make all the difference to Christmas lunch. For maximum flavour, Brussels Herbs comes as a single planter or herbs station for multiple plants. Fill with rosemary for roasties, thyme for turkey or mint for mojitos!
…potty about sharing
It's all about Instagram so houseplants need to be picture perfect. Give your loved one something to proudly post about this Christmas day with photogenic cacti in a b.for diamond trio. Or a selection of trendy succulents in different sizes and colours of Brussels Round Mini. What's not to like?
Nordman Christmas Tree Stand
Diameter
Max tree height
Weight
RRP
39cm
52cm
3m
4m
1.5kg
2.1kg
£19.99
£30.99
Colours: green, anthracite
Oslo Christmas Tree Stand
Diameter
Max tree height
Weight
RRP
38cm
2m
1kg
£15.29
Colours: green, anthracite
Pure Straight Crystal
Diameter
Height
Litres
RRP
37cm-47cm
36cm-48cm
22ltr-60ltr
£55-£95
Colours: white, stone grey, anthracite
Pure Straight LED
Diameter
Height
Litres
RRP
45cm-60cm
63cm-80cm
14ltr-30ltr
£209-£315
Colours: transparent
Brussels Diamond Round
Diameter
Height
Litres
RRP
14cm-30cm
12.5cm-27.4cm
1.4ltr-14.3ltr
£3.49-£20.39
Colours: white, lovely red, metallic black, warm grey, oyster pearl, nude, shimmering copper, shimmering gold, velvet gold, velvet violet, velvet green, shimmering lilac, shimmering green
B.For Original Round
Diameter
Height
Litres
RRP
14cm-18cm
12.8cm-16.5cm
1.3ltr-2.9ltr
£2.99-£4.99
Colours: white, warm grey, ochre, peach, mulberry purple
New sizes for 2018/19: 7/9/13cm and 22/25/30/35cm
Brussels Herbs Single
Diameter
Height
Litres
RRP
12.5cm-15cm
13.2cm-15.9cm
1.1ltr-1.9ltr
£6.99-£8.09
Colours: white, leaf green, anthracite, nude
Brussels Herbs Station
Diameter
Height
Litres
RRP
29.8×18.5cm
13.3cm
2.8ltr
£11.29
Colours: white, leaf green, anthracite, nude
B.For Diamond Trio
Diameter
Height
Litres
RRP
17.2x6cm
5.8cm
0.4ltr
£2.69
Colours: white, metallic black, ochre, royal blue
Brussels Round Mini
Diameter
Height
Litres
RRP
7cm-12.5cm
6cm-11.4cm
0.1ltr-1.2ltr
£1.09-£2.39
Colours: white, anthracite, living black, soap, happy yellow, sunrise orange, new violet, lucky green, velvet gold
Elho pots and planters are widely stocked at all good garden centres, retailers and available online.
W: www.elho.com F: www.facebook.com/elho
Garmin Products For Wrapping This Christmas 2018

AUSTRALIA, Sydney: 28 September 2018: To make your life easier at this busy time of year – Garmin has simplified its extensive range into key products to highlight for Christmas 2018, which may be relevant for your publication's own Christmas Gift Guide.
These seven products are Vivomove HR, Vivofit Jr 2, Approach Z80, Dashcam, RV 775 MT-S, Vivoactive 3 and Fenix 5 Plus. Features summary below and see press release attached for additional table of colour range and recommended retail price. Retailer stockist list available here. To download images please head to the eckfactor Media Centre.
Adam Howarth GM Garmin Australasia said "Garmin has a product suited to everyone or any sport with a broad price range depending on the features. Guaranteed to delight, our extensive range showcases and leads the latest trends in music, contactless payment, heart rate monitoring and more. As we head into 2019, Garmin are proud to stay at the forefront of devices and applications designed for people who live an active lifestyle, and to highlight products that deserve to get wrapped this Christmas, and beyond".
Vivomove HR Newest Product for Fitness and Sports Enthusiasts – Him and Her!
Stylish Hybrid Smartwatch with hidden touchscreen display and real watch hands.
Stay connected with smart features such as music controls and smart notifications for incoming calls, text messages, calendar reminders and more
24/7 heart rate and wellness and advanced sleep monitoring including all-day stress tracking.
Displays steps, calories, distance, heart rate, intensity minutes and VO2 max. It can also gauge your fitness age, so with hard work and regular exercise over time – you can work toward a lower number.
Vivofit Jr 2 For Kids
Swim-friendly activity tracker to provide kids with an interactive experience to shape habits for lifelong health and fitness – tracks steps and sleep.
Themes to choose from include Spiderman, Disney Princess, Star Wars and more. Kid-tough adjustable band, customizable colour screen and 1+ year battery life.
Character themed games and stories unlocked by meeting 60-minute daily activity goals.
Syncs with free mobile app, which includes chore management and schedule alert tools for parents, so kids will see just how fun & rewarding household chores can be.
Sync with friends and family and invite them to compete in a friendly daily step challenge!
Vivoactive 3 Perfect Playmate for Sporty People that like to run/swim/cycle
Smartwatch with wrist-based heart rate and over 15 preloaded sports apps; for running, swimming, strength training, stand up paddle boarding and more. Use or create and download custom workouts.
Built-in GPS lets you accurately record outdoor activities.
Music – easily store up to 500 songs and connect with Bluetooth headphones for phone-free listening.
Garmin Pay™ lets you tap and go, so leave your cash and cards at home for that post-run café latte.
Customize with thousands of free watch faces, apps and widgets.
Monitor your fitness level with VO2 max and fitness age estimates, plus keep an eye on your stress.
Always Connected – receive and respond to text messages, see social media updates and emails.
Approach Z80 range finder For Golfers Wanting to Take Guesswork Out of Their Game
Compact Golf Laser Range Finder with GPS is the most accurate laser range finder available.
Most accurate laser distance measurements, within 10" to the flag, up to 320 meters
Full-color 2-D CourseView mapping is overlaid on the viewfinder for over 41,000 courses worldwide
Image stabilization reduces shakiness and makes it easier to find and range the flag
Green View feature automatically shows distance to the front and back of the green and PlaysLike Distance feature adjusts distances based on uphill or downhill slope; turns on/off for tournament play
Dashcam 65W Most Popular Product for Drivers
Compact, Discreet and easy to use GPS-enabled Dash Cam with an Extra-wide 180-degree View
High-quality 2.1 megapixel camera with 1080p video capture; works even in low-light conditions
Forward collision and lane departure warnings plus alerts for nearby red light and speed cameras
GPS-enabled with automatic Incident Detection (G-sensor) saves video footage on impact to show when and where events happened
Voice command allows you to start/stop audio recording, take a still picture or start/stop the Travelapse™ video capture feature
RV 775 MT-S For the Camping Enthusiast
Advanced Navigation with RV routing and road warnings help guide your RV or towable trailer
Use the Smartphone Link app to access live traffic, basic weather and more
Hands-free features include Bluetooth® calling, smart notifications and voice-activated navigation
Directory of RV Parks & Services; filter campground search results based on your preferred amenities
Built-in Wi-Fi® for easy Australia and New Zealand map and software updates when you're on the road; no computer needed
Fenix 5 Plus Top Of the Range for Extreme Sport and Outdoor Adventurers
Built for athletes and adventures of all sizes, this is the next generation of multisport watch.
Rugged, yet premium crafted watch boasting a bright, sunlight readable display built for tough environments.
Sought after features include built-in map data for at-a-glance navigation and location tracking, music playlists storage, Garmin Pay™ to tap and go a meal after a long day on the mountain, and wrist-based Pulse Ox acclimation for blood oxygen saturation awareness, useful in higher altitudes.
Trendline feature allows users to find and follow routes based on millions of kilometers logged by previous Garmin users, so runners feel more comfortable knowing the trail has been explored.
Always connected, Fenix 5Plus is also water rated to 100m, multi-network satellite reception, 7 day smart watch mode battery, it has you covered on your wildest adventure.
Bite size pieces of melt-in-your-mouth fudge with a Christmas kick!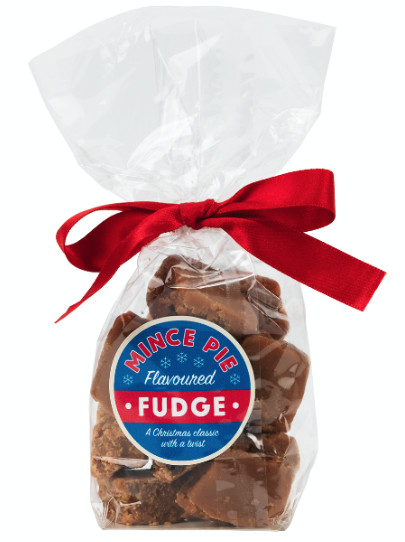 Delicately tied together with a scarlet red ribbon and a festive red and blue label adorned with snowflakes,
this dainty package is a great gift for fudge connoisseurs and sweet lovers alike.
Smaller than the merry mince pie, but packed with the same yuletide sweet and spice,
guaranteed everyone will want a bite!
image.png
Mince Pie Flavoured Fudge – £3.50
Imperial Warm Museums (IWM) Shop
www.iwmshop.org.uk
All proceeds of products purchased from IWM go back into supporting the museums.
You'll be rockin' around the Christmas Tree this December when you wake up to these reversible sequinned stocking fillers!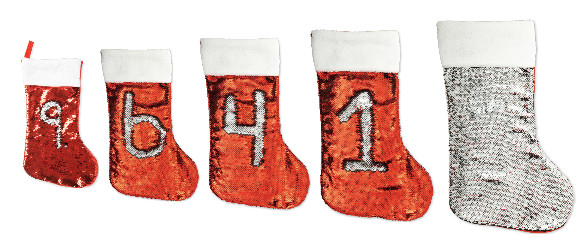 Get ready to spark up the Festive season and add some glam to your fireplace.
Your friends and family will be up to snow good trying to see what presents are hiding inside!
(Oh deer, no more Christmas puns!)
A Printed Wardrobe is a stunning collection of bespoke cut-and-sew couture kits for fashion lovers to stitch in the comfort of their own homes, to create eye-popping trompe l'oeil placement printed tops, skirts and dresses that are most definitely not available on the high street – and which will ensure you'll be the best dressed at any Christmas party. Created and designed by former Emilio Pucci, Caramel and Liberty of London fashion designer Louise Scott-Smith, womenswear kits start from £95, girlswear kits (available Jan'19) start from £65 and both are only available direct from http://aprintedwardrobe.com/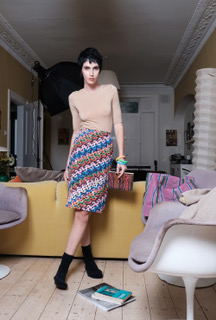 LEICESTER SQUARE – THE WEST END'S HOME OF ENTERTAINMENT – PRESENTS A PACKED PROGRAMME FOR CHRISTMAS
1st October 2018: Leicester Square, London's home of entertainment since 1670, will be buzzing this yuletide, with a sparkling programme of high energy entertainment and events. Special festive pop-ups, film premieres, new theatre shows and the BODY WORLDS museum experience will shine against a backdrop of star-shaped Christmas lights that spill out across the Square's gardens and surrounding streets.
Christmas Market
From November 9th 2018 to January 5th 2019, "Christmas in Leicester Square" will see the central gardens transformed into an exciting festive pop-up complete with a buzzing European-style Christmas Market featuring over 25 stalls plus, an exhilarating line up of shows all performed in a beautiful 1920's Belgian Spiegeltent.
Full details on what's happening in Leicester Square, including the yuletide shopping, eating and drinking options can be found at http://www.leicestersquare.london and to book tickets to the Christmas in Leicester Square Festival events www.christmasinleicestersquare.com
Theatrical entertainment
In Christmas in Leicester Square's Spiegeltent there will be comedy, cabaret and burlesque for the adults – this year's headliners are the hottest all-male "Boylesque" group with their Briefs: Close Encounters Show (9 November-3 January).
For families there's the all new Brat Kids Carnival- a high action circus-style show (selected dates from 10 November to 30 December) and The Showstoppers are back with their acclaimed Christmas Kids Show (selected dates 2-30 December) offering a totally improvised musical for the whole family. For little ones Monski Mouses's baby disco (17-19 December) will get parents and kids dancing to some festive classics and, for a post-Christmas treat (2-5 January), there's the delightfully funny Shakepearience, which introduces families to some of the Bard's best works.
For lovers of live theatre and comedy, the festive Pinter at Pinter season at the Harold Pinter Theatre includes a who's who of British acting favourites and there will also be plenty of Christmas sparkle at the Hippodrome's new Magic Mike show, with Channing Tatum taking the lead. There's also laughs galore at the birthplace of London's stand-up scene, The Comedy Store.
Father Christmas x3
There's not one, but three chances to see Father Christmas in various guises this year. He'll be making himself at home in the Square with his own North Pole experience, open daily from 10 November until Christmas Eve.
Also, throughout December nearby in the fifth floor boardroom of the iconic Fortnum & Mason store he will be telling a yuletide story like no other as well as handing out goody bags and listening to last-minute present requests. The man in red will also be welcoming children in depths of Rainforest at the Rainforest Café every weekend from 10 November and daily from 3rd December to Christmas eve, visits include a grotto goody bag and two course meal and a drink in the restaurant.
Christmas Blockbusters
Christmas isn't Christmas without a feel good film and the Odeon's new flagship cinema will be the place to go this festive season to catch the latest big screen releases. Or, for a more interactive experience, Cineworld's IMAX or 4DX cinemas will be showing films including Fantastic Beast: The Crimes of Grindelwald, Mortal Engines and Aquaman? And art-house fans can catch the latest offerings at Picturehouse Central, which is also featuring a special Christmas classic programme of events.
Body Worlds' Museum Experience – new visitor attraction
To check how the body copes with Christmas excesses, open throughout the festive period including Christmas Day, the world renowned BODY WORLDS' museum experience is a must visit. Housed at 1 Piccadilly Circus, the new permanent collection of Dr Gunther von Hagens' renowned exhibition of real human bodies has been especially curated for London and will enable visitors to journey through the human body and discover the magic and mysteries that lie underneath the skin.
As well as providing fascinating insight into the inner workings of the human body and showing the effects that daily lifestyle choices have on health – the exhibition is also designed to stimulate curiosity about the science of anatomy and physiology. Adult prices from £24.50. For more information visit: https://bodyworlds.co.uk
BabyBoo just launched their new SnuggleBoo Sleepsuits.

Offering almost 130 bibs, BabyBoo also offers newborn swaddles, baby hats, Snuggleboo sleeping bags with detachable sleeves, organic cotton robes and beautifully soft 100% organic cotton blankets.
BabyBoo.ie

What's red, blue and worn all over?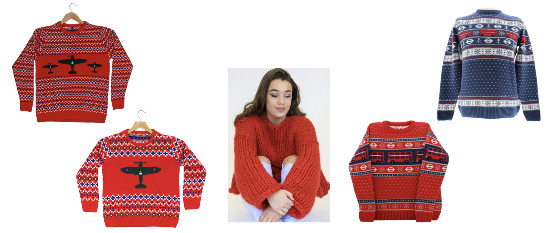 Your favourite jumper from Wool Couture, the Imperial War Museum and the London Transport Museum Shop! Just in time for Christmas Jumper Day!
Forget about the turkey, only YOU will be the centre of attention this Christmas.
Imperial War Museums Shop
www.iwmshop.org
1. Adults Spitfire Christmas Jumper – £35
2. Kids Spitfire Christmas Jumper – £25
Wool Couture
www.woolcouturecompany.com
3. NY Sweater DIY Knitting Kit – £59.99
London Transport Museum Shop
www.ltmuseumshop.co.uk
4. London Transport Museum Christmas Jumper Adult – £35
5. London Transport Museum Christmas Jumper Kid – £25
Konditor & Cook's Christmas hamper, part of this year's Christmas collection: Starry Starry Night.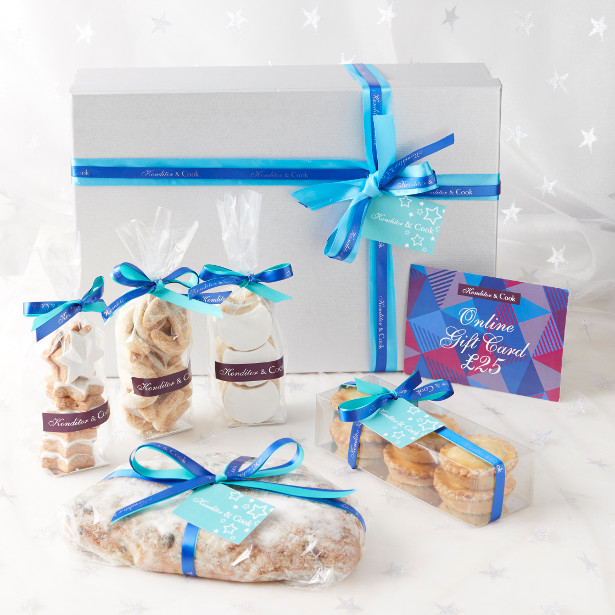 Included in the hamper are classic Christmas goodies, including German treats such as Stollen and Kipferl, as well as their award-winning Mince Pies which are regularly voted the best in the UK! Topping it all off are Lemon Moons, Cinnamon Stars and a £25 Konditor & Cook online gift card.
Shake up your dinner parties with the leopard designed kitchen accessories from the National Theatre Bookshop.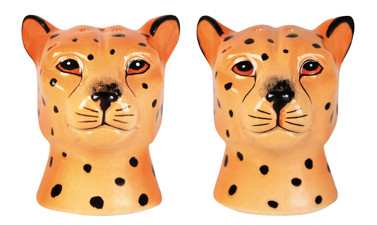 With the fabulously fierce salt and pepper shakers, add an exotic dash of animal to your dinners
& up your table-display next time it's your turn to host.
Countryside apparel brand Lucan, created by Anne-Sophie, countess of Lucan.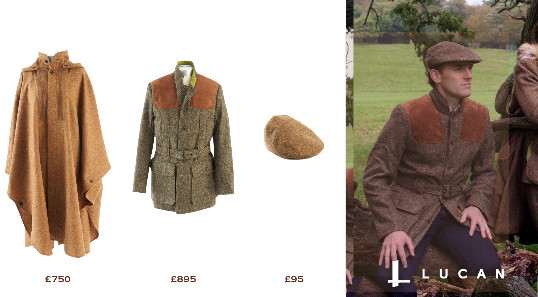 Founded by Anne-Sofie Lucan, the Danish-born Countess of Lucan and a professional 'gun', the Lucan collection is heritage-referencing and forward-thinking, exclusively designed for the independent man or woman whose style exceeds that of the ordinary.
As rugby tends to be a little muddy and mostly in the countryside, perhaps the cape, the vest and the cap might be interesting items for your audience (post rugby on the way to the pub)?
Dangerous Experiments For After Dinner
From sabring a champagne bottle to removing a cork with a shoe, Dangerous Experiments For After Dinner will add a little post-prandial magic to any dinner-party or get-together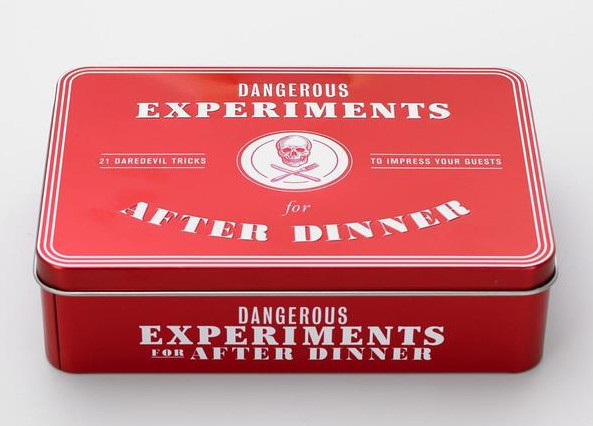 Bored of the same old chitchat? Spice up your soirées, impress your guests and embarrass your brother-in-law with these hilarious, and sometimes dangerous, after-dinner illusions and challenges.
A collaboration between legendary design consultancy Pentagram and celebrated graphic designer Angus Hyland, Dangerous Experiments comprises 21 handsomely illustrated cards presented in a beautiful cardboard sleeved gift tin.
Based on traditional tricks and games, each card has a unique daredevil challenge guaranteed to wow your guests, along with step-by-step instructions and explanations of the science behind each. Turn water into whisky, hammer a needle through a coin and hang draw and quarter a rogue dessert… and prepare to be amazed!
A word of warning though – you'll also need a pair of tongs and some sort of receptacle to pick up all the jaws littering the carpet.
Dangerous Experiments For After Dinner cost £14.99 from The Fowndry.com
Banana Boxers
Unique, quirky and fun printed boxer shorts, each pair lovingly made without compromising on quality or style, offering enough choice to tantalise the seemingly straight laced as well as the exquisitely eccentric.
New prints include the Zebras, Turtles, Chillies and a whole new range of stripes. Please see further information and link to imagery in the release attached. All products are displayed on www.bananaboxers.com.

Hey Santa! Let Santa Know Where You Sleep!
www.heysanta.co.uk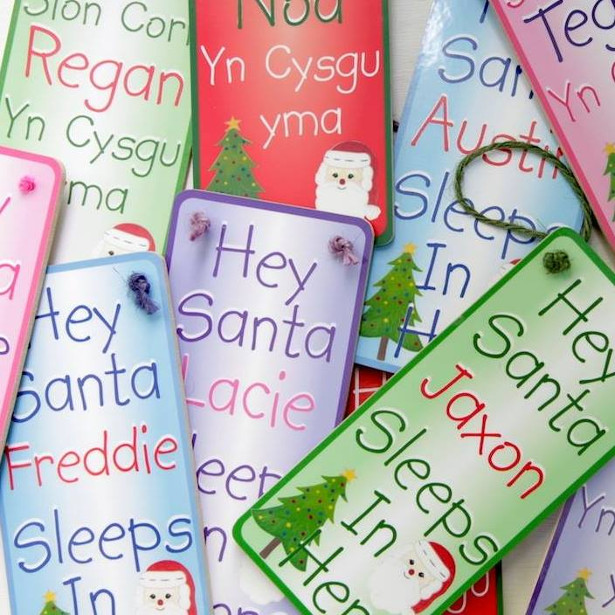 Hey Santa and the magic rainbow wave technology
In the top secret Hey Santa work shop hidden away somewhere in Swansea, Wales, the Hey Santa Christmas elves have been elf'ing away making sure every child will be found by Santa this year. Santa usually does a pretty job on the big night but last time we spoke he mentioned that he could do with a little help from his friends. So here at Hey Santa we set our smartest and brightest elves the challenge, make Santa's job easier. You know what? We think we cracked it.
Introducing our 'Magic Rainbow Wave Starlight Tracking Technology!'
Its a simple idea and works beautifully, let me explain. When hung on a child's bedroom door each Hey Santa plaque sends out its own unique safe and invisible rainbow wave. As we know from science reindeers noses naturally picks up rainbow waves and this makes Rudolf's big red nose perfect for picking up on these signals to guide Santa. Our workshop elves also ensure that when they magic on your individual name to your Hey Santa plaque they also attach a rainbow wave unique to you *
So enjoy a good night sleep my friends and rest easy safe in the knowledge that Santa will know where to find you.
Andrew x
C.E.O (Chief Elf Officer) at HeySanta.co.uk
*please note this is totally made up and doesn't exist… sorry, I know I wish it did too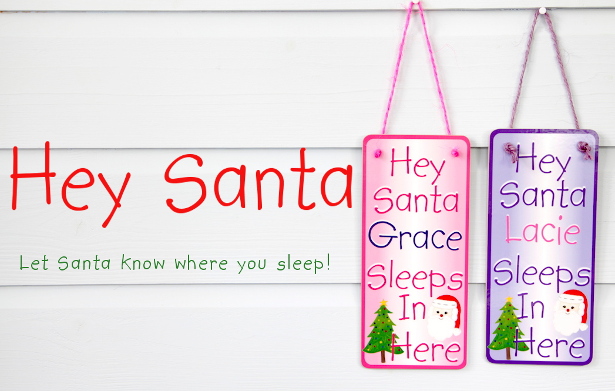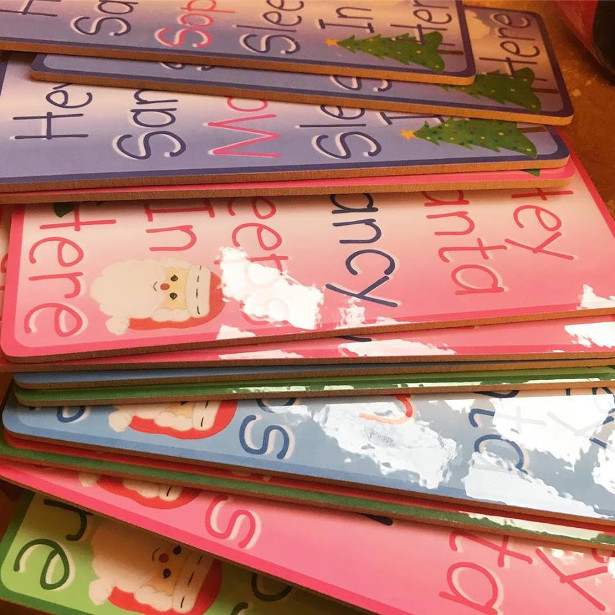 Try Out A Traditional Danish Advent Calendar From Flying Tiger Copenhagen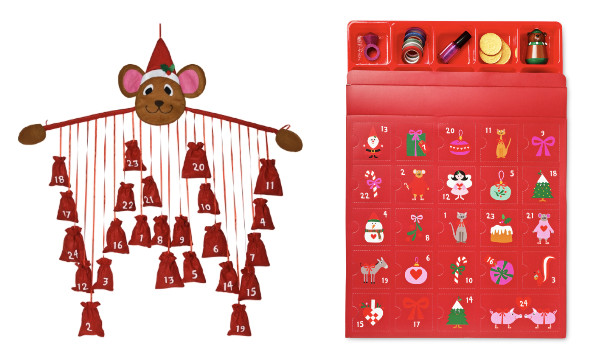 Perfectly personal, the Danish version of an Advent Calendar, 'Pakkekalender', will give your Christmas countdown a whole new twist.
Pronounced pack-eh-calendar, this fun Christmas tradition involves choosing and wrapping 24 mini presents, one to open each day in the lead-up to December 24th.
With Flying Tiger Copenhagen's range of unique and affordable gifts, you can create an exciting countdown for your loved ones with things you know they'll adore. From small toys to stationery and more, starting from £1.
The best part? Well it's just as fun creating a Pakkekalender, as it is receiving one. The Danes find new and fabulous ways of displaying them, and a simple 'Google search' will show you all the amazing ways Pakkekalenders have been created in the past.
Flying Tiger Copenhagen also have some ready-made Pakkekalender designs in store, all set for you to pop in your gift selection.
So this Christmas, why not try a change from a classic chocolate Advent calendar and bring some Danish delight to your December?
Available at Flying Tiger Copenhagen stores nationwide
uk.flyingtiger.com
Being ordered to face the atrocities of war, and live life among the trenches, young soldiers were forced to replace their dreams and aspirations with a helmet and gun.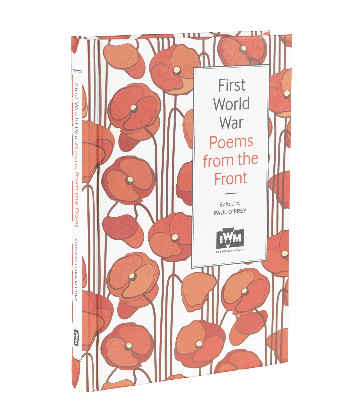 Many highly literate, they turned to poetry to express their experiences and write about the sights they saw.
These poems still resonate today and give us a first-hand insight into life through the eyes of a soldier.
This anthology from Imperial War Museums (IWM) shop, features poems from world-famous poets Wilfred Owen, Siegfried Sassoon and Rupert Brooke.
Let their voices be heard and echo through our thoughts this National Poetry Day 4th October.
First World War Poems From The Front – £9.99 – Imperial War Museum Shop – www.iwmshop.org.uk (1)_DiskStation_Sep-21-0907-2018_CaseConflict.jpg
First World War Poems From The Front – £9.99
Imperial War Museum (IWM) shop
www.iwmshop.org.uk
IWM (Imperial War Museums) tells the story of people who have lived, fought and died in conflicts involving Britain and the Commonwealth since the First World War.
Every purchase from the IWM shop helps support the work of the museum, ensuring that these stories are kept for future generations.
Get creative and design your own family of six Russian nesting dolls.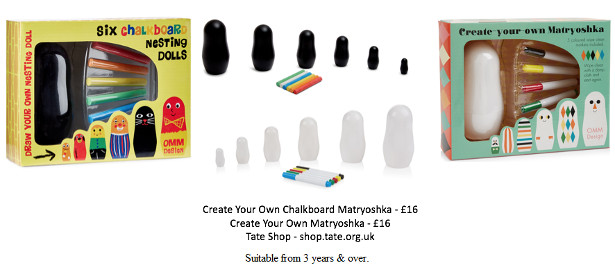 The most loved Matryoshka set available from Tate Shop has been redesigned this year with a Chalkboard effect.
With the tallest doll reaching 12cm, bring out your chalks or wipe clean coloured markers and create your very own masterpiece.
If your designs don't go to plan or you want to mix it up, wipe clean with a damp cloth and start all over again.
Christmas Ideas from Cluck Cluck!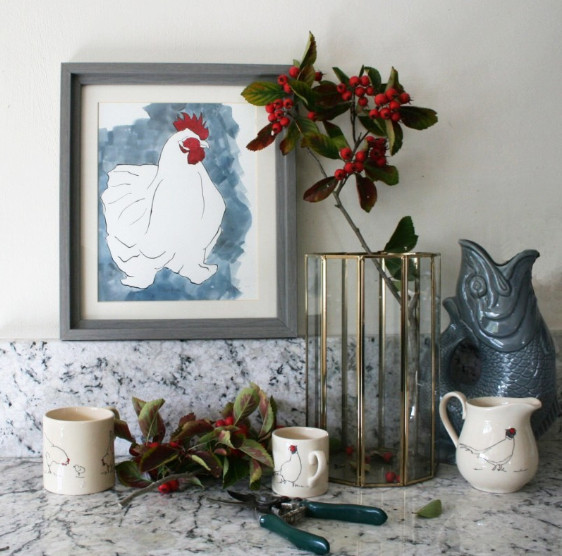 Christmas from Cluck Cluck! this year brings robins, runner ducks and colourful original framed watercolours in a range of hen breeds
and new sets of tin notelets now available in Cockerel, pheasant and ducks.
Our popular colouring book with feathers is back with a Robin cover to match the tea towel and our classic Christmas card.
Fabulous tech gift ideas from Kodak
Great news… the full kodak photography and imaging range of products are now available in the UK.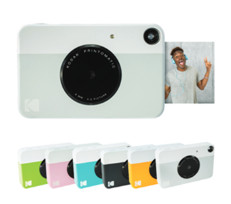 A selection of fabulous and fun tech products from cameras to projectors, perfect for any Christmas gift guide. Compatible with android and IOS, all at competitive prices, and available for the first time in the UK at Currys and Very.co.uk.
The KODAK PRINTOMATIC Instant Print Camera – now available in millennial pink, blue, bright green and black as well as the original colours KODAK yellow and grey – is a stylish point-and-shoot camera that instantly prints high-quality, full-colour photos right from the camera. The ideal all-in-one solution for capturing and sharing beautiful, vibrant prints instantly, the 10 mega-pixel PRINTOMATIC Camera combines the nostalgia of analogue photography with the convenience of ZINK® Zero Ink®️Printing Technology. Without a computer connection or Wi-Fi, the KODAK PRINTOMATIC Camera instantly prints out 2"x3" photos on ZINK heat-activated paper – no ink cartridges, toner or film needed. Photo prints are durable, water and tear-resistant with an adhesive back, making this camera a great addition to any event or special occasion, and a perfect solution for avid scrapbookers. Fun, fast and easy to use, the compact and fashionable KODAK PRINTOMATIC Camera is ready for on-the-go action.
RRP £89.99
UK Stockist – Currys / Very.co.uk
The KODAK Mini Shot Instant-Print Camera combines point, shoot and print simplicity with digital conveniences like colour controls and BLUETOOTH connectivity. Photos (2.1"x3.4") can be instantly shared with friends and family in the moment as well as digitally shared across social media platforms.
Images can be printed from the camera itself or wirelessly from one's mobile device using the complimentary KODAK Mini Shot App, which includes editing and enhancement features – making it an all-in-one photo printing solution.
RRP £99.99
UK Stockist – Currys / Very.co.uk
Like the Mini Shot, the incredibly easy-to-use KODAK Mini 2 Instant Photo Printer also supports iOS devices via Bluetooth and Android devices via Bluetooth or NFC One Touch – no cables or wires necessary – to print smudge-resistant 2.1"x3.4" photos in vibrant colour or classic black and white. The maintenance-free ink cartridge packs photo paper and ink all in one, so printing takes less than a minute and reloading the cartridge is super simple. With the free KODAK Mini Shot companion app, users can access photos from their phone's camera roll, social media platforms, Google images, or even video screen grabs.
RRP £89.99
UK Stockist – Currys / Very.co.uk
The KODAK Photo Printer Dock prints stunning 4"x6" photos via a Wi-Fi or USB connection, supporting ANDROID and iOS devices as well as digital cameras. With the KODAK Printer Dock App, users can quickly and easily edit and enhance photos, adding filters, stickers and more.
RRP £129.99
UK Stockist – Currys / Very.co.uk
The KODAK SCANZA Digital Film Scanner scans and saves 35mm, 126, 110, Super 8 and 8mm film negatives and slides to a computer via SD card. Film is scanned in 14/22-megapixel resolution using convenient easy-loading film and negative adapters and inserts. With the video-out function, users can connect to a TV to showcase their film images. Adjustable scanning resolution, brightness and colouration give film owners the control to enhance film and give it new life.
RRP £149.99
UK Stockist – Currys / Very.co.uk
KODAK Pocket Portable Projector RRP £179.99
UK Stockist – Currys / Very.co.uk
KODAK Pocket Pico Projector RRP £229.99
KODAK Pocket Pico Wireless Projector RRP £249.99
UK Stockist – Currys / Very.co.uk
Kodak's mini projectors put the power of a home theater in the palm of your hand. Offering three different models – the KODAK Pocket Portable Projector, KODAK Pocket Pico Projector, and KODAK Pocket Wireless Pico Projector – each can connect with a compatible mobile device or computer using HDMI® cable for seamless screen mirroring via beautiful DLP®️,or Digital Light Processing, display technology.
All three projectors include a built-in rechargeable battery, eliminating the need for wires, and feature MicroSD™ compatibility. With any of the three KODAK Projectors, users can listen to content using the built-in speakers, while a 3.5mm audio jack means users can take the sound up a notch by plugging in an external speaker or keep things quiet by plugging in their personal headphones.
The KODAK Pocket Wireless Pico Projector can wirelessly connect to any compatible mobile device for seamless screen mirroring over a private device-enabled Wi-Fi connection.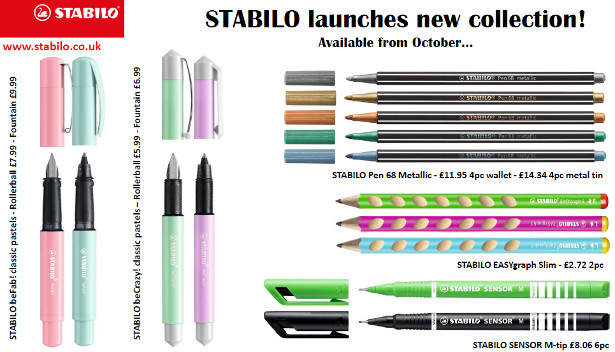 A Perfect Match For Your Chai Tea & Seasonal Lattes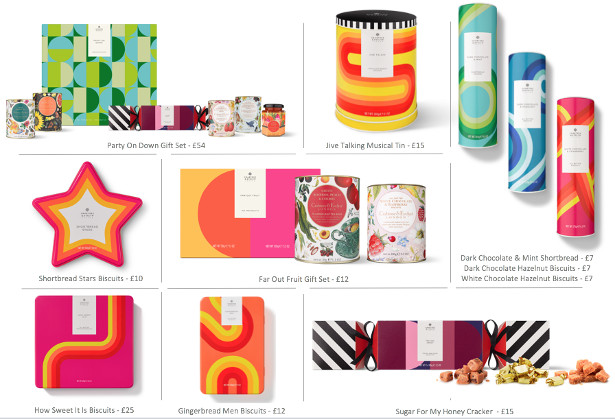 With festive drinks soon being the joy of chilly evenings, keep warm and complement your tea time with a selection of seasonal treats from Crabtree & Evelyn.
From Jive Talking Musical Tins to Shortbread Star Biscuits
indulge this Christmas with Crabtree & Evelyn.
Available from Crabtree & Evelyn
www.crabtree-evelyn.com/uk/en
A CHRISTMAS GIFT TO GROW WITH YOUR LITTLE ONE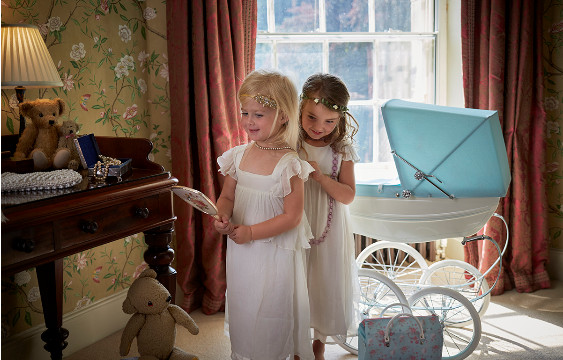 Divine Doll's Prams from Silver Cross
Special Edition Sweet Pea Doll's Pram – £400
Make your little one's Christmas wish come true with an exquisitely elegant Silver Cross Doll's Pram.
Choose from the prettiest of pinks, soft shimmering teal with floral lining or the classic and iconic navy and white – whatever you opt for, it's certainly that special gift for Christmas that will grow with your little one.
And, with highly polished chrome-spoked wheels and the famous Silver Cross C-Spring suspension, it's the perfect ride for your little one's favourite doll!
A timeless classic, handmade for over 140 years by skilled craftsmen and women in Yorkshire, England – ensuring every pram has the special Silver Cross hallmark of quality, beauty and attention to detail.
A truly classic keepsake to pass down from generation to generation.
www.silvercrossbaby.com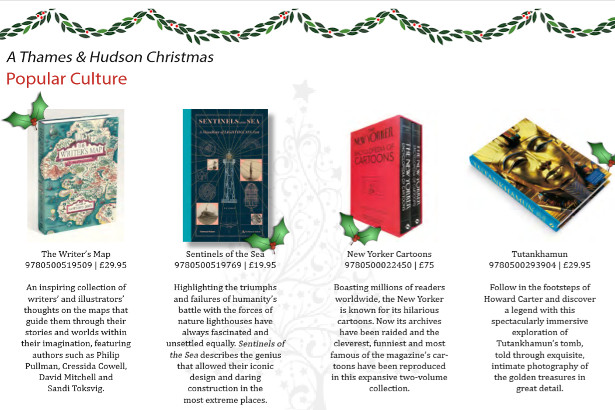 Glitter & Dazzle Like A Unicorn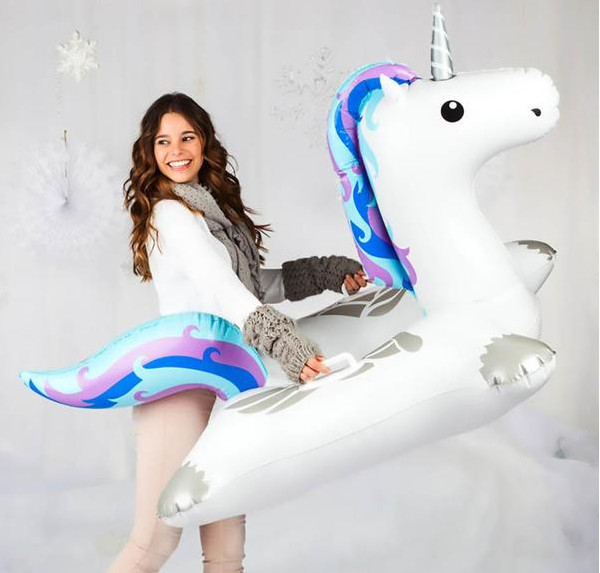 Full of colour, full of mystery but guaranteed to make you happy, these colourful Unicorn inspired gifts are set to take over this Christmas, here is our top 10!
Winter Unicorn Snow Tubes £27.99 from The Fowndry
This sledge is 5 feet long and all you need is snow and plenty go sleighing in real style.
Unicorn Mini Vantity Tool £16.00 from Freemans
Looking effortlessly good takes effort you know. Make sure you are always well groomed thanks to this mini beauty kit. Housed in a super-cute unicorn case – the kit contains five essential tools for great looking nails and more.
Magical Unicorn Light Up LED Slippers £19.99 from The Fowndry
Set your sparkle in motion and shimmy across the shag pile in a pair of magical, carpet-riding LED Unicorn Slippers.
Unicorn Stress Ball £3.00 from The Works
When your boss is breathing down your neck, pop out this stress ball and think of the rainbow. You'll calm down or they will think you're crazy, either way big boss will leave you alone.
Unicorn Snot £8.99 from The Fowndry
Lightly scented and non-toxic, this body glitter gel is great for running through your hair or slathering generously about your person before a party or night out. Guaranteed to make you sparkle from within, repel woodland sprites and/or catch the eye of that handsome centaur, Unicorn Snot glitter gel is the stuff no fairy tale princess or post-modern raver should be without.
Unicorn Egg Cup & Toaster £9.99 from Very
Forget egg and soldiers – we want unicorn and stars. Add some magic to your eggy breakfast, lunch or supper with this Unicorn Egg Cup and Toast Cutter.
Melting Rainbow Unicorn Candle £13.99 from The Fowndry
This magical candle makes a great gift for her. And since it will burn for around 20 hours, they'll have plenty of time to contemplate the mysteries of this whimsical creature, as it dissolves in a spellbinding kaleidoscope of scintillating colour.
Talk Back Unicorn £19.99 from Studio
Did you know that parrots aren't the only animals that can talk back? Unicorns can too. Honestly. Chat to this gorgeous cuddly unicorn and listen as she repeats your sentence back to you. Awesome.
Unicorn Zip N Flip Travel Pillow £39.99 from The Fowndry
Hurrah then for the Zip N Flip; more than just a soft toy, it's like some soporific supernatural cut 'n' shut – because hidden inside its playful plush exterior is a handy multi-coloured travel cushion that'll have your noggin noddin' in no time.
Colour Changing Unicorn Mug £9.99 from IWOOT
This majestic mug changes colour when you add your favourite hot drink, making your afternoon cuppa even more enjoyable. Ah, Bliss.
Uber-Unique, Ultra-Stylish Meets G & Tea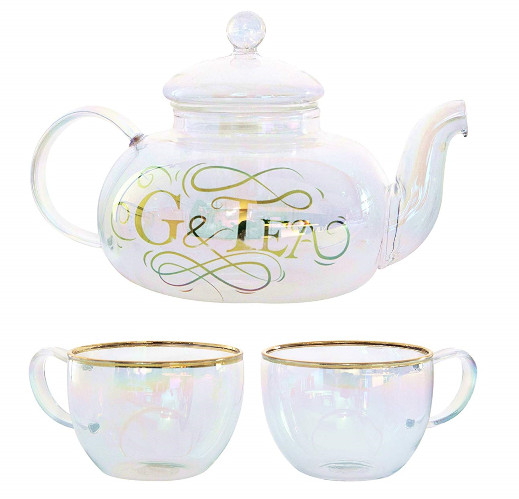 The Root 7 G & Tea set is a fun, stylish and uber-unique way to mix and serve a cocktail for two. With a spectacularly chic design it's ideal for master mixologists and fashionista's
The set is made of high-quality rainbow tinted borosilicate glass with a shimmering gold pattern, which enhances and table setting and balances beautifully with your lighting.
The teapot comes with a filter basket keeping fruity lumps and pips out of the tea cups. If gin isn't your cup of tea, then it can be used with real tea, so little fingers up and drink in class. It's also perfect for any other cocktail and certain to be the centrepiece of any gathering.
The Root7 G & Tea Set costs £30 from Root7.com
Blenheim Forge who make the world's finest kitchen knives.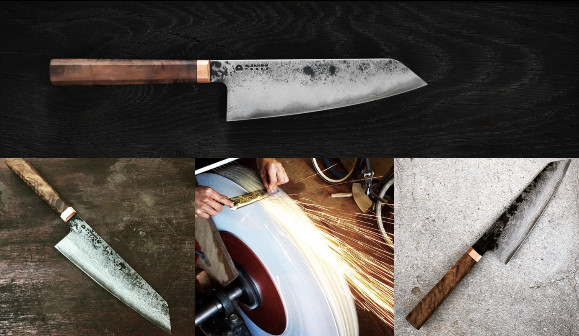 Blenheim Forge is a London business that creates the most beautiful kitchen knives, and which make the perfect gift for anyone who is a fan of cooking. Every knife is hand-made in Peckham and even Francis Mallmann has a set!
Their signature santoku is their most versatile and popular knife due to the fact that it can be used for almost any task.
The santoku is priced at £240 and can be found online here: http://www.blenheimforge.co.uk/knives-shop/new-santoku
Distinctive Flavour, Unique, Cadello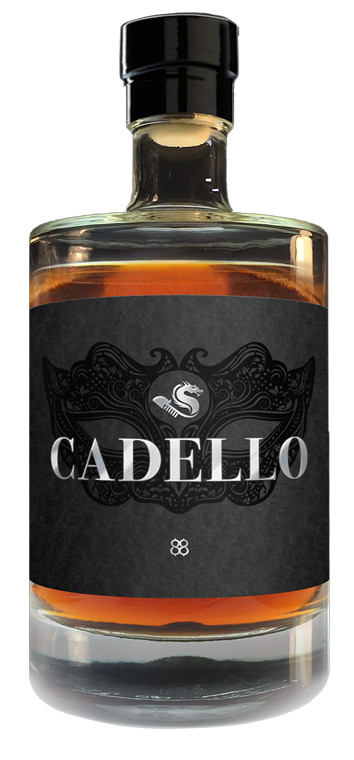 With an Asian and Italian heritage, a smooth recipe that took more than three years to develop and the inspiration that arose from Venetian masked balls, we bring you, Cadello. A brand unlike any other that you have seen before as its premium drink claims to define a category of its own.
Cadello serves up a spirit as magnificent as the wealthy merchants of Venice and masked balls that came to be the inspiration behind this brand. Providing a distinct and singular experience, this drink is crafted with eight carefully selected ingredients which unveil flavours of coffee, chocolate, star anise and vanilla, with hints of caramel, hazelnut, mint and toffee. The ingredients are infused in grain alcohol and then distilled separately, before being carefully blended into French Oak barrels with coffee beans, to age into a spirit that encapsulates the perfect depth, complexity and smoothness.
Cadello is perfectly smooth and can be simply enjoyed on its own to allow a full sensory experience of the flavours mentioned above. A drink that is pleasing at any time of the day, Cadello works well as an aperitivo, digestivo and a delicious addition to any cocktail. Fashioned by top bartenders around the globe.
Why not try the Cadellotini? Cadello's very own spin on the much-loved Martini. This cocktail was created by Goethe Bar in Zurich and includes Cadello, Vodka, Frangelico, Cherry Liqueur and Espresso. If that's not to your tastes, then why not combine Cadello with fresh lemon juice, Tio Pepe Dry Sherry Fino and Ginger Syrup to create the Fizzy Fiddler. A cocktail created by award-winning bartender Chloé Merz-Salyer.
Cadello is available from Honest Grapes for £30. For more information visit Cadello
Celebrations® has Christmas all wrapped up
First ever Celebrations® Advent Calendar is launched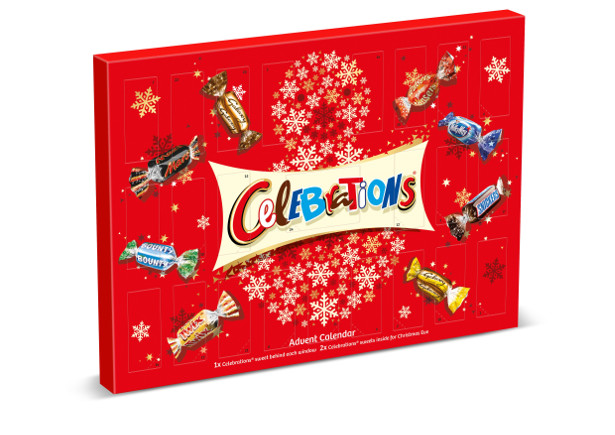 The most special time of the year just got a bit more exciting. The nation's festive favourite Celebrations® has launched its first ever advent calendar so that you can celebrate every day in the lead up to Christmas.
Laura Edwards, Celebrations® Senior Brand Manager, Mars Wrigley Confectionery UK, said: "Celebrations® is synonymous with Christmas and so it's only right we introduce a Celebrations® Advent Calendar so people can feel the festive spirit throughout the Christmas countdown. A Celebrations® Advent Calendar offers a mix of everyone's favourites but you'll have to wait to find out what's behind door 25!"
The Celebrations® Advent Calendar will contain an individual Celebrations® behind each door. The calendar is due to hit stores in November and has a RRP of £2.79.
Can't get away to an exotic yoga retreat this Winter?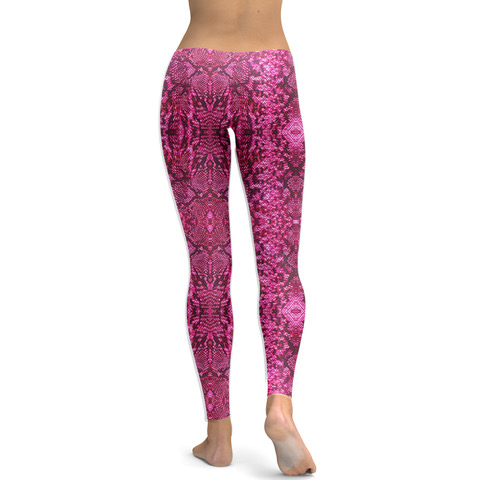 Blossom Yoga Wears newest styles will make you feel like you are in a tropical paradise without the expensive airfare and jet lag!
Known for their gorgeous range of yoga wear with fabulous prints, Blossom Yoga Wears colourful leggings will brighten up even the darkest Winter day with their exclusive 3 new styles:
Snake Hips – Inspired by a love of animal prints, why not slither into these mesmerising snake hip leggings this Winter? Available in shades of vibrant pink and deep blue, these intricately designed leggings merge the classic snake skin design with geometric shapes capturing the beauty of the animal kingdom perfectly.
Dusk till Dawn -There's nothing quite like watching the sun go down after a perfect Summer's day. Keep that feeling alive with these stunning leggings showcasing delicate hues of aquamarine, turquoise and sunset yellow. Perfect for those chilly winter days when you need a little pick me up!
Horizen -You don't need to be near the beach to enjoy a stunning sunset with these vibrant leggings bursting with colour. Inspired by the ever changing sky and it's cacophony of colours, these leggings will take you from sunrise to sundown in style.
For more information please visit http://www.blossomyogawear.com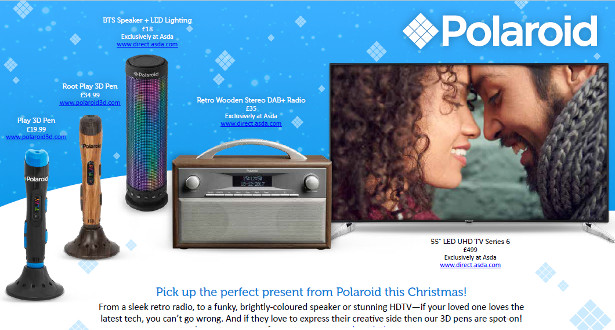 Missing Icons: Zidane, Beckham and Beckenbauer absent from FIFA 19
– 3-time World Player of the Year Zidane missing from Ultimate Team again
– World Cup winners Romario, Cafu and Klinsmann absent from Icons
-Legends Di Stefano, Beckenbauer and Puskas all FUT 19 omissions
-Two new infographics reveal iconic starting line-ups and bespoke Icon cards
FIFA 19 game is missing some of the most iconic players of all time, including Zinedine Zidane, David Beckham and Franz Beckenbauer.
Every year, the EA franchise features a number of FUT Icons who can participate in Ultimate Team – enabling gamers to build their all-time dream team.
However, while the newest game sees icons such as Johan Cruyff, Rivaldo and Steven Gerrard join existing legends such as Pele and Maradona, there are some glaring emissions.
Three-time FIFA World Player of the year Zinedine Zidane is once again absent, as well as cultural icon David Beckham, recently retired idols such as Francesco Totti and Philip Lahm, and Brazilian superstars Romario and Cafu.
And while the game includes old school legends such as Bobby Moore and Lev Yashin, other legendary players have also been omitted, including Franz Beckenbauer, Alfredo Di Stefano and Ferenc Puskas – all of whom are frequently near the top of all-time great lists.
There are so many omissions that FreeSuperTips has put together not one but TWO team line-ups of missing players – one containing classic players from decades past and another with more a modern line-up of recently retired stars.
The line-up includes bespoke FIFA Icon cards for each player to imagine what they would have looked like in the game – and may do if they are eventually included in FIFA 20.
The two line-ups are as follows:
-Gordon Banks
-Franz Beckenbauer
-Carlos Alberto
-Giacinto Facchetti
-John Charles
-Stanley Matthews
-Garrincha
-Zico
-Kenny Dalglish
-Ferenc Puskas
-Alfredo Di Stefano
-Oliver Kahn
-Philipp Lahm
-Cafu
-Alessandro Costacurta
-Lilian Thuram
-Ronald Koeman
-David Beckham
-Francesco Totti
-Zinedine Zidane
-Jurgen Klinsmann
-Romario
Full team line-ups and Icon cards are located at https://www.freesupertips.co.uk/missing-icons-zidane-beckham-beckenbauer-absent-fifa-19/.
Photo Book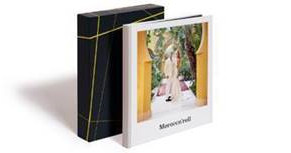 Show your parents you've appreciated everything they've done for you over the years with a personalised Photo Book. Available in two sizes and with up to 160 pages, Photo Books let you fill each glossy page with as many of your favourite snaps as you like, all printed in high-quality ink. With Christmas being one of the busiest times of year, you can also cut your shopping time in half with Photobox's ready-made layouts, or enjoy creating your very own story from scratch. So, whether you're documenting your love story with your fiancé, or showing off all your best family holiday moments, make sure you spoil the person who has been by your side through it all.
Price: From £34.95 for A4 and £49.95 for A3
Mugs
Upgrade their Christmas morning eggnog with a Photobox mug. Simply upload your favourite pictures to one of eight different mug styles using the ready-made layouts for the perfect stocking filler or Secret Santa gift! Feeling creative? Pop on a festive playlist and enjoy spending time customising your own design with pictures and text for a truly personalised present.
Price: From £8.95
Calendars and diaries
Kick off their 2019 the right way with a personalised calendar or diary. Pick your start date and fill the pages with the people, places and things they love the most. Printed on professional paper with high-quality inks, there's a calendar to suit everyone – from the Desk Calendars to brighten your partner's office, Slim Calendars for your minimalist sister and the A3 Super-Size to display your daughter's favourite Instagram shots. Why not add Photo Days to your calendar? It lets you add those photos of your dog in seasonal costumes, plus text, to any day of the month – a thoughtful touch to show you know the dates that mean the most to them.
Price: From £9.95
Canvases
Life is filled with precious moments. Capture the day your mum became a grandma or your favourite family selfie and eternalise it on a canvas this festive season. Printed on high-quality canvas, complete with a hanging kit, Photobox canvases come in 14 sizes, three different shapes and two thicknesses.
Price: From £17.95
Scratch & Go
Do you remember being 21? Can you remember what you did to celebrate your 21st? Well this fabulous 21 at 21 Scratch It Poster gives the lucky birthday recipient a gift of twenty-one fun things to do. This fun scratch off poster contains 21 challenges, all they must do is simply scratch a section off and complete the task it reveals. They don't have to complete them all at once, they can tackle them whenever they want throughout the next 12 months. With things such as 'group holiday with friends' to 'win at beer pong' and even a 'food fight' this cool poster will ensure their 21st year will be an entertaining, possibly mischievous, but certainly a memorable one!
The Scratch & Reveal 21 Poster costs £12.99 from Find Me A Gift
This 30 at 30 Scratch It Poster makes a great gift for a friend or family member who's turning the big 3-0. Scratch off the surface of the numerals to reveal 30 things to do when you're 30, some practical and others humorous.
Turning 30 is a big milestone birthday and can get people thinking about their individual bucket list and all the things they want to achieve in life. This handy poster has 30 funny statements which are revealed as the poster is scratched off. The poster will look great on any wall in the house or office.
The Scratch & Reveal 30 Poster costs £12.99 from Find Me A Gift
Do you know someone who's turning 40? This funky poster makes a terrific 40th birthday present. This 40 at 40 Scratch It poster has a special coating which can be scratched off to reveal 40 wise and funny goals, observations and suggestions. The poster includes hidden messages such as "Take Up An Expensive Hobby" and "Accidentally Be Back In Fashion". Sure to raise a laugh or two, this poster may even help to create a bucket list for the recipient.
The Scratch & Reveal 40 Poster costs £12.99 from Find Me A Gift
If you're looking for a poster that's a bit different then this 50 Ways to Lay Scratch It Poster could be just the thing you're looking for. This fun and funky poster has 50 sections to scratch off, each with the name of a different sex position, some familiar, some perhaps less familiar. Choose from such classics as 'The Standing Wheel Barrow', 'Crouching Tiger' and 'The Ascent to Desire', and simply scratch off the special coating to reveal an illustration of the position.
Fun for couples, you could scratch off a different section each day, or if you're feeling particularly active and amorous, you could scratch them all off in one go and try them all!
The Scratch & Reveal 50 Ways to Lay Poster costs £12.99 from Find Me A Gift
Mesmerising Sound-Reactive LED Mask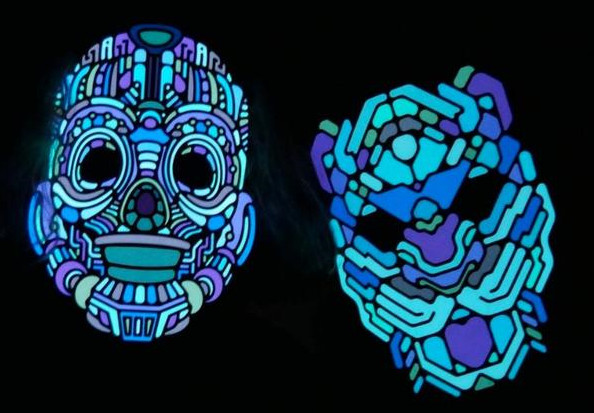 The mesmerising Sound-Reactive LED Mask transcribes any sort of music or rhythm into amazing electro-luminescent animations
Typically worn for protection, disguise, performance, or entertainment, masks have been around for thousands of years. Now, a bunch of Canadian designers have given these venerable veneers a 21st century facelift and created a range of sound-sensitive, light up face concealers that will delight party animals, festival goers, EDM addicts and music lovers alike.
A stunning combination of art and technology, the masks are lightweight, malleable and can easily fit into a pocket or bag. Featuring a layer of phosphorescent ink and a state-of-the-art rechargeable sound-responsive lithium modulator, they convert sound waves into pulsing patterns of pure organic light.
With an adjustable strap to fit any head size, a hidden power cable, protective high-density foam backing for comfort to wear and weighing only 80 g / 2.82 oz, the Sound-Reactive LED Mask is the dazzlingly obvious choice, when you have to face the music.
The Outline Sound Reactive LED Light is available as Y-Robot or Wildcat for £26.99 from The Fowndry
Jazz up your life with the new
Rainbow Neon Light at the National Theatre's bookshop.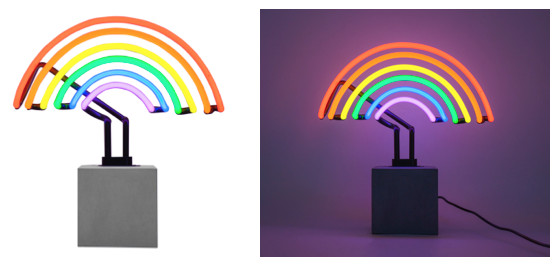 With vivid, glowing colours shining brightly,
make any occasion a little more colourful with this must-have rainbow lamp.
image.png
Rainbow Neon Light – £50
National Theatre Bookshop
shop.nationaltheatre.org.uk