TURN HANDS-ON CODING INTO HANDS-ON ART WITH CUBETTO AND CARIOCA® THIS CHRISTMAS
TWITTER | FACEBOOK | INSTAGRAM | YOUTUBE
Primo Toys, creators of Cubetto, are launching Cubetto Code & Colour in partnership with CARIOCA®, encouraging children to code their first graphic design masterpieces without the use of screens, and in a real-world, hands-on setting embrace their creativity and code their own masterpiece.
Designed to bring hours of fun to children aged three and over, Cubetto Colour & Code cleverly brings art and computer programming together. Taking the youngest audience in history beyond coding, the open-ended play kit introduces a new kind of creativity, bringing colouring, expressing and creating into the mix, to transform Cubetto into a drawing bot. The results are tangible graphics that children create in a real-world context, allowing them to experience coding as a tactile activity suited to their developmental level.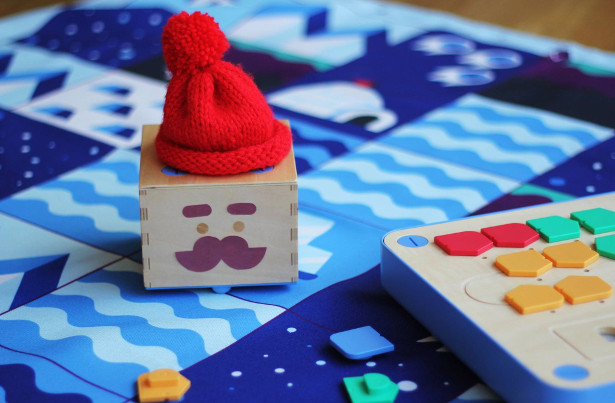 Created in partnership with classic Italian marker pen brand CARIOCA®, a company known worldwide for its high quality art materials, the pack encourages children to Code, Colour, Create away from the screen. Each Cubetto Code & Colour (RRP £210) bundle consists of 1x Washable Colouring Map, 6x CARIOCA® Jumbo Felt Tip Pens, 1x Colouring Adventure Book, 1x Cubetto Graphics User Manual, 1x Doodle Band and 1x Cubetto Playset.
Perfect for families who want to introduce their children to coding, this extension to the award-winning wooden robot, Cubetto, turns children into graphic designers. It gives children the means to do an activity they already love in a brand new way – real-world colouring is amplified through hands-on coding blocks. It's colouring for the 21st century.
Cubetto Code & Colour unlocks the power of hands-on play, while demonstrating that learning to code has just as much in common with arts and crafts as with computer screens. Colouring with code couldn't be easier, simply attach pens to Cubetto using the Doodle Band, and the robot will draw line graphics in response to different sequences on the Control Board. The washable markers mean less mess for parents to clean up, and the washable map allows little ones to start over and over again, opening up the possibility of r an endless number of graphic design masterpieces.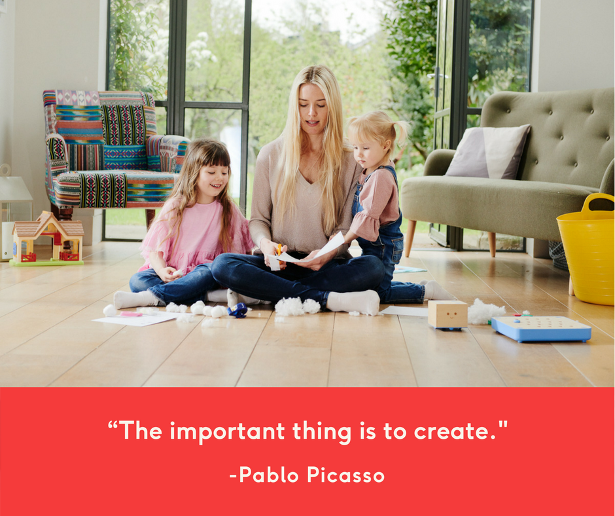 A Montessori-inspired playset, Cubetto was designed to help children of all cultures learn the basics of programming using hands-on blocks, instead of text on screens. The educational wooden toy, which broke records by becoming the most crowdfunded edtech project in history, breaks down tasks into a logical sequence of steps to reach an end result, encouraging computational thinking. An open-ended educational toy, Cubetto Code & Colour helps children learn the basics of sequencing and builds confidence as play continues. Winner of numerous awards, Cubetto has received a prestigious Gold Cannes Lion Award, Red Dot design award and beat Lego in the Junior Design Awards last year.
Primo Toys has already introduced 1 million children to computer programming logic and has become a new standard in early years coding in more than 100 countries. Cubetto is used by and sold in a number of prestigious institutions and outlets including Isetan department stores in Japan, GEM Schools internationally and Austin Independent School District and Maryland Libraries in the USA.
For those who already own a Cubetto Playset, the Colouring Pack (RRP £40) can be purchased separately and includes 1x Graphics Manual, 1x Adventure Book, 1x Colouring Map, 6x CARIOCA® Pens and 1x Doodle Band.
Filippo Yacob, CEO of Primo Toys is looking forward to introducing Cubetto Code & Colour to children all over the world: "We saw that people were trying to draw with Cubetto, so we decided to make a complete polished experience for them. Children can create their first piece of computer generated art, without ever looking at a screen, creating a powerful connection that really opens a door in their mind. Our mission with this new kit is to get children to create computer graphics without the computer, in their natural physical world. Partnering with CARIOCA® was an easy choice, as they share our values, and every child in Italy grows up with their machine washable felt tip pens – they are a symbol of creativity."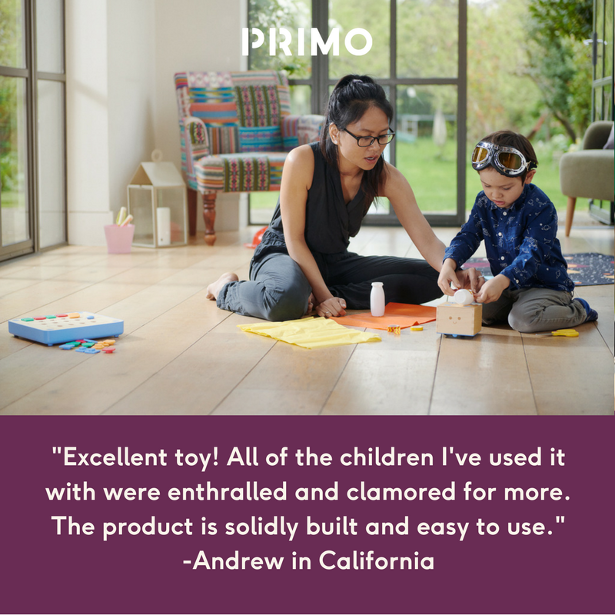 Enrico Toledo President and CEO at CARIOCA® is looking forward to inspiring children's creativity with this innovative new partnership. Enrico says: "With Cubetto Code & Colour and the Colouring Pack we wanted to create a magical experience for children, bringing together tradition with innovation. We believe that drawing helps children to develop the mind and foster creativity, while Cubetto stimulates children to think for themselves creating plans and sequences. Coding and art have a natural synergy, with this new set supporting children to express their own personality and how they see their own world – we create to learn after all."
Jon Marshall, design director at industrial design agency Map Project Office believes the leaders of our future are not just going to be commercially or technically minded, they also need to be creative: "Cubetto is the best product I've come across for early years coding. When you merge the world of art and technology, you open a door in a child's mind and a new connection is created. It will get children to think differently, and harness technology for creative endeavours, providing a powerful result. When you think about any creative industry, there is an element of visual communication involved. Introducing these principles with a tool that is physical, age appropriate, friendly and fun is a great start to the journey."
Pre-order Cubetto Code & Colour here: cubet.to/CodeColourPR
Primo Toys launched a free Ebook recently, helping you to teach children to code.
"Beginning computer programming for kids: An introductory guide to computational thinking and coding for kids aged 3-6 years old." Aimed at parents and educators of children aged 3-6, the comprehensive, 10,000-word ebook covers all bases of teaching children to code.
To download the ebook for free, visit cubet.to/UKEbook.

Primo Toys is backed by investors like Randi Zuckerberg and was founded by Filippo Yacob (CEO), a Forbes 30 Under 30 2017 honoree, and Valeria Leonardi, a mother and entrepreneur with a strong passion for ed-tech.
Awards
· Platinum – Best Interactive Toy 3-6 Years – Loved By Parents 2017
· Gold – Best Innovative Toy – Loved By Parents 2017
· Silver – Best Toy Design – Loved By Parents Awards 2017
· EdTechXGlobal – All Stars Rise Award 2017
· Special mention – Science Toy Award 2017
· Five-Star winner – Early Years Excellence 2017
· Learning Technologies Award 2016 – Most innovative new learning technologies product – UK
· Gold Winner in the London Design Awards 2016
· Red Dot "Best of the Best" for Design Concept 2016 (Shanghai)
· Fast Company Finalist 2016
· Gold Lion for product design – Cannes Lions International Festival of Creativity 2016 (Cannes)
· Platinum Best Toy Design award (3-5 years) – Junior Design Awards 2016
· Product Innovation award – GESS (Dubai)
· Maker of Merit Ribbon – Maker Faire 2013 and 2014 (Rome)
· Innovation award nomination – Opening Minds 2014 (Chicago)
· Movers and Shakers award – EdTechxEurope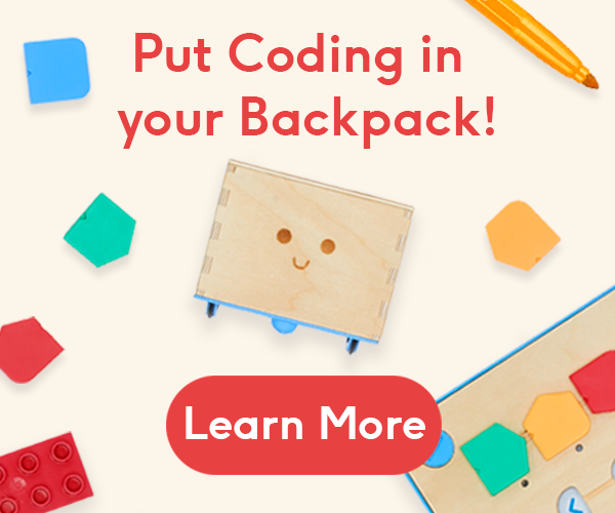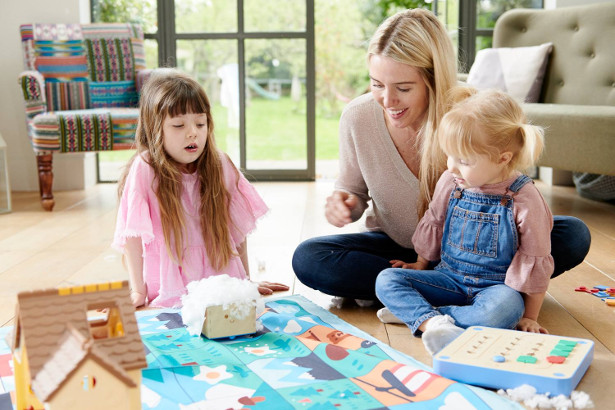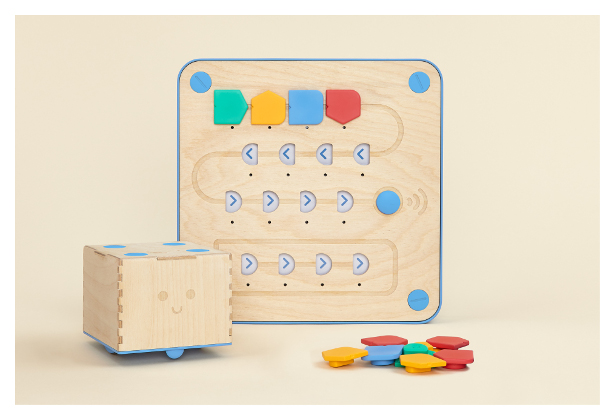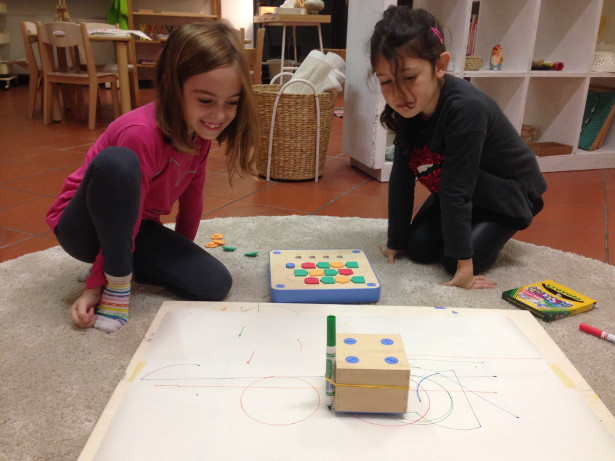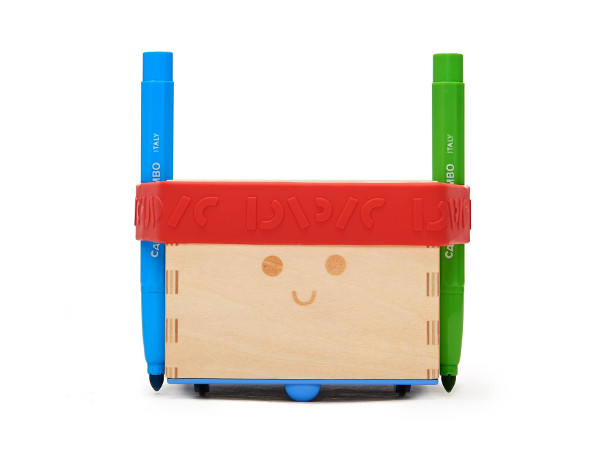 ON SALE! GIFTS FOR HER @ ALDI. www.aldi.co.uk
Aldi's Pamper Gifts range,  is on sale from (7th December), whilst stock lasts!
YOUTUBE | TWITTER | PINTEREST | FACEBOOK | INSTAGRAM
There's a real selection of premium products on sale: the Remington Wet2Straight Hair Straighteners (£24.99) make the ideal present for those who are always rushing to get ready. These straighteners have advanced ceramic plates infused with frizz resistant micro conditioner, meaning they can be used on both wet and dry hair.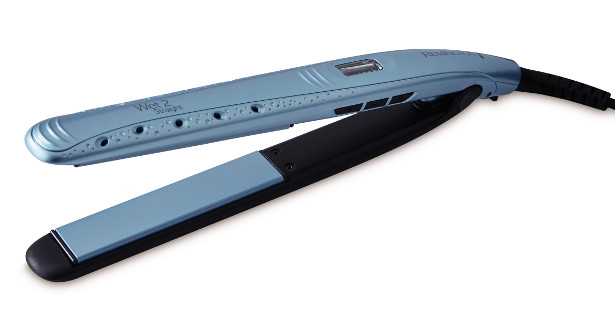 The options for hairstyling are endless thanks to this Remington Volume & Curl Airstyler (£19.99). With an anti-static, smooth glide ceramic brush, shoppers can switch up their style every day of the week.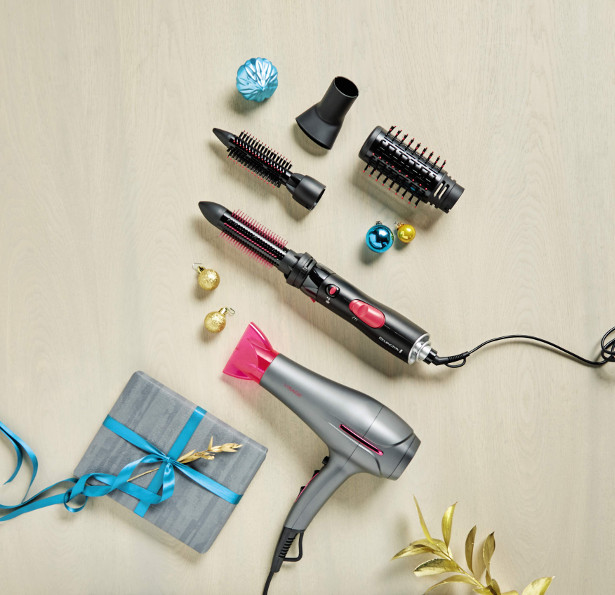 There's also the trendy Facial Cleanser, at just £12.99, which has a high tech oscillating head to deeply cleanse the face. Attachments include a sensitive brush, wrinkle reducer, face massager and a full body brush.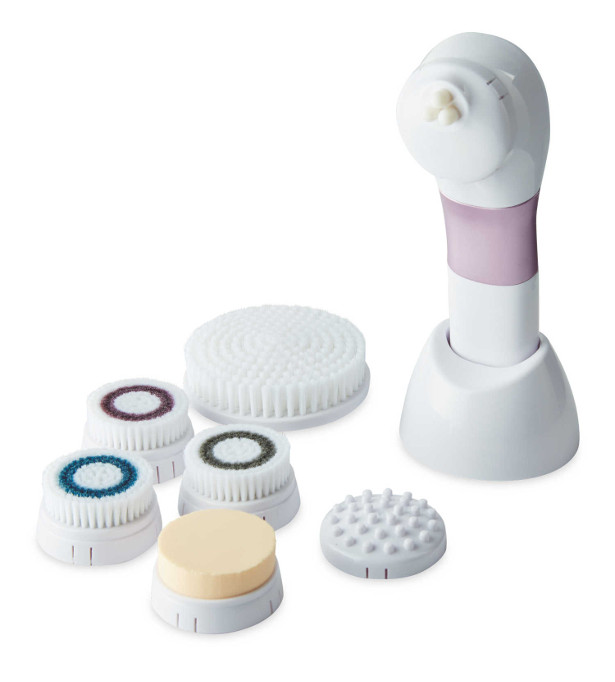 Last, but certainly not least, is Aldi's Foot Pedi (£7.99), a gentle and effective exfoliator that removes dead, calloused, or hard skin, to leave feet silky soft.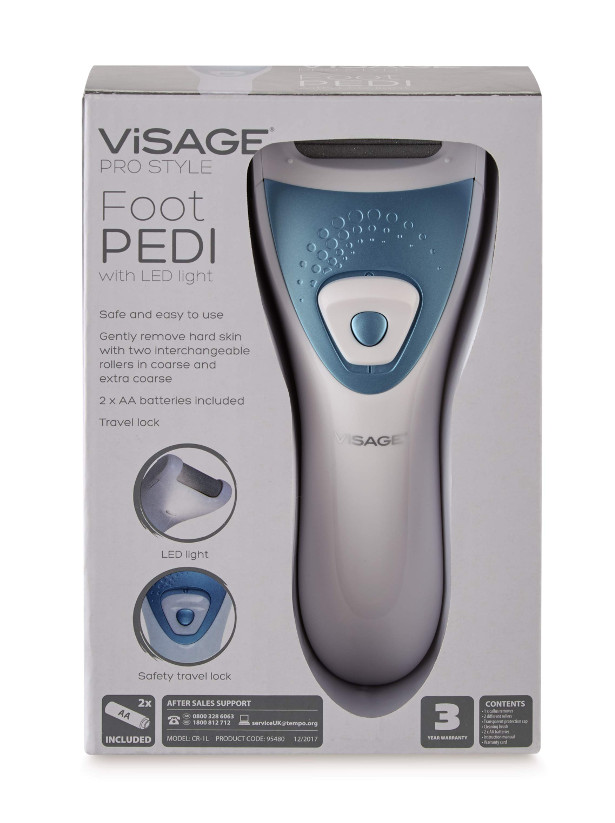 This Christmas, give the gift of pampering to your loved ones (or even yourself!) with Aldi's premium range of indulgent pamper gadgets.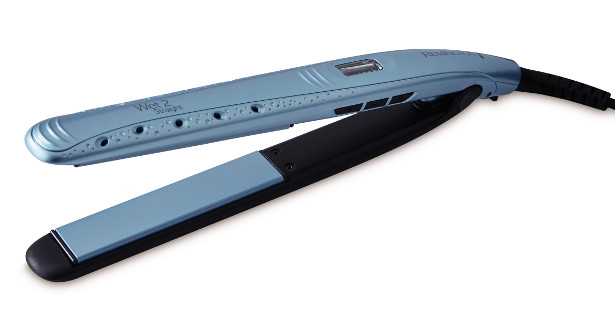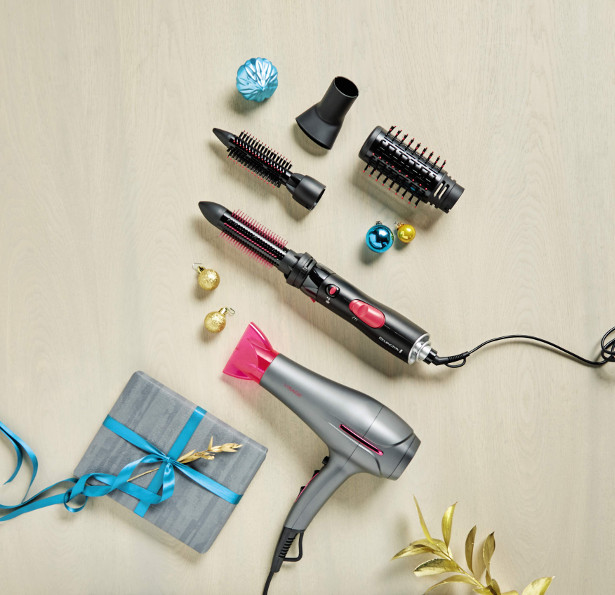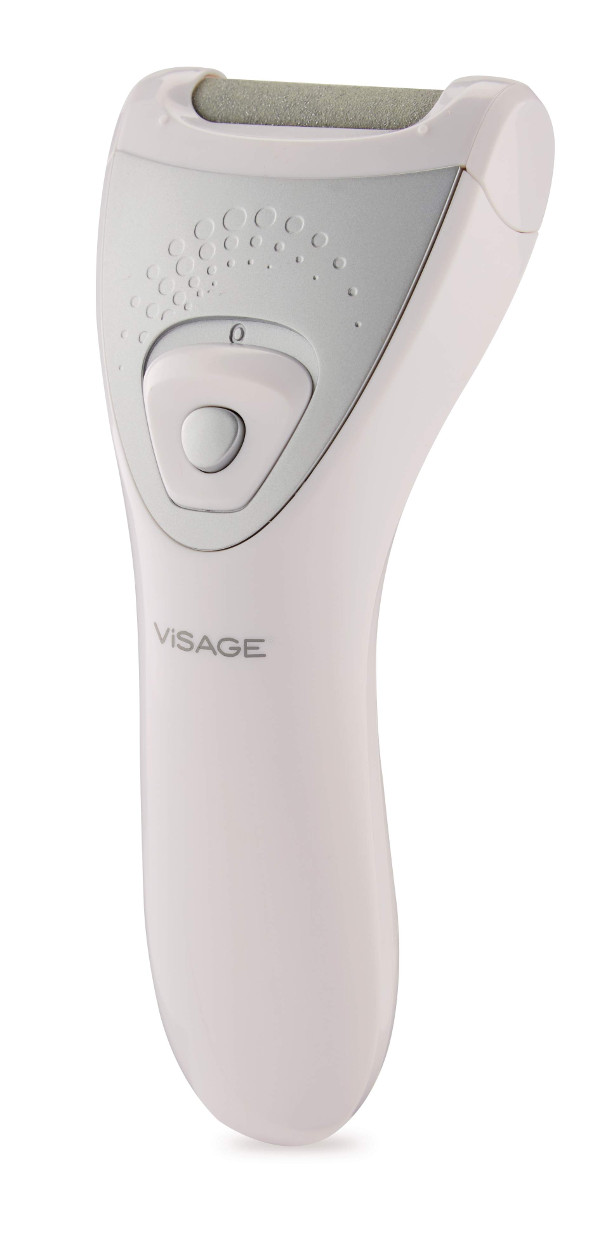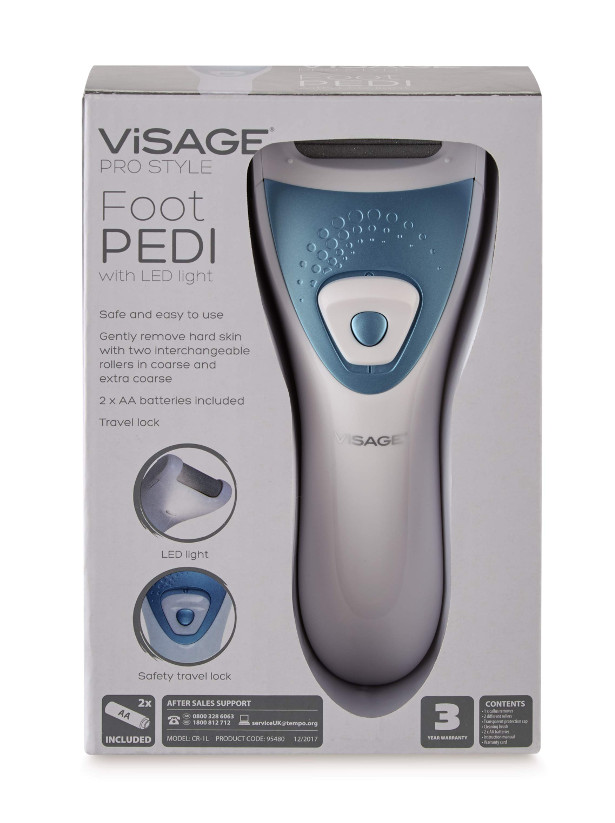 Ryan Seacrest Distinction available exclusively at Macy's and Macys.com offers an array of sportswear, formalwear, and accessories perfect for all your holiday needs. Whether you're dressing up or dressing down this holiday season, Distinction is sure to have something for everyone.
FACEBOOK | TWITTER | INSTAGRAM
DIS‧TINC‧TION
The quality of being something that is special.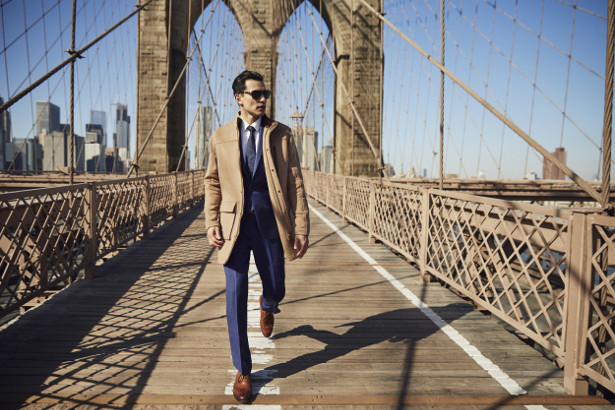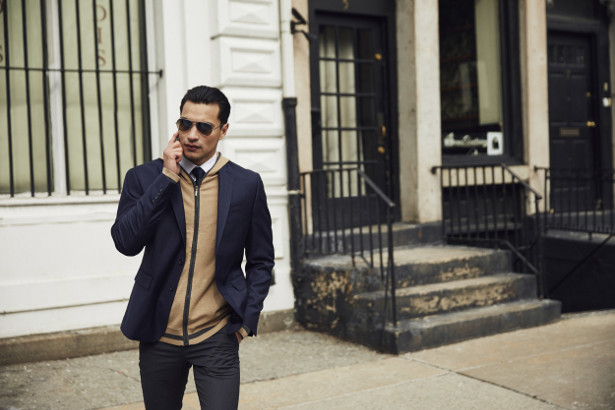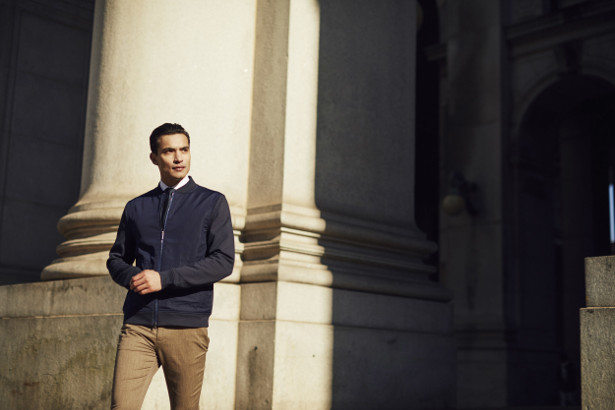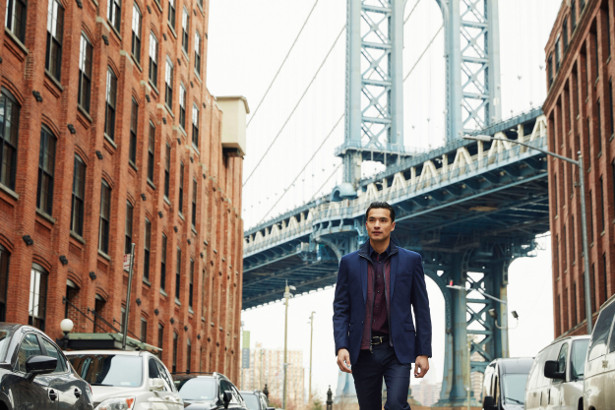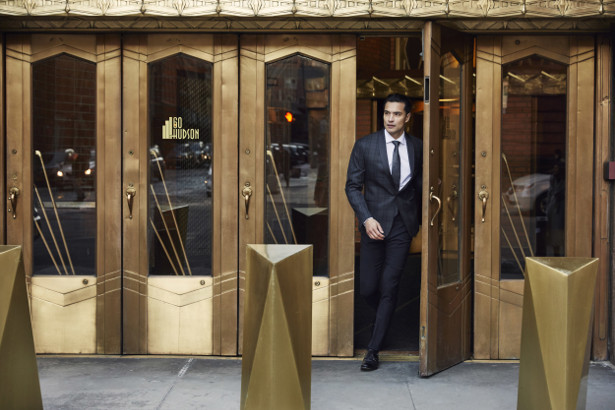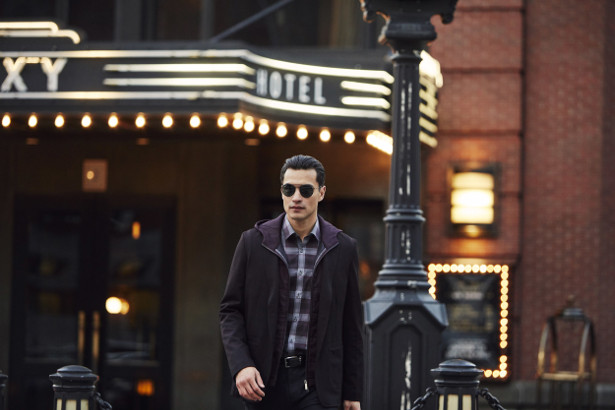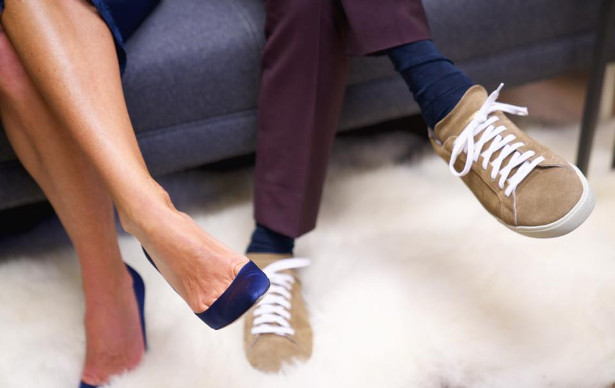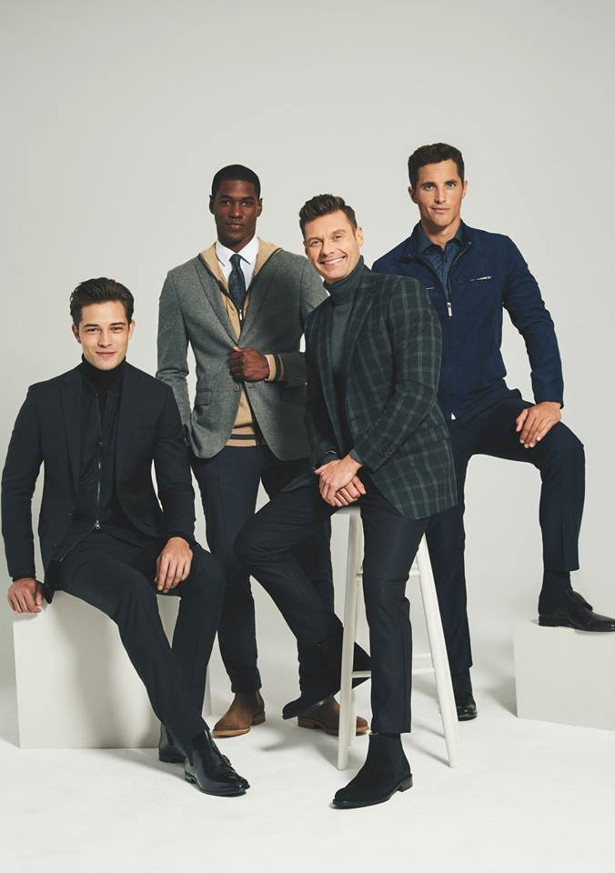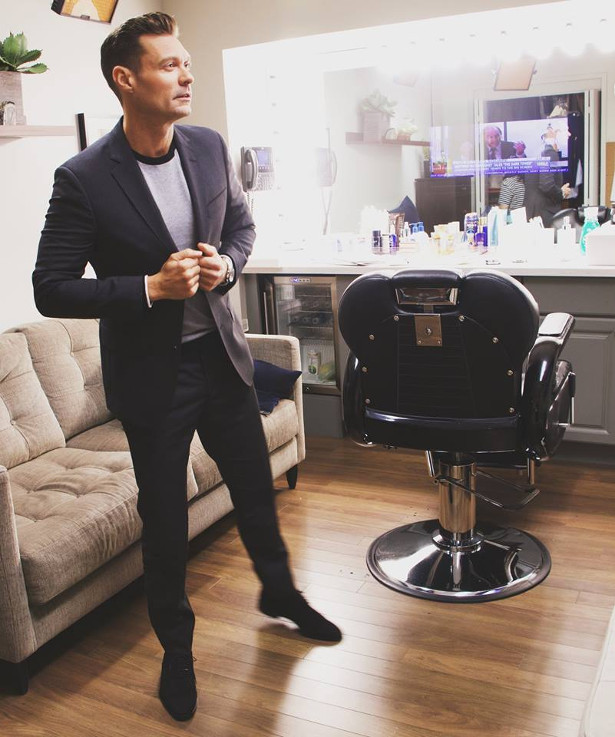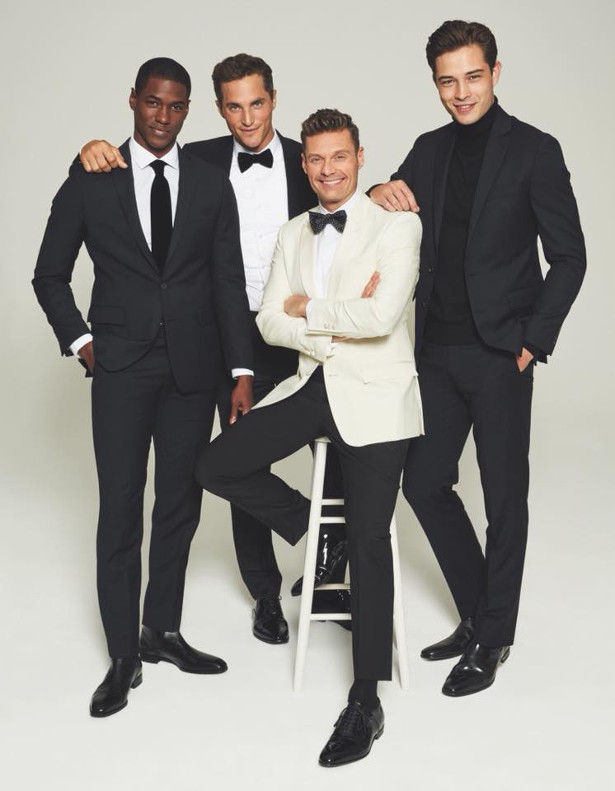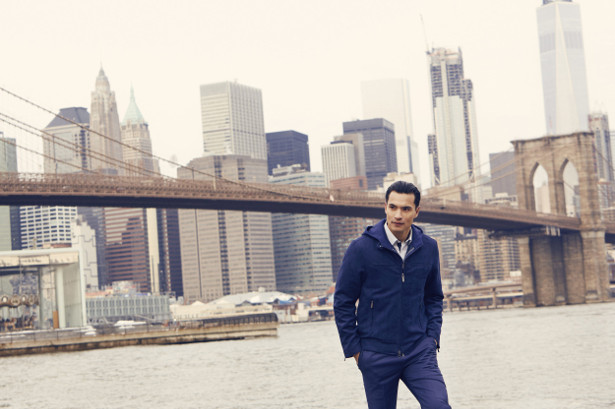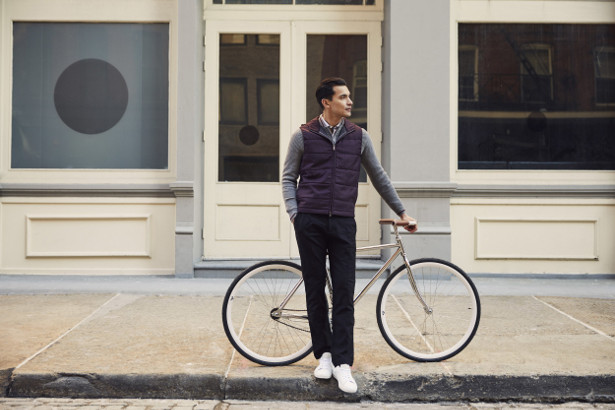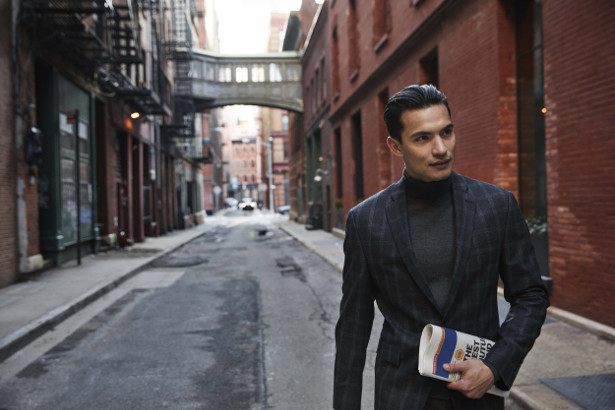 NEW ON Halfords.com > FHOSS Signalling Rucksack &Illuminated Cord! >> www.fhoss.com See The Light!

TWITTER | FACEBOOK
Great for men who love cycling. A signalling back pack. Arrows basically light up to indicate if you are going left, right or stopping. It's all managed via a remote control.
Great for kids. A 'magic' cord that attaches to any helmet and makes it glow in the dark. Perfect for keeping an eye on children in the park when it starts to get dark, or if your child is cycling or scooting to school.
Spread Holiday Cheer with Welch's Christmas Fruit Snacks welchsfruitsnacks.com
YOUTUBE | TWITTER | FACEBOOK | PINTEREST | INSTAGRAM
In honor of the holiday, America's favorite fruit snack brand is offering consumers another seasonal varietal.
When it comes to stocking stuffers there are none more delicious. Available in the classic Mixed Fruit variety, the 4-count Welch's Fruit Snacks Christmas-themed box is shaped to fit perfectly inside every stocking. There's no better way to spend Christmas morning than unwrapping presents while enjoying a festive snack!
KEY FEATURES:
Made with REAL Fruit
Fruit is our First Ingredient
100% DV Vitamin C
25% DV Vitamins A & E
Fat-Free
Gluten-Free
No Preservatives

Kminator Designs Make Fantastic Mugs and look at these great designs that have been made with rugby phrases and memes! So fantastic! >> www.gearbubble.com/gbstore/stylishcoffeemugs?cat=12703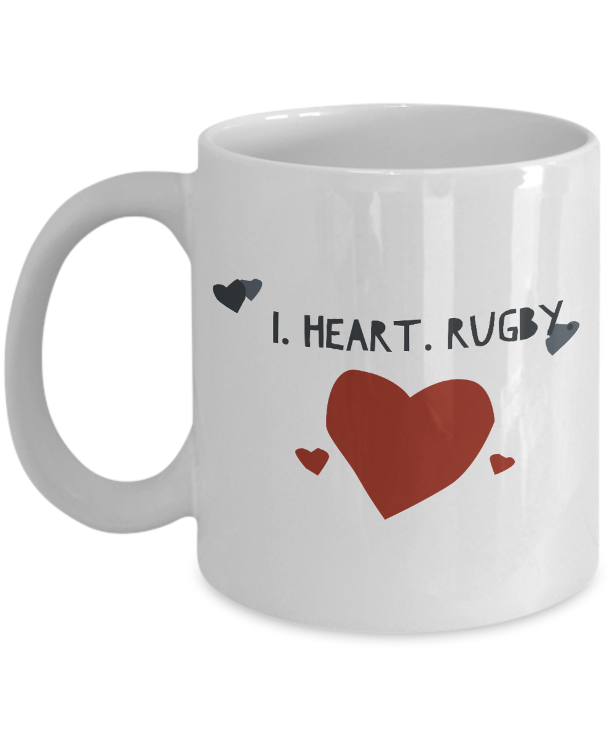 You cherish your coffee (or tea or hot cocoa)…why not cherish your mug, too?! Kminator Designs offers a collection of fashion-forward mugs with unique, modern catchphrases and designs. They look cool either in hand or on a desk – and are likely to prompt a conversation. 🙂 The best gifts are both unique and functional, and that's why this stylish mug option is a fantastic choice. These fun mugs can easily be dressed up with additional gifts inside or alongside (think stickers, pencils/pens, candies, cookies, or chocolates in addition to the typical bag of coffee, tea, or cocoa). They can also dress up your office or desk by holding all of your pens/pencils. The possibilities are endless really, so what are you waiting for?! Why not #treatyoself and grab a fun, stylish, affordable mug today!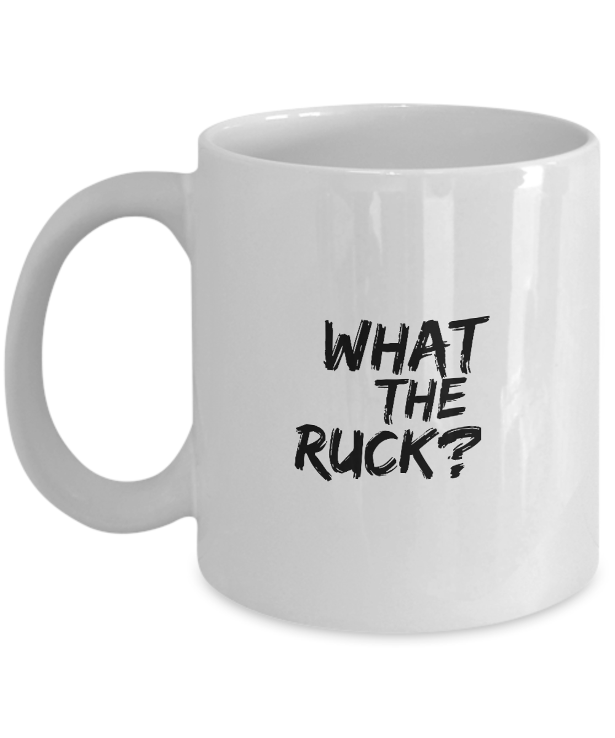 They make fantastic gifts as party favors, holiday gifts, stocking stuffers, host/hostess gifts, dog walkers, pet babysitters, etc). Mugs are simple, fun, and make for a stylish, affordable gift that can easily be dressed up with a pairing of coffee, tea,, candy, pencils, etc. All mugs are printed, packaged, and shipped from the USA.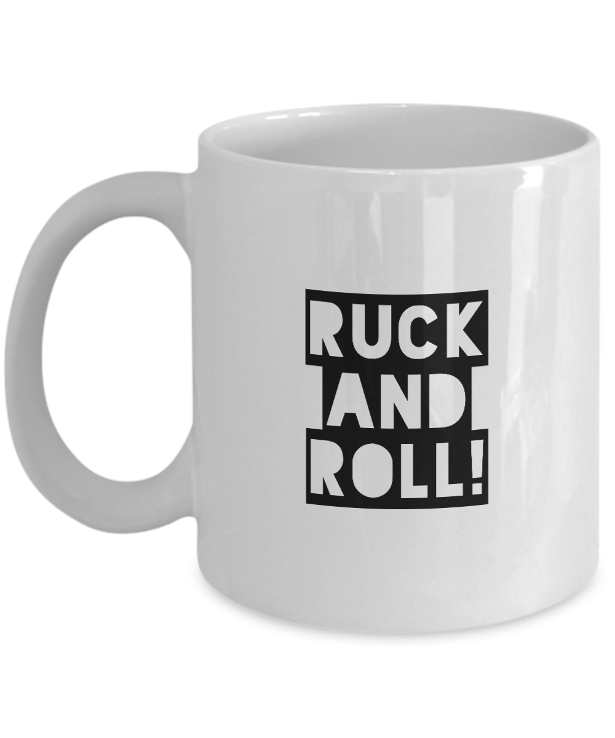 Note that there are category filters on the upper right-hand side of the online store for easier viewing/shopping. Categories include: Travel/US Cities, Valentine's Day, Business/Entrepreneurship, Sports, New Mom, Pets, Health & Fitness, Holidays, Affirmations, and General.
Their store is continuously being updated by their team, especially with the holiday season coming up.
Store Link: www.gearbubble.com/gbstore/stylishcoffeemugs
Sports Specifc: www.gearbubble.com/gbstore/stylishcoffeemugs
Kminator Designs Stylish Mugs
HAPPY HOLIDAYS!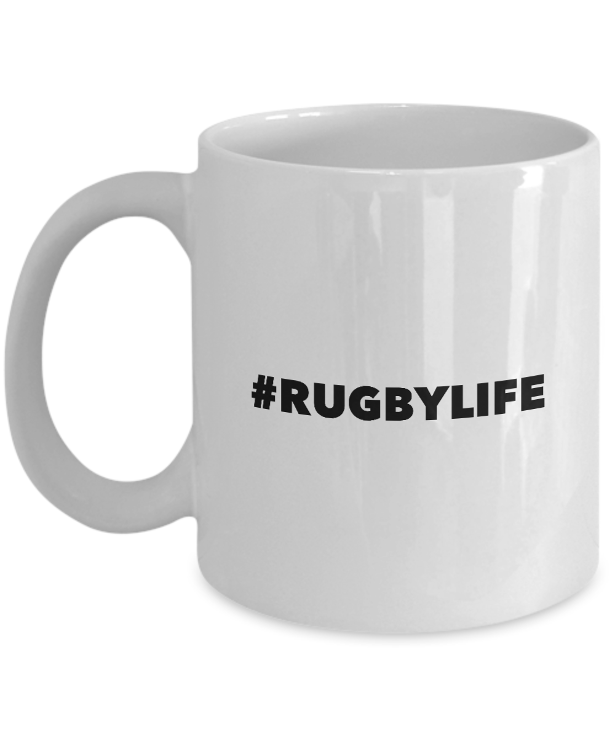 Artistry and authenticity are at the heart of everything Village Candle does. Please do Enjoy Spiced Noir, Yuletide Cheer and Leather Bound Candles this Festive Season.  www.villagecandle.com . These are available for shipping online and in UK Stores.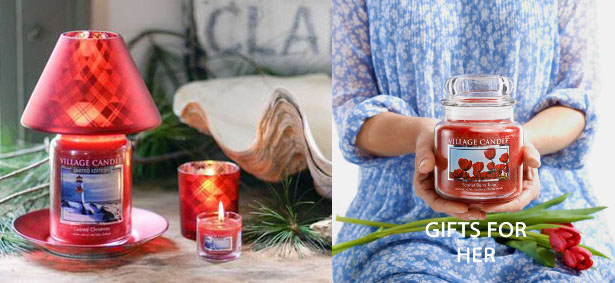 FACEBOOK | TWITTER | PINTEREST | INSTAGRAM
Artistry and authenticity are at the heart of everything Village Candle does.
Guided by the passion of mastery for fragrance making, all Village Candle scents are born in Maine and made with meticulous care and craftsmanship. The family-owned business of 25 years, gathers the finest ingredients from all over the world and artfully blend these with elements from home – authenticity, raw beauty and a vivid realness you can only find in Maine.
Please consider these seasonal options for gifting and home decoration.
They are available in a variety of sizes!
YULETIDE CHEER
NUTMEG, SPICY CINNAMON, TART CRANBERRY
Compliment the perfect holiday toast with this zesty blend of cranberry, cinnamon and nutmeg. Cheers!
Please see more at :- www.villagecandle.com/collections/winter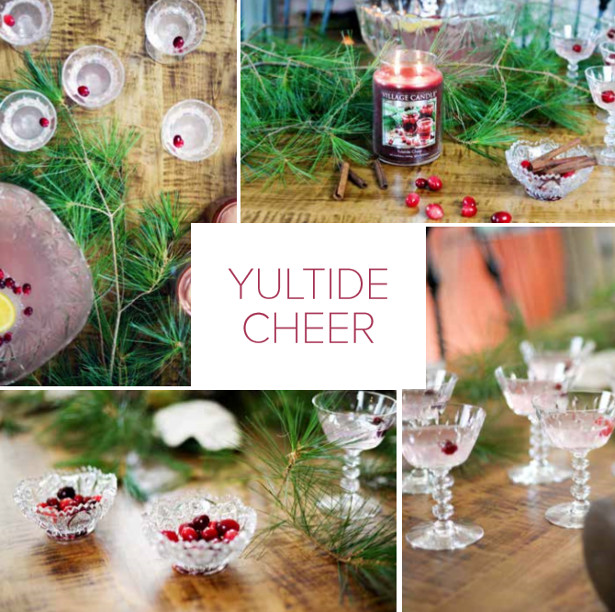 SPICED NOIR
BLACK NUTMEG, CARDAMOM, CEDAR, MUSK
Autumn spices compliment cedar and blend into this one of a kind scent explosion.
Please see more at :- www.villagecandle.com/collections/winter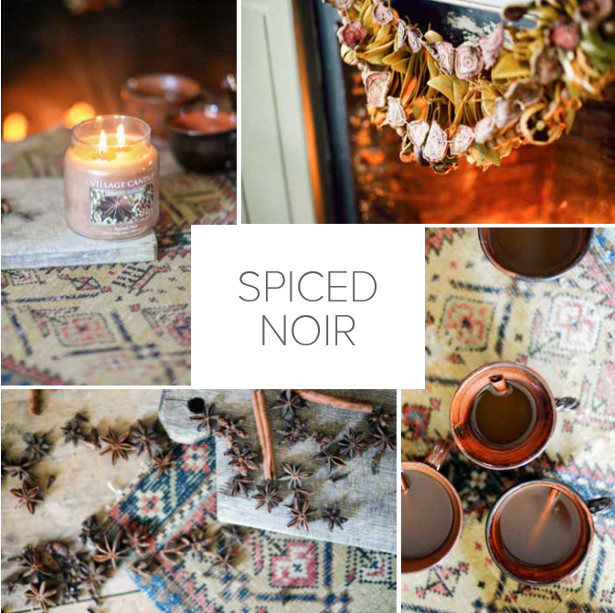 LEATHER BOUND
BAMBOO LEAF, BRUSHED SUEDE, OAK, VANILLA BOURBON
Experience the exotic and warm scent of Leather Bound. This fragrance will bring you to another place – soft leather, a grand library layered with opulence. Sip on Vanilla Bourbon while enjoying the grand library on the perfect Fall or Winter day.
Please see more at :- www.villagecandle.com/collections/winter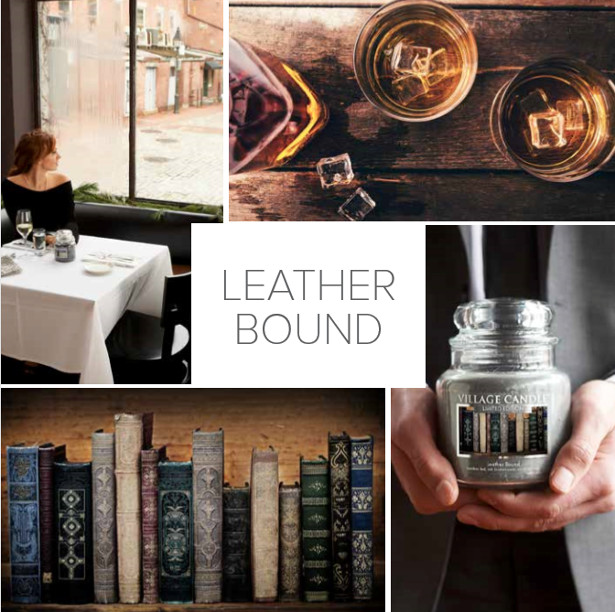 APPLES & EVERGREEN
APPLES, EVERGREEN, HOLLY
Combining the crisp, sensual sweetness of freshly picked apples with the festive scent of fresh evergreen and holly, this candle is a pure delight for the holiday season! Ideal for gift giving, or for setting a festive mood.
Please see more at :- www.villagecandle.com/collections/winter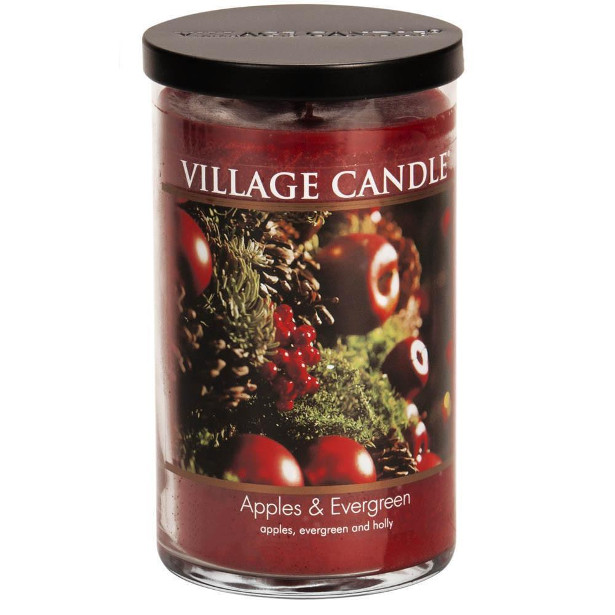 BALSAM FIR
BERGAMOT, EVERGREEN, FRESH BALSAM
This candle's fragrance will bring you to the deck of a cabin deep in the evergreen forest. Let the scent of the outdoors settle over you, and breathe in the natural aroma of fresh balsam fir. The perfect complement to your holiday decor and an ambient touch for any winter night, this scented candle's classic fragrance brings the outdoors in, in the coziest of ways.
Please see more at :- www.villagecandle.com/collections/winter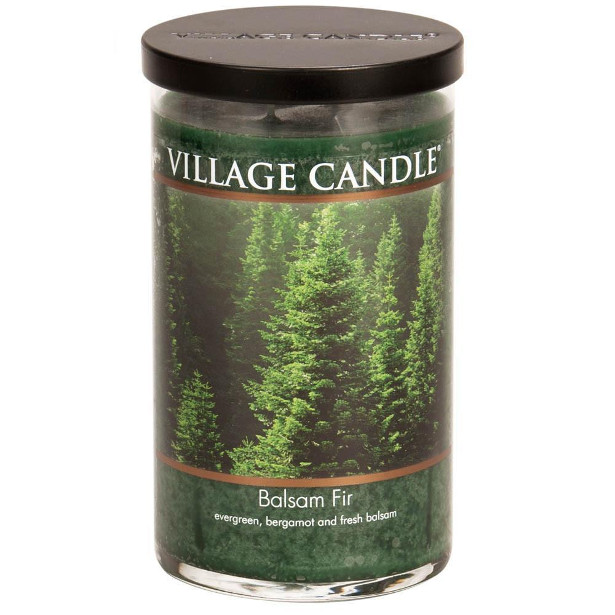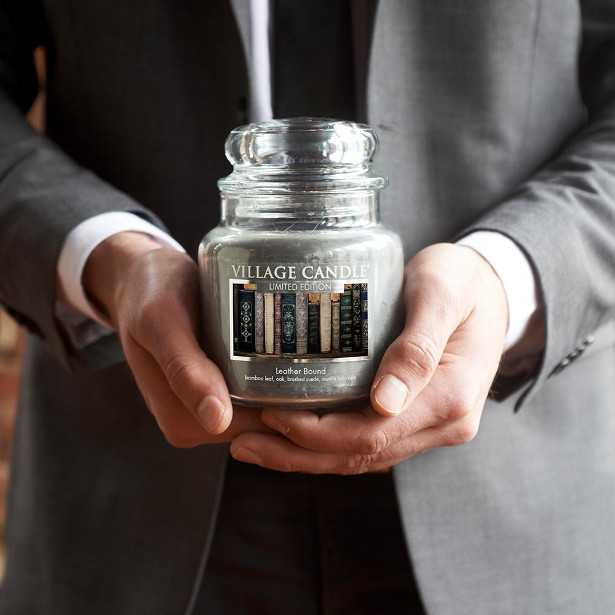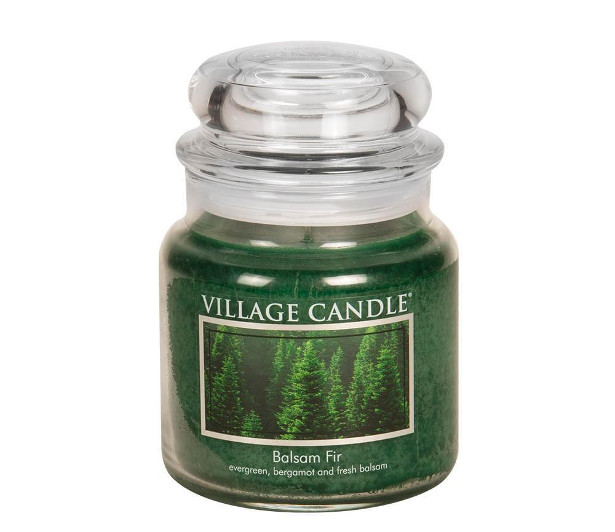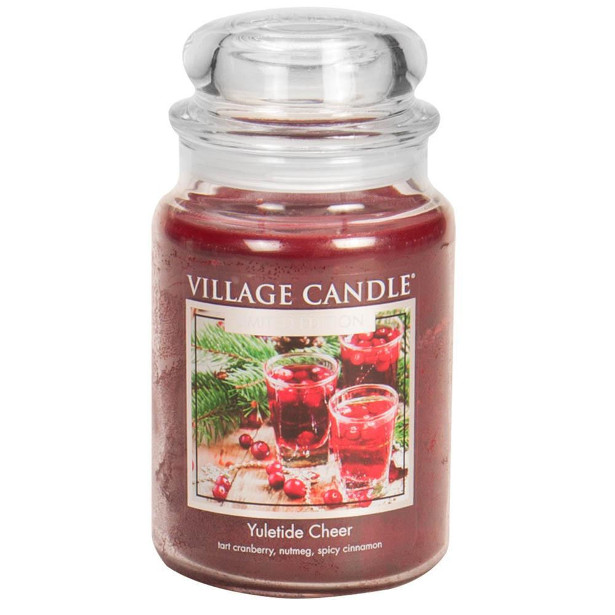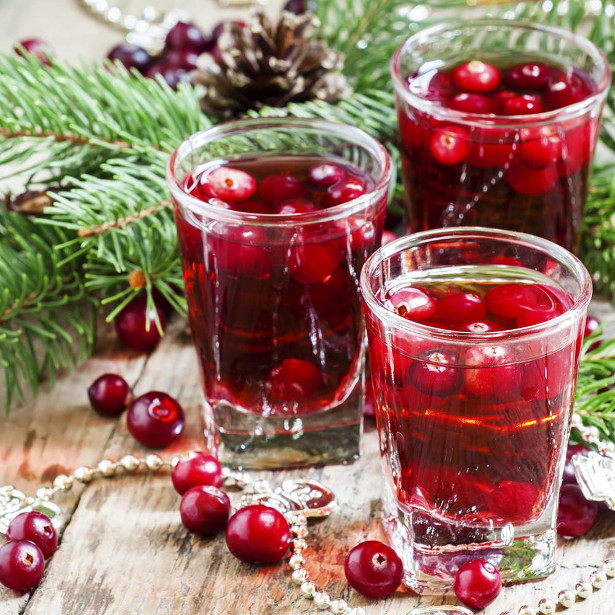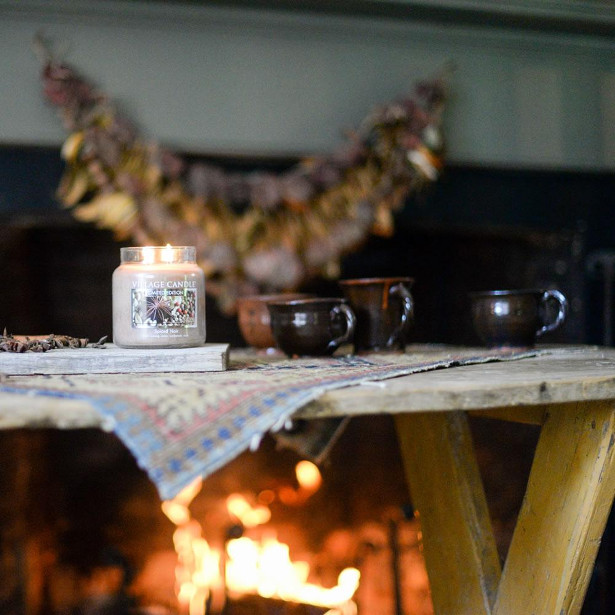 MAMI WATA Fruit Infuser Water Bottle – Beautiful gift box – Unique Stylish Design – Free fruit infused water recipes eBook and insulating sleeve – 24oz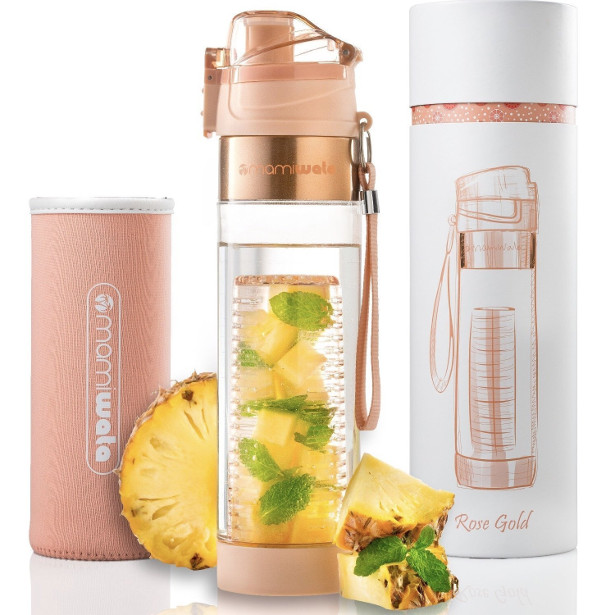 "WOW EFFECT" GIFT – With a beautiful tube-shaped gift box that just screams "luxury", the MAMI WATA fruit infuser bottle is the perfect gift for that special person in your life. watch as your loved-one's face lights up with delight when unboxing this deluxe fruit infuser bottle.
TASTE THE DIFFERENCE – While tap water can be tasteless and boring, MAMI WATA provides a solution in the form of a fruit infusion water bottle that allows you to experience deliciously-fresh fruit-infused drinks.
PREMIUM QUALITY & DESIGN – The MAMI WATA fruit infused water bottle is made of Eastman Tritan plastic, durable, shatterproof, BPA free and eco-friendly. It has a bottom infusing mechanism ensuring your infusion water will taste better and longer. Don't feel like making infused water? No problem. Just screw off the infuser and you will have a beautiful water bottle.
100% LEAK-PROOF – This specifically designed water bottle has a smart flip-top open/close mechanism, secured by a clever locking system. The result? A leakproof bottle that you can rely on!
OUR PROMISE TO YOU – If for any reason you're not satisfied, simply contact us for a no hassle refund.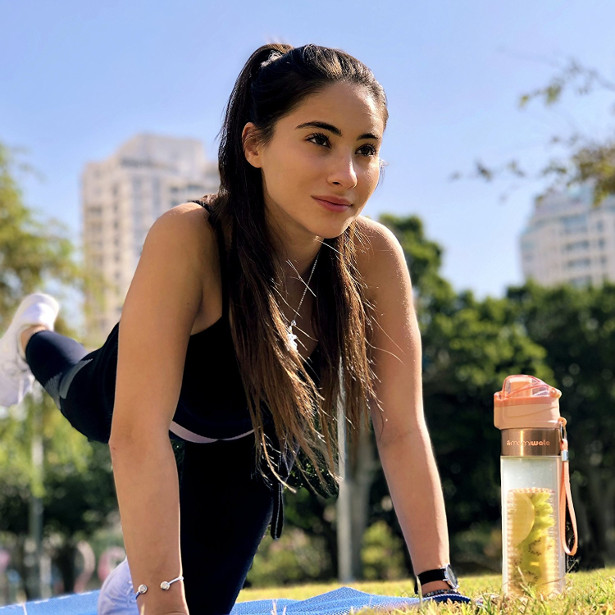 See more & buy at :- www.amazon.com/dp/B074G1WSXB
Fruit & Tea Infusion Water Pitcher – The PERFECT Gift – Free Ice Ball Maker – Free Infused Water Recipe Booklet – Includes Shatterproof Jug, Fruit Infuser, and Tea Infuser – Great for weight loss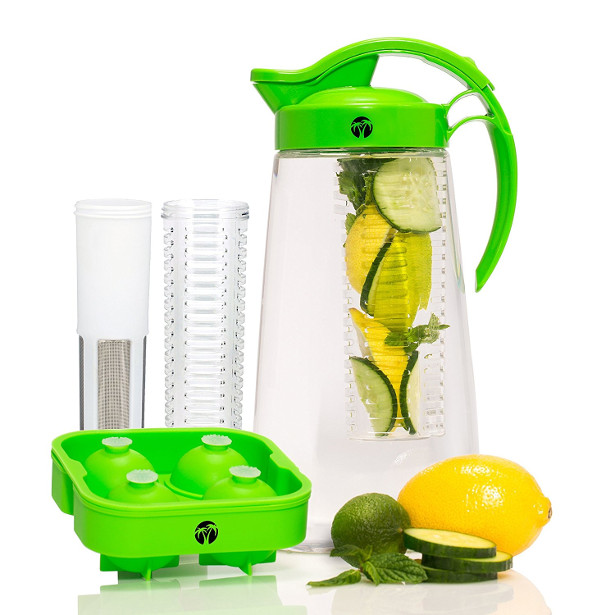 ✔ YOUR HEALTHY LIFESTYLE GATEWAY – Be that person that offers his family & friends a sugar-free alternative! Keep your children away from sugary "Vitamin waters". Infused water makes the act of drinking water more enjoyable. Our Infusion set is a PERFECT CHOICE as you will find out 🙂
✔ HOT TEA & ICED TEA: This Fruit Infusion pitcher can do it all! The solid Tritan™ body and the stainless steel herbs infuser, allow you to use HOT water. You can make yourself hot infused tea and cool it in the fridge for later. The possibilities with this set are endless which makes it the perfect birthday gift
✔ SO WHY MAMI WATA?: Our Fruit Infuser Pitcher is made of a thick and durable Tritan™, not acrylic plastic or glass! So it is HEAT RESISTANT, DISHWASHER SAFE and SHATTERPROOF. It has a HERMETIC SEAL mechanism that makes the pitcher ODOR RESISTANT. It also fits the REFRIGERATOR DOOR. Need more reasons why? Check out your BONUSES…
✔ YOUR BONUSES: You also get a green matching silicone ICE BALL MAKER. The slow melting ice balls are the best way to cool your beverages. When serving, your guests will love it. You can also make a perfect, round & fruity popsicles for your kids. We will send you our EXCLUSIVE Infused Water Recipes Bookelt, with many combinations and recipes that will help you getting started.
✔ RISK-FREE PURCHASE: We are totally confident you will be impressed with the quality of our infuser pitcher that we offer a 100% LIFETIME GUARANTEE with proof of purchase. Grab your Infusion set Now and Enhance Your Lifestyle!
See more & buy at :- www.amazon.com/dp/B01JRMTOGM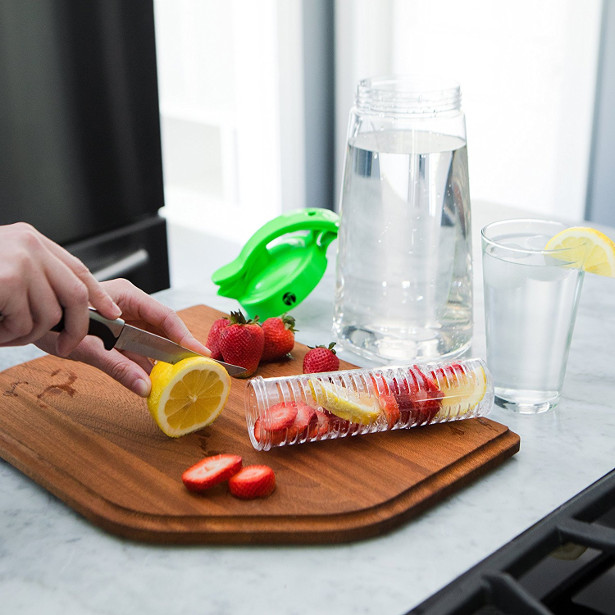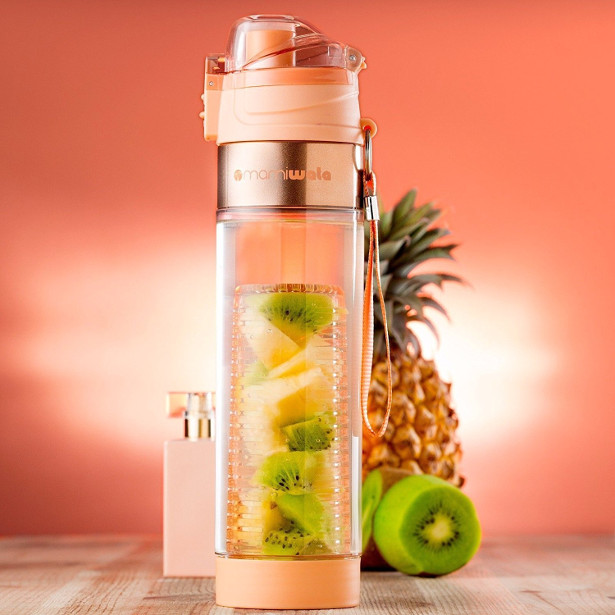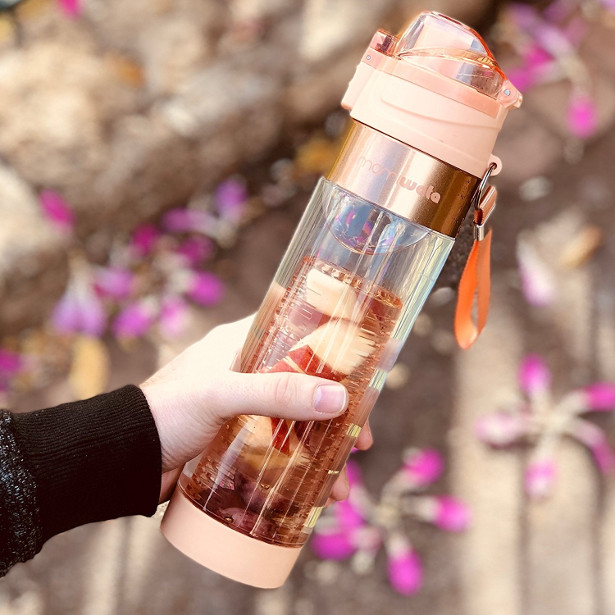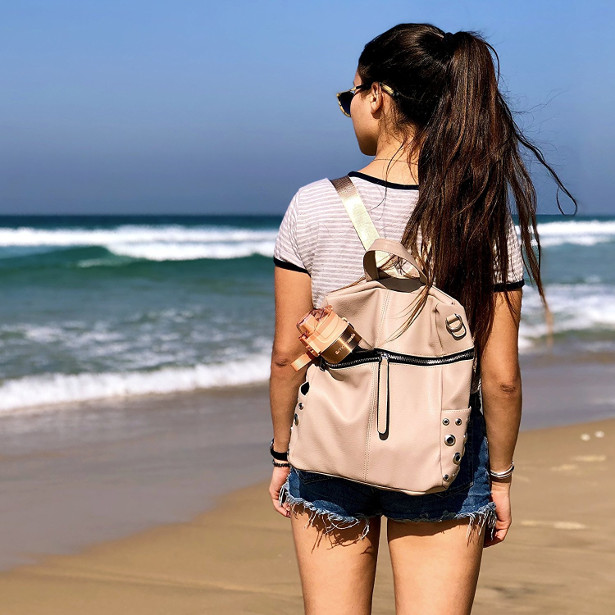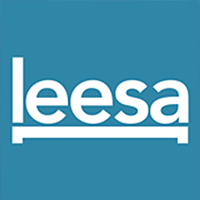 Luxury mattress company Leesa tackles homelessness while delivering quality mattresses direct to consumers
Leesa is a luxury and stylish mattress company that delivers direct to consumers doors in in a box – ideal for a first home, big university move etc. www.leesa.co.uk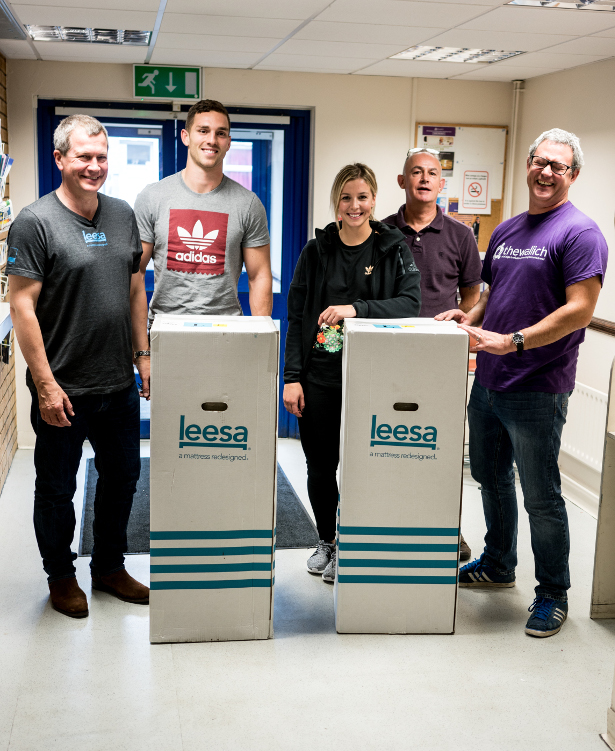 FACEBOOK | TWITTER | INSTAGRAM | YOUTUBE | PINTEREST
Leesa have a goal of helping people to get a better night's sleep. In order to better understand the direct correlation between a good mattress and quality of sleep, and subsequently the importance of sleep to human performance, Leesa has partnered with local and world-renowned athletes such as George North, the Sales Sharks, and Michael Phelps. Working with individuals who not only love to sleep, but consider it a prerequisite to function at their highest athletic level has enabled Leesa to get first hand feedback from people who take their sleep quality very seriously. George and many of the Sale Sharks players sleep on a Leesa mattress in order to maximise their potential and their recovery.
In addition to producing a great product for high performers, Leesa is dedicated to eradicating bedlessness by supporting a number of homeless charities globally through its One-Ten programme.
Earlier this year, Leesa partnered with The Wallich, a Homeless Charity in Wales, to donate 40 brand-new mattresses to two of the charity's Cardiff hostels. International Welsh rugby player George North and World Champion Cyclist Becky James charity also attended the event to show their support of the cause.
"It is genuinely humbling to hear about the dedication and commitment by The Wallich, as they support the most vulnerable members of the community," said Richard Tucker, Leesa Sleep's European Managing Director. "It's our pleasure, along with our brand ambassadors George North and Becky James, to be able to support this extraordinary work being done in Cardiff and across Wales. Enabling just one night of better sleep can make a big difference, and we're grateful to have the opportunity to enable that for more people in need."
Leesa has donated more than 17,000 mattresses as a part of its One-Ten Program, wherein the company is actively working to eradicate homelessness by donating one mattress for every 10 sold. 
North notes, "We're glad to be able to work with Leesa, and today with The Wallich, to support the great work that both are doing. It's always a great privilege for us to be able to support worthwhile causes at home in Wales, especially helping to tackle homelessness, which is sadly becoming a huge issue everywhere."
(Main image: A recent charity event that Leesa held with the Welsh homelessness charity, The Wallich, to bring rest to rough sleepers. Leesa Sleep made a generous donation of 40 brand-new mattresses to two of its Cardiff hostels. (left to right):
Richard Tucker – Managing Director Leesa Sleep, George North, Becky James , Rob Minchin– The Wallich Hostel Manager, Mike Walmsley – The Wallich Corporate Fundraising Manager)
Leesa was founded with one simple goal: to help people sleep better. 
A beautifully crafted mattress, manufactured in the UK.
Free delivery and 100 night risk free trial.
Leesa: a luxury mattress made affordable.
A mattress redesigned, a sleep experience reinvented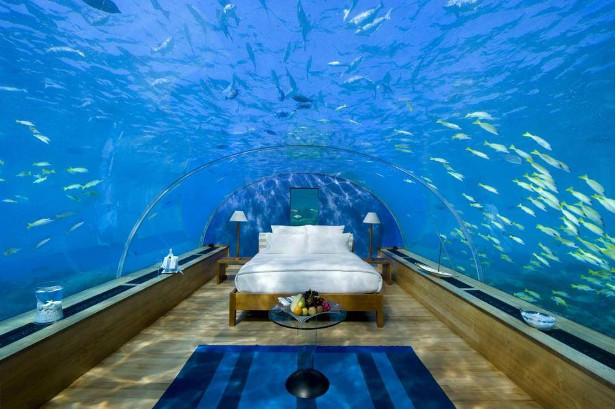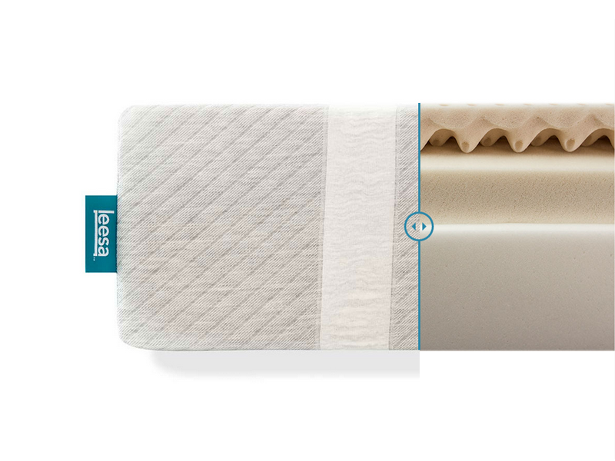 CRACKERS OF XMAS DESTRUCTION!!!!!!!!!!!!!!!!!!!!!!!!     www.last-christmas.co.uk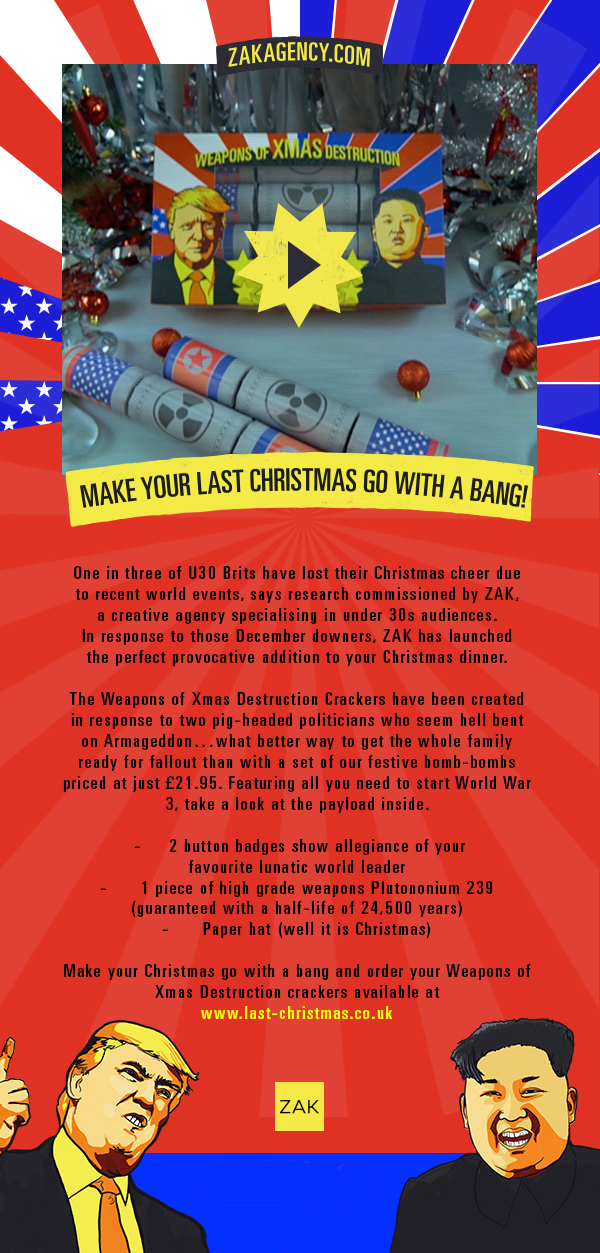 Rockin' Around the Christmas Tree with Rocking Rudolph
Make Christmas even merrier with Rudolph's festive tipple this winter

FACEBOOK | TWITTER | LINKEDIN | YOUTUBE
Get festive throughout the holiday season with the number one Christmas ale Rocking Rudolph.
The Number One Christmas ale, Rocking Rudolph is back this holiday season by popular demand and is available on tap across hundreds of pubs throughout the UK as well as exclusively in 500ml bottles Aldi stores. The favourite Christmas ale tipple for three years, Rocking Rudolph is the runaway favourite of discerning consumers over the festive period.
Whether you're looking for the perfect stocking gift, or a festive ale to go with your turkey dinner, Rocking Rudolph is the ideal Christmas companion.
This full bodied premium Christmas ale (4.2% abv) is packed with delicious redcurrants and blackcurrants, along with a malted toffee taste, to offer a crisp bitter finish to delight your palette.
The hoppy bitterness of Rocking Rudolph pairs well with winter dishes such as stews and mince pies to feast on during the festive season.
GBBO star Liam Charles creates bespoke Christmas Cheesecake Mince Pie recipe to support the launch of LF-S50G

To support the launch of the Sony Smart speaker – the LF-S50G – research has found 82% of the British public are turning to a smart device as their cooking aid in the kitchen
Recipe books are likely to have more of an online presence as 4 in 5 Brits search for recipes and cooking information via tech, due to quick and easy access (65%)
Breakout star of Great British Bake Off, Liam Charles is working with Sony to show the Smart speaker in action whilst cooking, he has created an exclusive Christmas dish – Cheesecake mince pies which can be searched for online or using Sony's speaker with the Google Assistant Built-in
With the use of home technology increasing, and Brits favouring voice assistant devices to act as a 'sous chef', to make everyday tasks easier, the cookbook could be taking on more of an online form, according to new research.
Liam Charles is working with Sony to show how easy it is to make technology the centre of the kitchen. Liam created a bespoke Christmas dish, Cheesecake mince pies, which can be searched for online or by using the Sony Smart speaker – the S50G. Liam searches for the recipe using the Smart speaker in a video tutorial, showing how to whip up the dish. Watch here:
Liam Charles said: "I'm not going to lie, I can get a bit carried away in the kitchen, experimenting and testing out new flavours and recipes. The Sony Smart speaker worked as an ideal sous chef; not only will it answer my questions but it can play my favourite playlist and can pause when I need a second to concentrate."
"And, the sound quality is banging so I can hear music and responses over the noise, wherever I am in the kitchen!"
Lucia Seston-Ferdinand, Sony Sound Product Manager, commented: "The Sony S50G acts as the perfect accompaniment for the kitchen or any room in the house for that matter. The 'hands free' element of the speaker enables budding chefs the chance to concentrate on their cooking without having to turn the page or further cluttering up the kitchen. Not only that but the speaker is multi-functional with 360-degree sound; with the sound filling the kitchen like the aromas of dishes created. And, if you happen to spill your dish on the speaker it's waterproof so can be easily wiped clean."
The Sony S50G is the perfect piece of kitchen equipment for professional and amateur cooks alike. With its high quality, 360 degree sound, people are able to listen along to music, ask questions and follow recipes from anywhere in the room, hearing the response loud and clear.
Liam's Cheesecake Mince Pie recipe:
Serves 12
Mince pies and gravy are probably the best parts of Christmas for me, for the sake of a sweet bake we're not going to include gravy but we are going to take the inspiration of a mince pie and knock it into a cheesecake recipe.
Chocolate x Orange x Cranberry Shortbread Base:
340g Unsalted butter, 165g golden caster sugar, 340g Plain Flour, 165g Corn Flour, Zest of Three oranges, 2 Tsp Mixed spice
1Tbsp of Vanilla Bean Paste, 200g Dark Chocolate, 200g Dried Cranberries
Mince pie Cream cheese filling:
900g Full fat cream cheese, 200g Caster sugar, 200ml Soured cream, 3 Tbsp. plain flour, 3 Free range eggs plus 1 yolk lightly beaten, 2 tsp vanilla extract, 450g Homemade/ Shop bought mince meat
Chocolate Bark:
300g Dark Chocolate:, 200g Dried Cranberries, Zest of 2 oranges
Baileys Spiked Whipped Cream:
300ml Double Cream, 2 Tbsp. Caster sugar, 2 Tsp Vanilla Extract
Baileys to Taste
Method:
For the Shortbread base,
Cream your butter and sugar together until light and fluffy.
Next you want to add your dry ingredients, followed by the zest of oranges 2 tsp of mixed spice and your vanilla bean paste.
Mix until the dough is just about coming together, and just then chuck in your chopped dark chocolate and dried cranberries.
Place dough on a lightly floured surface and knead gently. (DO NOT GO CRAZY) Wrap in cling film and place in fridge. For your dough to be easier to handle, cut it in half the place it in the fridge for 20 minutes. Place two baking trays into an oven and preheat to Gas Mark 4 / 180C.
Cheesecake:
So, in the meantime, you want to crack on with your cheesecake mixture. Cream your cream cheese and caster sugar until smooth.
In a large bowl, add your soured cream and plain flour. Then add one egg at a time, beat into your cheesecake mixture until all eggs are well combined. Finally add your Vanilla bean paste.
This is where it gets exciting! Shop-bought or Homemade it doesn't matter! Add the mincemeat filling to the cheesecake mixture. One that's done, wrap the top of the bowl in Clingfilm and place in the fridge until ready to use.
Roll x Cut x Bake
Take the biscuit dough out of the fridge and on lightly floured surface begin to roll out to thickness of a £1 coin, cut out 12 8cm circles and place one in each cylinder mould. Place a cylinder tray on one baking tray and bake for 15 minutes, until its light golden brown.
Set both trays aside to cool on a cooling rack, then drop your oven temperature to Gas mark 2/160C.
"Fill em up"
Evenly divide your cheesecake mixture between all 12 inserts and bake 20-30 minutes, you're looking for a set cheesecake with a cheeky little wobble in the middle.
Once baked switch of the oven and leave the door slightly ajar for the cheesecake to cool 30 minutes. Leave all cheesecakes on the side to completely cool.
Once cool place all cheesecakes in the fridge and chill for at least 1 hour ideally overnight.
DECOR!
While the cheesecakes chilling, it's time for DECOR! Melt the 300g of chocolate over a Bain Marie or a microwave but always mix in 20 second intervals, once melted pour the chocolate into a greaseproof lined baking tray.
Roughly chop dried cranberries, with 2 more oranges, grate of orange zest over the top and place into the fridge and leave to set, once set break the chocolate slab into funky shapes pointy shapes.
For the spiked whipped cream whip the double cream, caster and vanilla into a separate bowl until it's just whipped – soft peaks.
Now, the amount of Baileys you use should really be determined on the day. Monday, 1tbsp. Friday to Sunday, well it's entirely up to you.
Continue to whip until medium peaks are formed.
Place the nozzle into the piping bag, followed by the double cream, ready to pipe.
To serve, gently pop out each cheesecake and place onto plate or display board.
Now it's up to you on how you want to decorate. But I'll say you want to pipe three kisses onto the surface of the cheesecake, all varieties of sizes.
Place one of your shards on top of the cheesecake, sprinkle some icing sugar.
EAT!
Equipment:
Stand mixer (Ideally k-mix, Creamer beater attachment)
Food processor, Rolling Pin, Circle cutters, Baking Trays
Silicone Cylinder Moulds, Pipping bags, French piping nozzle
Recipes! Homemade Holiday Liquer using Everclear : Pomegranate Green Tea Liqueur Holiday Road Punch

FACEBOOK | PINTEREST | YOUTUBE
Pomegranate Green Tea Liqueur brings together the sweet taste of pomegranate and tea with Everclear ensuring holiday cheer is never in short supply. Combine with simple syrup and water, and within two hours it'll be ready to bottle and enjoy with Holiday Road Punch (recipe below) or gifted in a mason jar with festive ribbons and labels.
For Everclear
POMEGRANATE GREEN TEA LIQUEUR
Ingredients:
8 Pomegranate green tea bags
6 oz. Everclear®
7 oz. Filtered water
13 oz. White simple syrup
Instructions:
1. Combine tea bags, Everclear® and water in a sealable container.
2. Steep 2 hours.
3. Remove tea bags and add simple syrup. Mix thoroughly.
4. Bottle and enjoy.
HOLIDAY ROAD PUNCH
Ingredients:
15 oz. Pomegranate Green Tea Liqueur
5 oz. Vodka
5 oz. White rum
10 oz. Lime juice
10 oz. Champagne
Instructions:
1. Combine all ingredients except champagne in a pitcher or punch bowl.
2. Mix and chill in refrigerator 8 hours or more (overnight works best).
3. Just before serving, add chilled champagne and stir carefully.
4. Add ice, along with 10 lime wheels.
5. Serve in punch glasses, ice optional.
6. Garnish with lime wheel (also optional).

GAMEVICE® for iOS and Android Devicestotally new mobile gaming experience! gamevice.com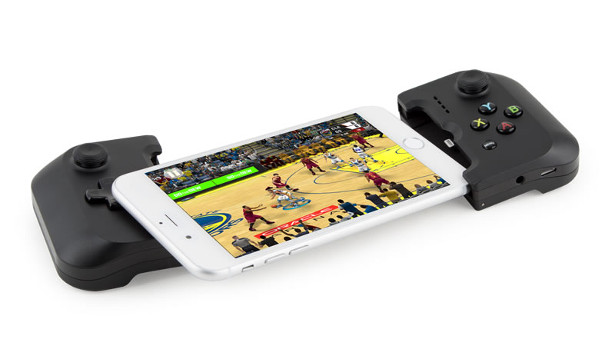 FACEBOOK | TWITTER | INSTAGRAM
The Gamevice is the number one controller for iOS and Android devices that provides a totally new mobile gaming experience for over 1,000 games and apps including Street Fighter IV, Minecraft, NBA 2K18, The Walking Dead,Final Fantasy and so many more. Gamevice turns your mobile phone or tablet into a gaming console on the go and is the only controller that connects directly to Apple's Lightning and Android's USB-C ports offering Zero Latency Gaming.
Not only does the Gamevice controller make mobile gaming better, it is an entertainment hub that works as a controller for drones and robots making it a must have accessory for any mobile device owner.
The Gamevice makes for a great holiday gift or stocking stuffer, Gamevice prices start at $79.95.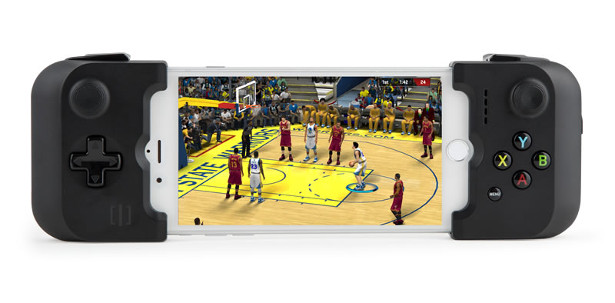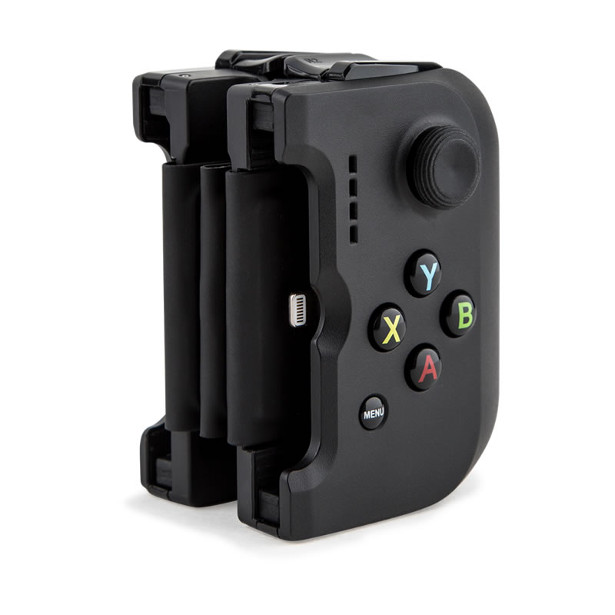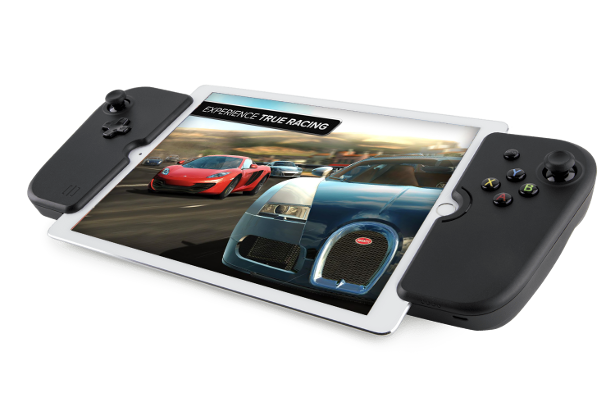 www.outofpockettees.com Pocket tees that stand out! Send you designs in!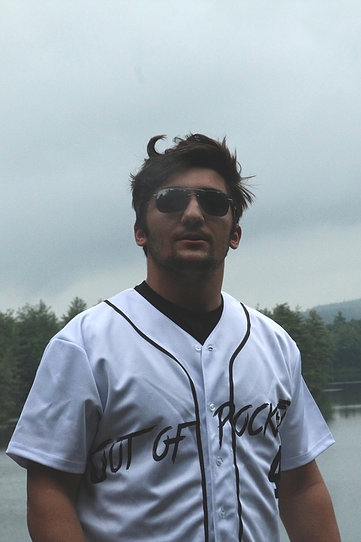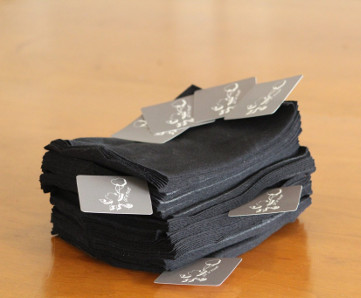 The Out of Pocket name came from funding the website and products out of our own pocket in hopes that the business will continue to grow and make pockets that inspire fun and change in the world. Some might ask, what is that change? Our response is, it's a change of clothes. Just kidding, we are open to anyone who wants to submit designs to create change. We make pocket tees that stand out and if you want to stand out on an issue we want to support you. Reach out to us if you want to create something, whether it's for change or simply something awesome that catches the average pedestrian's eye.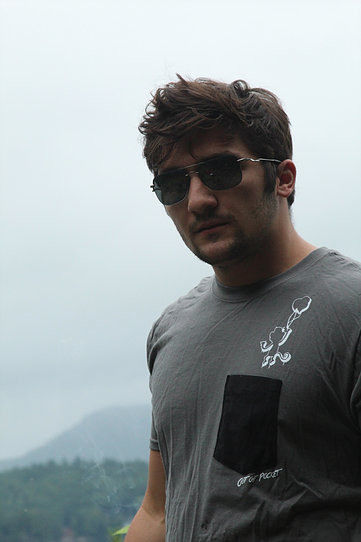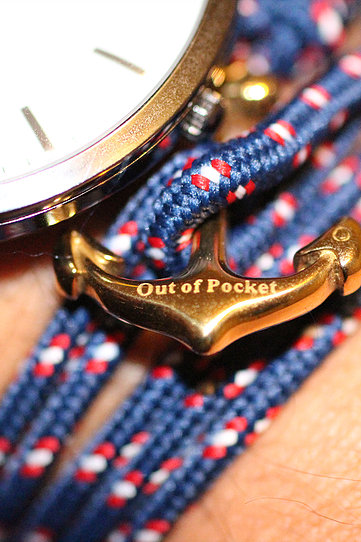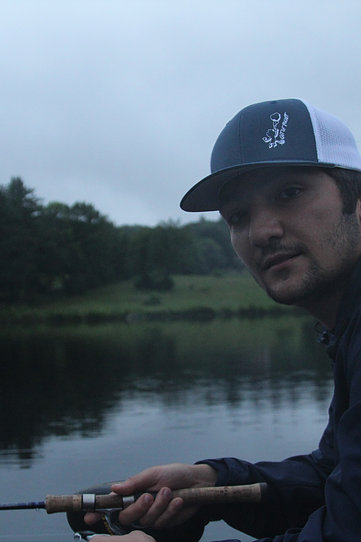 The Pet Pass is a faux passport for pets.  www.thepetpass.com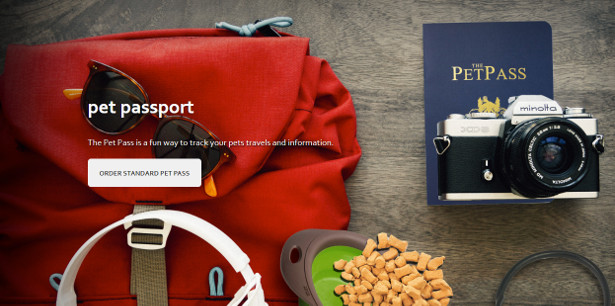 TWITTER | FACEBOOK | INSTAGRAM
The Pet Pass is a great and fun way to keep track of your pets' travels and information. You can log all the exciting adventures that you and your companion share together. The Pet Pass is the size of a standard passport booklet. It has a thick cover with gold foil and all inner pages are printed on thick stock paper. It has a spot for your pets picture and paw print to uniquely identify your pet. You can order The Pet Pass as standard where you write in all your pets information or you can order it already customized. There are locations to put all of your pets identifying information, e.g.: Micro Chip #, Vaccination records, your pet and your information, Tattoo, registration, etc. There are 15 pages to document your travels using the countries actual stamps or you can purchase stickers that look like stamps. All the information in the The Pet Pass is in English, French and Spanish. It has everything that you would want and more to document your pets travels in a fun way.
(note: this is not a legal passport and not required for traveling)
Please also visit us at www.thepetpass.com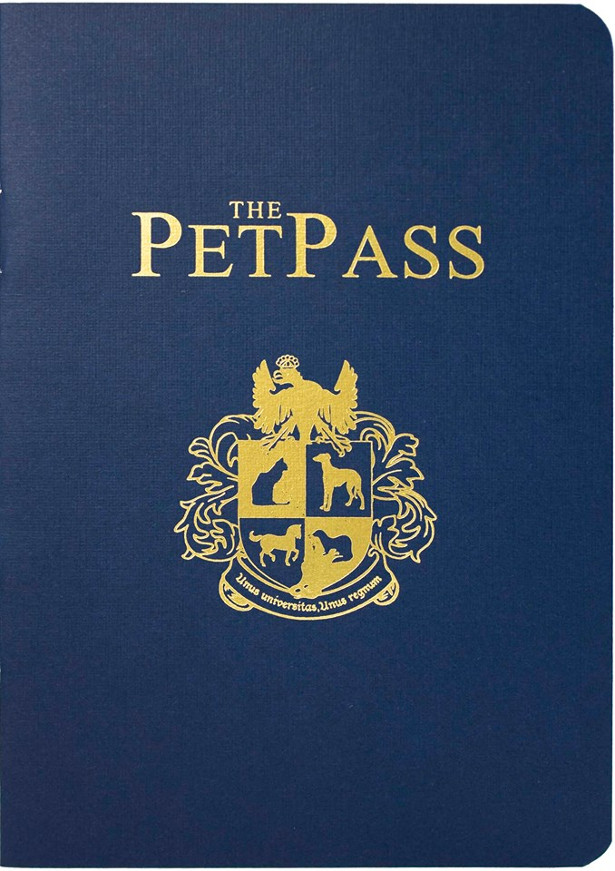 Essential Disaster Averting items 1) Wasserstein Handbag Light (which also functions as an external emergency battery for charging & 2) The Wasserstein Tassel Keychain ! BOTH ON AMAZON!
Handbag Light with Integrated External 500mAh Battery Pack to Charge your Phone or Tablet, Touch Sensor Purse Light by Wasserstein; Charge Your Devices On-the-Go and Light Up your Purse (Round, Black)
The Wasserstein Handbag Light also functions as an emergency external battery to charge all your phone or tablets before they run out of juice. Our 500mAh version can charge your iPhone up to 30% and our 2000mAh model can charge your iPhone fully.
See more at :- www.amazon.co.uk/dp/B071S27VTR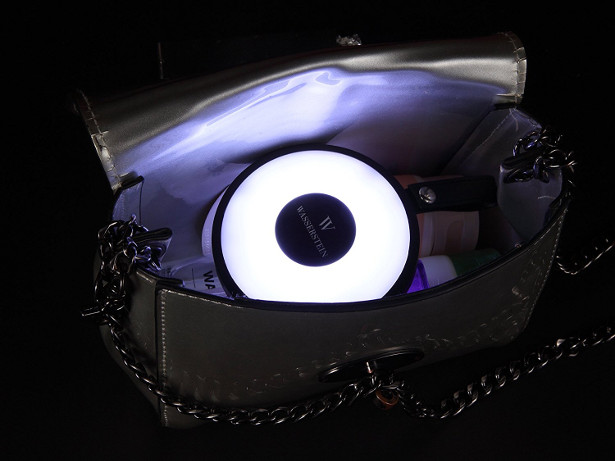 USB Leather Tassel Key Chain Charging Cable with Lightning Cable & Portable Micro USB Cable, Lighting Charge Sync Cable for iPhone and Micro USB cable for all Android Devices by Wasserstein (Grey)
The tassel is made of faux leather and comes in brown, black and gray. The top of the product features a ring that allows you to seamlessly attach it to your key chain or handbag. The tassel cords playfully cover the cables and make them easy on the eye. Each cable is braided to complement the tassel cords. The metal hardware cover on top of the USB has a nice metallic finish and complements the tassel cords as well.
See more at :- www.amazon.co.uk/dp/B01JZRA9MW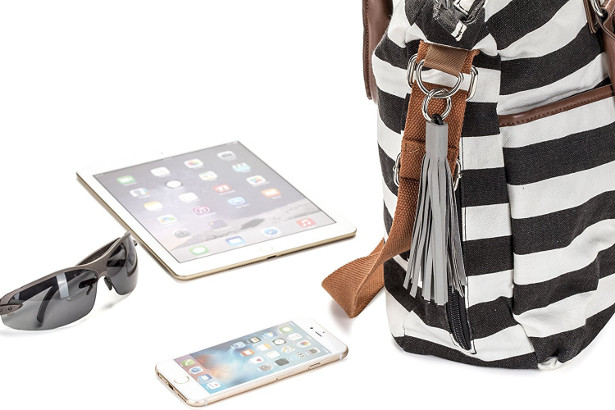 Website
USB Leather Tassel Key Chain
bit.ly/2lKGlbB
Handbag Light with Integrated External 500mAh Battery Pack
bit.ly/2v32aGT
BOOK: Healthy By Choice: Your Blueprint for Vital Living by Shawna Curry RN, BN, BKin
yourlifestylestrategy.com/book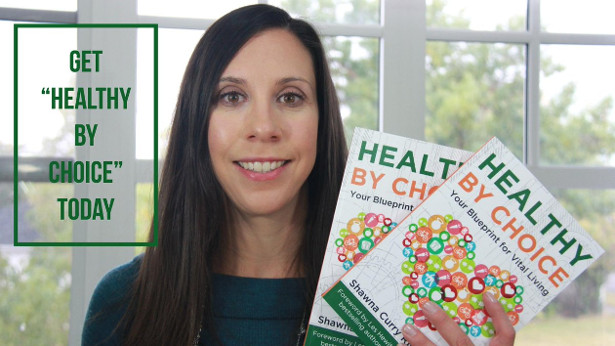 FACEBOOK | INSTAGRAM | TWITTER
As an Amazon Best Selling Author, International Speaker and Registered Nurse (www.yourlifestylestrategy.com) with over 16 years of experience in the health and fitness world & having been a personal trainer and coached may different types of athletes, Shawna Curry RN, BN, BKin understands that world well.
Her book "Healthy by Choice: Your Blueprint for Vital Living" is all about simplifying the process of improving your health, distilling it down into the essential blueprint for health. By focusing on key pillars of health such as sleep, nutrition, exercise and stress management it's possible to improve almost every disease and medical condition. There's no fluff in this book. Just the facts and the steps that you can take to make permanent lifestyle changes to achieve optimal health.
See it now on :- www.amazon.com/Healthy-Choice-Blueprint-Vital-Living-ebook
Healthy By Choice: Your Blueprint for Vital Living
Shawna Curry shows you the 7 Pillars of Health to build a foundation for wellness. You will love this approachable, easy-to-consume method. Almost every disease or medical condition can be improved with time-tested, easy lifestyle changes and without the use of gimmicky fads or diets.
In Healthy by Choice: Your Blueprint for Vital Living, you will:
-Expose the stumbling blocks that have prevented you from making healthy changes in the past
-Pinpoint which pillar of health to focus on to achieve maximum impact on your health
-Set achievable goals that result in massive changes over time
You'll walk away feeling empowered and ready to take charge of your well-being, without needing to rely on others to "fix" you. With Shawna's easily modifiable blueprint, plus the knowledge and skills to make a health transformation, you can create a solid foundation for better health.
First ever children's storybook celebrating London's cultural diversity Crowdfunding leads to children's adventure story of inclusiveness…. by Winnie Mak Tselikas. www.onedearworld.com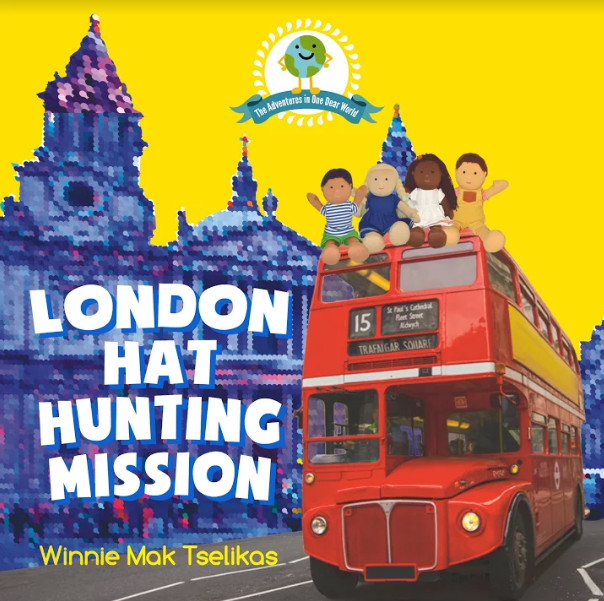 FACEBOOK | TWITTER | PINTEREST | INSTAGRAM | YOUTUBE
LONDON, October 23 2017 – One Dear World, a London-based family startup, is proud to announce the publication of Winnie Mak Tselikas' London Hat Hunting Mission, the first ever children's storybook on London's cultural diversity, due to be published on 18th November 2017.
Following a successful crowdfunding campaign in May, Winnie launched her collection of multicultural soft dolls in October, each a Londoner with their own doll-sized passport, proclaiming them a world citizen. Book 1 in the series "The Adventures in One Dear World" is about four dolls and their search across London for magic hats to cure their friend Mr. Globe's headache.
With one in three Londoners born outside the UK and over 300 languages currently spoken in the city, London is one of the most culturally diverse cities in the world. To celebrate this diversity and teach children the possibility of an inclusive society, Winnie depicts an exciting journey exploring the cultural specialities across London, including South Kensington, Edgware Road, Chinatown and more. Instead of traditional illustrations, fresh and lively photos are combined with digital illustration to depict this vibrant adventure. The storybook that accompanies the dolls will encourage the celebration of every person's uniqueness.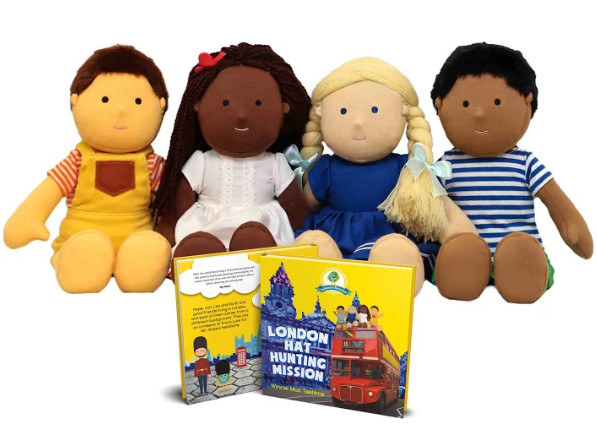 Winnie states: "In this storybook, all children, boys and girls of different skin colours, can see themselves represented. My husband and I are overwhelmed by the public support for this project, allowing us to bring our multicultural vision to life. I am committed to making One Dear World multicultural dolls and their adventures available for every family with young children."
English, French and Chinese versions of the hardcover storybook are on sale from 18th November 2017.
About Author
Winnie Mak Tselikas is a believer in diversity. Born and raised in Hong Kong, she studied engineering, worked in commercial sales and in 2011 switched to education upon moving to London. There, she met her half-French, half-Greek husband and they had a son, who now has family in China, France, Greece, HK, the UK and the US. Winnie considers her son to be a world citizen rather than of a particular nationality or culture. Inspired by her family and London's diversity, she founded One Dear World and created the lovely adventures of Mr. Globe and the little Londoner dolls.
  Nomader Collapsible Water Bottle www.nomader.com
The Nomader bottle makes hydration easy with its uniquely portable and versatile design.
The Nomader Collapsible Water Bottle (www.nomader.com) is the perfect addition to your special Christmas Gift list!
It's ranked #17 in most wished for water bottle on Amazon (www.amazon.com/gp/most-wished-for/sporting-goods) and #26 for top gift ideas (www.amazon.com/gp/most-gifted/sporting-goods)
Here are some of the bottle's top features:
Folds up or squashes down to fit inside a small bag
Easy to carry or clip to bag with attached lanyard
Locking screw cap with airtight seal ensures no leaks
Made of shatterproof silicone to survive accidental drops
Comfortable to drink from and hold
100% BPA-free, health-safe materials
Handles hot, cold, and frozen drinks
Wide mouth makes it easy to refill, add ice, and clean
Available in 11 stylish colors
Includes a lifetime warranty
See more at :-  www.nomader.com

 Torch: the World's First and Only Universal Coat Heater, by Friction Gear www.torchcoatheater.com
TWITTER | FACEBOOK | YOUTUBE | INSTAGRAM | LINKEDIN
Torch is a battery operated heater that you can put in any style coat and is for both men and women. Torch is extremely warm and can keep people comfortable through the entire winter season. Torch is a series of 3 very thin heat pads that stick in your coat and provide heat for up to 5 hours on a single charge. Torch is very compact and extremely versatile making it a great gift idea for people who love outdoor sports like snowboarding, skiing, hunting, fishing, snowmobiling, motorcycling, hiking, camping and anyone else that simply doesn't like the cold.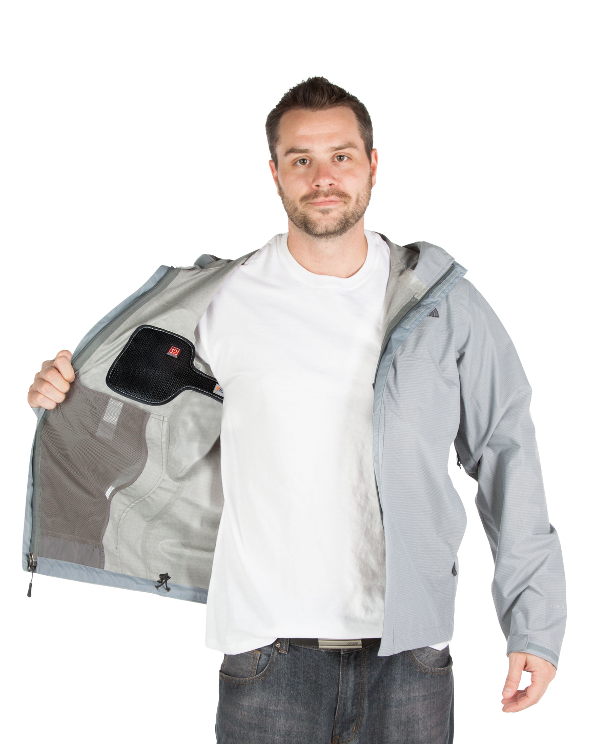 Torch is also transferable from coat to coat, so you can transfer it to whatever coat you like best, like your suit coat, pea coat, down jacket, rain coat, hiking coat or whatever coat you can think of. Because of the versatility, Torch is great for anyone and everyone and fits every style, so you don't have to worry about giving someone a gift they don't like.
Torch Will be for sale for $89.95 but you can Order Torch now for $75 on their crowdfunding site at
www.indiegogo.com/projects/torch-the-world-s-first-universal-coat-heater–4/x/13115833#/ and they are currently fulfilling orders.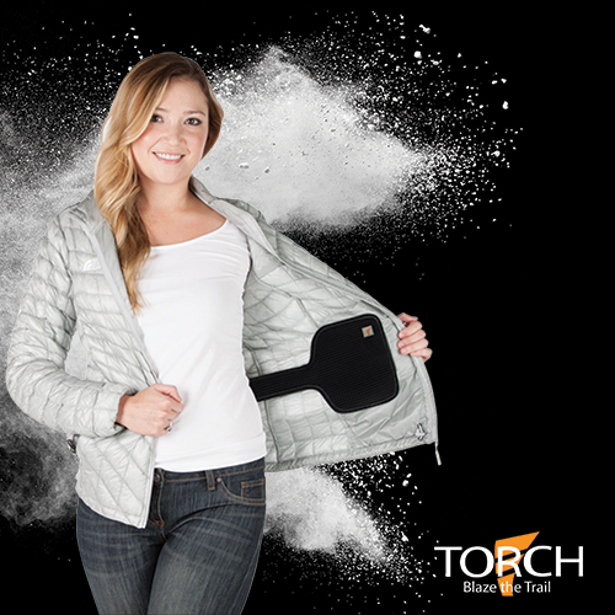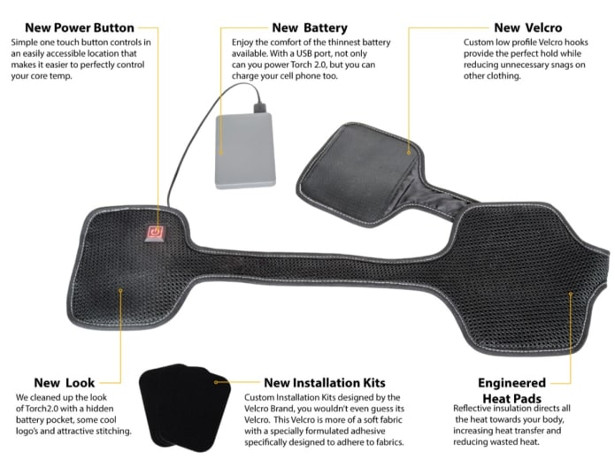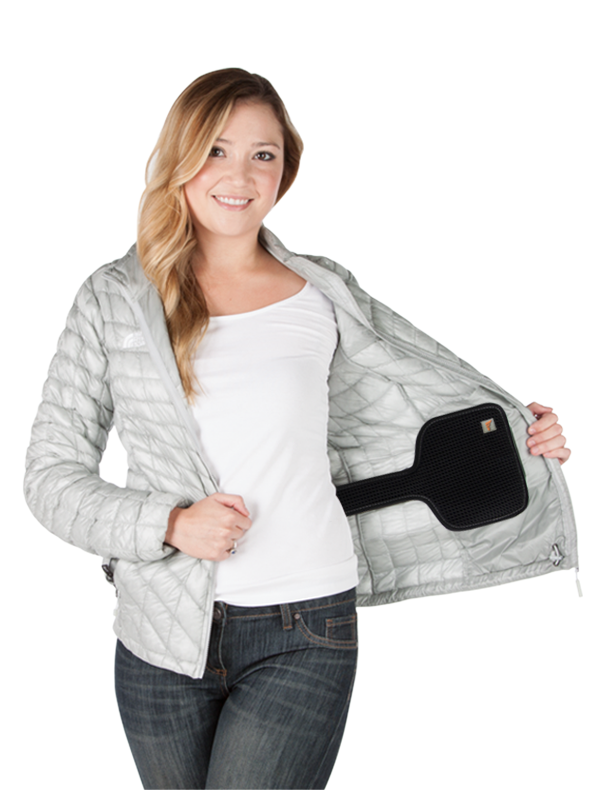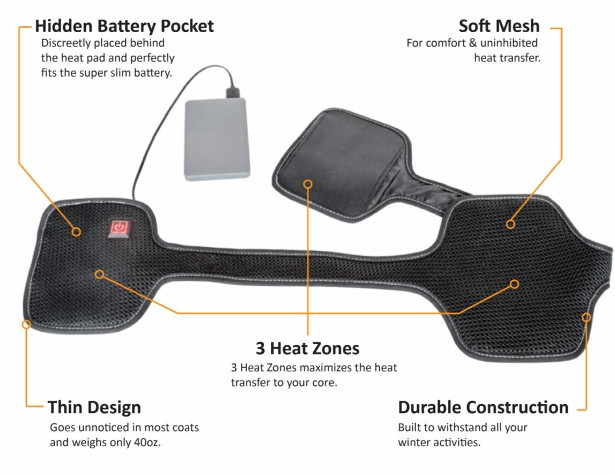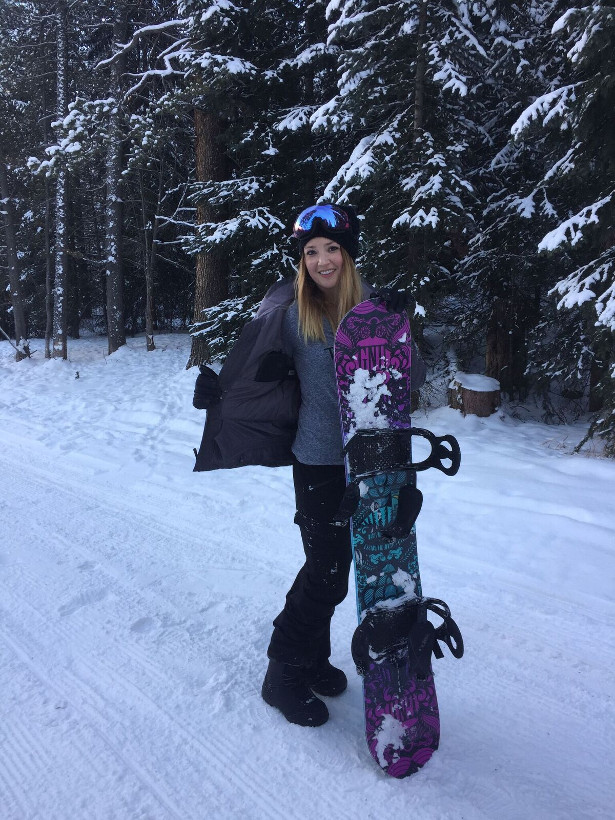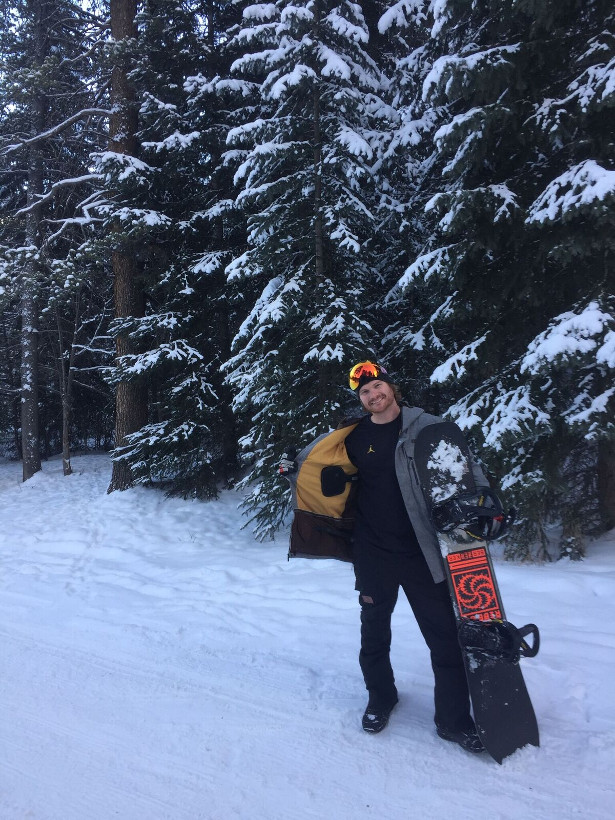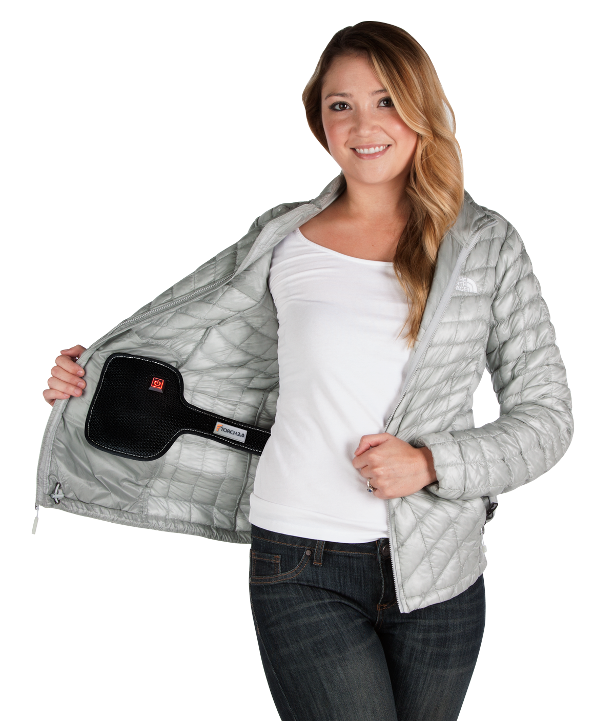 SECOND SKIN Men's Long Sleeve Training Top
($40.00)
Available Colors: Legion Blue, Peacoat Blue, Black, Gravel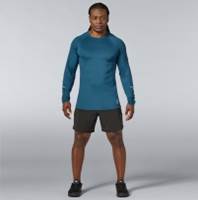 Add to your fitness gear with the SECOND SKIN Men's Long Sleeve Training Top. Soft fabric treated with moisture-wicking HeiQ® technology offers dynamic temperature regulation, while raglan style sleeves grant improved movability. Features SILVADUR™ technology to minimize odor, and placed reflective hits improve visibility in low-light situations. Choose the SECOND SKIN® Long Sleeve Training Top for lightweight breathability.

   KakeMi 90 Second Cake all inclusive dessert kit allows anyone to make a cake in 90 seconds in their microwave. www.kakemicakes.com
INSTAGRAM | FACEBOOK | YOUTUBE
The KakeMi 90 Second Cake is a unique activity for kids, college students, and sweet lovers. Each kit contains cake mix, icing, oil, sprinkles, and a compostable baking container. The recipient only needs to add water. There is no mess, no stress, and no clean up. The cakes sell for $6 and come in 3 flavors chocolate, vanilla, and lemon. You can save 10% on your order by using coupon code 'sprinkles'.
You can learn more and see how the 90 Second Cake works at www.90SecondCake.com.
—
KakeMi 90 Second Cakes
www.90SecondCake.com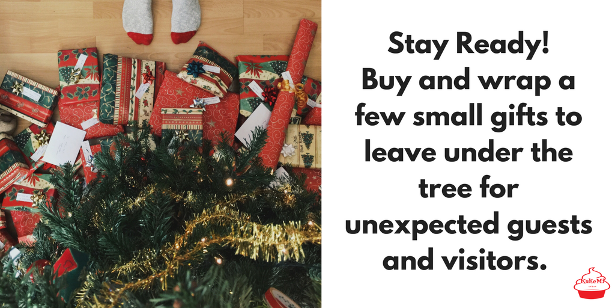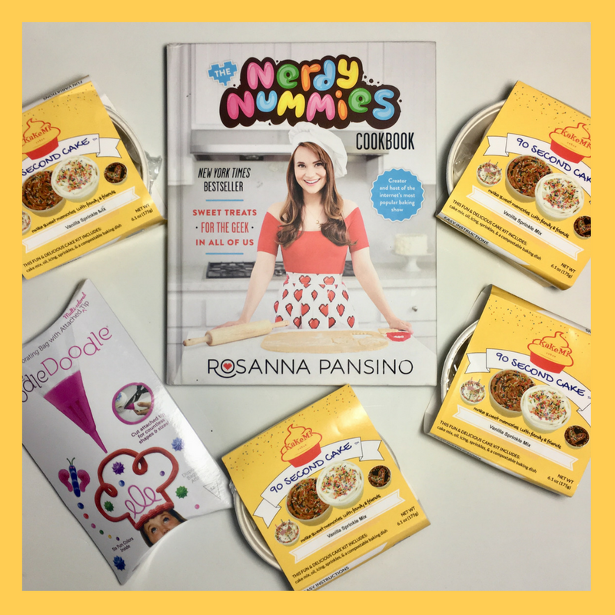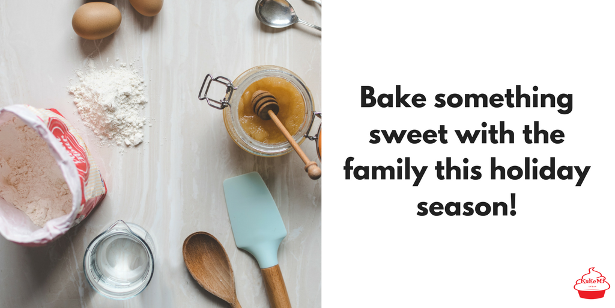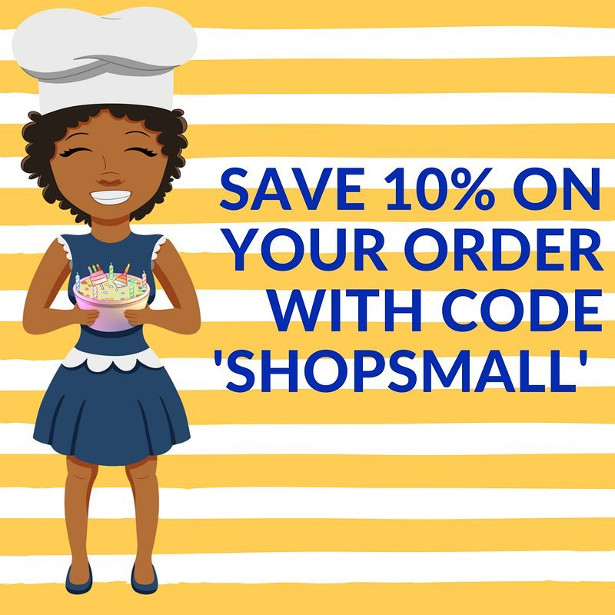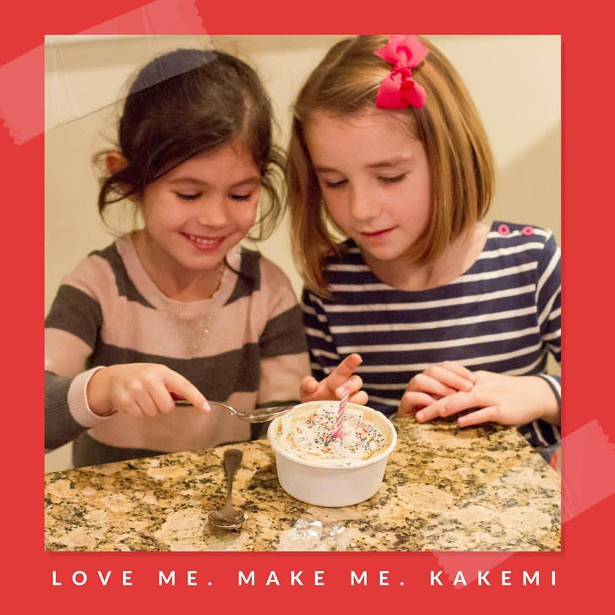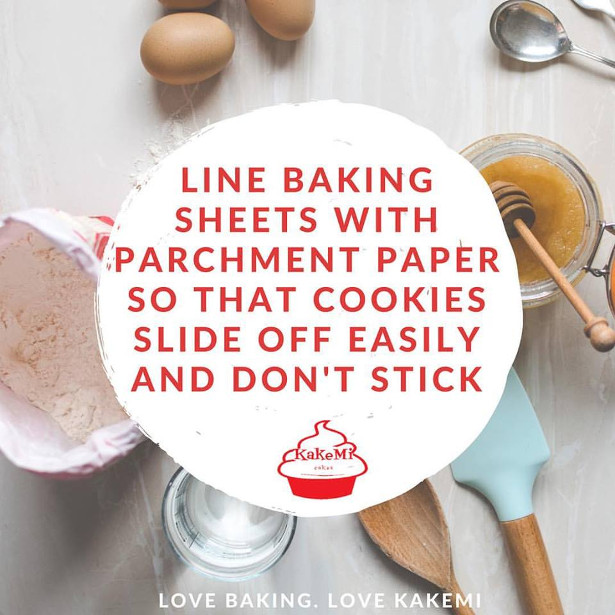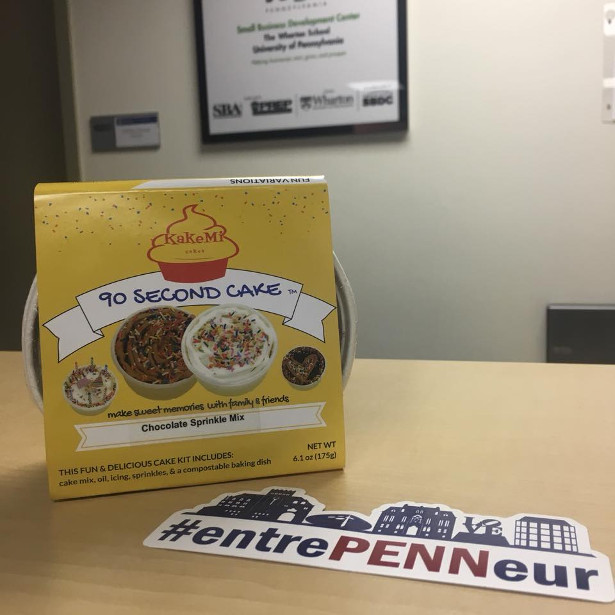 HERE TO SHAVE THE DAY – DOLLAR SHAVE CLUB IS COMING TO THE UK
· American shaving sensation Dollar Shave Club launches in the UK
· Get a top-notch shave for 40% less than standard blades
· Be among the first to sign up and receive £5 off your first order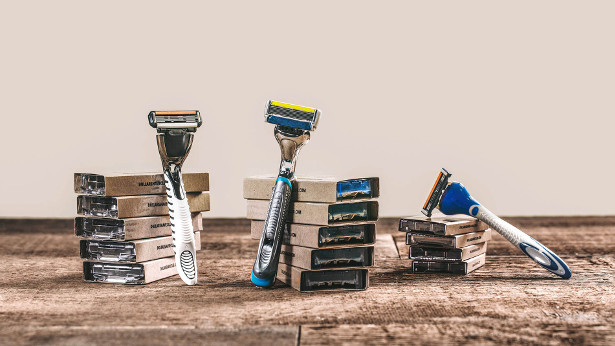 FACEBOOK | TWITTER | INSTAGRAM
After much anticipation and demand on social media, Brits can now rejoice as Dollar Shave Club, the American grooming sensation, is bringing its unique approach to grooming to the UK.
Dollar Shave Club is a brand that is dedicated to helping men take better care of themselves through a combination of grooming products, content and technology. The concept is simple – they deliver high-quality razors, and an assortment of men's grooming products, through a regular subscription dropped straight to your door and at a significantly better value than buying other blades.
Those looking for the perfect shave will be able to get their hands on the brand's high quality shaving and grooming products from early 2018, from as little as £3[1] per month. But there's no need to wait as, starting from the 27th Nov, you can sign up to be among the very first members of the Dollar Shave Club and benefit from £5 off your first order later on. You'll also be able to take advantage of the brand's friend referral program, which offers another £5 off for every friend who joins the club as a subscriber[2].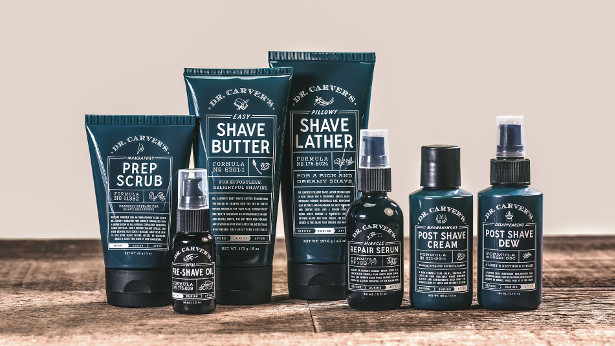 As for the products that can be ordered as of early next year? Subscribers will be able to pick up one of Dollar Shave Club's three razors: The Humble Twin, The 4X and The Executive, as well as Dr. Carver's shave aids, which include an Easy Shave Butter, Mandatory Prep Scrub, Magnanimous Post Shave Cream, and Disappearing Post Shave Dew. For the man on the move, the durable Dollar Shave Club traveller bag will also be available to purchase.
Dollar Shave Club is the brainchild of CEO Michael Dubin, an American entrepreneur who recognised the frustration men felt with the experience of buying razors in store. First entering the US market in 2012, the Club quickly grew into a go-to membership for millions of men, creating a diverse range of grooming and personal care products. Unilever soon saw its potential – acquiring the brand in 2016 – and now it's on its way to our shores.
Thrilled that Dollar Shave Club is coming over from across the pond, Michael comments: "When exploring our next international move, coming to the UK was an obvious choice. We know that British men like to take care of themselves and are looking for high-quality grooming products, without the hassle and extortionate prices – which is where we come in."
To sign up for Dollar Shave Club and get a £5 off your first order from the 27th November, visit: www.dollarshaveclub.co.uk. Don't forget to refer friends to get more money off your next few orders. You can also follow Dollar Shave Club on Facebook, Twitter and Instagram: @DollarShaveClub.
*40% cheaper than Gillette Fusion Power / Pro Shield 4 blades
** £5 for a user to sign up. £5 for each sign up the user successfully refers (to a maximum of 10 sign ups). For each successful referral, the £5 coupon will be extended for one additional delivery
[1] For the Humble Twin razor and blades (£1, plus £2 shipping)
[2] 5 for a user to sign up. £5 for each sign up the user successfully refers (to a maximum of 10 sign ups). For each successful referral, the £5 coupon will be extended for one additional delivery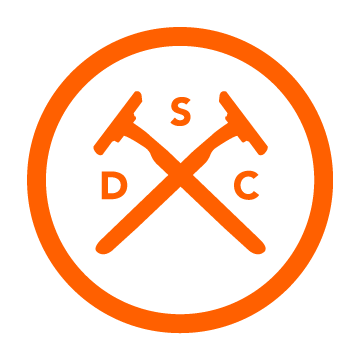 Premgripp – sock technology designed to raise your game…. this gripping technology adds that extra performance advantage!
By >> www.tejay.co.uk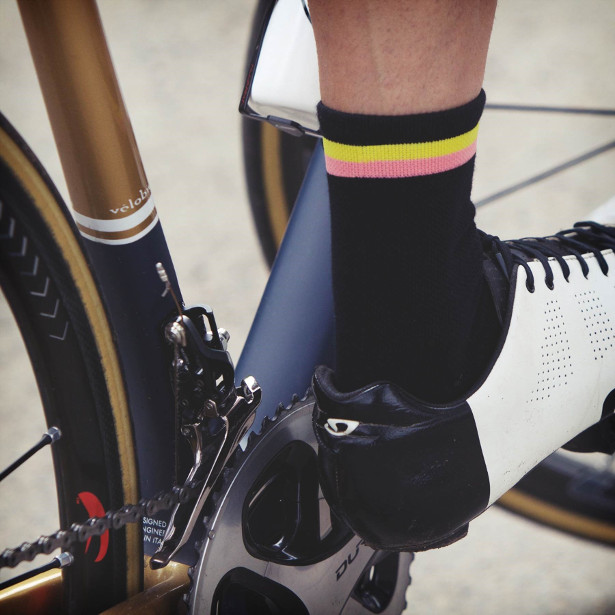 Serious sports enthusiasts can now achieve the marginal performance gains previously only available to elite athletes, thanks to the mass market launch of patented PremgrippÒ sock technology by Tejay Sportswear.
This British innovation – favoured by international stars of football, cycling, cricket and rugby – grips the foot inside the sock and shoe to maximize power and weight transfer, delivering performance gains that can help athletes at any level raise their game. Tejay is rolling out the technology across a growing range of sports.
PremgrippÒ uses 'Offset Foot Technology' to marry offset grip areas inside and outside the sock, thereby maintaining constant and full contact with both the skin and the shoe to prevent any slippage. Along with anti-blister properties, the technology helps to stimulate nerve endings connected to calf muscles, which in turn promotes lower leg blood circulation and aids boot contact.
Socks with PremgrippÒ mould to the foot, offering fully elasticated feet and double density comfort zone padding to the ankle, sole and toe, along with corrugation in the articular area of the sock foot to prevent creasing. These features deliver both comfort and enhanced performance among wearers in their chosen sport by maximizing the effect of explosive power through the boot and during weight transfer.
Terry Smith, Managing Director of Tejay Sportswear, said about the launch:
"We have innovated and manufactured performance sport socks for over 20 years and PremgrippÒ really is the game changer. Athletes and professional sportspeople look for marginal gains to maximize their output and this sock technology is proven to do just that – now it is being made available to serious sports enthusiast to help them be the best they can be, irrespective of their level."
The PremgrippÒ range of socks is tried and tested at an elite level and is currently being worn by top professionals in sports such as football, rugby, cricket and cycling. Now it is being made available widely across these sports, with other applications planned for launch in the coming months.
www.tejay.co.uk

WHEY AHEAD®: The perfect gym bag essential this January 2018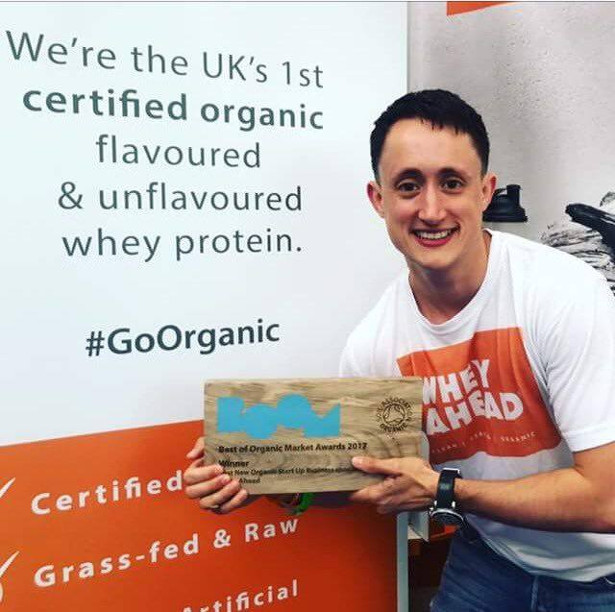 INSTAGRAM | TWITTER | FACEBOOK | PINTEREST | YOUTUBE
Its resolution time, and many will be raring to test out their new gym memberships in the New Year. WHEY AHEAD® is the newest kid of the protein block, and a must-have gym bag essential to maximise your fitness in 2018.
WHEY AHEAD® is the UK's first 100% certified organic, flavoured and unflavoured whey protein powder. The post workout protein supplement was started out of founder Ethan Salathiel's passion for a pure, natural and organic alternative to everyday protein shakes.
Organic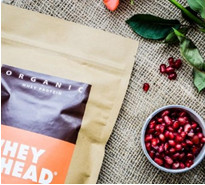 Ethan was fed up with seeing artificial sweeteners and unpronounceable hidden ingredients in his protein supplement, so decided to do something about it. The brand's belief is that organic is the WHEY AHEAD® because it is the cleanest choice for people who want the best nutritional benefit from their protein shake minus the nasties, completely organic and gluten free; "nothing added, everything gained!"
Taste
There are currently four delicious flavours of organic whey protein:
1. Naked/Unflavoured (27g protein per serving)
2. Madagascan Vanilla (20g protein per serving)
3. Peruvian Chocolate (20g protein per serving)
4. Ecuadorian Banana (21g protein per serving)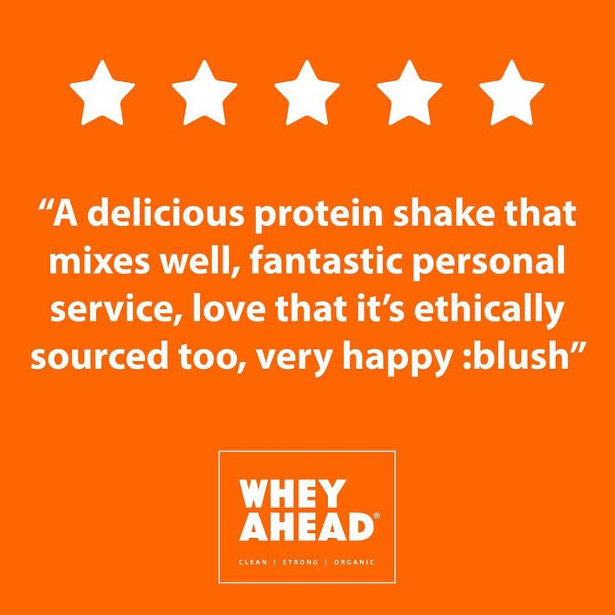 The Ecuadorian Banana flavour is the newest product in the range, and their Madagascan Vanilla is the only organic vanilla flavour on the market. A must try for the adventurous.
Recognised
The passionate startup business has recently won the prestigious Soil Association, 'Best Of Organic Market' or 'BOOM' Award for 'Best Organic Startup Business 2017' sponsored and judged by Ocado. Founder Ethan was also shortlisted for 'Organic Rising Star'. WHEY AHEAD® is also trusted by a team of professional athletes including double Paralympic champion, Richard Whitehead MBE.
Prices start at £25 for 500g and £45 for 1KG (with free shipping). To purchase and for more information visit www.wheyahead.com
Join us on Instagram, Twitter & Facebook @wheyahead | #GoOrganic