The Christmas gift that won't go to waste
Gift Seep's eco friendly home care collection knowing that you won't be contributing to plastic pollution this Christmas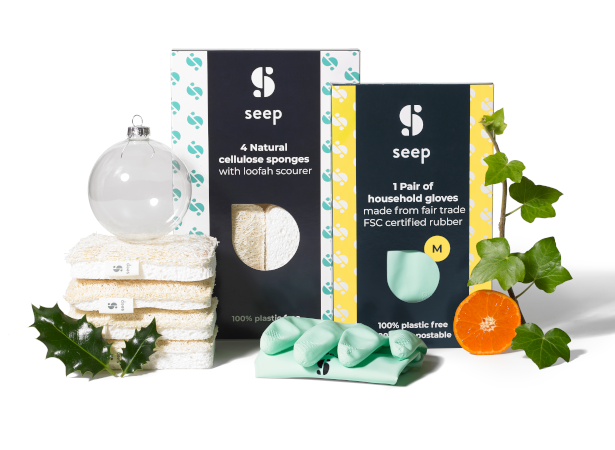 Did you know that 125,000 tonnes of plastic packaging (weighing as much as 10 double decker buses) will be generated during the festive period in the UK? Thankfully 72% of Brits are keen to reduce their plastic waste during Christmas – and Seep can give a helping hand.
Whether you're looking to clean up after your Christmas cooking mayhem, kicking off the New Year with another eco swap or you're looking to gift something different and kinder to the planet, Seep's collection of cleaning tools will get you excited.
Introducing Seep's Christmas Collection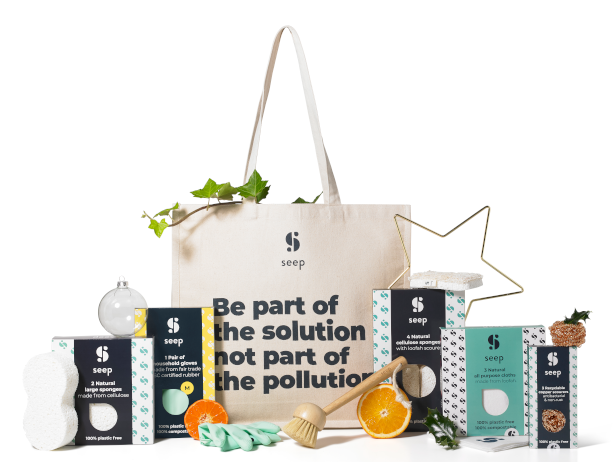 ● The perfect ethical cleaning gift – ideal present for your ethical friend or family member who wants to reduce their waste or for someone who is a cleaning fanatic
● Impeccable sustainability credentials – plastic free, B Corp certified, climate neutral and sustainably sourced raw materials like bamboo, wood pulp and rubber
● Easy on the eye – fresh branding, looks great next to your sink instead of the green plastic sponges and polyester microfibre cloths
● Feel good knowing you're reducing plastic waste – 600 million cleaning tools are thrown out in the UK each year, over 80% are made of plastic and release micro plastics each time they're used for cleaning
● Works brilliantly – all of our products have been tested with our super-users to check they work as well if not better than the traditional plastic alternatives
The collection consists of:
● Eco Friendly Cleaning Hamper (RRP £50): pack of 4 sponge scourers, bamboo dish brush, pair of rubber gloves, pack of 3 copper scourers, pack of 3 cloths, pack of 2 large cellulose sponges, and a cotton tote
● Secret Santa Gift Set (RRP £12.00): pack of 4 sponge scourers and a pair of fair trade rubber gloves
● Eco Sponge Stocking Fillers (RRP £12.50): 5 individually wrapped sponge scourers, pop one into each of your stockings
Seep products are available at www.theseepcompany.com or Amazon.