CENTURY TO PUBLISH INSPIRATIONAL AUTOBIOGRAPHY OF RUGBY LEGEND KEVIN SINFIELD OBE
After a fiercely fought 11-publisher auction, Century, an imprint of Penguin Random House is to publish the inspirational autobiography of rugby icon Kevin Sinfield OBE on May 25th 2023. Century Publishing Director Ben Brusey bought world rights from Ruth Cairns at Featherstone Cairns.
(Kevin Sinfield OBE is doing a conversation tour… to see the dastes visit > https://www.waterstones.com/events/search/author/5950068 )
Co-written by five-time Sports Writer of the Year Paul Hayward, The Extra Mile is the memoir of one of the greatest rugby league players of all time, who in recent years has shown heroism of a very different kind through his selfless and extraordinary fundraising for Motor neurone disease (MND), the terminal illness that has affected his best mate and former Leeds Rhinos teammate Rob Burrow.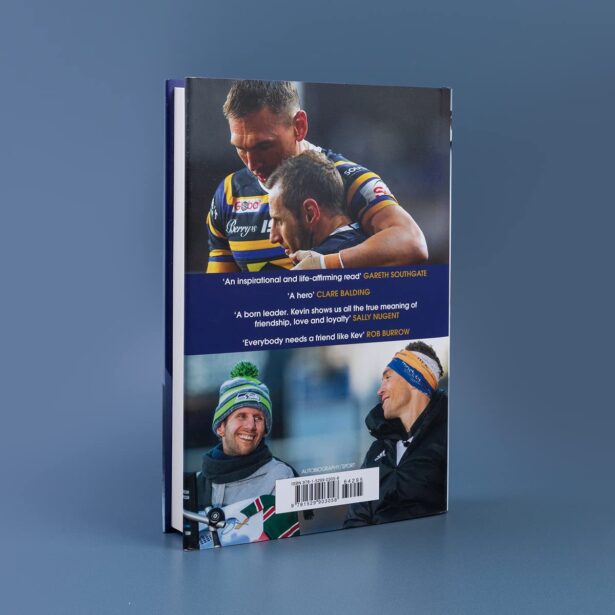 Sinfield's epic challenges have included running 7 marathons in 7 days, and running over 101 miles in 24 hours. In the process, Sinfield has captured the hearts of the nation and raised nearly £5 million for MND. He was awarded an OBE in the Queen's Birthday honours for his efforts. Sinfield is set to take on his hardest challenge yet this autumn, which will be covered extensively by the BBC. Next May, Sinfield will be running the inaugural Rob Burrow Leeds marathon which he has helped to found.
Told with Sinfield's characteristic warmth, dry wit and inspirational leadership, The Extra mile is the story of an astonishing life, of an enduring friendship, of perseverance against the most difficult of challenges, and of a remarkable, humble human being who has defied the odds. The book equips readers with the tools and the mindset to embrace togetherness and to overcome their own challenges. It leaves the reader with the urgent question: Who would you go the extra mile for to help in life?
The book will be published in print, digital and audiobook, with Kevin Sinfield to read the audiobook.
Sinfield said: 'I'm proud of this book and I hope readers enjoy it too. It spans my life and career – rugby to now. Through my challenges, I've wanted the MND community, whose stories and pain are horrific, to smile in my discomfort. I've wanted to give them a glow inside that I've been willing to go through it. I hope this book can continue to share awareness about this terrible disease. And more broadly, I hope this book can help readers to conquer the challenges in their own lives. We can all go the extra mile.'
Brusey said: 'I couldn't be prouder to publish such an outstanding human being as Kevin Sinfield. The Extra Mile is no ordinary sports memoir. But Kevin Sinfield is no ordinary sportsman. His memoir is a beacon of hope and a story of superhuman courage. It will move readers to tears whilst making them marvel at the resilience of the human spirit. Publication next May will be a national publishing event and The Extra Mile is destined to become a future classic.'
Cairns said: 'The word legend is used too freely in sport but in Kevin Sinfield's case it's warranted – there's a depth and integrity that has shone throughout his life and career. The Extra Mile transcends sports publishing and has at its heart a profoundly moving study in friendship. It's a privilege to be working with Ben and his brilliant team at Century on this very special book.'
Praise for Kevin Sinfield:
'Everyone needs a friend like Kev' Rob Burrow
'Kevin Sinfield is adored and respected . . . he is the best of men' Brian Moore, Telegraph
'I've always thought Kevin Sinfield was a hero. His quiet, calm, committed leadership makes people want to support him and we are all doing that as he supports Rob Burrow and everyone living with MND' Clare Balding
'The friendship between Kevin Sinfield and Rob Burrow gives you faith in humankind' Sir Chris Hoy
'What an achievement! Well done Kevin Sinfield' Alan Shearer
About Kevin Sinfield:
Born in Oldham and known affectionately as 'Sir Kev', Kevin Sinfield retired in 2016 as an idol of the Leeds Rhinos' golden years and as a former England captain. Sinfield won seven Super League titles, three World Cup Challenges and two Challenge Cups in 521 matches for his club. From 2003 he captained a side that exemplified the best of his sport. Sinfield became the first rugby league player to be nominated for the BBC Sports Personality of the Year Award, finishing in second place behind Andy Murray in 2015.
But his career on the pitch is only part of the story. Alongside Sinfield was a small but indomitable scrum-half, Rob Burrow. As Rob's health has tragically declined in recent years due to Motor neurone disease (MND), Sinfield has set himself a series of extraordinary endurance challenges, including running seven marathons in seven days and over 100 miles in a single day, that have raised awareness and millions of pounds for the cause of MND. In the process, Sinfield has won the hearts of a nation and an OBE from the Queen.
Sinfield continues to be a leader on and off the field, through his fundraising and now as defence coach for Premiership winners Leicester Tigers. He is one of the few individuals who has successfully crossed rugby codes. Later this autumn, Sinfield is to embark on his hardest endurance challenge yet in order to raise money and awareness for MND. The challenge will be covered extensively by the BBC.
About Paul Hayward
Paul Hayward is a former Chief Sports Writer at The Guardian, Observer, Telegraph and Mail.
He is a five-time Sports Writer of the Year in the Sports Journalism Association awards and was twice named Sports Journalist of the Year in the British Press Awards.
He has co-written autobiographies for Michael Owen, Sir Bobby Robson and Sir Alex Ferguson. Sir Alex's was the fastest-selling non-fiction book since records began.