Want to celebrate the working mum in your life? Give her a beautiful reminder of her talents. www.mindfulreturn.com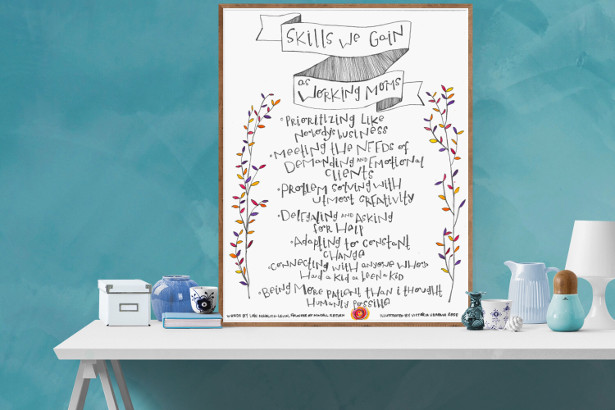 No matter how talented, skilled, and committed a new mum is, she still fears that her value at work is declining. Never mind that she's just as brilliant as she was before her baby. And her skills most certainly haven't gone out the window.
Why? In her own mind, perhaps it's because of sick days. Exhaustion. End-of-day hard stops for childcare and bedtime routines. And new priorities. There's probably a good dose of cultural stigma weighing her down, too. We talk ourselves into thinking we've somehow become "less" of an employee because we took leave, take time out of our day to pump, or commit to going home for our kids' bedtimes.
How to combat these stigmas? One way is to shout from the rooftops our working mama skills. We can write about them on our annual reviews. Talk about them with our colleagues.
And now, we can post a beautiful reminder of them in our homes and offices.
Writing lists of the working mom ninja skills we have that are – yes, indeed – useful in our workplaces – reminds us what we have gained, not lost, through working parenthood.
I'm on a mission to help us keep top of mind those ninja skills we gain as working mamas. To do this, I recently teamed up with Mindful Return alum and watercolor artist, Victoria Ukaoma Rose. Check out Victoria's gorgeous watercolor on Etsy, and gift the hardworking mama in your life this beautiful reminder of her talents.
To buy visit :- www.etsy.com/listing/577257336/mindful-return-skills-we-gain-as-working