Two Children's books and two accessible poetry books for adults from Janet Heller and they are all reasonably priced and available in bookstores and online.
1) Many youngsters get bullied at school, in neighborhoods, and on sports teams. Here's an award-winning book to help children, families, schools, teams, scout troops, etc. cope with bullying.
How the Moon Regained Her Shape by Janet Ruth Heller (Arbordale, 4th edition 2016) is a picture book about bullying influenced by Native American legends. This book is appropriate for children ages 2 to 10.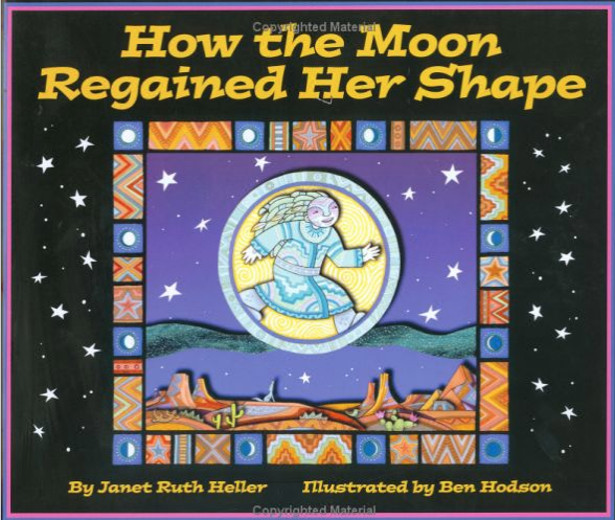 The story explains why the moon changes shape and helps children deal with bullies. The sun insults the moon, and the moon feels so badly hurt that she shrinks and leaves the sky. The moon turns to her comet friend and her many friends on earth to comfort her. Her friends include rabbits and Native Americans. Then she regains her full shape, happiness, and self-esteem, and she returns to her orbit. An educational appendix gives advice about bullying, scientific information about the moon, and ideas for related activities for children. Illustrator Ben Hodson won a Benjamin Franklin Award for this book's artwork in 2007. How the Moon Regained Her Shape also won a Book Sense Pick (2006), a Children's Choices award (2007), and a Gold Medal in the Moonbeam Children's Book Awards (2007). The book was also a finalist for the Oregon Reading Association's 2009 Patricia Gallagher Picture Book Award.
This book is available in hardcover, paperback, Spanish paperback, e-book, Spanish e-book, and iPad app. The hardback book is $15.95; the paperback is $9.95, the Spanish paperback is $9.95; the e-book is $6.95, and the Spanish e-book is $6.95. The website for ordering How the Moon Regained Her Shape is http://www.arbordalepublishing.com/bookpage.php?id=Moon . You can also order it from Amazon at https://www.amazon.com/How-Moon-Regained-Her-Shape/dp/1607187043 or from Barnes and Noble at https://www.barnesandnoble.com/w/how-the-moon-regained-her-shape-janet-ruth-heller/1102587577?ean=9781607187042
2) To help children cope with sibling rivalry, I also recommend The Passover Surprise (Fictive Press, 2015), a middle-grade fiction chapter book by Janet Ruth Heller, illustrated by Ronald Kauffman.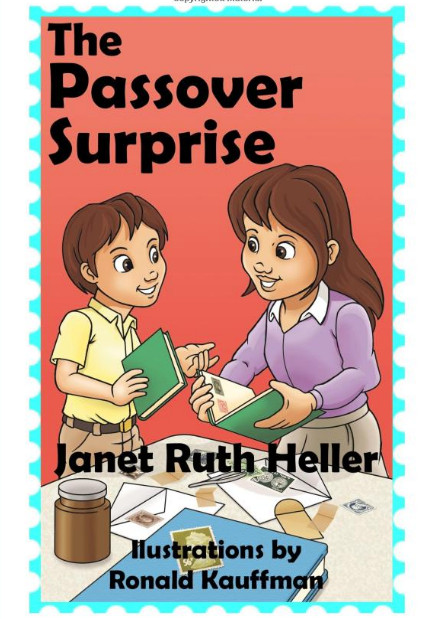 Lisa and her little brother Jon enjoy collecting stamps. But when their father holds a contest to decide which child will get a new large stamp album, Lisa has to solve a difficult problem. This middle-grade fiction chapter book takes place around 1960 and includes details about Jewish soldiers' experiences during World War II and early stages of the Civil Rights Movement. The Passover Surprise also portrays a Jewish family celebrating Sabbath and Passover. Parents and teachers can use the Discussion Guide to discuss issues raised in this book, such as sibling rivalry, bullying, discrimination, and Jewish traditions, with their children and students.
The Passover Surprise is available for online purchase from Fictive Press at http://fictivepress.com/children-ya.htm#Passover or from Lulu at
http://www.lulu.com/shop/janet-ruth-heller/the-passover-surprise/paperback/product-22065349.html or from amazon at https://www.amazon.com/Passover-Surprise-Janet-Ruth-Heller/dp/1927663172
Paperback: ISBN 978-1-927663-17-2, 6 x 9 inches, $10.33 USD, $13.53 CDN
Kindle (mobi): ISBN 978-1-927663-18-9, $8.99 US
ePub (and other digital formats): ISBN 978-1-927663-19-6, $8.99 US
3) Janet Ruth Heller's poetry book, Folk Concert: Changing Times, was published by Anaphora Literary Press (2012). Folk Concert contains Heller's best poems written from the 1970s to 2011.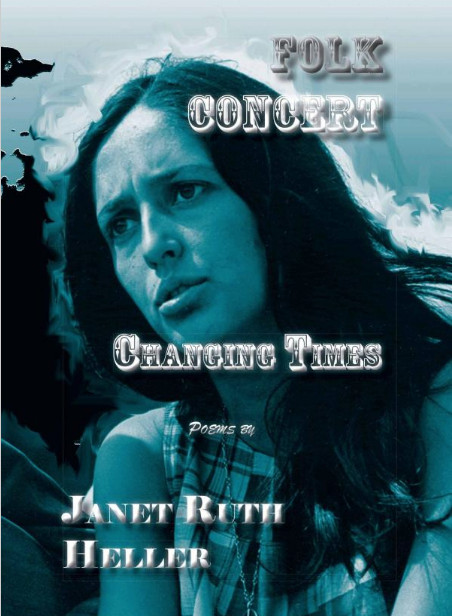 Folk Concert concerns the journey of becoming a woman during difficult times. Themes include feminism, love relationships, college teaching, nature, psychotherapy, travel, the anti-Vietnam War movement, family, the life of an artist/entertainer/writer, and music.
Here are comments about Folk Concert by author Jim Daniels, who teaches creative writing at Carnegie Mellon University, and Marge Piercy, who is also an acclaimed poet and novelist, and reviewer Kristin Hutchins.
"Folk Concert: Changing Times, by Janet Ruth Heller, captures small everyday moments with matter-of-fact grace and humor. The powerful understatement of these rich, precise poems swells and reverberates. They sing with political commitment, emotional commitment, and a lifetime of paying attention."
–Jim Daniels, author of Trigger Man, Having a Little Talk with Capital P Poetry, From Milltown to Malltown, Mr. Pleasant, In Line for the Exterminator, Places/Everyone, Punching Out, M-80, Blessing the House, Night with Drive-by Shooting Stars, Show and Tell: New and Selected Poems
"Janet Ruth Heller's poems in Folk Concert: Changing Times work hard for clarity. They feel like clear water, but they have the cumulative power of a summer storm. Her family and nature poems are particularly moving."
–Marge Piercy, author of Gone to Soldiers, Braided Lives, The Longings of Women, Woman on the Edge of Time, Sleeping with Cats, The Hunger Moon: New & Selected Poems, 1980-2010, Circles on the Water: New and Selected Poems 1960-1980, Breaking Camp, Hard Loving, 4-Telling, To Be of Use, Living in the Open, The Twelve Spoked Wheel Flashing, and The Moon is Always Female
"This . . . folk poetry contains a verse for everyone, perhaps especially for those interested in Feminism, the anti-Vietnam War movement, political consciousness through social activism, as well as for those interested in nature poems."
–Kristin Hutchins, review of Folk Concert in Women's Studies
Amazon offers Folk Concert for $15 per paperback copy and $30 hardcover plus postage. The ISBN-10 is 1-937536-26-2, and the ISBN-13 is 978-1-937536-26-8. You can order Folk Concert at the following link: http://www.amazon.com/Folk-Concert-Janet-Ruth-Heller/dp/1937536262/ Distributors include Ingram, IndieBound, and Campus Books.
4) The poems in Exodus by Janet Ruth Heller are modern re-interpretations and psychological explorations of the people and events in the Bible.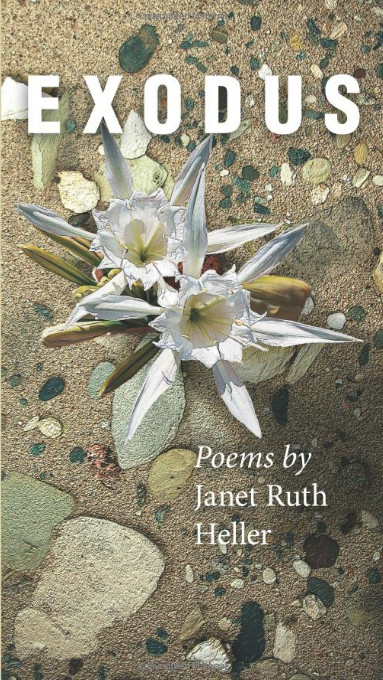 A central metaphor is the exodus from Egypt, which represents the journeys that people make: trying new experiences, leaving a bad relationship, finding a new job, taking risks. Many of the poems are dramatic monologues from the perspective of a character in the Scriptures. WordTech Editions published Exodus in January, 2014.
"In this ambitious collection of poems, Janet Ruth Heller takes on the voices of a wide range of Biblical figures, giving them a fresh, contemporary feel as they weigh in with their own versions of these well-known stories. There are humor, wit, and compassion in these retellings. These humanizing, sympathetic portraits should resonate for all readers, regardless of one's faith or lack of faith. She makes bold new footprints on these familiar paths.! –Jim Daniels, author of Having a Little Talk with Capital P Poetry, All of the Above, and Trigger Man
"With her collection Exodus, Janet Heller earns her place in the vibrant tradition of the midrash that begins with writings from the second century and continues to live in the hip hop of contemporary rapper Matt Bar and in Robert Crumb's Genesis. In her lively and inventive 'retellings' of events from the Bible, Heller gives us an Exodus not simply the journey from Egypt but the very notion of change itself, that is beautifully mortal, compellingly present." –Nancy Eimers, author of Oz, A Grammar to Waking, No Moon, and Destroying Angel
"The poems are often witty and skilful with their use of Biblical quotations and allusions, but they are at their best when they combine Biblical stories and modern imagery. . . . I found this book approachable and engaging. . . . . It would interest anyone wanting to explore Biblical texts from the perspectives of neglected characters and also those interested in how Biblical stories can . . . be relevant to today. .. . . I would seriously consider offering some [poems] to teenagers or to adult Bible study groups. . . . The clear and accessible writing style would make one of these short poems an ideal companion piece to a Biblical passage for personal or group reflection." –Rhiannon Grant review in Women in Judaism (2014)
Keith Everett Jones designed Exodus and the cover art. The ISBN is 978-1625490612, the book is 88 pages, and the list price is $18. You can order Exodus from Amazon http://www.amazon.com/Exodus-Janet-Ruth-Heller/dp/1625490615 or from Barnes & Noble http://www.barnesandnoble.com/w/exodus-janet-ruth-heller/1117495115?ean=9781625490612