Better Bathrooms.
Black friday deals
Up to 70% off so many items, everything from baths, to showers and furniture.
Plus a further 10% off everything, discount applied at checkout.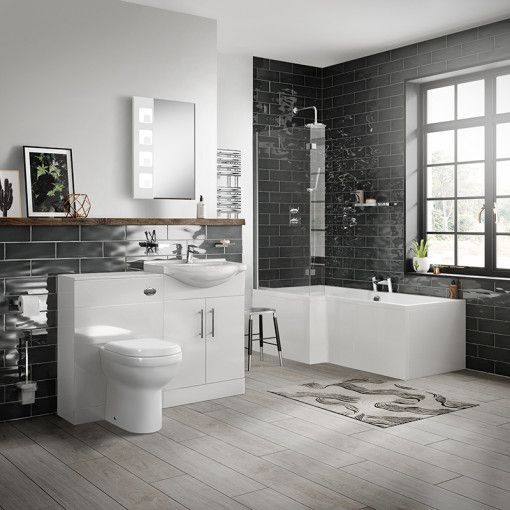 Born Gifted – Black Friday
Treat your loved ones in the run up to Christmas with their very own personalised Advent Calendar from Born Gifted, and this Black Friday get a fantastic 25% off any Advent Calendar!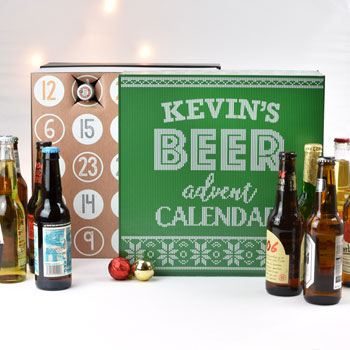 What could be more special than waking up on the 1st December to a beautiful personalised advent calendar, packed with the treats you love the most, whether that be a classic Lindt truffle or a fantastic cuppa tea from the brilliant advent tea box.
Choose from a beautifully personalised felt advent calendar which can be re-filled every year with your favourite treats, or for the chocolate shy, why not count down the days to Christmas with a tipple with the personalised Wine or Beer Advent calendars. We're also not forgetting man's best friend this Christmas – Born Gifted even have a fantastic calendar, packed with dog treats, which can of course be personalised with your pets name!
So treat the one you love, or why not just treat yourself, to the perfect Advent Calendar from Born Gifted with 25% off this Black Friday, no code required.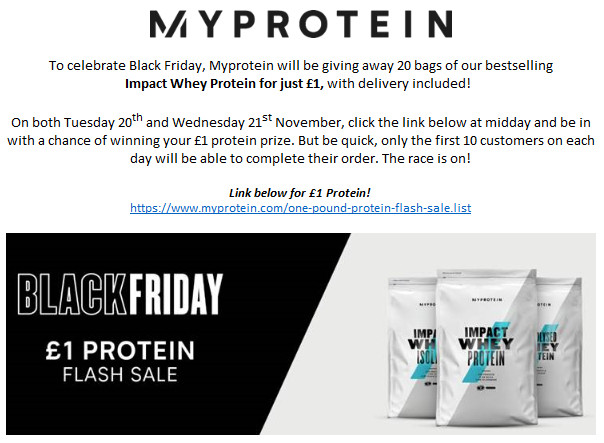 Gillette offers for Black Friday weekend.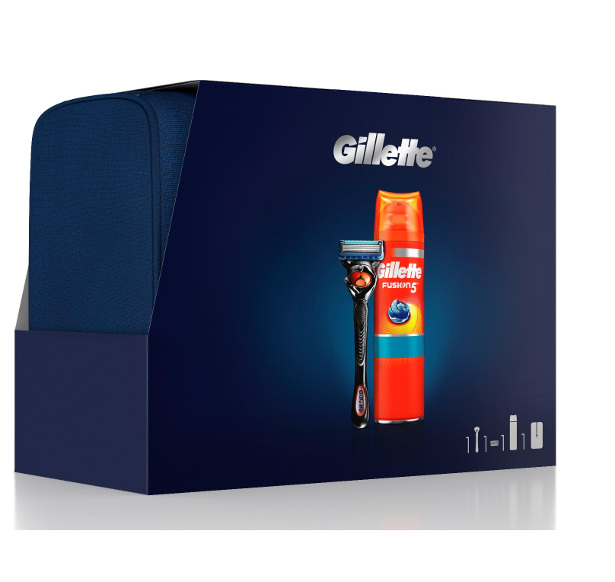 Black Friday:
Boots deal – Christmas Gifts
https://www.boots.com
Promo code: GILLETTEGIFT33 – You have to enter the promo code for the discount to be included
A third off the following Gillette products (images attached)
Fusion5 razor cracker gift RRP £7.99/ Discount price £5.33
https://www.boots.com/gillette-fusion5-razor-christmas-cracker-gift-10257826
ProShield razor + 75ml gel gift RRP £9.99/ Discount price £6.66
https://www.boots.com/gillette-fusion5-proshield-razor-sensitive-shaving-gel-75ml-gift-set-10257825
ProGlide razor + 200ml gel + wash bag gift RRP £15.99/Discount price £10.66
https://www.boots.com/gillette-fusion5-proglide-razor-sensitive-shaving-gel-200ml-bag-set-10257824
ProShield Black Limited Edition razor + stand gift RRP £19.99/ Discount price £13.33
https://www.boots.com/gillette-fusion5-proshield-limited-edition-black-razor-stand-10257844
ProShield Chrome Limited Edition razor + stand + 3pk blades + gel gift RRP £31.99/ Discount price £21.32
https://www.boots.com/gillette-fusion5-proshield-limited-edition-chrome-razor-3-blades-shave-gel-stand-10257827
Amazon – Christmas Gift Set
Black Friday – 25% saving (proposed saving)
Gillette Fusion5 Proshield Chrome Razor Limited Edition Gift Pack with 4 Blade Refills, Shaving Gel + Razor Stand
Limited Edition ProShield razor with chrome handle razor + 4 blades + shaving gel + stand
Sleek design with rubber grip makes for a smooth feel
Shaving gel cools to soothe and helps protect skin during the shave
Razor stand, to keep your razor above the rest
5 precision blades. A shave you barely feel
Lubrication strip helps your Gillette Limited Edition glide comfortably across your face (*vs. Fusion5)
10 Tips How To Get the Best Black Friday Deals


Every year at this time, with the Black Friday Vs Cyber Monday battle approaching, we buckle up and get ready for the fantastic shopping deals that are offered from various ends during this time. We know you already have your bucket lists ready for the Back Friday bonanza and waiting eagerly for that new television, printer, tablet or mobile that you have been eyeing for so long now. This indeed is the time to grab the best of all deals and get your shopping carts full.
However, do not let the Black Friday sales hype take you for a ride, where the prices might fool you into thinking that you got a good bargain while you might actually end up paying more than what you should. So, what you need to keep yourself updated is proper research and that is precisely what we can help you here with. Take a look at our top ten tips that will help you get the best Black Friday deals.
1. Be the Early Bird
Black Friday is no longer confined to the local shops offering meager seasonal discounts in the name of sales and deals. It has now taken the shape of a huge shopping festival that runs throughout the month and the online retailers never miss to keep updating their prices to attract more and more numbers of customers.
So once it's the right time, keep tracking the deals ahead of time and follow them right up to the Black Friday in order to judge the authenticity and the feasibility of the deals.
2. Do Proper Research
If you have already decided to jump into the deals pool without much preparation, prepare to take a step back. Do your research, get ready, sift through the various kinds of ads – be it in print or online. There are certain sites like bestblackfriday.com, dealnews.com, blackfriday.gottadeal.com etc, which will give you a thorough list of various leaked Black Friday ads and let you decide on the best.
3. Know How to Use the Coupons
Nowadays there are various websites, which let you compare prices of various products at various retailers or online shopping sites and choose the best price. These sites also give you the latest news about the various coupons and deals that these shopping portals offer and all you have to do is remember to use these tools to get the best deals.
This is true especially for Black Friday furniture deals where the various shopping portals dealing on furniture bring lucrative deals for you, so that you can give your house that makeover you always wanted.
4. Gift for Loyalties
During the Black Friday sales, various stores come up with loyalty programs where their members are allowed several privileges before others and are also allowed reward points on their purchases. This is your best chance to make the best of the situation and add your Wishlist to your Shopping Cart.
5. Socializing
Remember to follow the pages of your favorite sites and retailers on Facebook or Twitter to keep abreast of what offers they are planning. Social media is a great way to track your deals also because there is a high chance that these retailers will reward their followers with special benefits or discounts
6. Check your purse
Sometimes all this excitement tends to get the better of you and you end up buying so many unnecessary things instead of that one very important thing you actually were waiting for. So prepare a list, get yourself seasoned with the idea of necessity and resist any kind of impulse purchase. If you are not sure about whether you can handle charge cards, choose cash. But whatever you do, make sure that prudence remains your mantra.
7. Terms and Conditions
Make a note of the retailers that have a convenient price match and return policy. This you have to do beforehand considering the fact that while some stores might expand their price matching policies, some might also cancel them on the occasion of the Black Friday. It is always better to be safe than sorry.
In the next set of tips, we will tip you on what all to remember if you are concentrating on Black Friday Furniture deals in particular.
8. Look back
Look back at the deals that the various furniture retailers offered last year so that you can get a rough sketch on what to expect this year and what not. There are usually significant cuts on Black Friday outdoor furniture, bed frames, sofa beds, dining chairs, drawer desks etc.
9. Measure before you Buy
Make sure that you are absolutely sure about which style and shape of furniture you need and of what size. Furniture is one thing that will only suit your home if it is the right size and for that measuring your allotted spaces is the first condition you should remember before you order the furniture delivery at your house.
10. Choose the correct bed
If you are waiting to buy a bed, you must be craving a good night's sleep. The right bed is the first precondition for this. Know the measurements for the various sizes of beds and mattresses available and choose the right size for your bedroom before you order your favorite bed.
Keep these few tips handy and make the most of the deals that come your way on the upcoming Black Friday and Cyber Monday.
If you need delivery help, Book Easymove. Your reliable and affordable delivery service
BRAKETIMEUSA is providing car owners with 20% off their entire site https://braketimeusa.com

For Black Friday and Cyber Monday my client, BRAKETIMEUSA, is offering amazing deals on his website. Most people would rather wait until Cyber Monday, however, my client is offering a Black Friday and Cyber Monday promotion online. BRAKETIMEUSA is offering 10% off now if you order rotors and pads together. Coupons are applied automatically in Checkout. All BRAKETIMEUSA Brake Pads purchases include Hardware and Sensors per OE. BRAKETIMEUSA is proud to supply a new hardware kit when you purchase anything from the site. Every kit is produced from the finest materials to meet our customer's individual requirements.
BR AKETIMEUSA takes pride in supplying America with the best American automotive parts in the industry. With over 50 years of automotive brake knowledge and experience, we offer our customers an extensive variety of high-performance brake parts. Our team is made up of knowledgeable auto part experts who can provide reliable and needy information about your car. BRAKETIMEUSA will provide and do whatever it takes to make your shopping experience hassle-free and convenient. BRAKETIMEUSA carries brake pads designed for nearly every make of vehicle in order to provide you with the safest and sufficient options. All of their brake rotors are drilled here in the USA and are guaranteed to last up to $75,000 miles with high performance and reliability.
TRAINING ANYTIME, ANYWHERE WITH FREELETICS, EUROPE'S #1 FITNESS APP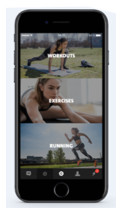 Whether you want to tone up, lose weight, gain muscle or prepare for a specific sporting challenge, you can get into shape and become the best version of yourself with Freeletics, the revolutionary fitness app company with over 31 million users worldwide.
Renowned for their hyper-personalised approach to health and fitness, Freeletics offers the world's most advanced digital fitness coaching, powered by artificial intelligence and tailored to your individual needs, goals, training history and ability.
Since its launch, the Freeletics Bodyweight app has revolutionised the fitness industry. With the app, extremely effective HIIT training can be done anytime, anywhere, with no gym or equipment required except 2×2 metres of space. A 'personal trainer in your pocket' provides an almost infinite number of training variations and workouts which have been specifically designed by sports scientists and athletes to achieve fast, visible and long-term results. Suitable for any age or fitness level, the Freeletics Bodyweight app also includes in-depth video tutorials and training instructions to guide users through proper training techniques and form, enhancing knowledge and reducing the risk of injury.
In addition to the free version of the app, users can invest in the Freeletics Training Coach, the state-of-the-art digital trainer that builds bespoke week-by-week training programmes, fully customised to the user's fitness level, preferences and goals. The Coach analyses performance, tracks progress and adapts training plans accordingly to continually challenge and motivate for optimum results. Additionally, the AI technology behind the Coach learns from all 31 million users, allowing it to learn from their behaviour, progress and preferences so it can build customised workouts for each individual. The Coach can also recognise when a user is in danger of injury or overtraining, so it can adapt the training and avoid these consequences.
Centred around the core components of physical fitness – strength, stamina and muscular endurance – the Freeletics Bodyweight app focuses on short, high intensity workouts which maximise efficiency and results. Workouts can last between 10 and 45 minutes to ensure there's always time to fit exercise into your schedule.
As well as a huge variety of workouts and exercises, users can also become part of the extremely active and friendly Freeletics Community, which offers unparalleled support and guidance from Freeletics fans around the world. Users are encouraged to share their progress, training tips and advice via the app's social feed to motivate and inspire, helping users reach and exceed their goals. This allows athletes to really integrate and share their progress with each other, which encourages users to be the best they can be.
The Freeletics app portfolio also includes Freeletics Running, which aims to maximise performance, speed and distance through interval running workouts, Freeletics Gym, which helps users get the most from their gym membership with guided weight workouts, and Freeletics Nutrition, a goal orientated nutrition coach which offers personalised meal plans, advice and simple, healthy recipes. The range also includes Freeletics Wear, a functional, stylish collection of athleisure and performance wear designed to boost performance and offer ultimate comfort.
Unlock your true potential and become the best version of yourself with Freeletics, the leading fitness company which will help you to get the most out of your training and smash your health and fitness goals.
For more information on Freeletics, visit www.freeletics.com. To download the Freeletics Bodyweight app, visit the App Store or Google Play Store.
The Freeletics Bodyweight, Running, Gym and Nutrition apps can be downloaded for free in the App Store and Google Play Store. For more information about Freeletics, visit www.freeletics.com.
Get 50% off on the Sleek MakeUP The Ultimate Collection from today, 16th November until 29th November.
Was £50, NOW £25.
Available at Boots and boots.com.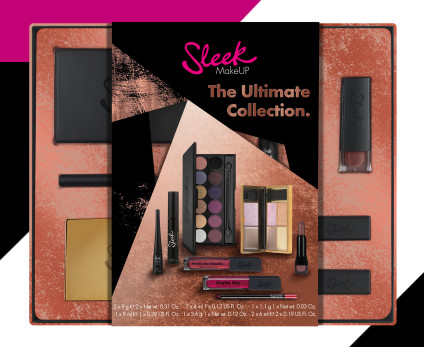 Here are this year's Black Friday Deals for high tech mattress maker, Simba.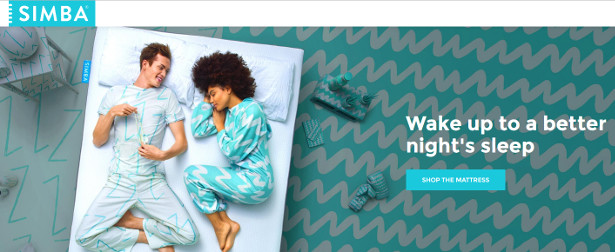 BLACK FRIDAY DEAL
WHO: SIMBASLEEP.COM
CATEGORIES: SLEEP/BEDROOM/HOME FURNISHINGS
WHAT'S HAPPENING? From 22nd November 2018 to 26th November 2018, simbasleep.com will be offering 20% off all products over the Black Friday weekend. This will be the first time that the sleep technology brand is offering savings on the award-wining Simba Hybrid® Mattress.
WHERE? Simbasleep.com
PRICES:
MATTRESS
Single Simba Hybrid® mattress was £399, now £319
Double Simba Hybrid® mattress was £599, now £479
King Simba Hybrid® mattress was £699, now £559
COT AND COT BED MATTRESS
Simba Hybrid® Cot was £145, now £116
Simba Hybrid® Cot Bed was £175, now £140
Simba Hybrid® Bunk Bed Mattress was £199, now £159
PILLOW
Simba Hybrid® Pillow with OUTLAST® was £95, now £76
DUVET
Single Simba Hybrid® Duvet with OUTLAST® was £195, now £156
Double Simba Hybrid® Duvet with OUTLAST was £245, now £196
King Simba Hybrid® Duvet with OUTLAST was £295, now £236
BED
Double Simba Bed with Headboard was £349, now £279
King Simba Bed with Headboard was £399, now £319
MATTRESS PROTECTOR
Single Simba Mattress Protector was £45, now £36
Double Simba Mattress Protector was £55, now £44
King Simba Mattress Protector was £65, now £52
FITTED SHEET
Single Simba Fitted Sheet was £25, now £20
Double Simba Fitted Sheet was £30, now £24
King Simba Fitted Sheet was £35, now £28
COT SHEET
Simba Fresh Fit Cot Sheet was £30, now £24
Simba Fresh Fit Cot Bed Sheet was £35, now £28
Black Friday deals on bronzieuk.com.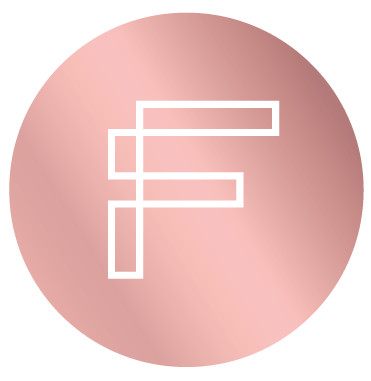 Black Friday deals are:
Up to 30% off the whole site as well as:
Spend £50 and get a free freckle stencil
Spend £75 and get a free pack of mini mitts
Spend £100 and get a free back and body tanning mitt
Digital magazine app puts reading on the Black Friday list
Offer: Two months of unlimited reading with Readly just £1.99

Readly, the digital magazine subscription app, today announces a special offer for Black Friday giving users unlimited access to the digital editions of top magazines for just £1.99 for the first two months.
Whether you're looking to read quality content on your new tablet, mobile or laptop or take advantage of offers in the lead up to Christmas for gifts, Readly is the app to be reading this Black Friday and beyond.
Readly gives users unlimited "all-you-can-read" access to more than 3,200 national and international magazines in an app to read or download whenever or wherever. It is the very latest way to read your favourite title and explore many more too.
According to Readly, over the last twelve months, its subscribers spent a total of 22 million hours reading digital magazines, with an average of 22 minutes per session and 7 hours a month.
Who's the deal for?
Anyone who enjoys reading magazines or could benefit from reading magazines for inspiration, news, hobbies, business or downtime relaxation reading.
With over 3000 titles available through the Readly app, there's sure to be your favourite title and many more to explore too. From news and trends, tech, music, health, food, business, photography, puzzles and many more, Readly has all the latest issues and back issues too.
Why should I want it?
Readly is ideal for reading on the commute, enjoying quality "me time" or travel and makes the perfect gift. And if you want to properly shut down without wi-fi, you can download up to 500 magazines and read them in the offline mode wherever they may be.
The service is fast, easy to use and each user receives unlimited reading on up to five devices, so the whole family can benefit from the subscription too.
The Black Friday offer gives unlimited reading for £1.99 for the first two months and £7.99 thereafter.
Visit www.readly.com/unlimited for more information and to sign up.
SEVEN DAYS OF BLACK FRIDAY DEALS FROM TUI, FIRST CHOICE AND MARELLA CRUISES
· Seven days of deals across TUI and First Choice holidays and Marella Cruises – two more additional days compared to last year

· Live from 00.01 on Monday 19th November to 00.00 on Monday 26th November
· Black Friday competition to win the cost of your holiday back
At one minute past midnight on Monday 19th November holiday makers will be able to take advantage of a wide range of deals across TUI UK brands. Extending beyond the well-known Black Friday (23rd November), a choice of offers on selected TUI holidays, First Choice all-inclusive breaks and Marella Cruises will be available over seven days.
Details are top secret until midnight on Monday 19th November however holidaymakers can expect deals on some sensational tailor made experiences in over 80 destinations in 30 countries around the world and five cruise ships sailing under Marella Cruises. These good value deals extend from winter sun to summer beach, multi-centre breaks to diverse cruise itineraries. Deals will be available across all devices – mobile, app, desktop and tablet.
TUI will also be surprising every customer who books a holiday by entering them into a free competition to win the cost of their trip back. Entry is automatic for all customers who book a Black Friday deal online or in store.
Last year's competition winners Catherine and Alex from Leeds, were lucky enough to have their honeymoon in Cyprus paid for them!
Sign up to be the first to in the know about TUI's Black Friday offers and buy online at www.tui.co.uk, firstchoice.co.uk and https://www.tui.co.uk/cruise/
Manu Tyagi – Associate Partner for Retail at Infosys Consulting
Opting out of the big event
"While the majority of retailers in UK and Europe are still participating in the Black Friday event, several major retailers like Selfridges, Primark, and Asda have decided to opt out.

"Many stores struggle with getting their stocking, tagging and staff availability right on Black Friday, to cope with the higher footfall and the logistical support for online deliveries. Retailers are beginning to advertise promotions and discounts over a much longer period in a more sustainable manner, to avoid huge crowds in-store or websites crashing.
"In recent years retailers have also realised that return rates have peaked as high as 50 per cent after the frenzy of Black Friday, which impacts margins when goods are returned to stores.
"But while many retailers claim to opt out, they still run promotions around the same period hoping to differentiate and prove that they always offer the best discounts. Think 'offers are for life, not just for Black Friday.' Apple, for instance, previously offered free Apple gift cards over Black Friday, while Selfridges branded the event as 'Christmas Come Early' and provided discount codes for consumers to claim significant discounts both in store and online."
Data and the customer – making Black Friday work for everyone
"Given the boom in digital transactions on Black Friday, big data and extensive consumer analytics are generated as consumers compete for the best deals. At the same time, data and analytics are also used to enable this kind of mega shopping event.
"Both Black Friday and Cyber Monday discounts are stimulating ever-greater consumer participation. Retailers are leveraging the data they collect to create personalised offers and incentivise consumers for appropriate purchases, based on careful pricing and consumer segmentation analytics.
"Data on past purchase behaviour, what consumers have in their wishlists, and what web pages they have engaged with is used by retailers to create the right strategy to entice customers on the big day. The analysis of such data helps them determine stock and availability, decide pricing strategy, display space planning, drive online discounting and voucher code administration, and hone delivery scheduling for their operations.
"As a result, promotions are all based on the intelligent use of data so that retailers can set the perfect price and accurately predict shopper behaviour."
Customer experience – top of the wishlist
"Retailers are going all out to ensure the best customer experience by planning in advance. This can be ensuring appropriate stocking and availability of the right products, both in store and online, having sufficient in-store staff, and minimising delivery times.
"Store layouts and foot flow should be optimised to ensure minimal congestion, and retailers should focus on good display areas, using in-store technologies like augmented reality and touchscreen displays to enhance customer experiences.
"In addition, retailers should stress test their websites prior to Black Friday to avoid any technical issues when the traffic hits. Some retailers are trying to beat the sales and reduce traffic on the actual day by offering price guarantees starting earlier. 'Why Wait?' prices are offered to shoppers with a guarantee that if the price drops further on Black Friday, shoppers will be eligible for a refund. This is a great way to win over consumers who have experienced technical glitches on Black Friday before, and therefore don't mind placing orders early – especially if it comes with a price guarantee."
20% off everything
Buy one pack of strips and get a mouthwash free
Buy one mouthwash, get one free!
www.polishedwhitening.com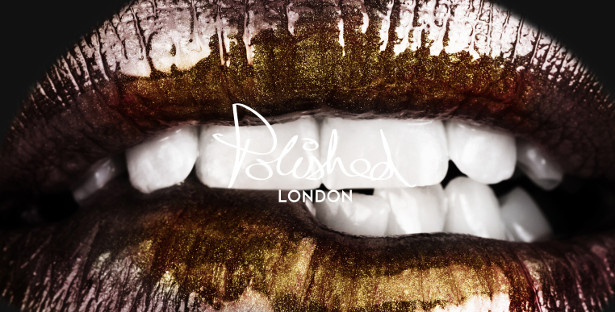 Happy Beds
They will be having 10% off site wide on both Black Friday and Cyber Monday.
The codes will be BLACK10 and CYBER10 and they will be able to use on top of sale.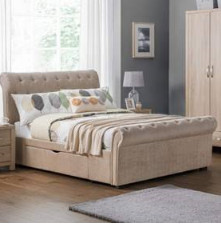 Ravello Storage Bed – was £349.99 now £314.99
https://www.happybeds.co.uk/ravello-mink-fabric-2-drawer-storage-bed
Downton Velvet Winged Storage Bed – was £584.99 now £526.49
https://www.happybeds.co.uk/downton-grey-velvet-fabric-2-drawer-storage-bed
Ventura Grey Fabric TV Bed – from £1,054.99 now £949.49
https://www.happybeds.co.uk/ventura-grey-fabric-ottoman-tv-bed
Blenheim Grey Velvet Fabric Winged Ottoman Bed – was £324.99 now £292
https://www.happybeds.co.uk/blenheim-grey-velvet-fabric-winged-ottoman-bed
Atlantis Grey Wooden Bunk Bed Frame – was £450 now £224
https://www.happybeds.co.uk/atlantis-grey-wooden-bunk-bed-frame
Saturn Grey Fabric Bunk Bed – was £350 now £315
https://www.happybeds.co.uk/saturn-grey-fabric-bunk-bed
37624BC891C.jpg
Tyler Sofa Bed – was £99 now £89
https://www.happybeds.co.uk/brl-tyler-grey-sofa-bed
Ellie Oak Wooden Bed and Trundle Guestbed Frame – was £355 now £319
https://www.happybeds.co.uk/ellie-oak-wooden-bunk-bed-and-trundle-guestbed
Black Friday offers from premium audio brand, Brainwavz
The products are available globally and the prices in Euros or dollars can also be seen on the website by simply changing the currency.
The Brainwavz Quad Balanced Armature B400 earphones. Original price £148.13, REDUCED to £121.64 from Brainwavz and Amazon
In-ear Headphones of the Year at the Trusted Reviews Awards 2018
The Brainwavz B400 earphones feature a four driver setup with separate drivers, each focused on specific ranges to produce true audiophile grade sound reproduction. The B400 ergonomic housing is hand assembled by Brainwavz's own team in its in-house workshop, with every part scrutinised with quality control the top priority.
Through meticulous tuning, customisation of drivers and crossover with 3D printed boots to further refine the sound, the B400 is able to produce every part of the sound spectrum accurately, with a wide sound stage.
The B400 is available in eight different colours including Blue Knight, Berry Purple, Punk Pink, Crimson Red, Stay Frosty, Green Rage, Glossy Black and Cosmic Black. It is also possible to upgrade the cable when purchasing with Candy Cane, Frosty and Onyx.
Brainwavz Delta IEM in-ear noise isolating earphones. Original price £21.06, REDUCED to £12.95 from Brainwavz and Amazon
The Brainwavz Delta in-ear noise-isolating earphones are one of more reasonable options from the brand and will be available on Black Friday for a great price. Although at a reasonable price point, the Delta edition still provide that high quality sound expected of Brainwavz.
The Deltas produce vocals and instruments with detailed clarity, ensuring music sounds just as the artist intended. With dynamic 8mm drivers encased in an all metal housing, the Delta earphones are tuned to pair with all genres of music. Together with a multi-function three button microphone and remote, the Deltas deliver perfect audio sound and clarity whether used for general music listening or for audio calls.
Brainwavz BLU-300 Wireless Sports Earphones. Original price £30.15, REDUCED to £19.06 from Brainwavz and Amazon
Brainwavz BLU-300 wireless sports earphones are an advanced headset with a super long battery life that gives you extended, flawless performance when you need it most. These powerful earbuds, with up to 10 meter range and excellent noise isolation, are the perfect exercise partner – block out the world around you and get in the zone with the BLU-300 sports earphone. Coming with built-in protection and water resistance, there is no need to worry if the work out gets a bit sweaty! The built-in neckband is super comfortable and can be worn for hours without feeling fatigue and also gives outstanding stability and support without being restrictive.
Brainwavz S0 IEM noise isolating earphones with Clearwavz remote and microphone. Original price £37.70, REDUCED to £19.06 from Brainwavz and Amazon
The Brainwavz S0 earphones have been designed to provide a balanced sound signature with each part of the spectrum represented accurately and clearly. The all metal housing and flat, tangle-free cables provide a sleek look and feel, coupled with long lasting durability.
Brainwavz HM5 Headphones. Original price £76.74, REDUCED to £68.25 from Brainwavz and Amazon
The Brainwavz HM5 headphones are designed to deliver precise and accurate sound to replicate audio as it was intended to be heard with a neutral sound signature. Featuring an over-the-ear design, the HM5s sit comfortably on the ear whilst sealing in the sound.
Included in the package are two detachable cables, a short 1.3 meter cable for practical outdoor use, and a longer 3 meter cable for convenient home and studio listening.
Plus all Brainwavz replacement earpads will be available with 25% off on Brainwavz and Amazon
Savings on Top Of Savings This Black Friday At LDO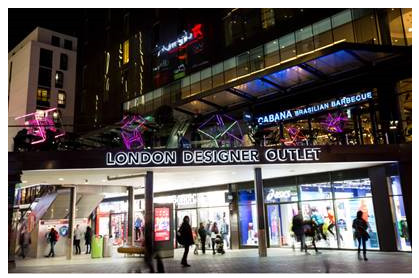 Savvy shoppers will enjoy discounts on top of existing outlet savings at London Designer Outlet (LDO) in Wembley Park this Black Friday weekend. From Friday 23rd until Monday 26th November there will be savings as high as 70% off RRP at the capital's favourite and most accessible fashion and lifestyle outlet centre.
Fashion-focused shoppers will be spoilt for choice with additional savings off outlet prices.
Save up to 70% off RRP at H&M, up to 50% off RRP at Gap and enjoy an additional 25% off outlet prices at Jack Wills. Footwear fans will also love the extra discounts available at popular shoe brands including Dr Martens, Kurt Geiger, New Balance, and Converse, to name a few.
For those who enjoy the great outdoors, save an extra 20% off outlet prices at The North Face, whilst fitness enthusiasts can also look forward to additional discounts on renowned brands such as Nike – and Adidas, which is offering up to an extra 25% off outlet prices. There's something for everyone in LDO's Black Friday sales with an additional 40% off outlet prices at Villeroy and Boch and even an extra 20% off selected outlet prices on jewellery and watches at Chapelle.
With Christmas just around the corner, it has never been easier – or better value – to treat yourself or your loved ones to the perfect gift, so keep an eye on LDO's website for a selection of the latest deals!
Early risers looking for the pick of the bargains will be able to shop at a selection of LDO's stores – including Superdry and Gap – from 8am on Black Friday, with the majority of stores open from 10am. Equally, for the night owls, LDO's outlet shops will be open until 8pm, with some selected stores open until 10pm, which still leaves plenty of time to compare all those savings over a drink or dinner at one of LDO's 20 coffee shops, bars and restaurants. Choose from mouth-watering international dishes at JRC Global Buffet, delicious dim sum at Ping Pong, Japanese-inspired dishes from Wagamama, South American vibes at Cabana and Las Iguanas, a taste of '50s America at Big Moe's Diner, or a variety of popular European flavours at Zizzi, Nando's, Pizza Express and Prezzo.
With savings on top of savings, long opening hours, outlet exclusives and a great choice of restaurants and bars, LDO is London's ultimate Black Friday weekend destination.
For the latest news on events at LDO, please visit: www.LondonDesignerOutlet.com
QHotels starts festivities early with seasonal offer
QHotels will be offering an exclusive Black Friday offer to customers keen to relax and re-charge before Christmas.
Treat yourself this festive season and indulge in a spot of pampering within the spa or take to the golf course, all whilst enjoying the QHotels award winning service.
The four star luxury hotels, located throughout the UK, will be offering guests up to 40% off of the best available rates across bed and breakfast or dinner, bed and breakfast.
Customers can enjoy their stay from 1st December 2018, right through until 30th December 2019 – perfect for escaping this year's Christmas frenzy or providing that all important getaway to look forward to in the new year.
To be one of the first to take advantage of the fantastic rates, customers are encouraged to sign up on the QHotels website, allowing early access to some fantastic Black Friday and winter deals.
The Black Friday deal will be available on one or more night stays that are booked up to 7 days in advance and for those wishing to relax, guests can also enjoy 20% off spa treatments when they are pre-booked Monday to Thursday.
From the 23rd of November 2018, all guests can book their break online through the QHotels website, or by calling 0845 034 5777 and quoting WINTER19. The offer is valid for guests staying from the 1st December 2018 to 30th December 2019.
Please visit the www.qhotels.co.uk for terms and conditions. The offer is subject to availability.
With Black Friday almost upon us, see details below on the tech accessory offers from Adonit and Revonext.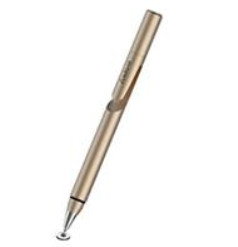 Adonit Jot Mini 2 Fine Point Stylus – originally £7.55 reduced to £6.00
Available from Amazon
Ideal for mobile use when using navigation tools, making notes and reminders or creating sketches on the go, the Adonit Jot Mini 2 is a great addition to support your phone. Perfect for everyday use as you can write and draw with ballpoint precision and there's no need to connect with your device every time – simply touch stylus to your screen.
Works with iPhone, iPad, Android, Windows and most other touchscreen devices.
Adonit ADJM3G Jot Mini 3 Stylus – originally £9.95 reduced to £7.96
Available from Amazon
The Mini 3 is designed to sit naturally in your hand thanks to its triangular, anti-roll design with anodized aluminium that stays put. It allows users to be more precise when using the touch screen with the precision disc writing exactly where you place it.
The solid, aluminium and steel stylus clips anywhere to be carried easily. Works with iPhone, iPad, Android, Windows and most other touchscreen devices.
RevoNext Swedish designed in-ear earphones – 10% extra discount and a limited amount of free bluetooth earphones/siicon carry case
Sound audio experts, Revonext, are offering the first 100 shoppers free Sport T2 Bluetooth earphones (worth £24) and second 100 shoppers silicon carrying cases with both receiving 10% extra discount when purchasing from the Revonext HIFI earbud range. These offers will be available from Black Friday all the way up to Christmas and, in addition, there will be an extra 10% off on 23rd November!
RevoNext RX8 dual driver in-ear earphones – Around £25/$30 from Revonext
RX8
With hybrid technology for full frequency sounds, detachable cable and semi-transparent sound chamber, the RX8's are unbelievable value for money. The RX8 earphones are ergonomically designed with a streamlined semi-transparent sound chamber and a professional shell of polymer polycarbonate imported from Germany to fit naturally in the ear canal. Available in blue, black, grey and red, the RX8 has been developed with a high-gloss and high-smooth UV-curable varnish hardening treatment. The earphones offer a changeable line design, using 3.5mm anti-oxidation nickel-plated connector and 0.78mm 2-pin plug detachable HIFI high-end audio cable further enhancing the sound quality and personalisation options.
Inside, the RX8 have one dynamic driver and one balanced armature, delivering a strong, balanced and complimentary high and low pitch. The triple-frequency equalisation ensures high resolution and restoration of music to bring a more natural, realistic listening experience to any genre of music thanks to the unique tuning technology.
RevoNext QT3 quad driver, audiophile grade in-ear earphones. Available from RevoNext website for just £59.99/$70.
With double balanced armatures, double dynamic drivers and a detachable cable, the QT3's are unbelievable value for money. The QT3 earphones are ergonomically designed with a streamlined aluminum sound chamber and comes complete with three sets of silicon ear tips to fit naturally into the ear canal, ensuring exceptional comfort and noise isolation. Available in matte black, grey space and red, the QT3 earphones offer a changeable line design, using the 3.5mm anti-oxidation gold plated connector and 0.78mm 2-pin plug detachable high quality cable audio cable, further enhancing the sound quality and personalisation options.
Inside, the QT3 has two dynamic drivers and two balanced armatures, delivering a better balance of three frequencies with crisp high notes and deep low notes. Together, this technology allows listeners to enjoy a new kind of auditory sense.
Oregon Scientific has a range of interactive globes with loads of 3D AR content.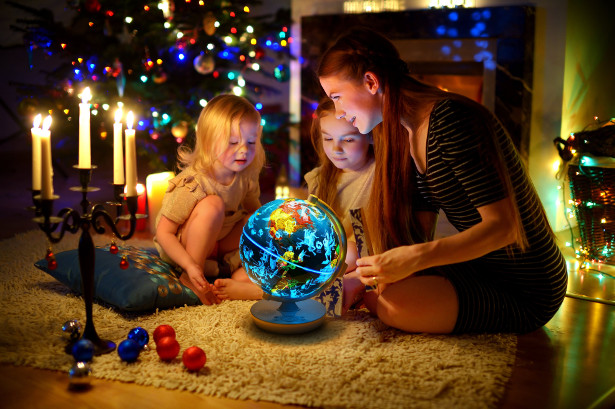 (e.g. use phone / tablet to scan over Australia, select 'animals' and a kangaroo will appear hopping across your phone/tablet screen!)
The deal:
20% off ALL Oregon Scientific Smart Globes from Black Friday through to Cyber Monday when purchased on the Oregon Scientific website: bitly.com/smartglobes
Yumbles.
They are a curated marketplace connecting food lovers with the UK's best small batch independent food and drink producers. https://www.yumbles.com/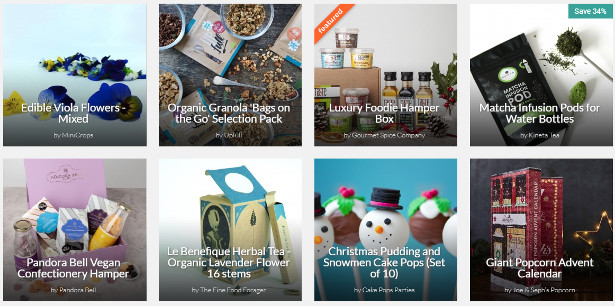 Yumbles will be having a fantastic selection of deals on, with up to 40% off selected seller's products.
With Yumbles we try to highlight the fact that these are small businesses that get involved and struggle to compete against the larger businesses. If you are interested in supporting the little guys, I'm more than happy to send over some information with the specific deals that the sellers have on.
Black Friday deal by Hiplok
"Protect Pack" – featuring our Maximum Security DX, Sold Secure wearable chain and Z LOK COMBO for £79.99 (that represents 50% off retail)
21st November to 30th November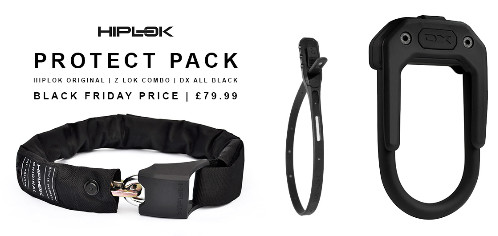 BLACK FRIDAY SPECIALS FOR BEER TOUR AND BEER TASTINGS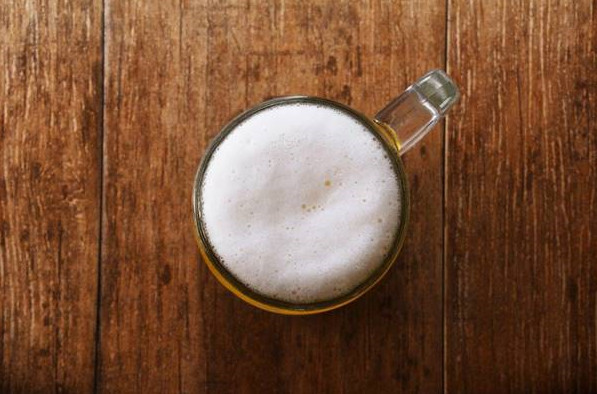 It's the discount beer fans have been waiting for all year! SAB World of Beer will mark Black Friday by offering our popular beer tour and tasting packages at discounted prices on 23 November 2018.
Black Friday originated in the United States and has become a shopping phenomenon around the world, with South Africa being no exception. The day after Thanksgiving, retailers offer promotional sales signalling the start of the Christmas shopping season.
Come and enjoy a relaxing day at the five-star tourist attraction in trendy Newtown, Johannesburg with our discounted guided beer tour and tasting packages and a cold beer in our Taproom.
Date: Friday, 23 November 2018
Time: 10h00 – 19h00
Place: SAB World of Beer, Newtown, Johannesburg
Cost: Beer tour at R80 per person (reduced from R127), or
Beer tour and beer tasting at R 145 per person (reduced from R197)
Packages available:
Option One – Black Friday Standard Package: @ R80 per person
· 09h00: Registration
· 10h00 – 11h15: Beer Tour – includes a 75min guided tour, halfway draught beer with souvenir glass, and two drinks of your choice at the Taproom
Option Two – The Black Friday Executive Package: @ R 145 per person
· 09h00: Registration
· 10h00 – 11h45: Beer Tour and Tasting – includes a 75min guided tour, halfway draught, souvenir glass, 30min Beer tasting of six SAB brands and two drinks of your choice at the Taproom
Terms & Conditions:
· The SAB World of Beer Black Friday offerings are only available at the above package prices and applies to the indicated dates in November – usual tours will resume at the normal rates below.
Beer tour at R 127 per person; and
Beer tour and tasting at R197 person.
· No under 18's will be permitted to consume alcohol on the tour or on the premises.
Tickets are available on www.webtickets.co.za
For bookings and further information, contact SAB World of Beer on (011) 836 4900 or events.co-ordinator@za.ab-inbev.com
Alternatively, visit the website via www.worldofbeer.co.za for more details.
Black Friday special for the Turbine Spa in Knysna.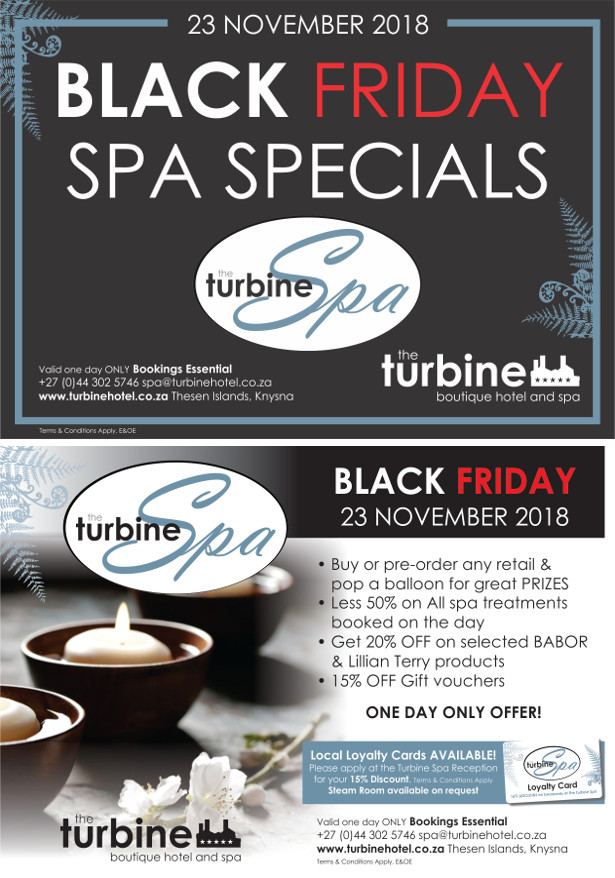 www.sqdathletica.com
25% off storewide and online from Black Friday through to Cyber Monday.

Facebook's gadgets are available with some big discounts: now is the perfect time to jump in or pick up a holiday gift
Our line-up spans VR devices designed to let you level-up entertainment and share fun experiences with friends near and far, and cutting-edge, all-in-one devices for video presence:
Oculus Go is the easiest way to get into VR. An all-in-one system that puts you front row at the best sports and movies, or right into the action of a wide range of games and experiences.
Oculus Rift is the best headset for experiencing high-end, fully immersive VR and a gaming experience unlike any other. Move, dodge, and use both hands with Oculus Touch to explore new worlds.
From 22nd – 26th November, we're rolling out Black Friday/Cyber Monday Deals for the range of AR/VR hardware products. Deals expire November 26 at 11:59PM:
Oculus Rift:
UK – £50 off (£349)
Oculus Go:
UK – £20 off (£179/32gb £229 64GB)
Have A Merry Smoke-Free Christmas With Black Friday Vaping Deals
Start your switching to vaping journey with Black Friday bargains for a smoke-free Christmas and years ahead.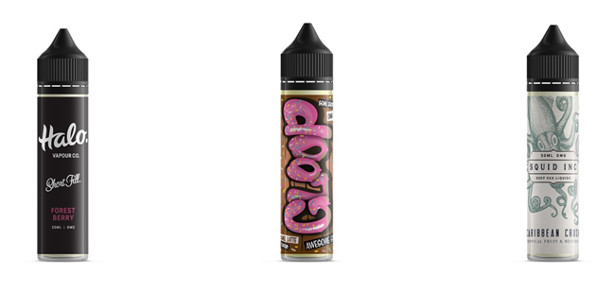 Whether you want to kick the habit or help family or friends benefit from swapping to electronic cigarettes, now is the time to snap up amazing Black Friday vape deals.
E-Cigarette Direct, one of the UK's leading suppliers of e-cigarettes and e-liquids, is offering huge reductions across the most popular, high quality vaping brands such as Halo, Aspire and Smok from Black Friday through to Cyber Monday or until stocks last.
The fantastic deals include 30% off the full range of e-cigarettes, e-liquids and e-cig kits and half price on selected products via E-Cigarette Direct's website and 20 stores throughout the UK.
What better way to stock up on festive pressies and give the smoker in your life the chance to boost their health and bank balance?
Smoking has reached its lowest point in the UK while vaping is now the most popular way to quit, with about 2.9 million people using e-cigarettes. And it's easy to see why.
Vaping is around 95% safer than smoking tobacco and helps smokers quit without the side-effects and cravings. By swapping to an e-cig, not only do your clothes smell nicer but you significantly reduce the risk of life-threatening diseases, breathe better and get rid of smoker's cough.
It will also save cash to spend on Christmas pressies and fun during the festive season and beyond. Over a lifetime, a typical smoker could save as much as £70,000 by switching to vaping.
What's more, the smoker's family will benefit from no longer breathing in second-hand cigarette smoke. One Department of Health poll of 1,000 children of smoking parents found almost all (98%) wanted them to quit.
It all adds up to giving yourself or a loved one the gift of a healthier smoke-free Christmas and life-time.
www.ecigarettedirect.co.uk
About E-Cigarette Direct
Founded in 2008, E-Cigarette Direct now has a network of 20 vape shops across the UK and also retails via it's online website and wholesale arm, Orderly.
https://www.nhs.uk/news/heart-and-lungs/long-term-vaping-far-safer-than-smoking-says-landmark-study/
Up to 50% off EVERYTHING on ELVI (www.elvi.com)
SALE NOW ON: 3 Free Extra Months to enjoy 15 months of Awesome with a Merlin Annual Pass
– Available on Merlin Annual Passes purchased between 1st November and 3rd December 2018 –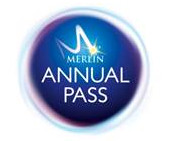 With gifting season fast approaching and customers on the hunt for exclusive offers and Black Friday deals, Merlin Annual Pass has, today launched a brand new promotion where customers can enjoy a saving of up to £60pp plus an extra three months for free, giving passholders 15 months of family fun, big thrills and memories that will last a lifetime. This limited time offer is valid on Premium and Standard Merlin Annual Passes which can be used at 32 of the UK's top attractions.
The Merlin Annual Pass entitles customers to a wide range of exciting attractions all over the UK. From experiencing Wicker Man at Alton Towers Resort, the UK's first new wooden coaster built in over 20 years, to discovering a spellbinding adventure, Room on the Broom – A Magical Journey at Chessington World of Adventures Resort, and joining the LEGO® monsters at The Haunted House – Monster Party, coming to The LEGOLAND® Windsor Resort in spring 2019, there's so much to see and do during the 15 months.
Susan Binda, Head of Loyalty at Merlin Entertainments, comments: "This Merlin Annual Pass sale gives customers even more time to enjoy those memorable days out and cherish family moments across 15 months instead of 12. It's the perfect treat that the whole family can enjoy together and November is the ideal time to make the purchase; just in time for the Christmas holidays and the New Year, when families can start planning 15 months of fun."
As one of the best value leisure and entertainment products in the UK, the Merlin Annual Pass is valid at 32 top attractions across the country, meaning there's an attraction within easy reach of most regions. There's something to suit all tastes, whether eager to take on the UK's greatest rollercoasters at our Resort Theme Parks, looking for a gentler ride taking in breath-taking views of the capital on the Coca-Cola London Eye, or discovering incredible underwater creatures from around the world at SEA LIFE Aquariums & Sanctuaries. With this offer, passes are priced as follows:
Merlin Annual Pass
Sale price on new purchases per person (includes discount plus 3 free months)
Discount
Standard
Family (for a family of up to 5)
£109
£30
Individual
£129
£50
Premium
Family (for a family of up to 5)
£139
£50
Individual
£169
£60
The Merlin Annual Pass sale starts at 10am on Thursday 1st November 2018 and ends at midnight on Monday 3rd December 2018.
For more information please visit www.merlinannualpass.co.uk.
OTTY Sleep's Black Friday/Cyber Monday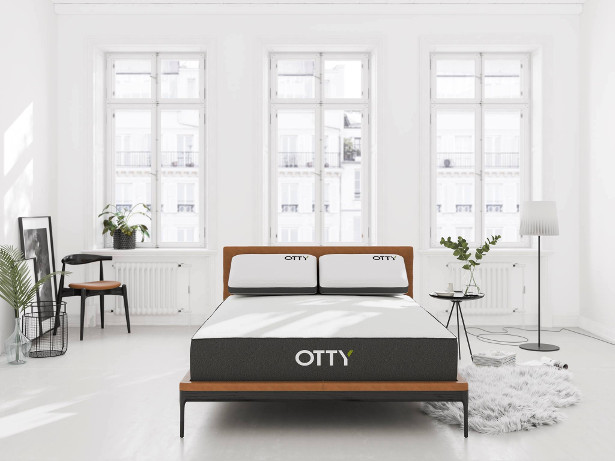 OTTY is going to be offering £50 off and two free deluxe pillows (usually priced at £54.99 each) with each purchase of a mattress (double or larger). This gives customers a discount of almost £160. Alternatively, if the customer isn't interested in the pillows, we can discount £100 off all mattresses (double or larger).
The Black Friday offer will be available as of Monday 12th November to people who sign up to our newsletter. This is in the form of a website pop-up, which will ask people to insert their email and will reveal a code once an email has been entered. If the customer doesn't want to sign up to the newsletter, they can get the same offer on Black Friday. The offer until midnight of Cyber Monday.
Black Friday offers from satnav and dash cam experts, Mio, crossing Curry's Dixons, Very, Littlewoods and Amazon.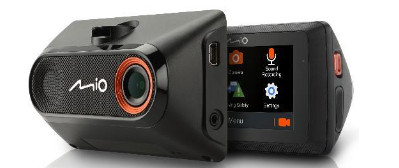 £20 off – MiVue 785 reduced from £119.99 to £99.99 at Curry's Dixons
This touch-screen companion is here to keep you safe and monitor not only your driving but the driving of others. With its lane departure warning system, integrated GPS with speed camera alarm and forward collision warning system, the MiVue 785 is the essential tool to keep you driving safely.
Lifetime of speed camera updates
Parking mode – continuing to record footage when your vehicle is parked to capture any incidents when you're not behind the wheel
Small and stylish to ensure it doesn't obstruct the driver's view
Eco Drive option analyses your driving style and provides alerts to ensure you reach your destination in the most fuel efficient manner possible
The forward collision warning system notifies the driver when the car in front starts to move when in traffic jams or lights, helping to reduce the chance of accidents as the driver stays alert and avoids frustrating fellow drivers with delayed reactions
Sony's highest quality optic sensor camera
1080p full HD recording at 30 fps and 140° wide angle view
£32 off – MiVue 792 reduced from £181.99 to £149.99 at Curry's Dixons and to £129.99 on Amazon
Your personal eyewitness on the road – with near night-vision quality to help navigate the sometimes hazardous roads the MiVue 792 is the perfect partner. Overcrowded, fast-moving, and with drivers not paying attention, accidents and cash-for-crash scams are on the rise and that's where our top performing MiVue 792 WIFI Pro comes in.
High-quality STARVIS CMOS, Sony's superb optic sensor – for detail-packed videos with superb contrast, clear and rich colours, especially in low-light conditions, like night time.
Integrated WIFI – immediately back up videos to your smartphone or share via the MiVue Pro app.
1080p Full HD recording at 60 fps and 140° wide angle view – to capture every detail at high resolutions during critical moments
Safety Cameras warnings and GPS tracking – automatically tracks your speed and location during every recording and
Integrated Advanced Driver Assistance Systems (ADAS) – Lane Departure Warning System (LDWS) and Forward Collision Warning System (FCWS) to help stay
£55 off – MiVue C330 reduced from £119.99 to £64.99 on Very and Littlewoods and to £69.99 on Amazon
With the new, stylish and lightweight MiVue C330 you'll always have proof of what really happened on the road. For your convenience, the dash cam will start recording when you start your car. The Full HD 1080 pixel camera records your journey, functioning as your personal eyewitness on the road. So in case of an accident, you'll always have recordings of what happened.
1080p Full HD recording at 30 fps and 130° wide angle view – to capture every detail at high resolutions during critical moments
Auto records when starting car – ensuring that every detail is captured from the very beginning
Safety Cameras warnings – to help you always stay under the speed limit
GPS tracking – automatically tracks your speed and location during every recording
3-Axis G-Sensor
£30 off – MiVue 766 reduced from £139.99 to £109.99 on Amazon
Designed to capture the details when you need them most, the MiVue 766 is the perfect accessory as it records your journey and stores the footage. Videos are recorded in HD and can be streamed to Facebook so that no matter where you're going, you'll always stay connected and share experiences with your friends and family. Footage is captured with Sony optic sensor and 140◦ wide-angle lens, so you can be sure that everything that your eyes can see is recorded. From registration plates to road signs, even in low light conditions, nothing is missed.
Integrated Wifi
Built in GPS
Advanced Driver Assistance Systems & Safety Camera Alerts
2.7" Touchscreen
1080p Full HD recording at 30 fps and 140° wide angle view
Stop and Go – get alerts when the car in front of you begins to move. This helps to keep you alert at traffic lights and in traffic jams.
£30 off – MiVue 751 reduced from £149.99 to £119.99 on Amazon
The MiVue 751 is your reliable travel companion offering undisputable footage if the worst was to happen and you needed evidence to support your insurance claim. In addition, the device comes with pre-installed forward collision and lane departure warning systems as well as fatigue alerts. The MiVue 751 is designed to support you in the areas that you want!
Lifetime of speed camera updates
2.7" screen size
Parking mode – continuing to record footage when your vehicle is parked to capture any incidents when you're not behind the wheel
1440p full HD recording at 30 fps and 140° wide angle view
Make your Black Friday Pink with INTIMINA!
This Black Friday, INTIMINA is offering 25% off its most popular products within the range, so you can treat yourself with one of the reusable menstrual cups, which you can wear up to 12 hours without a single leak.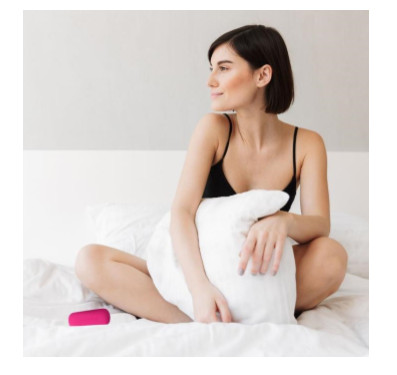 Running from 21st – 29th November on Amazon.co.uk, this is the perfect opportunity for women of all ages across the UK to focus on their personal health and wellbeing. Trying the trusted range at a discounted price will give you a hassle-free solution – saving you both time and money!
The Black Friday deals include:
ZIGGY CUP 25% OFF = NEW PRICE £20.99, LILY CUP SIZE A 25% OFF = NEW PRICE £14.97 and KEGELSMART 25% OFF = NEW PRICE £41.97.
YOUR BLACK FRIDAY 2018 BATTLE PLAN: 9 TIPS FOR BAGGING THE VERY BEST DEALS

South Africa, 13 November: A high point in the annual retail calendar is fast approaching. The Black Friday sales weekend starts on 23 November and runs for up to five days for some retailers, offering off-the-charts savings across all retail categories. For shoppers, this is a highly competitive time – bagging the best deals requires forethought and a military-style strategy – so to help them win at their Black Friday shopping, the Takealot group has put together their top tips.
Julie-Anne Walsh, Chief Marketing Officer at Takealot.com says, "Takealot – an online megastore – and fast fashion etailer Superbalist.com will both be offering massive discounts. We want all our customers to have the best chance of getting their wishlist items. There are definitely some very clever strategies that they can employ to bag the best deals."
As well as tips from the Takealot group, we chatted to some incredibly astute (fanatical?) Black Friday shopping veterans to include their tips. We spoke to:
● Zuhaa, an account manager: "I'll sound like a bit of a shopaholic; maybe a bit crazy too, but two years ago I was kicked out of a site and lost all my products, so I had to devise a plan. That's how all my Black Friday skills began."
● Bukelwa, a mom of two with another on the way: "You need to get creative and resourceful to get what you want on Black Friday – the competition is fierce and you want to win!"
● Bianca, content producer: "Only when the sun comes up do you finally sleep."
Tip 1: If you are shopping online, set your alarm for 11:30pm on Thursday 22 November:
Most sales start as the clock strikes 12 – Takealot's starts at 12.01 – so make sure you have data and your Wi-Fi isn't past its cap. Get into bed early and set a few alarms. By the time the rest of the world wakes up you have done your shopping and be catching some restful winks before heading to work.
Zuhaa says, "Set your alarm for 11:30pm (the night before Black Friday) so that by 12, you're the first on site for the best specials."
Bianca recommends lots of coffee, vitamin B or Redbull (sometimes – unhealthily – all three because it gets REAL) because you need to be awake before Black Friday even starts and just keep refreshing your page until 12.01 am hits. "Then begins the all-nighter until the sun comes up."
Tip 2: Teamwork makes the dreamwork
For Bukelwa, "I formed a WhatsApp group with my friends. Whoever gets online first already has a list of what everyone wants so they buy for everyone. Then we just pay that person back."
Zuhaa says, "Make sure you have a shopping buddy or two or three… Each person should be dedicated to one site. For example, last year my mom was on Takealot and she got everything we all needed, I was on Superbalist and my sister did Spree. #Teamwork!"
Bianca says, "When I was a student, my friends and I used to do Black Friday 'World of Warcraft' multiplayer gamer-style. They'd come to my apartment with laptops and dongles. We'd all have a list of what everyone wants. My roommate and I would move our mattresses into the living room to make one big bed and camp out until 12 am, refreshing our browsers. That way, one of us was bound to make it onto the site first and buy the things we all needed."
Tip 3: Create a wishlist so you can checkout ASAP on the day
The prices may change on goods for Black Friday, but the goods will already be there. Go online, create your wishlist in advance and then, when the sale starts, quickly go to your list, see which items are marked down enough and press 'checkout' to beat your shopping competitors to the bargain!
Zuhaa says, "Make a wishlist or put it in your basket a few days before. Log into your account, stock your basket up and by the time the sale hits, your products will update with the sale prices at checkout (most online sites do this in my experience)."
Klyne Maharaj, Head of Brand at Superbalist.com, says a wishlist is your battle strategy for the big day. "Line up the pieces you like best, and prepare to take them right to checkout when the time comes. Build your wishlist now so you're prepared on the day. It's going to be carnage so you don't want to be browsing when half of SA is also online and trying to cart-jack you. Build that cart and move on!"
Tip 4: Do your homework
Get your hands on as many newsletters and flyers as you can. Like the Facebook pages and Twitter feeds of all your beloved retailers. Monitor their bargains closely. From early November, retailers will start to release their Black Friday weekend specials. Start your plotting and planning as early as possible and draw up a plan of action.
Tip 5: Have a plan of action on Black Friday
Some of your purchases may be in the real world and some in cyberspace. A good plan is to start with cyberspace early and then head off to the physical shops once you've done the calm and peaceful online shopping. Chances are, once you've been involved in a three-person scrum over the last Christmas turkey in the supermarket, you may only be capable of heading home and lying down…
Tip 6: Make sure your details are up-to-date
If you are shopping online, you won't want to be messing around updating details as everyone around you is checking out what should have been your goods… It is worth logging into the sites you love before Black Friday and checking your delivery and payment details are 100% accurate.
Tip 7: Get the app
Download the app for your favourite online retailers early. This will allow you to browse much faster and they'll also send you push notifications of the big discounts to look out for. Plus some etailers offer app-only deals.
Tip 8: Check in advance if you can return your purchases
Most outlets, both online and physical, will accept returns for Black Friday purchases, but this is not a guarantee. It is worth checking terms and conditions in advance to make sure that any purchases made 'in the moment' can be returned.
Tip 9: Set a budget
Decide ahead of time what you plan to spend on the Black Friday sales and stick to it. You could quickly find yourself shopping for Christmas 2018, 19 and 20 if you are not careful. Be responsible and remember that the expensive festive season is coming up, so you'll need a bit left over for this!
Bukelwa, "It is always good to draw up a list to make sure you get what you NEED so that you avoid over spending."
Klyne Maharaj encourages shoppers to dare to waitlist. "Missed out on your size? Is the piece you've been eyeing in someone else's cart? Hope's not lost – this is just where the Waitlist function comes in. Waitlist that baby and keep your eye on the prize: when that notification slides into your inbox to let you know that you're first in line again, you've only got a few minutes to make it yours."
A few last Takealot tips:
● Load gift vouchers ahead of time so you can check out quickly
● If you are buying a TV, you'll need an up-to-date TV license account number on hand for the transaction to go through
● If you plan to buy a big ticket item such as a TV, or fridge and need credit to do this, apply for Mobi Cred ahead of time as there is a waiting period before approval
Takealot's Blue Dot Sale runs for five days with amazing discounts on Black Friday, throughout the weekend as well as on Cyber Monday and Takealot Tuesday. These sales are phenomenal and can see consumers walk home with purchases discounted by up to 60% in some cases. Superbalist has also super-sized their 2018 Black Friday sale to run for five days.
Visit Takealot.com or Superbalist.com to start planning your Black Friday shopping and don't forget to download their apps to get access to pre-Black Friday sales, app-only deals and lots of sneak previews.
DEALS LIVE 00:01 AM FRIDAY 16 NOVEMBER 2018
BLACK FRIDAY BARGAINS FROM APPLIANCESDIRECT.CO.UK
-Savings on 4K TVs, kitchen gadgets, hoovers and more-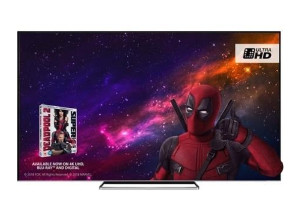 Get all this year's must have kitchen gadgets and appliances for less from the AppliancesDirect.co.uk Black Friday sale – with more than 50% off and thousands of pounds of savings to be had.
Snap up huge savings from 4K TVs for film fanatics to kitchen gadgets for foodies, while stocks last.
Feast For The Eyes Without the Glaring Price – £200 off
Enjoy exhilarating life-like picture clarity with the Toshiba 4K Ultra HD Dolby Vision HDR LED Smart TV (NOW £1,299.00, WAS £1,499.00, SAVING £200), which delivers ultra-clear images thanks to its 4K screen, displaying four times more detail than a standard full HD TV.
With an ample 75-inch screen, this 4K TV is bound to deliver the ultimate movie night experience, ready for the Christmas season ahead.
Ultra-clear 4K TV – Under £400
Stylish and under £400 the electriQ 55″ 4K Ultra HD Dolby Vision HDR LED Smart TV (NOW £349.97, WAS £399.97, SAVING £50.00), is great as a first foray into 4K TVs. Not scrimping out on features, this TV offers a pin sharp, immersive viewing experience.
Owners can enjoy ultra-high definition shows from Netflix and there are plenty of apps to download including Amazon TV, making this TV a great investment.
Bake Off For Less – 30% off
Perfect for those who love tasty treats without the need for hard work! The fabulous red electriQ 5.2L 1500W Stand Mixer (NOW £49.97, WAS £69.96, SAVING £19.99). It has a 5.2 litre bowl, giving bakers plenty of room for baking almost anything, from cookies to cakes.
Thanks to its bold, stylish colour, this mixer will look perfect in any kitchen.
Snack Healthy – Under £20
Create healthy snacks with the electriQ Digital Insulated Food Dehydrator (NOW £19.97, WAS £29.96, SAVING £10.00) and keep food nutritious. By keeping enzymes intact, this dehydrator will also help to keep food fresher for longer.
Compact yet spacious, the five-shelf design means that the peckish amongst us can make even more healthy snacks in one go.
Built-in convenience – Save £100
Perfect for heating delicious meals, the Siemens 800W 20L Built-in Standard Microwave (NOW £249.00, WAS £349.00, SAVING £100.00), is an ideal addition to your kitchen this Black Friday.
With a large 20 litre capacity and an 800 W power level, this microwave is practical. The stainless steel finish means that this will fit into any kitchen design. Not just that, but it's user friendly too thanks to the intuitive push-buttons and pop out control.
Stylish Range Cooker – Save £140
The Hotpoint Dual Fuel Range Cooker (NOW £599.97, WAS £739.97, SAVING £140.00) is a stylish oven that will fit effortlessly into any kitchen.
Backing this showstopping appearance is a spacious 78 litre oven and five cast iron gas burners – perfect for cooking up a banquet that will impress guests and friends.
Big Fridge, Small Price Tag – 26% off
Is the Christmas turkey not fitting in the fridge? Perfect for large families, the Fridgemaster Four Door American Fridge Freezer (NOW £519.97, WAS £698.98, SAVING £179.01) will help food last longer thanks to the humidity-controlled fruit and veg drawers.
With 378 litres of capacity, this fridge is ideal for storing everything that's needed to throw a great Christmas dinner for families and friends.
Spin Into Cleaning – 25% off
The Samsung EcoBubble 8kg 1400rpm Washing Machine (NOW £399.97, WAS £529.97, SAVING £130.00) is an award winning washing machine that will tackle even the toughest of stains.
An ideal buy for the environmentally conscious, Samsung's EcoBubble technology allows users to wash large loads at low temperatures, saving energy and money too.
For more information on the Black Friday Appliances Direct deals, please visit AppliancesDirect.co.uk
The concept of Black Friday is American but South Africans have embraced it with enthusiasm – and this year's event is bound to be a huge success yet again.

Recognising the popularity of the day, Teljoy, the South African online retailer for electronics, furniture and household goods, offers its discounted specials for a whole week (from 19-26 November), rather than just one day.
To avoid the queues in retail stores, Teljoy is also encouraging shoppers to use online sites to get their hands on the great Black Friday deals.
Your readers are bound to be interested in the tips offered by Teljoy for maximising Black Friday shopping deals, so please feel free to use the article below to help educate them.
But first, list of Teljoy's Black Friday deals:
Description
Link
Hisense 65″ Smart UHD LED TV
TBU
Hisense 50″ Smart UHD LED TV
https://www.teljoy.co.za/product/734/hisense-50-smart-uhd-led-tv
Hisense 43″ Smart Ultra HD LED TV
TBU
Hisense 40" Full HD LED TV
https://www.teljoy.co.za/product/777/hisense-40-full-hd-led-tv
Hisense 512L Brushed Stainless Steel Side by Side Fridge/Freezer with Water Dispenser
https://www.teljoy.co.za/product/719/hisense-512l-brushed-stainless-steel-side-by-side-fridgefreezer-with-water-dispenser
Hisense 16kg Silver Top Loader Washing Machine
TBU
Hisense 8kg Silver Front Loader Washing Machine
TBU
Ryap Capri Lounge Suite
https://www.teljoy.co.za/product/761/capri-lounge-suite
Mecer Z140c BF Deal
https://www.teljoy.co.za/product/614/mecer-xpression-take-two
Huawei P Smart + Cover
TBU
Samsung Grand Prime Pro
TBU
HP 15 + Bag + Printer
https://www.teljoy.co.za/product/804/hp15-celeron-notebook
Panasonic 32" HD Ready LED TV
TBU
Panasonic 49″ Smart UHD LED TV
https://www.teljoy.co.za/product/741/panasonic-49-smart-ultra-hd-led-tv
Panasonic 2.1 Sound bar
https://www.teljoy.co.za/product/753/panasonic-21-sound-bar
Samsung 43″ Smart Ultra HD LED TV
https://www.teljoy.co.za/product/651/samsung-43-smart-ultra-hd-led-tv
Samsung 40″ Smart FHD LED TV
https://www.teljoy.co.za/product/798/samsung-40-smart-full-hd-led-tv
Defy 323L Metallic Combi Fridge/ Freezer with Water Dispenser
https://www.teljoy.co.za/product/551/defy-323l-metallic-combi-fridge-freezer-with-water-dispenser
Lyla 3 Div 1 Action latte Recliner with Chaise
https://www.teljoy.co.za/search/filtered?search=Lyla+3+Div+1+Action+latte+Recliner+with+Chaise
__
Malls will kill you. Do your Black Friday shopping online instead
'Twas a minute before midnight and all through the malls, many creatures were stirring, probably even lots of mice, because it was November 24, 2017, which was Black Friday and everyone wanted to buy lots of things on sale.
At one retailer in Cape Town, frenzied shoppers smashed the glass doors in their rush to get inside. Hours later at another shopping centre in Johannesburg, a scuffle broke out between one desperate shopper and a frazzled security guard.
These are the scenes that played out throughout the day. And one has to wonder – with the possibility of injury or arrest – if it's worth it for a few discounted products?
Also, who wants to spend the day standing in queues, your insides gnawing because you can't leave your spot in the line to go stand in another queue for food?
It's just… no!
Does this mean you should ignore all the discounts and great sale offers? No, but you still have to gird your loins, shoppers. And your keyboards. Because online shopping is where it's at.
Priorities
What do you need (and, yes OK, want) to buy? It's time to prioritise. Come November 23 – the date for Black Friday this year – you'll open up all the links to your chosen retailers and be overwhelmed with an onslaught of offers. Be strategic – don't risk purchasing a trolley-load of things you don't need at all.
Make a list of everything you need. Then do some research on who will be running offers on those items.
Prioritise your budget too. Don't blow it all in one go. Look at retailers that offer not just discounts but also purchasing models that suit your pocket. Teljoy, for instance, is a local retailer that lets consumers rent-to-own (RTO) furniture, tech products, and household appliances.
With RTO, shoppers are able to keep a tight lid on their finances as they pay a fixed minimum monthly fee for their product, which is delivered to them immediately.
Consumers know at the outset what their monthly payment – which remains unchanged – will be and the period for which they will pay. "This makes budgeting for the months ahead significantly easier," says Teljoy Customer Experiences Manager, Desiree Dickinson.
On top of that, consumers can upgrade, downgrade or cancel at any time to suit their financial circumstances and needs.
Also make sure that your retailers of choice have all your banking details so you're able to just add to your cart and hit 'pay'. Remember to check when you enter your banking details that the pay points offered are secure. Alternatively, digital payment solutions such as those provided by i-Pay, make transacting on your mobile device of choice as easy as the click of a button or the swipe of a finger. No more stressing about a lengthy online check-out process. Just click away to order the best Black Friday deals as quickly as possible.
Get stalking on social media
Make sure you're following all the retailers you might want to shop at on Twitter, Facebook and Instagram and get sneak peaks on their offers or further discounts. Be careful though, there are plenty of fake deals posted by people trying to scam you.
Sign up to newsletters
Some retailers will also give you a look behind the curtains if you sign up to their newsletters or register an account with them. Often, they also include discounts ahead of time so you can do Black Friday not just for one day but for a whole week or month!
Push alerts
With push alerts, you'll get those handy little notifications popping up on your screen to tell you which sale has just gone live. That way, you don't have to keep hundreds of tabs open in your browser.
Happy shopping!
There is no reason to avoid online shopping out of paranoia this Black Friday! Just stay alert and observe safe shopping practices, and you'll be able to enjoy the convenience.
Forest Holidays has just announced their 2018 Black Friday deal, which is the biggest in the holiday company's history and is available for customers immediately.
There is a massive 20% off all breaks taken in the remainder of 2018 and 15% off all breaks for next year.
The promo code is FREEDOM. You can find more information here: https://www.forestholidays.co.uk/offers-and-key-dates/black-friday/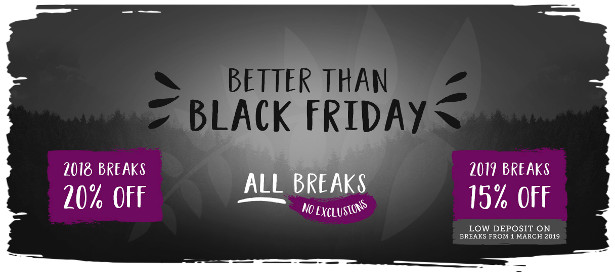 Encore Resort at Reunion, the premier luxury vacation home rental community in Orlando, Florida, is pleased to announce its exciting 2018 Black Friday Deal.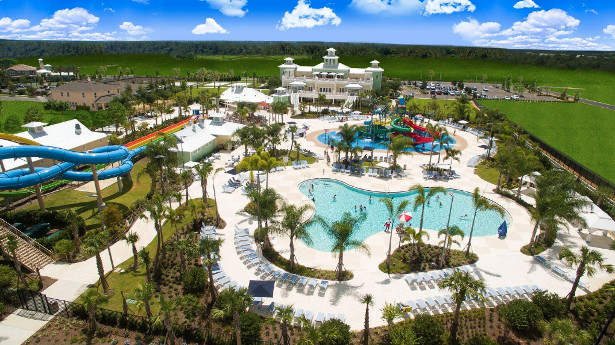 This spectacular deal offers 15% Off a 3-night stay in one of the resort's luxurious 5-8-bedroom vacation homes. Guests must book between Friday, November 23 and Monday, November 26 (before 10:00 PM EST on November 26).
Encore Resort at Reunion is a master-planned vacation rental community in Orlando, Florida. Located only seven miles from Disney World, Universal Orlando and other local theme parks, attractions, and shopping, Encore Resort at Reunion offers guests all of the services and amenities of a luxury resort with the comforts and privacy of a home. Encore at Reunion's 963-acre property boasts a prime position within Central Florida's bustling tourism scene, as well as an array of on-site amenities for a serene family escape: gourmet restaurants, outdoor sports facilities, in-home spa services, fitness center, AquaPark, and much more. Encore Resort at Reunion is conveniently located at 7635 Fairfax Drive in Reunion, Florida.
To book this Deal, guests should call 1-844-221-5008 and use the reference code: BLACK FRI. This offer is subject to availability on selected homes (5-8 bedrooms). Black-out dates are: 12/24/18 – 12/26/18 and 4/17/19 – 5/1/19. This offer is not available online.
LET'S START A BLACK FRIDAY RIUT
RIUTBAG R15.3
Was: £119 – Black Friday Offer: £59.50 (save 50%)
Stockist: www.riut.co.uk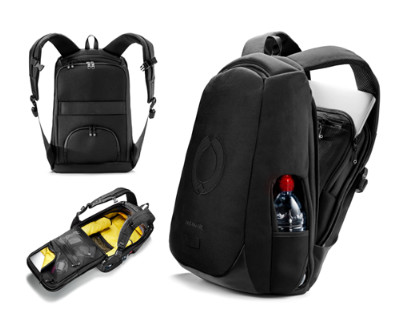 RiutBag is the UK's answer to pickpocketing, built with security at its core. Its award-winning 'backwards' design means this backpack can't be opened by thieves, as all of its openings lie flush against the wearer's back. Riut's best selling laptop backpack, RiutBag R15.3, is based on feedback from thousands of city travellers around the world who helped build their ideal backpack.
RiutBag is offering 50% off everything on the RiutBag website over the Black Friday weekend.
Whether you're trying to get ahead with your Christmas shopping or simply treating yourself to a bit of well-deserved retail therapy, the RiutBag is an absolute essential for anyone regularly travelling through the city, or abroad, with valuables – thanks to its security-assured design.
Perfect for business men and women and city travellers alike, the RiutBag R15.3 has a zipped double laptop compartment that can hold 15 litres or laptops up to 15 inches. Crucially, it is built to fit within airline carry-on restrictions and to get you through airport security fast. It also features mesh organisers to store tech accessories such as tablets or cables, professionals can carry A4 documents straight and travellers have a handy D-pocket for quick access to mobile phones, music devices or a passport whilst the RiutBag is still on your back.
Made from a reinforced and anti-abrasive nylon, the R15.3 is durable and waterproof, promising to outlive most other high-street backpacks even used in daily international travel. Ergonomically designed in conjunction with a physiotherapist, the R15.3 features padded shoulder straps and adjustable chest straps that help the wearer maintain good posture, even when cycling or running. A waist strap can also be purchased separately for additional support.
The R15.3 is available in smart black and its bright yellow interior fabric makes it easy to find belongings. It opens suitcase style for full oversight when packing. The backpack is also fitted with two exterior water bottle holders, it has a strong and comfortable top handle and a clip for a bike light.
RiutBag is offering 50% off everything on the website over the Black Friday weekend. Ends 11.59pm on Cyber Monday. RiutBag ships globally from England every working day.
Riut (pronounced "riot") stands for Revolution In User Thinking. It's a UK startup that started life with two successful Kickstarter campaigns and now has users all over the world.
To find out more about RiutBag and their Black Friday deals, visit http://www.riut.co.uk/
BLACK FRIDAY BARGAINS FROM LAPTOPSDIRECT.CO.UK
-Savings on Laptops, Smart tech, Drones and more-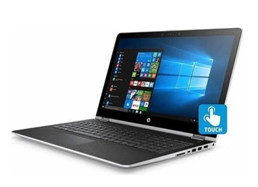 Get all this year's must have tech gadgets for less from the LaptopsDirect.co.uk Black Friday sale – with over 40% off and hundreds of pounds of savings to be had.
Snap up huge savings from monitors for gamers to cameras for wannabe photographers, while stocks last.
Touchscreen Laptop Without The Hands Off Price – £100 off
For a sleek design, huge memory and easy to use laptop, the HP Pavillion x360 (NOW £299.97, WAS £399.97, SAVING £100), is the way to go.
With a crystal clear 15 inch touchscreen, 500GB of memory, B&O play speakers and HP fast charge, you'll never struggle to work on-the-go again.
Amazing Quality for under £100 – 50% off
At the incredible price of only £99.97, the Acer ES Intel Celeron N3350 is the bargain of Black Friday (NOW £99.97, WAS £199.97, SAVING £100).
A name renowned with stylish good looks and reliable performance, Acer have packed many top features into this Laptop, including their precision touchpad, 8 hours battery life and BluelightShield software, which filters irritating blue light out from the screen to reduce eye soreness during prolonged screen viewings.
The Only Lightbulb Moment That Matters – 3 Bulbs For Just £30
Stylish and diverse, the pack of 3 electriQ Smart Lighting Dimmable Colour Wifi Bulbs (NOW £30.00, WAS £44.91, SAVING £14.91), are great for jazzing up your home. The LED bulb can match your mood, whatever you're feeling, with over a million colour combinations. They can be programmed to come on at a pre-determined time, perfect for when you're on the late train home from work, and as long as you have wifi, you're in control. Fantastic value at just £10 per bulb, owners can the ease of voice control, with the bulbs being Amazon Echo and Google Home compatible.
The Beginners Drone – Only £69.99
Saving 46% this Black Friday, the ProFlight Orbit Drone is NOW £69.99 (WAS £129.99, SAVING £60.00) and is the perfect price for Christmas gifting. A fantastic entry level price, anyone will be able to master the simple technique of flying this nifty little drone.
The Ultimate Drone – Save £30
Tired of your drone breaking on first flight? The Tello Drone Boost Combo (NOW £119.00, WAS £149.00, SAVING £30.00) will land safely even if you lose connection, or your pilot skills. The lightweight drone will even start its flight as soon as you toss it into the air. Drone lovers will be pleased to know the Tello Drone can be controlled from your smartphone, can be used indoors and outdoors, and can shoot high quality videos…in both senses of the word.
Movie Night Delight – 20% off
Perfect for watching movies! The full HD, HDMI Acer K242HYL (NOW £79.97, WAS £99.97, SAVING £20) is the answer to your prayers. It has a 23-inch, full HD screen, giving movie lovers the clearest of windows into the virtual world.
Thanks to its clean, understated design, this monitor will look perfect in any room in the house.
Looking for the perfect deal that will score with all football fans this Black Friday?
From the English Premier League to Scottish League Two, Polish I Liga to Dutch Eredivisie, Nostalgia Cases is making the case for getting Christmas wrapped up early this year.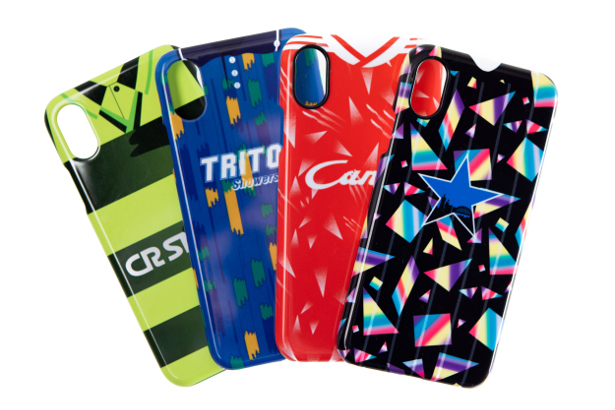 Over 750 designs to choose from, available in 100 phone models and all just £15.99 each. This Black Friday however, we are laying out a little extra something… we are offering up to 40% off EVERYTHING. Buy 2 get 20% off, buy 3+ get 30% off. Now, that's a lot of stocking fillers ticked off the list.
On top of this utter madness, shipping is free in the UK and only £1.49 worldwide. The offer also includes our renowned and exclusive 'Request a Case' service, which gives you the opportunity to ask for your favourite team's shirt (if it is not already listed) to be forever solidified in our range and given the respect it so surely deserves. So that's what to get the person who seemingly has everything.
This Black Friday make sure you hit the back of the net by choosing UK made premium cases featuring over 200 teams from around the globe. With new designs getting added every day, our range will be bigger than Zlatan's ego in no time!
TopCashback

TopCashback, is a money saving website and typically, over a year members earn on average £325 and during the Black Friday/Cyber Monday shopping period the deals on offer will be at their highest. M&S, Groupon, Curry's PC world and The Entertainer are just some of the retailers consumers can save money with.
Websites like TopCashback.co.uk will give you money whenever you click through the site and buy something from a retailer. It's that simple, when you click through to the retailer from TopCashback your purchases are recorded and, a percentage of what you spend will appear into your cashback account once the transaction has been confirmed.
Brands like eBay, M&S, Groupon, Boots, Next and The Entertainer are just a small number of 4,700 retailers you can shop with through TopCashback. Members typically earn £325 over a year when shopping through the site.
Simply sign-up for a for free account, search or browser for a brand you like, click through to their site and shop as normal. Or, download the app which is available for IOS and android phones and shop from your mobile.
If you do however, happen to be browsing on your laptop, you can download TopCashback's Cashback Notifier. It's a handy browser app that will alert you when you are shopping on a site that offers cashback. So, whether you're browsing for gifts or are about to order your Christmas groceries, you'll never miss out on a bargain.
Barrow Watches www.shopbarrow.co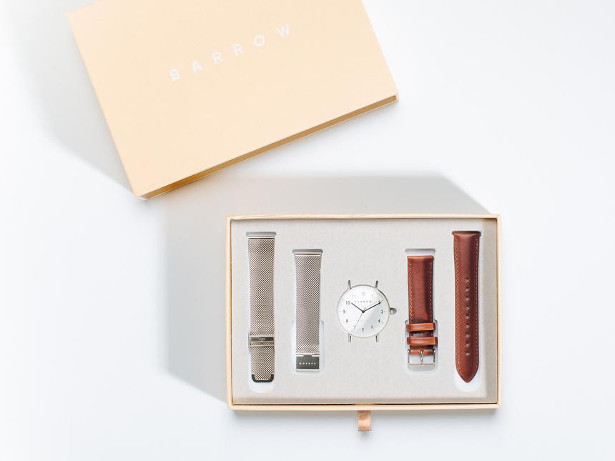 Barrow is an Australian watch brand crafting quality Swiss Movement timepieces that are made to last. Each Barrow watch includes two Italian leather or stainless steel mesh watch bands for added versatility. The Barrow watch retails for AUD$229.
Black Friday / Cyber Monday Sale
Buy one Barrow watch and get 50% off a second Barrow watch – One for you, one for them.
Or, Save 20% off on single watch purchases.
A unique, new lifestyle product proving very popular with Australian families, who love the outdoors.
All AUSSIE made too.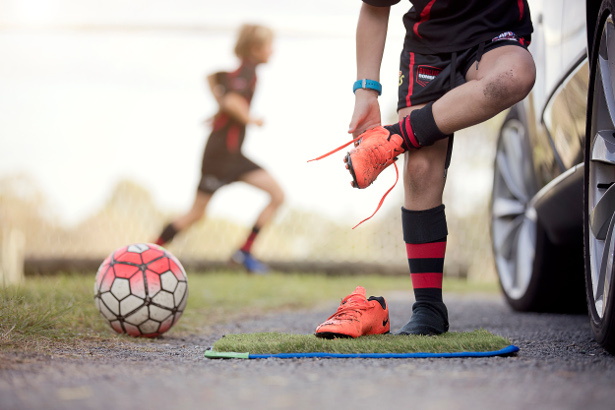 If you like the beach and the outdoors, but hate getting "crap" all through the car, you'll love the muk mat – a portable mat, designed to remove the sand and dirt from your feet before getting back in the car. Made from aesthetically pleasing grass and locally crafted, with sleek binding to suit your style, it not only looks great but it's durable, rollable and unbeatable for keeping the muk off feet and shoes. Muk mat is perfect for outside the car boot after the beach; sticking by your tent door when camping; or keeping flat in the back of the car to throw the wet clothes and dirty shoes on.
Click on our website to view our short promo video which give a good overview of the many uses muk mat has.
www.mukmat.com
We will be offering buy 2, get one free for Black Friday, Cyber Monday.
Beach Bella
Beach towels Black Friday/Cyber Monday sales.

Made from 100% cotton and measure at 150cm in diameter, they make for the perfect beach accessory and/or Christmas gift.
The range includes four designs: Pineapples, Anchors, Japanese Waves and "Beach Please".
They're on sale half price until January – normally $84.95 now $42.50
www.beachbella.com.au
Black Friday promotion.
50% off Sunshine Coast International Fashion Festival 2019
The Sebel Pelican Waters
Qld. Australia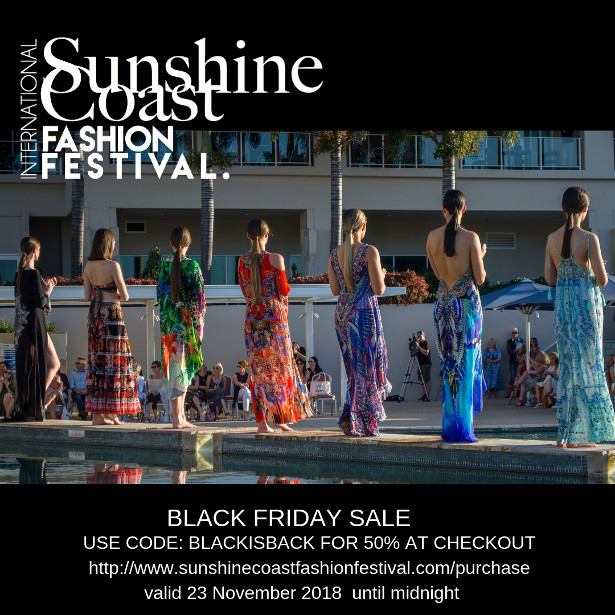 Use code: BLACKISBACK
valid 23 Nov 2018 until midnight
www.sunshnecoastfashionfestival.com/purchase
Limited availability
Lights.co.uk are a huge online retailer will have lots of discounted lighting on offer.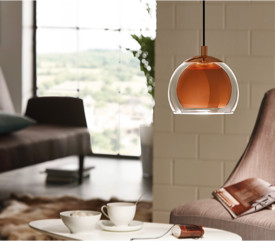 A large range of products will be discounted at rates of up to 70%. There will also be extra voucher codes that may be used in combination with this discount.
Some of their leading European brands will be on a separate set of voucher codes, too.
https://www.lights.co.uk/copper-coloured-rocamar-hanging-light.html
There'll be a 30% discount on all EGLO branded products using a voucher code, including this stylish pendant: usual price of £59.90 will be reduced to just £41.93.
https://www.lights.ie/vita-copenhagen-acorn-hanging-light-white-copper-146108-ie-en.html
This Umage brand Copehagen acorn hanging lamp, usually £79.90, will be reduced to just £63.92
https://www.lights.co.uk/decorative-outdoor-wall-light-topiary-mygarden.html
Phillips lights (except the Philips Hue range) on the site will be discounted by 20% with Lights.co.uk special voucher codes. This outdoor light with vintage styling is currently £49.90 and will be reduced to just £39.92.
BLACK FRIDAY WEEKEND OFFER: LITTLE MONSTERS PLAY FREE
IN 2019 AT THE LEGOLAND® WINDSOR RESORT

· Offer available across Black Friday weekend and Cyber Monday with packages from £35pp
· Little Monsters play free in 2019 to celebrate the launch of the new Haunted House Monster Party ride
The LEGOLAND® Windsor Resort is offering an awesome Little Monsters play FREE deal on 2019 bookings this Black Friday and Cyber Monday weekend (23-26 November 2018).
The offer is available at the LEGOLAND Windsor Resort Hotel, LEGOLAND Castle Hotel and nearby partner hotels and is based on two adults and two children sharing a room. Prices start from £82pp at the LEGOLAND Resort Hotel and £35pp at nearby partner hotels. The offer also includes one day tickets into the theme park and one day for free, which can be used on any two days during a stay, plus for those staying on-site, a delicious breakfast in the LEGO® themed Bricks Family Restaurant included to start the day.
The offer has been launched to celebrate the brand new Haunted House Monster Party ride, opening in spring 2019 at the Resort. Families, who book to stay following the launch of the new ride, will be able to join the frightfully friendly Lord Vampire for a monster party at his spooky new haunted home. Young party guests will be greeted by joke-telling LEGO gargoyles and talking statues, LEGO bunting and balloons, before Vampire reveals his magical party trick; turning the room upside down!
For little monsters enjoying a stay, the LEGOLAND Windsor Resort has everything for a fun packed short break for families with children aged 2 to 12. The Resort is home to over 55 rides and attractions on the park, including the new Haunted House Monster Party opening in mid spring 2019. After a day of awesome fun, guests can sleepover in their fully LEGO themed bedrooms right on the edge of the LEGOLAND theme park.
Deal hunters should visit www.legolandholidays.co.uk/offers this Black Friday weekend to take advantage of the awesome offer and find full terms and conditions.
CELEBRATE BLACK FRIDAY AND CYBER MONDAY WITH AMAZING DEALS FROM MORPHY RICHARDS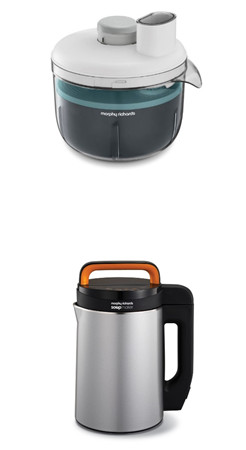 With Christmas just around the corner, the Black Friday Frenzy on 23rd November is the perfect time to pick up the best high-tech household appliances as presents, or as a gift to yourself, at amazing prices. Morphy Richards has a great selection of kitchen gadgets for food lovers, as well as a convenient cordless vacuum cleaner – perfect for clearing up after all the festive parties!
ONE MACHINE, MULTIPLE POSSIBILITIES:
Morphy Richards Prepstar 401012 – RRP £99.99, NOW £79.99 SAVE: £20 (20% off)
Whether you're a fitness fanatic who wants to prepare meals for the week, or a passionate foodie who loves scratch cooking, lack of time and space can make food preparation feel like a chore.
This innovative compact food processor, Prepstar will allow you to master all your food preparation tasks using just one machine.
Packed full of meal-prep inspired accessories that can chop, grate, whip and mix, preparing delicious meals for you and your family is simple – so take the stress out of your festive prep today.
'SOUP UP' EVERY DAY HEALTHY MEALS:
Morphy Richards Soup Maker 501040, RRP £99.99, NOW £79.99 SAVE: £20 (20% off)
The perfect Soup Maker for families – this model's 1.6L working capacity serves up to 4 people in one go. Featuring a dual wall, you can keep soup warmer for longer, allowing you to organise your food prep in advance. After you've enjoyed your meal, just give the jug a quick rinse under the tap, wipe it with a soapy sponge and your soup maker is ready to go for next time.
CLEAN AS A WHISTLE:
Morphy Richards Supervac Sleek Power Plus Cordless Vacuum Cleaner 731010 – RRP £99.99, NOW £79.99 SAVE: £20 (20% off)
This dual powered Supervac Sleek 3-in-1 cordless cleaner is perfect for everyday cleaning – with a fast 4-hour charge time and 30-minute run time, you can quickly freshen up your home. It can be used in three different ways – as an upright stick vacuum cleaner, in extended reach mode for those hard to reach areas, and as a handheld cleaner for use on stairs and upholstery. Its lightweight design makes carrying it up the stairs a breeze.
To activate these Black Friday Deals, simply use code BF20 at check-out.
+ Exclusive Cyber Monday Deal:
Morphy Richards MICO Cookware Range – RRP: £39.99. Get £15 off for 1 week only!
The Morphy Richards MICO cookware range is the ultimate stocking filler for students or office workers. Using Heatwave technology – the high-tech range cooks oven-quality jacket potatoes, delicious toasties and perfectly cooked eggs in the microwave in a fraction of the time they'd take to cook conventionally.
Whether it's for breakfast, lunch or dinner, the range offers convenience and efficiency. Made from metal plates and silicone, the range is dishwasher safe for an easy clean up.
To claim this exclusive Cyber Monday Deal, simply use code MICOCM15 at check-out.
Nuraphones
Nuraphones are the world's first headphones to automatically adapt to your unique hearing under one minute.
Was: £350
Will be: £280
Total Discount: £70
Overall discount: 20%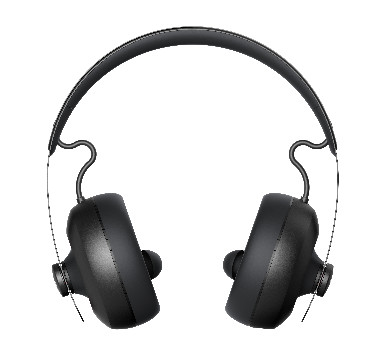 Petlandia Black Friday deal.
Petlandia – the beloved personalised pet story book by pet lovers and kids alike originally priced at £19.99 for a softback copy, or £27.99 for a hardback copy will be on offer from 21st -27th November with 30% off its original price!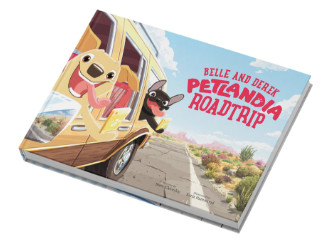 Petlandia turns your beloved four-legged best friends into story book stars. With a wide selection of dog, cat and rabbit breeds, you can create an exact replicate of your furry friend online to star in their very own pawsome adventure with you.
There are two adventure book options available. Adventures in Petlandia, where your pet is jet off to Hollywoof to experience a tale of friendship, fame and love. The Petlandia Roadtrip is perfect if you have two pets, the book sends them on a road trip from Mew York to Hollywoof via San Franbiscuits and beyond.
Black Friday deals from online furniture retailer, Furniture Choice.
Dining Deals
DT10000465
Space Glass Extending Dining Table Gold & Black 110 – 170cm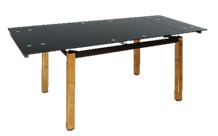 399.99
199.99
200.00
DS10007825
Space Gold and Black Glass Extending Dining Table with 4 Pica Black Chairs (Black Leg)
599.99
349.99
250.00
DS10007826
Space Gold and Black Glass Extending Dining Table with 6 Pica Black Chairs (Black Leg)
649.99
399.99
250.00
DT10000343
Suffolk Oval Dark Wood Dining Table 170cm
399.99
199.99
200.00
DS10006261
Suffolk Oval Dark Wood Dining Table with 4 Bewley Ivory Chairs
579.99
329.99
250.00
DS10006262
Suffolk Oval Dark Wood Dining Table with 6 Bewley Ivory Chairs
679.99
429.99
250.00
Living Deals
Code
Description
Current Price
BF Sale Price
Saving £
LS10002961
Marlow Ivory Leather Sofa 2 Seater
449.99
299.99
150.00
LS10002962
Marlow Ivory Leather Sofa 3 Seater
549.99
399.99
150.00
LS10002963
Marlow Ivory Leather Sofa 3+2 Seater
899.98
599.98
300.00
LS10002867
Henley Brown Leather Corner Sofa
999.99
699.99
300.00
LS10002873
Henley Black Leather Corner Sofa
999.99
699.99
300.00
LS10002879
Henley Ivory Leather Corner Sofa999.99
699.99
300.00
Bed Deals
Code
Description
Current Price
BF Sale Price
Saving £
FB10000357
Kaydian Allendale Oatmeal Linen Fabric Ottoman Storage Bed King Size
£778.00
£578.00
£200.00
FB10000387
Kaydian Walkworth Elephant Grey Fabric Ottoman Storage Bed – Double
£648.00
£498.00
£150.00
FB10000388
Kaydian Walkworth Elephant Grey Fabric Ottoman Storage Bed – King Size£778.00
£578.00
£200.00
FB10000356
Kaydian Walkworth Ottoman Storage Bed – Double – Linen Fabric
£648.00
£498.00
£150.00
Drizly Black Friday deals.
People love buying their gifts online, but did you know that you can buy your holiday booze online too and have it delivered to your door in under one hour?!
Whether you're organizing the office holiday party or you are the ultimate ugly sweater party host/ess, Drizly can help you stock up. With the Drizly app (iOS and Android) you can shop for your favorite beer, wine, and spirits as well as party extras like ice and mixers and arrange for fast delivery through a local Drizly partnering liquor store.
Alcohol also makes a great gift and you can shop the Drizly catalog or top picks and select "Gift" during checkout – Drizly will handle the rest! Whether you're shopping for friends, family, colleagues, clients or partners – give the "it" gift of booze this holiday season.
On Black Friday (11/23), use code Friday5 to get $5 off your Drizly order. Deal is available in the following states: AB, IN, MA, ME, MN, NC, NJ, TX, VA, WA, CA, KY, TN, AZ, CO, DC, FL, IA, IL, LA, MD, NY, OR, RI, WY

Black Friday deal Fitbakes
40% discount on the Fitbakes Selection Box at our website: www.fitbakes.uk with code BLACKFRIDAY40.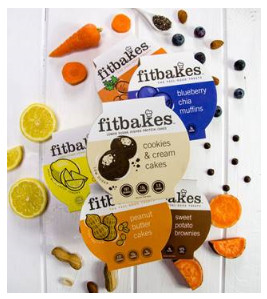 Emma Mattress prices reduced by over £100

Having been named the best on test mattress by the Which? magazine, Emma Mattress is launching a generous discount code that offers up to 30% off their top scoring mattress, the Emma Original, when buying direct from emma-mattress.co.uk:
Black Friday: 30% off, using the code – BLACK30
Singles from £429.00 – Discounted price £300.30 – Saving £128.70
Doubles from £649.00 – Discounted price £454.30 – Saving £194.70
Black Friday Sale: 18th Nov to 29th Nov
The Emma Original is a completely foam-based mattress, designed to meet the needs of a variety of sleep types, offering the ultimate in comfort and convenience. Which? said the Emma Original is "the highest-scoring mattress we've tested in years".
Emma Mattresses can be tested 100 nights at home, risk-free, with a pick-up and return service as well as a money back guarantee. And, you won't have to wait around to make sleepless nights a thing of the past with delivery in just 1 – 3 working days.
To find out more about Emma Mattress – including its free delivery and returns policy and 100-night guarantee – the full range is available online, direct from Emma Mattress.
Danish design store Flying Tiger Copenhagen has Black Friday prices all year round. From hip homeware to playful toys and crafts, and from stylish stationery to great gifts, the ever-changing collection is always surprisingly affordable.
For the first time ever, as Black Friday 2018 deals hit the high-street, Flying Tiger Copenhagen is launching its own twist on the discount phenomenon:
An all black, all outstanding, limited edition range that's set to fly off the shelves.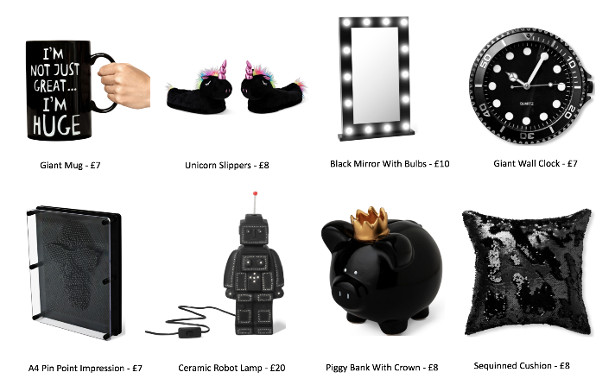 Featuring over-sized versions of some of Flying Tiger Copenhagen's famous best- sellers, including a giant pin point impression board and fluffy unicorn slippers,
as well as some all new must-have gadgets and sparkly sequinned stuff, there's something for everyone and lots just for you!
Available from Flying Tiger Stores Nationwide
uk.flyingtiger.com