Award-winning Beauty Device PMD Clean now comes in Silver Edition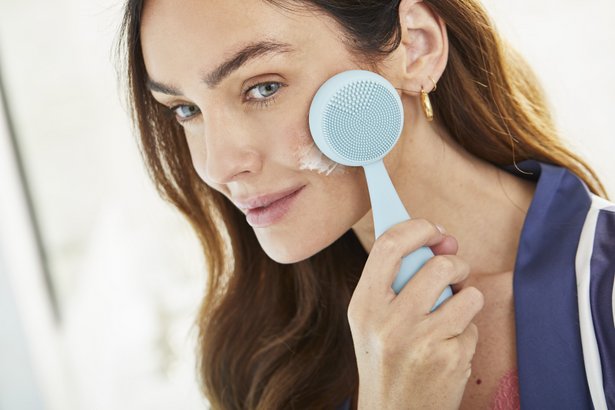 Innovative beauty device brand PMD has launched a new luxury version of its best-selling PMD Clean skincare device.
The PMD Clean PRO Silver (RRP £179) is designed to take your skincare routine to the next luxurious level.
This device is available from Harrods and Harrods.com as well as selected online retailers: uk.pmdbeauty.com, www.currentbody.com and www.lookfantastic.com .
The PMD Clean PRO Silver combines innovative self-heating ActivewarmthTM technology with Sterling Silver to give you a spa-worthy skincare routine from home.
Use the side with silicone bristles to gently deep cleanse your skin while stimulating collagen production; then turn the device around to use the side with the heated Silver massage plates to open the pores and help your skincare products penetrate deeper into the skin, leaving your complexion looking and feeling more radiant.
Plated with pure silver, the PMD Clean PRO Silver massager provides both antibacterial and anti-ageing benefits.
The silver plate works in conjunction with the targeted vibrations of the massager to encourage products to sink deeper in the to the skin. Combine this with the unique ActivewarmthTM feature of the device and your skin will be looking and feeling more youthful in no time!
The PMD Clean PRO utilises unique SonicGlowTM technology, which uses over 7,000 vibrations per minute to remove the skin's impurities by breaking down the dirt and oil from within the pores to reduce the formation of spots and blackheads, and leave skin looking clearer. The PMD Clean Pro also operates at the perfect frequency to lift, firm, and tone the skin.
This devices have four different settings, two for cleansing and two for massaging in serums, allowing you to fully customize for your unique skin.
The silicone brush bristles are gentle and can be used for all skin types, while the precious metal side of the brush head can be used after cleansing to massage serums and moisturisers into the skin, allowing them to penetrate deeper.
This is where the ActivewarmthTM action of the device will work in conjunction with the SonicGlowTM vibrations to enhance the absorption and effectiveness of skincare products applied to the skin.
These handy beauty devices are coated with an ultra-hygienic silicone, which is anti-bacterial, hypoallergenic, waterproof and incredibly easy to clean.
About PMD Beauty
PMD Beauty is based in Utah (US) and develops innovative at-home beauty devices that allows consumers to get salon-worthy results in the comfort of their own home. The PMD Beauty brand launched in 2010 with its best-selling beauty device the PMD Personal Microderm. The device has won several beauty awards and has a loyal fan base amongst beauty bloggers and beauty editors worldwide. The brand has since expanded its product range with the PMD Personal Microderm PRO, the PMD Kiss, PMD Clean and now the PMD Clean PRO.