America's #1 Fruit Snack Brand Welch's Launch Fruit Snacks Mixed Fruit Valentine's Day Heart.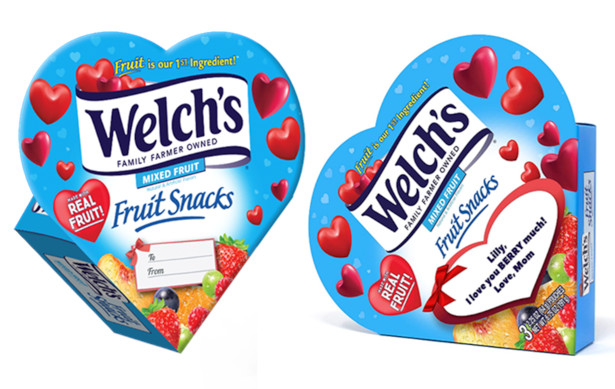 YOUTUBE | TWITTER | FACEBOOK | PINTEREST | INSTAGRAM
Just in time for the holiday and the perfect gift for anyone, the new 2021 limited-edition offering features custom Valentine's Day-themed graphics and are bursting with delicious flavor, just like the fruit snacks you already know and love. Perfect for spreading the love this season, Welch's Fruit Snacks Mixed Fruit Valentine's Day Heart is available:
· At CVS and Walgreens ($5), where each box features a "To/From" signable panel making it easy to add a handwritten touch for your Valentine.
· On Amazon ($13.95) and easily shipped straight to your Valentine's doorstep. The best part? It's completely customizable! At checkout, simply enter your personalized message (up to 20 characters) for your Valentine and it will be printed directly on the Welch's Fruit Snacks Heart-Shaped box.
· Contains (3) 2.25oz Pouches of Mixed Fruit, Fruit Snacks in each Heart-Shaped box
· Valentine's Day design with "To/From" signable front panel at CVS and Walgreens ($5)
· Customizable option on Amazon! Personalize your family's favorite Fruit Snack for Valentine's Day by entering your 20 character message in check out on Amazon ($13.95)
· Made with REAL fruit